If you are looking for some of the best yakitori grills in 2023, then you came to the right place. You may have already decided to buy your own Japanese yakitori grill, but you just can't decide which one to choose.
* If you buy through links on our site, we may earn an affiliate commission. For more details, please visit our Privacy policy page.
We can't blame you. With so many yakitori grill products out there and different unit types of charcoal, you can easily get overwhelmed. Thankfully, in this post, we have reviewed and gathered the top yakitori grills available in the United States market today.
Check out our list and table of contents below. Who knows this is where you will find the best charcoal grill you have been looking for!
Enjoy a day under the sun with your family and friends as you use The Bincho Grill's yakitori charcoal grill. This grill is designed for professional use. It means that the party griller is super durable as it is made with high-grade stainless steel.
There's a lot of things to love about this yakitori griller unit. It comes with two adjustable windows to regulate the flow of air into the charcoal. There's also a thick aluminum insert for insulation and safety. The wood handles and legs stay cool even after hours of use.
Pros
Rust-proof, durable, and elegant Japanese style grilling area
Professionally made, which can be used for personal and business purposes
Efficiently charcoal grill not just yakitori chicken but other types of meat
Cons
The party griller tend to only accommodate smaller items
---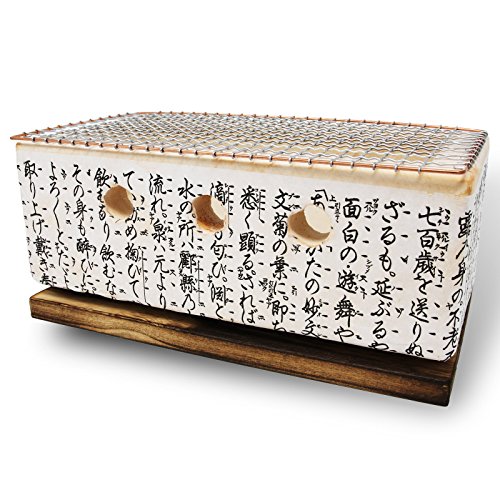 Imagine grilling your own food while sitting in your chair near the table top. Family and friends gather together. You happily reminisce about childhood memories while you smell the mouth-watering aroma of your yakitori meal.
If this sounds great, then you should turn your imagination into reality with Noto Dia tabletop charcoal yakitori grill. As its name suggests, you can set this grill on top of your table to have the best grilling experience. This traditional Hida grill is designed with Chinese characters written on Japanese paper which you can't find in the grill Fire Sense product.
Pros
Looks stunning beautiful on top of your table
Made by skilled and knowledgeable professionals who prepared the product from diatomaceous earth materials using clay mode construction technique
Lets you cook yakitori without leaving your table
Cons
Be careful of touching the body of the grill as it can get extremely hot during use
Buy it now: Amazon
---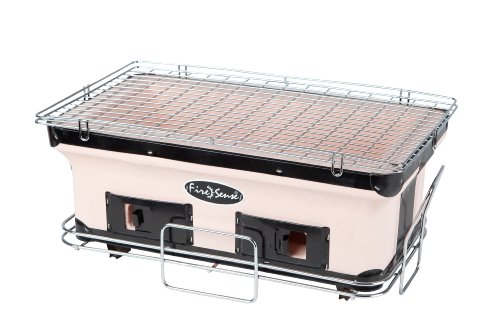 This best yakitori grill unit made by Fire Sense large is among the most popular products in the world of yakitori today. It is handy, portable, and can easily be set up.
The best thing about Fire Sense large charcoal yakitori grill is it brings the Japanese element into it. It is made with a genuine tabletop out of handmade clay straight from Japan.
Pros
Ceramic material allows even distribution of charcoal heat in its grilling area
Ideal for an outdoor cookout
Quickly, safely, and deliciously grill your yakitori chicken
Cons
You may need to store this grill inside your home when not in use to prolong its life
Buy it now: Amazon
---
Here's another yakitori griller made by grill Fire Sense. However, this time, this griller comes with a stand. As this might be the case, the griller can still be placed on top of a table or any flat surface. So, you can use it both indoors and outdoors.
The best thing about this charcoal griller is that it is highly portable. So, if you're having a picnic or outdoor gathering, the grill Fire Sense large Notebook Grill would surely make your occasion more memorable.
Pros
Can be folded and easily stored and carried
Made with high-quality stainless steel
Big enough to grill one batch of a complete yakitori meal
Cons
May need extra support to keep the grilling product stable and the charcoal during use
Buy it now: Amazon
---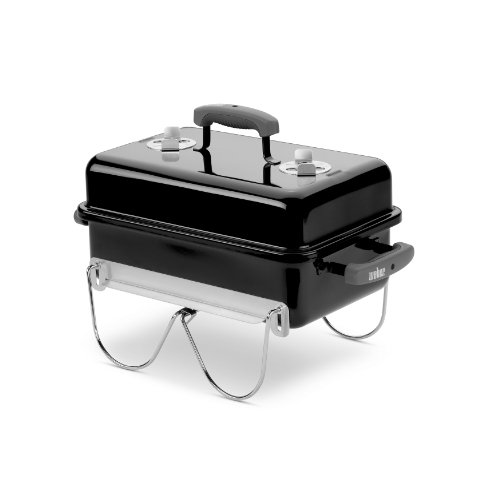 This yakitori grill isn't called the Go-Anywhere Yakatori Charcoal Grill for anything. Its main selling point is its super portability. It looks like a rectangular box with a handle on top. You can think of it like a small luggage bag, which you can carry almost anywhere, anytime. If you're planning to have a picnic and cook yakitori, it can easily fit in your car or even in your bag. That's convenience at its finest.
Now, when it comes to its capacity, it is understandable that it can only hold not too many skewers. However, this yakitori grill is perfect for a small family who wants to enjoy a Japanese-themed meal with delicious yakitori and soy sauce.
Other features include the stainless steel-plated cooking grate. It is super heat resistant, easy to clean, and quick to cook. For safety, you can always use the heat-insulated handles found on the side so you can easily move the best yakitori grill around even during use.
Pros
Highly portable and lightweight — perfect for on-the-go outdoor activities
Easy to clean cooking area
The design of this yakitori grill is perfect for slow cooking
Cons
Too small for big gatherings
Buy it now: Amazon
---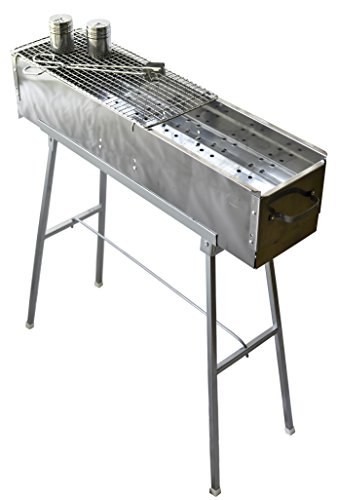 You can now grill like a pro with PartyFairyBox Yakitori Grills. With every grilled meat, you can definitely create that juicy, delicious, and mouth-watering barbecue.
The grill is 32 inches long. So, there's plenty of surface area to grill your yakitori street food. However, if you just have to grill a smaller portion, you can simply gather your lump charcoal in one place to save heat and cook your meal faster.
Your chicken skewers would perfectly sit on the grill as it has the right size of 8 inches wide. This means that you only expose your meat and not the wood, which can easily burn up in other types of grill.
The charcoal grill comes with a stand. You don't have to slouch or crouch just to cook your food. Not only that but because of the right size of the grill, the heat can evenly cook your meat, giving you only delicious and juicy yakitori food!
Pros
Easy to assemble and store because the legs are removable
The grilling area is narrow enough to cook yakitori, kebabs, and other similar cuisines
Perfectly constructed with sturdy steel and durable materials
Cons
The grill is intended for smaller skewer and not ideal for big chunks of meat
Buy it now: Amazon
---
This charcoal yakitori grill looks beautiful as it is made with polished stainless steel unlike other brands. Because of its high-quality material, it lasts long, does not rust, and won't easily crack. Not only that, but ISUMER Charcoal Grill is super portable. It can easily be folded and carried around.
Whether you are having a party in your home or picnic in the park, ISUMER Charcoal Grill will surely give you the best-tasting yakitori as well as Kebab, Shashlik, Satay, and other international cuisines.
Pros
Comes with a sophisticated air fan ventilation system that allows you to control heat and filter dirt
Perfect for outdoor activities such as backpacking, camping, parties, picnics, and team building, to name a few
Affordable, lightweight, and easy to clean from charcoal ash and remains of skewers
Cons
Not for heavy-duty use. You can buy an extra ISUMER Charcoal Grill if you need to cook more food at the same time.
Buy it now: Amazon
---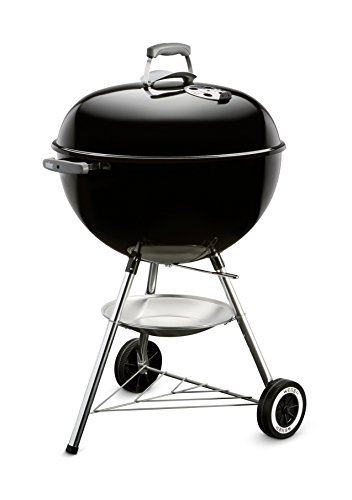 Perhaps one of the most popular charcoal grills there is, the Weber Original Kettle has already made thousands of customers happy and satisfied. It is not actually just a grill for yakitori. Its round shape grills are perfect for almost anything you want to cook on the lump charcoal.
To give you an idea of its capacity, it can hold up to 13 burgers. So, you can just imagine how much space you have at your disposal when you grill your delicious yakitori. It comes with a stand and easy-to-clean system to help you keep your yakitori free of dust, dirt, and ash. The Original Kettle also comes with two wheels so you can easily transfer it to any place you want even in the middle of grilling.
Pros
Paint won't rust or peel to keep its sleek appearance
Comes with a porcelain-enameled bowl and lid to easily resist and retain heat.
The dampers help you regulate charcoal heat and gives you that perfect yakitori texture
Cons
It may not be perfect for people who want to grill a lot of meat on a regular basis
Buy it now: Amazon
---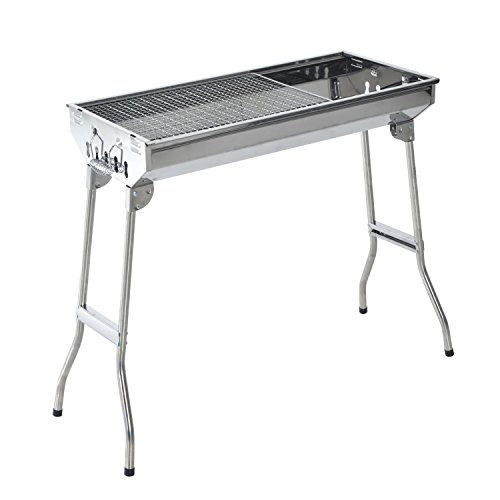 The Outsunny Charcoal BBQ Grill offers a convenient and easy way of grilling yakitori. It comes with air vents for easy heat regulation and distribution. The materials used are rust- and heat-resistant, which is something you will also find in clay mold grillers. This means that you can use the Outsunny grills for many years free of worries.
Pros
Easy to carry around because of its foldable leg design and overall lightweight built
Equipped with handles that won't get too hot during use
With a superior ventilation system, you can grill your yakitori exactly the way you want it to be
Cons
Not for heavily cooking a lot of big chunks of meat
Buy it now: Amazon
---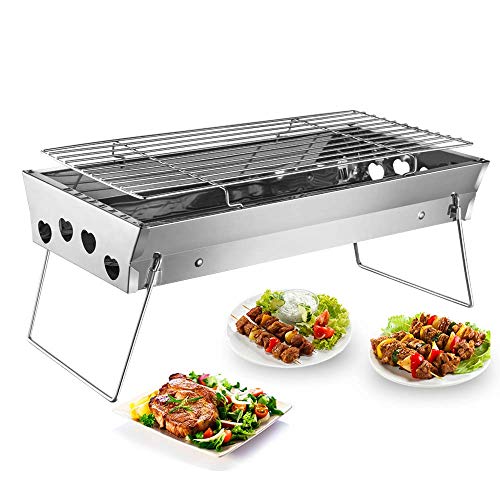 Here's one of the best tabletop grills that you and your friends will enjoy using! Yes, it's small and lightweight, but it serves its purpose efficiently especially on your table top. You can easily set it up on top of your table, start the fire, and wait for your yakitori to get cooked. You'll get delicious results instantly.
After use, you can quickly clean the grills including its base and put it aside for storage. Because of its high portability, the Shuzhu tabletop grill is best used for outdoor activities such as camping and picnic.
Pros
Easy to carry, clean, and store
Made of stainless steel which makes it super durable
Perfectly fit on your table for grilling
Con
Not an ideal choice if you're going to grill a lot of food
Buy it now: Amazon
---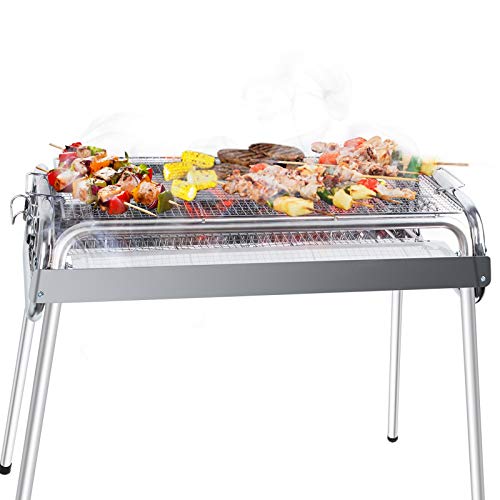 The Uten barbeque charcoal yakitori grills look simple in their design. However, its simplicity is actually its strength. It is made of stainless steel and it comes with proper ventilation. With its heat reflection design, the heat is evenly distributed and it effectively conserves energy.
Pros
Made with rust-proof, strong, and heat-resistant stainless steel
The grill is stable with its non-slip rubber feet
The design allows air to quickly reach the charcoal for a continuous supply of heat
Cons
Not ideal if you're going to grill food for more than ten people
Buy it now: Amazon
---
The barbecue and yakitori grills of C-Hopetree should be part of your next outdoor cookout. It is super lightweight and can be brought almost anywhere. The best about the C-Hopetree griller is its raised burning rack. This means that you can cook your food away from dirt and it can easily be accessed by air for a continuous supply of heat.
To give you an idea of the size of this griller, its dimension is 22 inches in length, 9 inches in width, and 28 inches in height. Because of its size, it can grill 20 skewers all at the same time. The sophisticated design allows your yakitori and other food to perfectly sit on top of the grill with evenly distributed heat.
Pros
Compact
Durable
Lightweight
Larger capacity than other grillers
Easy to clean
Cons
The bottom part of the grill comes with a hole. You need to check it for falling ashes.
Buy it now: Amazon
---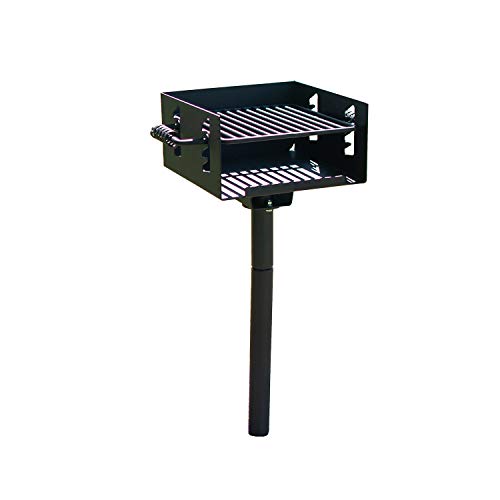 The Titan charcoal best yakitori grills are one of a kind. It comes with so many features that you will love.
First off, this grill is something unique. It has only one leg, which you need to securely bury on the ground and make it stand. The grill party griller yakitori grill is made with heavy-duty metal, which makes the product long-lasting and sturdy.
The height of the post is 39 inches. If you add the height of the yakitori grill, it would then reach up to 50 inches. So, it comes with an ideal height for an outdoor cookout. Of course, you can adjust how much of the post you want to bury to attain your desired height. Aside from that, you can adjust the grill grate to four different heights.
Don't like the smoke on your face? You can easily rotate the yakitori grill and direct the smoke away from you and your guests. It's worth noting that the yakitori cooking surface area is about 16 inches by 16 inches. So, it can easily accommodate a small family's needs. Not only that but for safety purposes, the yakitori grill comes with spring handles on the side so you won't get burned.
Pros
Highly durable – can stand extreme outdoor weather
Perfect for skewers such as yakitoris and kebabs because of their perfect cooking area
Safe to use
Cons
Stationary and needs to stay in one place
Buy it now: Amazon
---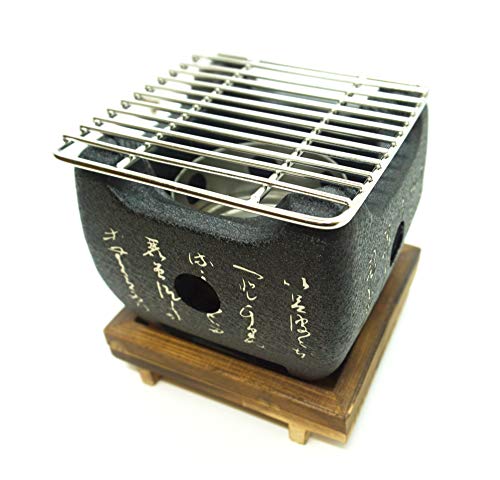 If you are into minimalism and simplicity, then this yakitori grill is right for you. Of course, it's kind of small, but it is perfect if you want to quickly grill your yakitoris without too much fuzz and hassle.
The yakitori grill's body is decorated with Japanese lettering, making it look more Japanese-themed. Because it is just a small grilling product, you can only cook a few skewers at a time. It is easy to use and wash afterward. Aside from that, it does what it is designed to do in an effective and quick manner.
Pros
Can be placed on top of your table or any flat surface
Easy to transport
Brings out Japanese style grilling in your home and any outdoor activities
Cons
Too small. You may need to buy more of this product if you plan to cook additional skewers.
Buy it now: Amazon
---
This grilling product is made of cast iron. So, you can be sure that it is strong and sturdy. It would last a lifetime with proper use.
When it comes to its cooking surface, you can enjoy using 157-square inches of it. You would also be happy to know that the yakitori grill is equipped with two adjustable air vents. This is useful if you want to control the burn rate of the grilling product. You also have the 3 adjustable cooking grids to help you decide how fast or slow you want your yakitori to get grilled.
Pros
Sturdy and all parts fit nicely
Looks stylish and great addition to any party
Improves the taste of your yakitori with its professional features
Cons
Don't let the yakitori grill stay out in the sun and rain. With proper use, it can last for many years.
Buy it now: Amazon
How to choose the best yakitori grills in 2023
It's 2021 and you want a new and the best yakitori grills. So, what are the things you need to consider before you make your final decision? Here are few things to think about.
Capacity
The first thing you need to do is check the capacity of the yakitori grill. There are those that can accommodate only 10 skewers while others can grill up to 30 skewers at the same time.
Needs
All of us have different needs. So, you may want to determine how you will use the yakitori grills. Would it be for indoor or outdoor use? Would you like it to be stationary or bring it anywhere you go?
Materials used
Next, check the built and material used for the yakitori grilling product. While we want to have a grill that looks stunningly beautiful in the backdrop of our yard, you have to choose quality over beauty. This means that you have checked the durability of the product, what materials were used, and how strong the grilling product is — if it can hold a lot of weight and pressure.
Safety features
Aside from the materials, don't forget to check the safety features of the grill. After all, someone will be dealing with heat and fire every time that person uses the product. Check if there are heat-resistant handles available or any high possibility that the grill will cause an accident.
Price
Look at the price. Don't think that the most expensive Yakatori charcoal grill would be the best and perfect choice for you. Again, everyone's needs can be different and unique. So, even the most expensive yakitori grill might be the right one for others but not for you. By examining the yakitori grilling product, you should have a general feeling whether you are paying too much or just right for the product.
Reviews
Check for unit reviews as well. There is a ton of information you can get from other people's reviews and feedback. Of course, not all reviews can be trusted, but getting all sides of the reviews should help you make a better decision.
Manufacturer
If you are still undecided, speaking to the unit manufacturer or seller directly should help. They can answer any of the questions you might have and they may even give you a few recommendations or pieces of advice.
Verdict
We have featured 15 yakitori grills in this review. Having too many options might be overwhelming for you. However, to help you make a quick decision, let us give our opinion.
For us, the best yakitori grill would be the Weber Original Kettle Grill. It is our top pick because you can easily move it around and its cleaning system is superb. However, if you are looking for the best yakitori grill that you can place on top of your table, give The Bincho Grill Yakitori Tabletop Party Griller a try. It is definitely sturdy and its stainless steel looks clean on your dining table.
Of course, bottom line is that we all have different needs, preferences, and budgets. So, be sure to assess your personal situation. Don't rush. Take a good time to explore your option before you decide which yakitori grill to buy. With all these in mind, we hope you find the right party griller for you!
* If you buy through links on our site, we may earn an affiliate commission. For more details, please visit our Privacy policy page.