There are a lot of best Boba cup sealer machines in the market today. Each may differ based on its features, purpose, functionalities, appearance, and price. If you are not careful, you might end up choosing the wrong cup sealing machine for you.
* If you buy through links on our site, we may earn an affiliate commission. For more details, please visit our Privacy policy page.
Thankfully, we gathered and reviewed the best boba cup sealing machines in this post. So, take a look at the products featured below to find the right boba cup sealing machine for you!
Best Boba Cup Sealing Machines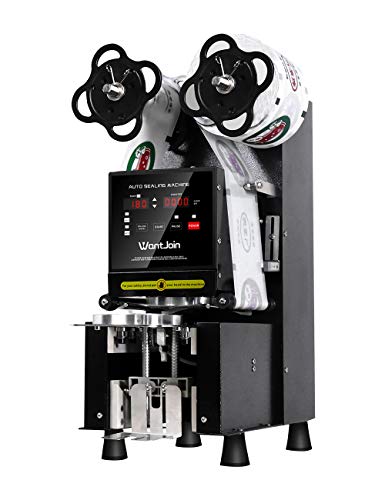 This bubble tea sealer machine will automatically and efficiently seal your plastic cup. You can simply add the cup. From there the film will quickly roll, seal the cup, and eject the cup to make way for the next to the cup.
The WantJoin machine can accommodate plastic cups with a maximum height of 18 cm. It uses universal plastic and paper for sealing. So, there's no need to worry about which materials to use. Plastic cups that can be used include PC, PP, PE, and 90-95 calibers.
Pros
Perfectly seals cup without any leaks
Designed for heavy and commercial use
Comes with an automatic counting function and LCD
Con
You may need to adjust the side sensor to ensure it focuses on the right spot of the cup. If you have trouble setting up the machine, don't hesitate to get in touch with the manufacturer.
---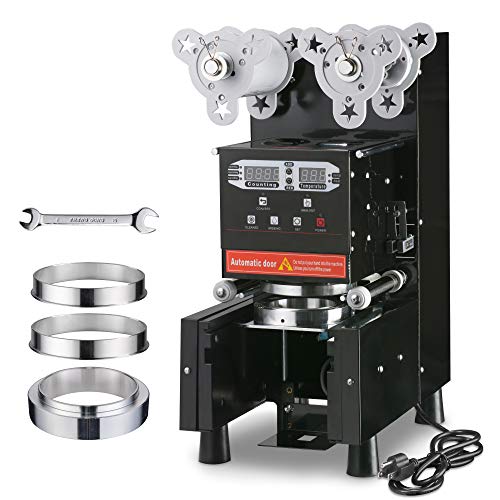 Succeed in your business with WeChef's cup sealing machine. Temperature can easily be adjusted up to 482°F. The best thing about this machine is it comes with different cup-holding ring sizes. This means that the machine can hold various cup sizes.
The plastic cup sealing model of WeChef can be fully automated. You can load the right cup size, let the machine hold it in place, and seal your cup in perfection. The guide rail ensures that the saucer height is just right for your cup. The LCD screen also gives you a real-time count of the cups you have already sealed. Temperature is also shown on the LCD area so you can set your machine accordingly.
Pros
The machine can be operated manually and automatically
Can seal up to 670 cups per hour
Can seal a wide range of plastic cup sizes
Cons
Be sure to get familiar with the cup holder sizes. Because of the many extra parts and accessories, you need to make sure you store them properly and prevent them from getting lost.
---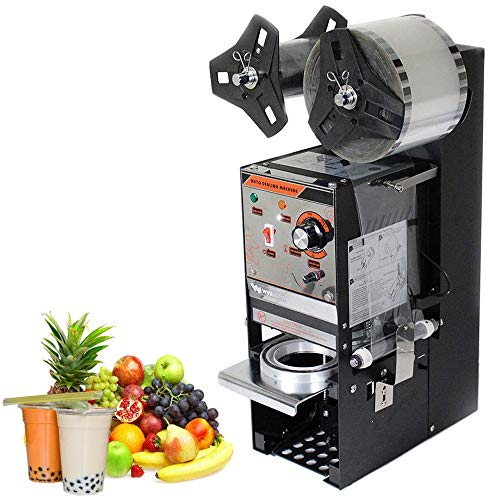 This bubble tea sealing machine is super easy to use. All you need to do is fill the cup, add it into the mold, and the machine automatically seals the cup in just a few seconds. So, your customers don't need to wait for too long.
Aside from the user-friendliness of the sealing machine of WYZworks, it is also highly durable as the bubble tea machine is made of heavy-duty and stainless metal.
Pros
Temperature is adjustable
Easy and safe to use
Made for professional and commercial use
Con
It may not work with other types of cups and lids. Be sure to read the manual to know exactly what cups are compatible with the machine.
---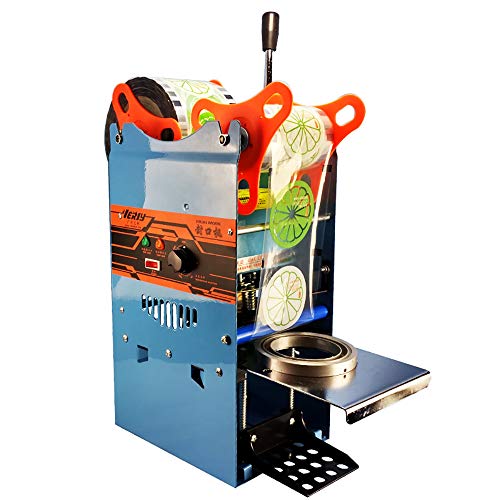 This is a manual sealing machine that can seal up to 500 cups an hour. It can accommodate cups that are 180 mm and 95 mm in height. It comes with thick steel plates on both sides for your safety and protection of the machine itself.
Pros
Saves you sealing films as it works with little to no errors
Simple to operate and effectively prevent spills
The machine is small and won't take up too much space
Con
The machine is lightweight. You need to secure it on a flat surface to prevent the machine from moving while you pull the sealing arm.
---
Equipped with a digital control LCD, the Vevor Store Sealing Machine helps you control temperature, set the number of cups to be sealed, and check the status of your sealing process. It can seal various drinks, beverages, teas, and of course, boba tea drinks.
Vevor sealing machines are highly innovative. It uses an accurate and precise scanner to ensure that your cup is sealed perfectly. All you need is to load the cups, configure the setting, and your cups will automatically be sealed. No need to pull any lever.
Pros
Automatically seals and counts cups
Built with a heavy-duty steel
Accurately seals cups within seconds
Con
Getting to know how to operate the machine may be a bit challenging. Be sure to read the manual or get in touch with the manufacturer for more pieces of personalized advice.
---
How to choose the best boba cup sealing machine
A bubble tea sealing machine can be a huge investment for many bubble tea shops. Thus, take enough time to sit and think of the different options you may have when choosing a boba cup sealing machine. After all, it costs a lot of money and if you don't do enough research, you may regret your choice.
Here are a few things to consider when choosing a plastic cup sealing machine:
Features
Sealing machines differ in their capabilities and functionalities. For example, some can only seal a certain size of cups, while others can accommodate a wider variety. There are also sealing machines that come with an LCD screen to show you its temperature while others do not. Be sure to consider various features to know whether you can live without them or not.
Price
Your budget can very well determine your buying power. It is best to check various sealing machines to get an idea of the average price. From there, you would know whether a machine is overpriced or not.
Reviews
If you are buying online, you won't be able to hold and touch the product until you get it on your doorsteps. Thus, reviews play an important role in your decision-making. Be sure to read honest reviews of customers, weigh the negative and positive ratings, and from there, you should have a better idea of which one to choose.
Final verdict
We have featured 5 boba tea cup sealing machines in our review. However, what we love the most is the WantJoin Cup Sealing Machine. this best boba cup sealer exceeds our expectations. The machine accurately seals cups with the least amount of errors.
Of course, be sure to read through each of the products you are interested in. What may be ideal for some people might not be ideal for you. Be sure to assess your needs, preference, and budget.
* If you buy through links on our site, we may earn an affiliate commission. For more details, please visit our Privacy policy page.