The best meat slicers aren't just for delicatessens and butcher shops. If you often process a lot of meat or even vegetables and cheese, slicing them by hand can be tiresome. It's also hard to maintain the consistency of the slices. This is where a reliable meat slicer serves its purpose.
* If you buy through links on our site, we may earn an affiliate commission. For more details, please visit our Privacy policy page.
Meats slicers are available in electric and manual models. They allow you to slice pieces of meat according to your desired thickness such as when you want to make bacon, jerky and meat sandwiches. You can use a meat slicer to reduce your cutting time and improve the consistency of your cuts. This makes the best meat slicer a great addition to your kitchen cutting tools.
Before you shop to get your meat slicer, make sure to check out our top picks first as they come with great design features and backed by many positive reviews:
5 Best Meat Slicers Reviews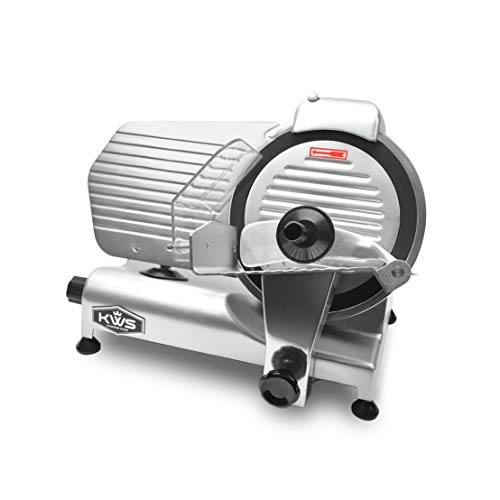 This commercial meat slicer is well-designed for cutting meat to precision. It is constructed for heavy-duty use so if your household often purchases large amounts of meat for slicing, this product is perfect for you. It can stand a lot of abuse and frequent use, thanks to its 0.4 hp torque motor, it has enough power to tackle constant slicing.
What we like most about this meat slicer is that it is quite versatile as you can also use it to slice vegetables, fruits and cheeses. Cutting food up to 0.4 of an inch is effortless.
The overall construction of this meat slicer is also above par among many of the meat slicers we reviewed. While many high-end meat slicers come with carbon steel cutting blades that easily oxidize and blunt out with frequent use, the high-quality 304 steel performs better at resisting rust and corrosion. This type of blade is also more durable and with longer service life. The Teflon coating on the 10-inch blade also improves performance as it prevents the meats and other foodstuffs from sticking.
Pros:
Comes with a built-in dual whetstones sharpener for the blade
Anti-rust and corrosion blade
Slices with precision
Runs on 320 watts of power, making it more efficient than many other expensive meat slicers
Compact and easy to move around in the kitchen
Cons:
A bit expensive but you get the full value of your money
---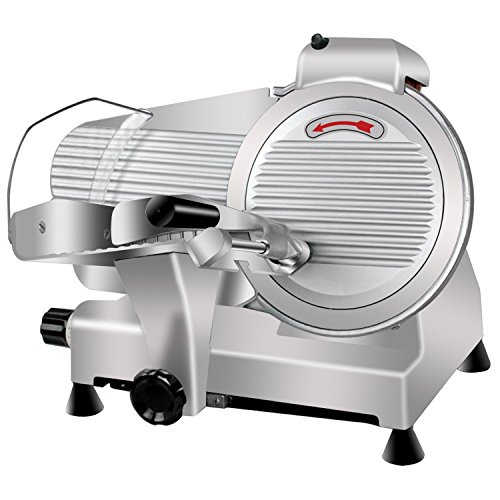 The Super Deal meat slicer is another cutting-edge product with a compact design and solid construction. You'll love that it can produce almost paper-thin slices of meats.
If you often make beef jerky or do a lot of homemade treats that require you to slice meat or vegetables into extra-thin slices, this 240-watt meat slicer is one of the best choices available for home use. One of the things we like about this product is that it works very quietly and without the annoying noise that other meat slicers produce.
This automatic home meat slicer uses 1/3 hp of power and it comes with a stainless steel blade that is resistant to corrosion. The meat slicer blade is already sharp out of the box but if you need to sharpen the blade in the future, that will be an easy task as it also comes with a built-in dual whetstones sharpener. You can use this product to slice meats, vegetables and even cheese from 0 to 13mm in thinness. Moreover, as a safety feature to avoid accidents, this meat slicer comes with a fixed ring guard that prevents contact with the blade.
Due to the compact design of this meat slicer with a dimension of 21 x 16 x 16 inches, you can use it even in a small kitchen.
Pros:
Cuts with little effort
Made of high quality materials
Not noisy
Easy to assemble
One of the super duty slicers as it has no plastic component except for its optional shield
Cons:
The English instructions are hard to understand
---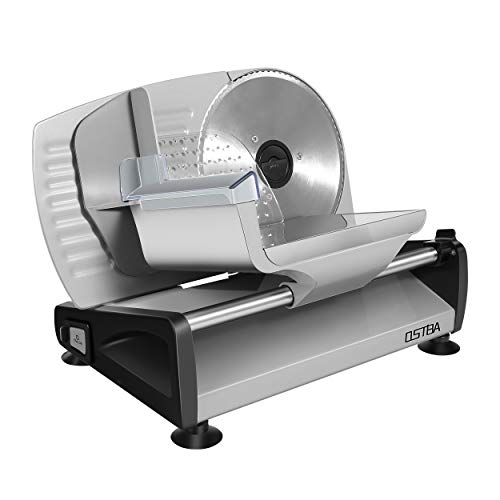 OSTBA meat slicer may not have all the best features that the first two products we listed have but it is also a well-made product that is safe and easy to use. What we like about this product is that its price is beyond reasonable, considering the overall quality of the cuts it makes. It's definitely a great value for your money. However, it's important to note that it only has a 7.5-inch stainless steel blade which is a lot smaller than a regular deli cutter, so this might be a drawback to some who want a bigger blade.
This cutter lets you adjust the thickness from super thin to about 3/4 of an inch. Aside from producing thin meat slices, you can also use it to slice cheese, vegetables, fruits and roast meat. It is a powerful slicer that runs on 200 watts of energy.
Another good feature of this meat slicer is its safety protection. You can only operate it by pressing the safety lock and the power button simultaneously. This feature helps avoid accidental operations. The meat slicer also comes with a ring guard and suction cup feet for additional safety while working on it.
Overall, we can say that it's a decent meat slicer for beginner chefs.
Pros:
Works well in slicing meat thinly
Food pusher is a great feature
Lightweight and easy to move around in the kitchen
Good quality meat slicer
Cons:
---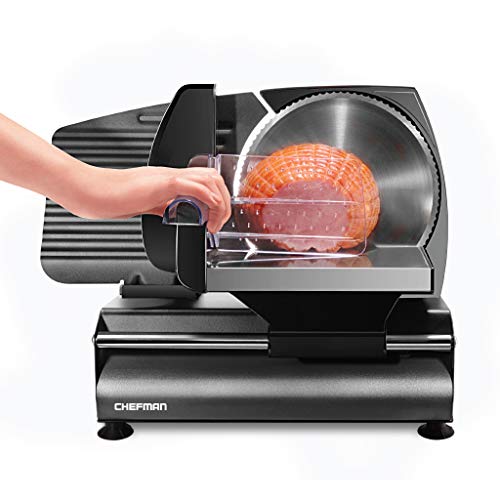 For those who are on a tight budget and are okay with basic fittings, this meat slicer offers a good value. Just like some of the expensive meat slicers, this model too is fitted with a serrated stainless steel blade. It is also durable and is made to last.
This automatic meat slicer is powered by a 180-watt AC motor. The blade size of this model is 7.5 inches in diameter and although it is not the standard size for deli cutting, you can use it for a wide range of foodstuffs including dried meat, turkey, ham, cheese, bread, vegetables and fruits.
What we like about this slicer is that the blade is removable and retractable, making it relatively easy to clean. Also, it comes with a dial for ease in adjusting the thickness. It's worth noting that this Chefman meat slicer has a compact and sleek design, allowing you to easily move and store it after use.
Pros:
Comes with non-slip feet
Compact and portable
Easy to clean
With 1-year warranty
Cons:
Not so good at super-thin slices
---
Meat slicers that are easy to clean can be hard to find, and this model is our top choice when it comes to ease of cleaning and ease of use. Powered by 200 watts of energy, this automatic meat slicer can slice almost anything from meats, pieces of bread, cheeses, fruits and vegetables. It's a great meat slicer for home use.
Unlike some meat slicers that only come with either serrated or non-serrated blades, the Anescra model comes with both. And the 7.5 inches blades are made of 304 stainless steel blade that is known for its anti-rust and anti-corrosion properties. With two blades, you can use one type of blade for cooked meat and the other for raw, preventing cross-contamination.
As mentioned earlier, it is easy to clean because most if not all of the parts that are in contact with the meat are removable including the blade, finger guard, food tray, food pusher and slide rod extension. It's not easy to find meat slicers with many removable components.
Pros:
Comes with two blades, one serrated and one not serrated
Good quality meat slicer with compact and with a solid construction
Adjustable thickness up to 3/4 of an inch
Lightweight
Cons:
The guard is a bit small and not adjustable so it's not ideal for cutting thick slices but it does a great job at making thin slices
---
Buyers Guide: Features to Check When Comparing Meat Slicers
Blade
When checking the blade, check the material used if it is anti-rust or anti-corrosion. This is important to ensure the longevity of your slicer.
You should also decide the type of blade that's most useful to you. Meat slicers normally come with a blade that has a smooth or serrated edge. A smooth edge is ideal for making perfect fine slices without damaging the meat, vegetables or cheese. On the other hand, if you are looking for a meat slicer for cutting tougher meats, then a serrated edge is more useful.
The size of the blade matters too when comparing meat slicers as it tells you the maximum size of meat you can work with. If you want a deli slicer, go for something with a blade that's much bigger than 7.5 inches. For home use, a 7.5-inch blade or lower may work fine.
Wattage
Generally, the higher the wattage is, the more efficient your meat slicer will be as the motor plays a vital role in the overall efficiency or performance of the meat slicers. When it's efficient, a meat slicer can cut faster with much precision. A heavy-duty meat slicer usually requires above 200 watts of power to run.
Safety Features
As you will be dealing with a sharp blade, make sure to get a meat slicer that has reliable safety fittings to prevent accidents. The most basic feature to look for are the finger guard, blade guard and rubber feet for stability.
Ease of Use
Meat slicers are generally categorized into automatic or manual operation. Automatic models are the best in terms of ease of use. All you need to do is turn the unit on, adjust the thickness then you can already start slicing. Automatic meat slicers are ideal if you want to slice large quantities of meat and other food items.
On the other hand, manual meat slicers are okay for family use especially if you just want to slice small batches of meat. They are generally cheaper than automatic units.
Ease of Cleaning
Reading reviews about the best meat slicers, you'll see that many of the complaints have to do with the difficulty in cleaning. Make sure to buy a meat slicer with removable components, especially the cutting blade so that every time you need to clean, you can simply remove the parts and clean. Of course, for most meat slicers, you can't expect them to be dishwasher safe. If you can find one that is dishwasher safe, that's a bonus.
Huge Meat Tray
The meat tray size is also an important factor to consider when buying a meat slicer. As the meat tray catches the food you are slicing, it should be large enough to accommodate a big batch of meat, vegetable or fruits.
Positive Reviews
When comparing meat slicers, don't just fully rely on the description of the product but you should also read reviews. From the reviews, you'll get an idea of how a meat slicer actually works. You'll be surprised that some products don't work as they claim to. So make sure to read reviews before finally making a decision to buy a particular meat slicer.
Conclusion
You need to know that commercial and home slicers aren't cheap so we want you to choose the best meat slicer that can give you the best value for what you'll be paying for.
Our top pick for the best meat slicer is the KWS MS-10NT Premium Electric Meat Slicer. It is the most efficient and versatile meat slicer in our list as you can also use it for cheese, bread and vegetables. It is also top-notch in terms of overall performance. It has several features that are not common among cheaper meat slicers.
On the other hand, if you want a more affordable meat slicer, you may also consider getting the Meat Slicer 200W Electric Deli Food Slicer with Child Lock Protection. It may not have all the bells and whistles that the KWS has, but performance-wise, it is on par with heavy-duty meat slicers.
Ultimately, you need to make a decision based on your budget and preferences. Be sure to check the features we have listed above to make an informed decision.
* If you buy through links on our site, we may earn an affiliate commission. For more details, please visit our Privacy policy page.