Do you often use ground meat for cooking or sausage making? If you do, you may consider getting a reliable electric meat grinder machine.
* If you buy through links on our site, we may earn an affiliate commission. For more details, please visit our Privacy policy page.
With ground meat, you can prepare many sorts of recipes including burgers and sausages. And having an electric meat grinder makes food preparation even more convenient.
If you are ready to buy an electric meat grinder, this guide will help you choose the right machine.
Best Electric Meat Grinder
This heavy-duty electric grinder for meat is ideal for family and commercial use. It has a powerful 1.5 HP motor that can grind about 14 pounds of meat a minute. The motor is air-cooled and lubricated, allowing it to grind more without stopping.
The Weston Pro Series #22 has many great features including a reverse mode which is useful for connective tissue and tougher meat. Compared to several brands we've checked, it has a relatively quieter performance due to its permanently lubricated motor.
When you buy this unit, it comes with several accessories such as the patented auger-grabbing stomper, storage tray, grinder knife, 7 mm and 4.5 mm stainless steel plates, and a sausage stuffer kit.
PROS:
Comes with a built-in knife sharpener
With a built-in circuit breaker for safe use
Quiet performance
Quality materials and construction
Powerful motor
CONS:
It is heavy, weighing 58 pounds.
---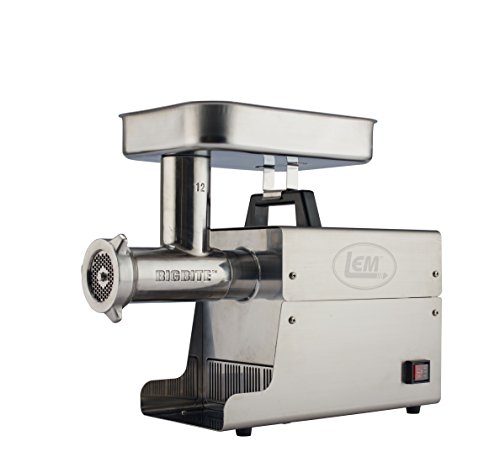 LEM is another trusted brand when it comes to electric meat grinders. This unit has a stainless steel construction which makes it highly durable. Also, based on reviews, it does not produce annoying noise during grinding.
It's important to know that this LEM electric grinder has a lower motor power than the Weston Pro Series. It has a .75 HP motor that can grind approximately 7 pounds a minute.
This unit is easy to assemble and disassemble. Apart from that, you can easily clean it using a bottle brush.
When you buy this product, you also get 1 steel knife, 1 meat stomper, stuffing and coarse plates, 3 tubes, a plate extractor and a meat pan.
PROS:
With a 5-year warranty and lifetime customer support
Quiet performance
Durable stainless steel construction
CONS:
No reverse function for hard meats
---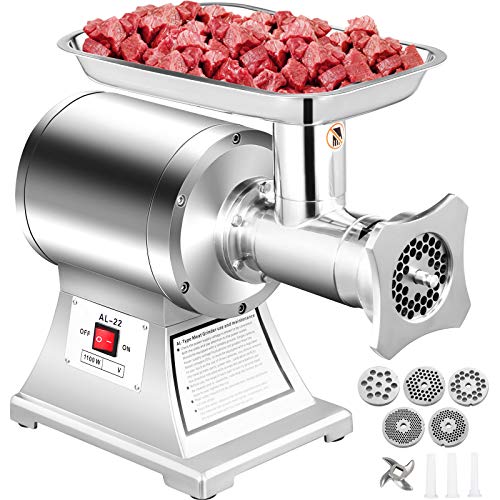 If you want a heavy-duty multi-purpose appliance for making ground meat, this product is a good choice. Aside from meat, it can also make ground chili, garlic and ginger among others. It's great for both commercial and home applications.
When it comes to motor power, it is second to the Weston Pro Series. It has 1 HP motor and it can grind approximately 9 pounds of meat a minute. It also comes with 5 grinding plates, the smallest of which is 4 mm and the biggest is 12 mm. This allows you to customize the size of the ground meat to your specific needs.
When you buy this unit, it also comes with 3 sausage fillers, a meat tray and a meat pusher for conveniently stuffing the meat. All parts are easy to assemble and remove for cleaning.
PROS:
Easy to operate as it has only one button
Wear-resistant and rust-proof
Grinds meat in 5 different sizes
CONS:
Replacement parts in case yours get damaged can be hard to find
---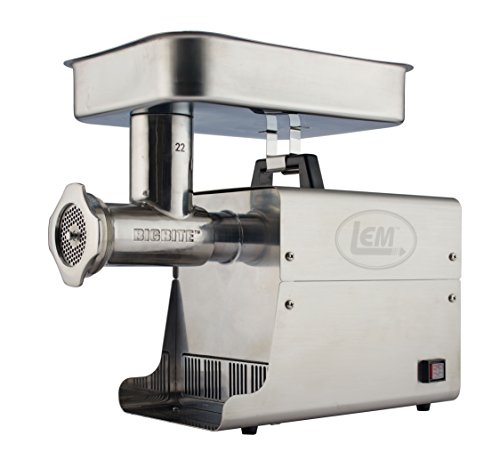 With a 1-HP motor that is able to grind about 13 pounds a minute, this product ranks second in terms of power. It's an ideal choice if you are looking for a versatile grinder for commercial and family use.
Just like the different LEM electric meat grinders, this too has a permanently lubricated motor. This design reduces noise during operation.
Moreover, this appliance is easy to assemble and use. It also comes with a rifling pattern in the head that pushes meat with minimal user interaction. This makes the grinder safer to use.
This set also includes 2 grinding plates, a dual blade knife stuffing place, a pan, and a plate extractor.
PROS:
With lifetime customer support and a 5-year warranty
Brushed steel finish minimizes fingerprints
Quality construction
Quiet operation
CONS:
Grind meat in 2 sizes only
---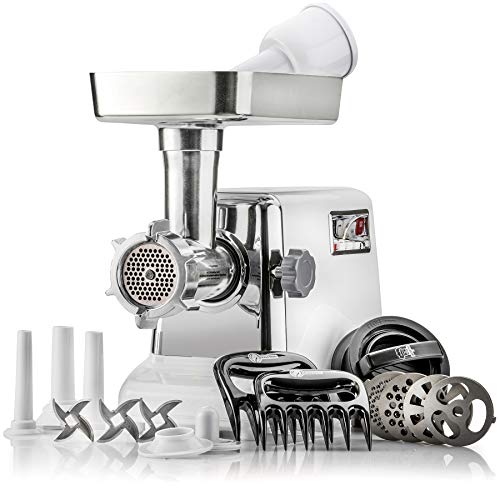 The STX Turboforce is one of the meat grinders for family use that has received thousands of positive reviews. This heavy-duty appliance has 4 HP of peak output power and can process up to 4 pounds of meat per hour.
Weighing just 12 pounds, this grinder is considerably lighter in weight compared to the rest of the products we listed in this review. You can conveniently move it from one place to another.
Apart from the main unit, the set also comes with 3 tempered grinding plates, a sausage stuffing plate, a set of 3 sausage stuffing tubes, 3 cutting blades and a kubbe attachment. As a bonus, you also get 2 free claws and a burger patty press.
PROS:
Heavy-duty and durable construction
Easy to operate and clean
With a 30-day unconditional money-back guarantee and a 3-year warranty
CONS:
---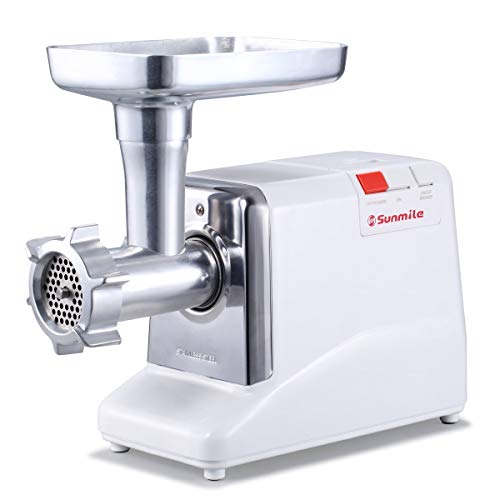 This appliance for making ground meat has a maximum locked power of 1.3 HP and is able to grind approximately 3 pounds a minute. It is a good choice if you are not after big capacity but are looking for an affordable machine.
The Sunmile SM – 650 comes with 3 cutting plates for fine, medium and coarse. You also get 1 plastic food pusher, 1 stainless steel blade and 1 sausage staff maker. All these parts are easy to clean.
Operating this meat-grinding appliance is quite easy. You just need to press the on, off and reverse switches. There's also a built-in circuit breaker to prevent overheating.
PROS:
With built-in accessories storage
Easy to operate
All materials are food-grade and ETL-certified
CONS:
---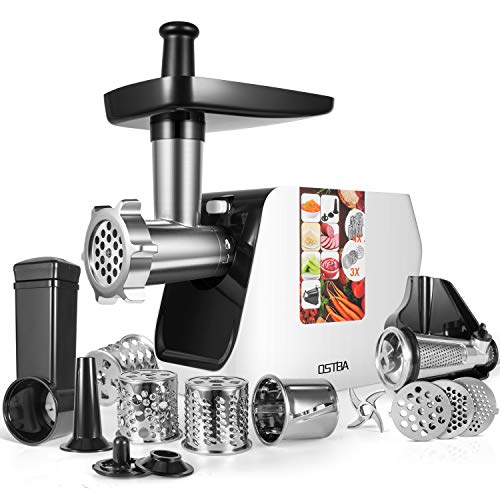 You may want to check out this product if you want a multi-purpose appliance for your family-cooking needs. The OSTBA meat processor also works as a vegetable slicer, tomato juicer, kubbe attachment and sausage stuffer.
It has a motor that can power up to 500W (approximately .67 HP) and can grind 1 pound of meat per minute. The thermostat system and the built-in circuit breaker in this machine prevent the motor from overheating.
This product comes with a switch with on, off and reverse functions. Once done, you can easily disassemble the parts for cleaning.
When you get this unit, it comes with 3 stainless steel cutting plates, a sausage kit, a kubbe attachment, a tomato juicer and vegetable slicer kits.
PROS:
With 5 functions for your cooking needs
Hassle-free disassembly for cleaning
Easy to operate
CONS:
Low capacity of only 1 pound per minute
---
This appliance is one of the high-powered meat-grinding machines at a low price point. It has a rating of .82 HP and a capacity of 7.9 pounds a minute. You may want to consider this one if you are looking for an affordable and versatile machine for making ground meat.
It comes with an on, off and reverse switch for ease of usage. The reverse button is designed for self-cleaning. Most of the removable parts are also dishwasher safe.
As a bonus, this unit includes a built-in storage box where you can keep all its accessories. It has 3 grinding plates, 3 sausage tubes, 2 cutting plates and 1 kubbe attachment. With its accessories, you can also use this meat-grinding machine to make ground pepper, garlic, fruits and vegetables.
PROS:
Versatile as you can also use it to grind fruits and vegetables
Easy to operate and clean
Quality construction
High capacity per minute
CONS:
May overheat if you continuously use it for more than 10 minutes without letting it cool down
---
Factors to Consider When Choosing the Best Meat Grinder
1. Motor Power
When you're getting the best grinder for heavy-duty and frequent use, choose a unit with at least 1 HP of motor power. With a powerful motor, an appliance can quickly grind meat without overheating even if you operate it for an extended period of time. More often, the higher the motor power of the grinder is, the more meat it can process.
2. Noise Level
If you have to use the grinder in your home kitchen, consider getting a unit that's quiet. This way, you won't be disturbing other people when you're processing meat.
3. Functions
Some of the best machines are just for grinding meat while others also come with cutters for processing other types of food including vegetables or fruits. For some grinders that only process meat, they are durable enough to grind tendons and even bones. On the other hand, multi-functional food grinders may not be able to process these parts.
4. Quality
Many of the best brands of meat-grinding machines utilize stainless steel for the body and other removable parts. This material is rust-proof and very durable. It's something worth checking when you are shopping for a grinder.
5. Capacity
For home food preparations, you can go for the best grinders with a capacity of 1 to 4 pounds a minute. However, for commercial use, it's a good idea to invest in an appliance with a much higher capacity per minute. It can help you make more ground meat in a minute.
FAQs
Can I grind soft bones on the grinder?

Some grinders especially those that are designed for commercial application can process tendons and soft bones. However, before doing so, read the manual of the grinder first to confirm.

What can I use a meat-grinding appliance for?

The basic application of this type of appliance is for grinding meat of any type. You can then use the ground meat for making sausages, burger patties, nuggets, meatloaf and other similar food products.
Conclusion
The meat grinders we included in this list are among the best-selling products in the market. From the features they have, we can say that these products offer great value for your money.
However, as they are not the same when it comes to overall performance, cost and capacity, we have our top pick. For high capacity, low noise level and sturdy construction, our top choice is the Weston Pro Series #22. It is great for commercial and home kitchens.
We also have our best choice when it comes to home kitchen use. The STX Turboforce 3000 Heavy Duty 5-In-1machine is a very durable grinder backed with a 30-day money-back guarantee.
* If you buy through links on our site, we may earn an affiliate commission. For more details, please visit our Privacy policy page.