Cow's meat or meat from cattle, or simply known as beef, has played an integral part in the world of cooking. Quality and quantity of the meat are classified depending on the breeds of the cattle.
Beef has been used already in creating wonderful dishes. There are several recipes that would stand out around the world. Two of the famous beef recipes are the Hunan beef and Mongolian beef.
What is Hunan Beef?
Made out of thinly sliced beef, loaded with colorful veggies and tossed in a hot and spicy sauce, the Hunan beef recipe is something you should look forward to. It has a very hot and straightforward taste.
The main ingredients in making a great Hunan beef would be chili pepper and garlic. It is also believed that Hunan beef comes from the Xiang River region and western Hunan Province. Whereas another beef recipe comes from Sichuan Province in southwestern China called the Szechuan beef.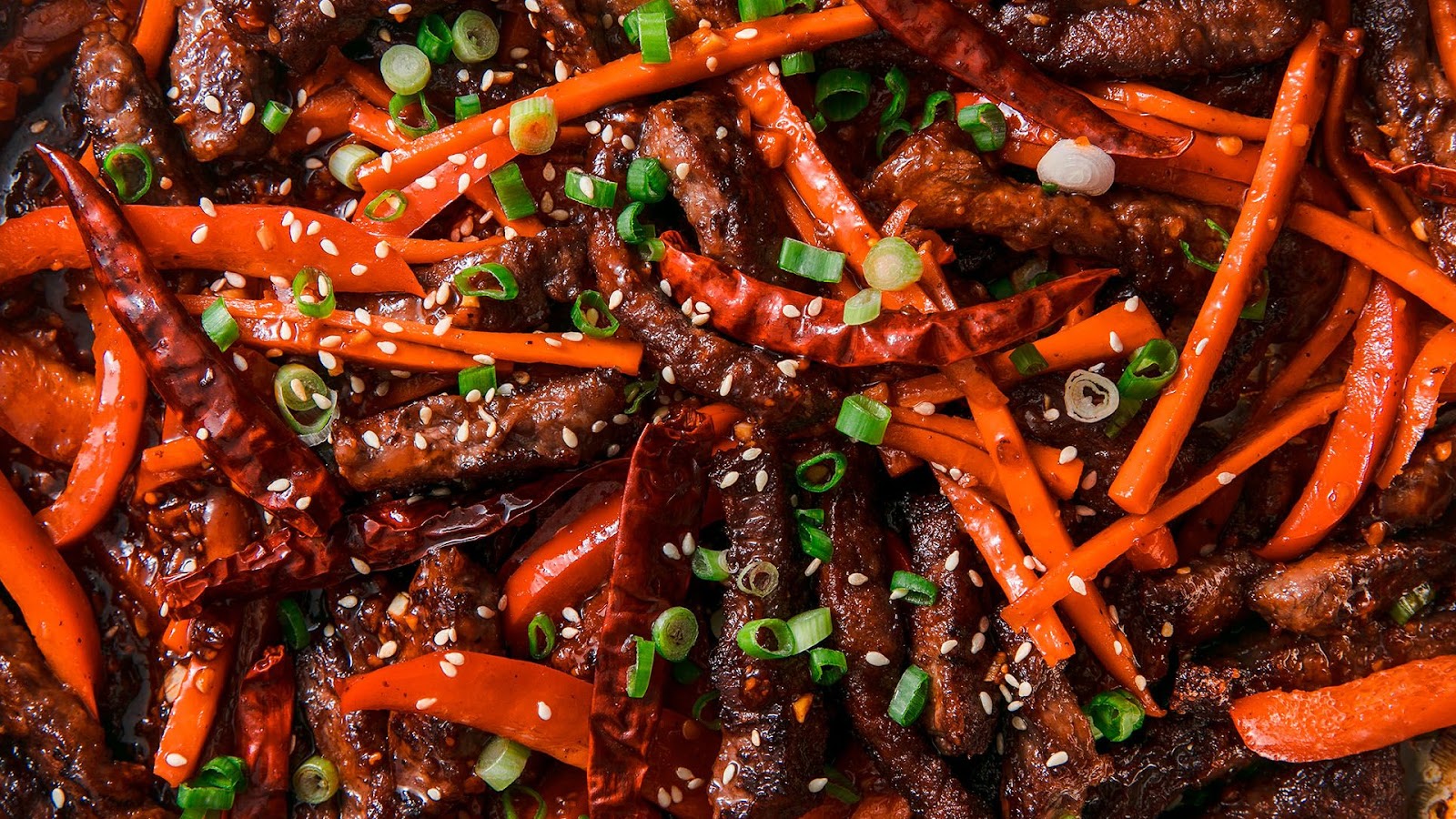 Hunan Beef Vs. Szechuan Beef
When it comes to their difference in the ingredients and preparation, Hunan beef would usually make use of smoked or cured beef and fresh ingredients, like fresh chili peppers. Though Szechuan beef would also contain chili peppers and garlic, it uses a special ingredient called Szechuan peppercorn.
Hunan beef would also contain more vegetables and have a crunchier texture. Szechuan would have a flavor that is sweet/spicy and complicated due to a distinctive tingly numbing sensation it produces when eaten, while the Hunan beef has a much hotter flavor.
What is Mongolian Beef?
Mongolian beef can be made out of sliced beef, typically flank steak and is usually made with onions. Mongolian beef hails from Taiwan and is commonly served over steamed rice. But in the US, Mongolian beef is served with stir fried cellophane noodles.
Though it is called as Mongolian beef, the beef originates from Taiwan as it is derived from the famous stir fried dish called Mongolian barbecue, which also originated in Taiwan. In the United States, Mongolian beef is commonly found in Chinese-American restaurants.
Mongolian beef gained its popularity due to its delectable flavors. It is often compared to the Szechuan beef as their tastes are very similar, sweet, spicy and complicated.
Hunan Beef Vs. Mongolian Beef
When it comes to flavor, Hunan beef is notably plain compared to the Mongolian beef. Hunan beef is also spicier than Mongolian beef, as the latter is sweeter due to the soy sauce and brown sugar ingredients.
Hunan beef also has more vegetable components, while Mongolian beef is commonly paired with scallions or mixed vegetables.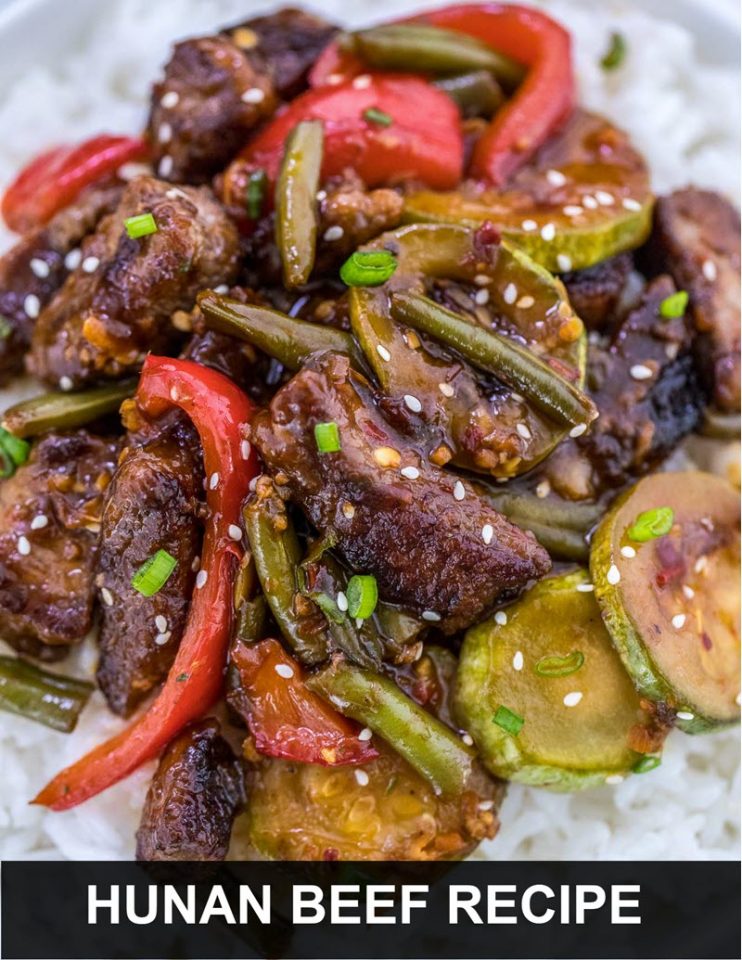 Hunan Beef Recipe: How To Make It
When ordering Chinese cuisine for takeout, one of the go-to would be the Hunan beef. This low-carb and heavy protein dish comes from a unique Chinese cooking that is popular in Chinese restaurants. Hunan beef has a brown sauce that is made out of beef broth, low-sodium soy sauce, oyster sauce, sugar and chili paste. You can add a bit of cornstarch to thicken it.
Let us see how to make Hunan beef by following this recipe
In making Hunan beef, prepare these ingredients:
1 lb. of Beef Flank Steak thinly sliced
1 tbsp. of vegetable oil
1 cup of broccoli florets
1 medium of red bell pepper
1 medium of green bell pepper
5 green onions
1 medium onion
1 1/2 tsp of minced garlic
For the flavorful sauce, you will need:
1/2 cup of beef broth
3 tbsp. of low-sodium soy sauce
2 tbsp. of oyster sauce
1 tsp of sugar
2 tsp of chili paste
2 tsp of cornstarch
Procedures:
Get a small bowl and whisk all the sauce ingredients together. Set it aside.
Slice all the vegetables into bite size pieces. Mince the garlic if you have cloves and slice beef very thinly.
Preheat a large and oiled skillet or pan. Cook the beef for about 7 minutes or until it gets golden brown. Once done, remove the beef from the pan then set aside. 
On the same skillet, mix the bell peppers, onion, green onion, broccoli and minced garlic. Cook for about 7 minutes or until the vegetables soften. 
Add the beef back to the pan, together with the cooked veggies. 
Pour the mixed sauce on the cooked beef and veggies. Toss everything together and allow it to cook for 5 more minutes. You may also stir your Hunan beef occasionally. 
Serve the Hunan dish with steamed rice or your grain of choice. Enjoy this Chinese dish!
---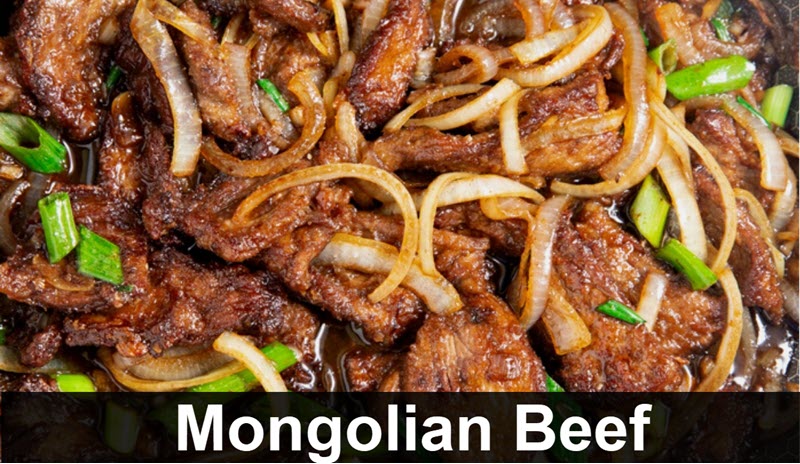 Mongolian Beef Recipe: How to Cook It
If you would love to get that crispy, sweet, rich garlic and ginger flavors of the Mongolian beef, you can always recreate the dish at the comforts of your home. It may only take about 30 minutes to prepare a lovely Mongolian beef.
To start, you will need these ingredients:
1 pound of flank steak
1/4 cup of cornstarch
1/4 cup of canola oil
2 teaspoons of fresh ginger , minced
1 tablespoon of garlic , minced
1/3 cup of lite soy sauce , low sodium
1/3 cup of water
1/2 cup of dark brown sugar
4 stalks of scallions (green parts only & cut into 2 inch pieces)
Procedures:
Prepare a zip lock and put some cornstarch in it. Set aside.
Find the grain or the length of the steak and slice it against the grain. It should be a long way from ¼ inch thick pieces. Put the sliced flank steak in a zip lock with cornstarch.
Make sure that each slice of steak is fully coated with cornstarch by pressing the steak around in the bag. Set it aside to sit.
In a large frying pan, add the canola oil and heat the pan on medium high heat.
Get the coated sliced steak and shake off any excess corn starch. Add the coated steak to the pan in a single layer and cook on each side for 1 minute.
If you are not using a large pan, cook the steak in batches to get a good sear on the steak. Crowding the pan with sliced steak will only steam them instead of sear.
Remove the steak from the pan once done cooking.
In a separate pan, heat some oil and add the ginger and garlic. Sauté them for 10-15 seconds.
Add the soy sauce, water and dark brown sugar to the sautéed ginger and garlic. Let it come to a boil.
Add the cooked steak once the sauce starts to boil. Let the sauce thicken for 20-30 seconds. You can use the cornstarch that was used to coat the steak earlier to thicken the sauce. You can also mix 1 tablespoon of cornstarch to 1 tablespoon of cold water and stir to dissolve the cornstarch and add it to the pan.
Add the green onions and mix them well. Cook for a final 20-30 seconds and serve while it's hot.
---
Szechuan Beef Recipe
A Chinese dish isn't just about regular stir fry or doesn't revolve around regular stir-frying. When it comes to Szechuan cuisine, a Szechuan beef recipe may include a deliciously saucy stir-fry dish.
To start making your Szechuan beef at home, you must have these ingredients ready:
For the stir-fry:
3 tbsp. of corn starch
3 tbsp. of peanut oil, divided
1 tbsp. of fermented chili bean paste (doubanjiang)
6 to 12 dried red chilis
1 tbsp. of whole Szechuan peppercorns
2 cloves of minced garlic
3 green onions (thinly sliced, use more for serving)
2 tbsp. of red chili oil
2 red bell peppers (thinly sliced)
2 small carrots (thinly sliced)
1/2 cup of low-sodium broth or water
1 tbsp. of hoisin sauce
1 tbsp. of sambal oelek
1 tsp. of toasted sesame oil
1 tsp. of Chinese black vinegar
Sesame seeds (for garnish)
For the marinade:
1 lb. of sirloin steak (sliced very thinly against the grain)
2 tbsp. of Chinese black vinegar
1/4 cup of low-sodium soy sauce
1 tbsp. of toasted sesame oil
1 tsp. of granulated sugar
2 cloves of grated garlic
2 tsp. of freshly grated ginger
1/4 tsp. of freshly ground black pepper
1/2 tsp. of ground Szechuan peppercorn
Procedure:
In a medium bowl, whisk together the marinade ingredients, except for steak until fully combined. Make sure to reserve half the marinade and set aside.
Add the steak to the medium bowl with the mixed marinade ingredients. Toss the marinade until evenly coated. Marinate the steak for 30 minutes. Drain and pat dry with a paper towel.
Get a large bowl, then mix the cornstarch and marinated beef. Make sure to shake off any excess cornstarch before frying.
Preheat 2 tablespoons of oil in a large pan over medium-high heat. Add the steak in a single layer, working in 3 separate batches if needed. Cook it for 1 to 2 minutes per side or until seared. Remove steak and set aside.
Put the pan over medium heat and heat the remaining 1 tablespoon oil. Add bean paste, dried chilis, peppercorns, garlic, green onion, and a pinch of salt. Cook for about 1 to 2 minutes until you have that nice aroma.
Add in chili oil and vegetables and cook them while stirring occasionally, for about 4 minutes or until slightly softened.
Add in broth and let it cook for 3 to 4 minutes more or until tender while stirring occasionally.
Add hoisin, sambal oelek, and the reserved marinade. Stir well and bring to a simmer.
Add back cooked steak and toss until well coated. Let it cook and stir until the sauce thickens and coats to the steak. Remove from heat and stir in sesame oil and Chinese black vinegar.
Garnish with sesame seeds and more green onions before serving.
---
Which One Will You Cook At Home?
Choosing which Chinese food to cook at home could be challenging. But now that you have an idea on how to prepare Hunan beef and Mongolian beef, I hope that you will have the confidence to prepare a delicious meal out of Chinese food on the table.
You can always recreate and change some of the ingredients. If you would like, you can try Hunan chicken instead of Hunan spicy beef. You can use the same ingredients, including the Hunan sauce aside from the main meat ingredient.
Hunan's flavor should stay the same as long as you have the right cooking procedure and ingredients. You can also slice the chicken, just like the beef slices. Let your family enjoy some Chinese dishes by recreating this beef recipe, may it be Hunan beef, Szechuan beef or Mongolian beef.