You want to have a premium hot pot for dinner while you're in Los Angeles, but you have no idea where to go. There are several hot pot restaurants to choose from in Los Angeles. Finding the finest hot pot restaurant may be challenging, but that's okay! We're here to help you find the best hot pot restaurants in Los Angeles.
Los Angeles is one of the best places in the world to eat, and because of its widespread popularity, it is a home for other nationalities from all over the world, who are all proud to share their delicious cuisine with you. You may eat any sort of food you can imagine in Los Angeles, including hot pot. In Los Angeles, you can get some of the best hot pot almost anywhere.
Since Los Angeles is a place where many people like eating, hot pot or communal stock pot cooking would be common. Los Angeles has We have a number of East Asian restaurants, including Japanese, Korean, and Mongolian, however Chinese is the most popular. L.A. is filled with excellent Chinese hot pot.
Scroll down and read on to find out which hot pot restaurants in Los Angeles are the best.
Best Hot Pot Los Angeles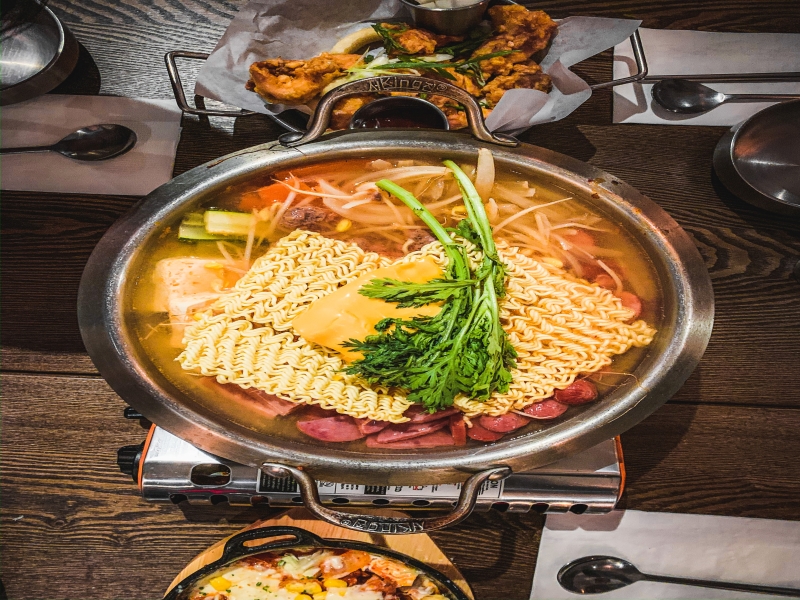 What Is A Hot Pot?
Hot pot is a type of cooking method that originated in China. Basically, ingredients (typically Chinese foodstuffs and ingredients) are cooked in a boiling broth.
A delectable soup known as hot pot is often served in a large metal pot. Throughout the course of the dinner, the broth is simmered after coming to a boil. Raw items are cooked by being added to the boiling broth, including meat and vegetables. To boost the flavor and aroma, dipping sauces are used with the cooked slices. Hot pot is typically served as a main dish.
Mushrooms (such as wood ear mushrooms), sliced potatoes, thinly sliced meat, shellfish, bean products, egg dumplings, tofu, leafy greens (such as Napa cabbage) and vermicelli are some of the popular ingredients included in hot pots. Pre-sliced tiny portions of raw ingredients are added to the simmering broth, which is kept at a mild boiling temperature, to cook fast and reliably. The majority of fresh products may be cooked in a hot pot, however they may require various cooking durations and must first be submerged in the soup before being removed.
Below is a list of the best restaurant hot pots in Los Angeles. If you prefer to eat out, you should try one of these restaurants.
---
1. Little Sheep Mongolian Hot Pot
Little Sheep Mongolian Hot Pot is located in 45 S Fair Oaks Ave, Pasadena 91105.
People in China adore hot pots. Traditional tastes and fresh ingredients simmering in hearty soup bases, all in one wonderful pot! There are always hot pots today wherever there are Chinese groups. One of the best hot pot restaurants in Los Angeles is Little Sheep Mongolian Hot Pot, which is possibly the most well-known and delectable of all the hot pots restaurant in Los Angeles.
Little Sheep's Mongolian broth is so well-known that they formerly offered packets of it for sale. They specialize in making hot pot in the Mongolian style. The broth is rich, earthy, and seasoned with cloves, cumin, soy beans, Sichuan peppercorns, and Monosodium glutamate. Every table has its own pot because of the way the restaurant is set up. You may order food items à la carte; you should try their imported New Zealand lamb shoulder, which is cut paper thin.
A distinctive feature of Little Sheep's traditional Mongolian hot pots is that dipping sauce is not needed, because the lamb and soup base are so tasty and filling on their own. The soup base alone contains many of nutritious herbs that combine powerfully and absorb every item. The mouthwatering lamb is also only produced in Inner Mongolia's Xilingol Grasslands.
---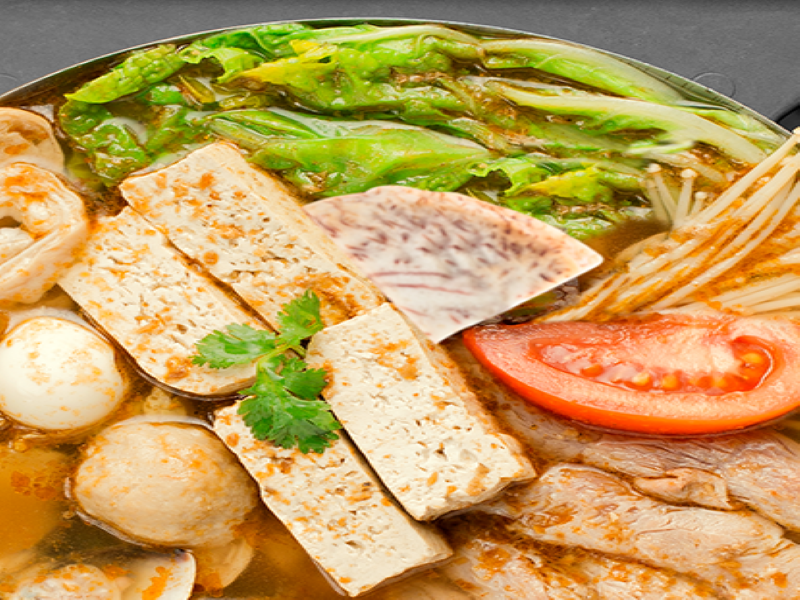 2. Boiling Point
Boling Point is situated at 250 W Valley Blvd., Ste J, San Gabriel 91776.
One of the hot spots in the Los Angeles hot pot scene is Boiling Point. Numerous imitations have sprouted up all around the city since they first opened their doors in 2004. Despite being established for over 15 years, lines are still typically long, and it all comes down to how straightforward their menu is. A well-portioned pot with the contents fully cooked and ready to eat is brought out to you after you simply select a flavor.
Hot Pot Variants
House Special Hot soup
Their House Special Hot soup is made with pork intestines, blood cubes, quail eggs, fried taro, fish balls, tomato, cilantro, preserved veggies and Napa cabbage. If you want a spicy hot pot, they have heat levels such as None, Mil, Medium, Very Spicy, and Flaming Spicy Only are available.
Seafood & Tofu Hot Soup
The hot pot is made with Taiwanese Bok choy, enoki mushroom, sliced pork, shrimp, iced tofu, baby octopus, clam, cuttlefish ring, fish fillet, vermicelli, fuzhou fish ball, egg, and green onions.
Other versions of their hot pots are Korean Paste hot soup, beef hot soup, lamb hot soup, milk cream curry hot soup, mushroom veggie hot soup, Taiwanese spicy hot soup (perferct for those who want a spicy broth).
They have appetizers such as steamed veggie, spicy cumin lamb, spicy fermented tofu, garlic pork belly, spicy tangy beef, holy cow, and scallion gravy rice.
---
3. Shabuya
Situated at 1925 W. Olympic Blvd., Los Angeles 90006, is another great restaurant, Shabuya.
There are 7 distinct soup bases available at Shabuya. Their Original House Soup Base is a transparent broth made with vegetables, kombu, dried fish flakes, and other components. A Chinese hot pot called "HuoGuo" that uses herbs and spices is another alternative. Another is a vegetable broth with red and white miso. Lunch costs around $18.99 for six options and about $24.99 for a more "premium" 10. AYCE entrees typically cost around $28.99 per person. Highlights include pink thin-shaved lamb leg, fat-rimmed Prime beef belly, and boneless "Triple S R" short rib. You should order cautiously unless you're a big eater because any remaining meat results in additional fees, whether you prepare and take it home or not. For fibrous lotus root, sweet corn on the cob, shrimp, clams, baby bok choy, quail eggs, enoki mushrooms, ramen noodles, and other foods, stop by the center bar. Options at Shabuya's sauce bar include hot yuzu ponzu, goma (sesame), and red chile sauce with vinegar.
---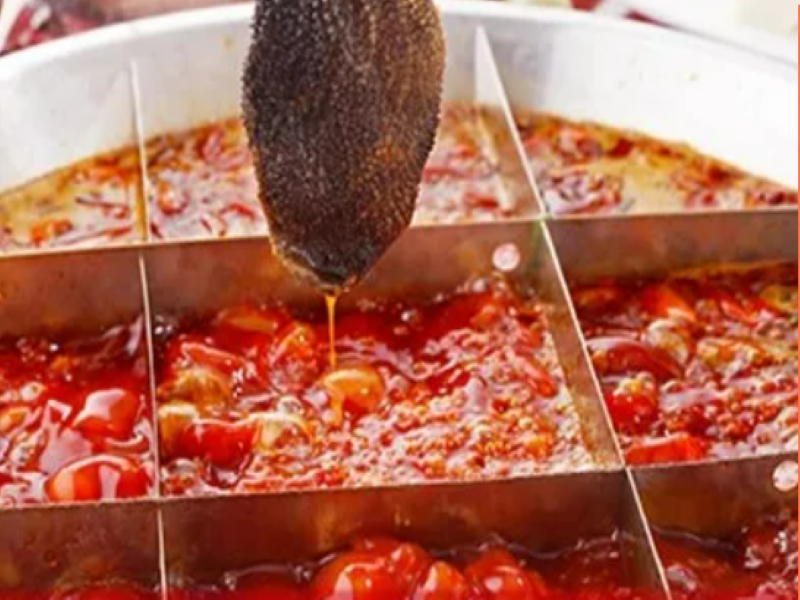 4. Shancheng Lameizi Hot Pot
For 25 years, Shancheng Lameizi has offered genuine chongqing style hot pot. Their business was founded in Beijing and has been mostly specializing on Chongqing style hot pot. More than 20 stores are located in cities including Beijing, Shanghai, Los Angeles, and others, and the firm employs close to a thousand people. For their guests, they strive to provide the most authentic hot pot experience possible. In addition to numbing, spicy, refreshing, and tasty flavors, they also provide their clients more than 20 different types of complimentary special treats. Customers from both local and abroad countries greatly admire their hot pot. They are dedicated to passing along the Chongqing style hot pot culture and introducing the rest of the globe to this rich tradition.
---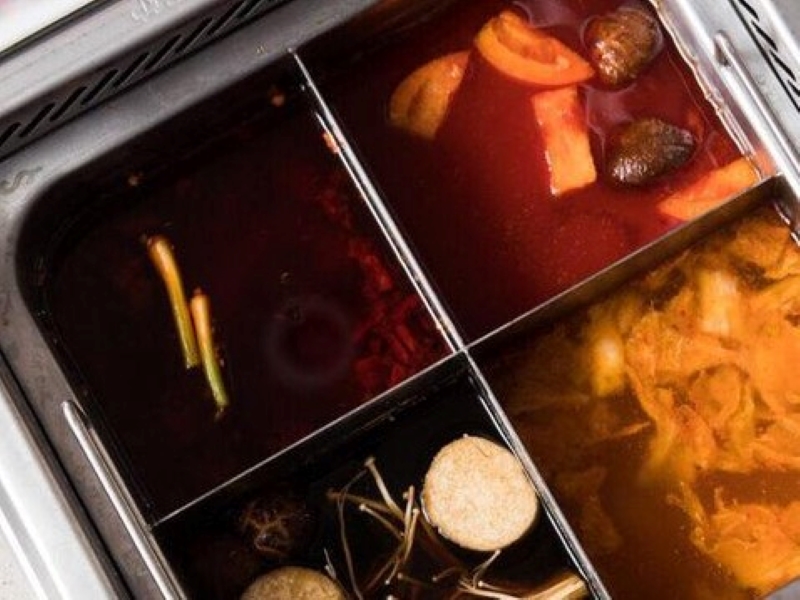 5. HaiDiLao Hot Pot
HaiDiLao Hot Pot is situated at 10250 Santa Monica Blvd Ste 2610, Los Angeles, CA.
This is a hot pot franchise that originated in China's Sichuan region. HaiDiLao Hot Pot is recognized for providing excellent customer service. Each table has a server assigned to it, which is an unusual procedure in Chinese restaurants, who observes to make sure your pot is loaded with water and your foodstuffs are put properly. All ordering is done through the use of a tablet. When a dancer dressed in white approaches your table, she will twirl a ten-foot piece of dough directly into your bowl.
---
6. Hot Pot Hot Pot
Another famous hot pot spot located in 120 S. Atlantic Blvd., Monterey Park 91754 is Hot Pot Hot Pot.
One of the few restaurants in Los Angeles, that specializes on hot pot. They are open till one in the morning, in the early hours. Two broths are available in split cauldrons, one is a mild chicken broth and the other is a spicy broth seasoned with ginger, jujubes, wolfberries, star anise, and scallions. Tender pig stomach slices, firm pork kidney flaps, and flexible pork intestines are examples of components that are ready to swish. The richness of offal is balanced with vegetables. It also has fibrous chayote squash, crunchy Napa cabbage, and baby bok choy.
---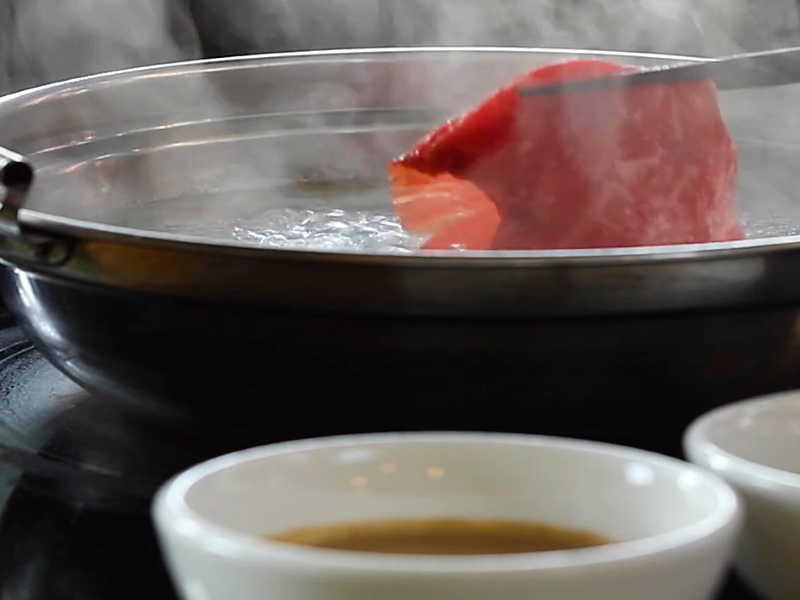 7. Mizu 212
Mizu 212 is situated at 2000 Sawtelle, Los Angeles 90025.
The name of the corner shabu-shabu restaurant in Sawtelle's Japantown, Mizu 212, is derived from the boiling water. A slender green bar, a large red painting of a menacing Felix the Cat, and a hot induction burner pot are all present in the spacious setting. Organic foods from the sea, the land, and the ground are featured on the menu. Prime buffalo ribeye and Kobe-style Wagyu beef are examples of premium ingredients, but Mizu 212 diners don't have to spend a lot of money to enjoy a meal. The best options are their lamb, fat-rimmed Kurobuta Berkshire pork, and smooth ocean trout. Customers can get a half-portion of seafood and a half-portion of beef in a combo. A half-portion of meat and a half-portion of seafood features are included in their menu. You also have the option to simmer it in a boiling broth with tofu, baby bok choy, shimeji and shiitake mushrooms, and snow peas. You may also use glass noodles or udon noodles if you like.
---
8. Kagaya
Kagaya is situated at 418 E 2nd St, Los Angeles 90012.
The meat quality is the highlight at KaGaYa in Little Tokyo. The least expensive hot pot menu choice is around $45 and includes three appetizers, 10 pieces of prime rib meat, veggies, and a dessert. If you have an extra money, you should try the Wagyu beef, which is their most expensive item. It's one of the nicest cuts of a cow you can find in Los Angeles, and was imported straight from Miyazaki in Japan.
---
9. 7FUSION
7fusion is located in 14235 Ventura Blvd, Sherman Oaks 91423.
In May 2018, Edu Obasi, a professional soccer player, and his wife founded 7Fusion, incorporating international cuisines from their travels to offer enjoyable engaging experiences in a chic Sherman Oaks location. Their most lavish dish, the lobster hot pot, combines two lobster tails with cuttlefish, prawns, Manila clams, and scallops. This dish is served with savory dipping sauces.
---
10. O'Young's Rock Pot
O'Young's Rock Pot is 1630 W. Redondo Beach Blvd., Gardena 90247.
In Gardena's Pacific Square strip mall, a hot pot retaurant, O'Young's Rock Pot, is specializing in boiling hot pots in Chinese style. The room interior design has imitation wood tables, mauve and wood block walls, and grey and orange seats. Individual diners receive sizzling rock pots at O'Young's. A particular favorite is the seasonal fish hot pot, which has tofu and bony black cod in a murky soup with onions, cilantro, and ginger. Personalized accompaniments are also offered for bullfrog, blue crab, and beef short ribs.
---
11. Osawa
Osawa is situated at 77 N. Raymond Ave., Pasadena 91104.
Osawa was launched in Old Pasadena by Sayuri Tachibe, the wife of longstanding Chaya head chef Shigefumi Tachibe. The area has an open kitchen, walls covered with art, and counter chairs with built-in shabu pots. Only available at the counter, Osawa's shabu has proteins such as King salmon, silver tonkotsu pork, and Wagyu beef from the Saga Prefecture. A basket of udon noodles, shungiku (garland chrysanthemum) leaves, Napa cabbage, scallions, and tofu slabs that cook in your choice of meat and broth are included with every order. Tangy ponzu and nutty sesame sauce can be used to dip the products.
---
12. Seoul Garden Restaurant
Seoul Garden Restaurant is located in 1833 W Olympic Blvd, Los Angeles 90006.
On Olympic Boulevard in Westlake, there is a hot pot restaurant called Seoul Garden. They have been in business for over 30 years and have always focused on chicken soup-based Korean hot pot. Although you pay per person, it's a family-style event. The lunch can be expensive; it starts at about $28 per person, but it's definitely worth the cost. The order includes unlimited banchan, including the very irresistible hot pickled raw squid and radish. You'll receive a sizable amount of udon noodles to cook in your soup at the completion of the meal, followed by a pot of porridge.
---
13. Shabu Hyang
Shabu Hyang is 3807 Wilshire Blvd., Los Angeles 90010.
The area boasts walls made of brick and grey, blue-cushioned banquettes, light-colored tables, and a large rear patio. Vapors from separated hot pots that are cooking on induction burners are inhaled by reclaimed wood hoods. One choice is to divide the mild and hot broth equally. Lamb shoulder, baby octopus, and Prime ribeye are a few probable essential components. You should try the Prime Beef, Seafood & Mushroom combo which includes rice noodles, vegetables, rice paper wrappers, and three dipping sauces, including peanut, soy, and spicy. A filling way to finish the dinner is with porridge made with leftover broth, white rice, sliced white onion, nori, squash, a squeeze bottle of scrambled egg, and sesame oil. The porridge thickens instantly in the pot.