The best Korean instant ramen is just one click away, you can easily buy Korean instant ramen online. What's more, you don't have to be a professional chef or certified Korean or to be in Korea to enjoy the delicious, tasty, and unique taste of ramen.
* If you buy through links on our site, we may earn an affiliate commission. For more details, please visit our Privacy policy page.
Now, here's the question, "Which Korean instant ramen should you buy?" We know this can be a tough question considering there are a lot of choices out there. Not only that but if you're not familiar with Korean food, you might easily end up with the wrong choice.
That's why we have gathered some of the best Korean instant ramens online in 2023. Hold on tight as we introduce to you your next favorite food.
What is ramen?
Before we dive into our list of best Korean instant ramen, we must first understand what ramen is.
The word ramen itself is a Japanese word. As this might be the case, ramen is simply the Japanese version of Chinese wheat noodles.
Most historians acknowledge that ramen reached Japan in the 19th century, almost the same time when ramen was introduced in Korea.
So, what is ramen? There are variations in how ramen is prepared. However, ramen is commonly made of wheat noodles mixed with meat-based soup or broth. Toppings may include pork, beef, chicken, dried seaweed, mushrooms, and herbs.
Ramen can be cooked in a traditional way and it can take a few minutes to an hour. It would also need the skill of a knowledgeable cook. That's why if you don't have the time or skills to prepare your own ramen, then you would be glad you have the best Korean instant ramen as your option.
Instant ramen comes in pouches or packages. All you have to do is boil water, put the noodles in, add seasonings, and voila, you now have your ramen served fresh and hot. Of course, please note that not all ramen noodles are served with broth. Some are boiled, drained of water, and served as dry noodles with different seasonings.
In this post, we will also include ramyun. Just to be clear with our terminology, in Korea, when you say, "ramen," it refers to the Japanese style ramen, but when you say, "ramyun," it refers to the Korean style instant noodles or ramen.
Thankfully, you don't have to search far and wide to find the best Korean instant ramen. Check out our list below to find the right one for you (or better yet, you can try them all)!
Best Korean Instant Ramen You Can Buy Online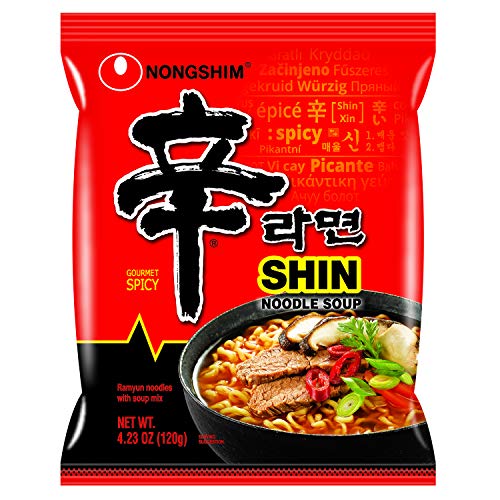 Not going to lie but if you only choose one Korean ramen in this list, it should be Nongshim Shin Ramyun. With thousands of positive reviews and satisfied customers, the Nongshim Shin Ramyun is known not just in Korea but across the globe.
The main flavor of this Korean ramen is gourmet spicy. This means that its flavor is derived from cooked beef, carrots, and mushrooms with a spicy twist. The noodles are also made of high-quality ingredients. They are soft, chewy, and delightful to the palate.
What's more, you can quickly prepare this food. All you have to do is follow the instructions written at the back of the pack and you should start sipping your delicious and hot ramen in just a few minutes!
---
Neoguri means instant noodles. However, what makes this Korean ramen special is that it is made with Japanese-style udon noodles.
Udon noodles are unique in a sense that it is traditionally made in Japan. Its ingredients include water, salt, and wheat. It comes with a chewy and thick texture.
Nongshim Neoguri Ramen has a spicy seafood flavor, no MSG added, and no trans fat. Not only that but it is made in the US and shipped from the same country. So, you can quickly receive your order if you purchase online.
Like any instant noodles, you can cook Nongshim Neoguri Ramen in just 4-5 minutes. You can boil it with the burner or use a microwave.
Buy it now: Amazon
---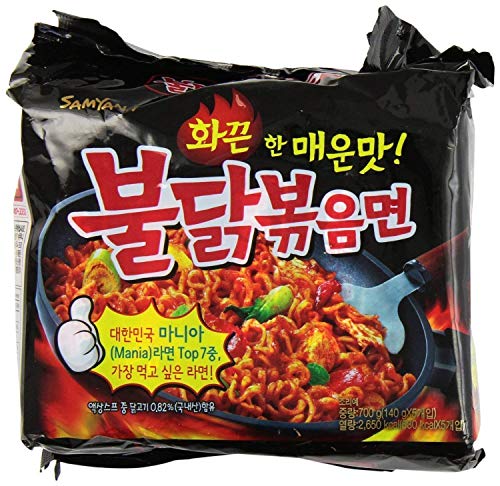 One of the most popular instant ramens in the world today would be the products from Samyang. As a prominent Korean brand, their instant ramen is best known for its hot and spicy flavor.
For this Korean ramen, you won't need any soup or broth. The way to prepare this instant ramen is to boil the needles for about 3 minutes, drain the soup, add the seasonings, and stir fry the noodles for about 1-2 minutes.
If you choose the Samyang instant ramen, you'll get the hot chicken flavor ramen noodles. In Korea, it is called buldak-bokkeum-myeon or simply, the fire noodles. So, if you're into hot Korean food, then this ramen is for you. It would be the perfect ramen for rainy and snowy days.
Buy it now: Amazon
---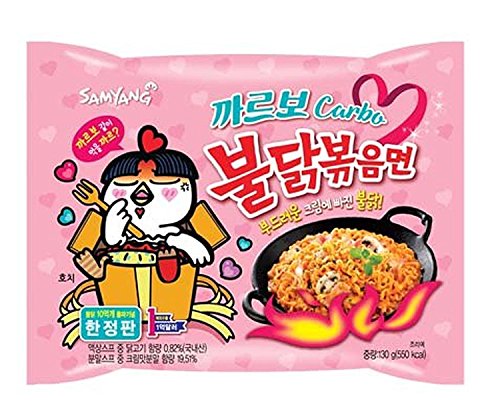 With a carbon spicy chicken flavor, this Samyang Ramen packs a lot of chili punch in it.
If you are familiar with carbonara, this Korean ramen is almost similar to it. You can simply boil the noodles and drain the water, but you need to leave about ½ to ¼ cup of water. Let the noodles absorb the water and add the seasonings (powder and sauce) into it.
You may also want to note that this ramen isn't as spicy as it is with the other products of Samyang. So, if you want to eat milder spicy ramen, then you can go for this one.
Buy it now: Amazon
---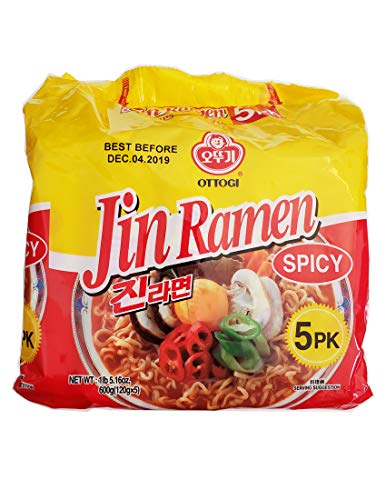 When you say jin ramen, it is the type of Korean ramen that isn't too spicy. However, it still leaves mild hotness in the mouth. So, if you want to taste something milder, then Ottogi's Jin Ramen is here for you. If you order online, you can choose how many packs you want and how much you want to spend on them.
Buy it now: Amazon
---
Ramen can be just about anything, including cheese! Now, before you think that cheese and ramen don't mix, you should try the cheese ramen of Ottogi. You would soon realize that the cheddar flavor makes your ramen extra special!
This Korean ramen does not come with any meat and veggie. So, you really only get the cheesy flavor. As you add the cheese powder, you would notice that the entire bowl turns into creamier, milkier, and thicker ramen noodles. Yummy!
Buy it now: Amazon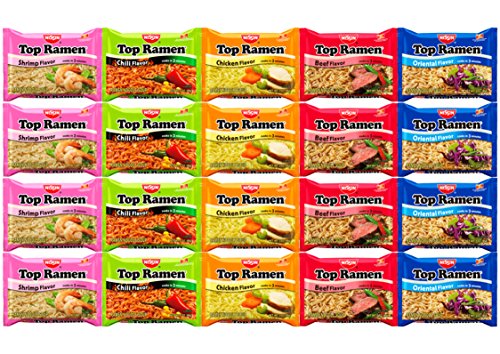 Now, if you want to taste different ramen flavors in just one order, Nissin got you covered. In this product, you won't only get one, two, or three, but 20 ramen packs. When you order Nissin Ramen Noodles, you get 4 packs for each flavor, which includes: chicken, beef, oriental, chili, and shrimp.
Buy it now: Amazon
---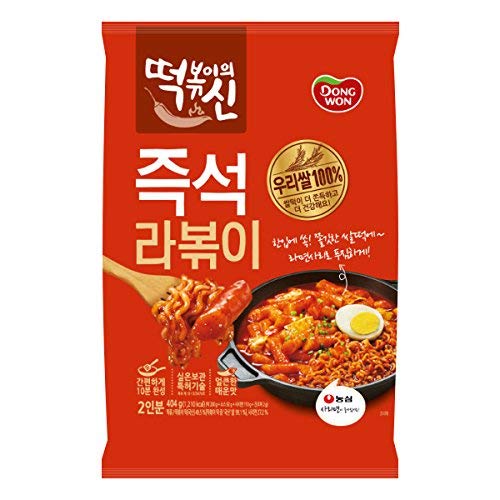 One of the most popular street foods in Korea is the tteokbokki or rice cake. Traditionally, tteobokki tastes a bit spicy with a dash of sweetness. It's chewy, thick, and filling.
Dongwon mixed ramen noodles and tteokbokki, which results in a massively delicious snack for anyone who wants to get full and satisfied. Please note that tteokbokki itself isn't that spicy, but in this product, as it is combined with ramen, it is extra spicy.
Buy it now: Amazon
---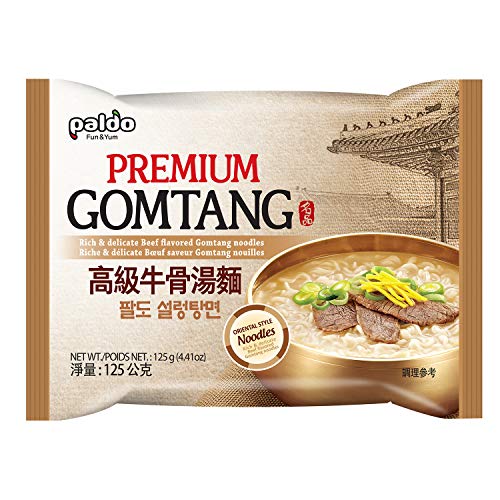 If you want to get a taste of Korea, then this Gomtang Ramen is among your best options. The best selling point of the Gomtang Ramen is its mild but flavorful beef soup noodles.
To give you a further idea of what this oriental style Korean ramyun is all about, the ingredients include beef-based broth with a lot of vegetables to make the soup thicker and richer.
To cook the Gomtang Ramen, you simply need to empty out the content of the sachet into boiling water. Let the noodles sit there and boil for about 3 minutes. Add the seasonings and you're ready to enjoy Korean noodles and delight your taste buds.
Buy it now: Amazon
---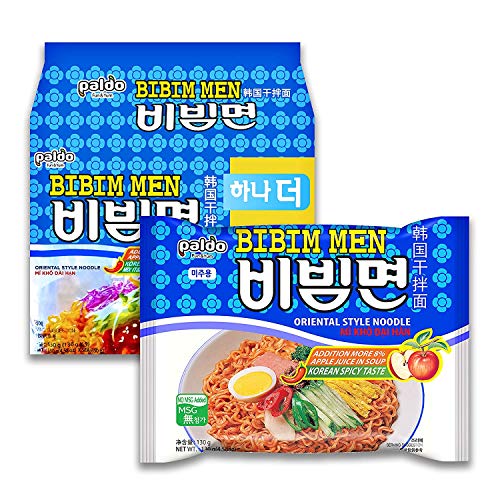 This one is another premium and highly rated product of Paldo Fun & Yum. One thing that is really unique about this product is that you can eat it either hot or cold! There are two sets of instructions at the back of the pack. So, whether you want it hot or cold, you can refer to the instruction on how to prepare the food the way you want it to be.
Buy it now: Amazon
---
How to choose the best Korean instant ramen in 2023
We just introduced to you 10 of the best Korean instant ramen. The question now is, which one to choose? That's a good question. Of course, you have the option to taste all the ramens we have featured here. But if you don't have the time and luxury to do so, here are a few points to consider:
Flavor
When it comes to flavors, Korean instant noodles are just rich in them. There are different options that you can have when it comes to flavors. These are some of them:
Beef
Chicken
Pork
Vegetables
Shrimp
Hot and spicy
Seafood flavor
Kimchi
And others
Now, if you're ordering ramen in a restaurant, you can also choose the broth weight. It can be thick or thin. However, your options might be limited when it comes to Korean instant noodles as most of them would use the same consistency of broth weight.
When it comes to toppings, it would more likely be the same as which flavor you choose. For example, if you choose the beef flavor, you get some preserved beef as part of the seasonings. Please note though that since instant noodles are instant, you won't get any fresh toppings.
Price
Instant ramen should not drill a hole in your pocket. The instant ramen itself can be affordable, but you have to factor in the shipping fee especially when you're buying online. To save a few dollars, you can buy local or in bulk to maximize your shipping fee.
Shipping time
If your order is coming from overseas, expect a few days or weeks before you get your package. So, if you can wait and is not in a rush, then waiting a few days should not be a problem.
Reviews
It's good that you're reading our review on various Korean instant noodles. Nevertheless, feel free to read the reviews of other people as well. In most popular online stores, customer reviews are posted for you to read. Check the reviews, see what people are saying, and you should get a general idea of which ramen you should buy.
Description
Read the description of the ramen carefully. Since you'll be buying online, you won't be able to hold and touch the product. So, the description should give you your needed information.
Here are a few things in the description that you should take note of:
Brand
Ingredients
Flavor
Package weight
Number of packages included
Serving size
Cooking instruction
Other features
Final verdict
That's it! We hope you learned a lot from this post. You simply didn't find a list of Korean instant noodles, but also a few helpful information such as what ramens are and how to choose any of them.
We have featured 10 ramens, but if you're going to ask us which one we love the most, it would be Nongshim Shin Ramyun. Yes, it is the most popular instant ramen out there but for good reasons. The taste of its noodles together with the spicy soup makes it irresistibly flavorful. Of course, it is just too spicy for some people.
Feel free to explore. There are so many flavors to choose from. So, bookmark this post and get back here any time you want to find the best Korean instant ramen for you!
* If you buy through links on our site, we may earn an affiliate commission. For more details, please visit our Privacy policy page.