A tender meat is something that most people are looking for every time they will cook their favorite recipes. Aside from being easier to eat, tender meat allows the flavor to be absorbed. This is the reason why tenderness is one of the most important factors when looking for a good meat quality.
* If you buy through links on our site, we may earn an affiliate commission. For more details, please visit our Privacy policy page.
Some meat cuts are tough in nature. This is due to the movement of the animals when they are alive, which causes the muscles to tighten. Tough meat needs to be cooked on a slow cooking process or it can be tenderized using meat tenderizers. Slow cooking might result in longer cooking time, that is why it is best to opt-in for some meat tenderizers.
A meat tenderizer, also known as meat mallet or meat pounder, is a hand-powered tool used to tenderize slabs of meat in the preparation for cooking. The main purpose of using these meat tenderizers is to reduce the toughness of meat fibers in a cut of meat, especially those tough cuts.
For the meat to be tenderized, you will need to break down protein molecules. Once these molecules are broken into smaller particles, the meat will be easier to cut or chew. Using a meat hammer is only one of the ways to tenderize meat.
If you love to cook steaks or other meat products, you should have a meat tenderizer in your kitchen. Getting the best meat tenderizers can be difficult, especially if you don't have an idea about them. Check out our recommendations for the best meat tenderizer below.
What Are The Best Meat Tenderizer
Having an idea about the different types of meat tenderizer should help you choose the best option that you need in your kitchen.
Mallet Tenderizers
A mallet tenderizer, or commonly known as a hammer, has a spiked or textured side that pierces the meat every time you strike it. Aside from the textured surface, there is a flat side that is used to flatten the meat for a more even cooking.
Since there are spikes on the hammer, it creates a way for the ingredients and marinades to be absorbed by the meat easily. That would result in a more flavorful meat and delicious dishes.
This is the reason why you need to consider getting a mallet style as your meat tenderizer. Most mallet style tenderizers are very versatile as it does a double job, which is piercing and flattens the meat.
Blade Meat Tenderizers
Having a blade meat tenderizer at home would have a similar result in having a mallet or hammer meat tenderizer. Their main difference is that the blade meat tenderizer has a different look and uses dozens of blades or needles to tenderize the meat.
Using these blade tenderizers allow more fibers on the meat to be cut. It could result in a more tender meat and shorter cooking time. This could also mean that flavors will go deep down on the meat.
Though needle or blade-type meat tenderizer is a good tool to make the meat softer, it is not advisable to use them on thinner cuts. The reason behind that is they could tear and break apart the thin cuts of meat easily.
Best Meat Tenderizer
Should you be looking for some tools to tenderize your beef, chicken, lamb, or pork meats, check these equipment to help you get the best flavors, even on the toughest cuts.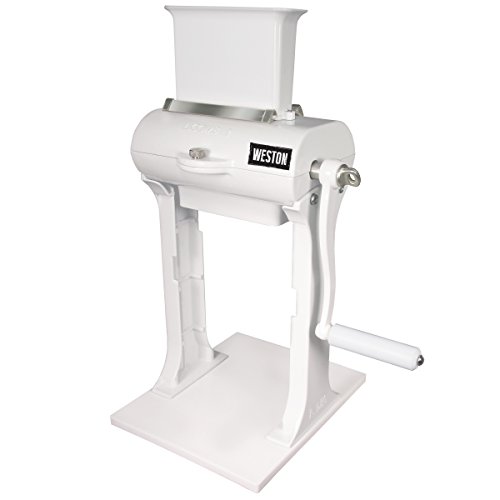 If you want your meat tender and don't want to exert much effort in tenderizing meat, try this brand instead. The Weston manual heavy duty meat cuber tenderizer offers 31 stainless steel blades to tenderize your meats.
It also features a sturdy cast aluminum construction with a heavy duty base to flatten meat and crank handle. Storing this tenderizer won't be a problem as it has a compact design.
You can get this premium product by clicking here.
---
This hand-held meat tenderizer has double sided razor-sharp stainless-steel tenderizer knives that allows an effortless cut through the connective tissue in a tough meat.
This is one of the most versatile blade meat tenderizers as you can use it on beef, pork, veal, chicken breast, venison and fowl. The stainless steel blades could easily cut through the meat, making it easier to use.
If you need to use it, simply take off the bottom cover and place the base with the stainless steel blades showing on top of meat. This will help reduce the cooking time of your meat.
Should you wish to buy a meat tenderizer with sharp stainless steel blades, simply click here.
---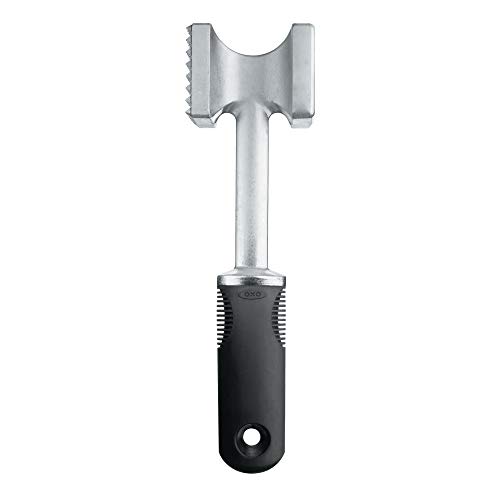 This meat tenderizer tool is a hammer type and has a textured side optimized for tenderizing meat. The other side has a smooth surface that is ideal for pounding meat.
The material used in constructing this tool is a one-piece heavy duty aluminum that offers durability and strength. From the name itself, The OXO good grips offer an ergonomic handle for a non-slip usage, even when you got wet hands.
Using hammer types of meat tenderizer is very advisable to avoid accidental cuts.
You can buy the OXO brand by clicking here.
---
The KitchenAid Gourmet Meat Tenderizer is a mallet tenderizer with one side surface that is textured for optimum use on a variety of meats. You will get a smooth side surface for pounding and flattening cutlets on the opposite side of the meat tenderizer.
The KitchenAid Gourmet meat tenderizer is also constructed using an aluminum material for a lightweight, strong and durable tool for the kitchen. The ergonomic handle has a hole that provides you the option for convenient hanging storage.
You can buy the KitchenAid Gourmet Meat Tenderizer by clicking here.
---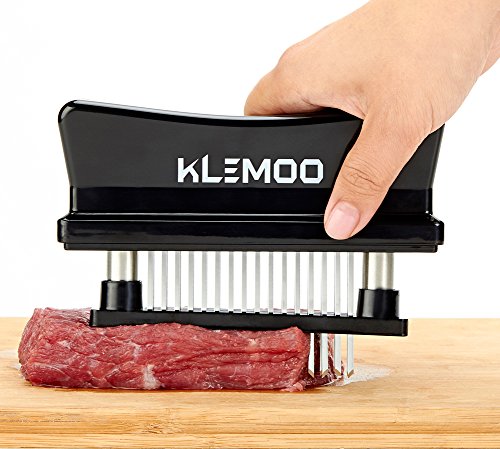 KLEMOO has 48 ultra sharp stainless steel blades that create tiny channels within the meat and break down the connective tissues that make the meat tough. All you will get is tender meat for your delicious recipes.
It has an ergonomic design that offers a comfortable and non-slip handle. Using it is also easy – simply press down on the top and let the sharp blades cut through the toughest fibers of your particular cut of the meat.
This tool is also dishwasher safe, which means cleaning it after use is no problem. You can purchase the KLEMOO tenderizer tool by clicking here.
---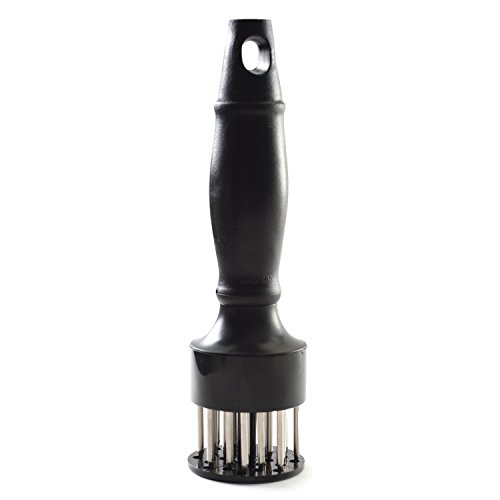 One of the most considerable meat tenderizers is the Norpro brand. It has 24 stainless-steel sharp blades that break down tough meat fiber and connective tissues to tenderize meat and let the marinades be absorbed better.
The Norpro also has a heavy duty spring action mechanism for more precise action control. This tool is also recommended for handwashing though.
You can buy a Norpro tenderizer by clicking here.
---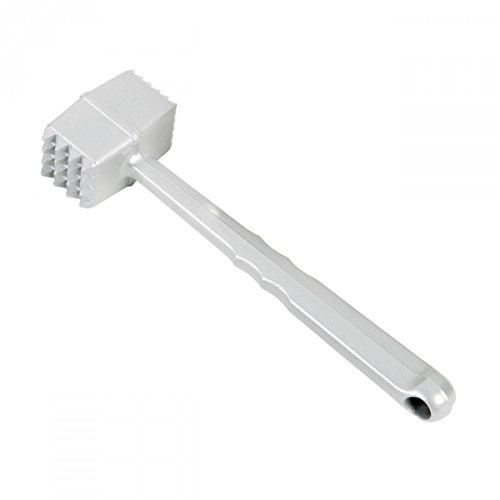 Also one of the best meat tenderizers is the Westmark Germany double-sided mallet style tenderizer. It uses a high quality cast aluminum with two different surfaces for tenderizing meat.
The mallet is about 8 inches long, with the head of the mallet being about 3 inches long. The end of the head is about 1 1/2 inches square. One side has a coarse pyramid shaped points surface, while the other has fine pyramid shapes. The handle also allows a secure grip for a more efficient and comfortable usage.
You can buy this product by clicking here.
---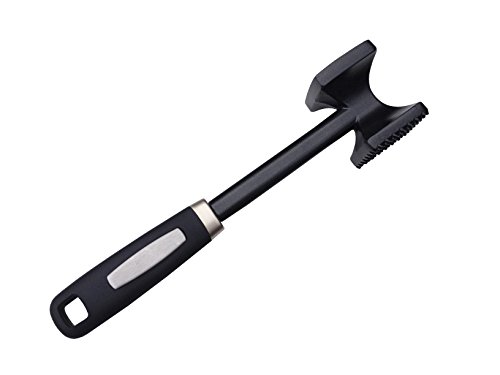 The Checkered Chef tool is one of the best meat tenderizers due to its heavy design that requires minimal effort, yet you will get maximum results.
This double-sided meat hammer has a flat side and a spiked side for optimum convenience. Thinning out pork chops or tenderizing steaks won't be a problem with this tool.
The non-slip grip also ensures safety and convenient usage when tenderizing meat. The surface also features a non-stick coating that keeps it safe in the dishwasher, making it super easy to clean.
If you don't want to use sharp blades, buy this product by clicking here.
---
* If you buy through links on our site, we may earn an affiliate commission. For more details, please visit our Privacy policy page.