Dunkin Donuts is not only known for the best donuts and best hot coffee, but is also popular for their iced cold coffee drinks especially during warmer days. If you want to know the best dunkin donuts iced coffee available, refer to this guide that we have gathered below.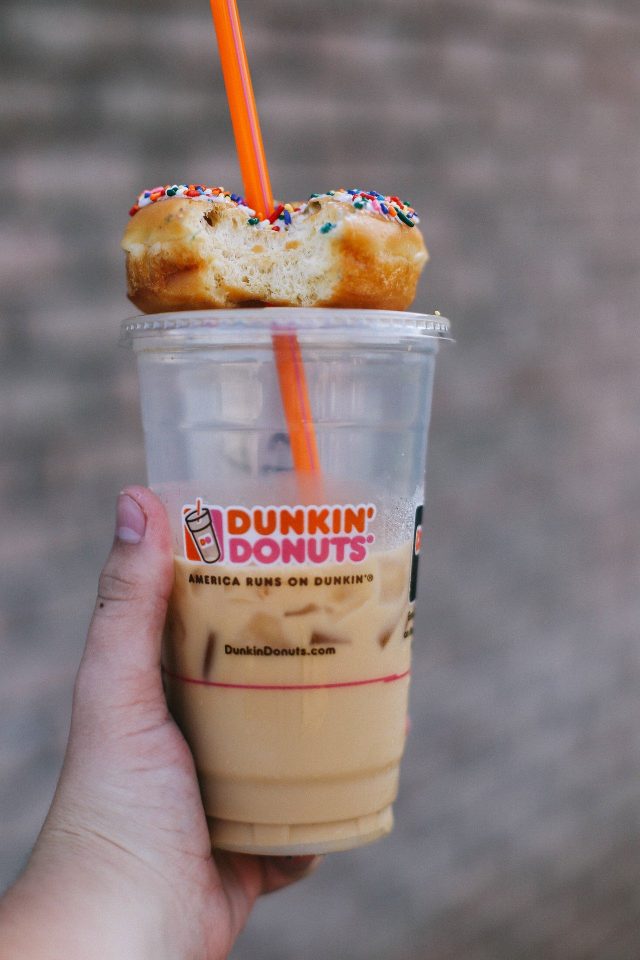 Best Dunkin Donuts Iced Coffee
There are different Dunkin Donuts iced coffees to choose from at Dunkin Donuts. You might find it hard to decide which one is the best kind. Having a great cup of coffee can be satisfying, but during warm and dry season you might want to indulge in iced coffee drinks to beat the heat right? or others just love to drink iced coffee drinks because of its smooth and delicious taste.
Listed below are some of the best ice coffee drinks available at Dunkin donuts. Continue reading in this article to know more.
Caramel Craze Iced Signature Latte
The first on our list of the best iced Coffee drink in Dunkin Donut is the Caramel Crazed Iced Signature latte. This iced coffee drink is made with flavoring of caramel, milk, espresso and shaken with ice. It is then topped with whipped cream and drizzling it with caramel as finishing touches.
If you are familiar with a Caramel Frappuccino, it is similar to that drink but is way much and tastes even better.
---
Caramel Mocha Iced Coffee
Caramel Mocha is another iced coffee drinks available at Dunkin Donuts. It is a combination of both caramel and mocha to make this drink so sweet. Basically made using Dunkin Donuts very own signature coffee, mixed with caramel and mocha then shaken with ice. And that's it, a nice cold caramel mocha ice coffee drink.
---
Dunkin Cold Brew
Dunkin Donuts cold brew drinks is made by full percentage of Arabica beans that are steeped in cold water for about 12 hours. This is done so that the full flavor of the beans will be extracted for a smooth cold coffee drink that is likely to be less acidic.
Although cold brew is not actually an iced coffee drink but it is rather a cold beverage with lots of coffee added to the drink.
There are different varieties of cold brew at Dunkin Donuts to choose from:
Cold Brew with sweet cold foam
Taking Dunkin Donuts original cold brew into the next level but topping it with sweet cold foam. The foam will slowly melt and mixed with the cold brew coffee for that delicious iced cold coffee drink.
Brown Sugar Cream Cold Brew
Next variety of cold brew is that brown sugar cream cold brew. It has a smooth and creamy taste will full coffee flavor.
This variety of cold brew is made using dark roast coffee, cream and brown sugar. It will not only satisfy your sweet tooth cravings but will also satisfy your coffee cravings as well.
Cold brew with brown sugar cold foam
Another cold brew variety is yet again with brown sugar added to the drink. It is not that same as the one mentioned above since with this variety brown sugar cold foam is used as toppings rather than used to mix the ingredients all together. Thought the cold foam is made with milk and brown sugar, therefore cold brew with brown sugar cold foam is one sweet and creamy Dunkin Donut drink.
Charli Cold Foam
The newest addition to Dunkin Donuts menu of cold brew drinks is the Charli Cold Foam drink. It is made with cold foam.
It is named after Charli D'Amelio, a famous TikToker. The celebrity would always order Dunkin donut original cold brew drink but with additional 3 pumps of caramel syrup then topped with sweet cold foam and some toppings of cinnamon sugar.
---
Caramel Swirl Iced Coffee
This type of iced coffee drink is a classic drink from Dunkin donuts. It is made by blending fresh ground espresso with caramel flavoring.
The caramel flavoring and Dunkin Donut signature espresso will take this drink into a whole new level of coffee experience. Finishing touches of whipped cream on top, more like turning this coffee drink into a delicious liquid dessert that you'll surely love.
---
French Vanilla Swirl Iced Coffee
French Vanilla Swirl Iced coffee is another iced coffee drink available at Dunkin donuts. It is basically made of ice, coffee and French vanilla swirl syrup, one of Dunkin Donuts signature syrup.
French Vanilla Swirl Iced coffee has a smooth and creamy taste because of the added French Vanilla Syrup.
---
Toasted French Vanilla Iced coffee
This iced coffee drink taking the plain vanilla iced coffee drink to a whole new level where the vanilla in this drink is toasted, hence the name of the drink Toasted French vanilla iced coffee.
Iced coffee recipe for this iced coffee drink is made of French vanilla shot, toasted almond shot where almond milk is used instead of using a regular milk.
---
Iced Cocoa Mocha Latte
Iced cocoa mocha latte is a delicious coffee drink that is made of coffee with a twist of chocolate flavor. It is made with flavors of mocha, topped with whipped cream, drizzled with mocha and of course hot chocolate powder.
Since this is a latte drink, it is carefully brewed using Dunkin's signature espresso.
---
Hazelnut Iced Coffee
Next we have the Hazelnut iced coffee. This type of iced coffee at Dunkin Donuts has a flavorful and nutty flavor that is a substitute for a normal iced coffee drink.
To enhance the taste of hazelnut iced coffee drink, it is usually added with almond milk and sugar. The almond milk helps in complimenting the nutty flavor of the hazelnut while at the same time give the coffee drink the right amount of sweetness because of the sugar added.
However, if you do not want that extra sweetness you also have the option not to add almond milk and sugar to the iced coffee drink.
---
Butter Pecan Swirl
Butter Pecan Swirl iced coffee drink at Dunkin Donut is made with richness of butter pecan syrup and then iced. Although this of iced coffee is not available all year round, but a seasonal drink usually available in autumn months or during fall season.
It has a rich and creamy taste but with a little nuttiness flavor. Butter pecan swirl goes well with espresso that is why you can't hardly taste the coffee on this drink.
If you want some extra sweetness on this drink, topped butter pecan swirl drink with whipped cream and then drizzled with caramel.
---
Caramel Macchiato
The classic coffee called Caramel Macchiato has been around for years. You can enjoy both the hot and cold versions of this type of coffee.
While mocha coffee drinks have a rich flavor, Caramel Macchiato is the perfect drink if you want to add more flavors to your drink.
Caramel Macchiato is made with whole milk rather than the usually 2% milk used in most coffee latte versions. The whole milk and the caramel flavor are combined as a result of a smoother and more richer drink.
---
Pumpkin Swirl Iced Coffee
Another seasonal favorite iced coffee drink is the Pumpkin Swirl Iced coffee from Dunkin Donuts. It is usually available in the months of Autumn. With this drink, you can definitely taste the full flavor of pumpkins while at the same time enjoy the sweetness because of the flavorings added. Although the coffee taste is still there and you can still enjoy its bitter taste in this iced coffee drink.
---
Coco Berry Drink
Coco berry drink is on Dunkin donuts secret menu. It is basically an iced coffee drink made of espresso, milk and mocha flavor swirl that comes from Mocha latte with flavor shot of Blueberry.
---
Coconut Iced Coffee
Coconut iced coffee drink is gaining popularity at Dunkin Donuts because of the creamy sweet taste of coconut. You should definitely try this drink either because of you love coconut flavored drinks or just loves dairy milk.
This coconut coffee iced beverage, unlike other coconut flavored beverages, not does overpower the coffee flavor on the drink.
---
Coconut caramel iced coffee
This iced beverage is a variety of Coconut Iced coffee. It has the coconut flavor along with caramel flavor as well, there is a balance between these two ingredients in this iced cold beverage.
The flavor shot in this drink are usually sugar free and have low calorie content.
---
Bottled Iced Coffee
If you want to skip the long and waiting lines for your iced coffee drink to be served, you can choose this on-the-go bottle coffee drink available in most Dunkin donuts branches everywhere. And not only that, this bottle iced coffee from Dunkin donuts is also available in most gas stations.
Bottled iced coffee Dunkin donuts drink comes in 13.7 fl. ounce bottle with different flavors to choose from: Original Coffee (Classic iced coffee), French vanilla mocha, coconut caramel, and S'mores flavor. However, if you want to stock some iced coffee in your fridge some stores have the 48 ounces version of this bottled iced coffee drink from Dunkin donut.
---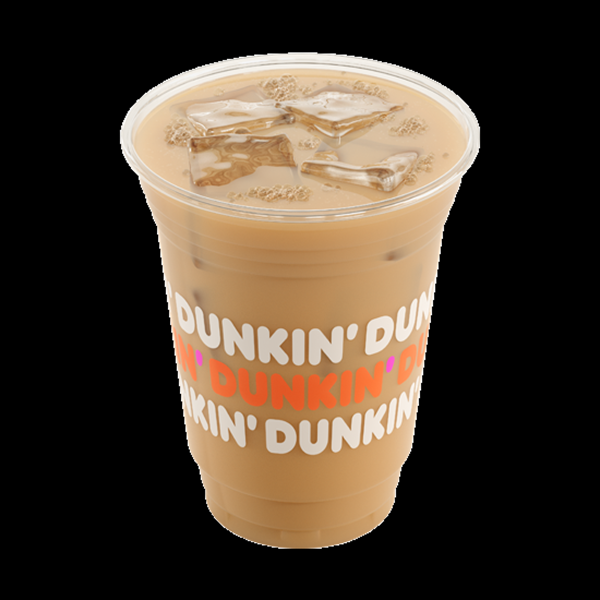 Difference between Dunkin Donuts Flavor Shots and Flavor Swirls
Dunkin donuts, as compared to other coffee shops, has a unique way of adding sweeteners and flavor shots to their coffee. Flavor shots are unsweetened non-dairy shots, while flavor swirls on the other hand are sweet and creamy.
Most of the time, flavor shots are preferred by individuals who wants to add some flavor to their iced coffee but carefully controlling their sugar content. Flavor shots can also be added to vegan coffees as well.
However, if you want to satisfying your sugar rush cravings, then choose the flavor swirls.
Common flavor shots flavors includes vanilla, toasted almond, hazelnut, raspberry, blueberry and coconut while flavor swirls flavors includes hazelnut, French vanilla, mocha and caramel.
---
Frequently Asked Questions
What is the most popular coffee at Dunkin donuts?
The most popular coffee at Dunkin Donuts is the Classic brewed coffee and its classic iced version. This type of coffee is versatile where you can customize the drink according to one's preferences in terms of how sweet you want the coffee to taste and the different type of flavor shot you want to add.
What is the strongest iced coffee available in Dunkin Donuts?
When it comes to the amount of caffeine content in a drink, I'd say the strongest coffee in Dunkin Donuts is their Classic iced coffee. It contains about 297mg of caffeine for a medium sized cup. The amount of caffeine will surely keep you going throughout the day.
Are the Lattes version in Dunkin Donuts a sweet treat?
Depending on how you the sweetness of your latte to taste like, you can add flavored syrup or flavor shot or you can also add sweeteners too. If there are not syrup or sweeteners added, a medium latte typically contains only a gram of sugar. However, when you add sweeteners and flavored syrup to the latte, the sugar content could go up to about 33 grams.

Basically, the amount of sweetness to any Dunkin donut drinks varies on how you customize your drinks.
Conclusion
Whether or not you like the classic iced coffee or the the caramel mocha iced drink, Dunkin donut is the coffee shop to go when you want to satisfy your coffee cravings.
We have listed in this guide some of the best and probably already your favorite iced drinks available at Dunkin Donuts. We highly recommend that you try at least one or two drink the next time you visit any Dunkin Donut branches near you.