Do you enjoy making French toast? With a few simple adjustments, excellent French toast may be made without milk. You won't be able to identify the difference, neither will your relatives or friends.
* If you buy through links on our site, we may earn an affiliate commission. For more details, please visit our Privacy policy page.
Don't allow the fact that you didn't remember to get milk at the supermarket or just never keep any on hand stop you from preparing a fresh French toast meal for your loved ones. In this simple recipe utilizing everyday items, we'll guide you through each of your options for making French toast it without milk.
If you want to know how to make French toast without milk, scroll down and continue reading.
Make French Toast Without Milk
What Is A French Toast?
Slices of bread are soaked in beaten eggs, sugar, and usually milk before being pan-fried to make French toast. Eggy bread, Bombay toast, gypsy toast, and poor knights (of Windsor) are among other names for this delicious dish.
Before pan-frying French toast when it's meant to be a dessert, milk, sugar, vanilla extract, or cinnamon are frequently added. The dish can then be topped with sugar (typically powdered sugar), butter, fruit, or syrup. In the case of a savory meal, it is often fried with a dash of salt or pepper and can be accompanied by a condiment like ketchup or mayonnaise.
This is a delicious comfort food for breakfast, lunch, and supper. Both proteins and carbs are rich in it. There are various methods to cut it off. It may be drizzled with maple syrup, topped with fruit, or even wrapped in bacon. It becomes one of the most popular breakfast options for young children nowadays.
History Of French Toast
French toast is first mentioned as aliter dulcia, which translates to "another sweet dish," in the Apicius, a collection of Latin recipes from the first century CE.
A 14th-century German recipe uses the name Arme Ritter 'poor knights', a name also used in English and the Nordic languages. Also in the 14th-century, Taillevent presented a recipe for "tostées dorées". Italian 15th-century culinary expert Martino da Como provides a recipe.
---
Ideal French Toast Bread
When selecting the ideal bread for French toast, there are two main things to keep in mind. Choosing the appropriate thickness is the simplest option. It is best to purchase breads that are thickly cut like "Texas Toast". Instead of thinner sandwich bread slices, this is more comparable to what you would find at any reputable restaurant.
The type of bread is the second factor. The tastiest French toast is made with sweet breads like challah bread or brioche loaves, however you can prepare it with regular white bread or even whole wheat bread. But, if you can find a reputable bakery that sells either challah or brioche to utilize in your French toast recipe, then that would be great. The best option between the two for preparing delectably sweet French toast is challah bread.
---
What Can You Use In French Toast In Place Of Milk?
In order to ensure that each slice of French toast is thoroughly flavored, milk is added as a soaking liquid. It is tough to evenly coat the bread pieces with the egg wash without milk. The excellent thing is that there are several strategies to avoid this.
Heavy cream, almond milk, soy milk, powdered milk, or any other milk substitute can be used in place of dairy milk. Did you know that light coconut milk would taste amazing too? These are the excellent choices. But in case you don't have these on hand as well, the next preferred option is to thin up the egg wash with a little water. By doing so, the bread will be completely covered in egg wash while still having liquid to soak the slices. You should dilute the egg mixture with around two tbsps of water. Water doesn't add flavor, so if you use too much, the food will be tasteless and sluggish.
---
Common Ingredients Of A Classic French Toast Recipe
Challah Bread
A sweet bread is preferred when making a French toast, however, you may use any other thick slice of bread you have on hand.
Butter
The ideal griddle grease is butter, however canola oil or olive oil can also be used in its place.
Water
You can use a milk substituted like almond milk. If using a milk substitute use a full cup, rather than 2 tablespoons of water.
Eggs
One of the essential ingredients in making a delicious French toast.
Brown sugar
An optional ingredient that is generally used in making French toast.
Pure Vanilla extract
Enhances the flavor of your French toast.
Cinnamon
It also enhances the flavor of the French toast.
---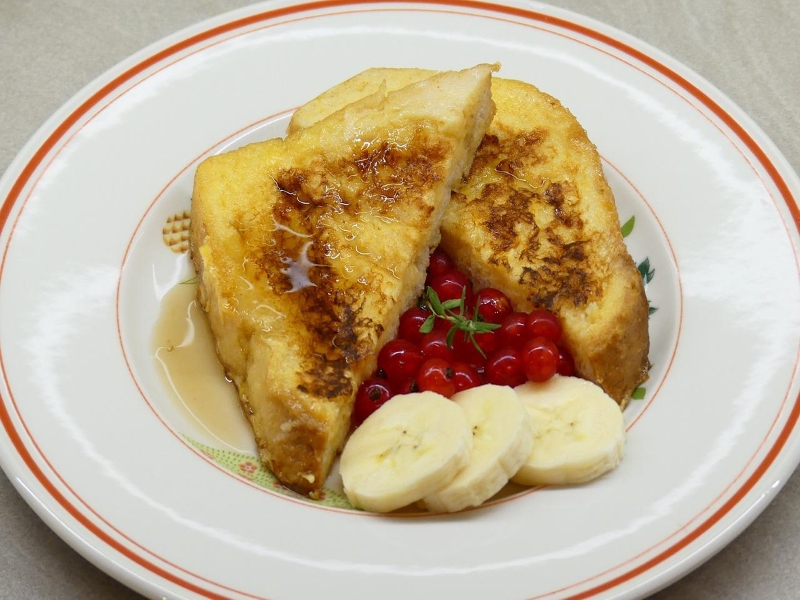 Dairy-Free French Toast Recipe (French Toast Without Milk)
To make a wonderful breakfast, simply follow this easy recipe.
Ingredients
2 tablespoons Butter (Dairy-free)
4 eggs
8 slices challah bread or other thick sliced bread
2 tbsps brown sugar
2 tbsps water
1/4 tsp cinnamon
2 tsps vanilla extract
Instructions
Eggs, water, vanilla essence, ground cinnamon, and brown sugar should all be added to a shallow bowl. Using a fork, blend everything until it is thoroughly combined.
Then, melt butter and use it to coat a hot griddle set to 350 degrees or a nonstick frying pan set to medium heat.
Bread slices should be dipped into the egg mixture one at a time, flipped once to ensure that each side is well covered, and then allow the excess egg wash to drop off. The moist French toast pieces should be placed on the griddle and cooked, flipping once, until golden brown on both sides. Do the same process with the remaining bread slices.
Place the slices on a platter, add more butter and maple syrup, and serve once they have turned golden brown on both sides. You also have the option to have your French toast with icing sugar, jam, or fresh fruit, such as fresh berries.
---
Nutrition Serving:
Calories:446 kcal
Protein: 16g
Fat: 16g
Saturated Fat: 7g
Cadbohydrates: 57g
Trans Fat: 1g
Monosaturated Fat: 6g
Cholesterol: 233 mg
Potassium: 196 mg
Sodium: 513 mg
Fiber: 8 g
Vitamin A: 637 IU
Vitamin C: 1 mg
Calcium: 132 mg
Iron: 4mg
---
Storing French Toast Leftovers
If you have French toast leftovers, they may be kept in the refrigerator in an airtight container or frozen in the freezer for long-term preservation. French toast from the refrigerator may be warmed through the use of a microwave or in a pan over the stove. The easiest way to reheat frozen French toast is in the oven or on a cookie sheet under the broiler.
---
The items listed below may be useful to you.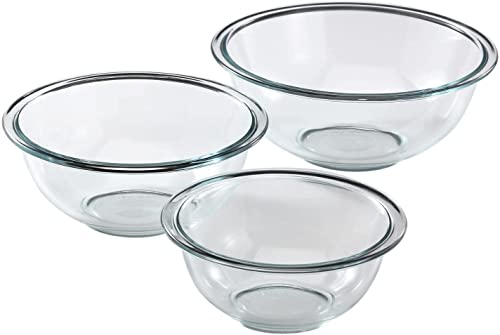 Brand: Pyrex
Bowl Material: Glass
Color: Clear
Style: 3 piece – no lids
In a single dish, you can combine, reheat, and serve. Glass that is dishwasher safe and nests nicely to conserve cabinet space makes cleanup a breeze.
Contains one each of a 1-quart, 1.5-quart, and 2.5-quart glass mixing bowl.
Strong, premium tempered glass is safe for use in the dishwasher, freezer, microwave, and preheated oven.
Food smells, scents, or stains won't be absorbed by nonporous glass.
If you want to purchase this product, simply click on Amazon
---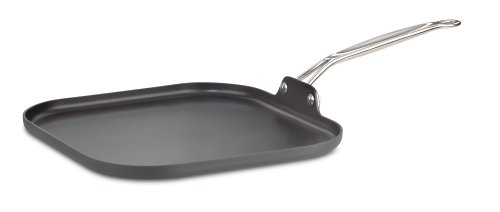 Brand: Cuisinart
Material: Aluminum
Item Diameter: 11 Inches
Color: Square Griddle
The item is an 11-Inch Square Griddle, Chef's Classic Nonstick Hard Anodized, Model Number 630-20.
For high-end cooking. Oven safe to 500 degrees Fahrenheit. Rim is drip-free and tapered for neat, simple pouring.
Features an outstanding handle. Cool grip handles are solid, riveted pieces of stainless steel that maintain their coolness on the stovetop while still offering a secure grasp.
When cleaning, use a non-abrasive scrub pad and hot, soapy water for simple cleanup.
---
Purchase this product now on Amazon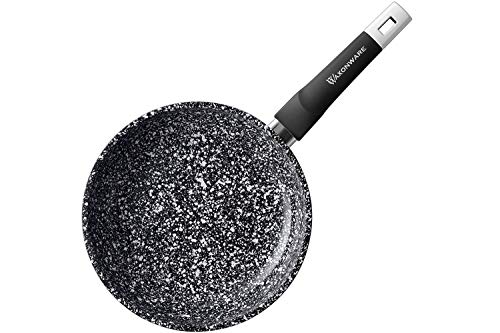 Brand: WaxonWare
Material: Ceramic
Item Diameter: 8 Inches
Color: Gray
This is perfect for making French toast is a griddle is not available. The product is eco-friendly and has a non toxic coating. STONETEC is a natural, five-layer ceramic nonstick coating that is 100 percent PFOA, PTFE, lead, and cadmium free and guarantees the best food release performance during cooking and cleanup.
Due to its high grade electromagnetic induction bottom, which also offers equal heat distribution and anti-warp protection, the nonstick frying pan may be used on all burner cooking surfaces, including gas, halogen, electric, glass, and induction.
This material has a lovely contemporary design that looks and feels exquisite in your kitchen and is used for professional-grade nonstick skillets. With its gorgeous structure, the nonstick pan warms up fast and uniformly, delivering heat equally from the center of the even-heat base out to the sides for completely cooked food.
If you want to purchase this product, click on Amazon
---
Frequently Asked Questions
How do you prevent soggy French toast?
It's essential to lightly toast thick slices of bread in the oven before soaking them in the batter, this will produce the ideal French toast since it will reduce sogginess while improving flavor
What's the best bread for French toast?
Brioche, French baguette, and Challah are the best three breads to use for French toast. Any of these choices will result in delicious French toast.
Why is milk used in French toast?
French toast gets its delicate richness from milk.
* If you buy through links on our site, we may earn an affiliate commission. For more details, please visit our Privacy policy page.