Muffins are one of my favorite treats. Who wouldn't like eating these mouthwatering treats, which pair nicely with a hot cup of coffee? They make the ideal breakfast for hectic weekdays or make a great way to begin a relaxed morning.
You might enjoy this post if you love muffins. Here is a list of the various muffin varieties or muffin recipes that you can buy or make with your family. Baking these delicious sweet little goodies from scratch is a wonderful way to spend time together or bond with your family. This list includes all the flavors you've always loved, like chocolate chip muffins, blueberry muffins, chocolate muffins, and banana nut muffins, as well as some brand-new, mouthwatering flavors like strawberry cheesecake, cinnamon roll muffins, cream cheese muffins and many muffin flavors.
If you are interested to know more about the various types of muffin recipes, scroll down and continue reading.
Types Of Muffins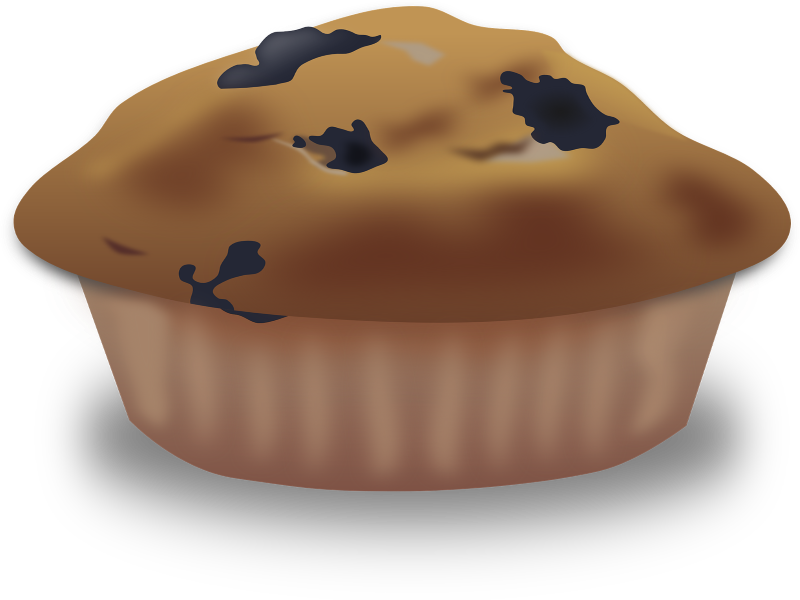 Muffin
A muffin is a baked good that is served in individual portions, but the term can also refer to one of two different foods: either a part-raised flatbread, such as crumpet, which is baked and then cooked on a griddle, usually without sugar, or a quickbread, such as a cupcake, usually sweetened, that is chemically leavened and then baked in a mold. Though quickbread "American" muffins are sometimes sweetened, there are less sweet types like classic bran muffins as well as savory varieties created with components like corn and cheese. The quickbread developed in North America around the 19th century, but the "English" flatbread is of British or other European origins and dates from at least the early 18th century. Today, both kinds are widespread throughout the world.
---
Quickbread Muffins
Quickbread muffins are baked, individual-sized, cupcake-shaped meals with a "wet, coarse-grained" feel that are frequently referred to as "American muffins" in Britain. Both savory muffins like cornmeal and cheese muffins and sweet muffins like blueberry, chocolate chip, lemon, or banana flavors are available. Sweetened muffins are similar to cupcakes in size and preparation, with the key distinction being that cupcakes are often sweet treats made with cake batter and are sometimes covered with sugar icing. Sweetened muffins range from items that are richer than most other cakes in fat and sugar. Solid ingredients like fresh berries, chocolate chips, or nuts may be incorporated into the batter of muffins. Some fast food restaurants, coffee shops, donut shops, and bakeries sell freshly baked muffins. Several coffee shops and cafeterias provide muffins that have been manufactured and sold in supermarkets and convenience stores.
Quickbread muffins are created using flour that has been sieved together and raised with bicarbonate of soda. Eggs, butter or shortening, and any flavorings are added to this treat. As mentioned earlier, fresh fruit, such as blueberries, chocolate or banana; or savories, such as cheese are added.
To enhance moisture content and lengthen shelf life, commercial muffins may contain customized starches, corn syrup or high-fructose corn syrup, xanthan gum, or guar gum.
Check out the various types of muffins below.
---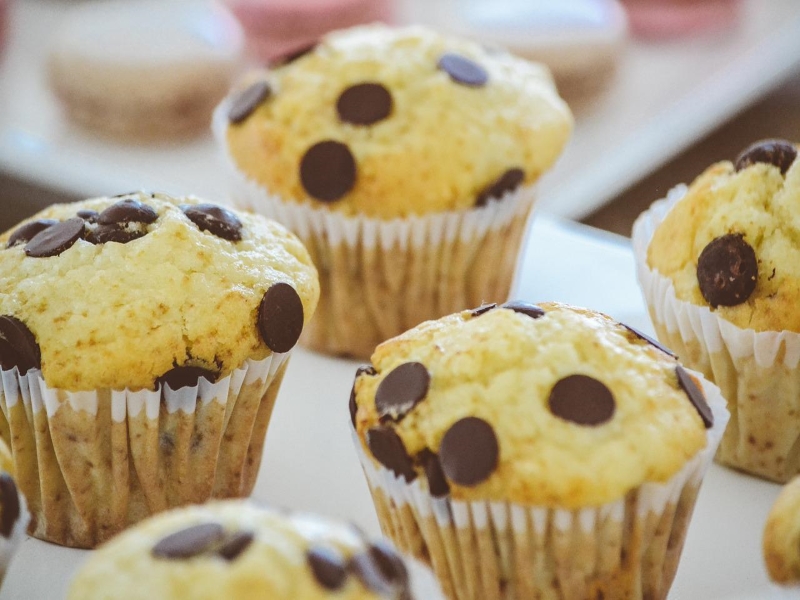 1. Chocolate Chip Muffins
A really easy sweet breakfast delight. A really easy and tasty breakfast delight. Muffins are usually a tasty snack, but when chocolate chips are added to the muffin recipe, everything gets much better. From youngsters to adults, everyone adores these chocolate chip muffins. They have plenty of chocolate chips and are light and soft. A dusting of sugar is added to wrap up. Anytime of the day, these chocolate chip muffins are ideal for a quick grab-and-go snack or for breakfast.
All-purpose flour, baking powder, sugar, salt, egg, milk, canola oil, and chocolate chips are the usual ingredients for these chocolate chip muffins.
---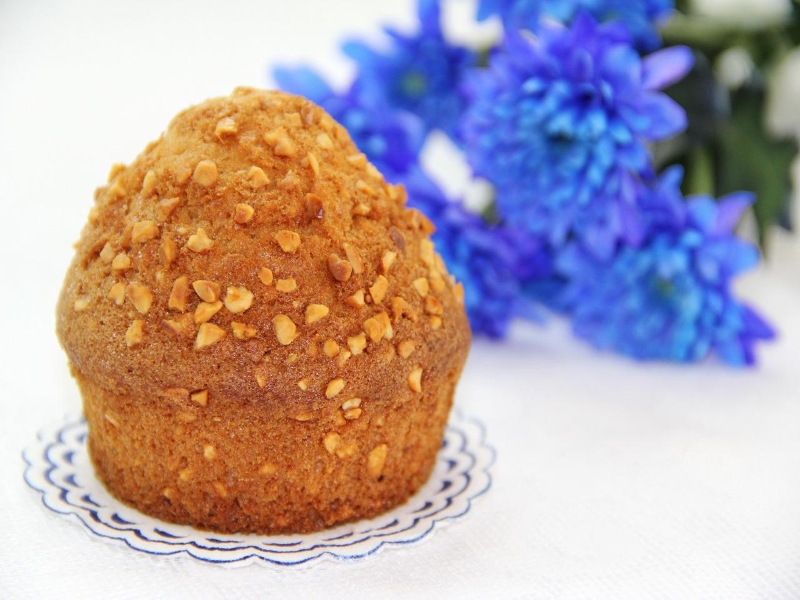 2. Banana Nut Muffins
Banana nut muffins are packed with chopped walnuts and fresh bananas and are very moist and delicate. You'll want to make these muffins time and time again especially if they are topped with honey-glazed nuts.
The ideal method is to use up overripe bananas to make these delicious banana muffins. These banana muffins taste great drizzled with honey for dessert and are excellent for breakfasts and on-the-go snacks. They also make a great addition to brunch buffets.
A mixture of very ripe bananas, eggs, milk, chopped nuts, and a chemical leavening agent, such as baking soda or baking powder, is used to make banana nut muffins, a single-serving fast bread.
The flavor of bananas is really rich, and the muffins are soft and moist. These muffins make a fantastic breakfast, lunch, or dessert and are a wonderful way to use up overripe bananas.
---
3. Blueberry Muffins
Fresh blueberries are overflowing in blueberry muffins. You might choose to use fresh blueberry jam, swirl it all through, and then sprinkle sugar on top for a crisp taste.
Flour, leavening agents, salt, butter, eggs, sugar, milk, vanilla, lemon juice, and of course blueberries are common ingredients in blueberry muffins.
You can either use frozen blueberries or fresh ones for you blueberry muffins. Particularly when they are not in season, frozen blueberries are quite useful. Just be sure not to let them defrost before adding them to your muffin recipe. Even if the blueberries are frozen, you should still add a little flour to the mixture to prevent the blueberries from sinking to the bottom.
---
4. Lemon Poppy Seed Muffins
Lemon poppy seed muffins with a tart lemon glaze and a dusting of coarse sugar are delightfully sweetened and soft. It can be consumed for breakfast, a snack in the afternoon, or even as dessert.
Poppy seeds, all-purpose flour, sugar, baking soda, salt, baking powder, whole milk yogurt or low-fat yogurt, 2 tablespoons fresh lemon juice, grated lemon zest, four big eggs, and butter are among the usual ingredients.
---
5. Chocolate Chip Pumpkin Muffins
Chocolate chip pumpkin muffins are soft, airy delights packed with peppery spices and lots of chocolate chips. Pumpkin muffins are a delicious dessert, after-school treat, or autumn party food. They include a lot of flavorful pumpkin spice and gooey chocolate chips. It's basic but satisfying and tasty.
When baking with pumpkin, you can never go wrong. Create 2 batches of these pumpkin muffins since they freeze well and are a great weekend snack to have on hand.
Pumpkin puree and vegetable oil are responsible for the soft and supple texture of these muffins. In addition, you'll need flour, eggs, sugar, and pumpkin pie spice. Add some chocolate chips, and your muffins are good to bake.
---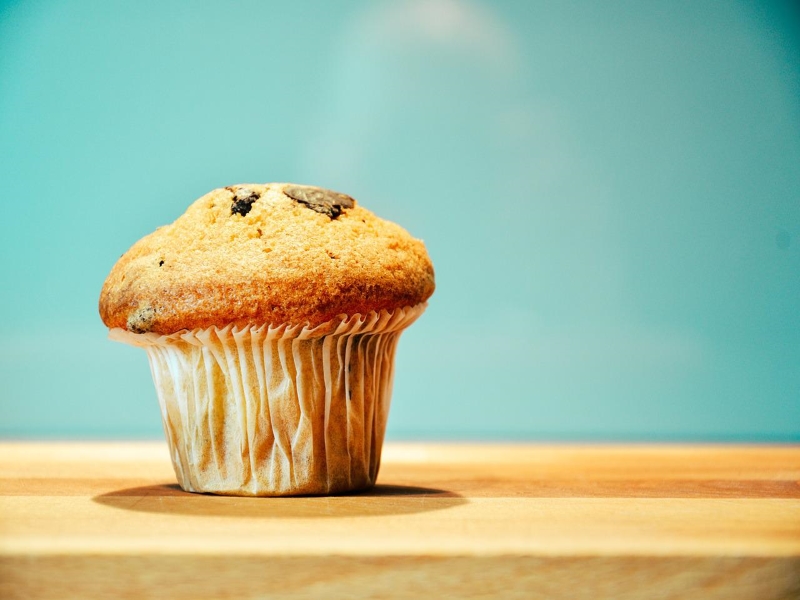 6. Banana Chocolate Chip Muffins
Banana chocolate chip muffins will amaze you if you love eating banana bread or delicious morning delicacies. These delicious banana muffins with melted chocolate and crunchy walnuts are can definitely satisfy your sweet cravings.
They are rich and juicy because they are made with ripe bananas, brown sugar, and butter. Plus, it has crunchy walnuts and melting chocolate chips to create a muffin that will melt in your mouth. This delicious muffin recipe is simple to prepare and ideal for breakfast, dessert, or a quick snack. Enjoy these with some cold milk or a hot cup of coffee.
The ingredients include eggs, vanilla extract, ripe bananas, unsalted butter, granulated sugar, golden brown sugar, and muffin liners for these banana chocolate chip muffins. You'll need all-purpose flour, baking soda, and salt for the dry ingredients. Walnuts and semisweet chocolate chips are also included for extra goodness.
---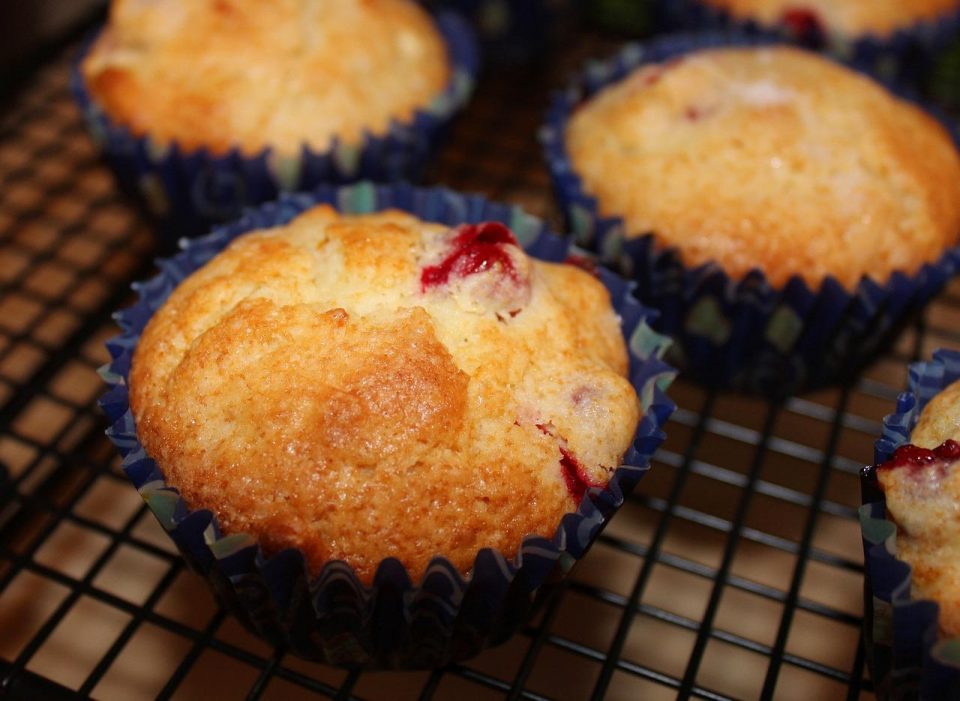 7. Cranberry Orange Muffins
These muffins are oozing with orange and fresh cranberry flavor. They are wonderful, fluffy, and moist. They are produced with healthy components including whole wheat flour and Greek yogurt, and honey or maple syrup is used to naturally sweeten them.
Fresh cranberries, white whole wheat flour or regular whole wheat flour, baking soda, fine sea salt, heated coconut oil or extra virgin olive oil, honey, maple syrup, eggs, plain Greek yogurt, vanilla extract, zest from medium orange, and turbinado sugar are a few of the components.
---
8. Coconut Chocolate Muffins
These delicious muffins have a taste that is closer to that of a delectable dessert than a breakfast food due to the delightful cream cheese-coconut topping.
You'll need cream cheese sugar, all-purpose flour, an egg, chocolate chips, nuts, sweetened shredded coconut, baking cocoa, ground cinnamon, and canola oil to make this delectable muffin recipe.
---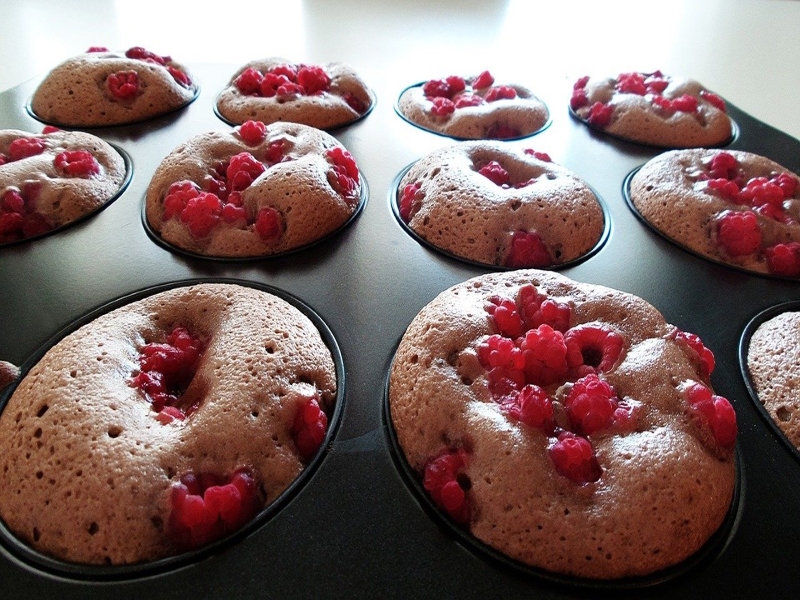 9. Raspberry Muffins
The flavor and texture of jumbo raspberry muffins are outstanding to anything you would find in a bakery. Their delicious and soft interiors are stuffed with delicious raspberries, while the muffin tops are rich and barely crispy. Make these tasty treats with your children and family using a pint of raspberries.
This delicious muffin recipe calls for sour cream or plain yogurt, flour, baking powder, salt, vanilla extract, and milk in addition to butter, oil, and coarse sugar flakes.
---
10. Zucchini Chocolate Chip Muffins
These muffins made with zucchini make a wonderful base for add-ins. Walnuts and chocolate chips are already included in this recipe, but if you want to mix things up a bit, consider including other kinds of nuts or chocolate. In this recipe, white chocolate chips or dark chocolate chunks would both work well. A sprinkle of dried cranberries, citrus zest, or additional spices like ginger or cardamom are also options.
Due to the large amount of water contained within this squash, zucchini bakes are rather moist.
---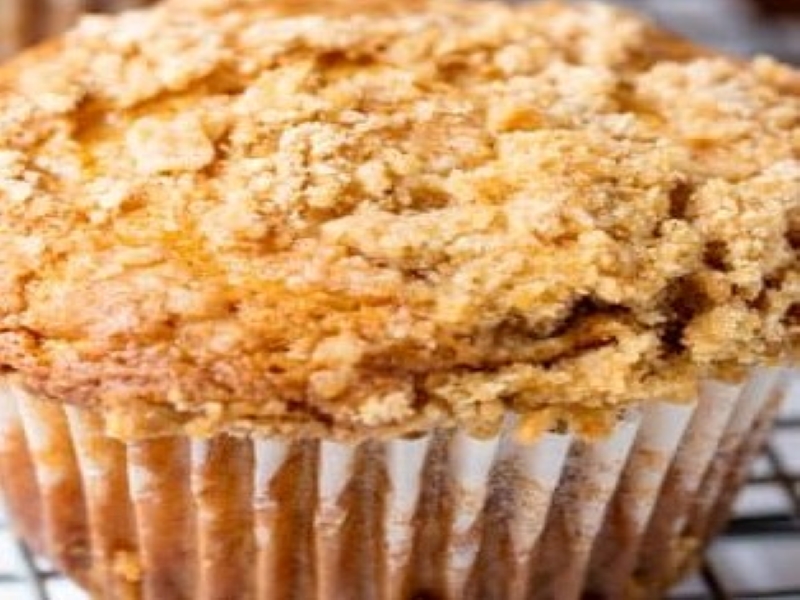 11. Coffee Cake Muffins
These tasty coffee muffins are a must-try if you enjoy coffee. With a mile-high crumb topping, the traditional coffee cake is modified into a delicious muffin. They have a light vanilla glaze.
All-purpose flour, light brown sugar, baking powder, cinnamon, baking soda, salt, milk, canola oil, eggs, melted butter, vanilla extract, and confectioner's sugar are among the often used ingredients.
---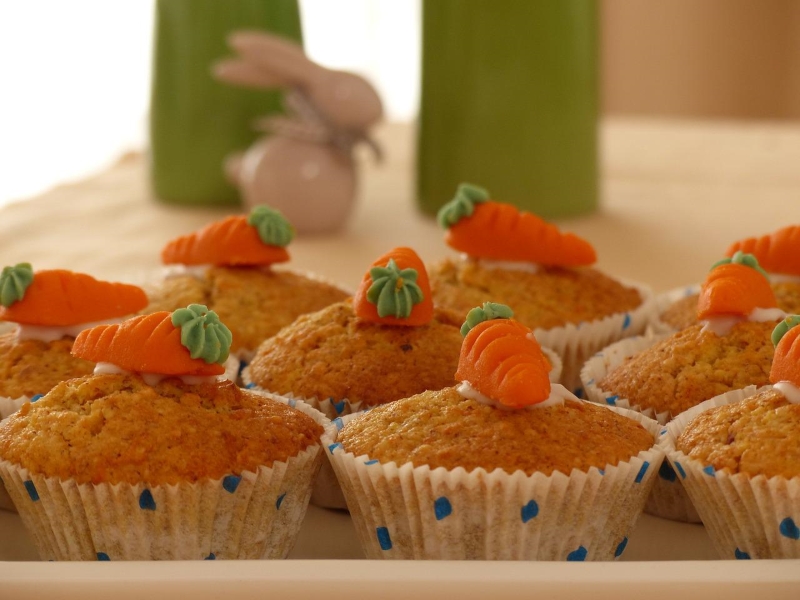 12. Carrot Cake Muffins
These sugar-free carrot cake muffins are softer than any muffin you've ever had and contain less sugar than the standard muffin recipe. These tender muffins are also packed with a ton of coconut, raisins, and carrot shreds. So simple, good for you, nutritious and very tasty. Indeed, these healthy muffins are awesome.
You can offer these delicious treats to your family and friends because they contain healthy ingredients like Greek yogurt and unsweetened apple sauce. Greek yogurt can be substituted with sour cream or even mayo, to give these a great buttery richness, but if you want to make them healthier, just use 0% fat Greek yogurt. The apple sauce makes these tasty muffins with less sugar added, which is actually a nice thing.
---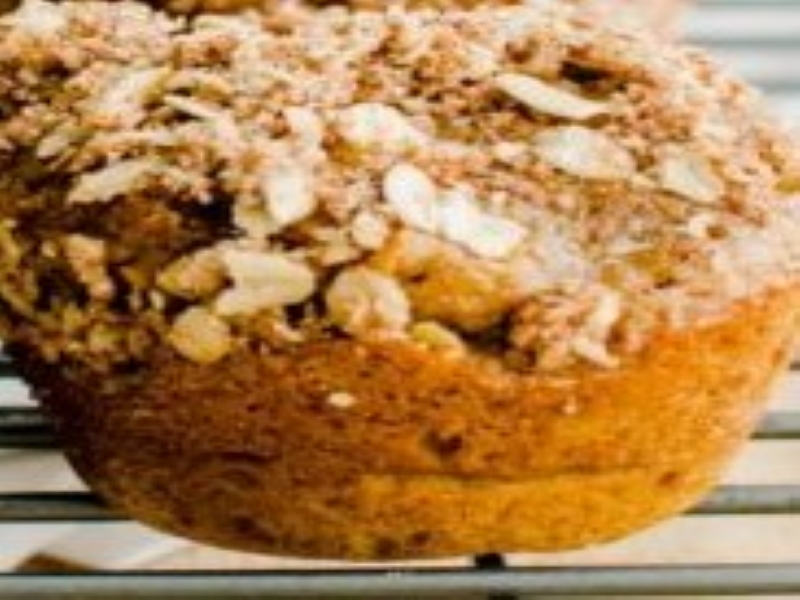 13. Pumpkin And Cream Cheese Muffins With Pecan Streusel
Another wonderful and delicious muffin. This is basically a pumpkin muffin with a cream cheese filling inside and a pecan streusel topping.
---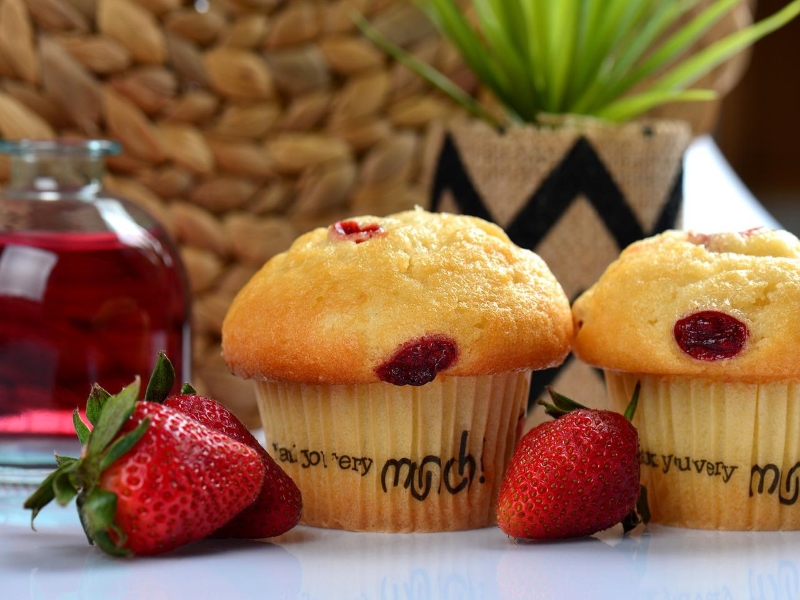 14. Strawberry Muffins
Fresh fruit is numerous in this sweet, fluffy strawberry muffins. A sweet-yet-healthy breakfast or snack can be made by pairing one with coffee or tea. They are ideal for treating your loved ones on important occasions.
Fresh strawberries, whole wheat and all-purpose flours, baking powder, eggs, sea salt, extra virgin olive oil, cane sugar, cinnamon, and vanilla extract are typical ingredients for this kind of muffin.
---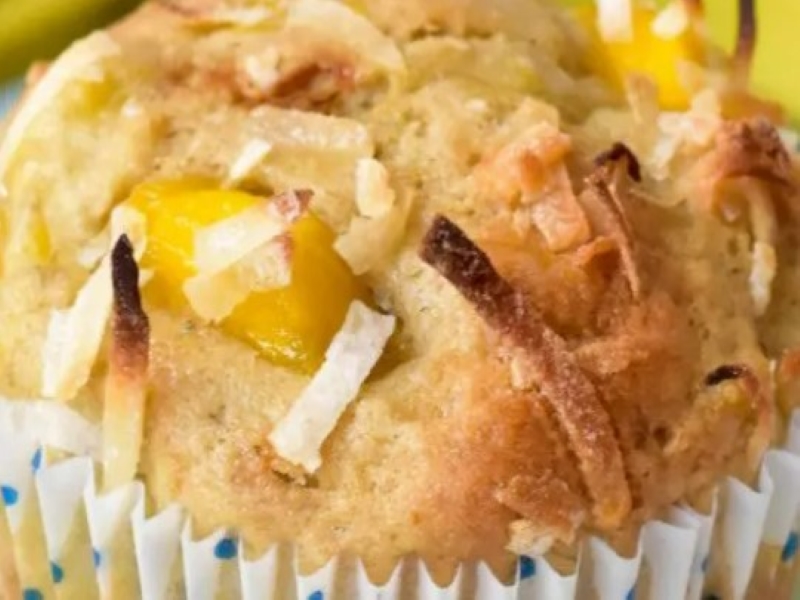 15. Mango Coconut Muffins
A perfect breakfast to start your day is by enjoying these vibrant mango coconut muffins. Due to the lime, mango chunks, and coconut flakes, they have a vibrant flavor. Although they store well, these coconut muffins taste best immediately out of the oven. This is your coffee-time tropical delight for the season.
Spelt flour, powdered flaxseed, warm water, lime juice, baking powder, cane sugar, vanilla extract, cinnamon, mango, coconut flakes, and sea salt are among the usual ingredients of these flavorful muffins.
---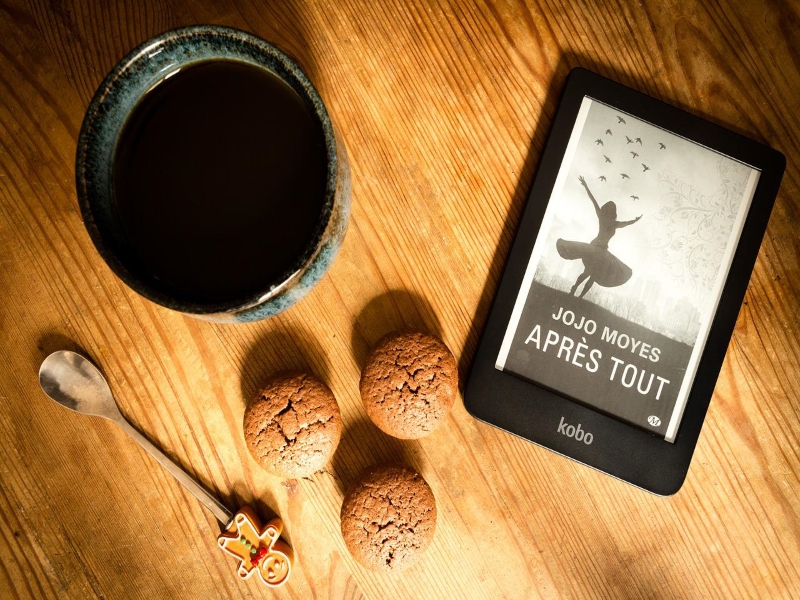 16. Gingerbread Muffins
Muffins made with gingerbread feature lovely cracked tops, a strong flavor of spices, and a tart lemon icing on top. These festive Christmas muffins are a great example of how underappreciated the flavor combination of ginger and lemon is.
These holiday-themed gingerbread muffins are delightful. Comparable to gingerbread loaf, but in a muffin version. Dark brown in color and bursting with flavorful gingerbread. seasoned with cinnamon, ginger, and cloves. Like molasses cookies, they have a crackly top that is covered with sparkling sugar for crunch and lemon glaze for an attractive appearance.
---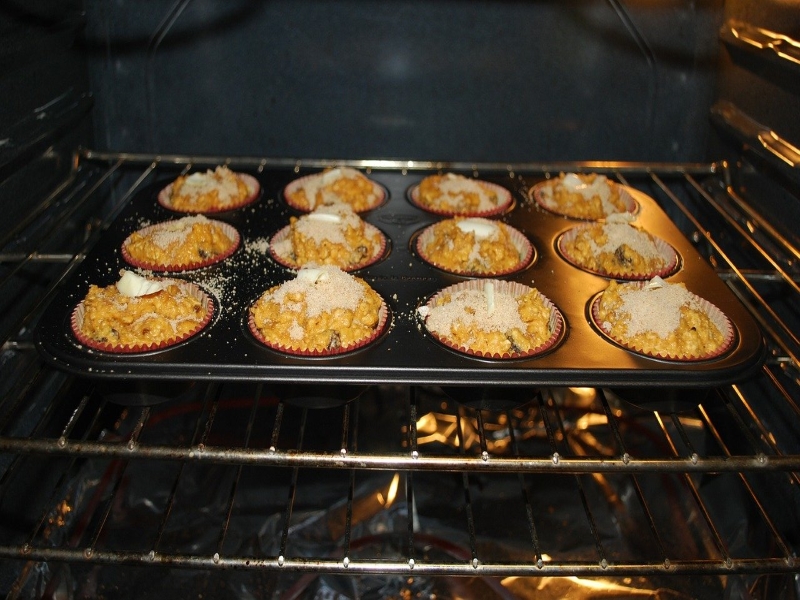 17. Morning Glory Muffins
The ideal way to start the morning is with a muffin named Morning Glory. You'll appreciate the sweet taste combinations of spices and vanilla, and they're packed with apples and applesauce, raisins, coconut, carrots, and nuts.
Whole wheat flour and all-purpose flour, baking soda, salt, cinnamon, nutmeg, brown sugar, vegetable oil, unsweetened applesauce, eggs, vanilla, apple, carrots, shredded coconut, pecans, and raisins are all used in the morning glory muffins recipe.
---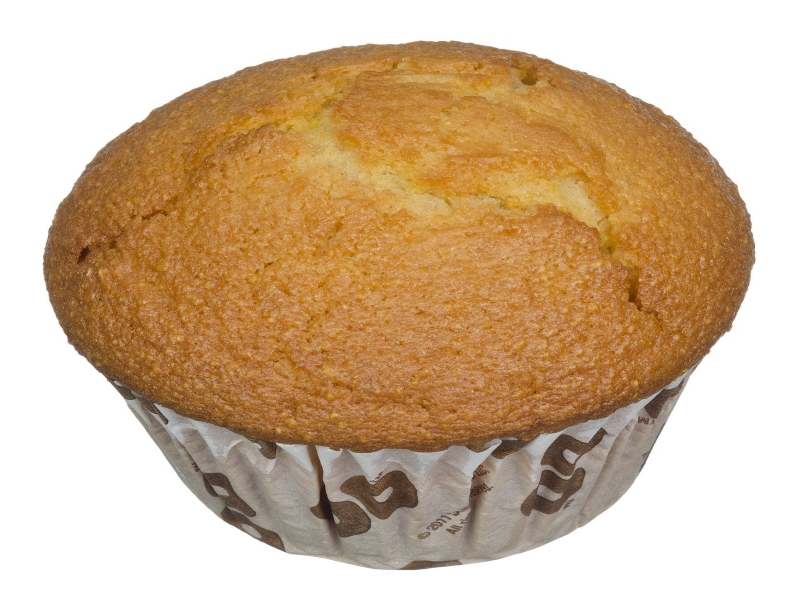 18. Sweet Corn Muffins
These tasty corn muffins go great with your favorite stew and are bursting with corn flavor.
This fantastic muffin recipe calls for all-purpose flour, sugar, cornmeal, baking powder, salt, eggs, shortening, and milk as well as other ingredients.
---
19. Apple-Cinnamon Muffins
Apple cider, diced apples, and a wonderful cinnamon-sugar crunch on top give these apple-cinnamon muffins a powerful apple taste.
The topping on these muffins, which combines granulated and brown sugar with cinnamon, is absolutely delectable in addition to the robust apple flavor. You should keep the top for last because the coating is so deliciously sweet and crispy.
---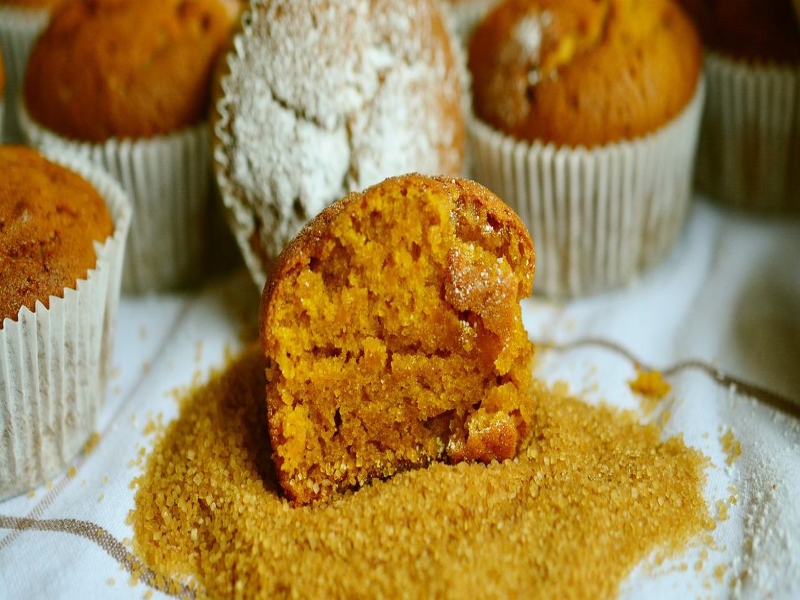 20. Pumpkin Banana Muffins
In one delectable muffin recipe, two excellent fast bread flavors are combined. Enjoy these on a cool day with a hot cup of coffee. Another perfect breakfast treat.
All-purpose flour, whole wheat flour, buttermilk, canola oil, vanilla extract, salt, baking soda, ground cinnamon, ground ginger, ground allspice, and ground nutmeg are all required in the recipe.
---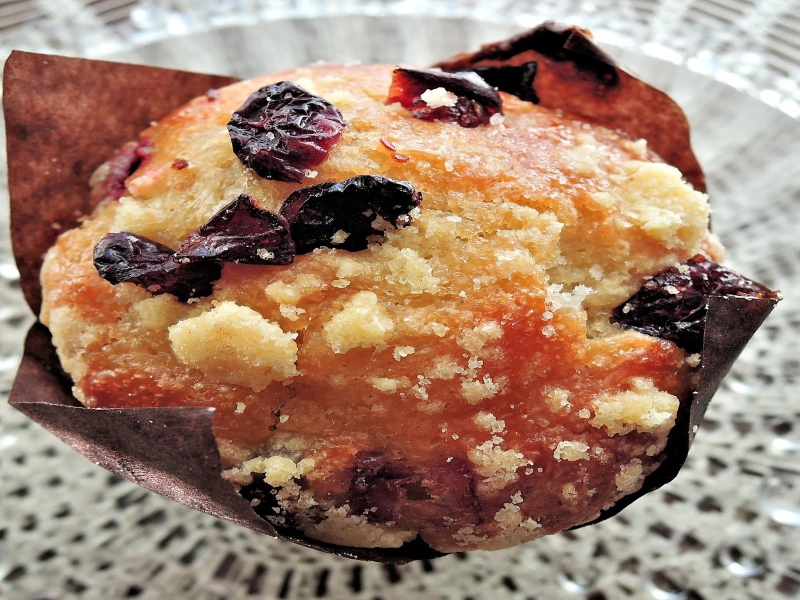 21. Chocolate Cranberry Muffins
The flavor of these soft, moist, bakery-style Chocolate Cranberry Muffins is so perfect. These muffins are simply tough to refuse since they are packed with fresh cranberries, chocolate chips, and sparkling sugar.
In addition to being a beautiful complement to your holiday table, these muffins with fresh cranberries are ideal for breakfast, brunch, and dessert. They also preserve well for convenient grab-and-go snacking.
This delicious treat has the following ingredients: flour, baking powder, baking soda, salt, cinnamon, eggs, sugars, oil, Greek yogurt, milk, vanilla extract, cranberries, and chocolate.
---
22. Cherry Muffins
How To Make Cherry Muffins
Maraschino cherries create a beautiful, brilliant pink cherry muffins, which also have a whole cherry on top and a cherry glaze. This is a delightful and vibrant treat that is ideal for celebrations, snack time, or simply whenever you have a sweet craving.
Ingredients For Homemade Muffins
1 egg
3/4 cup sugar
12 whole maraschino cherries
1/2 cup milk
1/2 cup vegetable oil
16 ounce jar maraschino cherries chopped, save the juice as we will use this later for the glaze
2 tsps baking powder
1 tsp vanilla extract
2 cups all purpose flour
2 tbsps reserved cherry juice
cooking spray
Ingredients For The Glaze
1 1/2 tablespoons cherry juice
1 cup powdered sugar
1 tbsp melted butter
Instructions
Set the oven to 400 degrees Fahrenheit. Then, spray cooking oil in a 12-cup muffin pan.
In a large bowl, combine the sugar, milk, vegetable oil, egg, and vanilla essence. Whisk thoroughly.
Next, add the baking powder and flour. Stir until well mixed.
Now, put the the cherry juice and cherries into the bowl, then gently mix everything together.
Then, fill the muffin tins with the batter in an equal layer.
Bake for 12 to 14 minutes, or until sides are barely browned. Before adding the glaze, the muffins must be cooled first.
Now, let us make the glaze. The glaze is made by thoroughly combining powdered sugar, butter, and cherry juice. Add more cherry juice, 1 teaspoon at a time, if you want a thinner glaze. However, add more powdered sugar, 1 tablespoon at a time, until the desired consistency is obtained if you prefer a thicker glaze.
Each muffin should have 2 teaspoons of glaze on it. Then, place a cherry on top of each muffin right away. Serve after letting the glaze dry.
Nutritional Value:
Calories: 225kcal
Carbohydrates: 35g
Protein: 3g
Iron: 1.2mg
Vitamin A: 80IU
Sodium: 20mg
Potassium: 116mg
Fiber: 1g
Calcium: 66mg
Cholesterol: 17mg
Sugar: 27g
Fat: 10g
Saturated Fat: 8g
---
Frequently Asked Questions
What is the trick to making a moist muffin?
Use butter and oil to create gorgeously soft and moist blueberry muffins. Oil makes things moist, whereas butter makes them delectable. Therefore, you need to use both. Additionally, avoid mixing the muffin batter more than 12 times. Finally, bake it for no more than 20 minutes.
What happens when yogurt is added to muffins?
You'll have creamy, baked foods and they stay moist. Its tanginess gives it an irresistible, vintage flavor. Also, its acidity aids in the activation of baking soda, which can result in fluffy and light baked items. It can replace mayonnaise, or sour cream, bringing the same tangy flavor with less guilt. In place of ice cream or whipped cream topping, it can serve as a garnish.
What is the advantage of adding bran to muffins?
Bran muffins are made with bran and less flour. For the health of your digestive system, wheat bran has various advantages. Additionally, prebiotics, which are non-digestible fibers that serve as a source of food for your healthy gut bacteria and increase their population, are abundant in wheat bran. This enhances bowel health by raising the amount of these bacteria.