In Chinese cuisine, chicken is an important and popular ingredients used in most of dish options. Aside from chicken is versatile, almost all of its parts can be used as an ingredient, most of chicken recipes are very easy and can even make chicken dish at the comfort of home. In today's post we will be talking about some of the best Chinese Chicken recipes that you can easily make at home.
Best Chinese Chicken Recipes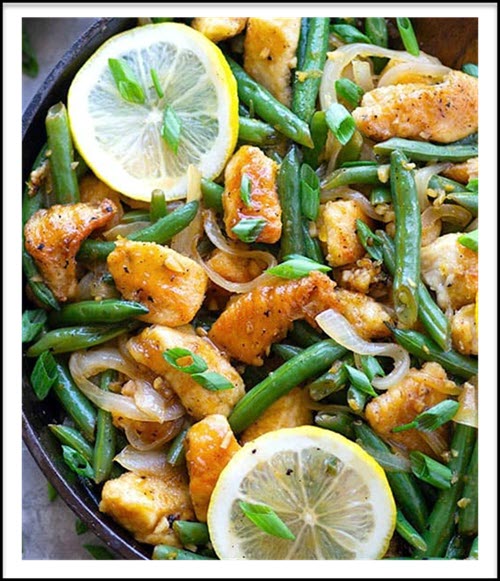 Asparagus and Chicken Stir Fry
The Asparagus and Chicken Stir fry recipe is very easy and simple to make. It is also a healthy dish. Stir Fry dishes is popular in Chinese recipes. For the asparagus ingredient, you may want to cut the end stalks before slicing it.
If you want a little hint of spice to the dish, you can simply add Thai Red chili paste. Best served with rice.
---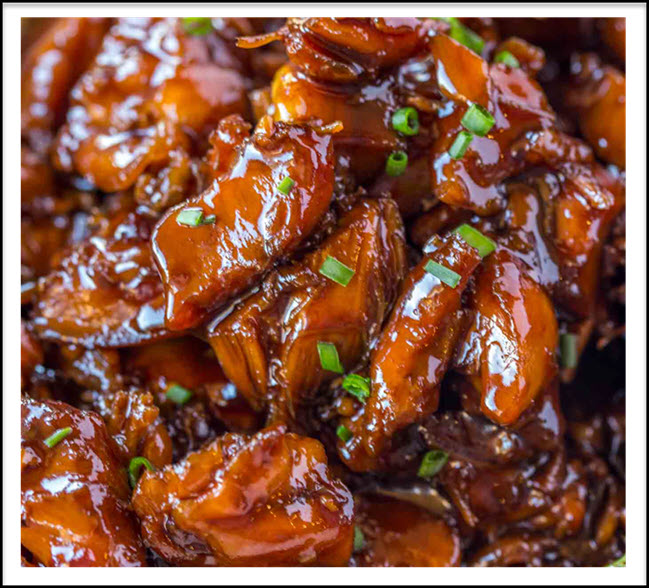 Chinese Bourbon Chicken
The Chinese Bourbon Chicken is made by deep frying the battered chicken along with bourbon whiskey sauce. The ingredients in making this dish are soy sauce, ginger, brown sugar, bourbon whiskey sauce and Chicken. Before making this dish, the chicken is first marinated.
---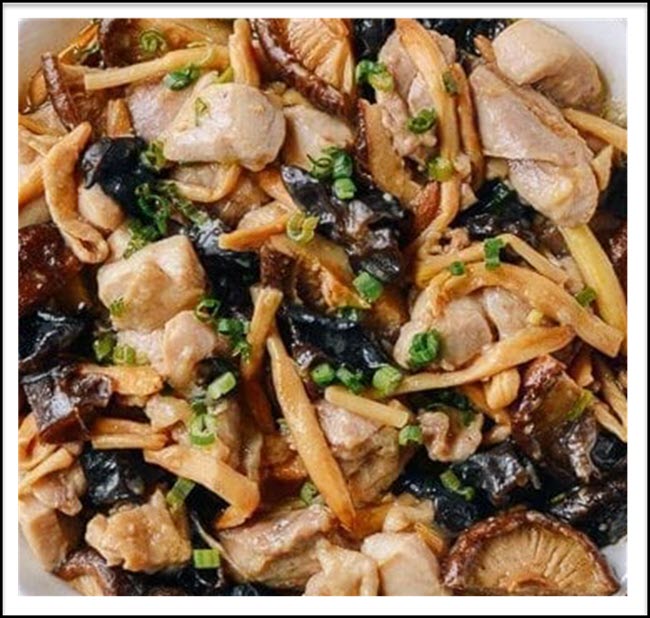 Cantonese Steamed Chicken
Steamed chicken is a healthy dish since with steaming it cook the chicken without the need to use any oil therefore the dish will have less calories and fat content. Other than that, with steaming the chicken the cooking process is faster, max of 30 minutes. With this recipe, you can add mushrooms to the dish too.
---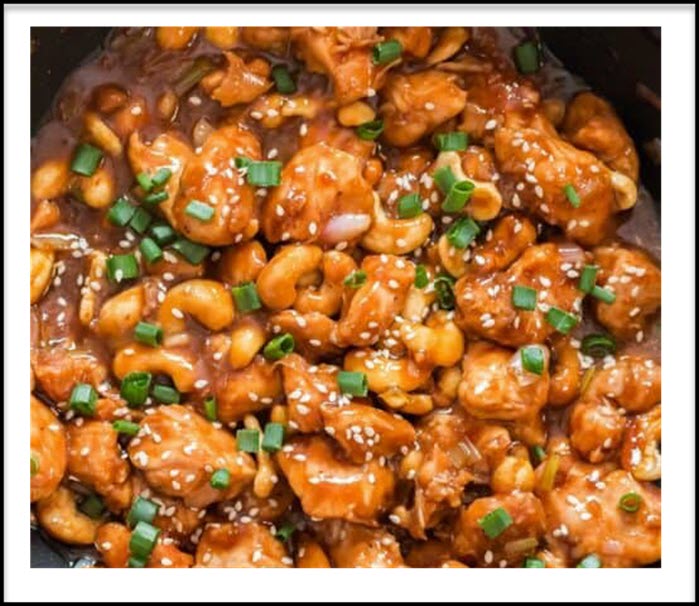 Cashew Chicken
Cashew Chicken is a famous Chinese chicken dish where it can be seen in menu of most Chinese restaurant, but you can never go wrong with making this dish at your home.
A stir fry dish that mixes the chicken and the vegetables as well as combined it with cashews. If you prefer walnuts over cashew, you can also use it as an alternative.
---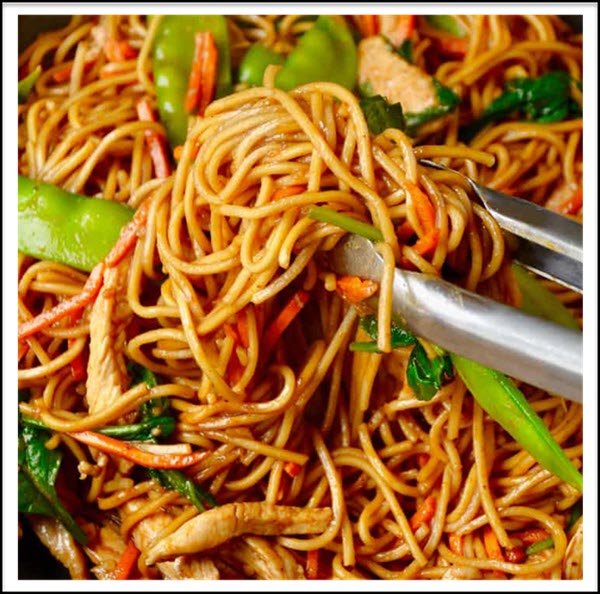 Chicken Lo Mein
A very popular Chinese dish. It is a Chinese noodle dish made of steamed egg noodles, sauce and proteins such as shrimp, chicken or beef and vegetables. The ingredients are mixed together and stir fried.
---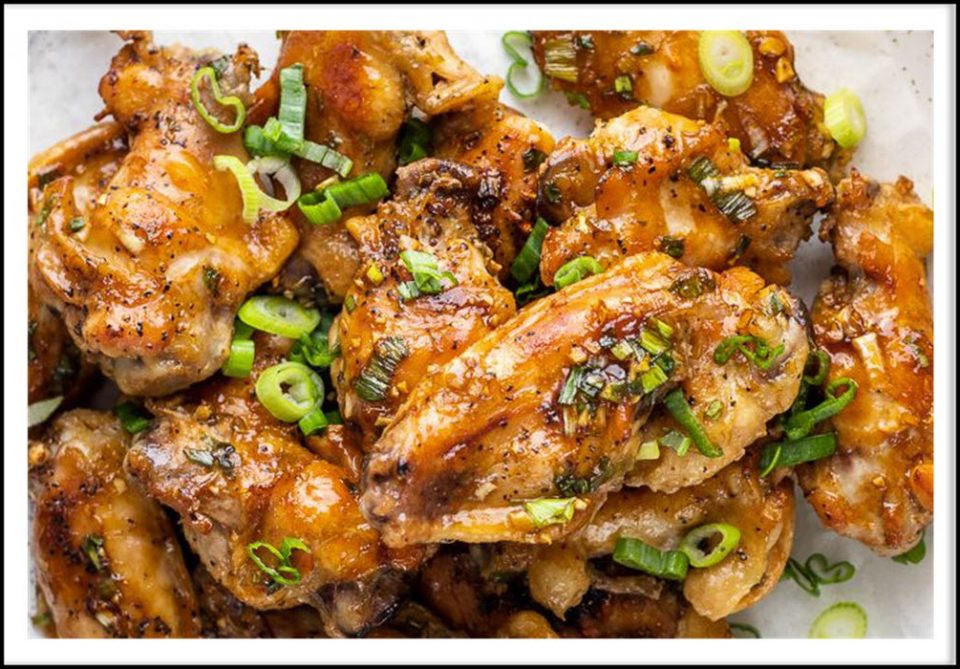 Chicken Wings with Oyster sauce
In this recipe, you can taste the umami flavor of this dish because of the oyster sauce. To prepare this dish, marinated chicken with soy sauce, oyster sauce and rice wine. After marinating, bake in the oven. Best served when hot.
---
Chicken With Green and Red Peppers
Another popular Chinese chicken recipe is the Chicken with green and red peppers. Bell peppers used will definitely add flavor, texture and color to different Chinese dishes.
---
Chicken Wontons
Making Chicken Wontons at home is pretty easy. If you want to reduce the calories and fats on you wonton, you can bake them instead of deep frying. Added ingredients included reduced-fat peanut butter and sugar.
Best served as an appetizer or as side dish to a meal. To add flavor, you can pair it with dipping sauce such as sweet chili sauce, soy sauce, cocktail sauce, spicy Chinese mustard or a ketchup.
---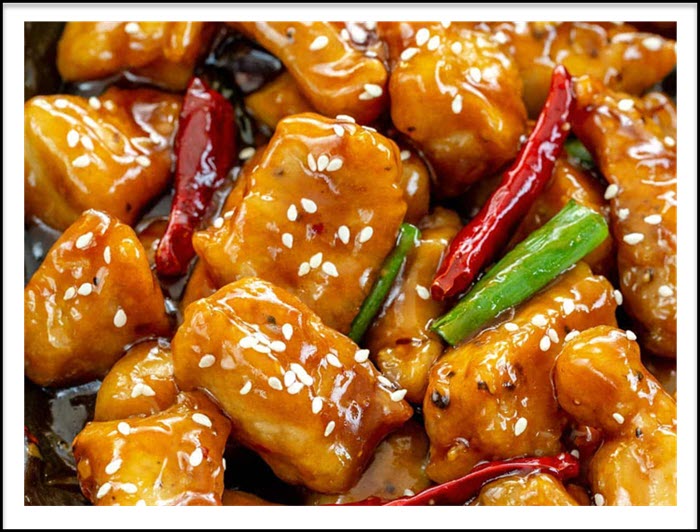 General Tso's chicken
A homemade General Tso's chicken is the same as the ones being served in your favorite restaurant. Same flavor, same taste and same ingredients used. With this dish, chicken cubes are coated with sweet and sour sauce and then deep fried.
For a more thickened sauce, you can simply add at least two tsps. of cornstarch.
---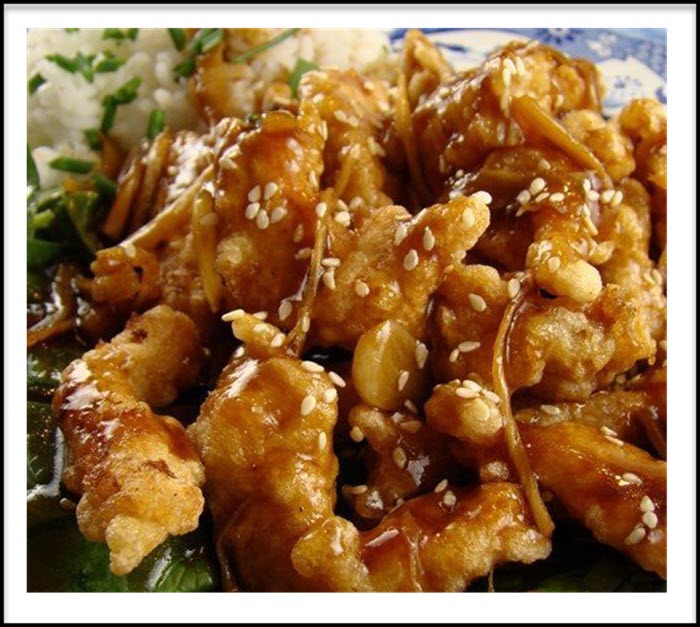 Ginger Chicken
Ginger chicken is a must-try at home recipe. There are easy simple and easy to follow for this Ginger Chicken recipe. Most of the time, chicken thighs is the most common part of the chicken is used. It is first marinated with spicy ginger sauce and you can either have it grilled or broiled. Whichever cooking process you like.
---
Kung Pao Chicken
Kung Pao Chicken or also called Gong Bao or Kung Po is another Chinese dish that you can easily make at home. It is a stir fried dish that is made of chicken cubes, vegetables, chili peppers and peanuts.
---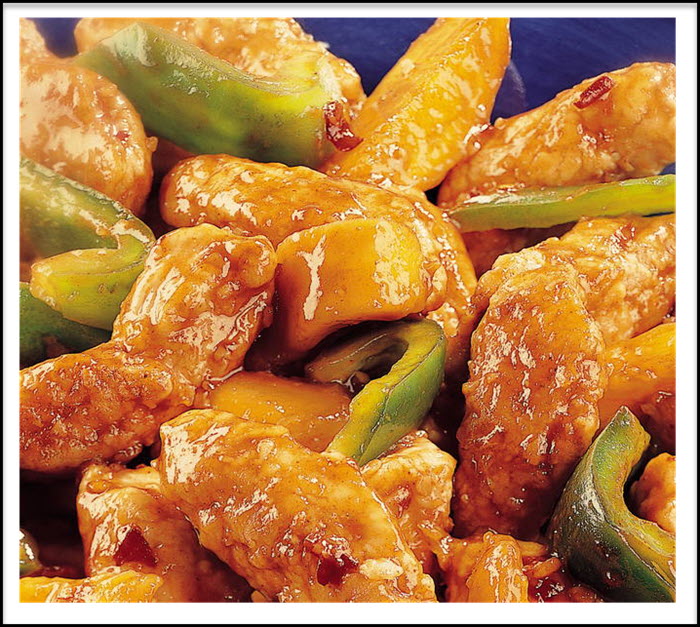 Mango Chicken Stir Fry
Mango Chicken Stir Fry is a flavorful Chinese chicken dish that made with stir frying the chicken with different varieties of vegetables. Topped with a topical fruit then garnished with cilantro leaves.
---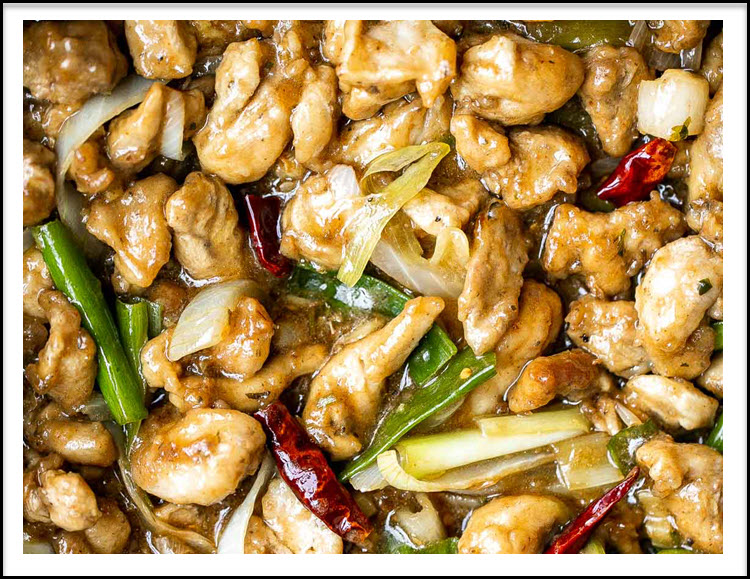 Mongolian Chicken
Mongolian Chicken is made of chicken that is coated with cornstarch and then deep fried in oil. Once fried, it is then combined with a spicy, gingery, garlicky and sweet hoisin sauce. If you are making this at home and you want a hint of spiciness and aroma, you can add red chili, garlic and ginger to the dish.
There is another version of this dish that is easy to make at home. It is by adding mung bean sprouts to the mixture. The recipe is simple and easy to follow and it can be cooked in just 10-15 minutes.
---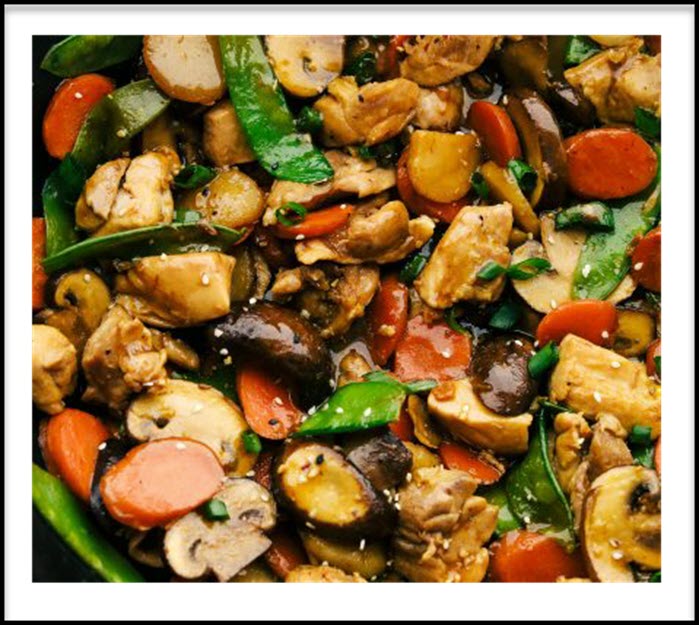 Moo Goo Gai Pan
Moo Goo Gai Pan is another Chinese chicken dish that you can easily make at home. It is made with chicken cubes, mushrooms and different vegetables such as bamboo shoots, Chinese Cabbage, water chestnuts and snow peas. Often broccoli's are added to the dish. For the sauce, you can either use an oyster sauce or hoisin sauce depending on one's preferences.
---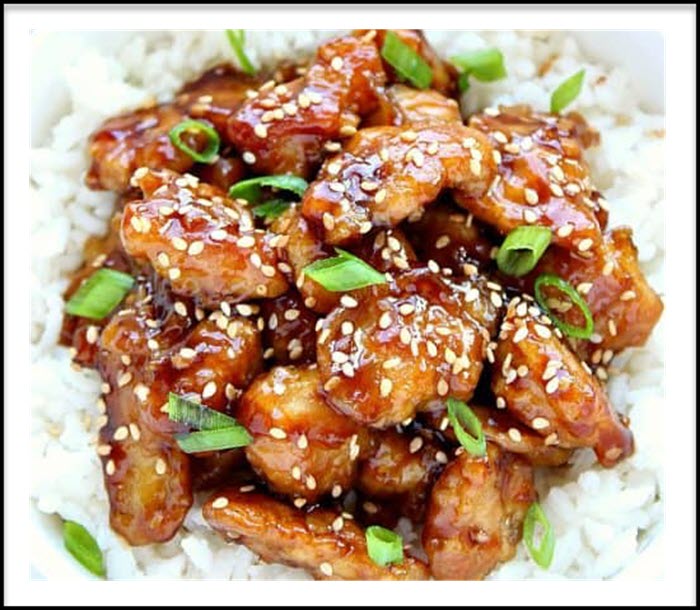 Sesame Chicken
Sesame Chicken is a popular Chinese chicken dish commonly seen in Chinese restaurants everywhere. It is similar to another popular dish called General Tso's Chicken but the only difference is that Sesame chicken is rather sweet than spicy as compared to General Tso.
If you want to make this dish at home, make sure to lower the amount of sugar you put into the dish but instead increase the vinegar. Although it depends on your preferences on the level of sweetness of the dish. You can adjust accordingly.
---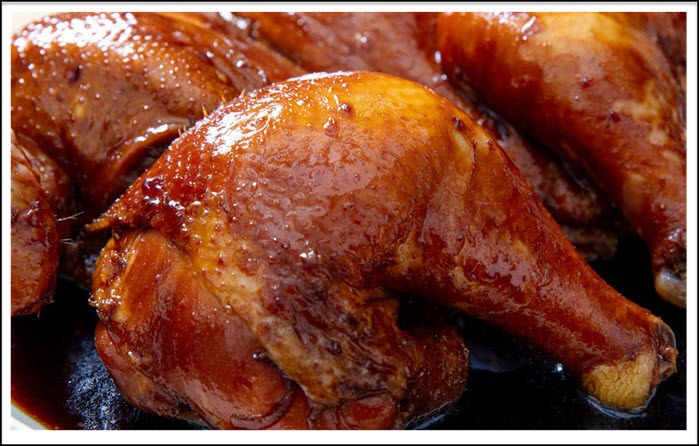 Soy Sauce Chicken
Making Soy sauce chicken at home is like making a red cooking dish. This means that the dish is made by simmering the meat or the poultry, in this case, simmering the chicken in a liquid based soy sauce with seasonings. If you want to use the sauce again for another red cooking dish, you can do it and might want to add more spices to the dish to make the delicious sauce richer and fuller.
---
Sweet and Sour Chicken
Sweet and Sour Chicken is a common Chinese dish but there are other food variation wherein citrus is added. Making sweet and sour chicken at home is simple and you can add pineapple and lemon for that extra kick.
Most of the time, Chinese Sweet and sour chicken is made of chicken with batter of cornstarch. It is coated with sweet and sour sauce. The sweet and sour sauce is usually made of chili sauce, ketchup, plum sauce, lemon juice, sugar and salt.
---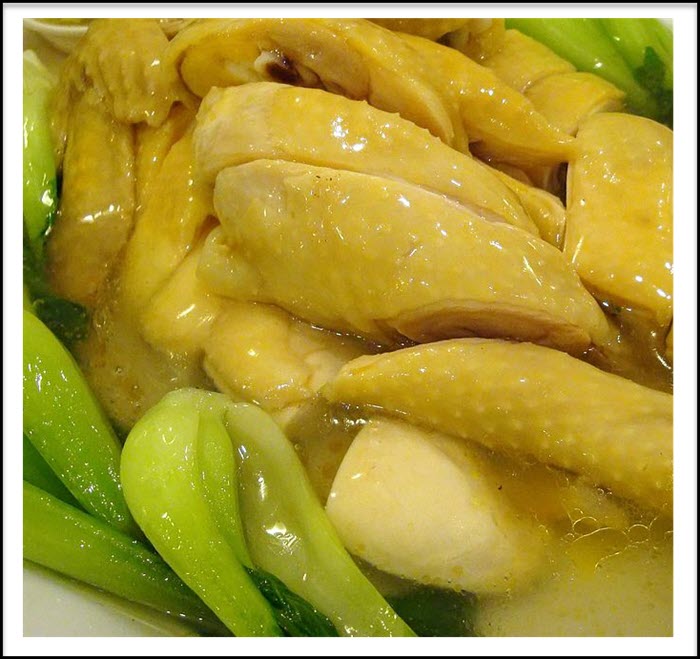 White Cut Chicken
White cut chicken or also called white sliced chicken. A delicious Chinese food made of chicken. The chicken is marinated with salt and then cooked in either chicken broth (with ginger) or just plain hot water.
Though there are other variation of this kind of Chinese food where the other ingredients are added such as cilantro, green onions and or sometimes star anise.
---
Szechuan Skillet Chicken
Szechuan Skillet Chicken is a stir fry chicken dish that is made of chicken thighs mixed with Szechuan peppercorns, and dried red chili peppers.
---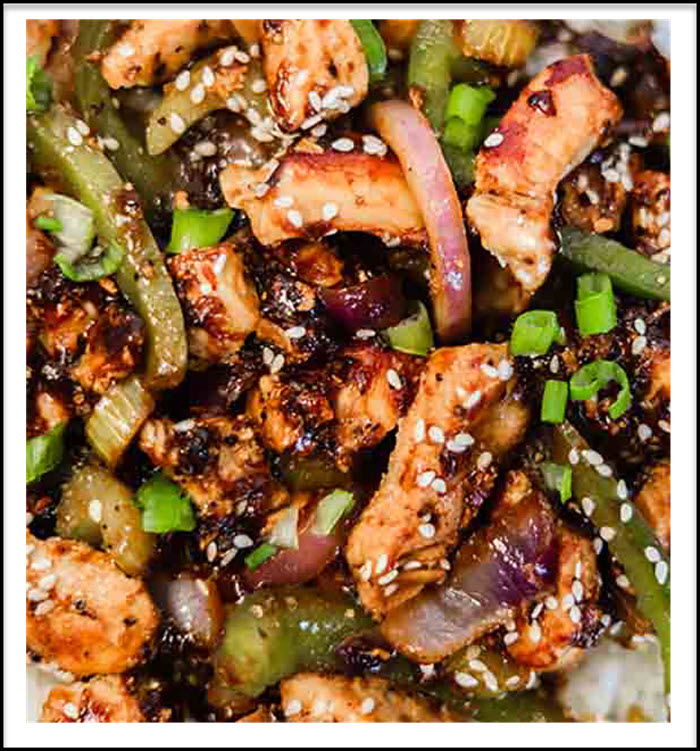 Black Pepper Chicken Stir Fry
Another Chinese chicken meal that you can easily make at home is the Black Pepper Chicken Stir Fry. A easy to make dish that is made of Chicken, black pepper, onions and celery. Best served with brown rice.
---
Crispy Chicken Salad
You cannot go wrong with this Chinese chicken food. It is not just healthy but easy to prepare. If you are wondering what is in a crispy chicken salad mixture? The salad typically consists of Chicken Strips from Chicken breasts, lettuce, tomatoes, cheese, boiled eggs and you can add tortilla chips too.
---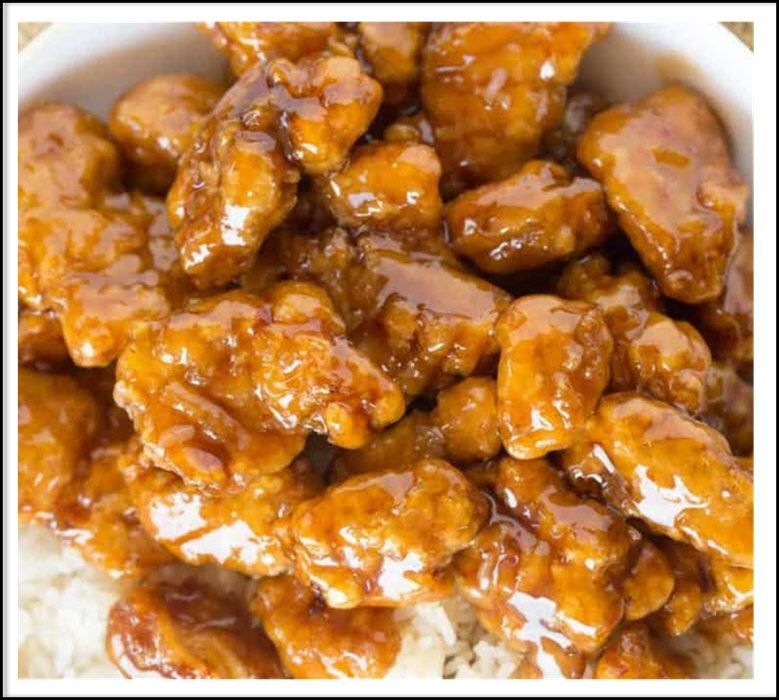 Orange Chicken Stir Fry
Orange Chicken Stir fry is made from boneless and skinless chicken breast that are cut into small or bite sized pieces, fried until golden in color and crispy. The orange chicken sauce that is used in this dish is made with sugar, rice vinegar, fresh ginger, minced garlic, orange juice, red chili flakes, water, cornstarch and orange zest.