Ever wonder the difference between Sesame Chicken vs Orange Chicken? While both uses the main ingredient which is Chicken, they both have different ways of and ingredients used in cooking and are different in, of course taste. In this post, we are going to talk about the two most popular Chinese Cuisine: Sesame Chicken vs Orange Chicken and also the chicken recipes for each dish are also cited in this article. Read on further below to know more.
Sesame Chicken vs Orange Chicken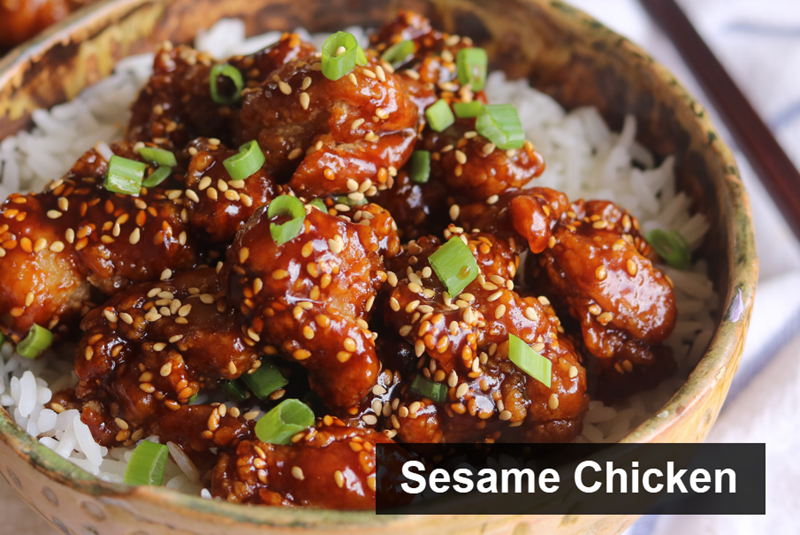 What is Sesame Chicken
Sesame Chicken is a popular chicken dishes and is served mostly in Chinese restaurants since it is one of the delicious Chinese Cuisine available. Sesame Chicken is also known as Chinese sesame seed chicken.
If you are familiar with the dish General Tso's Chicken, it is quite similar to Sesame Chicken however they slightly differ in taste since Sesame chicken uses sweet sauce than the spicy General Tso's chicken dish.
Sesame Dish is sweet and the dish is flavored with sesame oil and with sesame seeds. You can also notice a taste of soy sauce and garlic too.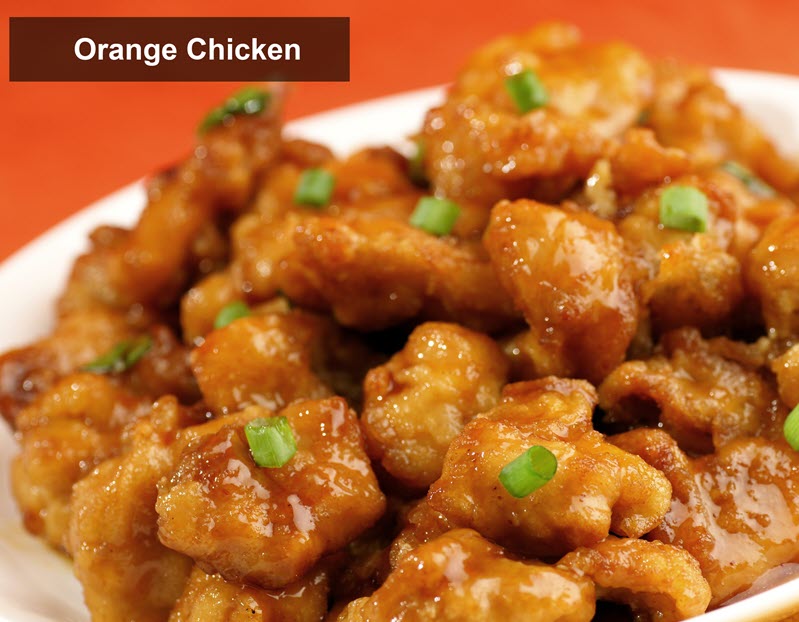 What is Orange Chicken
Orange chicken is another dish made using boneless skinless chicken breast. It is then cut into small pieces, cleaned up and then fried until it is golden crispy.
Since the chicken meat are dipped in an orange flavor sauce, after the frying process it will result in a crispy shell of the meat and an orange-flavored sauce on its inside.
The orange-flavored tastes makes orange chicken unique from all the other chicken dishes.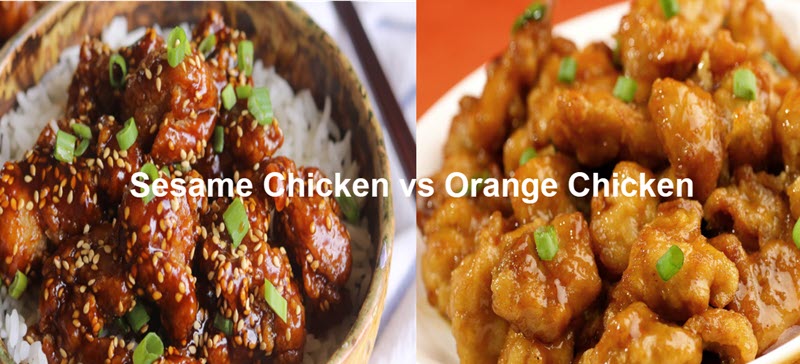 What is the difference between Sesame Chicken vs Orange Chicken
Although Sesame Chicken vs Orange Chicken dishes uses the same chicken meat, both are different from each other.
Texture
Sesame chicken is more crunchier than Orange chicken while Orange chicken is somewhat soft and tender in texture.
Cooking method
Cooking method with each dish greatly differs in terms of how they were cooked. Sesame Chicken is mostly deep fried that is made of dark meat. Most of the time Sesame chicken is served together with steamed rice to make the meal more delicious. While Orange Chicken on the other hand, is most of the time baked but can sometimes be deep fried. The meat used with orange chicken is usually white or dark meat.
Nutritional Value
With regards to the nutritional value of each dish, Sesame chicken dish typically contains lesser calories content per serving as compared to Orange chicken that contains more calories and fat per serving. It is due to the fact that Sesame chicken has lower fat content of about 7% in contrast with 10% from orange chicken.
Servings
When serving Sesame chicken, it is often paired together with vegetables that can either be peas, green beans, spinach and can even be served with cabbage. Orange chickens on the other hand are served usually with broccoli and carrots.
Serving also comes with the sauce for each dish. With sesame chicken, the sauce can either be sweet or spicy. But since Orange chicken only has one flavor, the sauce is orange flavored.
Sesame Chicken vs Orange Chicken: Similarities
Although both dish are different in other things, both also have their similarities in which we will also be talking here.
Both are Stir-fried dishes
As mentioned, both dishes are cooked using the frying process. Whilst Sesame chicken is breaded first then deep fried, same goes through with Orange chicken wherein it is battered in starch and then fried till crisp.
Both have top crispy breading
Both sesame chicken and orange chicken have a crispy breading on top of each dish. The breading makes the dish more delicious and even more delicious when paired it with fried rice or noodles. But, despite the two dish similar with the breading on top sesame chicken though has more flavor then Orange chicken.
Now that we've already tackled the differences and some of the dishes similarities, let us now talk about each of the dish recipe for you to try.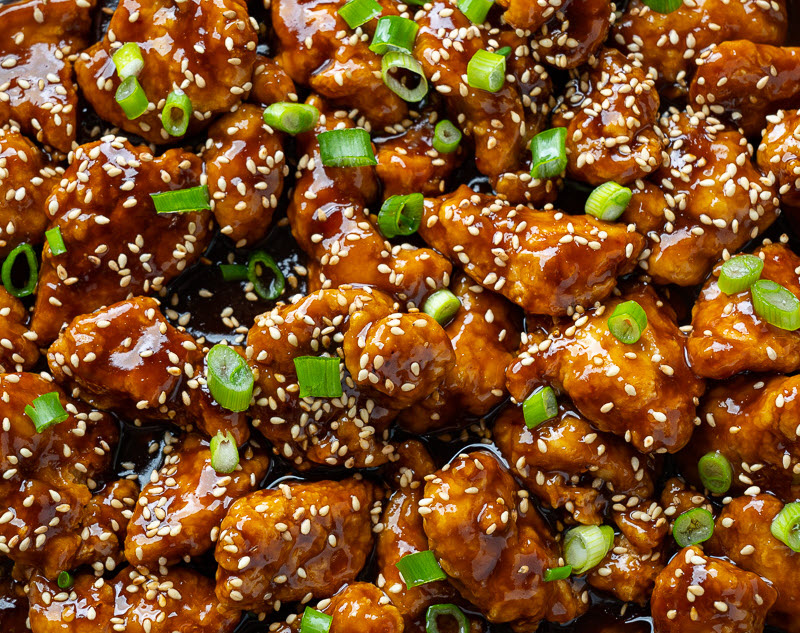 Sesame Chicken Recipe
Prep Time: 20 minutes
Cooking time: 20 minutes
Total Time: 40 minutes
Ingredients
For the chicken:
1 1/2 lbs. boneless skinless chicken breast (Cut into 1 inch each)
2 eggs (beaten)
1/2 cup all purpose flour
1/2 cup cornstarch
cooking oil
salt and pepper to taste
For the sauce:
1 tsp vegetable oil
1 tsp. garlic (minced)
1/4 cup honey
1/3 cup soy sauce
1/2 cup ketchup
3 tbsp. brown sugar
1 tbsp. rice vinegar
1 tbsp. sesame oil
2 tsp cornstarch
2 tbsp. sesame seeds
2 tbsp. green onions (sliced)
Cooking instructions:
In a bowl, combine eggs, salt and pepper and mix thoroughly
In another bowl, combine and mix flour and just 1/2 cup of cornstarch.
Dip each piece of chicken meat on to the mixture of eggs then dip again into the mixture of flour and cornstarch. Do for all the pieces of chicken meat.
In a frying pan, heat about 3 inches of cooking oil ( deep frying) up to 350 degrees Fahrenheit.
Once cooking oil is hot enough, dip at least 7 pieces of chicken meat to the frying pan. Cook for about 5 minutes or wait until it turns into crispy and golden brown. Do the same with the rest of the remaining chicken meat.
Used paper towels to drain cooked chicken meat.
In another bowl, combine and mix honey, soy sauce, ketchup, brown sugar, vinegar, sesame oil and 2 tsp of cornstarch.
In a separate frying pan, heat cooking oil in medium heat.
Add in garlic and allow to cook for 30 seconds.
Add mixture of honey sauce and other ingredients into the frying pan. Allow it to simmer
Cook for 3 to 4 minutes or until the mixture starts to thicken.
Add the cooked crispy chicken to the sauce mixture.
Sprinkle with sesame seeds and green onions. Served hot.
---
Orange Chicken Recipe
Prep time: 15 minutes
Cooking time: 20 minutes
Total time: 35 minutes
Ingredients
For the chicken:
4 Boneless Skinless Chicken Breast (cut into bite size)
3 eggs (whisked)
1/3 cup cornstarch
1/3 cup Flour
Cooking oil
For the sauce:
1 cup orange juice
1/2 cup sugar
2 tbsp. rice vinegar
2 tbsp. Soy sauce (for a gluten-free dish, you can use Tamari)
1/4 tsp. Ginger
1/4 tsp. Garlic Powder or 2 garlic cloves (finely diced)
1/2 tsp. dried Red pepper flakes
1 tbsp. Cornstarch
1 orange
For the garnish:
Cooking instructions:
For orange sauce:
In a pot (medium), add orange juice, vinegar, sugar, ginger, garlic, soy sauce and red pepper flakes. mix and heat for about 3 minutes.
In a separate bowl, add 1 tbsp. of cornstarch and 2 tbsp. of water. Whisk to form a paste. Add this mixture to mixture of orange juice in the first step. Whisk them all together. Continue the cooking process for about 5 minutes. Wait for mixture to thicken
Remove mixture from heat once sauce is thickened.
Add zest to the sauce for the savory glaze.
For the chicken:
In a dish or a plate, mix flour and cornstarch. Add a pinch of salt and then stir. (Mixture 1)
In another separate dish, whisk the eggs. (Mixture 2)
Dip chicken meat in egg mixture (Mixture 2) first then dip to flour mixture (Mixture 1). Place dipped chicken meat in a plate.
In a frying pan, heat cooking oil over low medium heat or until 350 degrees Fahrenheit.
Place dipped chicken to heated pan. Cook for about 2-3 minutes or until meat turns into golden brown. Repeat the same process with the rest of the chicken meat.
Place crispy chicken in a paper lined towel to drain.
Toss chicken in Orange sauce.
Sprinkle with green onion and orange zest, then serve.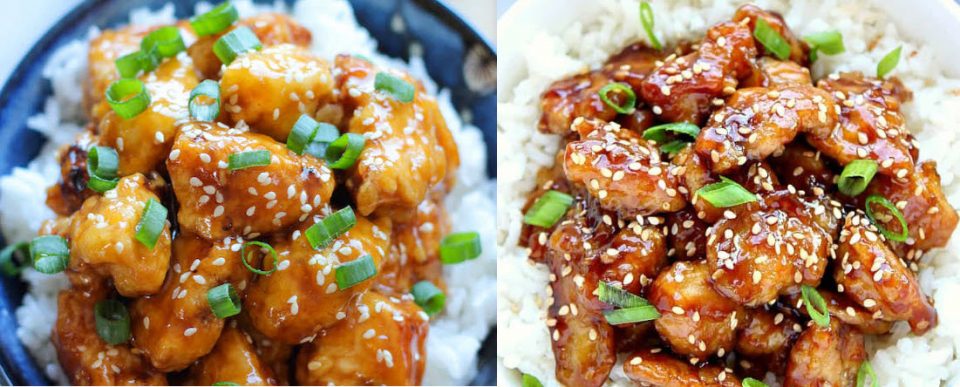 Conclusion
Sesame Chicken vs Orange Chicken: what is the difference? It is really hard to tell which chicken tastes better since they are both delicious and mouth watering. The choice of which dish to choose depends on each individual's preferences and tastes.
If you are fond of a dish with sour taste, you can choose orange chicken than the sesame chicken. Although both dish have their own unique taste and texture, you might want to try both and see which one is your favorite.