Szechuan Chicken and Kung Pao Chicken are both Chinese Cuisine. Although both dishes are delicious served mostly in Chinese restaurants, they somehow differ in different ways which makes each dish unique from one another. The ingredients used, its flavor, the method used for cooking and the manner of serving also differs. To able to identify each dish, in this post we will be talking about Szechuan Chicken vs Kung pao Chicken and how each dish are similar and how each dish differs.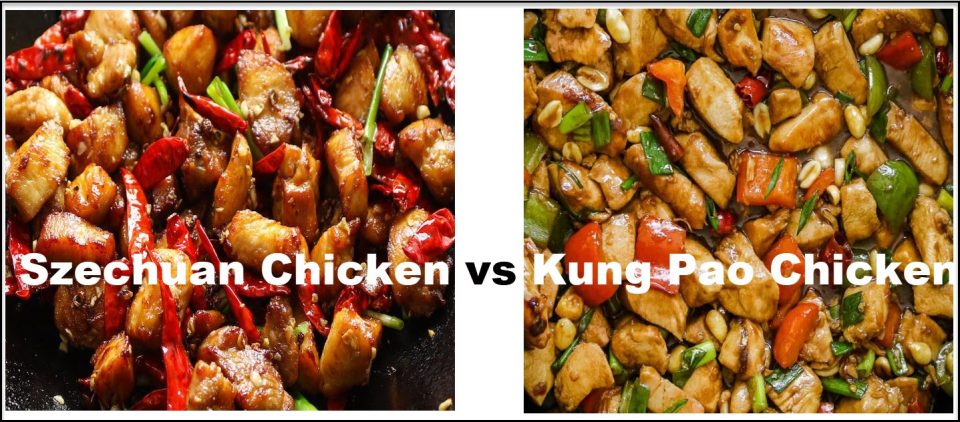 Szechuan Chicken vs Kung Pao Chicken
Although Both Szechuan Chicken and Kung pao chicken are both Chinese dishes, each has its own features that makes them different from one another.
To carefully distinguish the difference between Kung Pao Chicken and Szechuan Chicken you need to taste each one. While Kung Pao Chicken has a strong spicy and sweet flavour and nutty flavor too, Szechuan Chicken on the other hand also has a spicy but with a bold and stronger flavour.
What is Szechuan?
Also known as Sichuan or Szechwan is a Chinese cuisine style. It originates from Sichuan Province in China. The meat used in Szechuan Cuisine are pork, beef and Chicken. Although some use rabbit meats. Often, yogurts are also used. The classic Szechuan dish is made using Szechuan Chilis.
What is Kung Pao?
Kung Pao is another classic dish in a Chinese Cuisine. It is also known as Gong Bao or Kung Po.
It is made with using stir-fried or deep fried chicken and spicy hot sauce. . The main ingredients are Chicken, vegetables, chili pepper and peanuts. Since peanuts are used, this type of dish has a strong nutty flavor.
Listed below are the differences and similarities between Kung Pao Chicken and Szechuan Chicken.
Differences:
Ingredients:
Most of the time, Szechuan Chicken is a spicy dish and it is made using the ingredients such as dried red chili peppers or Szechuan peppers, ginger, garlic, vegetables, herbs, mushrooms and soy sauce. The meat used is a crispy chicken thigh meat.
Kung pao chicken on the other hand includes white rice, peanuts, stir fried vegetables. Shrimp and Tofu are often added to the mixture.
Flavor:
Kung Pao chicken differs in flavor as it is more nutty and sweet flavour since there are nuts in it whereas, Szechuan dish has a spicy taste with strong and bold flavors perhaps because of the garlic and chili peppers used.
Cooking Method:
The method for cooking Szechuan chicken involves different ways, you can either stir fry, steam or braise.
Kung Pao chicken uses the only the stir fried method in cooking the dish.
Cooking methods explained:
Stir Fried: considered to be the fastest and perhaps the fresher way of cooking a dish. The method is pretty simple. You can simply toss the ingredients in a preheated wok with a little oil in it. Then toss and turn the ingredients to mix them all together for no less than 5 minutes.
Steam: This type of cooking method requires moist heat. Basically, in a pot filled with enough amount of liquid or water is being brought about to simmer under medium heat. Once water simmers, the food is placed on a basket or strainer directly above the water. The pot is then covered. The purpose of this is to allow the food to be cooked over the hot steam.
Braising: This type of cooking method that simply involves heating the meat and or vegetables slowly with oil allowing it to be cooked.
Serving Style:
Since Kung Pao Chicken has a nutty flavor, it is typically served again with peanuts. While with Szechuan chicken it is usually served by pairing and accompanying it with a spicy sauce as a side dish.
---
Similarities:
Despite the difference mentioned above, both Kung Pao Chicken and Szechuan Chicken are also similar in other ways.
Ingredients:
For that spiciness flavor of the dishes, both Szechuan chicken and Kung pao chicken uses peppers. By doing so, it does not only provide the amount of spiciness but also gives it a flavorful taste.
Flavor:
Although both Szechuan chicken and Kung Pao chicken are using different ingredients to make the dish, they are quite similar as they are have a sweet and spicy sauce.
Side Dish
Szechuan chicken and Kung Pao chicken can both be served with either steamed vegetables and or noodles. Adding this side dishes can make your meal into whole new level of goodness.
Serve Style
Szechuan chicken and Kung pao chicken can be served as an entrées (the main dish or the only dish for the entire meal) or as an Appetizer (A part of the meal before the main dish or main course is served). Either way, both Szechuan chicken and Kung Pao Chicken can be a great meal for any occasions.
---
Szechuan Chicken Recipe
Preparation Time: 5 mins
Cooking time: 25 minutes
Total: 30 minutes
Pax: 4
Ingredients:
Boneless Skinless Chicken Breast (cut into 1 inches each)
1/4 cup and 1 tbsp. cornstarch
Szechuan Peppers
Vegetable oil
1 tbsp. ginger (minced)
2 bell peppers (chopped)
6 dried Chili Peppers
1/2 cup soy sauce
2 tbsp. rice wine vinegar
2 tsp. sesame oil
2 tbsp. chili garlic sauce
Sesame Seeds (optional)
White Rice (Cooked)
Cooking Instructions:
In a releasable paper bag, mix together the chicken and just the 1/4 cup of cornstarch. Mix them well by shaking the paper bag.
Over low medium heat, add oil to the large pot. The oil should be about 2 inches.
From the mixture, place chicken one at a time to the cooking pot and allow the chicken to deep fry.
Once fried, place on a place that is lined with a paper towel to allow excess oil to drain.
In another frying pan heated over medium heat, add 1 tbsp. of canola oil then add ginger and garlic for about 1 minute.
Add bell peppers, dried Chili peppers.

Allow to cook for about a minute then remove them from the heat.

In another small sized sauce pan heated on low medium heat, pour in soy sauce, rice wine vinegar, chili garlic sauce, sesame oil, and 1 tbsp. cornstarch.

Allow it to thicken. Wait for the mixture to simmer. Usually takes about 2 minutes.

Finally, add the fried chicken and the soy sauce to the frying pan.
Transfer to serving plate, sprinkle with sesame seeds then serve.
---
Kung Pao Chicken Recipe
Preparation Time: 30 minutes
Cooking time: 30 minutes
Total: 1 hour
Pax: 4
Ingredients:
1 lb. chicken halves (boneless and skinless)
2 tbsp. white wine
2 tbsp. soy sauce
2 tbsp. sesame oil
2 tbsp. cornstarch (It should be diluted in 2 tbsp. of water)
1 oz. hot Chile paste
1 tsp. white vinegar (distilled)
2 tsp. brown sugar
4 onions (chopped)
1 tbsp. garlic (Chopped)
8 oz. water chestnuts
4 oz. peanuts (Chopped)
Cooking Instructions:
In making chicken marinade: Mix together 1 tbsp. wine, 1 tbsp. soy sauce, 1 tbsp. oi. and 1 tbsp. cornstarch. Add chicken to the marinate mixture in a bowl. Cover the bowl and allow to sit in the refrigerator for at least 30 minutes.
In making Kung pao sauce: Mix 1 tbsp. wine, 1 tbsp. soy sauce, 1 tbsp. oil, 1 tbsp. cornstarch, chili paste, vinegar and then sugar. After mixing, add green onions, garlic, peanuts and water chestnuts. Using a medium sized frying pan, heat the mixture until it becomes savory.
In a large frying pan, place marinade chicken to sauté.
Add sautéed chicken to the savory sauce. Toss and turn mixture.
Transfer in a serving plate, then serve.
FAQs
Which is more spicier, Szechuan cuisine or Kung pao chicken?
Although both has a spicy flavor, Szechuan Chicken is considered to be more bolder and has a strong spicy flavor. While Kung Pao Chicken has also a sweet and spicy flavor, its nutty flavor is much more evident than its spicy flavor.
What is a Kung Pao Vegetable?
A Kung Pao Vegetables are vegetables that are made and cooked using Chinese sauces and are then added with peanuts that are roasted.
What does Kung Pao in Chinese means?
Kung Pao means "Palace Guardian Chicken" in Chinese. Spicy stir-fried dish served with hot sauce and with peanuts.
How to make Kung Pao sauce less spicy?
To make Kung pao sauce less spicy, try to use olive oil or butter.
When should you prepare Kung Pao Sauce?
In preparing your Kung pao sauce, the perfect time to prepare this is while the chicken is still marinating. It is essentially important to prepare everything beforehand, the sauce is one of the important ingredient of the entire dish.
Conclusion
Szechuan Chicken originated from the Southwestern region in China while Kung Pao Chicken is widely popular in the western regions of China.
Now that you already have an idea of the difference between Kung Pao Chicken and Szechuan chicken, we hope that this guide has helped you decide which one is better: Szechuan Chicken or Kung Pao Chicken. We highly recommend to try and taste each dish to see which one suits you best.