Chinese food is an essential part of the Chinese culture, and involves cuisines coming from China. Today, different Chinese cooking styles and dishes have influenced many other cuisines in Asia and some parts of the world, with alterations made to satisfy to local palates. Chinese food staples can now be found all over the world, such as soy sauce, noodles, rice, chili oil, noodles, tea, and tofu. Also, utensils such as woks and chopsticks can now be found all over the world.
There are a number of Chinese restaurants that served these kinds of dishes within China and around the world.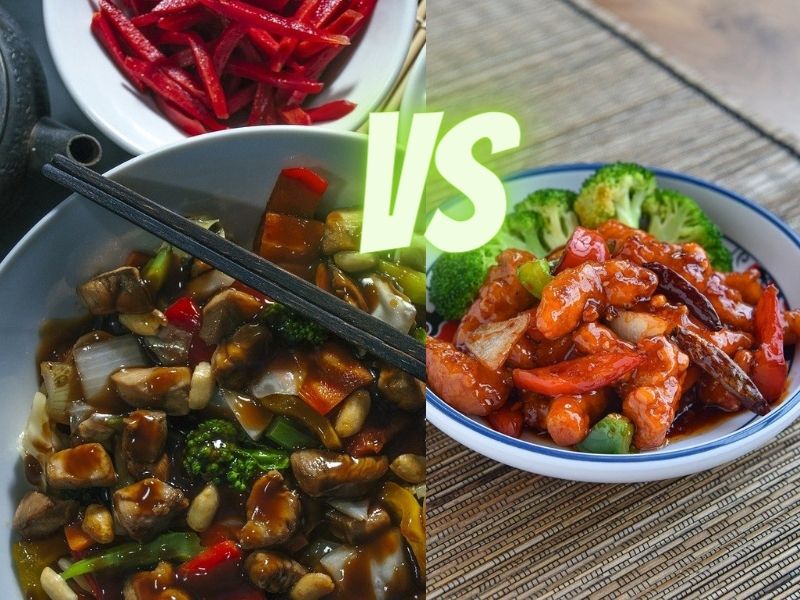 Today, we are going to learn more about Kung Pao Chicken and General Tso Chicken. These two palatable Chinese foods are chicken dishes that have different textures, and ingredients. Furthermore, the chicken taste of each dishes is unique and delicious.
Kung Pao vs General Tso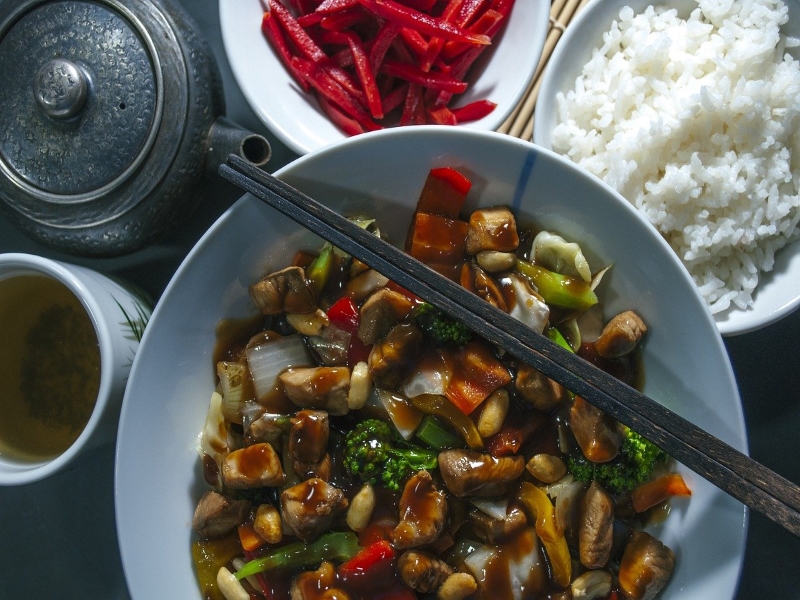 What Is Kung Pao Chicken?
Type: Stir fried chicken breast.
Transcribed as Gong Bao or Kung Po.
Kung Pao Chicken has a spicy taste. It is a stir-fried Chinese dish which is made of vegetables, chunks of chicken meat, peanuts, and chili peppers. This dish is originated from a Chinese province, Sichuan Province. This is a classic dish of the Sichuan cuisine. It has become popular in the western world.
This is one of the most popular dishes in China because the two of its chili pepper taste. Two kinds of chili peppers are used in this dish, the Sichuan pepper for added flavor, and red pepper to supply heat.
History of Kung Pao Chicken
Kung Pao Chicken is believed to be named after a late Qing Dynasty official and governor of Sichuan Province, Ding Baozhen. Ding Baozhen's title was Taizi Shaobao. The Chinese dish is derived from his title.
During the Cultural Revoluton, the dish's name turned out to be politically incorrect because of its connection with the imperial system. It was renamed as "spicy chicken".
---
Versions of Kung Pao Chicken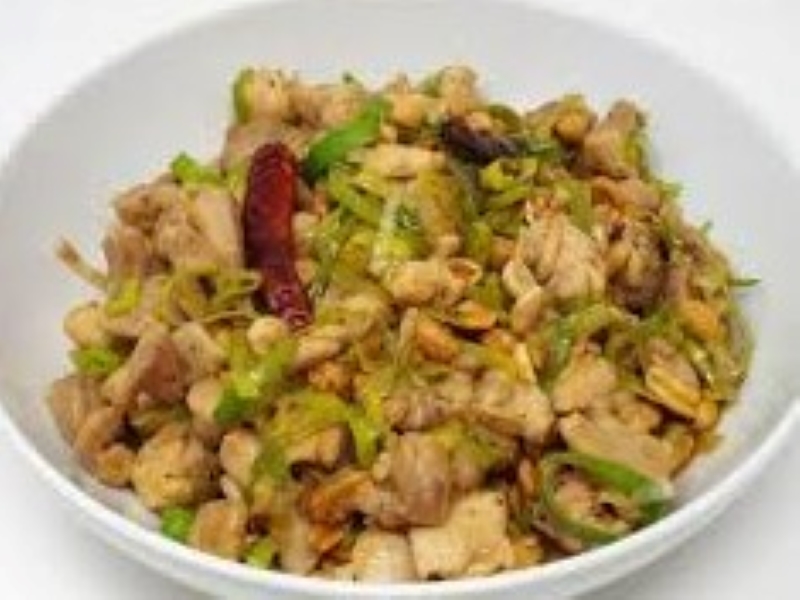 Sichuan version
This is the original version which uses chicken as the main ingredient. An authentic Chinese dish which is made from chunks of chicken mixed with a prepared marinade. Shaoxing wine or yellow wine is added in the marinade to enhance the flavor. Sichuan peppercorns and chili peppers are fried briefly at a very high temperature to add fragrance to the oil. Only facing heaven pepper or seven stars pepper are used in preparing Sichuan-style Kung Pao chicken.
---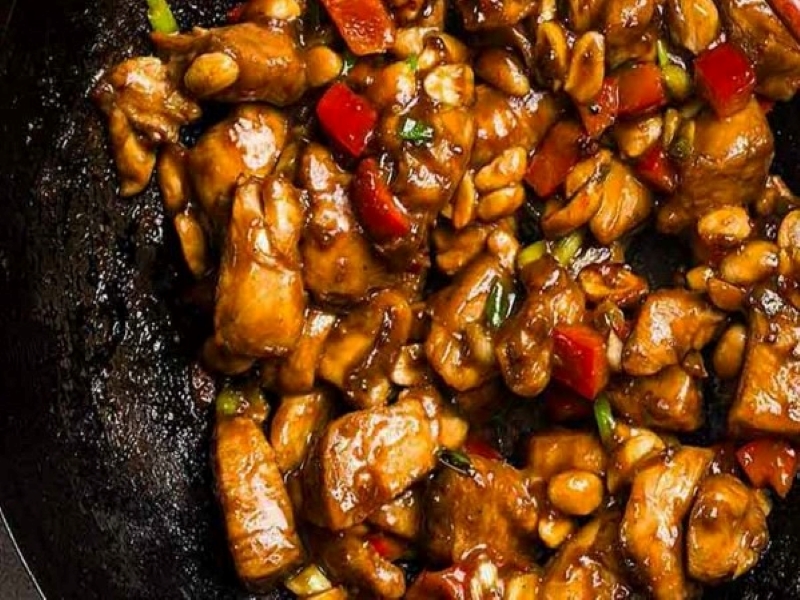 Guizhou version
Guizhou, southeast of Sichuan. Their Kung Pao chicken is based on the ciba fermented chili paste. Features marinated diced chicken, just like the Sichuan version. The chicken cubes in Guizhou version are larger and usually skin-on. A large amount of the ciba chili paste is fried in the wok until the oil is stained.
---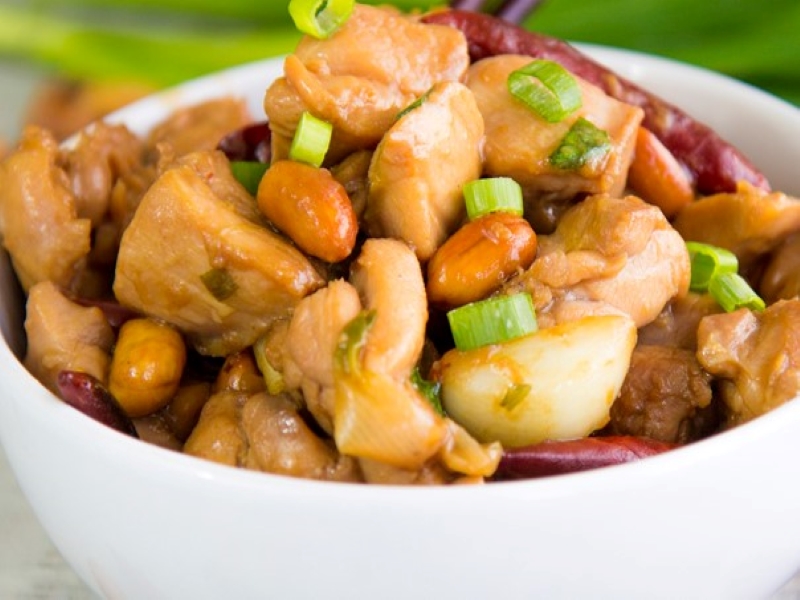 Western versions
Western versions. Also known as chicken chili and garlic. West versions of Kung Pao Chicken are plainly diced marinated chicken stir-fried with orange, garlic, chicken broth, ginger, cooking oil, sugar, corn starch, and salt an pepper to add flavor. Sometimes, vegetables such as onions, bell peppers or carrots are added. This dish also includes whole roasted peanuts. Western versions sometimes use other meat such as duck, fish, or pork as a substitute.
---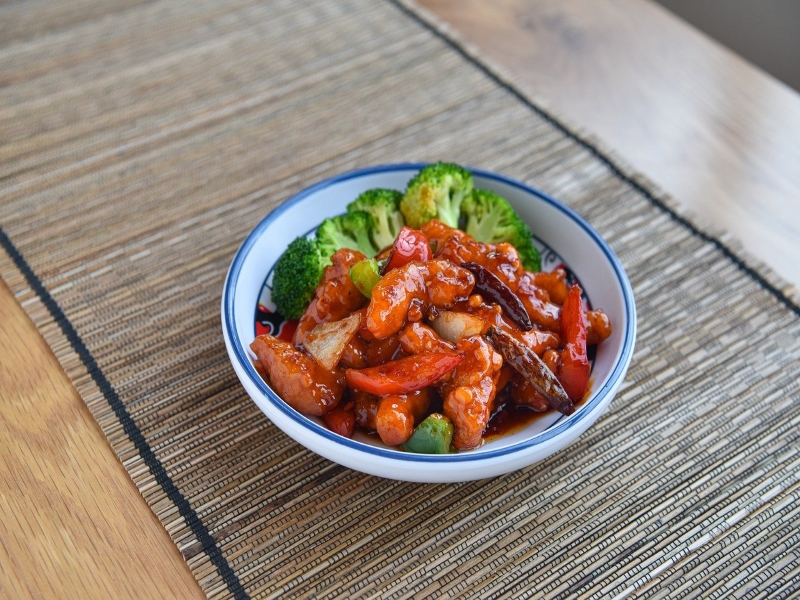 What Is General Tso Chicken?
Also known as General Tao Chicken and Zuo Gong Ji. Other variant names are General Tso's Chicken, General Gao's / Gau's chicken, General Mao's chicken, General Tsao's chicken, General Tong's chicken, General Tang's chicken, General T's Chicken, General Cho's chicken, General Chow's chicken, General Chai's chicken, General Joe's Chicken.
General Tso Chicken is a Chinese food in which the chicken is deep-fried. This dish is sweet and spicy and is served in North American Chinese restaurants. Similar to sesame chicken, except that the sauce has a more complex savory taste.
The Traditional Basic Ingredients Contains:
Dish: Chicken dark meat, cubed.
Sauce: Soy sauce, rice wine vinegar, rice win, sugar, dried red chili peppers whole, garlic, cornstarch.
Batter/breading: Cornstarch, egg.
History of General Tso's Chicken
This Chinese dish is named after Zuo Zongtang (also known as Tso Tsung-t'ang). He is a statesman and military leader from Western Hunan Province in Qing dynasty. However, Zuo's descendants said that they have never heard of General Tso Chicken when they were interviewed.
It is said that there are a lot of stories with regard to the origin of General Tso Chicken. According to a book titled The Chinese Kitchen, the dish came from the simple Hunan Chicken dish, and that it has nothing to do with Zuo Zongtang's given name, but a reference to the homonym Zongtang, which means ancestral meeting hall.
---
How To Cook Kung Pao Chicken
Ingredients:
Boneless chicken breast cut into chunks (800 grams, skinless or boneless)
1 tablespoon Shaoxing wine / rice wine
2 teaspoons baking soda
1 tablespoon light soy sauce
1 teaspoon cornstarch or corn flour
1/2 cup chopped peanuts
Stir Fry:
4 tablespoons cooking oil divided
4 to 6 cloves tablespoons garlic
1 tablespoon ginger
1/2 red pepper seeded and diced
8-10 dried chilies cut into half inch pieces
1 tablespoon Sichuan peppercorns, lightly toasted and ground
4 green onions
2 teaspoons sesame oil optional
Kung Pao Chicken Sauce:
1/2 cup low-sodium chicken broth or stock, water can be used
2 tablespoons Chinese black vinegar or substitute good-quality balsamic vinegar
5 tablespoons light soy sauce
1 teaspoon cornstarch / corn flour
2 tablespoon Chinese Shaoxing wine
2 teaspoon dark soy sauce
2 tablespoons brown sugar
2 teaspoons hoisin sauce
Cooking Tips:
First, roast the peanuts. Heat a teaspoon of oil in a wok over medium heat, and add peanuts. Stir for 3 minutes. Turn off the heat then stir for another minute using the remaining heat of the wok. Then, set aside.
Then, marinate the chicken. Combine all the ingredients for the chicken. Place the chunks of chicken in a bowl and add marinade. Toss to coat. Cover dish and place in refrigerator for about 20 to 30 minutes.
Mix all the sauce ingredients. Whisk until brown sugar dissolves, then set aside.
Heat the wok over high heat. Add 2 tablespoons of cooking oil, allow to heat up, then add marinated chicken. Fry chicken for 3 to 4 minutes. Stir often until the edges are browned. Remove from wok and set aside.
Put the remaining cooking oil into the wok. Then, stir ginger, chili diced peppers, garlic, and Sichuan peppercorns. Stir fry for a minute or two.
Add the chicken back into the wok, and mix all of the ingredients through the sauce until chicken is evenly coated for about 2 minutes. The sauce should thicken quickly.
Add the peanuts, sesame oil, and onions. Cook for another 2 minutes.
Serve immediately. Best served with steamed rice or fried rice.
---
How To Cook General Tso's Chicken
Ingredients:
1 1/2 lbs boneless skinless chicken thighs cut into pieces
2 eggs lightly beaten
1/2 cup all purpose flour
1/2 cup corn starch
2 teaspoons sesame seeds
2 tablespoons green onions, chopped
salt and pepper to taste
General Tso Chicken sauce:
2 teaspoons vegetable oil
2 teaspoons minced fresh garlic
3/4 cup low sodium chicken broth
1/2 teaspoon crushed red pepper flakes
1/4 cup low sodium soy sauce
2 tablespoons hoisin sauce
1 tablespoon corn starch
2 tablespoons brown sugar
Cooking Tips:
Heat 3 inches of vegetable oil in a deep-fryer pan to 350 degrees F.
Place the eggs in a bowl. Beat the eggs and add salt and pepper.
Combine the flour and corn starch, and place in a shallow bowl.
Dip the chunks of chicken into the egg mixture. Then, coat in the flour mixture, until the chicken are well coated. Repeat the process for all of the chicken cubes.
In batches, drop the coated chicken carefully into the hot oil for 5 minutes, or until they turn golden brown. Remove the chicken and allow to cool. Fry the next batch. Once all chicken has been fried, set aside.
Prepare the sauce. Heat 2 teaspoons of vegetable oil in a saucepan over medium heat. Then, add the garlic and crushed pepper flakes and cook for 30 seconds.
Next, whisk the chicken broth, hoisin sauce, brown sugar, corn starch and soy sauce.
Add the liquid mixture to the pan and bring to simmer until sauce has thickened.
Put the chunks of chicken to the pan and toss to coat with the sauce.
Sprinkle with green onions and sesame seeds.
Serve immediately. Best served with steamed rice.
---
What Are The Similarities Between Kung Pao Chicken and General Tso?
An obvious similarity is that both dishes were created by Chinese chefs, and the two dishes go well with steamed rice.
Conclusion
Generally speaking, General Tso is battered crispy chicken pieces or deep fried chicken mixed in a sweet and spicy sauce, while Kung Pao Chicken is a classic dish of stir-fried chicken, peanuts, and vegetables. Gong Bao or Kung Pao Chicken has a spicy flavor. The two dishes are getting famous in different cuisines worldwide.