A saltwater fish that belongs to the tribe Thunnini, a subgrouping of the Scombridae family, Tuna can comprise 15 species across five genera. They vary greatly in sizes, ranging from the bullet tuna up to the Atlantic bluefin tuna.
Eating fish is a healthy option to one's diet. While other fish can be a good substitute, tuna is one of the best options among other species. It provides a taste a lot like young and tender beef. Tuna also has a creamy, buttery, salty, savory flavor with no pungent fishy smell, but only oilier and juicier.
Canned tuna and tuna steak can be incorporated well with vegetables, pasta or mashed potatoes due to their medium-full flavor. Most tuna fishing occurs in the Pacific Ocean, but other parts of the oceans like the Indian Oceans, the Atlantic Oceans, and the Mediterranean Sea are also fishing sources of other tuna species.
Health Benefits of a Tuna
Eating tuna can be beneficial to most people. It can reduce your blood pressure and helps maintain good heart condition. It improves your immune system, boosts blood circulation, reduces depression, helps with eye health, strengthens your bones and a lot more.
To add up, canned tuna is a healthful food rich in protein and contains many vitamins and minerals such as B-Complex vitamins, Vitamins A and D as well as iron, selenium and phosphorus. Tuna fish can also be a good source of healthy omega 3 essential fatty acids DHA and EPA.
Types of tuna
What Are The Different Types of Tuna
Tuna species have spread throughout the oceans in the world. Some of them are highly migratory species, which have played an important role in human consumption and can be seen being sold in fish markets.
Check out the different types of tuna and how you can distinguish them from the other tuna family.
Atlantic Bluefin Tuna
Bluefin tuna is one of the most common and comes from the species of tuna in the family Scombridae. The Atlantic blue tuna is also known as northern bluefin tuna, giant bluefin tuna and tunny.
Atlantic bluefin tunas are native to both the western and eastern Atlantic Oceans, as well as the Mediterranean Sea. Atlantic bluefin tuna is a type of tuna that is more expensive due to its quality. It is actually the preferred type of meat used in sushi or bluefin sashimi because of its marbling effect.
This type of tuna also ages well and is a very large fish that can grow up to 2000 pounds. Atlantic bluefin tuna is characterized by large, torpedo-shaped bodies that are nearly circular in cross-section. It also shows a dark blue-black on the back and white on the lower sides and belly.
---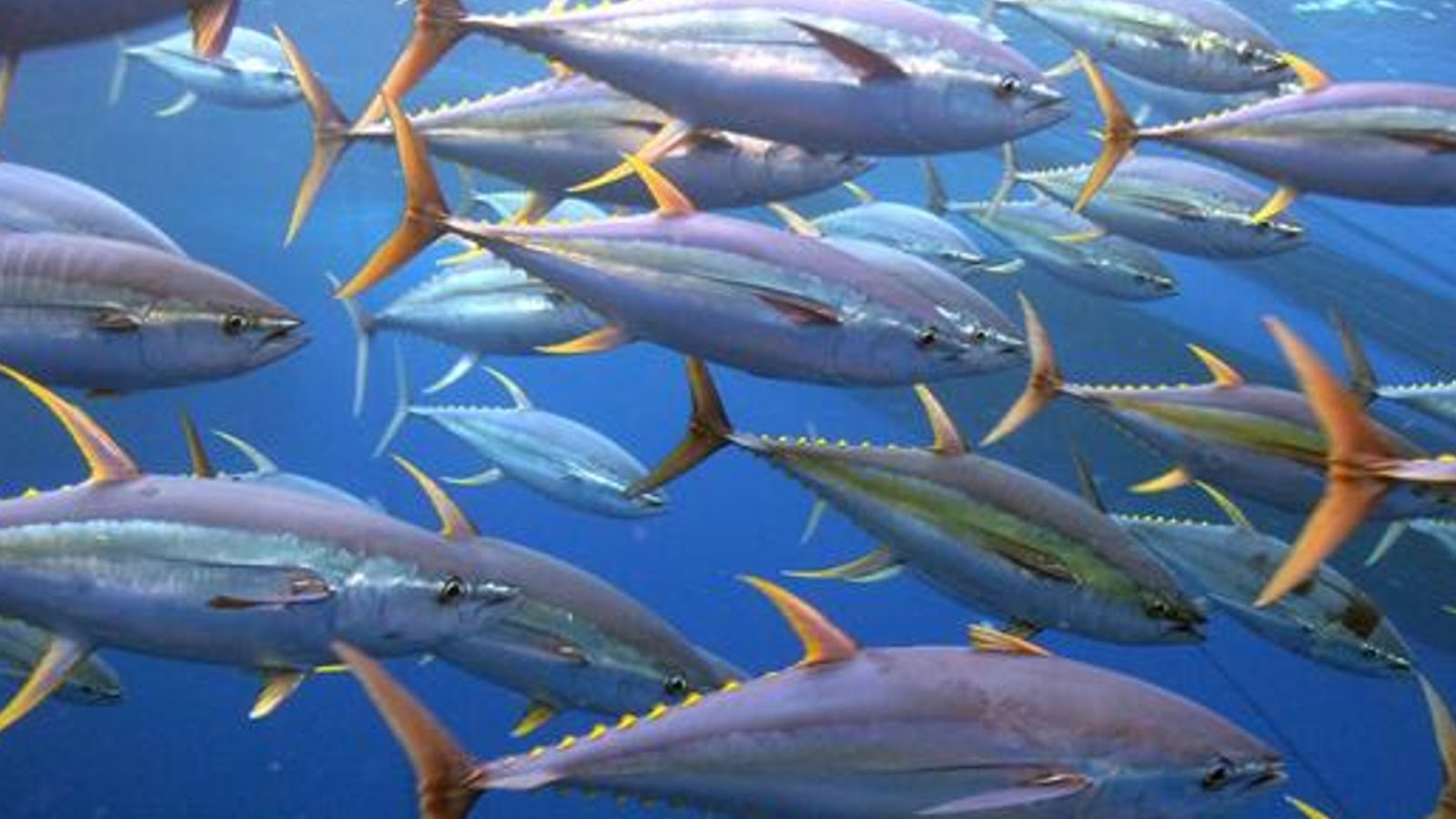 Yellowfin Tuna
Yellowfin tuna has a very long anal and dorsal fins and finlets that are bright yellow. It also possesses a torpedo-shaped with dark metallic blue backs, yellow sides, and a silver belly.
This highly migratory tuna can be found throughout the Pacific, Atlantic and Indian Oceans. Yellowfin tuna can also live up to six or seven years. Yellowfin tuna is common to be caught in the waters of the Philippines and Thailand.
Yellowfin tuna can grow up to be 6 feet long and weigh 200 pounds. To describe the taste of yellowfin tuna, it is a bit softer and has a richer, more intense taste compared to other tuna.
---
Southern Bluefin Tuna
Just like the other types of bluefin tuna, the Southern bluefin tuna also has a torpedo-shaped body. It is characterized with blackish-blue backs, and a silvery-white belly with alternating rows of clear dots and lines. The first dorsal fin has a yellow or bluish tint, also, its anal fin and finlets are yellow edged with black.
This bluefin tuna is also heavily prized due to its size and taste. Along with other types of tuna, southern bluefin tuna's population has declined as they are mainly targeted by big fishing companies.
The southern bluefin tuna is not as big as the other bluefins but they can grow up to 8 feet in length and weigh 600 pounds. They are usually found in the south-west and south-east Atlantic Ocean, eastern and western Indian Ocean and the south-west Pacific Ocean.
---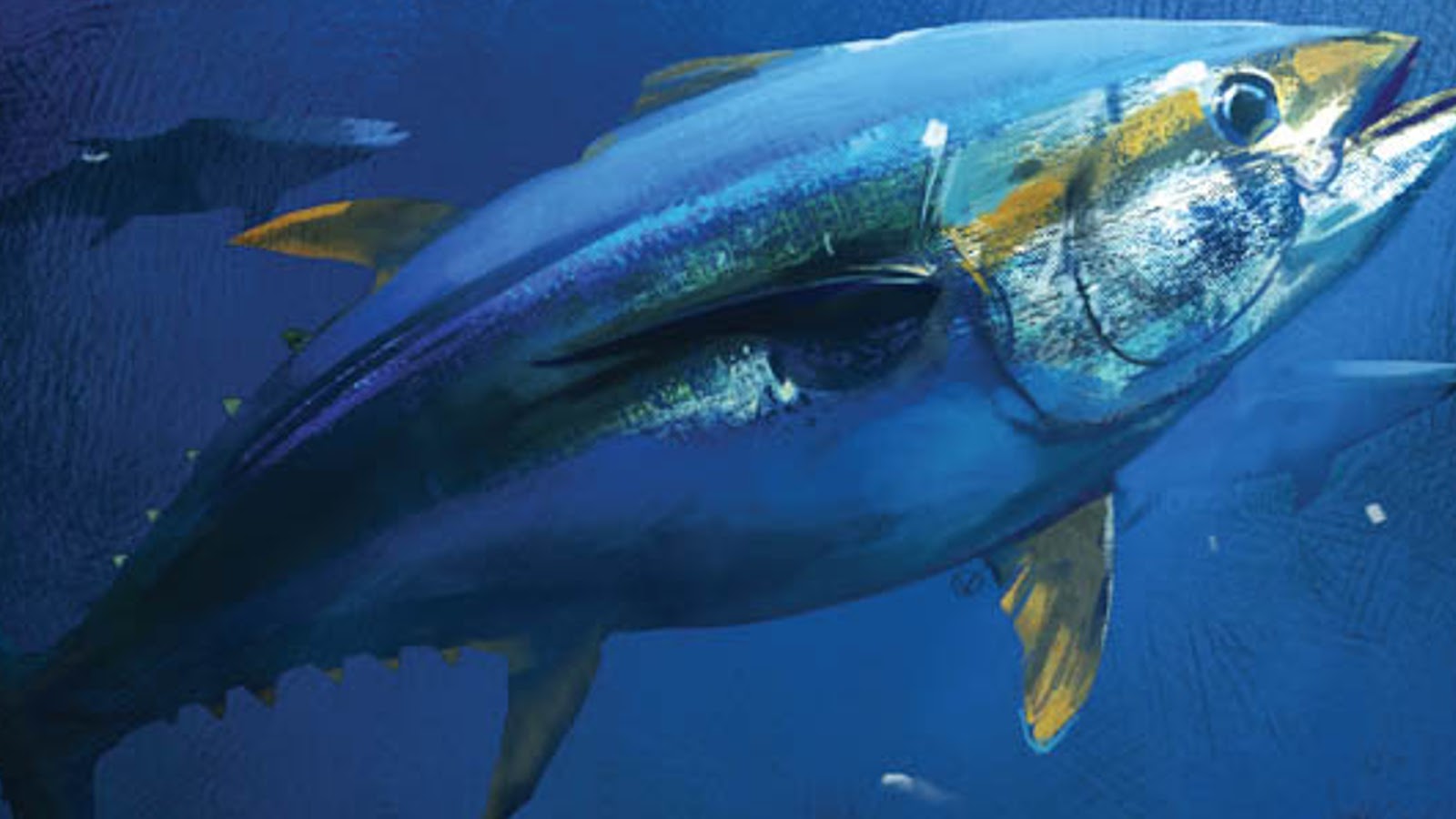 Bigeye Tuna
Commonly found in the tropical and warm temperate waters of the Atlantic, Pacific, and Indian Oceans, bigeye tuna can also be spotted in the western Atlantic, particularly from Southern Nova Scotia to Brazil.
This tuna fish has dark metallic blue on the back and upper sides and white on the lower sides and belly. You can also see its first fin on their back that is deep yellow and the second dorsal and anal fins that are pale yellow. Its finlets are bright yellow with black edges, which makes it identical to the yellowfin tuna.
Combining the yellowfin and bigeye tuna will create the fish called ahi. It can also be incorporated into a poke bowl or sushi roll. This impressive tuna can grow up to 7 feet long and could weigh over 400 pounds.
---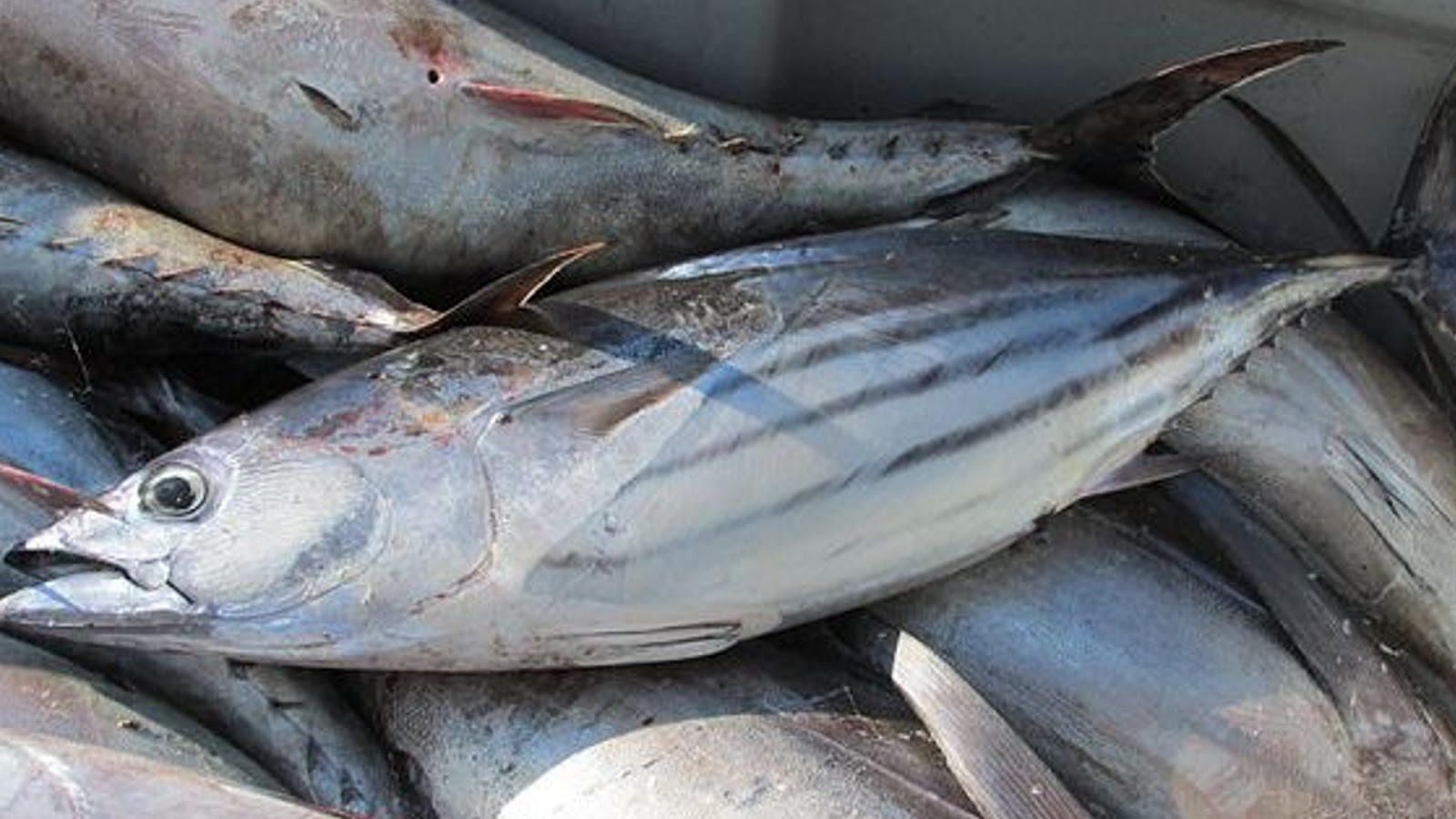 Skipjack Tuna
One of the funny types of tuna, or other fish, Skipjack Tuna would like to skip and jump while swimming through the ocean. It is also a small fish, actually the smallest, yet most abundant of the major commercial tuna species.
Skipjack tuna is characterized by a streamlined body that is mostly without scales. They have dark purple-blue backs and their lower sides and bellies are silver with four to six dark bands. Skipjack tuna can also live up to 10 years.
Since it is small, a skipjack tuna can grow up to 3 feet in length and weigh about 60 pounds. Also, skipjack tuna can be found on both the Atlantic and the Pacific Oceans. Most canned tuna actually uses skipjack tuna as their main ingredient, especially those labeled with "chunk light tuna".
---
Albacore Tuna
Also one of the smallest types of tuna, Albacore Tuna could weigh only about 80 pounds and slightly larger than the skipjack. Distinguishable through its dark blue or gray back, fading to silver or white around the stomach, albacore tuna has a massive pectoral fin on the side of the body.
Albacore tuna is usually living in the Pacific Ocean but can also be found from California to British Columbia. When cut open, albacore tuna has a lighter colored flesh, a firmer texture, and a milder flavor than the solid or chunk light fish varieties.
---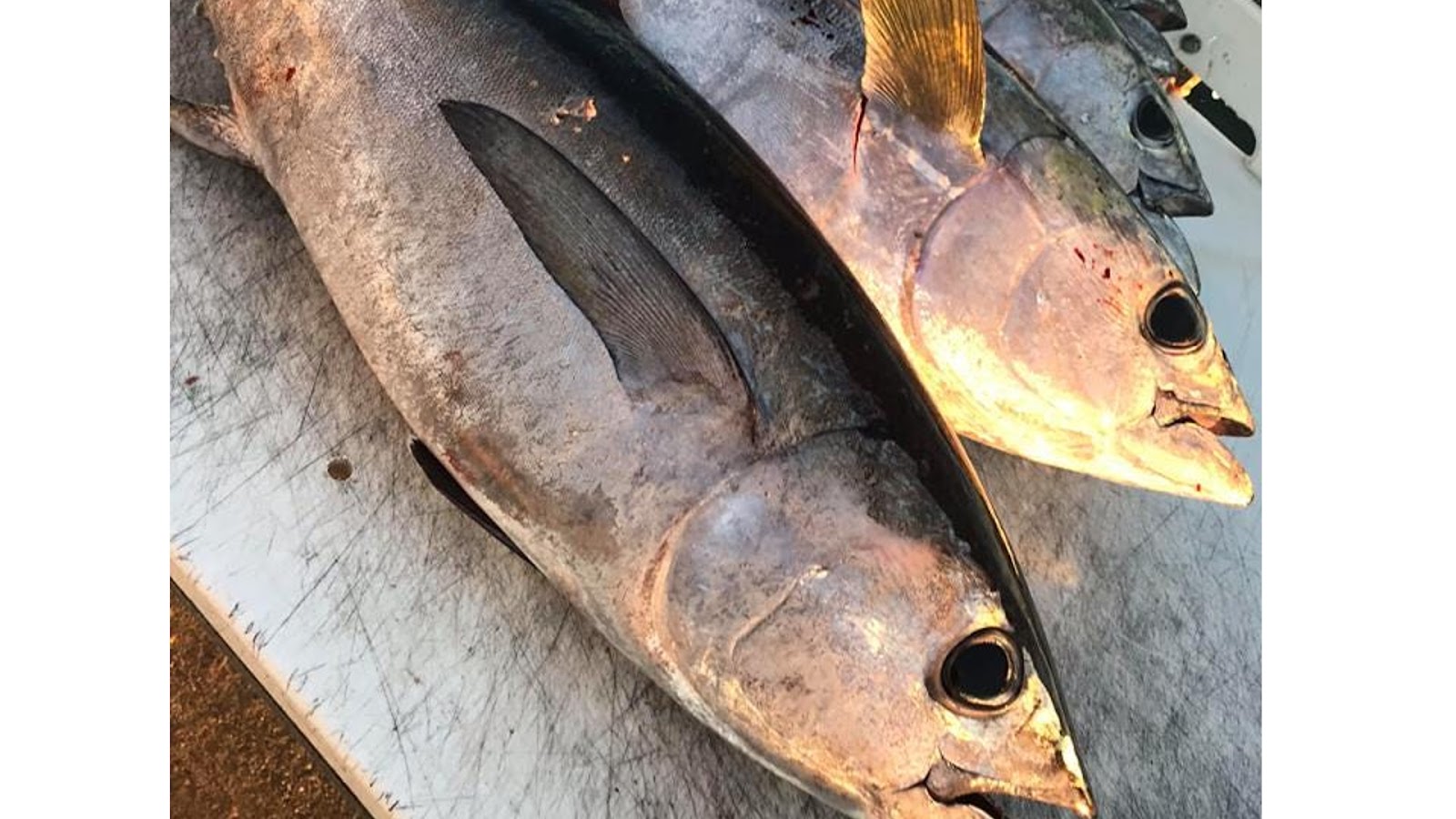 Blackfin Tuna
There are big tuna and there are small tuna. Blackfin tuna belongs to the smaller version of tuna. It can grow up to 3 feet long and weigh just 45 pounds. The blackfin tuna has a robust, fusiform body with small, compact scales that completely cover the body.
It is also characterized with an oblique mouth and maxillary jaw that terminates prior to the vertical from the center of the large eye. They live in the Atlantic Ocean, but you can also find this slender tuna as far north as New York and as far south as Brazil.
---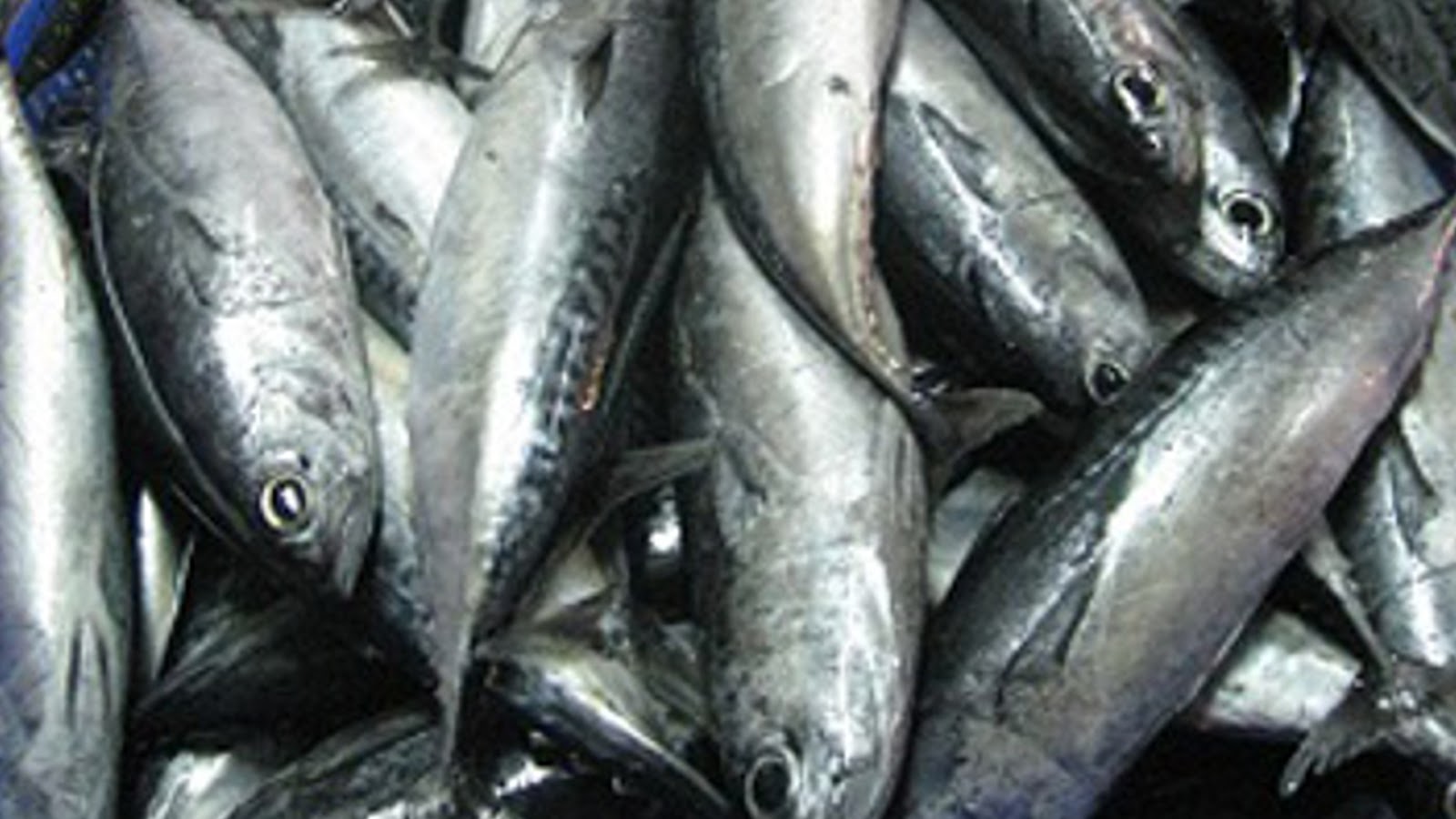 Bullet Tuna
Bullet tuna can be distinguished easily through its small corselet of small scales around the pectoral region of the body. They also have blue-black on the back with a pattern of zig-zag dark markings on the upper hind body, and silver below. Bullet tuna also has dark gray fins.
This slender tuna is usually found in the Mediterranean Sea and warmer parts of the Pacific Ocean where they mainly feed on small fish, squid, planktonic crustaceans, and stomatopod larvae.
Bullet tunas only grow to be 20 inches long. It can be eaten as raw tuna and is one of the most affordable tuna in the market.
---
Pacific Bluefin Tuna
Considered as the king of bluefin tuna, the Pacific Bluefin Tuna is a massive fish with black or dark blue dorsal sides, with a grayish-green iridescence. It can grow up to 10 feet long and can weigh up to 1000 pounds.
The belly of the pacific bluefin tuna is dotted with silver or gray spots or bands. It also has a series of small yellow fins, edged in black, running from the second dorsal fin to the tail. To add up, pacific bluefin tuna is actually a pelagic fish.
They are open water swimmers, instead of those other bluefin species that swims near the bottom of the ocean floor or by the shore. Due to its delicious taste, pacific bluefin tuna is prized on the sashimi market in Japanese cuisine.
---
Other Popular Tuna Species
There are many other types of these fish species that can be found in different parts of the central pacific ocean, western pacific ocean, northern atlantic ocean and other oceans in the world.
They are commonly caught with live bait or artificial lures. Some of the popular tuna that are not listed above are Arctic bonito, Little Tunny, Longfin tuna, Atlantic bonito, false albacore, dogtooth tuna, white tuna and mackerel tuna.
Fresh tuna is generally served as raw tuna fillets found in sushi rolls and sashimi dishes. They are usually dipped in soy sauce. Check out your local fish market.