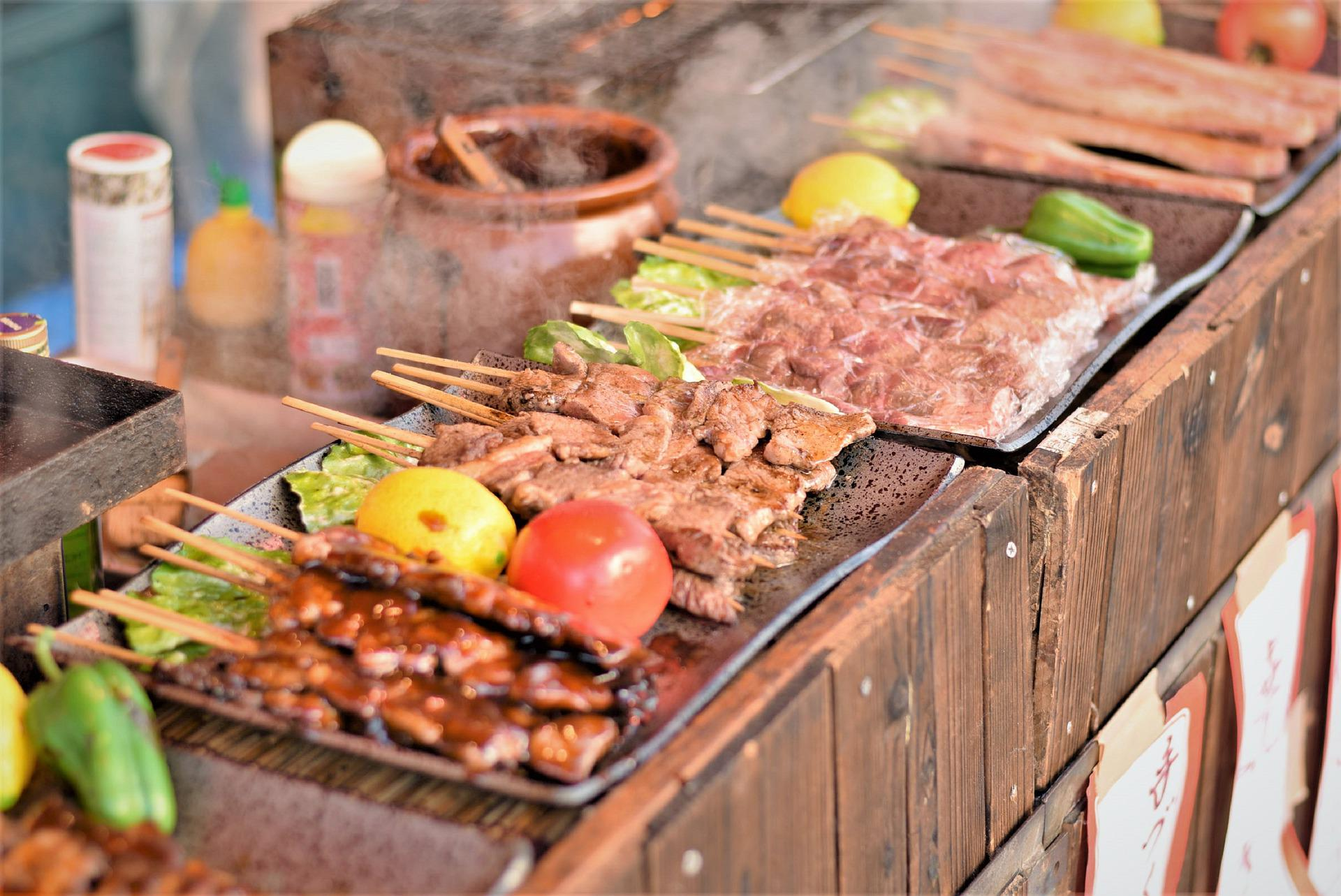 For the past few years, Japanese restaurants have been serving the US, especially the West Coast cities like Los Angeles and San Francisco where Japanese dining is dominating. There are restaurants that provide wonderful experiences. It makes the customers get more excited to dine in and eat their favorite food, just like Beverly Hills' longstanding Urasawa and San Mateo's newer import Sushi Yoshizumi.
For at least 5 years, New York's vast and fast-paced lifestyle is engulfed with the Japanese dining scene. This bustling city has welcomed an unprecedented succession of dining concept that provide amazing service to the customers and get authentic Japanese restaurant experience.
As of this time, New York is offering two famous Japanese dishes, yakitori and yakiniku, which are actually a type of Japanese barbecue or Japanese BBQ. Let us focus on yakiniku as this is the main subject of this article.
Yakiniku is a Japanese BBQ that uses tender and fine cuts of beef. Thinly sliced ribeye, short ribs, and skirt steak are mostly used for this grilled meat cuisine. The lean and tender meat has umami and mild sweet in taste. It is closely similar to Korean BBQ. Their main difference is that Japanese barbecue uses dipping sauces like garlic, mirin, or soy sauce to add flavor. On the other hand, Korean BBQ relies on marinades.
Best Yakiniku New York
Since Japanese BBQ goes well with some booze, you will find below some interesting Japanese restaurants that offer Japanese dining and a drinking concept.
Yakiniku West
This Japanese restaurant is located at 218 E 9th St., New York, NY 10003. Once you enter its premises, you will be greeted with its beautiful interiors. It has a great ambiance where you could get some privacy by asking to pull the curtains down. Talk about some of Japan's legacy to provide a world-class experience.
If you are looking for some recommendations, try their special beef wagyu. It isn't just about Japanese BBQ, as Yakiniku West also has other great dishes such as Udon, mayo shrimp and pork dumplings. For some appetizers, grab some Okonomiyaki and Kobe.
If you want to get proper seating, you can call them at (646) 596-8027 and get a reservation. They're open everyday, even on Saturday and Sunday. Be served by their amazing staff that are super helpful and attentive even if they are busy doing something else.
---
Torishin
This Japanese barbecue restaurant is a Michelin-starred restaurant, also one of the world's top yakitori joints outside of Japan. Chef and owner Shu Ikeda opened Torishin in 2006 on the Upper East Side. The restaurant was relocated to Midtown West in 2016. Their address is at 362 W 53rd St, New York, NY 10019.
Chef Shu Ikeda trained at Toriyoshi in Tokyo and his restaurant earned three stars from the Times and Water along the way. Their amazing three set menus are offered at $60, $65, $160 respectively. Their menu also includes an ala carte skewers which have various cuts of skewered chicken and seasonal vegetables.
Since Torishin pays tribute to the bird, Chef Ikeda gets his umami-rich and free range jidori birds from an Amish farm located in Pennsylvania. Before he puts this poultry meat into the grill, Chef Ikeda would brush the meat with a 50-year-old tare sauce that he brought over from Toriyoshi.
The best part of the grill is that they use high-grade kishu binchotan. The most expensive set menu, priced at $160, is also the most mesmerizing. It is infused with kaiseki-style dining and adventurous cuts like chicken tail, gizzard, and heart are also included.
The interiors of this Japanese barbecue restaurant is embroidered in 500-year-old hinoki wood fabricated using a technique known as kumiko. It is a style where wooden bars are crossed and laid to form minus without any nails. If you are going out with friends for some sushi and other Japanese food for lunch or dinner, check out this location. For a reservation, you can contact them at (212) 757-0108.
---
Kajitsu
Located at 125 E 39th Street, New York, NY 10016, Kajitsu is a one-Michelin-starred Japanese barbecue restaurant. It serves a type of dish that's hard to find outside of Japan, the vegetarian shojin ryori. This food precedes kaiseki ryori, and was the original type of food served at Zen Buddhist temples.
Kajitsu offers two tasting menu options which are eight courses for $95 and 10 courses for $125. The dishes are considered to be a meat-free form of kaiseki that's giving emphasis on balance and harmony. The cooking technique being used allows the flavor to come out on the dishes and should exhibit each individual seasonal ingredient.
The Japanese food being served in this restaurant should be a must-try, just like their sake lees soup, daikon rice, fried winter mushroom with gingko nut, and daikon with yuzu. Diners of Manhattan could get a seat perfect for a date with a minimalist blonde wood counter. Those who would be going on a group can get a space in their simple dining room with tables. You can call them at (212) 228-4873.
---
Takashi
The Japanese term yakiniku can be translated into words, which are "yaki" means grill, while "niku" means meat. Takashi is a restaurant whose location is in NYC and opened in 2010 from the late chef Takashi Inoue. Due to its excellent beef and spartan Japanese look, this 34-seat yakiniku restaurant quickly became a New York favorite spot.
This Japanese barbecue restaurant has a nice ambiance and the interior is dressed in wood, with rustic tables. They are designed to sport individual grills that replicate the heat emitted by a charcoal flame. The concept is similar to a Korean barbecue restaurant where diners order off the menu. The orders are then brought to the table for a cook-your-own meal experience.
Aside from their main focus on carefully sourced premium beef, including wagyu, from sustainable farms in upstate New York and Japan, Takashi also offers an assortment of cooked appetizers. Wagyu from Miyazaki and the American version on this buttery beef, together with some daring cuts like tongue, stomach, and intestines are also available.
You can visit their NYC location at 456 Hudson St, New York, NY 10014 or call them at (212) 414-2929 if you need to get some reservation before dining for lunch or a dinner date.
---
Sushi Amane
Japanese barbecue isn't the only dish that can be offered at these restaurants. Most Japanese restaurants also offer other exciting things on their menu, such as ramen soup or sushi rice. And one good example of that is the Sushi Amane, created by Shion Uino.
Shion Uino relocated to New York after staying nearly a decade at one of Tokyo's most prized fish counters, three-Michelin-starred Sushi Saito. This is when he piloted the opening of Sushi Amane. This cozy, eight-seat edomae omakase bar is located at 245 East 44th Street Lower Level, New York, NY 10017 with phone number (212) 986-5300.
Approximately 18 courses revolve around wild-caught and sterling seasonal seafood is being served inside the blonde wood-bedecked minimalist space. From otsumami (appetizers) to a succession of nigiri, Uino has formed his $250 omakase. They are carefully shaped using rice seasoned with a blend of Japanese salts and red vinegars.
With his connections from Japan, Uino is able to source rare cuts of fish, like longtooth grouper. Batches of exceedingly scarce types of uni, which only become available at certain times of year, are also served in this Japanese restaurant. Most restaurants can't afford to serve Murasaki uni from Hokkaido, but Uino is able to source this from Japan. This New York based restaurant should thrive well if it is placed in Tokyo.
---
Tempura Matsui
Omakase translates to "chef's choice" and has become synonymous with sushi in the U.S. In Japan, it refers to the abundant omakase menus, from yakitori to tempura. Tempura Matsui is New York's first omakase tempura restaurant that opened in 2016. It is located at 224 E 39th St, New York, NY 10016 and their contact number is (212) 986-8885.
This Japanese restaurant is serving set menus that include $40, $60 for lunch and $120, $165, $220 for dinner. The menu also changes four times per year. Japan is known for their great tasting tempura, and the difference between good tempura and great tempura isn't about the quality of the ingredients, but on how the batter is made. Proper tempura batter should be able to coat ingredients like a delicate veil.
Tempura Matsui has true shokunin that will place those fried bites onto a small sheet of folded tempura paper in front of a guest. This process will remove excess oil on the food. Another thing to note about this restaurant is that the design is similar to a temple. Their version resembles very closely to what one will encounter at some of Tokyo's top haunts.
Their menu is able to change depending on the season. It has a wide coverage from shiso and uni tempura to sweet potato and scallop. The original chef of Tempura Matsui already passed away, but this Japanese restaurant based in New York is able to retain the quality and maintain its Michelin star.
---
Sake Bar Decibel
With a location at 240 E 9th St, New York, NY 10003, Sake Bar Decibel restaurant has been loved for its no-frills ambiance, wide selection of sakes around 150, and late hours since 1993. To get there, simply follow the red "On Air" sign hanging overhead, then step down one level below the street. FInally, step into a dark, cavernous, graffiti-covered bar restaurant.
You can get some Japanese bar food like okonomiyaki (savory pancake), takowasa (octopus with wasabi), and ankimo (monkfish liver, regarded as the foie gras of the sea) on the Sake Bar Decibel menu. This restaurant is one of those you can come at midnight as they are open until 3 a.m. every day other than Sunday.
---
Hi-Collar
This New York based Japanese restaurant offers Japanese culture in two ways. During the day, it can be kissaten, which is a Western-inspired Japanese coffee/tea cafe. By night, you can get some booze along with some food as it can be an izakaya and sake bar by night. Hi-Collar is located at 214 E 10th St, New York, NY 10003 and you can call them at (212) 777-7018.
Siphon coffee, together with a classic kissaten menu of katsu-sandos, omurice (fried rice omelet), and pancakes are available on their menu during the day. Once the clock strikes 6 p.m., you can eat charcoal-grilled squid and pair it with rice wine. The owner is Sakura Yagi and said that the cafe's moniker and concept is very Japanese inspired. You can see the narrow, counter-style restaurant resembles the Japanese Jazz Age. The design of this restaurant includes a mix of sliding shoji screens, stained glass doors, and Tiffany-style pendant lights that are common in Japan.
---
Bar Goto
Bar Goto is a living proof of the motto "if there's a will, there's a way", when owner Kenta Goto is able to fit 40 seats into a 600 square feet space. Bar Goto is able to replicate the feeling of drinking in a tiny Japanese pub, of which there are millions spread throughout the country. Kenta Goto designed this restaurant with warm wood decorations located at 245 Eldridge St, New York, NY 10002.
Short list of cocktails made with Japanese ingredients like dashi and sakura blossoms are offered on their menu. Kenta Goto is a Pegu Club alum and created these drinks to reflect his time in both New York and Tokyo. Just like other izakayas, this bar also has snacks like okonomiyaki and ume (plum) vinegar octopus to soak up the booze.
---
Kyo Ya
Kyo Ya is a hidden gem for nearly 12 years, as this restaurant in New York has no signage. Kyo Ya is also one of New York's very first kaiseki restaurants, and on top of that a Michelin star restaurant. The interior of this restaurant has an intimate 36-seat dining space with polished wood shines. The below-ground space is divided by sliding shoji screens, with imported Japanese tiles, tatami mats, and rice paper lamps creating a serene escape from busy Manhattan.
Their traditional, elegant kaiseki, eight seasonal courses for $150 is the start of the menu. This restaurant is really one of those places where you can eat food with many ingredients flown over from Japan. After the classic kaiseki continuation, you can start with some sakizuke (amuse) that is like fried taro with crispy shrimp and a bowl of miso.
Those dishes are followed with assorted zensai (small appetizers) like cod fish milt made in chawanmushi-style. If you love seafood, particularly fish, then you will be in for a treat with their oup, sashimi, a grilled dish, a fish dish, rice, and miso soup. Seasonal fruit will be served after you get a bowl of those soups as a dessert.
Chefs of Kyo Ya aren't playing and they would only want to provide great food along with their amazing restaurant service. You can visit them at 94 E 7th St, New York, NY 10009 any day of the week.
---
Other Japanese Restaurant
There are worthy restaurants where you can eat good Japanese food in New York. One of them is the 29B Teahouse located at 29 Avenue B, New York, NY 10009. If you want to eat rice together with marinated king salmon, house-made pickles, and tea, have the cafe's signature Japanese food – ochazuke.
If you want some food that compliments really well with booze, Yopparai is the place to go. They are located at 151 Rivington St, New York, NY 10002. This restaurant has some tofu stuffed with mochi, and chopped wasabi with sake lees.
Okonomi is a restaurant located at 150 Ainslie St, Brooklyn, NY 11211 where they offer a daily-changing $20 to $35 set menu. Another restaurant located at 374 Johnson Ave, Brooklyn, NY 11206, called Ichiran NY Brooklyn, is serving a hot bowl of ramen to the people.
Choosing the best restaurants where you can eat and dine with your family and friends for a date can be tricky as we have our own preferences. Hopefully, the information listed on this article is able to help you pick a place to go to.