When dining in an Asian restaurant, people in many Asian countries use chopsticks. Chopsticks are typically provided at Asian restaurants, although you also have the option to use a spoon and fork. Have you ever tried using chopsticks to eat rice? If not, you should read this article.
* If you buy through links on our site, we may earn an affiliate commission. For more details, please visit our Privacy policy page.
Even though it is not required, knowing how to eat rice with chopsticks will be useful if you go to an Asian restaurant. It will also benefit you if you want to better appreciate Asian cuisine.
Scroll down to continue reading if you are interested in eating rice with chopsticks. This post will explain everything else you need to know about chopsticks. Chopsticks may be used whenever necessary without making you lose confidence.
How To Eat Rice With Chopsticks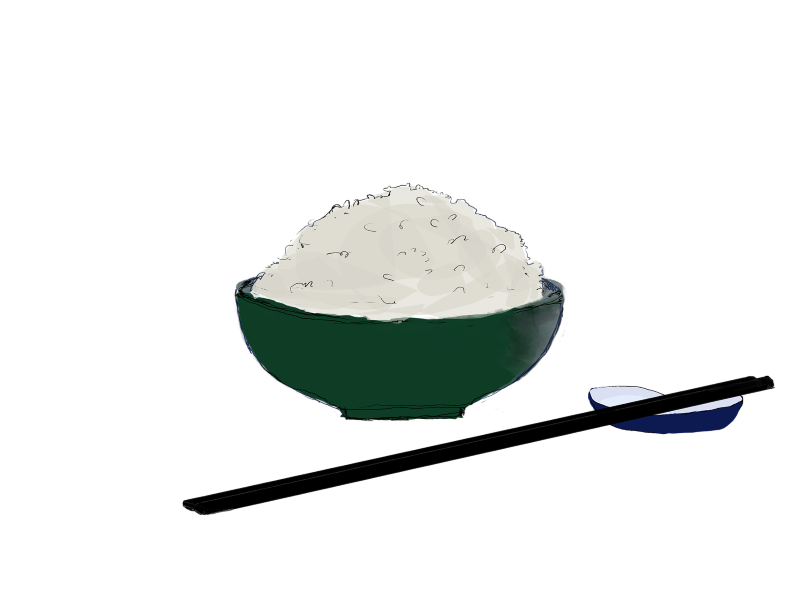 Chopsticks
In many Asian cultures, chopsticks are often used. For more several years, the majority of East and Southeast Asia has utilized these Chinese-made, formed pairs of equal-length sticks as utensils for cooking and eating. To pick up food, they are held in the dominant hand with the fingers holding them in place.
Chopsticks were invented by the Chinese and were afterwards adopted by Vietnam, Japanese and Korean culture. In many western cultures, chopsticks have also gained popularity in relation to Asian cuisine, especially in areas with many Asian diaspora populations. A lot of people from western cultures could find it challenging to use chopsticks, especially while eating rice since the short grain rice make it difficult to grasp.
Chopsticks are mostly tapered and smoother. Nowadays, non-traditional materials including plastic, stainless steel, and even titanium are becoming more widely available. Traditionally, they are composed of wood, bamboo, metal, ivory, and ceramics. Chopsticks are commonly thought of as an eating tool that takes practice and expertise to perfect.
---
Learning To Use And Hold Chopsticks
Learning to hold chopsticks is an important step in a child's development in cultures that use them. Chopstick etiquette is expected to learn inside the family. However, many young kids develop their own methods for using chopsticks in the process. Parents may buy a number of teaching tools to assist their kids in learning how to correctly handle chopsticks.
Older adults, on the other hand, may learn the ability to use chopsticks through personal assistance from friends or through the written instructions on certain disposable chopsticks' wrapper sleeves. However, adult learners also frequently develop their own unique alternate grips when utilizing chopsticks.
Before picking up rice using your chopsticks, make sure you have a firm grasp on how to handle them. If you have a weak or unsteady hand, or if your chopsticks move around, picking up the rice will be difficult. The technique is to practice and start with the basics.
One chopstick should be held in your hand like a pencil. Hold it in place with your thumb, index finger, and middle finger.
The following step is to run the second chopstick over your pinky, ring, and under your thumb. With your ring finger and pinky finger, you can finally wedge the second chopstick.
The other chopstick (2nd chopstick), which is positioned at the bottom, is immobile. So try to keep this chopstick still as much as you can.
Use your thumb, index, and middle fingers to move the top chopstick. Your thumb, middle, and index fingers are being gently bent as you move the chopstick. Chopstick tips make touch with bottom chopsticks, which remain still.
---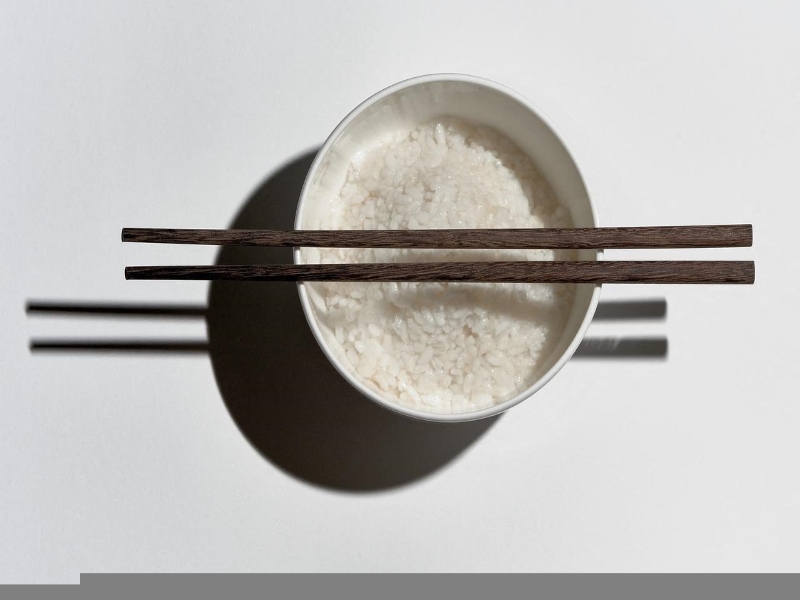 Picking Up Rice Using Chopstick
The most common way to hold chopsticks is to hold them just slightly apart. Next, maintain the space between the two chopsticks while inserting them into the rice at a 45-degree angle.
As you squeeze and elevate the chopsticks, keep the distance and strength between them. Using a "hold" method, chopsticks deliver rice from a bowl to your mouth.
If the gap between you and your mouth is too significant, you can raise your bowl with your other hand. Though, it is advised to move your chopsticks vertically to prevent dropping your meal.
---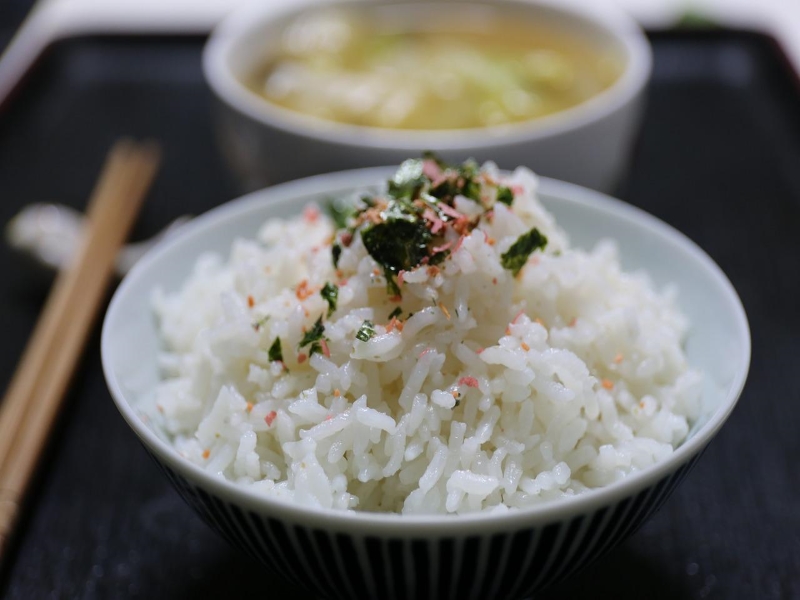 2 Ways Of Eating Rice With Chopsticks
Clump Method
This approach could be the most effective for sticky rice because you can pick up a few grains of rice at a time with chopsticks.
First, prepare your chopsticks.
Place your chopsticks between your thumb and index finger, sideways. To obtain a firm grip, hold the chopsticks with the end of your index finger. Next, try picking some rice with chopsticks that are only slightly open.
Using this technique, it is simple to remove clumps from a dish without dropping any rice grains.
This technique is used to break apart clumped rice. Rice grains are less likely to fall to the ground when they are closely packed together.
---
Shovel Method
This technique typically involves eating rice with chopsticks. However, because it might be regarded as impolite in some cultures, it can only be used in casual settings.
To use this method, you raise the rice bowl near your lips toward your face.
After that, put the rice in your mouth using your chopsticks.
In many formal settings, such as a meeting with a business partner, eating rice right out of the bowl is regarded as impolite. The likelihood that you may spill some rice on the table is likewise very high. If so, you can find yourself in a very uncomfortable scenario.
Since the rice is not sticky in this situation, the procedure is clearly ideal. This is a simple method of eating if you are not very tactful with your chopsticks.
---
Etiquette In Using Chopsticks
Put your chopsticks on the rest that is next to you or to the right of your plate when you decide to take a break.
In Japan, the elderly and older folks raise their chopsticks first.
Chopsticks should be placed horizontally on your bowl, after you have completed a meal.
Chopsticks should never be crossed on a table as this represents death, it should not also be placed vertically in a bowl as this is considered impolite in many Asian countries.
You should never point someone or the dishes on the table using your chopsticks because this is considered rude.
When eating, avoid clicking or clanging your chopsticks.
Do not hover your chopsticks over the food in the bowls.
In China, transferring food to relatives using one's own chopsticks is customarily acceptable. Before dinner begins, as a gesture of respect, family members place a special food item on an elder's plate. For improved hygienic procedures, using serving or communal chopsticks for this transfer has gained popularity nowadays.
In Korea, picking up a dish or bowl to bring it closer to one's mouth, and eating from it with chopsticks is seen as uncultured and impolite. In the event that the meal being raised "drips," a spoon is placed underneath the elevated item to capture the fluids. In contrast, it is often unwise to hold a spoon and chopsticks in the same hand or in both hands.
Holding chopsticks in your mouth as you eat, biting it with your mouth back an forth, and occasionally making sounds are all frowned upon as being uncultured, rude, and disrespectful. Other people find this conduct and the sound it generates to be insulting and uncomfortable. Therefore, acting in this manner is not recommended.
---
Check below for the trendiest chopsticks available in the market today.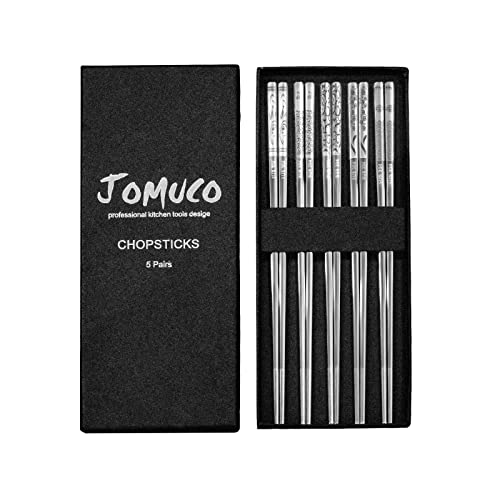 Brand: JOMUCO
Color: Silver
Material: Stainless Steel
Product Care Instructions: Dishwasher Safe, Hand Wash
These chopsticks from Jomuco are high quality. The excellent SUS304 stainless steel used to make the metal chopsticks ensures that they won't rust or break down over time. They also don't need to be painted or coated for your safety and health.
It has a non-slip design. The stainless steel chopsticks are easy to use and effectively prevent food from dropping out during usage due to the anti-slip line laser engraving on the tip. This makes their metal chopsticks a great choice for a more pleasurable eating experience.
These stainless steel chopsticks may be cleaned under running water or in the dishwasher. Metal chopsticks may be reused many times, save you time and money, and do not grow moldy or hide dirt as bamboo or wood chopsticks do.
A gift set of five pairs of metal chopsticks with a beautiful pattern. The ideal present for your family, friends, parents, siblings, uncles, aunties, neighbors, bosses, and coworkers will be these chopsticks. The finest present option for Christmas, birthdays, anniversaries, housewarmings, and parties are these reusable chopsticks.
If you are interested in this product, simply click on Amazon
---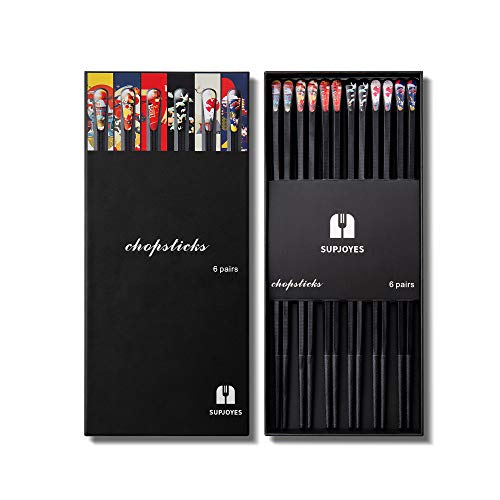 Brand: SUPJOYES
Color: Emblem (6 Pairs)
Material: Fiberglass
It has a distinct design. Each pair of chopsticks in features a unique, exquisite Japanese-style design on the top. There are six pairs total. includes a beautiful gift package. Adding color to your life and making a thoughtful present.
Durable. They use chopsticks made of premium fiberglass. In normal use, they won't warp, melt, or crack. After years of use, these fiberglass reusable chopsticks still appear brand new.
Very easy to use. User-friendly, featuring ergonomic features and frosted texture tips that prevent slipping. You may eat sushi, noodles, dumplings, hot pot, and other Asian foods in the ideal setting. Its hexagonal form makes it simple to handle and prevents rolling in your hand.
If you are interested in this item, purchase this now on Amazon
---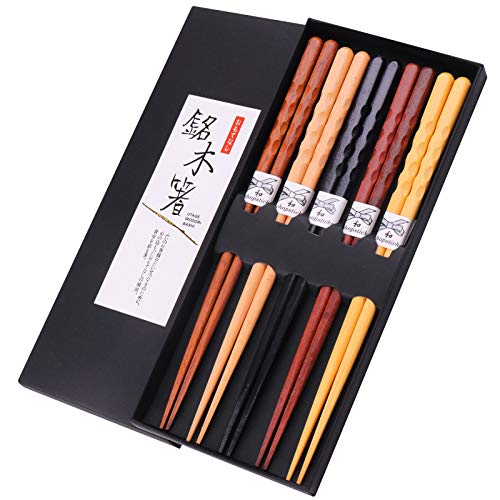 Brand: GLAMFIELDS
Color: Multicolor
Material: Wood
These chopsticks are safe and healthy. To suit your daily usage needs and safeguard the health of your family, Glamfields authentic Japanese chopsticks are crafted from a variety of natural woods, including beech, rosewood, ironwood, and Indonesian ironwood.
Treated with Genie. Glamfields chopsticks are made of high-density, high-quality wood and coated with food-grade lacquer, which makes them resistant to corrosion, mold, and staining as well as simple to clean and dry. They may be used for a long time since they are sturdy and difficult to bend and won't easily crack.
This design is not only visually beautiful but also functional. Easy to hold and more efficient at preventing food from dropping out during usage, it is perfect for beginners, kids, and adults. The chopsticks are incredibly light, just 15g, and feature a Japanese carved head at one end.
Buy this product now on Amazon
---
Brand: Antner
Color: Natural Bamboo Style 2
Material: Bamboo
These healthy bamboo chopsticks are made of quality bamboo, free of paint and wax.
It is 22.5cm in length, which is suitable for most users and a non-slip construction, even beginners may use them effectively.
At the end of the stick, there is a traditional Japanese minimalism style pattern that is strong, solid, and has a smooth surface.
Dishwasher safe. Avoid keeping them in disinfectant cabinets, at high temperatures, or exposed to sunlight. Reusable chopsticks are simple to clean and may be used for many years.
Everyone will be delighted to receive them because of their distinctive design and colors, present box, and suitability for both gifts and everyday usage.
Purchase this product now on Amazon
---
Brand: Hiware
Material: Fiberglass
Color: Pastel colors
Healthy chopsticks. Made from premium heat-resistant fiberglass that is lightweight, dishwasher safe, long-lasting, and healthful for daily use.
Simple to Use. Features a non-slip design, great for sushi, noodles, or any other Asian dish. Beginners will find them simple to hold.
Dishwasher safe. It can withstand a high temperature of 356°F. It will not melt, bend, or crack. You may use them for years and they will still look like new since they are non-corrosive and resistant to corrosion.
These chopsticks are terrific for eating sushi, rice, or noodles and are great for caterers, restaurants, buffets, cafeterias, diners, and other establishments providing Asian food.
You can buy this product on Amazon
Frequently Aske Questions
Is it rude to stick chopsticks in rice?

Yes. Avoid sticking your chopsticks into your rice or any meal while using them to eat with chopsticks. In Chinese culture, this is seen as a curse. Due to the association with the incense used at funerals, this is considered forbidden and bad luck.

Do Japanese use chopsticks for rice?

Yes. They are used by the Japanese to consume a variety of foods, including rice, beef, noodles, salad, and much more.

Do Koreans eat rice with spoon or chopsticks?

A spoon and a pair of chopsticks are always included in Korean place settings. Additionally, Koreans like using spoons when eating rice rather than chopsticks.
* If you buy through links on our site, we may earn an affiliate commission. For more details, please visit our Privacy policy page.