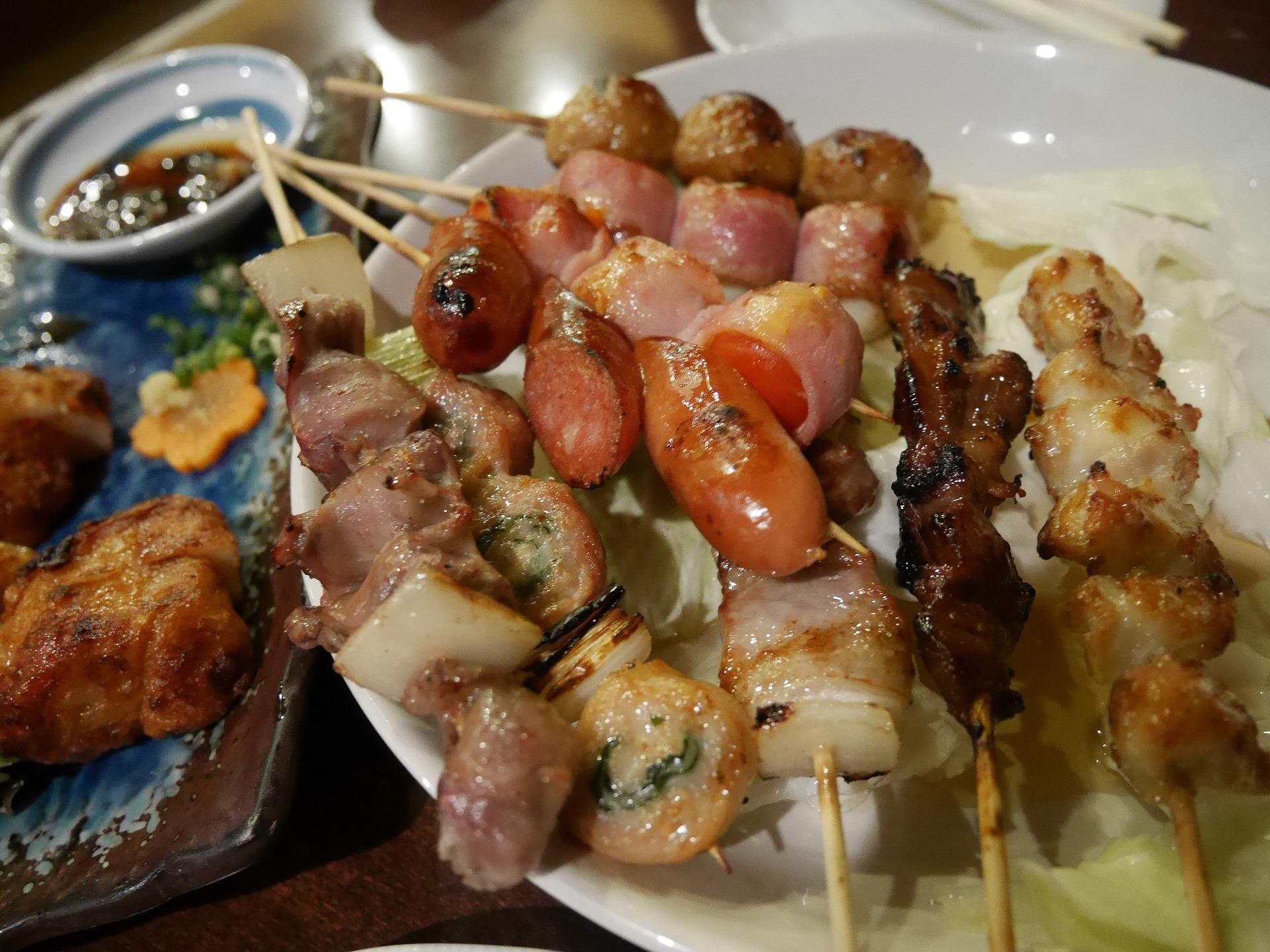 Have you tried the goodness of Yakitori barbecue? They are grilled chicken skewers made from bite sized pieces of meat from all different parts of the chicken, such as the breasts, chicken thigh, skin, liver and other innards. They are perfectly paired with some rice bowls.
Yakitori is prepared by skewering the meat with khushi, a type of skewer typically made of steel, bamboo, or similar materials. Once done, they are grilled over a charcoal fire. The meat is usually seasoned with tare sauce or salt during or after cooking to produce a flavorful Yakitori BBQ.
This Japanese type of skewered chicken or grilled chicken has been a popular, delicious and good food. With more than 300 years of its own history and recipes in Japanese cookbooks, Yakitori is often served by street vendors and Izakaya places as a casual food.
Izakayas are those places where a variety of small, typically inexpensive, dishes and snacks are served to accompany the alcoholic drinks. This is definitely a type of informal Japanese bar that serves alcoholic drinks and snacks.
Since an Izakaya is usually used for a happy hour where people can grab some drinks, skewers would be the perfect food to accompany it. During the Edo period, izakaya served salty, fatty, umami-laden food designed to encourage patrons to drink more.
Japanese cuisine is now crawling to every part of the world, and one of the busiest cities in the United States, New York City, has paved the way for more Japanese restaurants to open. These restaurants have become more ambitious to estable the food culture of Japan into the city.
Best Yakitori New York
If you are in New York and would love to try some delicious Japanese dishes such as Yakitori, we have lined up some of the restaurants that would cater your cravings.
Yakitori Totto
One of the highly recommended restaurants in NYC, Yakitori Totto boasts the experience and the best yakitori they are providing to their diners. This yakitori restaurant was once visited by the famous Anthony Bourdain where he also brought Anderson Cooper here for dinner.
The owner Ryuichi "Bobby" Munekata certainly built a small Japanese empire by opening up Yakitori Totto in New York. This yakitori restaurant is located at 251 W 55th St, New York, NY 10019 and their contact number is (212) 245-4555.
This yakitori restaurant opened in 2003 where they offer perfectly charred skewers of hearts, gizzards, and shishito-stuffed meatballs made from upstate New York chickens. The owner of Yakitori Totto also owns Totto Ramen which is taking a serious fight in the booming ramen and Japanese food industry in New York.
---
Izakaya
Named after the actual concept of the restaurant, Izakaya offers food that surpasses its modest decor. This yakitori restaurant was opened by an expat who came to New York to study fashion, Yudai Kanayama. They have some cabbage and the chicken nanban, which is fried to a crisp, soaked in vinegar, and served with a tartar-like sauce.
Izakaya is located in the East Village and was built in 2015. Their address is at 326 E 6th St, New York, NY 10003 with contact number of (917) 697-7162. They offer a heavy Japanese comfort dishes menu with some inclination from their chef and co-owner Dai Watanabe who spent some time in a pizzeria outside Naples.
---
ROKC
ROKC stands for ramen, oysters, kitchen, and cocktails and is located at 3452 Broadway, New York, NY 10031. Entering this tiny joint would have some Hamilton Heights vibes where you can feel as if you are a righteous neighborhood following.
This restaurant opened in New York last 2017 and was founded by two Angel's Share alum, Shigefumi Kabashima and Tetsuo Hasegawa. They have some excellent yakitori offerings, along with a bowl of Kyoto ramen, with a funky fish-laced broth, garlic oil, and pork belly. You can't go wrong if you will also have rice bowls.
You can visit the restaurant before 7 p.m. to take advantage of the happy hour. During this time, a half-dozen varieties of East Coast oysters are offered for only $1.50 each. Since izakayas are all about drinks and food, ROKY also offers scene-stealing drinks served in ceramic skulls and other elaborate presentations made by their co-bartender Joji Watanabe at Experimental Cocktail Club.
---
Tomi Jazz
This Japanese restaurant is located at 239 E 53rd St, New York, NY 10022 with contact number (646) 497-1254. This was once home to a private, members-only club catering to hard-drinking Japanese salarymen before it was purchased by Ken Mukohata in 2010.
Tomi Jazz is now open to the public, but it can get a little tricky to find its entrance below street level that still provides an exclusive vibe. If you are planning to get some early dinner, you can come between 5:30 p.m. and 7:30 p.m. Sunday through Friday. You can also get one of the few free seats and take advantage of the happy hour during that time.
This restaurant also has decent food, but the exciting part is the exceptional lineup of live musicians in New York. This is the reason why Tomi Jazz is fully-packed most of the time.
---
Nonono
This casual 70-plus-seater in Nomad located at 118 Madison Ave, New York, NY 10016 isn't playing when it comes to providing excellent yakitori to their diners. Nonono's head chef Daichi Tokuda and his crew would chop whole chickens daily and use all the parts to be put on the grill.
Those that would not make it into the grill will be used in stock for ramen. Their tasting menu is not slouching when it comes to its offerings. They have everything from grilled romaine to fully loaded sushi rolls like the Nonono. It has cod roe, tuna, avocado, pickled radish, and spicy cod roe.
This Japanese restaurant in New York was opened in 2018 by restaurateur Kihyun Lee as his latest project. Kihyun Lee is the famous restaurateur who earned rave reviews for Her Name Is Han.
---
Sakagura
Those who don't want to make the trek to the basement of an office building in Midtown for the original location were aided by the opening of Sakagura East Village in 2018. Sakagura is also owned by the same owner of Sake Bar Decibel, Bon Yagi.
This izakaya located at 231 E 9th St, New York, NY 10003 has some nice features including extensive, well-chosen sake selection. The Japanese dishes offered in Sakagura restaurant are more refined and delicious.
One of the highlights on their menu is the wobbly, snow crab-studded chawanmushi custard and the vinegar-marinated eel with cucumbers. For reservations, you can contact them at (212) 979-9678.
---
Karasu
This Japanese restaurant has an amazing chef, or let's say chefs in the name of Yael Peet and Elena Yamamoto that ensures Karasu isn't just a mere destination for dining as it is for drinking. These two chefs have been serving small plates like an heirloom tomato gazpacho with sansho pepper and kaffir lime oil.
The location of Karasu is concealed behind a door in the back of Walter's at 166 Dekalb Ave, Brooklyn, NY 11217. However, this dimly lit alehouse can easily coast on its drop-dead sexy ambiance and serious cocktails.
---
Tokyo Record Bar
Opened by its owner Ariel Arce in 2017 at Greenwich Village, Tokyo Record Bar was inspired by the legendary JBS in Shibuya and other Japanese jazz kissaten, or jazz cafes. This influence has accustomed its patrons during their prix-fixe dinners where they can listen to the warm crackle of a custom playlist spun on vinyl.
For only $50 per person, you can already get a reasonable deal of their set menu. It is even enjoyable to swing by after 10:30 p.m. Monday through Wednesday. During that time, they have some DJ sessions and a la carte snacks.
Their dishes include king crab legs dripping with yuzu miso butter or head-on prawns dunked in horseradish-spiked aioli. You can visit them at 127 Macdougal St, New York, NY 10012 and make some reservations to get one of the 18 seats by calling (212) 420-4777.
---
Donburiya
Eating your favorite Japanese food should not be limited to just dinner. If you have some cravings for sashimi or grilled chicken during midnight, Donburiya should be able to provide you with that.
This izakaya is located at 253 W 55th St, New York, NY 10019 with phone number of (212) 980-7909. The best part is that they are open until 2:30 a.m. almost every night of the week. This Japanese bar has been a longtime favorite haunt of Japanese expats for their straightforward vibe and solid roster of katsu curries and other dishes.
You should try their sizzling crab omelet, along with donburi, or rice bowls, topped with garlicky stir-fried beef or crispy tempura.
---
Ariyoshi
It started as an all-Japanese business travelers exclusive Yakitori place in 1975 when it first arrived on Queens Boulevard. Ariyoshi is now a restaurant with a wide array of offerings on their menu as they broadened to accommodate American palates.
Its expansive selection of reliably executed dishes at an affordable price remains a popular neighborhood New York favorite at 41-13 Queens Blvd, Sunnyside, NY 11104. Their menu is set where you can get something not beyond $20.
---
Takumen
Takumen, where an excellent yakitori is made with careful considerations. From the handmade ceramics sourced from Greenpoint to the rotating displays of works by local artists, this Japanese restaurant in New York has been the playground of Chef Kiyo Shinoki.
This chef is a veteran of Bar Goto and makes culinary conventions for dishes like Cajun-tinged tako-octopus. Their "secret" guacamole is from a recipe shared by a Mexican line cook that uses housemade potato chips.
Be greeted by the bright atmosphere of the interior design from Kiyo's wife, Sachiko Shinoki. The interiors are inspired from a California road trip before opening in 2017. Visit them at 5-50 50th Ave, Long Island City, NY 11101 or call (718) 361-7973 if you want to eat at this restaurant.
---
Sake Bar Decibel
Sake Bar Decibel is a talk of the town as this place is almost well-crowded even on a Sunday. This subterranean, graffiti-covered bunker opened its doors in the East Village in 1993. Their complete address is at 240 E 9th St, New York, NY 10003.
Although a well-thought and chosen sake list is no longer the novelty at Sake Bar Decibel, this izakaya still has a 100-bottle selection that surely stands out. Their happy and knowledgeable staff would steer both novices and connoisseurs.
The syrupy and savory unagi is one of their simple drinking snacks and is ideal for soaking up the booze. Before you go here on a Sunday or during the weekends, you can call them at (212) 979-2733 to check for an available seat.
---
Summary
There are still some favorite Japanese izakaya places where you can get some sake, along with food like sashimi, sushi or grilled chicken in NYC. Wanpaku is a restaurant located at 621 Manhattan Ave, Brooklyn, NY 11222 where you can taste a ramen special with spicy shredded pork swimming in a miso broth.
Bar Goto is located at 245 Eldridge St, New York, NY 10002. This restaurant in New York has a sleek interior that would make you feel right at home in one of the Japanese capital's watering holes, like Tokyo. Their black sesame-speckled miso chicken wings and okonomiyaki varieties would be top contenders of their menu along with their limelight stealer cocktails.
As you see, these restaurants aren't just offering yakitori. They have ample dishes from Japanese cuisine prepared by the best chefs to cater to the diners of New York City. Some of these restaurants have a location with great ambiance suitable for dinner dates or gatherings. Their service can also be top notch where you can get some creamy cocktails and other drinks.