Japanese cuisine is traditionally based on rice such as sushi and other dishes. Seasonal ingredients are emphasized in Japanese dishes as well. Japanese foods are very delicious with different varieties of dishes to choose from, although when it comes to spicy flavors, Japan people compared to other Asian countries, is not actually a fan of spicy foods since most of the locals cannot tolerate hot and spicy. Although there are regions in Japan influenced by China and Korea have spicy dishes available. If you want to know the hot and spicy dishes in Japan, check out this post as we will be talking about the spiciest Japanese dishes.
* If you buy through links on our site, we may earn an affiliate commission. For more details, please visit our Privacy policy page.
Spiciest Japanese Dishes
Most of hot and spicy Japanese dishes is highly influenced from Chinese cooking such as Mabo Dofu, Ebi Chiri, while Korean food influenced Japanese dishes includes the Kimchi Nabe and Karashi Mentaiko. Japan hot and spicy dish such as the Karashi Renkon.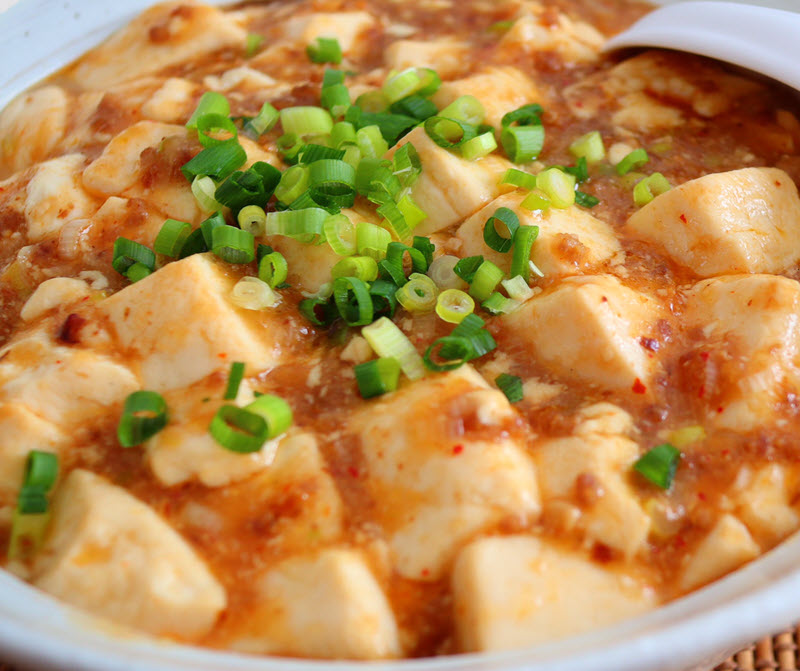 Mabo Dofu
Mabo Dofu is made of thin, oil and bright red spicy sauce. Mabo Tofu in Chinese and Mabo Dofu in Japanese.
The Japanese version is less spicier than the Chinese version (original version) since with Japan's version of Mabo Dofu is uses ingredients such as mirin and miso to counteract the super spicy effect.
---
Ebi Chiri
Ebi Chiri is a Chinese inspired dish that is now a popular dish in Japan. These are shrimps coated with sweet and spicy sauce from the Sichuan version Kan Shao Shrimp. This dish is best served with Japanese rice.
In Japanese, the word Ebi means shrimp while Chili means hot. Though the name may sound spicy, it is actually not that hot and spicy. As previously mentioned beforehand, Japanese people cannot tolerate very spicy foods therefore if there are spicy Japanese foods it is usually mild.
---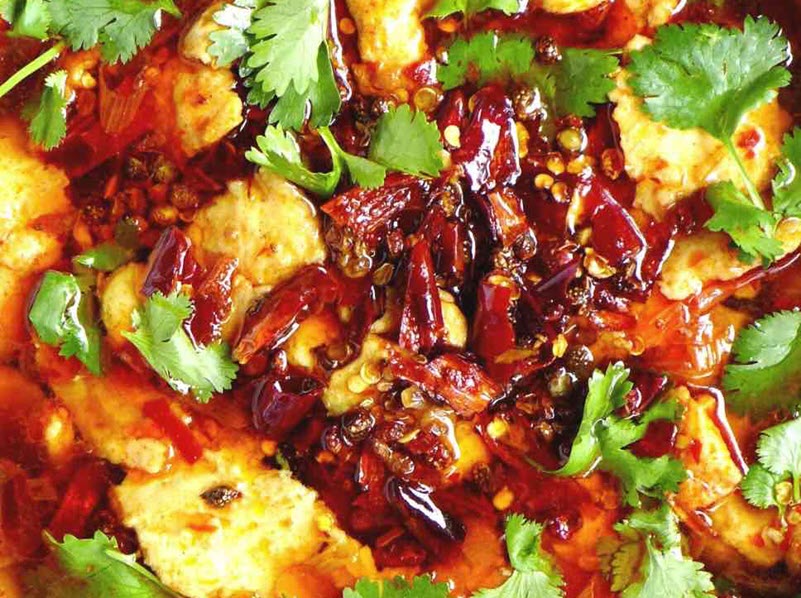 Shuizu Fish
Another Sichuan inspired dish is what we call Shuizu Fish. The dish is cooked by boiling the meat to achieve a certain texture after which oily sauce and spices are then added.
---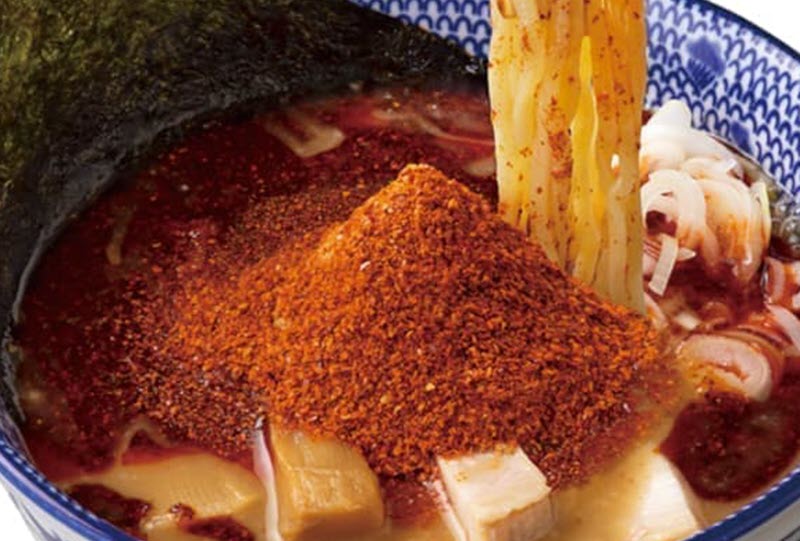 Karakarauo Tsukemen
Tsukemen in Japan means Dipping Ramen Noodles. One of the most popular ramen in Japan. When you order Karakarauo Tsukemen, you will immediately know that the dish is hot and spicy because it is topped with lots of chili pepper.
---
Ethiopia Beef Curry
Ethiopia Beef Curry is a Japanese dish that is made of vegetables such as carrots and celery and other ingredients such as sautéed onion, beef, garlic and ginger. A beef curry that is topped with rich spices.
---
Kimchi Nabe
The word Nabe simply refers to hot dishes in Japan. Since it is a hot dish on a hot pot, it is traditionally eaten during cold season. Most of the time, a Name is cooked and is then eaten on the table. Ingredients for making Nabe includes mushrooms, meat, seafood and vegetables. For Kimchi Nabe, korean inspired dish, Kimchi is added to the list of ingredients.
---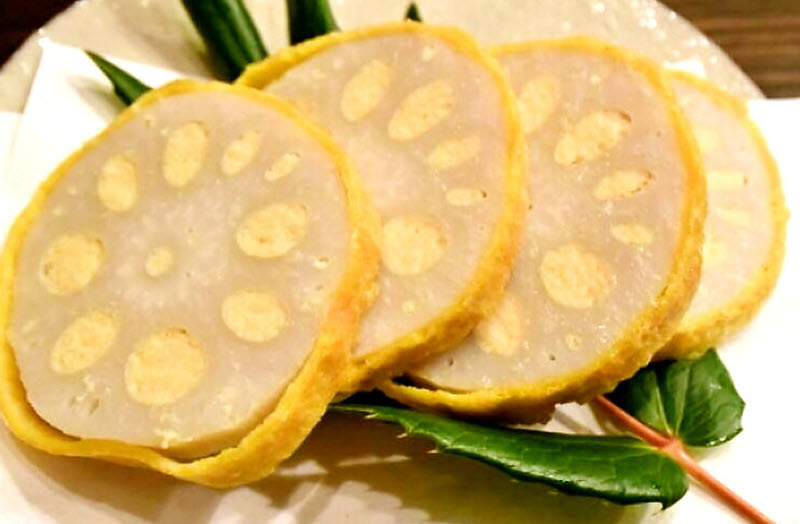 Karashi Renkon
Karashi is a spicy mustard made from crushed mustard seeds. Karashi Renkon on the other hand is a popular dish in Japan that is made from Miso and Karashi hot mustard. The mixture is stuffed into the lotus roos and then glazed with turmeric flour batter. It is then deep fried until it becomes golden crispy.
A very affordable and delicious Japanese food, not to mention an extremely spicy food in Japan.
---
Japanese Condiments to make dishes hot and spicy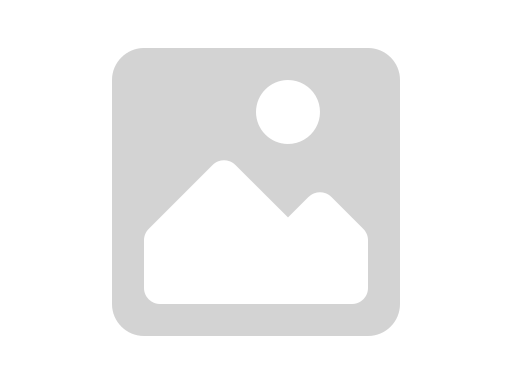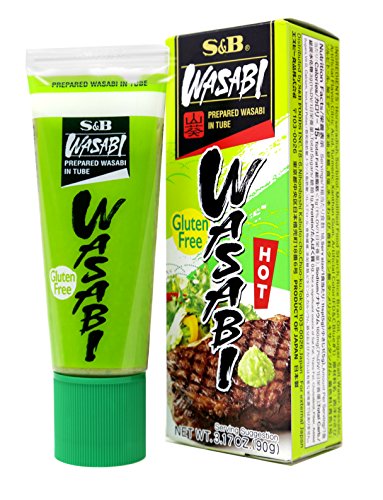 Wasabi is a spicy chili green paste usually used as spicy condiments to sushi and sashimi, though you can use Wasabi to heat up other dishes as well. It is similar to horseradish since it is also used to make paste that is why you can use horseradish as an alternative to Wasabi.
Wasabi paste that is made of Japanese wasabi is also called as Hon-wasabi or real wasabi.
Wasabi is made from Rhizome, it is the stem of the plant that typically grows under the ground (where the roots are usually located) from the Wasabia Japonica Plant. Wasabi is perhaps the most popular spicy ingredient or spicy condiments. When in a restaurant, do not mix soy sauce with your wasabi.
In sushi restaurants, a small amount of wasabi is placed on the sushi. It has a grated texture. An authentic and fresh wasabi is expensive since it is not always readily available however there are also wasabi in a powdered form that can be bought in your local grocery stores.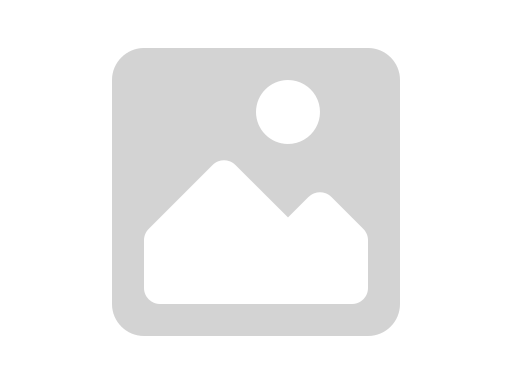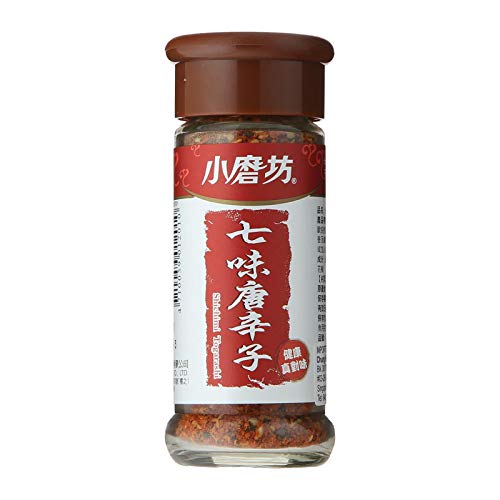 Next on our list of the spiciest dishes in Japan is Shichimi Togarashi. It is also known as Nana-iro Togarashi or Shichimi. Togarashi is the Japanese name for Capsicum Annuum, an ingredient that makes Shichimi Togarashi spicy.
It is a known Japanese spice blend that contains seven ingredients such as dried Chili or red chili pepper , Sansho pepper, sesame seeds (white or black), seaweed, hemp seeds and ginger.
If you can't handle very spicy foods, you can easily eat Shichimi Togarashi. It is best served when added to noodle dishes and soup.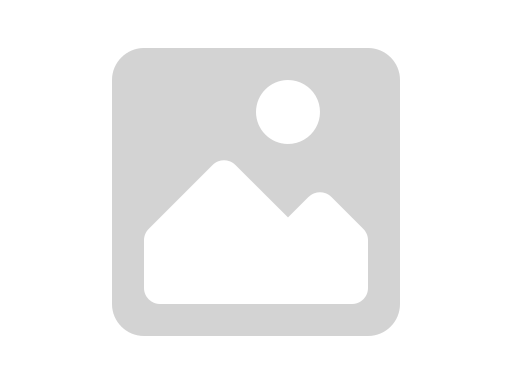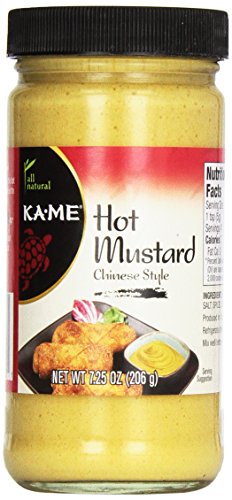 Karashi is a Japanese yellow mustard. It is another spicy condiments or seasonings in Japan that similar to wasabi. It made from the crushed mustard seeds of Brassica Juncea. Keep in mind that Karashi, unlike other mustard condiments in the west is much stronger and has a sharp and strong taste.
Karashi usually sold in in tubes (paste) or in powder form. Powder forms is usually mixed with water so that it will become a paste. It is very hot and has a very spicy taste. Most of the time, Karashi is used as dipping sauce on Japanese food.
If you notice in Japanese cuisine, there are small packings of Karashi that is usually accompanies shumai dumplings, gyoza dumplings and natto (fermented soy beans)packages.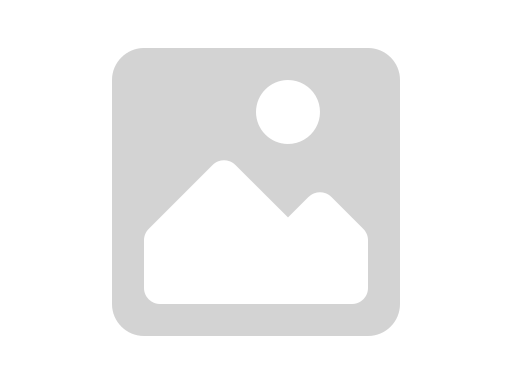 Yuzu-Kosho or Yuzukosho is a popular green or red chili paste in Japan. It is made from grinding together yuzi citrus fruit, fresh chile either red or green Thai and or bird's eye chiles, salt and chili peppers. If red chilis are used, the result would be an orange chili paste.
The word Kosho could also refer to black pepper, but with YuzuKosho the term Kosho referes to chili peppers.
Yuzukosho is best used for as a condiment to Japanese foods such as fish, steak and Yakitori Chicken.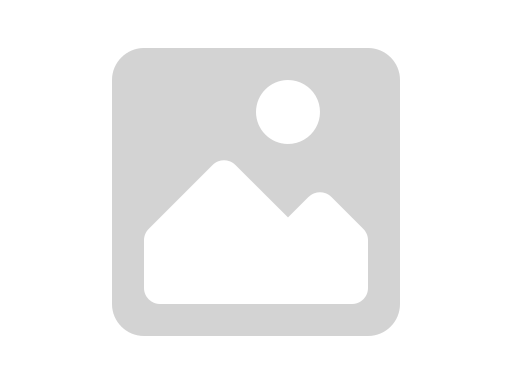 Sansho pepper is a small and green peppercorn with strong citrus flavor. It is similar to Sichuan or Szechuan peppercorns but is more stronger than Sansho. Also with Sichuan pepper it has a more numbing effect in the mouth than Sansho pepper. Therefore the best alternative to Sansho pepper is Szechuan pepper or lemon pepper.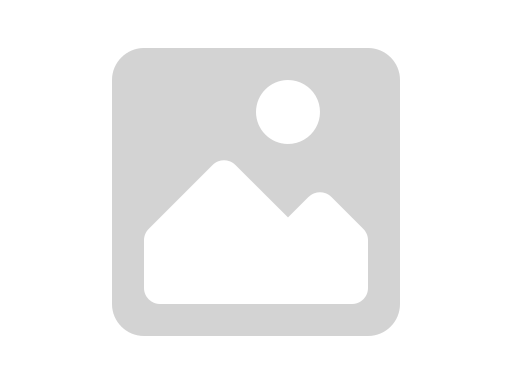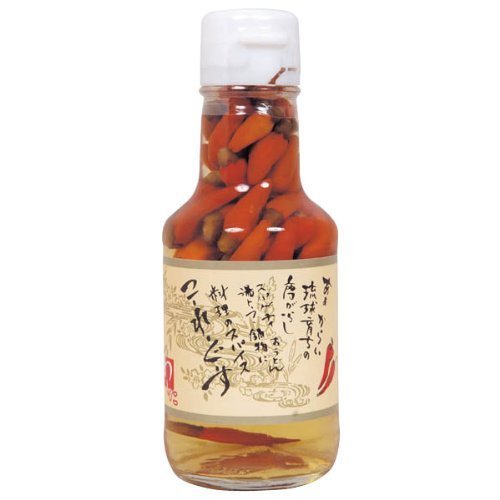 Koregusu is a Japanese hot sauce originated from Okinawa, Japan. It is made of chilis immersed in Awamori rice spirit, an alcoholic drink of the locals.
It is usually eaten on Okinawan soba noodles and goya champloo that are stir fried. This all-around spice is commonly seen served in Okinawa restaurants with Okinawa noodles signature dish. Since the taste is very strong, make sure to just use a few drops of this hot sauce.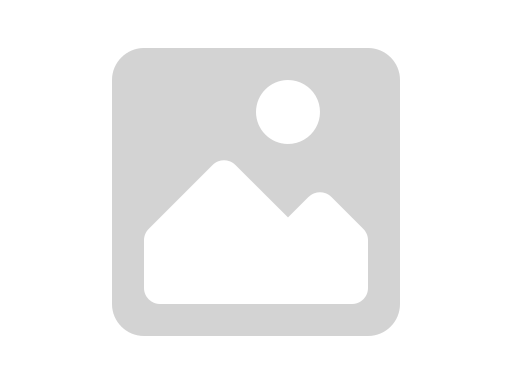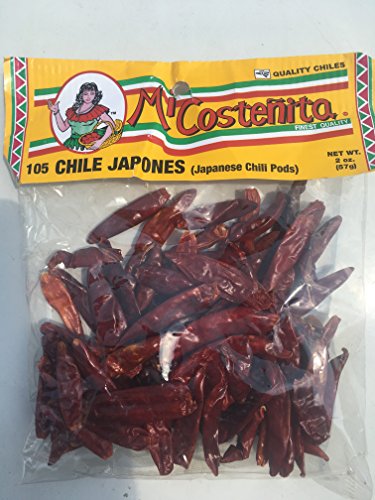 Takanotsume is also known as Hawk Claw Chili peppers, a large hooked claw. These are extremely hot red peppers. It is name as such since it resembles that of a bird's talon.
With Takanotsume, perhaps the only pepper condiment in Japanese that is made into chili powder by drying and grounding process. If you want some heat to your dishes, you can add Takanotsume.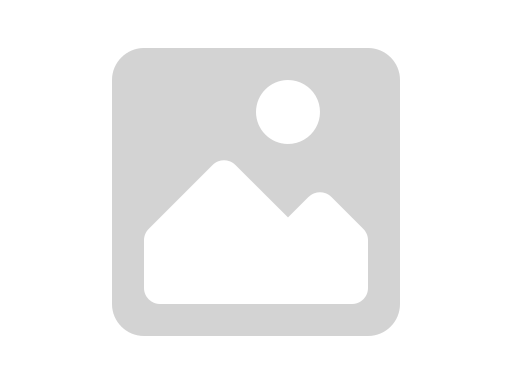 Rayu is a Chinese inspired condiment. A type of chili oil that is made from vegetable oil infused with Chili peppers. With Rayu, different varieties of oils and peppers are used.
Japanese Rayu is usually seen being served in ramen shops and restaurants that offers gyoza dumplings. Most of the time, Japanese Rayu is used as toppings to ramen, pasta, rice or often used as a dipping sauce.
---
Frequently Asked Questions
What is the spiciest dish in Japan?
From the list gathered in this post, the spiciest dish is Koregusu. A pungent hot sauce originates from Okinawa.
What spices used in Japanese cuisine for Japanese food?
The popular and commonly used spices in Japan are Wasabi, Shoga and Togarashi.
What is the most popular dish in Japan?
The most popular dish in Japan is called Sushi. Perhaps sushi is the very first thing that comes to people's mind about Japanese cuisine.
* If you buy through links on our site, we may earn an affiliate commission. For more details, please visit our Privacy policy page.