Dim sum is a Chinese meal that is typically consists of dumplings usually serve on plates or steamer baskets and other Chinese dishes usually enjoyed in restaurants for breakfast and during brunch (Yum Cha) for their lunch specials menu. It is often accompanied with tea. Los Angeles has one of the largest and considered to home to the best dim sum in the United States most especially in the San Gabriel Valley. If you happen to be in the city and craving for dim sum, here's your guide to the best dim sum restaurants in Los Angeles.
Best Dim Sum Los Angeles Restaurants
Bao Dim Sum House
Bao Dim Sum House is a dim sum restaurant in Los Angeles that does only offer good quality dim sum meals but a great atmosphere with its dimly lite interiors for that great ambiance when indulging in your favorite Chinese meal in Cantonese restaurants. It is located in 8256 Beverly Blvd, Los Angeles Ca.
The favorites among the customer is their delicious dumplings. Either you are on a date, or brunch with family and friends, you can never go wrong with dining it at Bao Dim Sum House.
Dim Sum Meals in this restaurant are made to order, therefore always guaranteed to be fresh. When it comes to parking, it is usually on a metered street parking that is why they are also offering take-outs as well where you can still enjoy those delicious dim sum meals at home.
Although the price it a bit pricey, it is still the go-to of customers especially if that are in the neighborhood since it is one of the two dim sum restaurants in Beverly Grove.
---
Ixlb Dim Sum Eats
Ixlb DimSum Eats is another good dim sum restaurant in Los Angeles conveniently located in Sunset Boulevard. It is managed by Tony Ying, a 77-year old long time restaurateur who for some reason does not want to retire and just loves what he is doing, and also manages the restaurant with the help of his daughter.
Dim Sum meals in this restaurant are all made to order and the most popular dish on the menu is baked Cha Siu Bao and so much more. There are also other customer favorites such as scallions pancake, turnip cakes (pan-fried), egg tarts and Xiao Long Bao dumplings.
You can conveniently order your dim sum favorites in Ixlb Dimsum eats anytime since they are open daily between 11am till 9pm. Since you can only take our your orders, there are no dining tables for use. There is a small parking lot at the back of the restaurant but there is also a metered street parking.
---
Din Tai Fung
Din Tai Fung is known for its legacy as being among the top 10 gourmet restaurant in the world by The New York Times. Located on the 2nd floor of Century City Westfield mall in Sta Monica Boulevard, Los Angeles CA.
This great dim sum restaurant is famous for its Xiao Long Bao, a steamed bun usually prepared and served on a steaming basket made of bamboo. Another famous dish is the their Chocolate & Mochi Xiao as well as their Chocolate buns, therefore when in Din Tai Fung you don't want to miss trying out these specialties. They are usually open daily until 9:30 in the evening.
A Taiwanese-style restaurant in Los Angeles therefore some Chinese Dim sum classic dish are not available. Most of the dishes available in Din Tai Fung restaurant includes wontons, buns, dumplings and noodles.
---
Tian's Dim Sum and Fast Food
In Tians's Dim Sum and fast food you can order a wide variety of Authentic Cantonese dishes from fried rice to congee, seafood, chow mein and a much more. The dishes are affordable too.
It is privately family-owned business located in N Hill St, Los Angeles CA. You will love it here because the servings are generously big and quality service too but they only accept cash payments.
Parking in Tian's Dim Sum and Fast food is free at the back lot but only for a limited parking, but there is also metered street parking available.
---
China Red
Recently, due to the pandemic that the world is facing, the menu in China red was relatively reduced. But despite that, there have been long lines of customers waiting outside to dine in and some to take out. Located in Baldwin Avenue, Arcadia.
The customer favorite is their purple yam crispy bao and loved by many because of the salted egg custard placed at the center. Aside from that, it is also famous for its steamed barbecue pork buns and baked barbecue pork buns (French Style). They also have chicken feet for you to indulge in and their pan fried turnip cake with the delicious XO sauce is a must. To end the day, why not try their delicious water chestnut cake and cried crushed peanut crepe that will surely win your heart.
---
Golden Dragon Restaurant
Another popular restaurant that you may want to try in Los Angeles is the Golden Dragon Restaurant. The dishes and meals are budget friendly, affordable and authentic too. If you want to experience dim sum but on a tight budget, why not give this restaurant a try.
At present, they do not allow dine in as of yet but take out and outdoor dining is allowed. But they do have dining room available and will be open to the public soon. Though there are traditional dim sum push carts for that traditional dim sum experience.
Conveniently located in N, Broadway Los Angeles CA. For parking space, there is a free parking just near the restaurant and there is also a metered street parking available.
---
Lunasia Dim Sum House
Whenever you are in Pasedenia, you can find the best dim sum at Lunasia Dim Sum house. They offer specialty dishes on their menu such as Scallop dumpling with Squid ink and a must-try Truffle siu mai. Although the prices is a bit high, the great food istotally worth the price. Not to mention their huge serving sizes. The restaurant is also known for its Jumbo Shrimp and Pork Siu Mai.
They are open daily from 11 am to 8PM and only caters delivery and take out as of this moment. You can conveniently order either by calling, through their website or through Lunasia App that you can download for both iOS (App Store) and Android (Google Play) devices.
There 's a public parking lots near the restaurant for free parking, and there is also a metered street parking available. There is also a parking space available located at Paseo Shopping Mall.
---
NBC Seafood restaurant
If you want to experience traditional dim sum, try NBC seafood restaurant as they have push carts available. There are wide variety of dim sum on their menu to choose from.
Since it is located at Atlantic Blvd, Monterey park CA, a popular spot for the restaurant that is why long lines outside is usually the scenario in NBC Seafood restaurant. Make sure to arrive early if you want to be catered first, or not if you are willing to wait. Although customer service is exceptional and fast service, you will definitely get a quality dim sum dishes. Opening hours of NBC Seafood Restaurant is from 8am to 3pm daily.
Price for their dishes are affordable and are popular for their dishes such as chicken feet, congee, Chinese Broccoli in oyster sauce, Sticky rice and BBQ duck on a plate.
---
Atlantic seafood and Dim sum restaurant
For authentic, best quality dim sum on push carts try Atlantic seafood and Dim sum restaurant. It is conveniently located at Atlantic Blvd, Monterey park just 5 minutes away from NBC Seafood restaurant.
This restaurant offering an affordable flat rice prices on their menu: cost around $3.68 on weekdays and a dollar higher on weekends and holidays at around $4.68.
You do not have to worry where to park since the restaurant has its own parking space for customers that's free of charge.
---
Ocean Bo
Ocean Bo is located in Peck Road, El Monte California. You can conveniently order dim sum dish that are readily available behind the counter and will be served directly to you. For ease in ordering dim sum, there are pictures on the menu.
In Ocean Bo, the service is fast and the foods are fresh. The list of customer favorites includes pineapple barbecue pork buns, taro cake, coconut cake, garlic spare ribs, and taro pastries.
---
Sea Harbour Seafood Restaurant
Sea Harbour Seafood not only offer seafoods but dim sum specials are being offered too. Although the dishes are quite pricey.
Customer order food from the menu but sometimes there are fresh from the oven variety of dim sum available as well.
The favorites includes truffle siu mai, sticky rice balls that is usually filled with salted egg yolk and calamari. Also available on the menu are roe dumplings, egg tofu in abalone sauce and fish paste that are deep fried combined with chives.
---
Five Star Seafood Restaurant
Five Star Seafood restaurant has been around in this line of business for more than a decade. It is located on the 4th level of Focus Place in W. Valley Boulevard in San Gabriel valley.
The restaurant is known not only for its value for money good food, but is known to serve large portion servings and traditional push carts too.
---
Capital Seafood Restaurant
In Los Angels and nearby Orange County, there are numerous branches of Capital seafood, with each of these new location has its own menu, different price range and its own restaurant vibe. Amongst the other locations, Capital Seafood Restaurant Beverly hills branch perhaps has the fanciest interior than the rest of the branches but when it comes to the most affordable branch, Capital Seafood located is Monterey park wins.
Capital seafood Arcadia branch is known for its location but they do not practice the traditional pushcart but serves most dim sum favorites such as egg tarts, spinach dumplings and roast duck.
Capital Seafood Irvine on the other hand has the most expensive dim sum menu though they usually serve typical and traditional dishes such as har gow, siu mai and different varieties of buns.
---
Tong Tak House Seafood Restaurant
Traditional dim sum restaurant have push carts, Tong Tak House used to have one but they recently changed it to serving dim sum dishes that are fresh to order. Although there isn't as much selection of dim sum on the menu, but most of the crowd's favorites are already on the lists such as pan fried dumplings, egg tarts, rice rolls and chicken feet.
Before the pandemic hit the world, the long waiting lines outside the restaurant would usually be up to two hours but with at present the menu is limited for now. But nevertheless, the quality and more unique dim sum experience will be available in the near future.
---
The above-mentioned restaurants are some of the best dim sum places that you can try in Los Angeles but we also need to know what are the most common dim dishes that is usually served and are usually on Dim Sum restaurants menu items. Check it out below: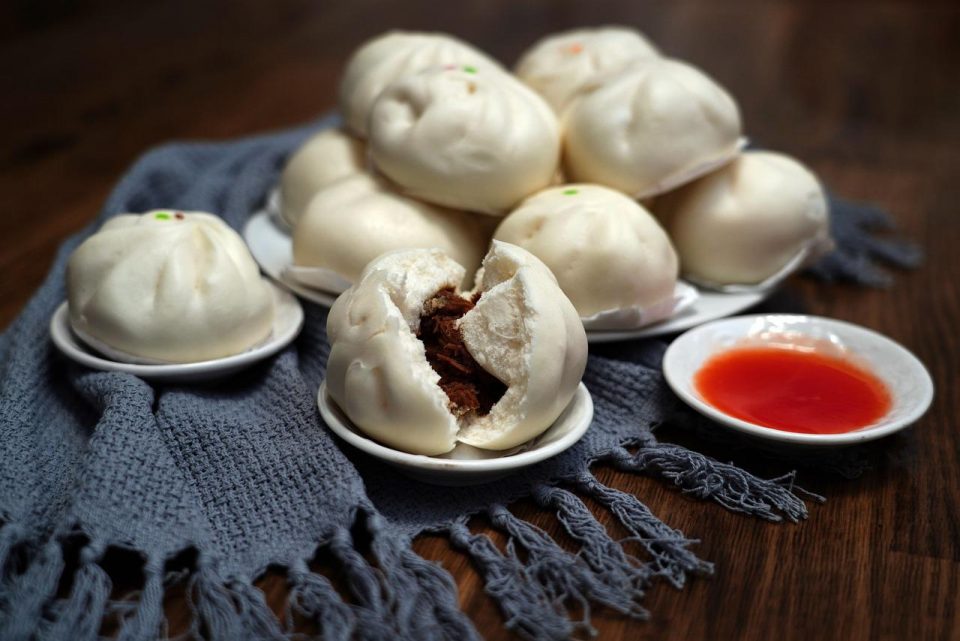 Cha Siu Bao
A popular Cantonese barbecue pork (Cha Siu) filled buns. Usually served during Yum Cha (Chinese traditional brunch). The term Cha Siu means pork Filling while the term Bao means Bun
Siu Mai
Siu Mai or also spelled as Shumai is a Chinese dumpling popular in Chinese cuisine.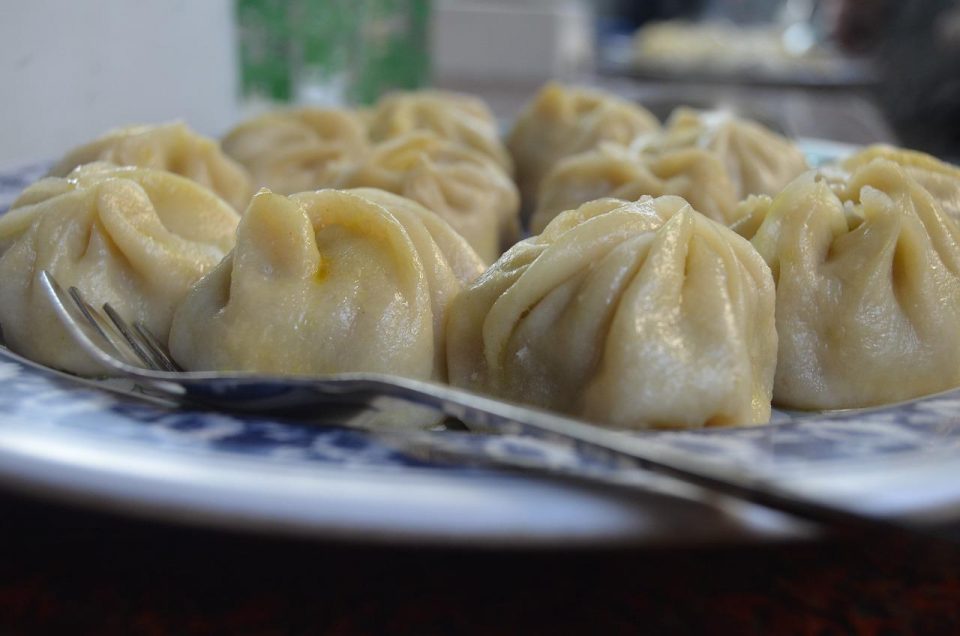 Xiao Long Bao
A small Chinese Steamed bun and savory soup dumplings. Steamed dumpling that is typically filled with hot broth and seasoned pork. Best served with a dipping sauce such as Chinese Black Vinegar accompanied with think slices of ginger.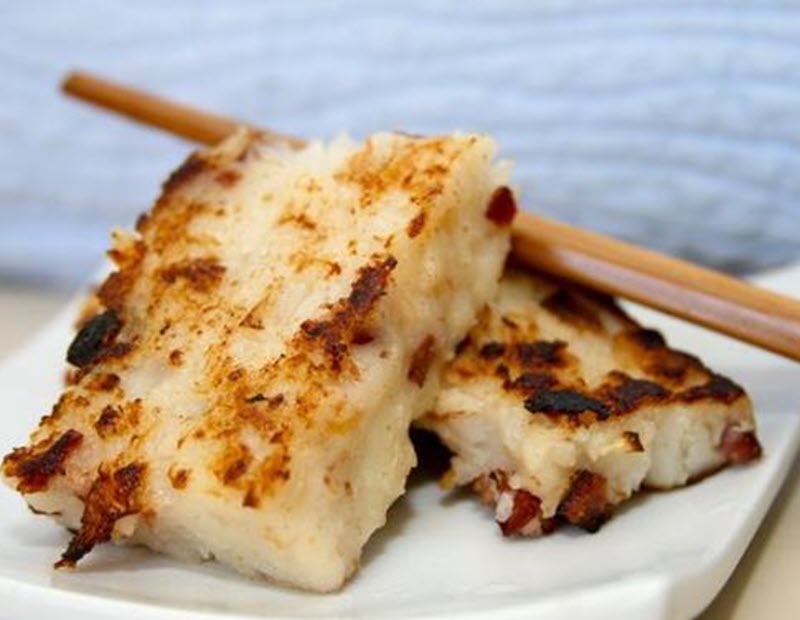 Lo Bak Go
Lo Bak Go is also known as pan fried or steamed turnip cake. It is usually made of white radish or daikon. Shaped into either square or rectangular. It is then steamed creating a soft and cream texture. To make it crispy, it is then pan-fried.
Har Gow
Har Gow is a savory steamed shrimp dumplings served in Dim Sum restaurants.
Lo Mai Gai
These are savory glutinous rice chicken that is usually served during Yum Cha. It is usually mixed with Chicken sausage, mushrooms that are wrapped using lotus leaves. Servings of Lo Mai gai are generally large. Although if you want a small serving, you can choose the Jan Jyu Gai dish.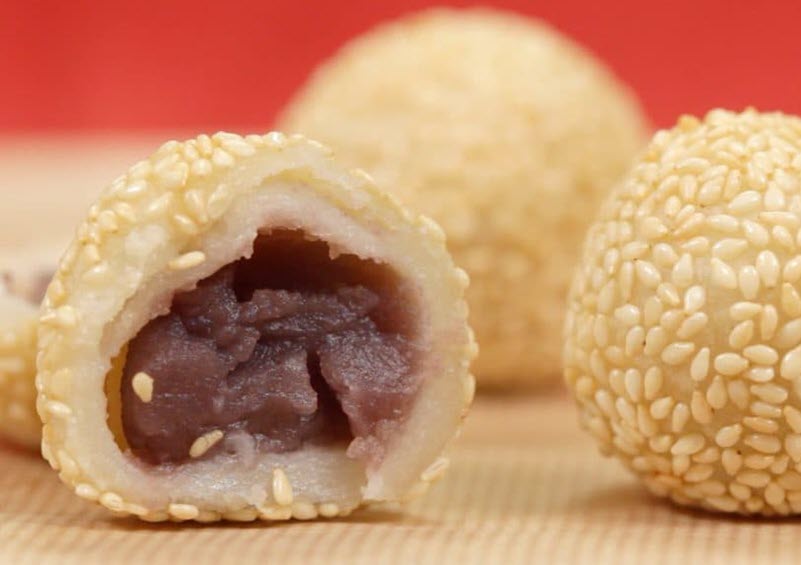 Jin Dui
A sweet sesame ball made from using glutinous rice flour. It is usually served fried. The ball is usually filled with either sweet lotus seed or red bean paste.
Nai Wong Bao
A delicious steamed bun that is filled with creamy custard.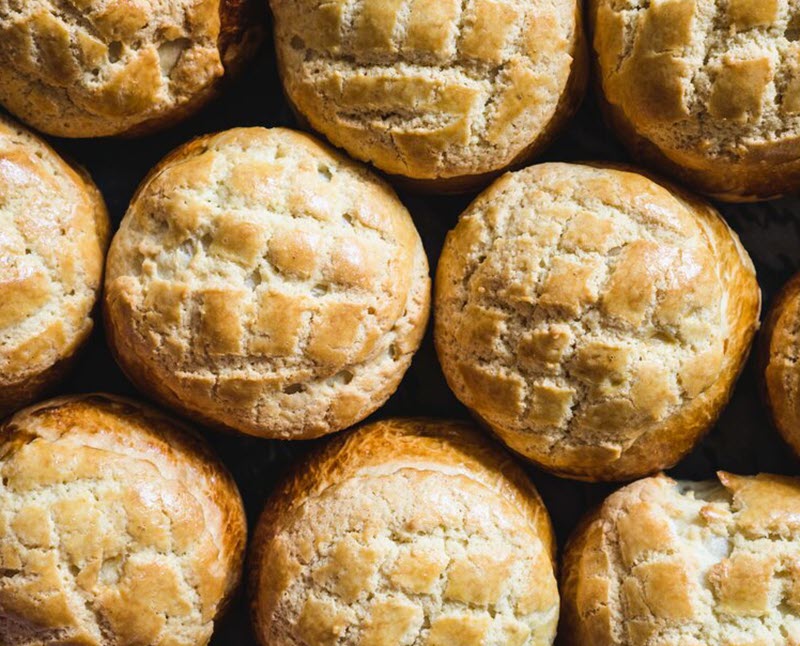 Bolo Bao
These are pineapple buns, although it is not actually filled with real pineapples but rather the yellow filling should resemble that of a pineapple on its exterior surface. You can either filled it with or without custard.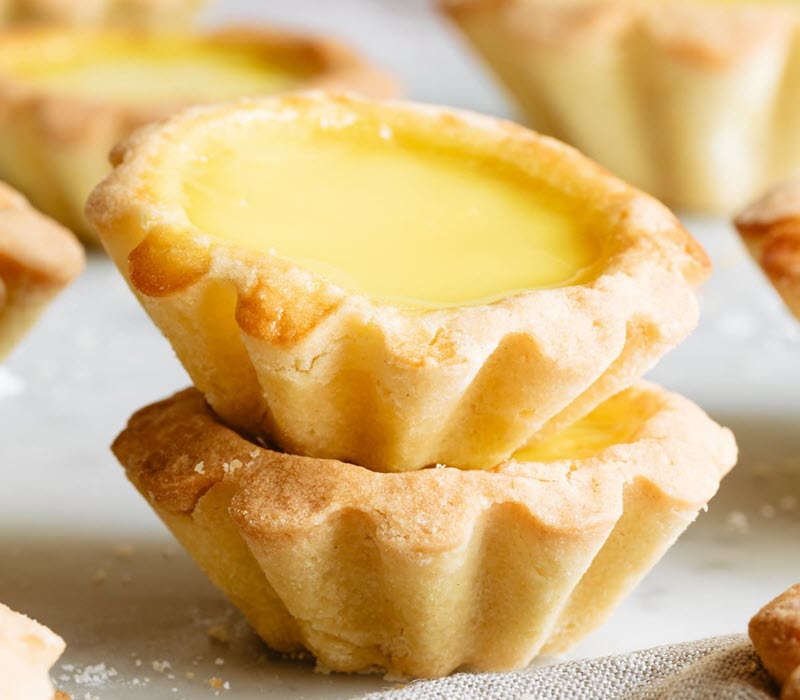 Danh Tat
These are pastry egg tarts filled with sweet custard
Fung Zhao
Fung Zhao is made from using chicken feet.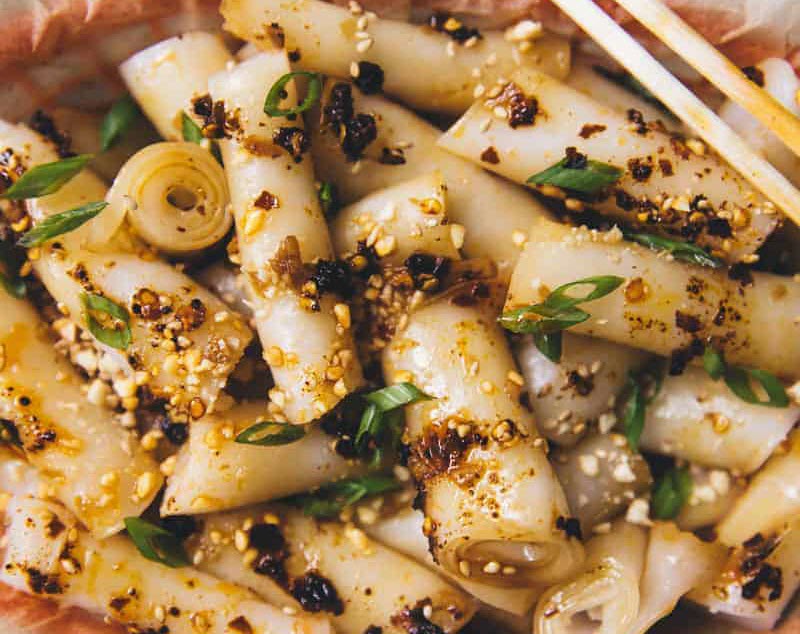 Cheung Fun
Cheung Fun is a steamed noodle rolls best served with either oyster sauce or soy sauce. You can also serve it with beef, shrimp or deep fried dough.
Ham Sui Gok
Ham Siu Gok is another part of the menus items in dim sum restaurants. These are deep fried vegetable and pork dumplings.
What you need to know before ordering Dim Sum dishes or meals
Most of us have already tried ordering and eating dim sum items but for some who haven't experience it yet. Listed below is a guide on the things that you need to know before you order dim sum meals in dim sum restaurants in Los Angeles.
A typical dim sum restaurant usually caters to large groups of individuals where family and friends gather around. If you any peace and quiet, you may opt to order a take-out instead.
Traditional Push carts is usually observed when in authentic dim sum restaurants. Servers used the push carts and go around the tables. Customers will then point to the dish on the cart and it will then be served directly at their table. No more waiting for orders. Usually there is a paper on your table, after choosing the dish, the server will mark the paper of the dish you just ordered so that it will be added to your bill upon checkout.
When you drink tea in Authentic dim sum restaurants, make sure to cover the lid of the tea halfway (not fully closed). Doing so will alert the servers that you want a refill of your tea. But when you are in a modernized restaurant, you can simply raise your hand for the servers acknowledged you and have your tea immediately refiled.
Dim Sum dishes are made to order in modernized dim sum restaurants, this means that a menu will be given to the customers by the servers who are waiting to take your order.
For those that love spicy foods, most of the time the spices are not placed on the table therefore you have to ask for chili sauce instead from the servers.
Dim Sum dishes mostly consists of fillings, that is why make sure to enjoy each variety at a pace. You can mix and match fried, sweet and steamed dishes to be able to try them each kind.
When ordering dim sum, there are no rules as to what to order first. You can order any dish first as you want.
Frequently Asked Questions
What are the best dim sum restaurants that offers delivery?
The best dim sum restaurants that can deliver your orders are as follows: Bao Dim Sum house, Ixlb DimSum Eat, Din Tai Fung, Golden Dragon Restaurant and Din Tai Fung.
What are the affordable Dim Sum restaurants in Los Angeles?
The most affordable and budget friendly Dim Sum restaurant in Los Angeles includes Ixlb DimSum Eat, Din Tai Fund, Golden Dragon Restaurant and Yang Chow.
Conclusion
The restaurants mentioned are just some of the best dim sum restaurants that you can find in Los Angeles. Each restaurants has its own style, menu items and price range. There are however different kinds of dim sum dishes that you can choose from.
If you happen to be in Los Angeles and wants to try dim sum dishes, try the restaurants on this guide and let us know of your experience.