Dumpling is a dish that includes pieces of dough and can be stuffed with tofu, fish, ground meat, or vegetables. There are several methods in preparing dumplings. Dumplings can be baked, boiled, fried, simmered, or steamed.
Today, we are going to learn more about Shumai and Gyoza. These Asian dumplings are very popular, and they go well with soy sauce and vinegar dipping sauce.
Shumai vs Gyoza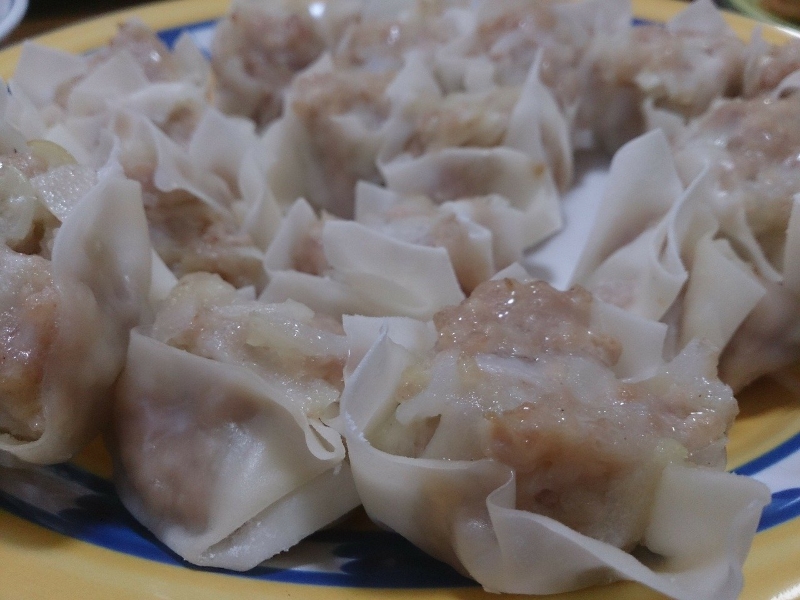 Shumai
Origin
Shumai is a type of traditional Chinese dumpling. It is served as a popular dim sum meal. Shumai originated in Guangdong, China. However, there is also a Japanese version of Shumai. Shumai is also known as Siu mai. A Chinese restaurant in Japan started serving siu mai in the 1920s. These steamed dumplings became popular in Japan and spread throughout Asia.
Japanese Shumai is usually made of minced pork or ground meat and finely chopped onion, topped with a green pea. When it comes to filling, Japanese dumplings are simpler than Chinese dumplings. In Western restaurants, Shumai is usually known as steamed pork dumplings.
Shumai dumpling is cooked by steaming. A lot of Japanese love to make home-made shumai as a snack or appetizer. In Chinese dim sum meals, different kinds of dumplings with several fillings are presented in a bamboo steamer.
Japanese dumplings are not fried, they are steamed using a bamboo steamer basket.
---
Shumai Dipping Sauce
Generally, shumai dipping sauce is made of soy sauce mixed with chili and vinegar.
---
Flavor
Shumais are dumplings made of thin wheat flour wrappers, and topped with green pea, carrot or orange roe. The primary ingredients for Shumai are ground pork and prawns, and onions. Shumai has a savory flavor, with a touch of ginger and scallion. Others love to add mustard on their shumai for extra flavor, but some stay to the traditional vinegar and soy sauce.
Shumai with Shiitake mushrooms also add extra flavor to these dumplings.
---
Appearance
Shumai dumplings have cylindrical shape or round shape. It kind of looks like a basket. They have open tops and the filling of the dumplings can bee seen easily.
---
How to make a Japanese Shumai
Ingredients
300 grams ground pork
1 tsp sugar
1 tsp salt
1 tsp ginger juice
1 tsp sesame oil
2 tsp soy sauce
pepper
150 grams finely chopped onions
2 1/2 tbsp corn starch
Shumai sheets
Frozen green peas
Dipping Sauce:
Soy sauce
Vinegar
Chili oil
Preparing shumai:
In a bowl, add ground pork, salt, sugar, soy sauce, ginger juice, sesame oil, and pepper. Mix well until it becomes like a paste.
Next, add the onion and corn starch. Cover and put in the fridge for 1-2 hours.
After 1 to 2 hours, sprinkle small amount of corn starch over a tray. This is where you will put the shumai later.
Using your fingers, make a hole by linking your thumb and index finger with the rest of fingers next each other. Put the shumai sheet over the round hole made with the thumb and index finger.
Using a tablespoon, scoop a meat mixture and put it on the center of the shumai sheet. Press the meat down gently through the hole while holding the fingers gently.
Smooth out the surface of the shumai, and place a green pea in the middle.
Repeat the process until meat mixture runs out.
1.Using a steaming paper liner, make a round paper with holes. This is to avoid the shumai wrapper from sticking to the bamboo. Make sure the steaming paper liner fits the steamer.
2.Then, place a wok with a cup of water over high heat.
3.Next, put the paper liner inside the bamboo steamer. Put the shumai inside the steamer without touching each other. You can steam the shumai in batches.
4.Once the water starts boiling, put the bamboo steamer onto the wok and steam for 8-10 minutes until the meat is cooked through.
---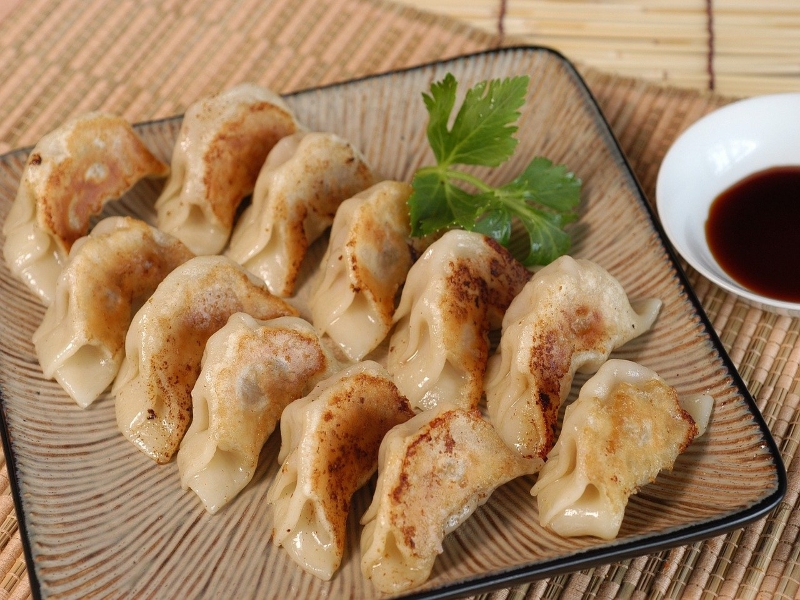 Gyoza
Origin
Gyoza is also a Japanese version of a Chinese dumpling called Jiaozi.
Gyoza is type of Japanese dumpling filled with ground meat and vegetables. This dumpling is available in Japanese restaurants and can also be eaten in Japanese street food. It has a thinner dough.
Japanese soldiers ate Chinese potstickers during World War II in Northern China. Gyoza dumplings were inspired by Chinese potstickers. The original Chinese dumpling is also called Jiaozi.
After the war, the Japanese soldier went back to Japan and creates a Japanese version of Chinese potstickers. These dumplings are now known as Gyoza.
The main filling of gyoza is minced meat and vegetables, such as spring onion, cabbage and ginger. The dumplings are pan-fried first, and then cooked with a small portion of water. There are several cooking methods for Gyoza. These dumplings can also be steamed, boiled and pan-fried.
Just like Shumai, Japanese people serve Gyoza as a snack or side dish.
---
Gyoza sauce
Just like shumai, Gyoza dumpling goes well with a dipping sauce. Sauce is made of soy sauce, vinegar, and some chili which adds spiciness to the sauce.
---
Flavor
The main fillings of gyoza are minced meat and vegetables, such as spring onion, cabbage and ginger. Gyoza, just like shumai, has a savory flavor. Usually Napa cabbage is used in making gyoza filling. This gives gyoza a mild flavor and crunchy texture.
---
Appearance
Gyozas are fried dumplings. They are pan fried using vegetable oil until it becomes golden brown.
Gyoza has half moon shape with pleated design. The edges of the dumpling are pressed. It is easier to pan-fry Gyoza because the dumplings sit flat. This half moon dumpling has a crispy exterior, but the top of the dumpling is tender and soft.
---
Varieties of Gyoza
Sui-gyoza. The dumplings are boiled in a soup or water. It gives a different texture compared to other dumplings. The dumpling is chewier and more tender. It has no crispiness.
Yaki-gyoza. This type of Gyoza is the most common in Japan. This is very similar to Chinese potsticker dumplings. It is prepared by pan-frying the dumplings to give them a crispy exterior, and then steam them with a small amount of water in the pan, a lid is put on top.
Mushi-gyoza. These dumplings are steamed in a bamboo steamer, without the need to fry it. This is a healthier option to Yaki-gyoza and Age-gyoza.
Age-gyoza. This dumplingis deep-fried. It is a crispy dumpling, just like the Yaki-gyoza.
---
How to make Gyoza
Ingredients
Gyoza wrappers
1/4 cup water
1 tbsp vegetable oil
1 tsp sesame oil
3/4 lb ground pork
5 oz cabbage
green onion (2)
shiitake mushrooms
1 clove garlic
1 inch ginger grated
For Gyoza Dipping sauce
1 tbsp vinegar
1 tbsp soy sauce
chili oil
For Filling seasoning
1 tsp sesame oil
1 tsp soy sauce
1/4 tsp sea salt
1/8 tsp ground black pepper
Cooking method
Mince the cabbage, onions and shiitake mushrooms into very small pieces.
Next, mix the ground meat, cabbage, green onions, and shiitake mushrooms in a large bowl.
Add the grated ginger and minced garlic to the bowl.
Then, add the seasonings. Add 1 tsp sesame oil, 1 tsp soy sauce, 1/4 tsp sea salt, and 1/8 tsp ground black pepper to the bowl.
Mix well and knead the mixture with your hand until it becomes sticky.
Place the Gyoza wrapper in your palm. Using a teaspoon, scoop a small amount of filling and place it in the center of the wrapper. Dip one finger in a bowl of water and draw a circle around the outer ¼ inch of the wrapper with your wet finger until it's wet all around.
Next, fold the wrapper in half over the filling and pinch it with your fingers.
With the use of your thumb and index finger, start creating a pleat about once every 1/4 inch on the top wrapper from the center toward the right side, creating 3 to 4 pleats. When you fold each pleat, press the folded pleat tightly against the back of the wrapper.
Continue making 3 to 4 pleats on the left side. Beginning at the center and moving toward the left side.
Press the pleats and form the gyoza.
Using a non-stick frying pan, put the oil and heat it. When the pan is hot, put the gyoza in a single layer.
Cook until the bottom of gyoza becomes golden brown.
Then, add 1/4 cup of water into the pan and cover the lid. Cook the gyoza for about 3 minutes.
Remove the lid to evaporate the remaining water. Add 1 tsp sesame oil around the gyoza.
Cook the gyoza until it turns golden brown and crisp on the bottom.
Gyozas to a plate and serve with dipping sauce.
---
Conclusion
If you are craving for Asian food, try Shumai and Gyoza. These Asian dumplings are appetizing and will definitely satisfy your cravings.