Dumplings are a type of food made up of bits of dough that is produced from a range of starch sources, wrapped around a filling or just dough. The dough can be made from bread, flour, buckwheat, or potatoes and stuffed with meat, fish, tofu, cheese, vegetables, fruits, or desserts. These tasty dumplings are found in many cuisines around the world, and can be made in various ways, including steaming, boiling, baking, frying, or simmering.
Today, we will learn more about the different types of dumplings. If you want to learn more about these delicious dumplings, scroll down and keep reading.
Types Of Dumplings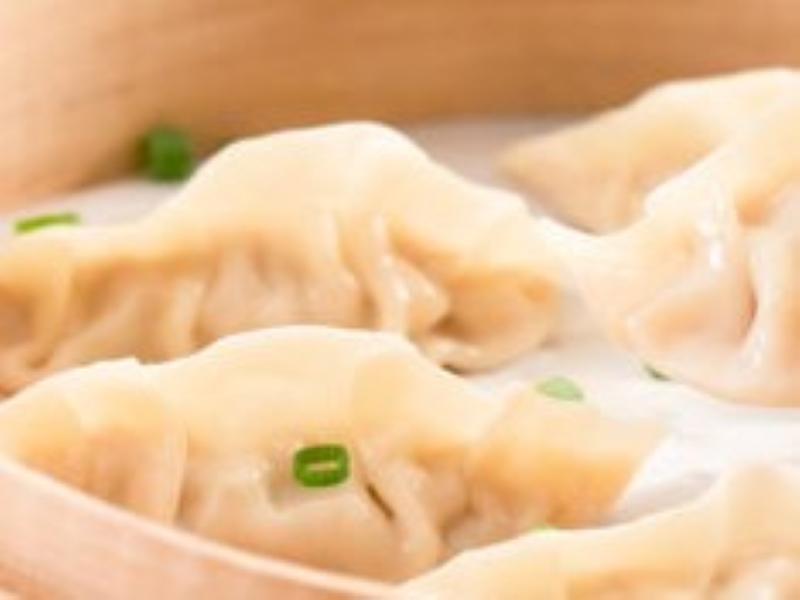 Jiaozi
Jiaozi are Chinese dumplings that are popular in China and other East Asian countries. Jiaozi are folded in the shape of a Chinese sycee and have a lot of cultural significance in China.
Jiaozi is one of the most popular dishes served during the Chinese New Year throughout the country, as well as throughout the year in the northern provinces. Though jiaozi are generally associated with Chinese cuisine, they are also popular in other regions of East Asia and the Western world, where a fried variety is known as pot stickers.
Jiaozi is a thin rolled piece of dough filled with ground meat and/or vegetable mixture, and sealed by pressing the edges together. The Chinese dumpling is generally served with a black vinegar and sesame oil dip and can be boiled, steamed, pan fried, or deep fried. They can also be made into soup dumplings, known as tāng jiǎo.
The dipping sauce of this Chinese dumpling can be made of rice wine, soy sauce, sesame oil, vinegar, ginger, garlic, and spicy sauce or chili oil.
Types of Jiaozi
Boiled dumplings
Pan-fried dumplings
Deep-fried dumplings
Soup dumplings
Fillings
Chicken, ground pork, ground beef, shrimp, and fish are common meat fillings for dumplings, which are generally blended with chopped vegetables. Napaka cabbage, shredded carrots, scallion/spring onions, spinach, celery, leek, mushroom, garlic chives, and edible black fungus are also popular vegetable fillings.
---
Banh Bot Loc
Banh Bot Loc is a type of dumpling that is little, clear-looking, chewy tapioca dumplings. The dumpling originated in Vietnam. It can be served as appetizers or small snacks in Vietnamese cuisine. The dumpling is frequently stuffed with shrimp and pork belly, and it is served with sweet chili fish sauce and fried shallots.
Banh Bot Loc can be steamed or boiled, either wrapped in banana leaf or not. It is known Banh Bot Loc la with the banana leaf wrapping, which means "clear flour cake with leaf," and Banh Bot Loc tran without the banana leaf wrapping, which means "clear flour cake bare."
Fillings
The traditional filling is a whole grilled shrimp with the shell on and a piece of pork belly, although other filling options include shrimp without the shell, ground pork, mushrooms, and minced onions. Corn starch and rice flour, in addition to tapioca flour, have also been used in the production of the translucent wrapper.
---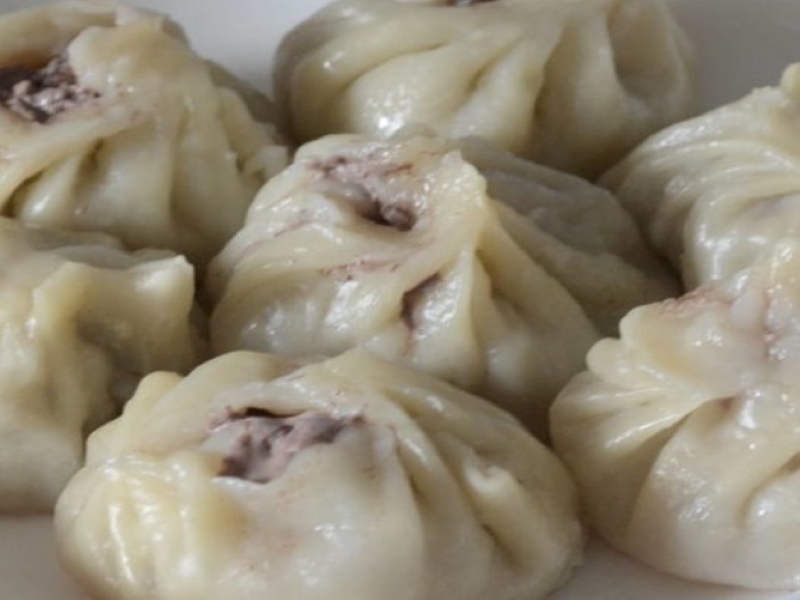 Buuz
Buuz is a type of dumpling that is originated in Mongolia. It is a steamed dumpling filled with meat.
The steamed dumpling is usually served at home during Tsagaan Sar, the Lunar New Year, and is an example of classic Mongolian and Buryatian cuisine. It is now available in restaurants and small cafes across Ulaanbaatar, Mongolia's capital city.
Fillings
Buuz are packed with salted minced meat, such as mutton or beef that has been flavored with onion and garlic. Usually, sprouted fennel seeds and other seasonal herbs are added to the mix. You can also add mashed potatoes, cabbage, or rice.
The meat ball is then put within a little pocket of dough that is folded around it with a small opening at the top in the chef's own way. The buuz is then cooked and eaten by hand, with the meat juices caught in the dough pocket.
Buuz has a similar filling as khuushuur, another Mongolian dumpling which is fried.
---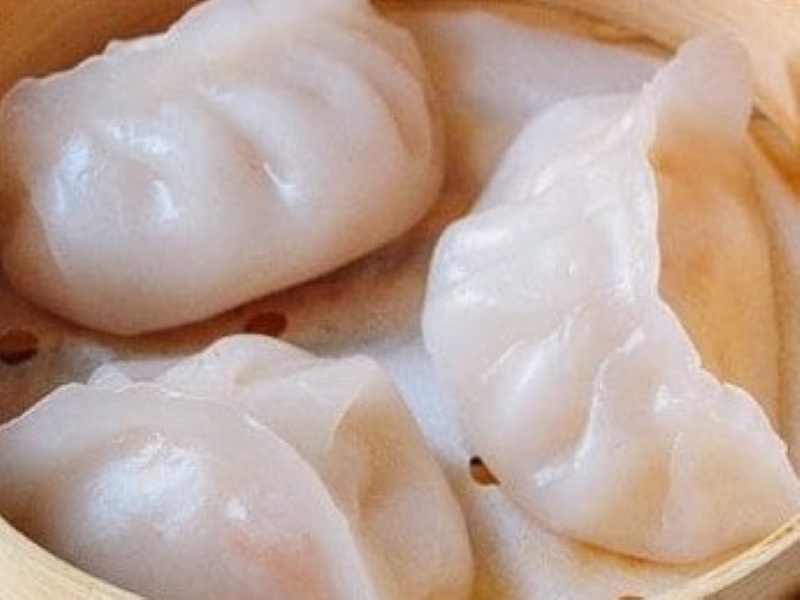 Har Gow
Hargow is also known as ha gow, haukau, or hakao. It is a traditional Cantonese dumpling served in dim sum. Because of its pleated shape, har gow is also referred to as a shrimp bonnet.
Fillings
The Har gow is composed of a juicy shrimp filling and a thin, transparent tapioca and wheat starch skin.
These shrimp dumplings have translucent wrappers and are packed with shrimp chunks, bamboo shoots, scallions, and grated ginger. The tapioca and wheat flour wrappers are then pleated and steamed. Har gow is often served together with Siu Mai.
Traditionally, the wrapper of a ha gow should have at least seven, preferably ten or more pleats. The wrapper must be thin and translucent, but strong enough to withstand being picked up with chopsticks without breaking. It must not adhere to the container, paper, or other contents of the basket. The shrimp must be cooked thoroughly, but not to the point of being overcooked. The amount of meat should be substantial, but not so large that it cannot be consumed in one bite.
---
Siu Mai
Siu Mai or Shumai is a type of traditional Chinese dumpling. It is served as a popular dim sum meal. Shumai originated in Guangdong, China.
Chinese Varieties Of Siu Mai
Hohhot Shaomai
Hothot shaomai has an extremely thin, round sheet of unleavened dough, with a pleat border wrapper.Only one type of filling is used, which comprises primarily of chopped or minced mutton, scallion, and ginger. The usage of scallion and ginger in Hohhot shaomai creates a strong mixed aroma and a somewhat spicy taste.
Cantonese Siumaai
This variety comes from the southern provinces of Guangdong and Guangxi and is the most well-known outside of Asia. The siumaai is also referred to as pork and mushroom dumpling. Ground pork, small whole or chopped shrimp, Chinese black mushroom, green onion, and ginger are used in the filling, which is seasoned with soy sauce, sesame oil, chicken stock, Chinese rice wine, such as Shaoxing rice wine.
Hunan Juhua Shaomai
Also known as chrysanthemum shaomai. This variety is originated in Changsha, Hunan province. The opening of this shaomai resembles the petal form of a chrysanthemum flower. It has a transparent wrapper and the flavor is spicy with pepper. Glutinous rice, pig hash, shrimp, shiitake mushrooms, bamboo shoots, and onion make up the majority of the stuffing.
Jiangnan Shaomai
This shaomai is filled with marinated pork pieces in glutinous rice, soy sauce, and Shaoxing wine, and cooked with pork fat, similar to zongzi from the region. Its size is bigger than that of the Cantonese version.
Shiitake mushrooms and onion are also included in the Shanghai version. Before being used as a filling, the mince, mushrooms, and onion are stir-fried first.
Fun Guo
Fun Guo originated in Chaoshan area, Guangdong, Southern China, made by Teochew people. In Cantonese dim sum, fun guo looks remarkably similar to har gaw, shrimp dumplings.
These Asian dumplings are also known as Teochew dumpling, fun gor, Chaozhou fun guo, fun quor, fen guo, Chiu Chow dumpling, hung gue, and fun kor.
Fillings
The main ingredients are filled with ground pork, chopped peanuts, garlic chives, dried shrimp, dried radish and shiitake mushrooms. The wrapper is made of de-glutenized wheat flour, tapioca flour, and corn or potato starch.
---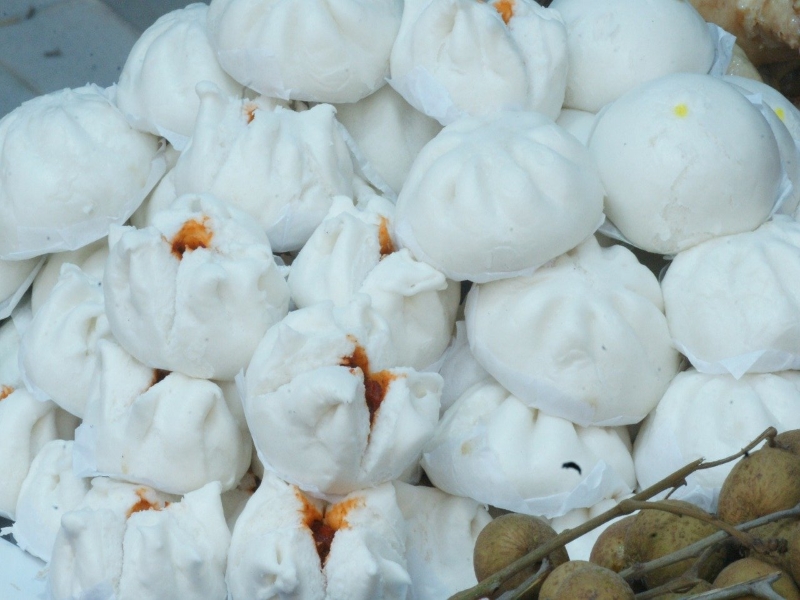 Baozi
Baozi, often known as bao, is a yeast-leavened filled bun dumplings found in a variety of Chinese cuisines. The fillings are usually meat or vegetables, and the methods of making it vary widely, though steamed buns are the most common.
Types Of Baozi
Cha siu bao
This type of baozi is filled with BBQ-flavored char siu pork.
Xiao long bao
The Chinese xiao long bao is a shanghai-style meat-filled baozi with a flavorful broth. Xiao long bao is sometimes considered different from other bao types because it is juicy and made only with thin, partially leavened dough, and it resembles a jiaozi more closely.
These Shanghai steamed dumplings are most commonly known as soup dumplings. The stuffed dumplings are made of ground pork, mushrooms, ginger, and garlic. A small aspic is also included, which melts when steamed and creates a flavorful broth.
Sheng jian bao
Sheng jian bao is a steam-fried pork bun loaded with juicy pork.
Gua bao
Gua bao started as a Fujianese street snack. Unlike other forms of bao, it is produced by folding the flat steamed dough over, which results to an open-faced bun. It also comes with a variety of fillings.
---
Kroppkaka
These tasty dumplings are originated in Sweden. Kroppkakor is often served with melted butter, lingon-jam, or sour cream. It's also commonly served with fried unsmoked streaky bacon. There are some regional differences in the recipe, especially in the quantities of boiling and raw potatoes. Spices play a big role in some of the recipes.
Fillings
Kroppkaka are Swedish boiled potato dumplings that are traditionally filled with onions and meat or bacon. Kroppkaka is made with potatoes, wheat flour , onion, salt, and minced pork.
---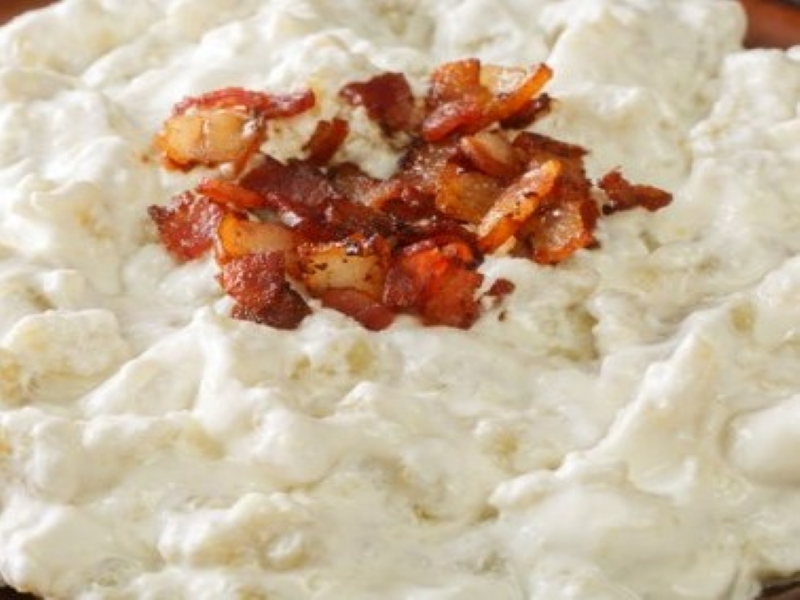 Halušky
Halusky is a classic type of thick, soft noodles or dumplings prevalent in many Central and Eastern European cuisines. They go by various names, especially in Slovakia. Similar to Italian gnocchi or German spätzle, halušky are Slovakian potato dumplings that are widely consumed throughout Eastern Europe.
A batter of flour and grated potatoes is used in making halušky dumplings. The batter is spread out on a wooden cutting board, and small pieces are placed into hot water from there. They can alternatively be made using a perforated cooking strainer (haluškar), in which the batter is put directly into boiling water through small holes in the haluškar.
It is believed that Bryndzové halušky is the national dish of Slovakia. Frequently paired with bryndza (sheep's cheese), bacon, and bacon fat. Caramelized butter with cabbage, onions, or mixtures of these products are substituted for bryndza in various parts of Slovakia.
---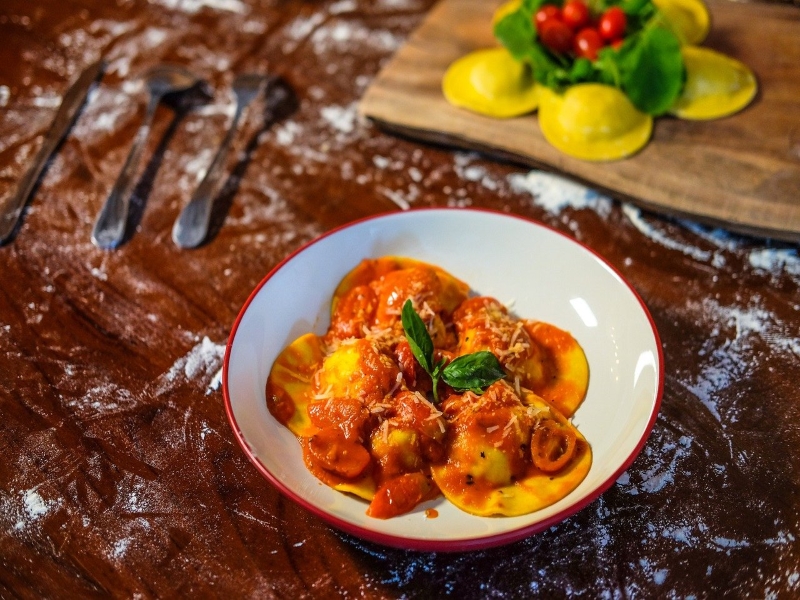 Ravioli
Ravioli is also a type of dumpling, but it is also a pasta with a filling encased in a thin layer of pasta dough. They originated as a traditional Italian dish, usually served in broth or with a sauce. Italian ravioli are generally square, but various shapes, such as round and semi-circular, are occasionally used.
Fillings
Ravioli can be stuffed with a variety of ingredients, including meat, cheese, and vegetables, and are typically served with a sauce or in broth.
---
Gyoza
Gyoza is a Japanese version of a Chinese dumpling, Jiaozi. They are, however, usually produced with thinner wrappers.
Japanese soldiers ate Chinese potstickers during World War II in Northern China. Gyoza dumplings were inspired by Chinese potstickers.
After the war, the Japanese soldiers went back to Japan and create a Japanese version of Chinese potstickers. These dumplings are now known as Gyoza, which is a crescent shaped dumpling.
Fillings
The main fillings of gyoza are minced meat and vegetables, such as spring onion, cabbage, scallions, and ginger. The dumplings are pan-fried first, and then cooked with a small portion of water. There are several cooking methods for Gyoza. These dumplings can also be steamed, boiled and pan-fried. Gyoza dumpling goes well with a dipping sauce. The sauce is made of soy sauce, vinegar, and some chili oil which adds spiciness to the sauce.
---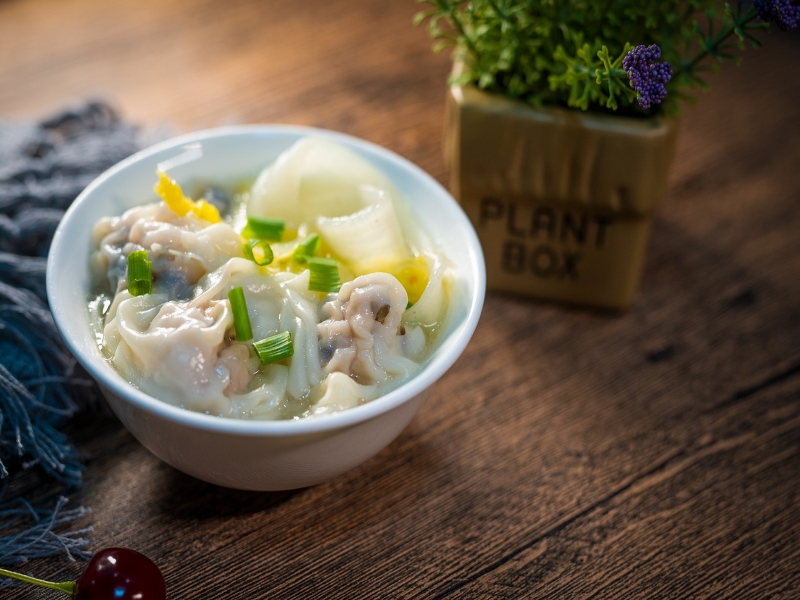 Wonton
A wonton is a type of Chinese dumpling that can be found in various regional styles of Chinese recipes.
Wontons are similar to jiaozi dumplings in that they are wrapped in a thin yellow square dough wrapper or an isosceles trapezoid and folded in a triangle shape that resembles a Chinese gold ingot known as yuanbao. Jiaozi are wrapped in a thicker circular white dough wrapper with additional filling and either flat or pleated edges. Wontons can be boiled (when served in soup) or deep-fried, which can be served with a dipping sauce .
Wontons are commonly boiled and served with broth. After being thoroughly boiled, the wonton dough wrapper, also known as a wonton skin, turns transparent. Boiling a wonton takes much less time. The texture is really smooth as well. As an appetizer, the dumpling has grown immensely popular in Chinese restaurants worldwide.
Fillings
Ground pork and shrimp are the most common fillings, with a small amount of flour added as a binder. Salt, spices, and sometimes garlic or finely chopped green onion are added to the mix.
---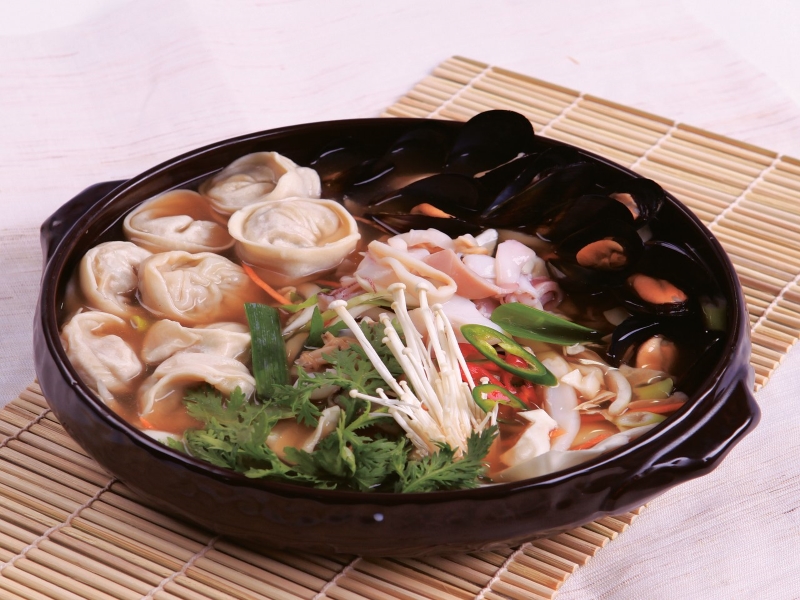 Korean Mandu
Korean Mandu are popular dumplings in the Korean cuisine. They can be boiled, steamed, pan-fried or even deep-fried. The styles also differ depending on where you are on the Korean Peninsula. Mandu have long been part of Korean royal court cuisine, but they can now be found at restaurants, supermarkets, and snack shops like Pojangmacha and Bunsikjip all throughout the country.
Mandu can be formed like jiaozi and Italian tortellini. On New Year's day, mandu is a popular dish.
Fillings
Korean mandu is filled with minced pork, tofu, vegetables, and kimchi.
---
Chuchvara
Chuchvara, also known as Joshpara, is a type of dumpling popular in Central Asia, the South Caucasus, and the Middle East. Unleavened wheat dough squares are filled with ground meat and seasonings. The meat filling is normally free of pork in accordance with Islamic dietary rules.
Fillings
The main ingredients are dough (flour, eggs, water, salt), ground meat (other than pork), black pepper, herbs, onions, and salt.
---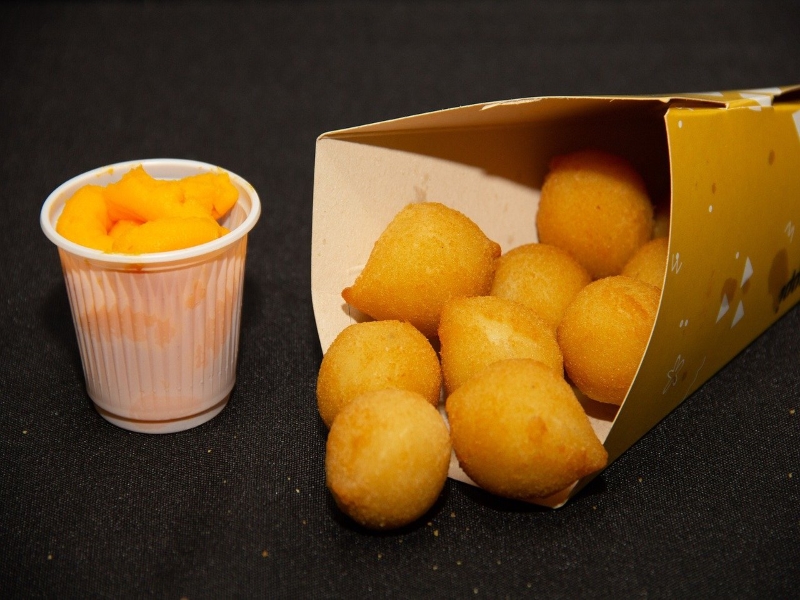 Coxinha
Coxinha originated in Brazil. It is a famous Brazilian dish made of chopped or shredded chicken meat wrapped in dough, formed into a teardrop shape, battered, and fried. It can be served with any dipping sauce.
Coxinhas were first produced with a chicken thigh, which is what its characteristic shape is supposed to imitate. In the 19th century, it may have originated in Limeira in its modern processed form.
Fillings
The dough for the coxinha is made with wheat flour, chicken broth, and sometimes mashed potato, and it is filled with shredded spicy chicken flesh or a whole chicken thigh.
Chicken, catupiry cheese or requeijo, onions, parsley and scallions, and occasionally tomato sauce and turmerice make up the stuffing. The coxinha is battered, then coated in bread crumbs or manioc flour before being deep fried. It is formed to resemble a chicken leg. The dough used to coat the filling is usually made with the chicken broth, which gives the coating a richer flavor.
---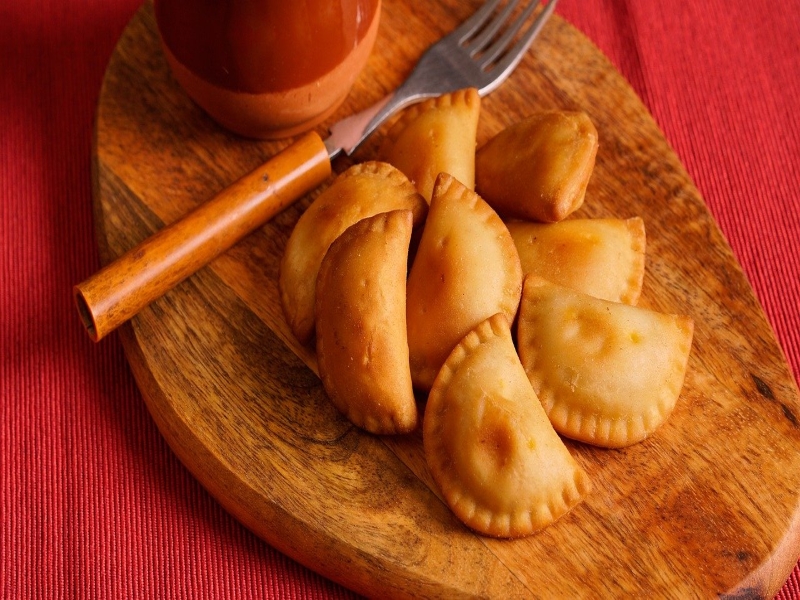 Empanada
An empanada is a type of baked or fried turnover made out of dough and filling that is popular in Spanish, other Southern European, Latin American, and Philippine cuisines. From the Spanish word "empanar", meaning coat with bread.
Fillings
Meat, cheese, tomato, corn, or other ingredients are used to make the savoury filling, and the turnover is then baked or fried.
---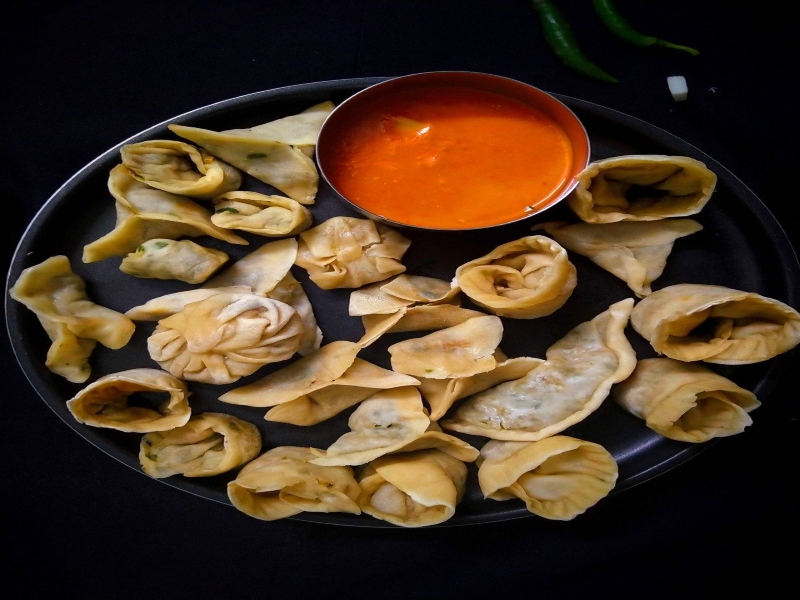 Momo
Momo originated in Tibet and Nepal. It's a dumpling dish that's particularly famous in Nepal, Tibet, Pakistan, and India.
Fillings
Depending on where you eat them, the steamed dumplings are stuffed with a variety of meats, vegetables, and even cheese. Usually served with chutney or a spicy tomato sauce.
The main ingredients are composed of white-flour-and-water dough; vegetable, meat or cheese filling served with tomato and mayonnaise dip, tomato soup, soybean- perilla-peanut and sesame soup.
---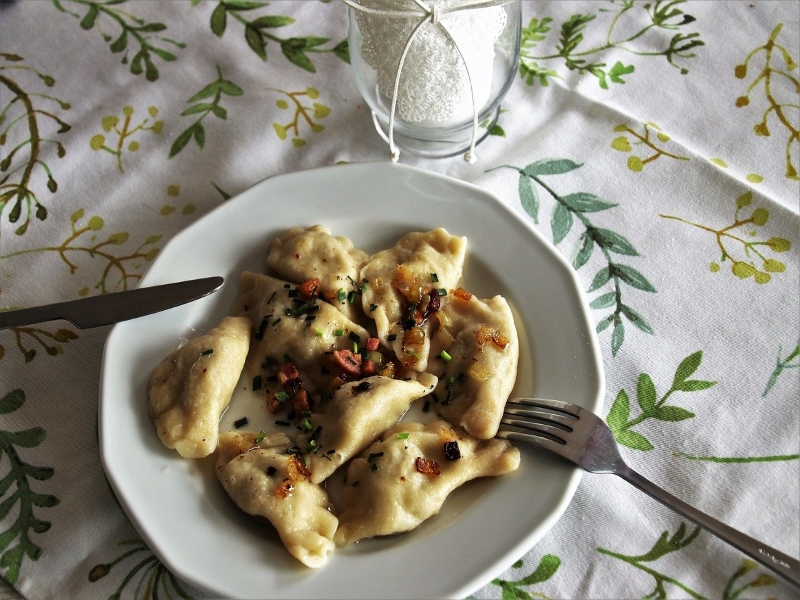 Pierogi
Pierogi is also known as Perogie, pirogi, or pirohy. The filled dumplings are formed by wrapping unleavened dough around a savory or sweet filling and cooked in boiling water. Before serving, they are usually pan-fried.
Fillings
Depending on the cook's preferences, pierogi can be filled with mashed potatoes, fried onions, quark or farmer cheese, cabbage, sauerkraut, pork, mushrooms, spinach, cheese, or other things.
Dessert dumpling versions can be filled with sweetened quark or a fresh fruit filling like apple, strawberry, cherry, raspberry, blueberry, or plum. Sometimes, stoned prunes and jam are also used. Sour cream can be added to the dough mixture for extra flavor and to lighten the dough.
---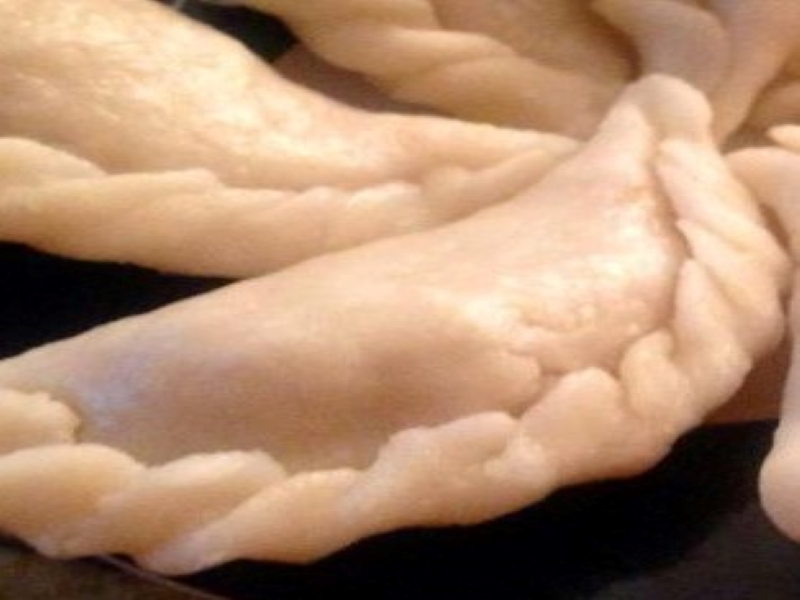 Pitha
Pitha is a type of dish that resembles pancakes, dumplings, or fritters that originated in Odisha, influencing Bengali cuisine. Pitha is formed with a dough or batter that is steamed, fried, or griddled and can be sweet or savory. Only a few kinds are baked or boiled in the oven, and the most are unleavened and prepared on the stovetop. A filling, garnish, or sauce may be included in some varieties. After cooking, only a few can be set or shaped. They are usually served with chai as a snack or as a treat on special occasions.
Fillings
Pithas are created primarily from a rice flour or wheat flour batter that is molded and filled with sweet or savory ingredients.
Ingredients like cauliflower, cabbage, radish, or potato are usually fried, baked, or steamed before being mashed, cooled, and formed into small balls to stuff into the vegetable pithas.
Sweet pithas usually contain jaggery, date juice, sugar, or palm syrup, and may be filled with grated coconut, fried or roasted sesame seeds, cashews, pistachios, sweetened vegetables, or fruits. Cardamom and camphor are also frequently used to flavor sweet pithas.
---
Samosa
A samosa is a popular delicious deep-fried Indian dish.
Fillings
The fillings of samosa include spicy potatoes, onions, peas, chicken, and/or other meats that is fried or baked. Depending on the region, it can have various shapes, such as triangle, cone, or half-moon.
Conclusion
With that said, these dumplings are delicious and will definitely satisfy all of your cravings. It's nice to enjoy them with family or friends.