If you are looking for a way to steam your food, then you might want to start using a bamboo steamer. Wait, you don't know how to use bamboo steamers? No problem! We got you covered.
* If you buy through links on our site, we may earn an affiliate commission. For more details, please visit our Privacy policy page.
In this post, let us take a deep dive into how to use a bamboo steamer, so you get delicious and fresh food.
What are bamboo steamers?
As its name suggests, bamboo steamers are made of woven bamboo strips. They look like interlocking baskets that are stacked on top of each other. On top, there's a lid to cover the basket. Usually, there are two to three baskets included in one set of bamboo steamers.
Why use bamboo steamers?
Before you know how to use a bamboo steamer, you might want to know why use it in the first place.
With the use of a bamboo steamer basket, food is cooked using the steaming process. Here are some of the reasons you should use bamboo steamers:
Only use moist-heat to cook food items, which means it doesn't add fat
Preserve the nutrients and natural flavor of your food
Can cook almost anything such as grains, vegetables, poultry, fish, and bread
Allow you to cook a lot of food at the same time
Relatively faster time to finish cooking food
Steaming is a gentler way to cook delicate food ingredients
Easy to use and looks nice in your culinary presentation
While there are a lot of advantages to using bamboo steamers, you might also want to consider the downside. For example, bamboo steamers can easily absorb the odors of the food you're cooking. So, you need to be cautious when steaming strong-smelling food such as fish.
An overview of cooking with bamboo steamers
When you know how to use a bamboo steamer, you can simply do it on top of a burner or stove. You can then have your bamboo steamer and a pot or pan. Fill the pot with the right amount of water, turn on the heat, and bring the water to its boiling point.
The food to be cooked is placed inside the bamboo steamer, which is then placed on top of the water. The hot steam brought by the simmering water would then circulate through the bamboo steamer and eventually cook the food.
While bamboo steamer baskets are a popular kitchen tool to steam food, there are also other products such as electric rice cooker and microwave used for the same purpose.
With that being said, let us now go to the in-depth discussion of the specific steps of using bamboo steamers.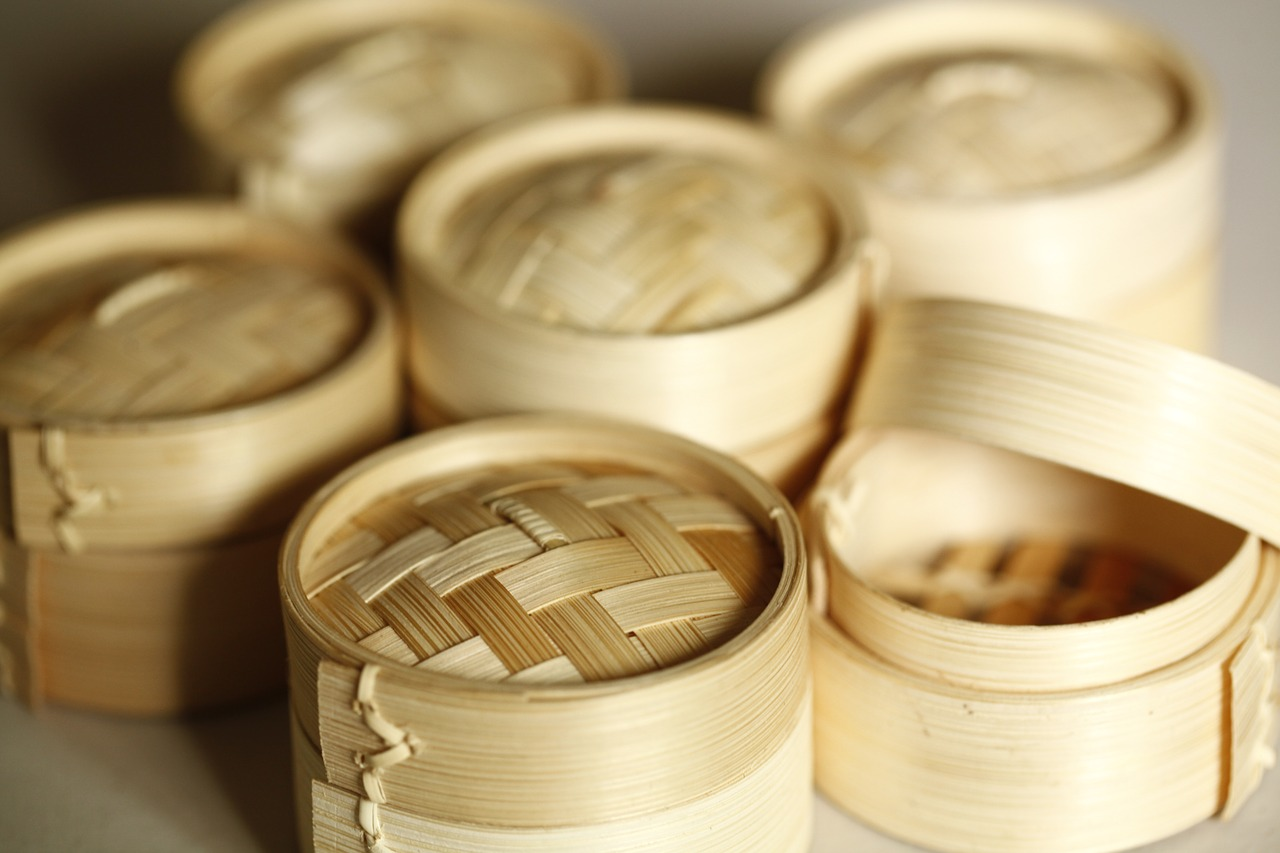 Step 1: Choose the right bamboo steamer
Now, not all bamboo steamers are made equal. Some are made cheaply while others are made professionally.
To know how to use a bamboo steamer, you should also know how to find the right one. Here are a few factors you need to consider:
Price – check a few bamboo steamer baskets and determine their average price. From there, you should know whether a bamboo steamer comes at the right price or not.
Size – Usually, a bamboo steamer basket is about ten inches in diameter. If you're preparing food for a big family, then you would need to get a bigger steamer.
Reviews – check what other people are saying about a certain bamboo steamer. You should then get a general idea of whether that product is a good choice or not.
Quality – bamboo steamers are made with 100% organic and high-quality bamboo. Sadly, some cheaper ones might be made of cheap materials as well. So, it will fall apart after a few months. Be sure the bamboo steamer you're buying is BPA-free to avoid any health issues.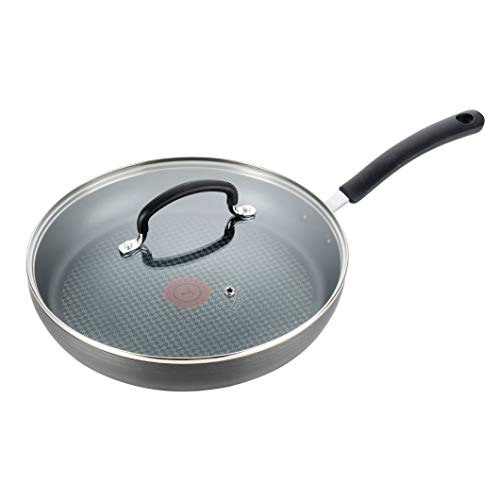 Step 2: Choose your pan
The bamboo steamer will only work if you use it together with a pan. However, you can't use just any other pan. It should be of the right size.
Traditionally, a wok is used when using a bamboo steamer. Actually, a wok is a preferred pan to use because it is thinner and comes with a wide rim.
If you don't have a wok, a pan or skillet should also work. You just need to make sure that it has a rim wide enough to accommodate the bamboo steamer. The pan is also preferably shallow. Be sure that the sides of your steamer do not touch the pot. Otherwise, the pot will burn your steamer.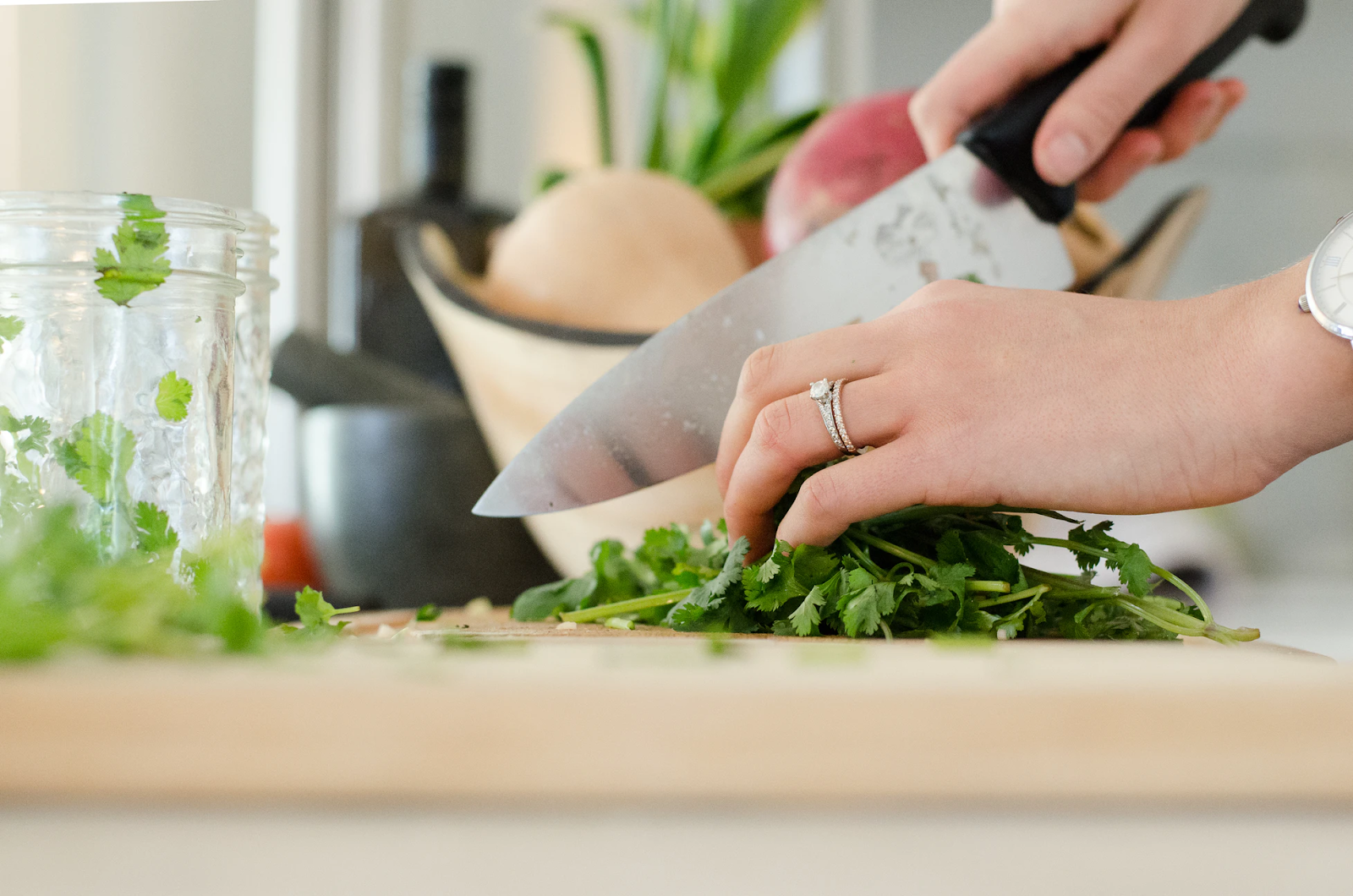 Step 3: Prepare your food
There is a lot of food that you can cook or prepare with bamboo steamer baskets. These may include the following:
Dumplings
Siopaos
Vegetables
Buns
Gua bao
Salmon
Sushi
Bread
Rice
Cakes
Desserts
And a lot more…
Bamboo steamers are highly versatile in their usage. As you can see, there are so many recipes to choose from. Be sure to determine what to cook first, so you can quickly proceed to the next steps.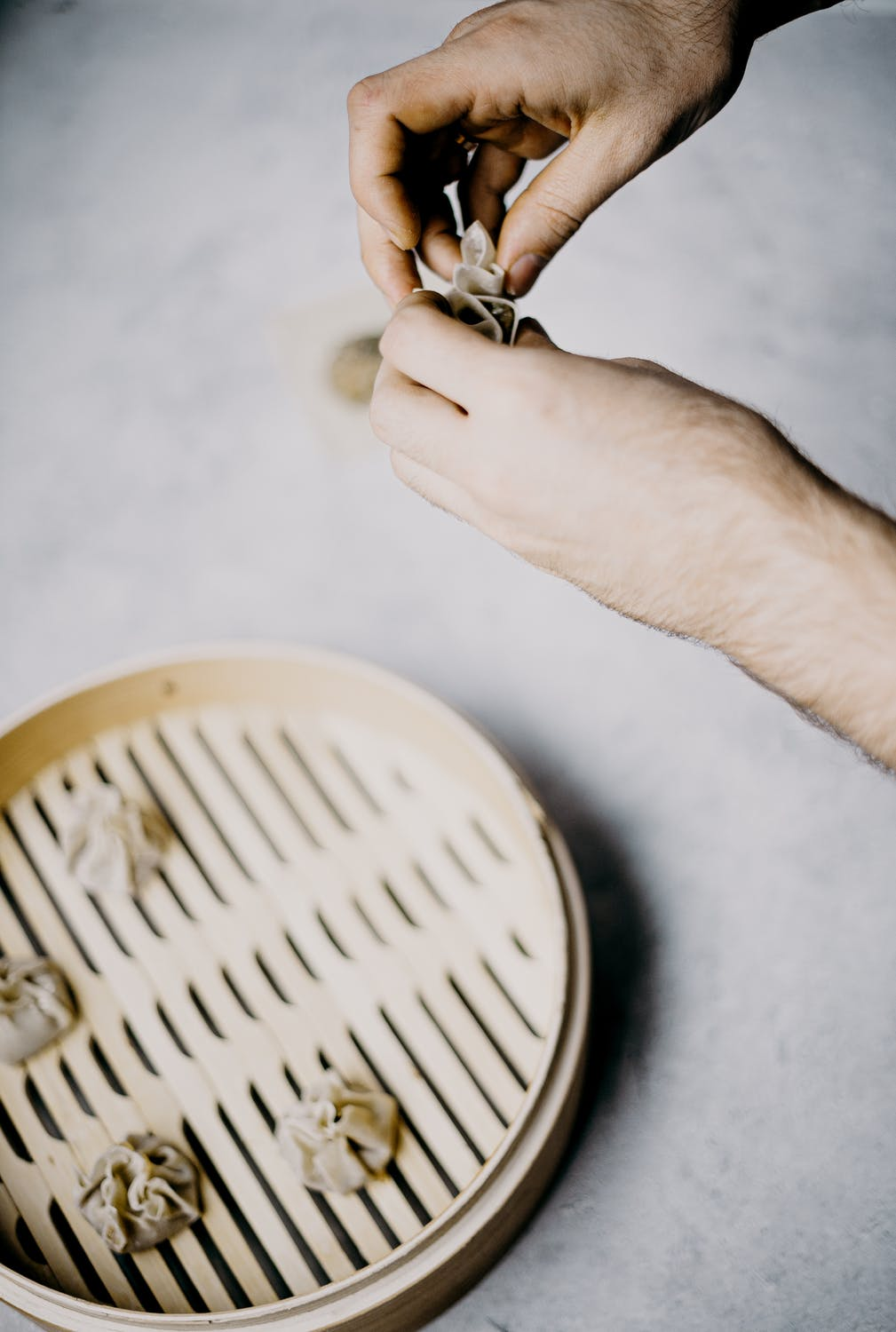 Step 4: Place your food into the bamboo steamer
We have already mentioned above that when placing the bamboo steamer, don't let its side get in contact with the pan as it will burn your steamer. If your pan is small, don't proceed until you get the right size.
Once you have your bamboo steamer, pan, and food, it's time to place your bamboo steamer into the pan (or wok). Depending on the quantity of food you want to cook, you can use up to 3 baskets at a time.
Please note that some bamboo steamer baskets have more than 3 baskets. If you have that, use the baskets with caution. The higher the baskets, the less stable they become.
In most cases, you might simply place your food directly on the steamer bed. If this is the case, you need to line your steamer bed, so the food won't stick to the bamboo. There are a few products or items you can use. Here are some of them:
The type of liners would depend on what you're cooking. The most commonly used would be wax steamer liners. It doesn't only prevent your food from sticking to your bamboo steamer baskets, but it will also keep your bamboo steamer free of odors and flavors.
Some pro tips about how to use a bamboo steamer: be sure that the lining you choose comes with a porous surface. The small holes should let the steam penetrate the food and the heat circulate around it.
However, if you're trying to cook marinated meat, vegetables, or any food you want to keep the sauce and juice, use heat proof plates, bowls, and even banana leaves instead.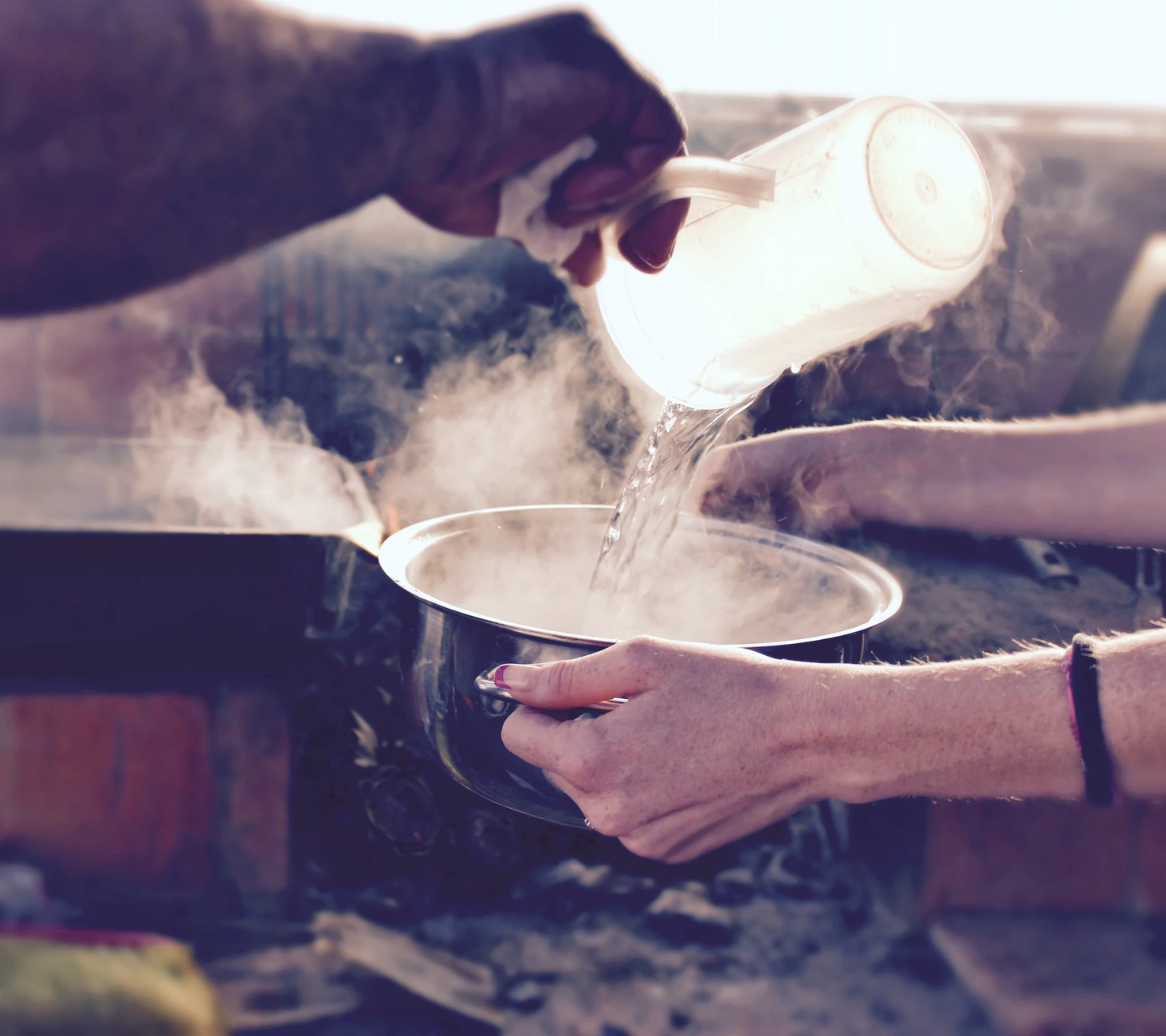 Step 5: Fill your pan with water
You should use the right amount of water when steaming. The water level should only be up to half an inch above the bottom rim of the steamer. Higher than this could cause the water to touch your food especially when the water starts to bubble when it reaches boiling level.
You can either pre-heat the water or not. Generally, it doesn't matter unless specifically stated in your recipe. However, most people would rather start with cold water and gradually increase the temperature.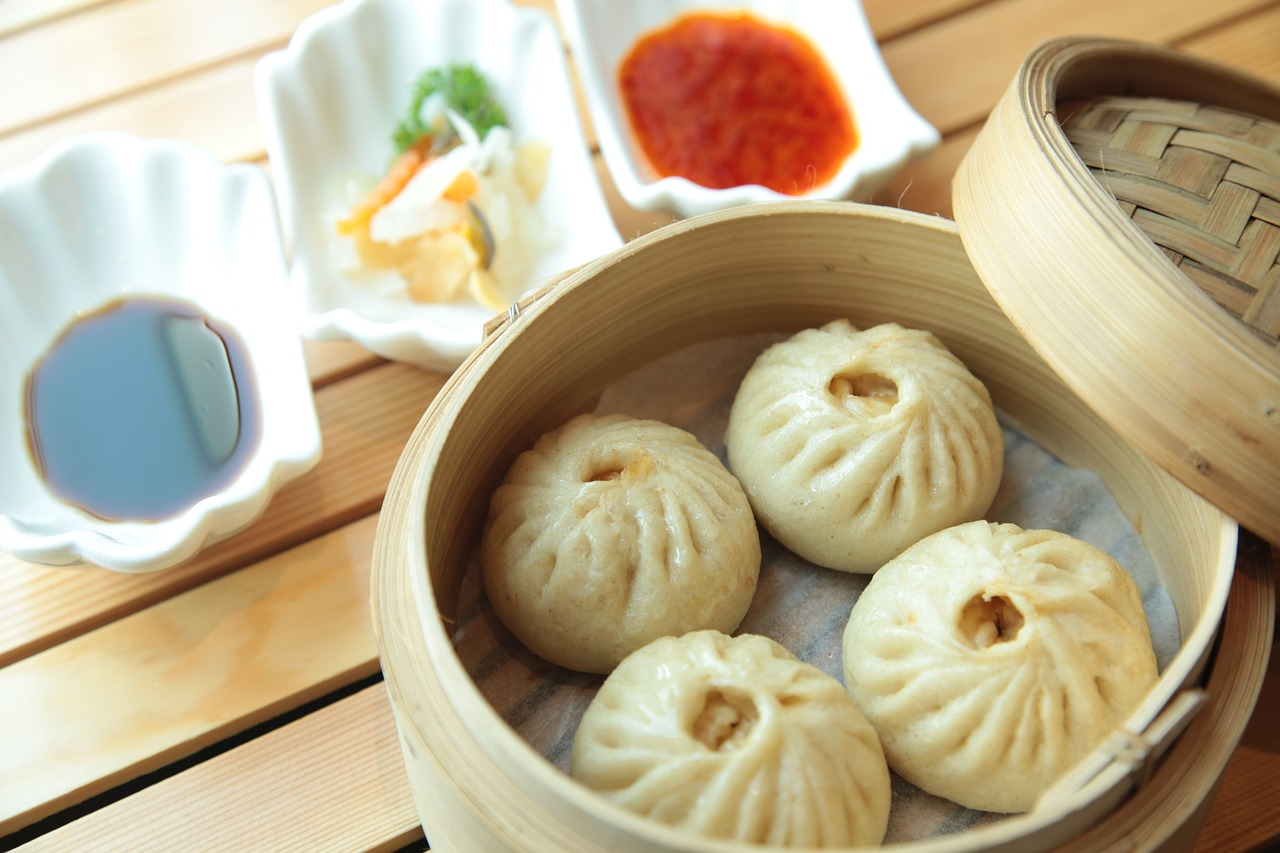 Step 6: Steam your food
By this time, all things should already be set up properly. It's time to steam and cook your food. How long you should steam your food would depend on the recipe you're following.
Be sure to check the water level. You don't want the water to evaporate completely as that will ruin your dish. When you need to add water, as much as possible, it should also be boiling water. If you're going to add lukewarm or cold water, it will stop your water from simmering, which can, of course, interrupt your cooking.
Some pointers to remember: when placing food in your steamer, don't overcrowd them. For example, dumplings, siomai, buns, bread, and siopao would expand and increase in size. You don't want your food to stick together or retard its natural size as this will ruin your recipe. So, be sure to leave about 1-2 inches of space between your food.
Finally, if you're going to use a bowl or plate and place it on the steamer basket, it should be small enough so that the steamer's lid could still close the basket. Moreover, there should also be enough open space around the bowl or plate to allow heat and steam to reach every part of your food.
How to take care of your bamboo steamer
Your bamboo steamer's lifespan would depend on how you take care of it. Even if it is the best and most expensive bamboo steamer, it would quickly disintegrate if you don't properly handle it.
The first thing you need to do when you just bought a new bamboo steamer is to soak the bottom of your steamer in water. We're referring to the bottom part that would eventually come in contact with water when you start steaming.
The problem with brand new bamboo steamer baskets is that they might easily burn or scorch after it has been dryly stored for a long period of time. Thus, getting that bottom part and soaking it in water for at least 30 minutes could help soften the bamboo and make it less prone to scorching or burning.
Moreover, sometimes, brand new bamboo steamers may come with a noticeable bamboo-ish smell. This smell can affect your food. To remove this smell, you can simply do any of the following:
Add tea bags or slices of lemon to the water and steam the bamboo with it
Soak the basket in water with vinegar
When it comes to cleaning your bamboo steamer baskets, simply use mild dish soap and a soft sponge. Regrettably, it won't be a good idea to use a dishwasher with your bamboo steamer. Be sure to hand wash your steamers as soon as you're done cooking or finished using them. The longer you let it sit after use, the higher the chance it will absorb odor from your food.
After washing, be sure to rinse it thoroughly. From there, air dry your steamer for about two days. Never store it dry because moisture would attract mildew and mold, which can be bad for your health and bad for the quality of your food.
Final words
It's fun and nice to explore other ways of preparing food. Maybe, using bamboo steamer baskets may just be the beginning of exploring other Asian methods of cooking for you. So, don't hesitate to let your spirit wander and learn new culinary techniques such as bamboo steaming.
* If you buy through links on our site, we may earn an affiliate commission. For more details, please visit our Privacy policy page.