Taro mochi is a glutinous rice treat that is hard to resist. They used to be just eaten during New Year festivities but over the years, people have consumed them at other times of the year and they have also become popular at parties.
* If you buy through links on our site, we may earn an affiliate commission. For more details, please visit our Privacy policy page.
Mochi is a traditional rice cookie in Japan. They symbolize fortune and good health. As time went by, the popularity of this delicious goodness reaches the rest of the world. In the US and other countries, you can buy these rice cookies in many Asian specialty stores and online. Various flavors have also been introduced including taro, matcha, red bean and more.
If you haven't tasted taro mochi before, it's worth a try. This Japanese cookie is not just delicious but is healthy too. They can be a good substitute for unhealthy snacks.
What is Taro Mochi
Mochi is a sweet and chewy Japanese rice cake that is traditionally associated with Japanese New Year celebrations. Currently eaten all year-round, this Japanese treat has gained worldwide recognition and many people from other countries already know what it is.
The different Japanese regions have their own sweet rice cake specialties but the most basic recipe uses sweet glutinous rice flour with a delicious sweet paste filling inside. The use of glutinous flour gives mochi a soft, stretchy, sticky, and chewy texture.
Through the years, different types of dessert fillings were used in making Japanese mochi such that you can now find rice cookies with sweet and savory fillings. Among the best-known dessert fillings are red bean, green tea, matcha, peanut and taro. In this guide, we will focus more on mochis with taro fillings.
Taro is a root crop and staple food in many countries in Asia. It is a nutritious food that has many cooking applications such as in making ice cream, milk tea and desserts. In its original form, cooked taro tastes like a potato.
A sweet rice cookie or cake with taro filling is called taro mochi. It is a delicious treat that's definitely worth tasting.
What Does Taro Mochi Taste Like?
The taro filling in the cookies gives this delicious treat its sweet taste. Generally, the recipe also calls for adding sugar to the rice flour but the sweetness is just mild. Some people also like to add salt to the flour mixture to balance the sweetness of the taro filling. With every bite, you can feel the sticky consistency and chewiness of the rice flour as well as the softness of the taro.
Health Benefits of Taro Mochi
To get an idea of the health benefits of this food, we can check the nutritional content of its two main ingredients: glutinous rice and taro.
Glutinous rice flour
One of the main ingredients in making rice cookies is glutinous rice flour. This kind of flour is ground from sweet rice and it yields a chewy and sticky texture which makes it suitable for preparing foods that do not require much structure such as dumplings and mochis. Glutinous sweet rice flour contains iron, niacin, riboflavin, thiamin, vitamin B6, magnesium and phosphorus among others. Its nutritional value tells you that it's a healthy kind of flour that offers many health benefits.
Consuming glutinous sweet rice flour is good for your overall health because it promotes a healthy heart, liver and bones. Because of its fiber content, it also helps improve your metabolism, which makes it a great snack for those who want to lose weight.
Taro
Taro is a delicious root crop with a mildly sweet taste and texture that's comparable to sweet potato. This food is a good source of dietary fiber and other nutrients including manganese, potassium, copper, phosphorus and magnesium. It also contains vitamins B6 and E. Because of its rich nutritional components, it's not a surprise that this vegetable also offers numerous health benefits.
The most notable health benefit of taro has to do with improving our gut health. It also helps improve your blood sugar levels and improves your heart health. Adding taro to your diet can also help if you are trying to lose weight.
The combination of taro and glutinous flour in one cookie makes it a healthy snack. It's a good idea to have a stash of mochis in your pantry in case your craving kicks in.
Where to Buy Taro Mochi
Making this delicious treat at home can be a time-consuming process. If you want to have a ready-to-eat rice cake treat, it's a good idea to just purchase a pack. We found several excellent products online and we thought you might give them a try. These products could last for days after purchasing.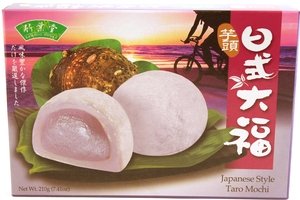 This Japanese-style taro cake tastes like freshly steamed rice cake. It is low in fat which makes it a healthy snack for the family. The package contains three packs with six mochi cakes in each pack. The cakes are ready to eat out of the box.
Customers describe this mochi taro as plump, soft, and fresh. The filling has an excellent texture which is smooth and not grainy. The taro flavor is just mild, not too sweet, and not overbearing. Overall, this product has a great chewy texture and mild flavor.
It's important to note that this Japanese food does not contain animal products. According to the information on the label, the ingredients include taro paste, glutinous powder, sugar, millet and palm oil among others.
---
This product is another great find for those who love eating desserts that contain taro flavor. Each pack contains six soft and chewy cookies. According to those who tried this product, the taro filling tastes like sweet potato with a bit of vanilla. The mochis taste fresh, more like those authentic Japanese rice cakes that you can get in Japan.
---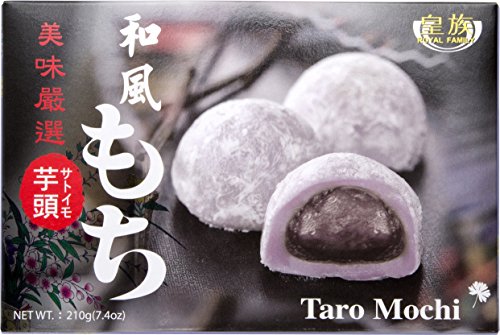 This Royal Family cookie is another delicious snack that can satisfy your cravings for mochi taro. It is a ready-to-eat snack that's great to pair with tea.
According to its customers, the filling in this rice cake reminds them of a sweet potato which is soft and tasty. There is also a hint of nuttiness but not overwhelming. The glutinous flour, on the other hand, is chewy and firm.
---
This Royal Family pack contains a good selection of mochi with different fillings including taro, red bean, green tea and peanut. It's a perfect choice if you want to try the different varieties of Japanese rice cakes.
While mochis generally do not contain dairy, it would be best to check the information on the label of the products to be sure if you prefer your snack to be dairy-free.
---
Conclusion
Japanese taro mochi is an excellent snack for kids and adults. These rice cakes are available in different fillings but taro is one of the most popular ones. Both taro and glutinous rice are healthy so eating this rice cookie offers many health benefits. Not to mention that these chewy goodness are just delicious.
Whether you are craving for taro, peanut or red bean mochi, it's now easier to buy them online. But as these products may differ in quality and taste, it's good to always read customer feedback before buying.
The selection of products we listed above are some of those with many positive reviews in terms of taste and quality.
* If you buy through links on our site, we may earn an affiliate commission. For more details, please visit our Privacy policy page.