People might question which is better, is it peking duck or roast duck? Well, it definitely depends on the person you would be asking this question as we all have our own preferences. But let us discuss their differences below.
Peking Duck Vs. Roast Duck
What Is Peking Duck?
Peking duck is a Chinese dish that has seen time as it has been prepared since the Imperial era. Originating in Beijing, peking duck is characterized by its thin, crisp skin, with authentic versions of the dish serving mostly the skin and little meat. Traditional way of serving it is to slice the duck meat in front of the diners by the cook.
As mentioned, a peking duck dish would only consist of crispy skin and only a tiny amount of meat. It is usually wrapped in a flour wrapper with spring onion and hoisin sauce. Since it is a duck, the dish usually emits a strong flavor that is similar to red meat rather than chicken.
If cooked the right way, Peking duck has a delicious taste that's tender, moist, and fattier, which could be the perfect perfect protein combination for meat lovers.
---
What Is a Roast Duck?
Roast duck is made from a special breed of ducks that are slaughtered after 65 days and seasoned before being roasted in a closed or hung oven.
You'll often find the meat eaten with spring onion, cucumber and sweet bean sauce with pancakes rolled around the fillings. Duck's meat is also a strongly flavored dish due to its main ingredient – the duck.
It is also fatty and provides a lovely mix of tender, moist protein with a fatty mouthfeel when cooked the right way. You might find the taste of roast duck comparable to liver or steak.
---
What Are The Differences Between Peking Duck Vs. Roast Duck
One of their main differences is their region of origin. Peking Duck is a northern dish and Roast duck is a southern China dish.
Their preparation and way of cooking is also different from each other. Roast duck is usually marinated and roasted, then served chopped into sections with a cleaver. It also comes with a sauce. On the other hand, the peking duck is usually prepared by sewing the duck up and inflating it with air to puff up the skin.
While peking duck is served typically with just skin and a little meat, roasted duck is served with more meat/bone in every slice. It is also served with rice or noodles that may come with a sweet plum sauce (its translucent and reddish amber) or sweet soy sauce.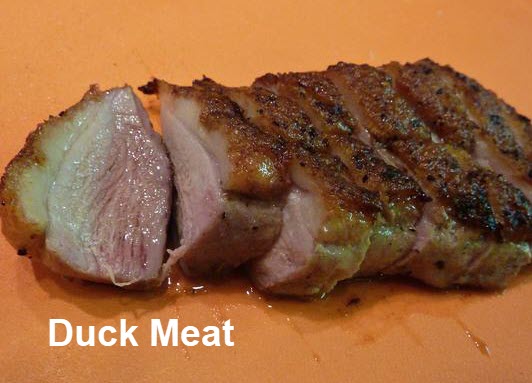 Is Duck Meat Healthier?
Just like any other animal, duck contains fat. It actually has a higher fat content than the chicken breasts. However, it's still a nutritious protein source that can be incorporated into a healthy diet in moderation.
In the culinary world, duck meat is considered as red meat since it's typically darker in color than most parts of chicken and turkey. It is also cooked differently, served medium rare and remains dark during cooking.
Duck is also an excellent source of iron, providing 50% of the iron we need in a day. As you know, iron helps make healthy blood that flows through our bodies. It gives us energy and makes us grow.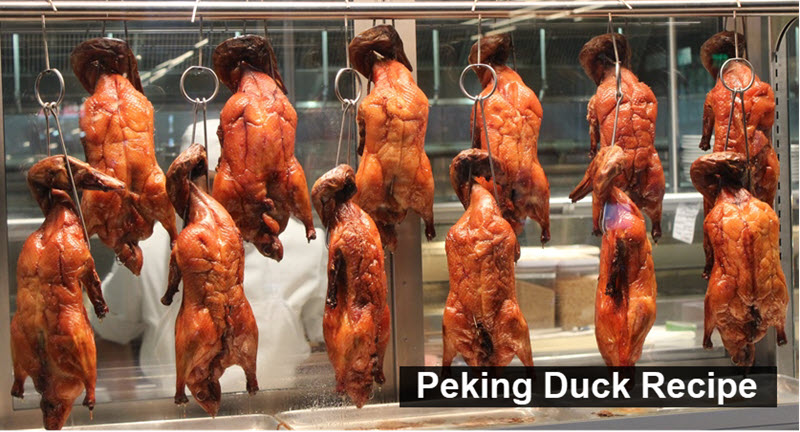 Peking Duck Recipe
Looking for ways to recreate this Beijing duck recipe? We'll help you out serve crispy, aromatic duck. First, prepare these set of ingredients:
1 whole duck (4 lbs), dressed
½ teaspoon of ground cinnamon
½ teaspoon of ground ginger
¼ teaspoon of ground nutmeg
¼ teaspoon of ground white pepper
⅛ teaspoon of ground cloves
3 tablespoons of soy sauce
1 tablespoon of honey
1 orange (sliced in rounds)
1 tablespoon of chopped fresh parsley (for garnish)
5 green onions
½ cup of plum jam
1 ½ teaspoons of sugar
1 ½ teaspoons of distilled white vinegar
¼ cup of chutney (finely chopped)
Procedures: 
Preparing Peking duck – rinse the duck well inside and out, then pat dry. Remove the tail by cutting it and throw it away. 
Get a small bowl and mix together the cinnamon, ginger, nutmeg, white pepper and cloves. Using one teaspoon of the mixture, sprinkle into the cavity of the duck. Then put one tablespoon of the soy sauce into the remaining spice mixture. Rub it evenly over the whole outside skin of the duck. Cut one of the green onions in half and tuck inside the cavity. Cover and refrigerate the bird for at least 2 hours. For best flavors, it is recommended to refrigerate it overnight. 
Prepare a rack and a big enough wok or pot. Put the duck with the breast side up on a rack and steam for an hour over the wok or pot.  If needed, add a little bit of water if it evaporates. Using two large spoons, lift the duck and drain the juices and green onion.
Preheat the oven to 375°F and place duck breast side up in a roasting pan. Make sure to prick skin all over the duck using a fork.
In the preheated oven, roast the duck for 30 minutes. While you are waiting, get a small bowl and mix together the remaining 2 tablespoons of soy sauce and honey. 
After 30 minutes, remove the duck from the oven and brush the honey mixture onto the duck. Once done, return it to the oven and turn the heat up to 500°F. Roast for 5 minutes or until the skin is richly browned. Make sure to check that the skin is not charred. 
In a small serving bowl, prepare the duck sauce by mixing the plum jam with the sugar, vinegar and chutney. Chop remaining green onions and place them into a separate bowl.
Remove the duck from the oven and place the whole duck onto a serving platter. Garnish it with orange slices and fresh parsley. Use plum sauce and onions for dipping.
---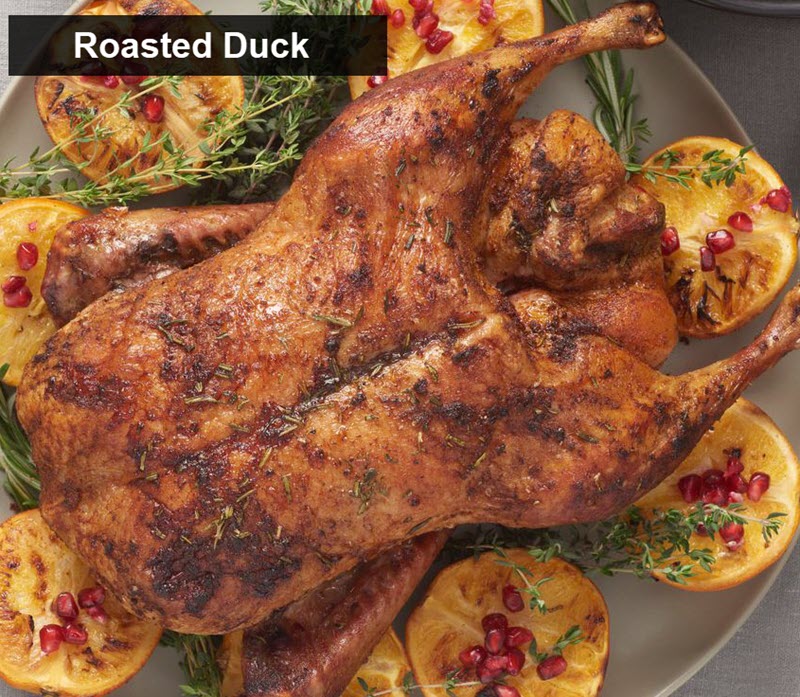 Roasted Duck Recipe
Get that tender and juicy meat, crispy skin of a roasted duck at the comforts of your home. Here are the ingredients:
For the roast duck:
6 lb whole Pekin duck
salt
5 garlic cloves chopped
1 lemon small or medium, chopped
For the glaze:
½ cup balsamic vinegar
1 lemon , freshly squeezed juice
¼ cup honey
Procedures:
For frozen duck, defrost it completely. Then pull it out from the refrigerator 30 minutes prior to cooking to bring it more or less to room temperature.
Preheat the oven to 350°F. Then Clean the duck by removing the giblets from inside of the duck. Rinse the duck well inside and outside using cold water. Pat dry with paper towels.
Put the duck on a flat working table and score the duck's skin on the breast in a diamond pattern, making sure you only cut the skin without reaching the meat. To ensure fat release, especially in very fatty parts, prick the skin and other fatty parts of the duck with the tip of the knife.
Season the duck very generously with salt both inside the cavity of the duck and outside all over the skin and legs.
Place the duck breast side up and put 5 chopped garlic cloves and lemon slices inside the duck cavity. Fold the flapping skin on both ends inwards to hold the garlic cloves and lemon slices inside. Tie up the duck legs using butcher's twine.
On a large roasting pan with a rack, place the duck with the breast side up. Place it inside the pre-heated oven and roast it for 1 hour.
After an hour, flip the duck on its breast and roast it breast side down for 40 minutes, still at 350°F.
Remove the roasting pan from the oven and carefully move the duck to a platter. Drain all the duck fat juices from the roasting pan into a large heat-proof bowl or container.
Once drained, flip the duck breast side up again on a rack in a roasting pan. Combine ½ cup of balsamic vinegar with the freshly squeezed juice of 1 lemon in a small mixing bowl. Brush the mixture all over the duck skin, especially the duck breast portion.
Put it back inside the oven and cook the duck breast side up for another 40 minutes at 350°F. Brush the duck every 10 minutes with the balsamic mixture.
Combine ¼ cup honey and 3 tablespoons of balsamic vinegar lemon mixture that you will have left over from the previous step in a separate mixing bowl. Remove the duck temporarily and brush the breast side of the duck with this honey-balsamic mixture. Put it back and roast for another 40 minutes, brushing the duck breast side every 10 minutes with honey balsamic mixture.
Once cooked, remove the duck from the oven and let it sit for 15 minutes. Remove and discard the lemon carefully from the cavity. Slice the duck and serve.
---
Conclusion
Having a peking duck for your meal is quite a treat to consider. Aside from its flavor, it is interesting on how it's prepared and served. You can also note that peking duck is also on the expensive side.
While the roasted duck is more common, it can't be disregarded as roast duck offers a mouth-watering taste. Roasting with multiple layers of a red lacquer-like glaze of sugary barbecue sauce, often with the five-spice flavors, this would give your roasted duck that delectable and appetizing taste, just like a roast pork belly.
Aside from these two roast ducks recipes, you might want to explore other options such as Cantonese roast duck made with Cantonese duck. There's also that roast goose that can be combined with sweet duck sauce.