Philippines is a Southeast Asian archipelago country. It has around 7,640 islands and is located in the western Pacific Ocean. The cuisines of more than a hundred ethnolinguistic groups located throughout the Philippine archipelago make up Filipino cuisine. The vast of popular Filipino recipes are based from the eating traditions of the archipelago's diverse ethnolinguistic groupings and tribes.
This article discusses the history and culture of Filipino cuisine. Continue reading if you're interested in learning more about Filipino food.
Philippines Food Culture and History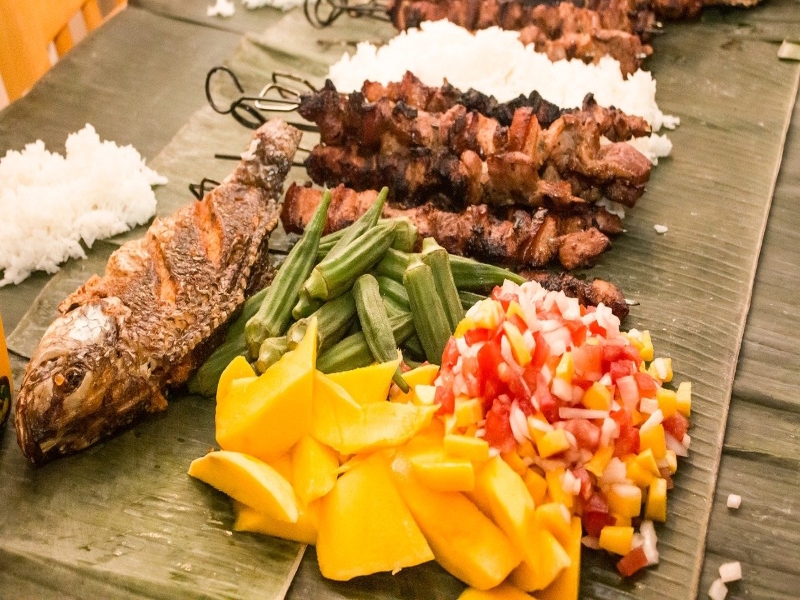 Origins Of Filipino Food
Philippines Food History
Boiling, roasting, and steaming were the primary Austronesian food cooking methods in the Philippines during the pre colonial Filipinos. Ingredients for common Filipino cuisine came from locally raised cattle and poultry, as well as farm products and vegetation. Water buffalos or carabaos, pigs, and chicken, were among them, as were many types of fish and other seafood. Austronesians from southern China (Yunnan-Guizhou Plateau) and Taiwan arrived in what is now the Philippines in 3200 BCE. They introduced understanding of rice cultivation and other farming practices with them, resulting in a rise in the amount and variety of edible dish ingredients accessible for cooking Filipino dishes.
---
Foreign Influences on Philippine Cuisine
Some people may be confused by Filipino cuisine because it is difficult to determine authentic Filipino food. The ever evolving phases of Filipino culture cause confusion. Throughout history, local cuisine has changed by adopting influences from several cultures. The history and society of numerous distinct and prosperous cultures have created Philippine cuisine today. Due to the agricultural trade of the time, influences from China, Arabia, and India, can be found in Filipino food and culture. Through colonization, the country has absorbed influences from Spain and the United States as well. Filipino food can be studied and defined over centuries of indigenization.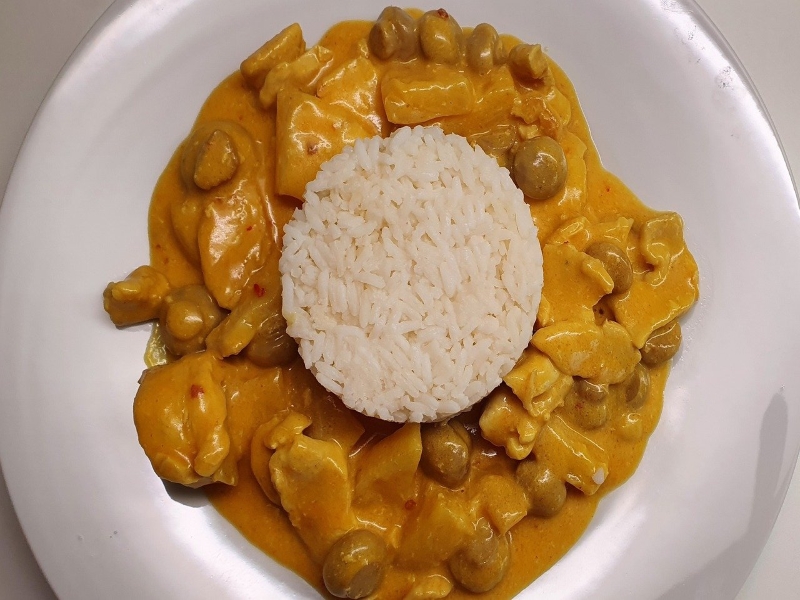 Indian Influence
Rice-based delicacies, like bibingka (similar to Indonesian bingka), puto, and puto bumbong have originated in India, with the latter two likely originating from the south Indian puttu, which has versions throughout Maritime Southeast Asia (e.g. kue putu, putu mangkok). A popular dish in the Philippines, kare-kare, can be traced back to the Seven Years' War, when the British captured Manila with an army that included Indian sepoys, who were forced to modify Indian meals due to a lack of spices in Filipino cooking, to create curry. The name was derived from the dish because of its thick, yellow-to-orange annatto and peanut-based sauce.
---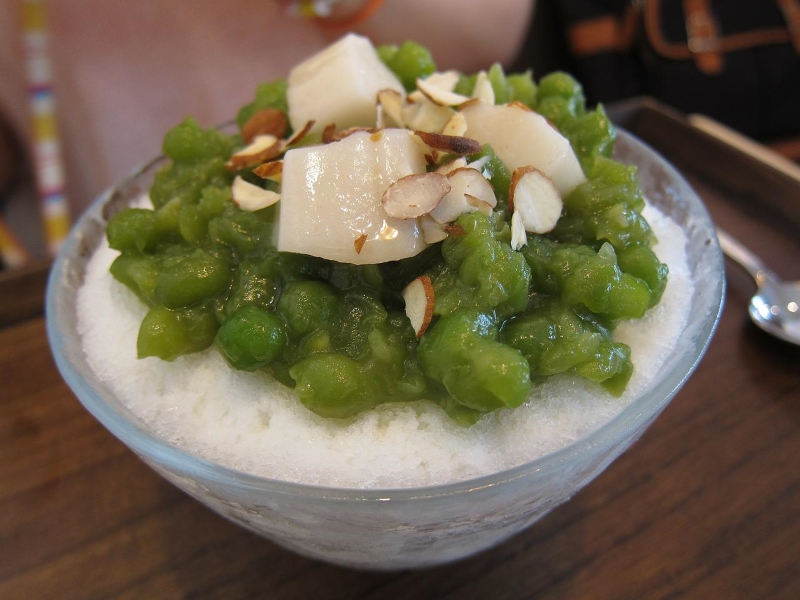 Japan Influence
Halo-halo, also spelled haluhalo, is a popular Filipino cold dessert made with crushed ice, evaporated milk or condensed milk, and several ingredients such as ube, sweetened beans, coconut strips, sago, gulaman (agar), pinipig rice, boiled taro or soft yams in cubes, slices or diced fruit preserves and other root crop preserves, flan, and often topped with ube flavored ice cream is considered the Philippines' unofficial national dessert. This is very popular dessert particularyl durung summertime. Despite the fact that the term "halo-halo" literally means "mix-mix" in English, it is the more prevalent form of the dessert's name. By extension, this spelling has come to refer to any object or circumstance made up of a similar, colorful mix of components. This dessert is based on the Japanese dessert, kakigori, which includes shaved ice and sweet beans.
---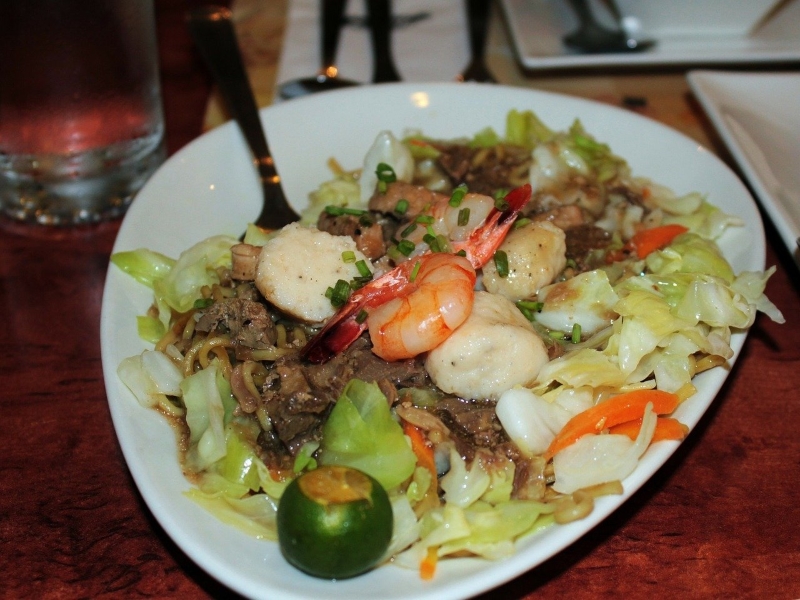 Chinese Traders
In early 9th or 10th centuries, the Chinese have been dealing with the people of the Philippine archipelago. In the 16th century, Chinese people began to come there. Lumpia spring rolls or fried spring rolls are examples of Chinese influence. They also had noodles, which were modified into the extremely popular pancit canton, a term for a plethora of noodle dishes. Many ingredients are used in Filipino food, such as soy sauce, fish sauce, black beans, bean sprouts, tofu, pork, and so on.
---
Arab Influence
The influence of Arab cuisine on Filipino foods is minimal. Historically, Arab influence reached Indonesia and the Philippines through India. Arabs used to trade with Indians, who would then trade with Southeast Asia. With the improvement of sea navigation, Arabs began to trade straight with the Philippines in the later era.
---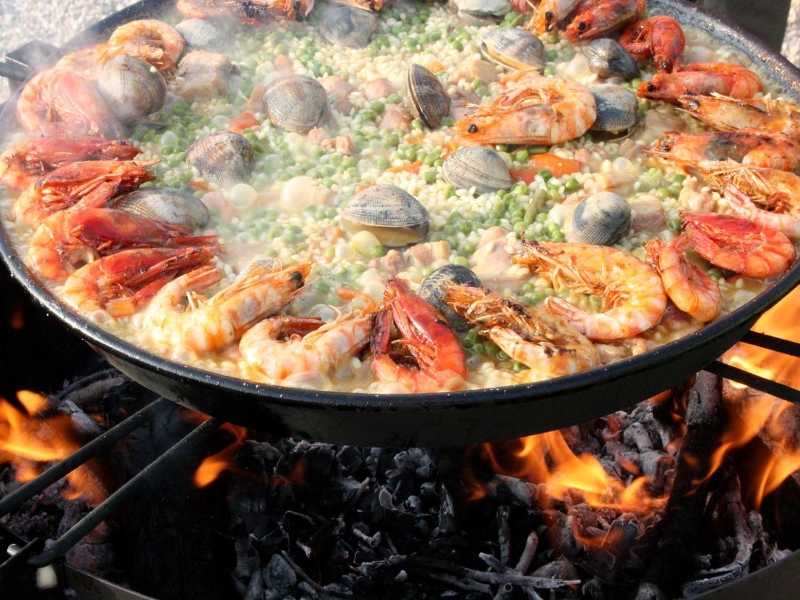 Spanish Influence
Spaniard colonized the Philippines in 1566 until 1899. Spanish and Mexican influences were brought by the Spaniards. This meant cooking process for high class, non-food-producing class, and food for which many ingredients were unavailable locally.
For their recipes, Filipinos began utilizing a Spanish sofrito of tomatoes, onions, and garlic fried in oil. Many cooking habits and techniques, as well as various recipes, were adapted.
The Spanish dominated both Mexico and the Philippines, the two colonies were inextricably linked, and goods were transferred between them. In the 16th century, Spanish colonizers and friars brought produce from the New World with them, including chili peppers, bell peppers, cacao, potatoes, corn, pineapples, jicama, avocado, chayote, tomatoes, peanuts, annatto, and the process of sautéing with garlic and onions. Chili leaves are a common ingredient in the cooking method. The Philippine soil provided rice, sugarcane, tamarind, coconuts, and mangoes to the Mexicans.
Filipino cuisine progressively absorbed Hispanic cuisines, with the most sophisticated recipes being served for special occasions. In the Philippines, many dishes, such as arroz a la valenciana, are essentially unchanged. Some have been changed or adapted to mean something slightly or dramatically different. In the Philippines, ground beef picadillo is commonly served with arroz a la cubana. Despite its name, Philippine longganisa is more related to chorizo than Spanish longaniza. Morcon is commonly referred to a beef roulade dish rather than the bulbous Spanish specialty sausage.
Mexican influences can also be found, as goods and popular dishes were brought to the Philippines by workers and dealers from the galleon trade. Even the Mexican corn tamal was converted into rice-based tamales wrapped in banana leaves in the Philippines. In addition, there is native cuisine from the country's Islamic regions, which has been inspired by neighboring Southeast Asian countries.
---
American Influence
The Treaty of Paris gave the United States possession of the Philippines following the Spanish–American War in 1899. Filipinos were introduced to hamburgers, hot dogs, fried chicken, and ice cream by the US soldiers. Spam, instant coffee, canned meat or corned beef, and evaporated milk were also offered as convenient foods. There were also canned sauces and processed cheeses.
---
Characteristics Of Filipino Food
Sweet, sour, and salty flavors characterize Filipino cuisine, however spicy dishes are popular in Bicol, the Cordilleras, and among Muslim Filipinos.
In Filipino cuisine, counterpoint is common by contrasting something sweet with something salty. Example is Champorado, a sweet cocoa sticky rice porridge, that is served with salted dried fish. Then, there's dinuguan, a savory stew prepared with pig's blood and innards, that is served with puto, which is a sweet, steamed rice cake. Sour fruit like green mango, which is only a little bit sweet but extremely sour, is consumed and dipped in salt or bagoong. The use of salty-sweet cheese in sweetcakes (such as bibingka and puto) and as an ice cream flavoring is also popular in the Philippines.
The majority of Filipino foods are called after cooking techniques rather than specific ingredients or dishes. Adobo, for example, refers to a method of stewing in vinegar with peppercorns, soy sauce, and bay leaf.
Typical Filipino Dishes
Below is a list of some of the popular Filipino dishes.
Adobo
Adobo refers to marinating meat in vinegar, peppercorns, and bay leaf. Although most current versions use soy sauce, there are still many localities in Luzon that do not.
Pork adobo, chicken adobo(or both), squid adobo, and even vegetables adobo are the most common varieties of adobo. They are widely available across the country. The earthiness of the bay leaf and peppercorns contrasts nicely with the brightness of the vinegar, creating a filling lunch or dinner. Adobo is considered a staple food in the Philippines.
---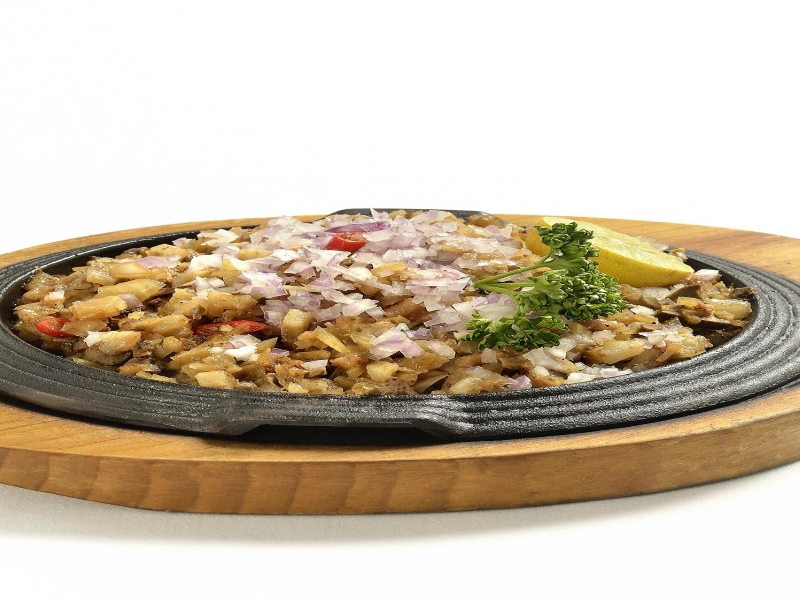 Sisig
Sisig is a Filipino dish cooked using pig's face and pork belly as well as chicken liver and seasoned with calamansi, onions, and chili peppers.
It has become one of the most popular Filipino meals, with variations being served all over the world. Sisig originated in Pampanga, has gone through a lot of changes throughout the years.
Sisig is a popular Filipino food that is often served with beer.
---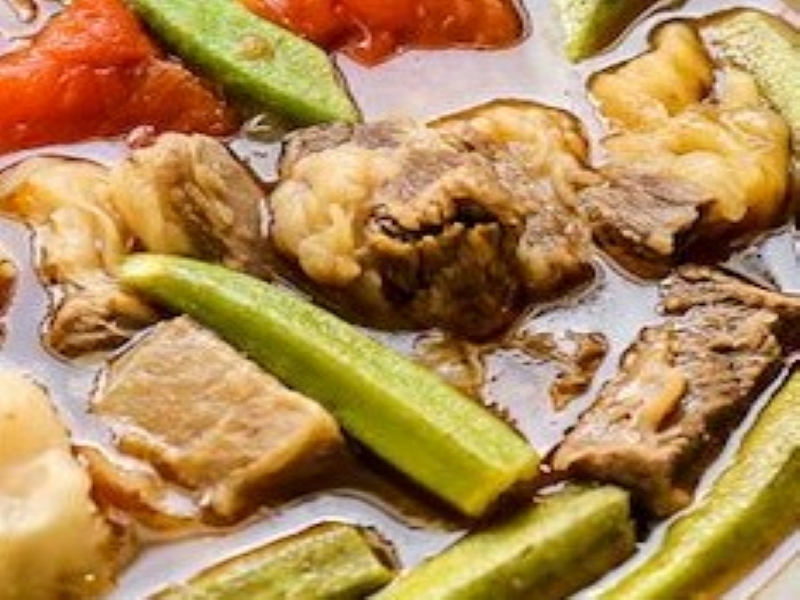 Sinigang
Sinigang is a type of Filipino soup or stew that has a sour and salty flavor. It's most commonly linked with tamarind, but it can also be made with other sour fruits and plants. It is one of the most well-known Filipino foods.
Meat or seafood, such as pork, fish, beef , chicken, or shrimp cooked in a broth with tamarind, tomatoes, garlic, and onions in Sinigang. Okra, taro corms (gabi adds a starchy component to the soup and thickens the broth, white radish, water spinach, yardlong beans, and eggplant are other vegetables commonly used in the preparation of sinigang. The majority of Filipinos prefer to cook sinigang with green long peppers to add flavor and spiciness to the sour broth.
---
Lechon
Lechon, or whole roasted pig, is one of the most delicious and well-known Filipino foods. Lechon is a traditional Filipino delicacy served at practically every special occasions, feast and fiesta. Lechon refers to any meat cooked on a spit over an open flame, including a complete pig, just the belly, a calf, goat, or even chicken. Lechon is typically served with soy sauce, gravy, or banana ketchup.
---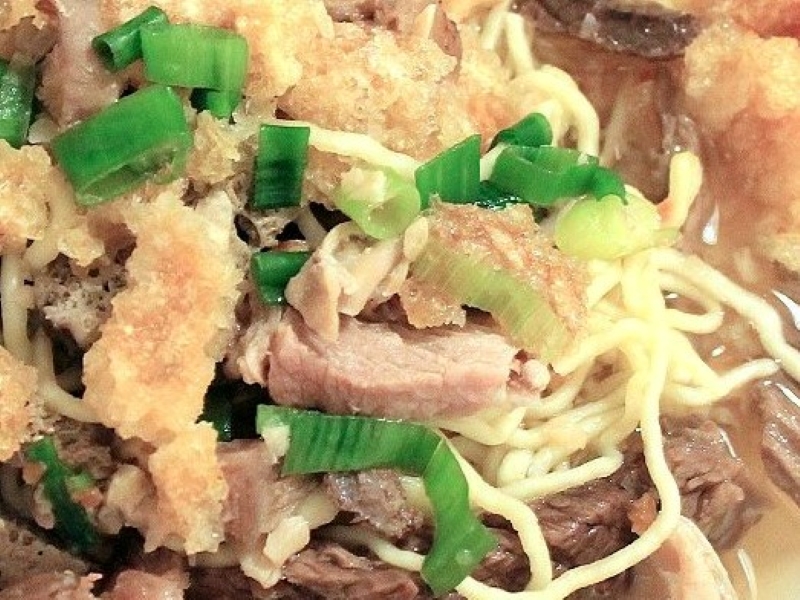 Batchoy
A noodle dish made with pork offal, crushed pork cracklings, beef loin, chicken stock, and round noodles is known as batchoy. Its origins can be traced back to the La Paz district of Iloilo City in the Philippines, hence the name La Paz Batchoy.
A stockpot is used to heat the oil. Stir frying the pork organs, chicken, shrimp, and beef are for a minute is the proper way to make this dish. After that, soy sauce or fish sauce is added. The shrimp is then added and cooked for a few minutes. The soup is then poured over noodles and garnished with leeks, pig cracklings (chicharon), and occasionally a raw egg.
Batchoy pairs well with puto, a steamed rice flour bread, or breads such as Pan de Sal or Pan de Leche.
---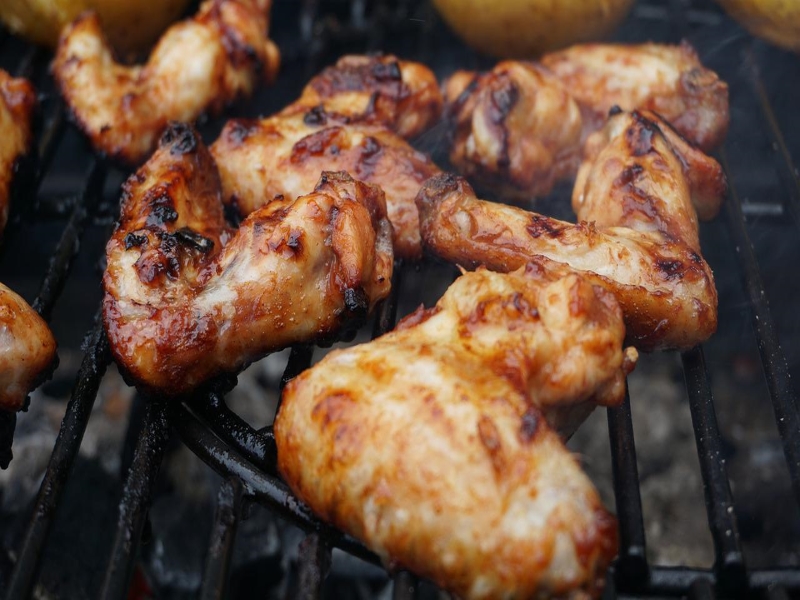 Inasal
Chicken marinated with calamansi, pepper, ginger, vinegar, and lemongrass, skewered, then grilled over an open flame is the most popular type of Inasal. They are coated with oil scented with garlic and annatto seed as they are grilled.
---
Halo-halo
Sugar palm fruit (kaong), coconut sport (macapuno), banana saba plantains cooked in syrup , jackfruit (langkâ), agar jellies (gulaman), tapioca pearls, sweetened beans, nata de coco, cheese, sweet potato (kamote), pounded toasted young rice (pinipig), and ice cream are all common ingredients in halo-halo. The fruit, beans, and other sweets are placed at the bottom, then shaved ice is added, and finally a mixture of leche flan, ube halaya (mashed purple yam), or ice cream on top. When this dessert is served, evaporated milk or coconut milk is poured into the mixture.
---
Eating Ways
Filipinos, unlike most of their East Asian neighbors, do not eat using chopsticks. Dry meals , such as Inasal or fried are normally eaten with the hands. After a taste of the main course, the diner will consume rice squeezed together with his fingers. This method, known as kamayan in the Philippines, the method of picking food with the washed hand and carrying food, is uncommon in urbanized regions. Out-of-town trips, beach vacations, and local fiestas, on the other hand, tend to bring out the spirit of kamayan in Filipinos.
Nowadays, eating methods of Filipios has already changed. Filipinos ate with spoon and fork under the Spanish influence, which brought Western influences to the country.
Food is frequently eaten with utensils, such as forks, knives, and spoons, due to Western influence, although the most common utensil pairing at a Filipino dinner table is spoon and fork, not knife and fork.
---
Native Ingredients Of Filipino Foods
Filipino dishes uses a wide range of native ingredients. The resulting biota produced a unique landscape, which in turn provided native ingredients that increased the taste of the food. The most well-known of these components is kalamansi, a citrus fruit from the genus Citrus. It is commonly utilized because of the sour flavor it brings to a meal. Another is tabon-tabon, a tropical fruit that was utilized as an antibacterial ingredient by pre-colonial Filipinos, particularly in Kinilaw recipes.
The Philippines also develops a variety of nuts, including the pili nut, of which the Philippines is the only acknowledged exporter of edible variants. Due to the milky texture it provides as it melts in the tongue, it is frequently served as a snack/merienda or used to enhance the flavor of other delicacies.
Vinegar is a widely used condiment. Adobo is popular not just because of its ease of preparation, but also because it can be preserved for days without spoiling and even improves in flavor after a day or two.
---
Conclusion
With that said, whatever delicious dishes you consume in the Philippines, it definitely has its history and origins. Filipino food is flavorful and wonderful, with influences from all around the world.