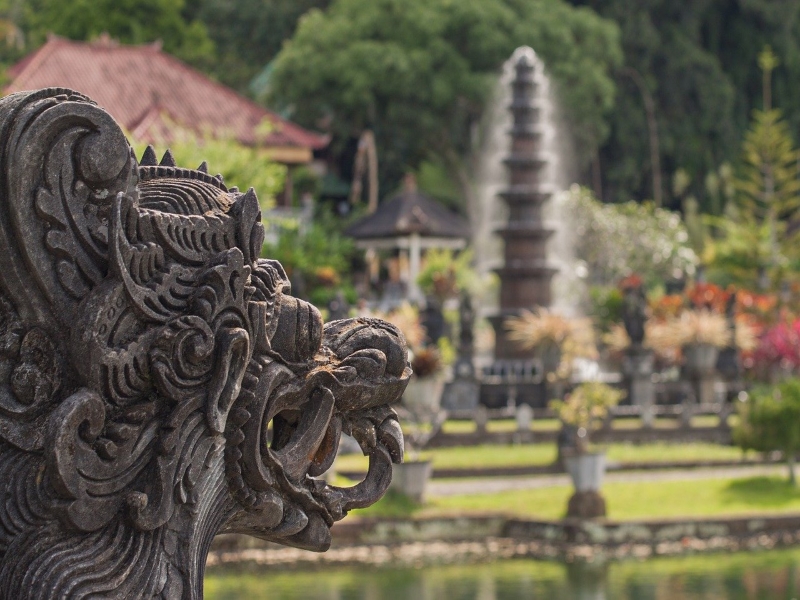 Have you visited Bali before? Have you ever tasted Balinese cuisine? If you haven't, let us have a look at Bali's food culture and history. Bali is an Indonesian province and considered as the "Land of the Gods". This place is popular among surfers. Bali captivates travelers with its stunning dances and colorful rituals, as well as its arts and crafts, magnificent beach resorts, and vibrant nightlife. Bali also has temples with beautiful carvings may be found all around.
Bali is a great tourist destination with multiple cooking schools offering daily Balinese cuisine classes. Local delicacies are sold in night markets, food stands, and fruit stands. As part of the celebrations, festivals include elaborate prepared dishes. You will find a wide variety of delectable foods in Bali. There are a lot of western food and healthy restaurants in the tourist districts. Many westernized cuisine are offered as this is a major tourist destination. If you're interested in learning more about Balinese food history and culture, keep reading.
Balinese Food Culture and History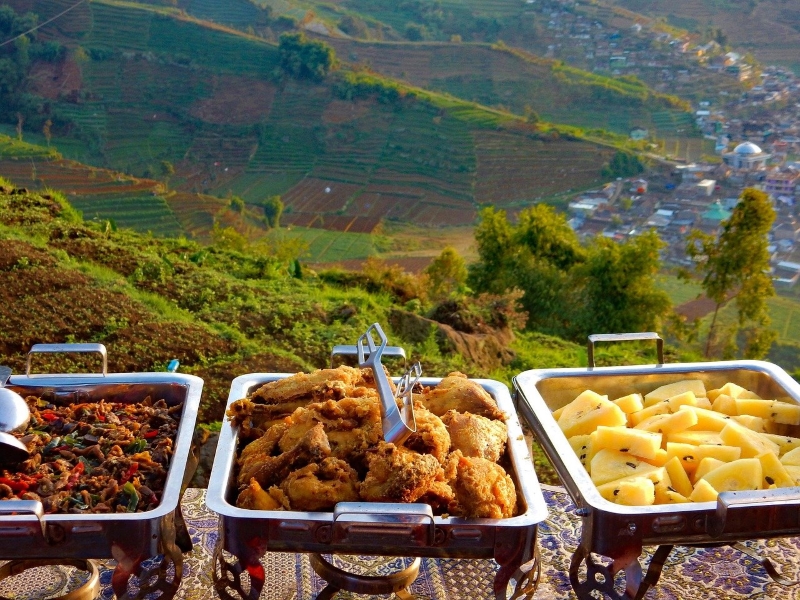 What Is Balinese Cuisine?
Balinese cuisine is the culinary tradition of the Balinese people of Bali's volcanic island. Balinese dishes used fresh vegetables, meat, and fish mixed with a variety of seasonings. It is an example of indigenous traditions as well as influences from other Indonesian regional cuisines, Chinese, and Indian cuisines. The island's population is mostly Hindu, and its traditional cuisine is unique from those of the rest of Indonesia, with festivals and religious events featuring various traditional Balinese food and special meals created as gifts for the gods, as well as other dishes shared communally.
The staple grain, rice, is almost typically served as a main dish with meat, vegetables, and seafood. Pork, poultry, fruit, vegetables, and seafood are all popular, but beef, like other Hindus, is never or only occasionally eaten.
Balinese people eat thrice a day, with lunch being the main meal and heaviest. A cup of coffee or a plate of nasi goreng or fried rice, can be considered as their light breakfast. Lunch is the largest meal of the day, consisting of a plate of steamed rice, and a bunch of main courses, which usually include a fish or meat dish, a vegetable dish, and a soup. Lunch is a scaled-down counterpart of dinner. Desserts for lunch and dinner can range from seasonal fruits to specifically prepared desserts such as pisang goreng or fried banana fritters or tape, which is fermented sticky rice.
---
History
Beginning in the 1st century AD, Balinese culture was heavily impacted by Indian, Chinese, and especially Hindu culture.
The Bali Beach Hotel in Sanur was established in 1963, which encouraged tourism in Bali. There were only three prominent tourist-class hotels on the island prior to the development of the Bali Beach Hotel. Hotel and restaurant construction continued to emerge over Bali. After the Ngurah Rai International Airport opened in 1970, tourism in Bali grew even more. The Buleleng regency government promoted tourism as a key driver of economic development and social welfare.
In 2010, Travel & Leisure awarded Bali the title of Best Island. Bali was chosen for its stunning scenery (both highlands and coastal areas), numerous tourist attractions, outstanding foreign and local restaurants, and friendly people. Balinese culture and religion are also important considerations for the award. Kecak dance is one of the most prestigious rituals that represents a deep relationship between a god and his or her devotees. As per BBC Travel, Bali is the second best island in the world, next to Santorini, Greece.
Sculpture, woodcarving, painting, handcrafts, and performing arts are among Bali's many and diverse cultural forms. Balinese food is special as well. Gamelan, or Balinese percussion orchestra music, is highly developed and diversified. Balinese performing arts frequently adapt Hindu epics like the Ramayana with a strong Balinese touch. Pendet, legong, baris, topeng, barong, gong keybar, and kecak are some of the most well-known Balinese dances (the monkey dance). With thousands of temple festivals, private rituals, and public gatherings, Bali has one of the most diverse and unique performing arts cultures in the world.
---
Basic Ingredients
Every dish usually contains steamed rice. Pork, seafood, poultry, and veggies are all essential foods. Balinese seldom or rarely consume beef. Those from the Brahmin and Kshatriya castes are particularly sensitive to this prohibition. However, lesser Gusti (nobles) and regular Balinese people may occasionally eat beef.
In Balinese cooking, spices such as Kaempferia galanga (galangal), garlic, shallots, pepper, turmeric, ginger, and Kaffir lime are commonly used. White black pepper, coriander, cumin, clove, nutmeg, sesame seed, and candlenut are used to make Balinese 8-spice. The ingredients include palm sugar, fish paste, and basa gede, spice paste.
---
Balinese Traditions
In Hindu Balinese traditions, certain foodstuffs are served in religious rituals, used as an offering for gods. During religious ceremony, festively decorated fruits and foodstuff are brought to the temple as an offering. Balinese believed that certain foodstuff is an appropriate offering for certain deities. For example, pork is favored by Batara Kala, while ducks are favored by Hindu gods, such as Brahma. Certain rare foodstuff such as turtle meat is also used in rituals.
Every morning, Balinese people buy fresh items from the local market, cook them, and consume them in the late morning, primarily for lunch. The leftovers will be refrigerated and reheated for a family dinner. Balinese cuisine is available everywhere from street side carts and warungs (restaurants) to fine dining establishments in resorts and five-star hotels. Small family-run warungs are the most economical street food options, delivering anything from traditional family recipes to whole meals and snacks.
Balinese warungs or restaurants mostly specialize on a specific meal. For instance, there are restaurants that only provide babi guling or suckling pig, bebek betutu or crispy duck, or nasi campur, a Balinese mixed vegetables rice. Certain warungs specialized in tipat cantok (similar to kupat tahu) or mixed rice nasi jinggo.
---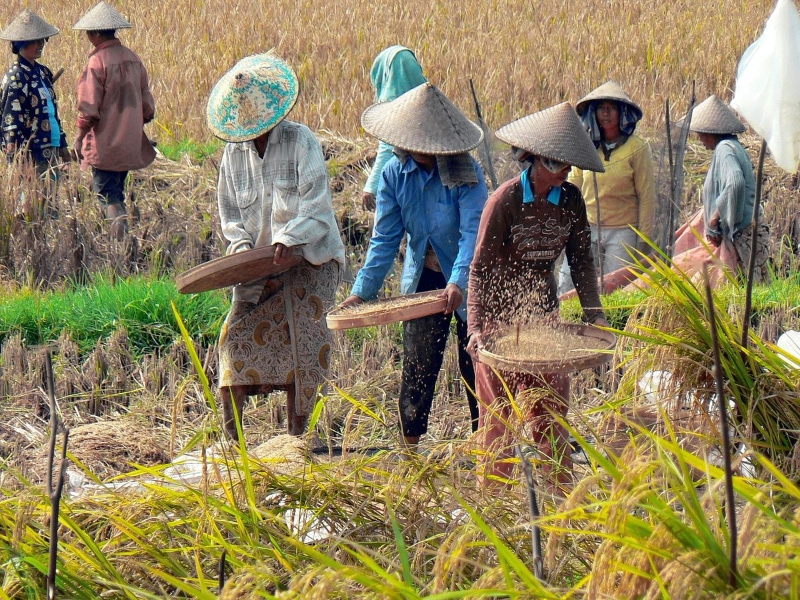 Rice
As indicated by the centuries-old complicated network of sophisticated Subak irrigation system, Bali has a rich rice growing legacy in Indonesia. The water distribution of each village's rice fields in the zone is regulated by the Balinese water temples. Dewi Sri is a beloved rice goddess in Balinese Hinduism. During religious festivals, colorful sticky rice relics of her and other deities are commonly produced.
---
Seasonings And Spices
In Balinese cuisine, basa gede, also called as basa rajang, is a Balinese spice paste that is used in a range of dishes. Most Balinese dishes are made with basa gede. Garlic, nutmeg, red chili peppers, ginger, Asian shallots, turmeric, cumin, palm sugar, shrimp paste, and salam leaves or Indonesian bay leaf, are among the components in cooking Balinese dishes.
Basa genep, a traditional Balinese spice blend used as a foundation for several curry and vegetable dishes, is a highlight of many Balinese meals. Bumbu/seasoning is also used as a marinade. Popular condiments include tabia lala manis, a thin soy sauce containing chili peppers, and sambal matah.
---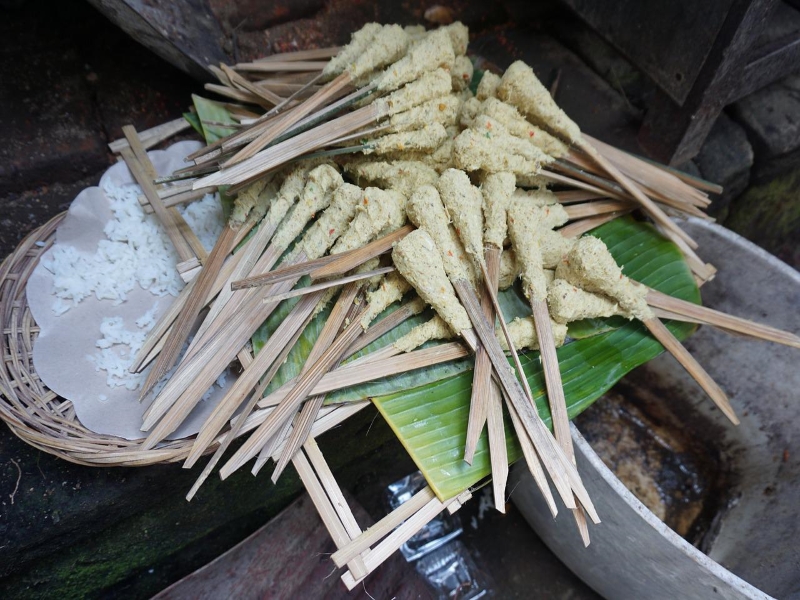 Balinese Dishes
Lawar
An Indonesian dish made of grated coconut, chili pepper, garlic, with pork or chicken meat and raw pig blood. This dish is widely available in Bali's restaurants and warungs.
Bebek Betutu
It is a Balinese food of made of steamed or roasted duck in rich bumbu betutu spice mix, and wrapped in banana leaf and coconut husks. In Bali, Indonesia, this highly seasoned and spiced dish is a popular dish. This traditional dish is popular among tourists and can be seen on the menus of luxury hotels and restaurants in Bali.
Mie Or Nasi Goreng
This Balinese food is made with mie (fried noodles) or nasi goreng (fried rice), with veggies and chicken, shrimp, or pork. Poppies in Kuta serves excellent nasi goreng, although it's on practically every restaurant's menu.
It is a national dish of Indonesia. Nasi goreng has long been regarded as a traditional Indonesian dish. The Indonesian government officially recognized it as one of the country's five national dishes in 2018.
Balinese Sate
Sate lilit, or Balinese sate, is made from spiced mince pressed onto skewers, commonly lemongrass sticks.
Indonesian satay is commonly presented with peanut sauce, a peanut butter-based sauce, and lontong, a type of rice cake, however the country's diversity has resulted in a wide range of satay recipes.
Babi Guling
Roast pig is known as babi giling in Bali. Babi guling is a popular dish in Balinese restaurants and warungs, usually served with lawar and steamed rice. Basically, it is spit-roasted pig packed with chili peppers, turmeric, garlic, and ginger is used in this meal.
---
Beverages
Hot tea, teh panas, and Balinese coffee, Kopi Bali, are popular beverages. Brem is a Balinese rice wine alcoholic beverage that is commonly served with sugar (gula) and condensed milk (susu). It is prepared with a dry-starter called Ragi tape and fermented mash of black or white glutinous rice (known as Ketan).
---
Desserts
Fruit, which comes in more types than you can imagine, is the major dessert in Bali and the rest of Indonesia. There are countless numbers, of various banana varieties, ranging in sizes.
Pisang goreng, or fried banana fritter, is a popular treat. These and other snacks can be bought from a variety of street vendors.
---
How To Make Nasi Goreng Balinese-Style
Ingredients
2 eggs, seasoned with salt and white pepper (beaten)
150 grms snake beans, finely chopped
8 uncooked prawn crackers
3 tbs vegetable or canola oil
250 ml vegetable or canola oil, extra, for deep-frying
1 onion, finely chopped
3 garlic cloves, chopped
1 small bird's eye chilli
200 grams raw small prawns (shrimp), peeled and deveined
250 grms chicken breast fillet, thinly sliced
740 grms steamed rice (long-grain)
1 tablespoon kecap manis
4 spring onions (scallions), finely sliced
1 tomato, sliced
1 tbsp fried red Asian shallots
2 tbsp soy sauce
1 small cucumber, seeded and thinly sliced
8 lettuce leaves
Instructions
In a wok, heat 1 tablespoon of oil over medium heat, then add the beaten egg and stir it around to make an omelette. Fry for 3–5 minutes over low heat, or until set, then flip out onto a plate and thinly slice. For 3 minutes, cook the beans in boiling water, then drain and rinse under cold water.
Heat the extra oil in a small saucepan until it is extremely hot. Then add 2 prawn crackers at a time and cook for 30 seconds, or until golden. Using crumpled paper towels, drain.
Using a mortar and pestle or a small food processor, crush the garlic, onion, and chili to a rough paste. In a wok, heat the remaining 2 tablespoons of oil and sauté the paste for 1 minute, or until aromatic. Stir in the prawns and chicken and cook for 3 minutes, or until the prawns are pink. Put 2 tablespoons of water and beans, and sprinkle with salt and freshly ground black pepper. Stir in the cooked rice, spring onion, kecap manis, and soy sauce until all of the ingredients are thoroughly heated.
To serve, divide the filling between two lettuce leaves on each serving plate. Garnish with sliced omelette, broken prawn crackers, and fried red Asian shallots, then top with tomato and cucumber slices.