The pork butt does not come from the rear of the pig. Surprised?
* If you buy through links on our site, we may earn an affiliate commission. For more details, please visit our Privacy policy page.
Many people easily confuse pork butt and pork shoulder. It's important to know the differences between the two because certain recipes or dishes call for a specific type of cut.
In this article, we will find out what pork butt and pork shoulder are so that next time you will be cooking using pork, you know which cut to use.
Pork Shoulder vs Pork Butt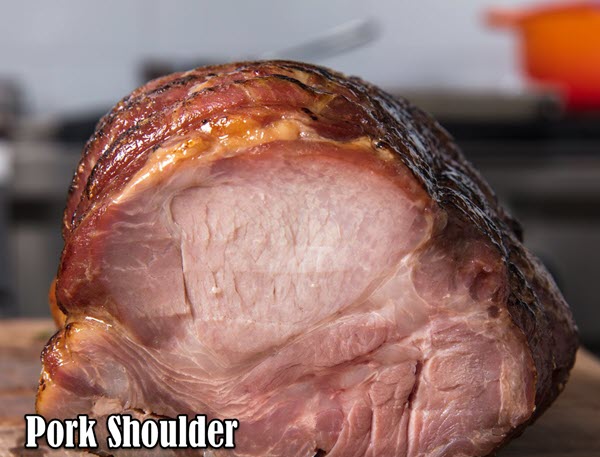 Pork Shoulder
Pork shoulder, also known as picnic roast or picnic shoulder, is a triangular-shape cut starting from above the front leg to the shoulder region of the pig. This cut is relatively tough and contains layered fat from the pig's shoulder region.
At the supermarket, pork shoulder cuts are frequently sold and labeled as pork butt or Boston butt. It is an inexpensive cut that is generally sold bone-in or boneless. Of course, bone-in is generally more expensive.
Cooking Application
Picnic shoulder is versatile and quite easy to cook. However, it is important to know that this cut is tough unless cooked properly.
Unlike lean chops which tend to become dry or rubbery with a long cook time, pork shoulder benefits from lengthy slow cooking. If cooked slowly for several hours, it melts the fat and tenderizes the meat. The best way to cook slow is by using a slow cooker until it's fall-apart tender.
You can cook pork shoulder whole, in pieces or ground. The most common recipe for whole pork shoulder cut is slow-cooked roast. If turned into smaller chunks, they are great for stews. On the other hand, if you have a meat grinder, you can ground pork shoulder and use it for meatballs, meatloaf or patties.
Moreover, while you can cook the pork shoulder with or without skin, some recipes call for skin-on for a crispy skin top. Alternatively, if you don't want to include the skin, you can simply trim it off before cooking. Crackling crisp skin from pork shoulder is also a popular dish worth trying.
It's important to remember that you should not cook port shoulder or Boston butt right out of the fridge. Let it sit on the counter for about 30 minutes before getting started. This gives ample time for the meat to warm up, allowing for even cooking.
If you aren't sure how to cook pork shoulder, you can check out this pork shoulder recipes cookbook for easy-to-cook dishes.
Taste
Compared to the leaner part of the pork, pork shoulder has a more pronounced flavor. If cooked properly with adequate moisture, it also has a sweetness to it.
Nutritional Value
According to Livestrong.com, a 100-gram of fresh raw pork shoulder (a little over 3 ounces) contains 186 calories of which 60% come from fat. With this in mind, you should consume this meat in moderation.
If you want to reduce the calories, you can trim the fat before you cook a pork shoulder.
Moreover, pork shoulder is an excellent source of protein, providing you with 35% of the Daily Value (DV). It also contains amino acids, B vitamins such as thiamin, riboflavin, B6 and B12.
Aside from vitamins, pork shoulder also has some key minerals including zinc, selenium and phosphorus.
Cured, smoked or processed pork shoulder may have different nutritional content as fresh meat.
---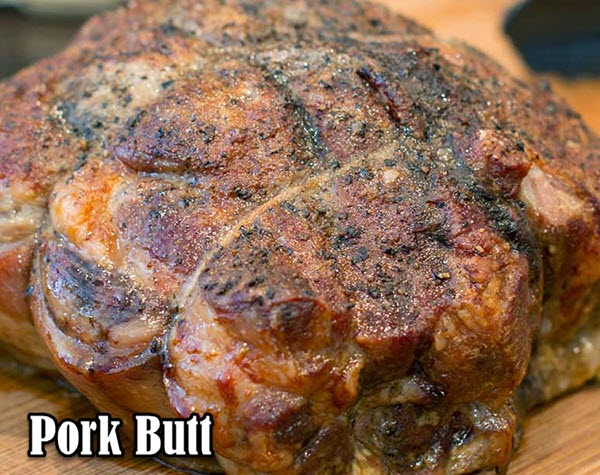 Pork Butt
Despite its name, pork butt does not come anywhere near the butt of a pig. This may come as a surprise to many.
The part of the pig which we might think of as the real butt, that part on top of the leg, is where the ham is. It is not the pork butt.
The pork butt cut is from the shoulder of a pig. It is composed of the pig's shoulder blade, parts of the neck and the upper arm of the pig. In a butcher shop, it is known by several names including Boston roast, Boston butt, shoulder blade roast and Boston shoulder roast among others.
The name pork butt actually makes sense considering that the word "butt" also means the thicker end or blunt end of something. Pork butt is the thicker end of the shoulder, hence its name.
Just like pork shoulder, pork butt is also an inexpensive part of the pig. It is also quite versatile when it comes to cooking applications.
Cooking Application
Pork butt or Boston butt is the part that is commonly used for pulled pork. Aside from pulled pork, it is also well-suited for roasting. Using a roaster oven, you can evenly cook pork butt and get the best results.
Moreover, barbecue pork butt is also very popular. If cooked low and slow in the grill, the connective tissue and fat in the meat make it succulent and moist.
Just like pork shoulder, pork butt is also great for steaks, slow cooking, braising and stewing. Additionally, there are many other good recipes for ground pork butt. You could turn it into sausages, patties and also meatballs.
Taste
Since the butt comes from the hard-working shoulder blade region of the pig, it develops full flavor. This is the reason why like pork shoulder, pork butt is also relatively versatile as it can easily add great flavor to the dish.
Nutritional Value
Although pork butt contains essential vitamins, minerals and protein, it is high in calories. You should eat this fat-marbling meat in moderation to avoid health problems.
Based on an article published by Livestrong.com, a 3-ounce pork butt contains 196 calories and 23 grams of protein. This data is from the USDA FoodData Central.
Setting the calories content aside, pork butt is a good source of other vitamins and minerals including B vitamins, zinc and selenium. The zinc in pork butts helps in your immune function while the selenium plays a role in reproductive and thyroid health.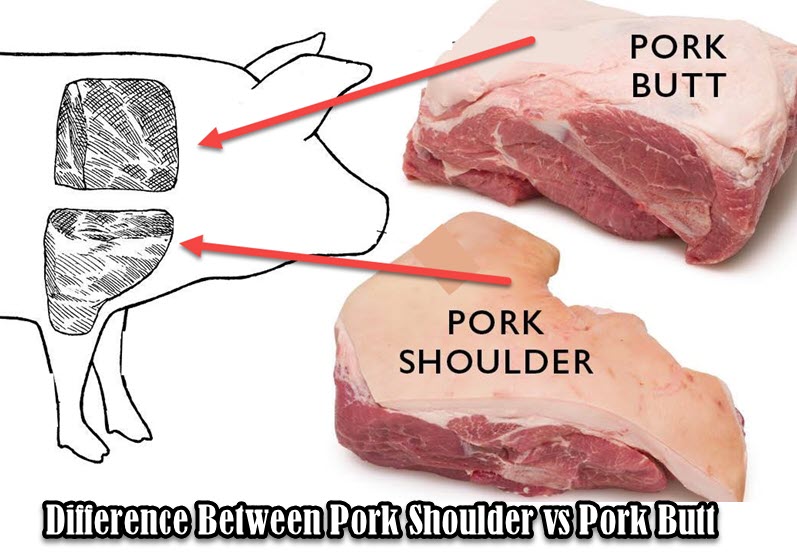 Difference Between Pork Shoulder vs Pork Butt
Pork butt vs pork shoulder, which one should you choose? You should be able to answer this question now knowing the characteristics of each cut. However, if you aren't sure yet, we have rounded up the significant differences between the two:
Source
The pig's front shoulder is called a primal cut and this part is a portion of the whole carcass. The primal shoulder is then divided into two sub-primal cuts which are the pork butt and shoulder.
Although pork butt and pork shoulder are from the same shoulder region, there are cuts from opposite ends. The former is from the fattier and thicker end of the front shoulder whereas the latter is from the thinner end.
Shape
At the butcher shop, it's easy to distinguish these two cuts because of their shape. Pork butt has a more uniform shape which is typically rectangular shape. As for the pork shoulder, it has an irregular shape that is tapered and triangular in form.
Cooking Application
In several basic recipes, you can use both pork shoulder and pork butt interchangeably. Examples are pork steaks, pork roast and stews. You can also use both pork butt and pork shoulder in meatballs and patties without significant differences in taste.
However, because of the natural qualities of these meat cuts, they are more ideal for certain types of dishes. For example, since pork shoulder meat has lesser fat, if you have to roast it, it is best to have the skin on to get that crispy fat cap.
On the other hand, when it comes to cooking pork butt, this cut of meat is great for making pulled pork. Low and slow cooking time or any cooking method that delivers that pulled pork effect works for this cut of meat. This way, the intramuscular fat that connects the pork meat will break down and give you that melt-in-your-mouth tender meat you are looking for.
Taste
Comparing pork butt vs pork shoulder when it comes to taste, the difference has more to do with the presence of fat, particularly intramuscular fat.
On one hand, pork butt as it is rich in marbled fat tends to be more flavorful than pork shoulder. On the other hand, pork shoulder has less fat, and that affects its flavor.
It's important to note though that the recipe and the cooking method can greatly affect the flavor of both pork shoulder and pork butt. Overall, they greatly benefit from low and slow cooking methods. When the meat is tender and moist, they taste great in whatever dish you use them.
Nutritional Value
Comparing pork butt vs pork shoulder in terms of nutritional value, the latter is generally healthier due to its low-fat content. You can also remove the fat layer on top if needed. Doing this may affect its flavor plus you won't achieve that crusty exterior when roasting. But if you don't want any fat, it is an option.
When it comes to pork butt, because of the marbled fat content throughout the piece of meat, it has more calories than pork shoulder.
Pork butt and pork shoulder both contain essential B vitamins as well as minerals that can boost your overall health.
Price
Pork shoulder and pork butt are both inexpensive cuts of meat. However, between the two, the former is generally less expensive.
The price of these meat cuts is generally affected by whether they are sold skin on or without skin, bone-in or without the bone.
---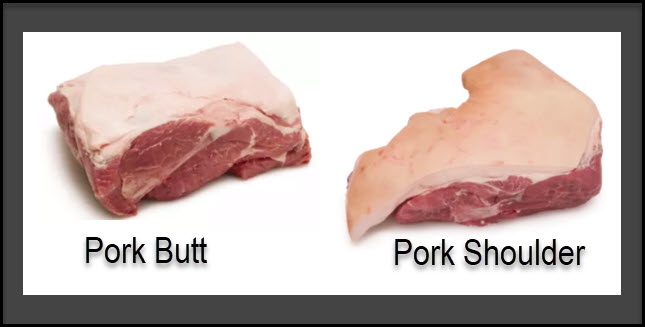 FAQs
If the recipe calls for pork butt, can I use pork shoulder?

There are recipes where you can use these two cuts interchangeably, while there are also recipes that call for a specific meat cut. So it all depends on the requirements of the dish.

Is pork butt better than shoulder?

The answer to this question depends on which area you are comparing with. For example, if you compare the nutritional value of the two cuts, pork shoulder is generally better. However, the opposite is true when it comes to basic taste.
Conclusion
We hope that our guide helps you know and understand these two cuts of meat that are often used interchangeably by many. With that information in mind, you can now easily pick the right kind of cut for your dish or for your specific cooking requirements.
* If you buy through links on our site, we may earn an affiliate commission. For more details, please visit our Privacy policy page.