Have you tasted a creamy royal purple sweet taro bubble tea before? If you are a boba or bubble tea drinker, you might already have. If you are still new to bubble teas, taro milk tea is definitely a must-try. This drink typically costs around $5 a cup in tea shops.
* If you buy through links on our site, we may earn an affiliate commission. For more details, please visit our Privacy policy page.
Taro bubble tea is one of the classic favorites, along with jasmine boba tea, matcha boba tea and several others. This drink has a rich and creamy texture with a sweet and nutty taste. It is also known for its purple color. Some people are hesitant to try this drink because they are not familiar with the taste. But based on its popularity, you'll know that many people love drinking taro milk tea.
If you are interested to taste taro milk tea but are not willing to spend a few bucks per cup, we will show you the cheapest and easiest way to prepare this drink at home. Making your own taro tea allows you to customize the sweetness and creaminess, plus you get to save a few bucks than when you order from a tea shop.
What is Taro?
Taro is a root crop of a vegetable called Araceae which is native to Southeast Asia and India. Currently, the taro root vegetable is also widely cultivated in other parts of the world including Brazil and Hawaii. Depending on where the taro root is from, it can have a purple, white, or pink color on the inside. When taro root is cooked it will remind you of potatoes because of the starchy texture.
Moreover, you can't eat raw taro root. You need to cook them. There are also different ways on how to cook this root crop, such as frying, boiling, mashing and roasting. Also, taro roots are commonly used in preparing desserts and drinks such as smoothies, cocktails and the classic milk teas.
Health Benefits of Taro Milk Tea or Taro Boba Tea
In their original form, taro roots are rich in dietary fiber, manganese, potassium, copper, phosphorus, magnesium, vitamin B6, vitamin E and Vitamin C. With these nutritional components, it's not surprising to know that consuming products that contain taro may offer certain health benefits. Taro can help control your blood sugar, reduce your risk of heart disease and gut issues, and it may also help you lose weight. Consuming food or drinks that contain taro such as taro milk tea allows you to enjoy these health benefits.
How to Make Taro Milk Tea Beverage
A boba milk tea made of taro can be prepared from scratch using taro roots. You can also prepare it using taro powder. Most boba tea shops now prefer the latter due to their convenience and fast preparation time.
Preparing taro boba tea from scratch
They say that a taro milk tea that's made from scratch has a richer and more authentic flavor. However, they can be time-consuming to prepare. But if you have access to taro roots and would like to try preparing taro milk tea, you can follow this simple taro milk tea recipe. The total time for this recipe is 15 minutes (12 minutes cook time and 3 minutes prep time). You also need two glasses for serving the milk tea.
Ingredients:
2 cups of water
6 ounces of taro, cubed
1 tsp jasmine tea leaves (optional, for added aroma and flavor)
half a cup of boba pearls
brown sugar for the boba and the taro mixture (you can adjust to your desired sweetness)
milk or creamer
ice
Procedure
In a medium-sized pot or saucepan, over medium heat, bring the water to a boil. Once boiling, you can now add the taro cubes. Reduce the heat and let it simmer for 8-12 minutes or until the taro roots become soft.
While still simmering put the jasmine tea leaves in an infusion or cheesecloth and drop it into the simmering water.
Once the taro roots are already soft, remove the pot from the stove and steep for about 15 minutes.
After 15 minutes, remove the taro roots and let them chill in the fridge for at least half an hour. On the other hand, remove the infuser or cheesecloth with the jasmine tea leaves. Transfer the tea to a smaller container and chill in the fridge for about the same time.
While the tea and taro roots are chilling, you can start preparing your boba pearls by cooking them based on the instruction in the packaging. Once ready, place half a cup of the boba pearls in a bowl then add brown sugar and combine thoroughly. Set aside.
Put the chilled tea into the blender then add about 4 ounces of taro cubes. Blend for two pulses until the taro has turned into tiny bits. Add milk or creamer and sugar depending on how sweet you want your taro milk tea to be.
Assembly time! Divide and pour the Boba pearls into two glasses then add ice cubes. Pour blended taro root mixture in each glass and top it with any topping you like.
Preparing taro boba tea from taro milk tea powder
If you don't have the time to make taro milk tea from scratch, there's an easier way to do it at home. That is by using taro milk tea powder which allows you to enjoy this delicious treat in less than 10 minutes.
The preparation procedure for this boba tea drink may vary from one product to another but the basic step involves dissolving the powder in hot or room temperature water then adding tapioca pearls and ice.
Here are our top picks for taro milk powder. We love them because aside from being easy to prepare, they also offer that rich and creamy flavor that taro roots can offer.
This product already contains sugar, creamer (not indicated if it is dairy or non-dairy) and vanilla, although the vanilla doesn't overpower the taro flavor. The recipe just calls for adding water (either cold or hot) and mixing.
To prepare a tasty cold tea taro milk drink, pour 200 ccs of hot water in a cup then add three teaspoons of this product. Stir well then add more ice before serving.
To prepare a hot tea taro milk drink, dissolve the same amount of this product in 500 ccs of hot water. Blend well then serve.
You may try adding jelly or tapioca pearls to the taro tea for improved flavor and texture. This recipe is a must-try!
Some customers suggest adding 1 tbsp sugar and 1 tbsp creamer for sweeter and creamier results.
---
The Aroma taro milk tea powder is multi-purpose as you can also use it for preparing smoothies and yogurt. If you like adding taro flavor into your desserts, it's a great choice for you. It contains sugar and non-dairy creamer so it's suitable for those who are lactose intolerant.
There are two ways to prepare your taro milk tea drink using this product. The first recipe uses hot water and the second recipe uses cold water. You can also add tapioca pearls, ice, as well as fresh milk or condensed milk to make the tea creamier.
With this product, you can enjoy 6 cups of delicious purple taro drink. That is 6 cups of fresh goodness!
---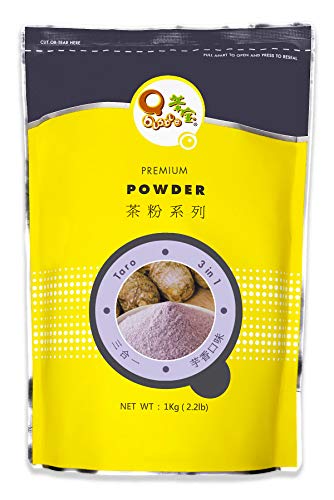 This product allows you to create a delicious taro bubble tea beverage easily and conveniently. It has a simple recipe that anyone can follow.
The Qbubble tea recipe requires you to add 3 tbsp to 4 tbsp of taro powder to a 16-ounce shaker. Add 2 ounces of water and 3 ounces of your chosen black or green tea (we think that green tea is the best) and sugar and stir thoroughly. You can then add ice before serving.
While most taro milk tea recipes indicate that you can do the mixing in a cup, based on our experience, you get a better flavor and texture if you use a blender in mixing. That's because you get all the components thoroughly mixed up as opposed to having undissolved powder at the bottom of your cup if you mix it by hand.
---
Conclusion
Are you ready to try making taro milk tea at home? If yes, do you have your own taro milk tea recipe?
Whether you have your own classic recipe in making taro milk tea or none, one thing is for sure: it's a delicious treat that you can prepare all year round, right in your own kitchen. Taro milk teas from tea shops are quite expensive so you can save if you have your own taro milk tea recipe and prepare it when the craving kicks in.
* If you buy through links on our site, we may earn an affiliate commission. For more details, please visit our Privacy policy page.