Korean Cuisine and other Asian cuisines are now growing in popularity known for its delicious and good food. . Although some Korean restaurant can be expensive, not to worry because you can now easily buy Korean foods and enjoy eating it at the comfort of home. Korean Barbecue made from Korean BBQ marinade is the most common Korean food that many people enjoy cooking at home surrounded by family and friends. When planning to eat Korean barbecue at home, you will be needing a Grill pan. Lucky for you, we have rounded up in this post some of the best Korean Grill pan that you can buy online.
| Product | Brand | Name | Price |
| --- | --- | --- | --- |
| | TECHEF | TeChef - Stovetop Korean BBQ Non-Stick Grill Pan with New Safe Teflon Select Non-Stick Coating (PFOA Free) (Grill Pan) | Check Price on Amazon |
| | Techwood | Techwood Raclette Table Grill, Electric Indoor Grill Korean BBQ Grill | Check Price on Amazon |
| | Iwatani | Iwatani Smokeless Korean Barbecue Grill YAKIMARU CB-SLG-1 | Check Price on Amazon |
| | QUEEN SENSE | Queen Sense Korean BBQ Samgyeopsal Non-Stick All powerful Stovetop Grill Pan - Drain grease system | Check Price on Amazon |
| | De'Longhi | De'Longhi Perfecto Indoor Grill with Lid | Check Price on Amazon |
* If you buy through links on our site, we may earn an affiliate commission. For more details, please visit our Privacy policy page.
Best Korean Grill Pan
Listed below are some of the best Korean BBQ grill that you can buy online.
Dimension: 12 x 12 x 2 inches (LxWxH)
Weight: 2 lbs.
Heat Source: Gas stove
Material: Aluminum
Color: Grill Pan
Drain System: Fat & grease draining hole
Dishwasher safe: YES
First on the list of the best Korean Grill Pan is the Stovetop Korean BBQ Non-stick Grill Pan by TeChef. It is coated with 5 layers of non stick coating made of Teflon while at the same time PFOA free.
The cool swirl design that you'll notice on this Grill pan allows the oil to be drain gradually as a result of a more flavorful and delicious meat. It also features a fat and grease draining system with a drain hole wherein grease and fats are being collected. Just make sure to put a bowl for the oil and grease will be drained since a drill container is not included.
The cooking surface is approximately 12 inches in diameter allowing users to cook and prepare Korean BBQ faster as compared to using a standard frying pan.
If you are looking for a fast cooking grill pan, TeChef Stovetop Korean BBQ Non-stick grill pan is the perfect grill pan of choice.
It is easy to clean and easy to maintain since it is dishwasher safe. Other than that, it is oven safe too for up to 450ºF.
Interested in this product, buy it now on Amazon
---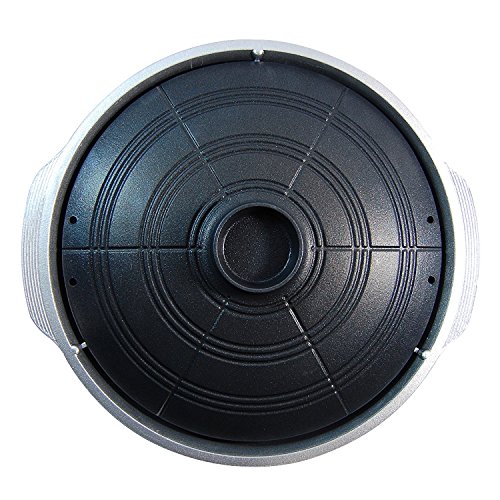 Dimension: 13.5 x 2.3 x 13.5 inches (LxWxH)
Weight: 3.85 pounds
Heat Source: Gas burner
Material: Aluminum
Color: Grill Pan
Another Grill pan that we will be looking into is the Korean Traditional BBQ Grill Pan by CookKing. It has a multi layer coating that is Non stick.
This Grill pan consists of 2 piece: an aluminum drip pan and a cast aluminum grill plate. Basically, the food will be properly cooked on its top side while at the same time the fats and grease are drained to the drip pan underneath. Though it does not actually drained all the oil.
With this pan you can different kinds of meat such as pork belly, steak, beef short rib and other meats and fish too.
This Grill pan can be used for both indoor and outdoor, and another good thing about this product is that it is smokeless. This means that you don't have to worry about that smoky smell. It can be used with portable gas burners.
Interested in this product, buy it now on Amazon
---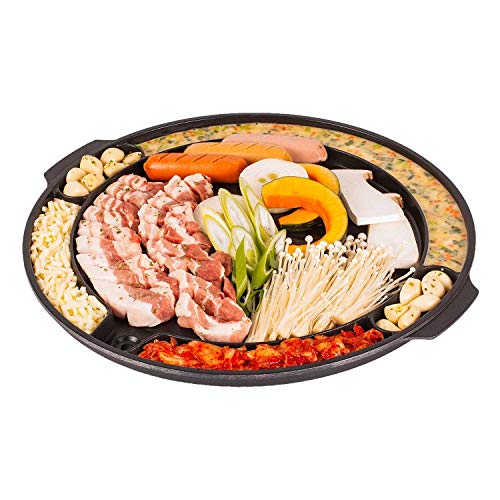 Dimension: 16 x 2.3 x 16 inches (LxWxH)
Weight: 3.72 pounds
Heat Source: Gas burner
Material: Nonstick Titanium
Color: Black
Drain System: Dome drain
Another CookKing product that we don't want to miss is the Master Grill pan, Korean Traditional BBQ grill pan. It is coated with a non-stick titanium. It has a tip that basically locks the BBQ grill plate unto the gas burner to keep it in place.
Because it is versatile, it is the most popular Korean BBQ grill plate especially during BBQ gatherings at home.
What's unique about this plan is that it has several compartments on its edge and sections to cook other small Korean side dishes. While cooking the main dish on the center of the grill pan that measures approximately 9 inches, you can also cooking sides dishes at the same time.
It is Korean made and smokeless too.
Interested in this product, buy it now on Amazon
---
Dimension: 11.93 x 10.94 x 5.87 inches (LxWxH)
Weight: 1 Kilograms
Heat Source: Gas burner
Material: Alloy Steel
Frame Material: Aluminum, Alloy Steel
This smokeless BBQ grill pan by Iwatani is unique. It has its own butane burner (gas powered) that can definitely cook your food faster than the standard skillet. Typically, the burner can burn and reach up to approximately 3,5 hours that is per canister of the butane.
It is characterized by a steel powder coating body, an aluminum die casting plate and an aluminum heat resistant die casting. There is also a knob on the burner.
Whether you want to relax and unwind outdoors, the Iwatani Smokeless Korean BBQ grill plate will make a great choice.
Interested in this product, buy it now on Amazon
---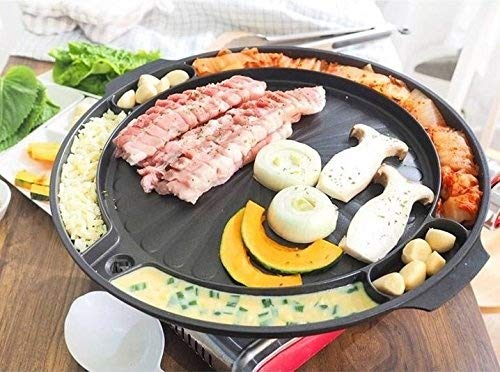 Dimension: 16.22 x 15.91 x 2.13 inches (LxWxH)
Weight: 3.74 pounds
Heat Source: Gas cooker
Material: Cast Aluminum
Drain system: Dome drain
Dishwasher safe: No
The Korean BBQ Samgyeopsal Grill pan by Queen sense is an perfect example of what a multifunctional Korean bbq grill plate. It is large enough as compared to other grill plates we just mentioned beforehand. Although has a large diameter, it is still a budget friendly grill pan.
With this grill pan, you can actually save cooking time. Aside from its center core where you can cook the main dish or meat, the outer ring is also designed for cooking other side dishes such as rice, egg based or vegetables as well.
Its dome shaped design has a draining hole that allows grease and fats to be drained and collected while at the same time the petal designed at the center core prevents the food from being mixed with its fat. The design also allows for the heating surface of the grill pan to heat evenly thereby foods are cooked evenly as well.
Can be used in indoors or outdoors because of how compact its size is.
Interested in this product, buy it now on Amazon
---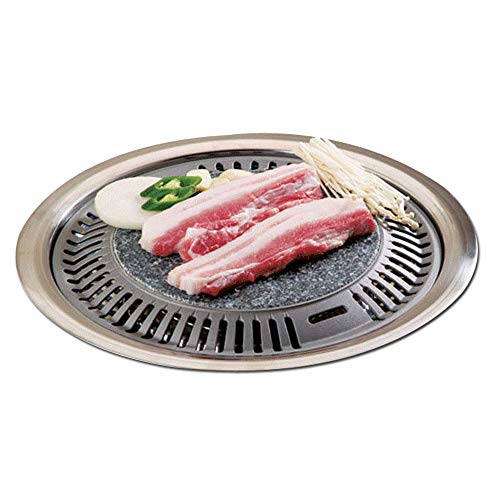 Dimension: 14.5 x 14.1 x 2.6 inches (LxWxH)
Weight: 3.94 pounds
Material: Stoneware
Heat source: Gas burners
This one is quiet unique. A Korean made BBQ stone grill BBQ plate by Dong Woo.
It consists of a two-piece assembly: the dome shaped and the Agalmatolite stone surface with a stainless steel grill plate. The water ring basically collects the run off while at the same time warming and or steaming the food on its edge. The Agalmatolite stone absorbs the fats and oil from the meat thereby cleaning and maintaining the grill won't be a fuzz.
Another smokefree grill pan, does not leave a smoky smell on the person's body. Perfect tool for cooking BBQ, steak and Fish.
Interested in this product, buy it now on Amazon
---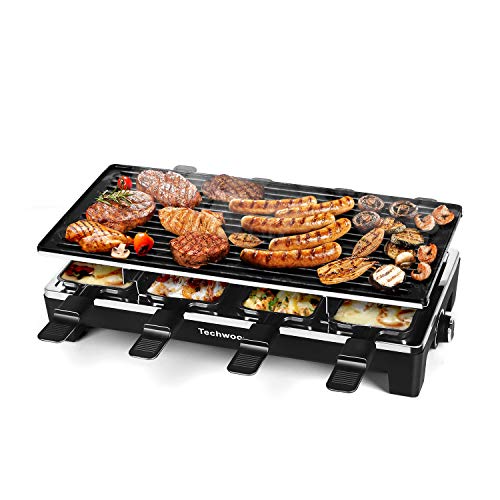 Dimension: 19.1 x 5.2 x 9.2 inches (LxWxH)
Weight: 7.4 Pounds
Heat Source: Electric
Material: Steel
Color: Jet Black
Wattage: 1500 watts
A non-stick Raclette Table Grill Electric Indoor Grill Korean BBQ grill by Techwood. This BBQ grill comes with a non-stick grilling plate with large cooking surface ideal for use for parties. It is equipped with a 1500 wattage power grill that perfectly melts the cheese, cooking meat conveniently and easily and vegetables.
It features two Grill plate that are reversible:
Grooved surface- this allows to grill the primary meat while at the same time removing excess fats.
Flat surface- allows you to cook crepes and other foods such as eggs and pancakes.
It is made with a non-stick coating making it easy to clean and maintain.
Interested in this product, buy it now on Amazon
---
Dimension: 19.69 x 13.19 x 6.69 inches (LxWxH)
Weight: 10.8 Pounds
Heat Source: Electric
Material: Glass and Die-cast Aluminum
Wattage: 1500 watts
Delonghi BG24 Perfect Indoor grill can cook foods easily with a powerful wattage of 1500 watts. The Indoor grill comes with a tempered glass lid that helps retain the moisture and the food's flavor.
It is non-stick thereby perfect for cooking Korean Samgyeopsal, meat, vegetables and fish. To remove grease and fats, it is also designed with a drip pan.
It also features an adjustable thermostat that can also be detached.
Interested in this product, buy it now on Amazon
---
Buying Guide Tips:
Below are some of the buying guide tips that you need to consider when deciding to buy Korean BBQ grill plate.
Material
There are two things that you need to consider with the materials used for the plate:
Base Material
Aluminum base grill plate is by far the perfect choice when choosing the grill plan. When the base of the grill plate is made of Aluminum it usually heats faster as compared to non aluminum base plate and the heat are evenly distributed as well.
Whereas, with cast iron base pan is also an excellent choice and considered to be the most durable base material for all Korean BBQ grill plate bases. Although not budget friendly as compared to Aluminum base.
Coating Material
To prevent the meat from sticking into the plate, an excellent choice with regards to the coating material used for your BBQ grill pan is a non stick coating such as Titanium, Marble top, Teflon and Aluminum coating.
Size of the Plate
When considering the plate size of the grill plate, you also have to keep in mind the number of individuals you would normally used it for. For large parties and gatherings, you will be needing a grill plate with a large grilling surface whereas for solo cooking a compact grill plate will do.
Heat Source
There are different sources of heat that varies with each Korean BBQ grill such as portable gas burner, electric heat, or charcoal heat.
Drip Tray/Bowl
The drip trap is an important factor that you also need to consider. Although not all brands have drip trays included in the package, not to worry because you can still use a bowl to place under the draining hole of the grill.
Taking care of your BBQ Grill plate:
Not all BBQ plates are dishwasher safe, therefore if you are unsure if it is safe or not, otherwise mentioned, you can handwash it instead.
Before using the pan, you can apply oil unto its cooking surface for a few minutes to allow the oil to soak through the coating. Heat the grill first on high temperature then place the meat for cooking.
If BBQ pans not used for quite some time, repeat the same process and steps above before using it.
Ensure that the interior and its exterior are clean after every cook out. You can safely use a soapy water and scrubbing the pan. Make sure pan is cool enough before you wash it.
In removing grease, check first to make sure harsh and corrosive materials are not used.
FAQs
What is a Korean Barbecue?
A popular way of grilling Korean foods such as meat, vegetables and Fish. Heat source are typically attached to the table and BBQ plates are placed above.
What kind of grills does Korean BBQ usually use?
Korean Barbecue typically uses charcoal, gas burners, portable stovetops and electric grills.
Are Korean Barbecue grills safe to use in Indoor settings?
Most of Korean BBQ grills are used indoors, unless stated otherwise, and yes they are safe to use. Make sure the grills are smokeless. If you happen to use a non smokeless grill, make sure to open your windows to avoid suffocating coming from the smoke.
Conclusion
There are different types of Korean Grill pan in the market nowadays, it's just a matter of what type suits you best. We hope that this guide has helped you decide and understand the differences of each pan according to the features presented. Let us know what you think.
| Product | Brand | Name | Price |
| --- | --- | --- | --- |
| | TECHEF | TeChef - Stovetop Korean BBQ Non-Stick Grill Pan with New Safe Teflon Select Non-Stick Coating (PFOA Free) (Grill Pan) | Check Price on Amazon |
| | Techwood | Techwood Raclette Table Grill, Electric Indoor Grill Korean BBQ Grill | Check Price on Amazon |
| | Iwatani | Iwatani Smokeless Korean Barbecue Grill YAKIMARU CB-SLG-1 | Check Price on Amazon |
| | QUEEN SENSE | Queen Sense Korean BBQ Samgyeopsal Non-Stick All powerful Stovetop Grill Pan - Drain grease system | Check Price on Amazon |
| | De'Longhi | De'Longhi Perfecto Indoor Grill with Lid | Check Price on Amazon |
* If you buy through links on our site, we may earn an affiliate commission. For more details, please visit our Privacy policy page.