Malaysian Hot Noodles With Tofu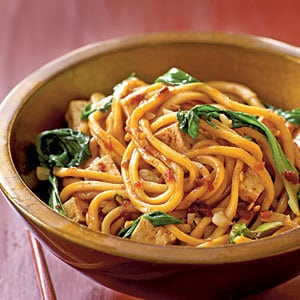 Ingredients
13 oz Tofu, dried — sliced
9 oz Chinese dried wheat noodles
13 oz Firm tofu — cubed 1/2″
3 tb Chinese sesame oil
3 tb Fresh ginger — minced
1/2 ts Yellow asafoetida powder*
1 bn Choy sum**, leaves and -stalk — chopped in 1″ -sections
3 tb Soy sauce
2 tb Plain sambal oelek***
3 tb Fresh lemon juice
2 c Mung bean shoots
Directions
Soak dried tofu slices in hot water for 15 minutes. When softened, cut into 1″ squares, drain, and pat dry. Cook the wheat noodles in boiling water until al dente, a little firm. Drain, rinse under cold water, and drain again. Heat oil in wok over high heat, and deep-fry the tofu cubes until goldenbrown. Remove from pan and drain. Next deep-fry the squares of dried tofu until golden brown andslightly blistered; remove and drain. Heat sesame oil in another wok on full heat; saute the minced ginger for 1 minute. Add the asafoeitda and choy sum and stir fry until soft. Add the soy sauce, sambal oelek, lemon juice, tofu noodles. Stir fry for another 2 minutes or until the noodles are hot. Serve immediately.
*asafoetida powder: available at Indian grocers **choy sum: also known as rape
***sambal oelek: a hot condiment made from ground fresh red, hot chilies, popular in Malay and Indonesian cuisine. Available at Asian grocery stores. To make your own,see the Malaysian Sauces recipes
Recipe from Kalachandji's Restaurant and Palace, Dallas, Texas
Five-Spice Stir Fry
Serving Size: 4 Preparation Time :0:35
Ingredients
8 ounces vermicelli, spaghetti, or linguine
SAUCE:
1/2 cup orange juice
1 tablespoon corn starch
3/4 teaspoon Chinese five-spice powder
1/4 teaspoon crushed red pepper flakes
2 tablespoons soy sauce
2 teaspoons liquid sweetener
STIR-FRY:
12 ounces mushrooms — cut into 1/4″ slices
1 cup fresh baby carrots — quartered lengthwise
1 medium onion — cut into thin wedges
2 cloves garlic — minced
3 cups broccoli florets (about 6 oz.)
Directions
Cook pasta per package directions. Drain and cover to keep warm.
Meanwhile in a small bowl, combine all sauce ingredients and mix until blended. Set aside.
Spray a nonstick skillet or wok with nonstick cooking spray. Heat over medium-high heat until hot. Add mushrooms, carrots, onion, and garlic. Cook and stir 4-5 minutes.
Add broccoli, cover, and cook 2-4 minutes or until vegetable are crisp-tender, stirring occasionally. Add sauce, cook and stir 2-3 minutes or until bubbly and thickened.
Serve over pasta.
Crispy Fried Tempe (Keripik Tempe)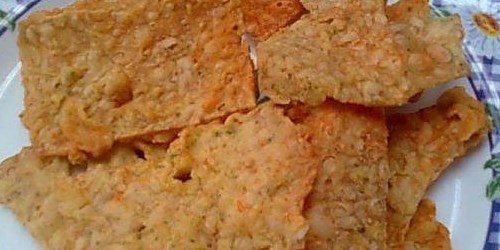 Ingredients
600 gram tempe (fermented soybean cake) – not tofu
200 ml water
½ tsp. slaked lime water
100 gr. rice flour mixed with 25 gram cornstarch
vegetable oil
Spice Paste Ingredients:
4 candlenuts
1 clove garlic
1 tsp. coriander seeds
salt to taste
1 cm fresh kencur
Directions
Slice the tempe in thin 3½ x 5 cm squares. Set aside.
Mix the spice-paste together with the water and slaked lime water. Add the rice flour and cornstarch and blend till smooth.
Heat the oil in a wok, dip the tempe in the batter and deep-fry until it is golden brown and crisp.
Note: Make sure that the oil is not to hot, otherwise the batter and the tempe will not be done at the same time.
Makes 5-6 servings.
Nasi Goreng (Fried Rice)
Yield: 2 servings
Ingredients
4 c Long-grain rice
8 Shallots or 1 small onion
4 Red chilis or 2 tsp chili -powder and 2 tsp paprika
4 tb Vegetable oil
Salt
2 ts Sweet soya sauce
2 ts Tomato ketchup
Directions
The name Nasi Goreng means simply 'fried rice', and it is really a collective description of an indefinite number of slightly differing dishes. You can vary the trimmings and garnishes to suit your taste; but even the most elaborate Nasi Goreng is quick to make. It is a particularly good luncheon dish.
Boil the rice a good long time before you intend to fry it; you can fry freshly boiled rice, but the Nasi Goreng will be better if the boiled rice is allowed to cool. Two hours is a satisfactory interval. Leaving the rice to cool overnight, however, gives less good results-the rice has time to go dry and stale. An important point to note here is that rice for Nasi Goreng must be cooked with the least possible quantity of water; this prevents it from becoming too soft. For 1 cup of rice, use 1 cup of water. Assuming you have now got your cool, boiled rice, proceed like this: slice the shallots or onion, seed and slice the chili (or pound the shallots and chili together in a mortar). Heat the oil in a wok; it makes no difference, by the way, whether you use oil, fat, or butter. Saute the shallots and chili for a minute or so, and season with salt, soya sauce, and tomato ketchup. Put in all the rice, and stir it continuously until it is well heated: this will take 5 to 8 minutes. Serve in a good large dish, generously garnished with sliced cucumber, tomatoes, fried onions, and Krupuk.
Oseng-Oseng Wortel (Stir Fried Carrots)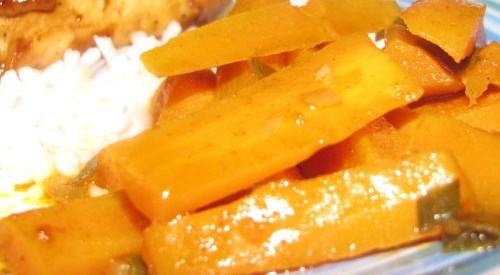 Yield: 2 servings
Ingredients
250 g (8 oz) carrots
4 Shallots
1 Clove garlic
1/2 Green or red chili or
1 pn Of chili powder
4 tb Good stock or 1 ts Dark soya sauce and 4 tb -water
2 tb Vegetable oil
Directions
These are carrots, cut into matchsticks and cooked in a little oil or butter. The word wortel doesn't sound Malay, and isn't. It is borrowed from the Dutch name for the carrot, since it was the Dutch who introduced this vegetable to Malaysia.
Peel, wash, and cut the carrots into small sticks. Slice the shallots and chili. Crush the garlic. In a wok, heat 2 tablespoons of vegetable oil or clarified butter. Saute the slice shallots and chili for 1 minute, then add the garlic and the carrots. Stir continuously for a minute or so and then put in the stock, or soya sauce and water. Cover and continue to cook for 4 minutes. Uncover, taste, and add salt if necessary. Cook for a further 2 minutes, stirring all the time. Serve hot.
Makes 2 servings.
Terong Balado
Ingredients
1 lg Eggplant
3 Garlic cloves, -sliced or chopped
4 tb Onion, chopped
1 1/2 c Tomatoes (fresh), ripe
1 t Sugar
1 t Salt
2 ts Red hot chili peppers, -fresh
1/2 c Water
2 tb Vegetable oil
Directions
Cut the eggplant into long quarter-round strips. Bake them at 400 200 for 20-25 minutes, or until they are soft but not mushy.
Meanwhile, in a bowl, mix the onion, garlic, tomatoes, salt, sugar, peppers and water and mash with a wooden spoon until it forms a coarse paste.
Fry the tomato paste in the oil until the liquid is reduced (about 10 minutes). Pour the sauce over the eggplant and serve immediately
Asinan (Sweet And Sour Cucumber Salad)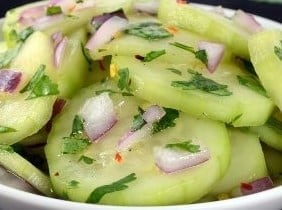 Serving Size : 4
Ingredients
3 ea Cucumber, large
1 ea Onion, med
1 ea Thai chili dressing
1/4 c Vinegar, white
1/4 c Oil
1/2 t Salt
2 t Sugar
1/2 t Garlic powder
Directions
Peel and thinly slice the cucumbers. Slice the onion thinly. Seed and thinly slice the chile. Put the cucumber slices in a shallow bowl, arrange the onion slices on top and sprinkle with the chili slices. Combine all the ingredients with the dressing, mixing well. Taste and adjust seasoning with salt. Pour the dressing over the onions and cucumbers and refrigerate a few hours or overnight if possible to allow flavors to blend.
Atjar Tjampoer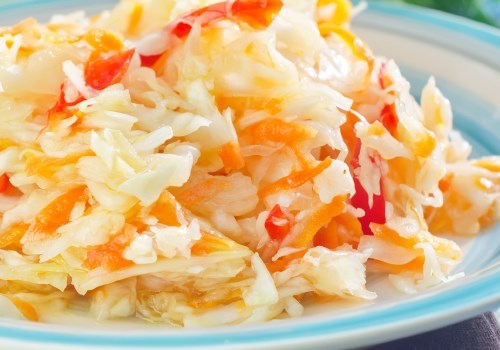 Serving Size : 1
Ingredients
100 g Carrots
Salt
100 g Green beans
4 ea Scallions
100 g White cabbage
2 ea Toes of garlic
1/4 ea Cucumber
1 tb Oil
150 ml Vinegar
100 g Bean sprouts/shoots
1 tb Sugar
1 t Powdered ginger
1 t Kunjit/kurkuma
1 t Sambal ulek
Directions
Cut carrot into the size of matches. Cut beans in 1″ pieces. Chafe the cabbage. In a pan with a little water and salt, boil the vegetables for 5 minutes. Drain. Cut cucumber in *small* cubes.
Peel scallions and garlic. Put in kitchen machine; cut to paste. Mix with sambal, kunjit and ginger.
Heat oil in a frying pan. Fry the herb-mixture for 2 minutes. Add vinegar and sugar; stir to dissolve sugar. Add all vegetables (also the ones not cooked yet); add a *little* water if there is too little liquid. Boil softly for 2 minutes. Put in a bowl and let cool. You can also preserve it by putting the hot veggies in sterilized screw-lid jars (metal lids with a 'dome' in the middle are quite handy, I always save jam-jars when they're empty); add liquid as well. Screw the lids on. Place jars upside down until cooled completely (the 'dome' in the lid will be down, this is to check if the jar closed well). Can be kept for at least a year (store in dark place to avoid having the color goes away). Nice as a present! Kunjit or kurkuma is a herb. If I look on the jar, it says 'powdered yellow-root'. It is used to color this dish, and other dishes as well. In that way it is much like saffron, although kunjit tastes a little bitter.
Sambal ulek: Used as an accompaniment and in cooking. Made by crushing fresh red chilis with a little salt. Remove the seeds from the chilis, chop finely, then crush with salt using a pestle and mortar. Three chilis will make about 1 tablespoon sambal ulek. Also available ready-prepared in small jars from Oriental stores and some delicatessens.
This is a refreshing side dish made of crisp, sweet-and-sour vegetables. Goes really well with Nasi Goreng. The dish can be kept in the fridge for a few days.
Fresh Salad With Peanut Sauce (Keredok)
Ingredients
1 fresh red or green semihot chili, cut into thin slices
1 clove garlic, sliced
1 teaspoon salt
2 small slices kencur, soaked in water for thirty minutes (optional)
3 tablespoons crunchy peanut butter
1 teaspoon tamarind, dissolved in 1 tablespoon water
2 teaspoons sugar
1 cup thin-sliced cucumbers
1 cup fresh bean sprouts
1 cup lettuce, broken into bite-size pieces
Directions
Crush the chili, garlic, salt, kencur and peanut butter in a mortar so it'll become the sauce of the dish.
Add the tamarind liquid and sugar. Mix well.
Toss the sauce with the vegetables until well mixed. Serve chilled or at room temperature.
Makes 4 servings, with other dishes.
White Curry Jackfruit (Gudeg Putih)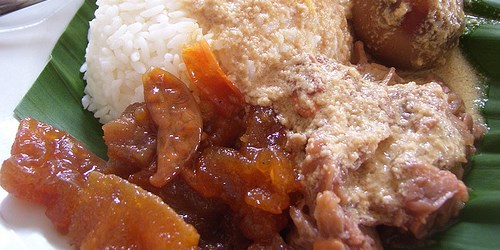 Ingredients
1 kg young jackfruit, peeled and sliced into 5x5x3 cm slice. Soak the slices in plenty of cold water
100 g melinjo leaves
4 bay leaves
1 cm fresh galangale (lengkuas), bruised
750 ml coconut milk and 500 ml thick coconut milk from 1½ coconut Spice Paste Ingredients:
10 small shallots
7 small cloves garlic
10 candlenuts
1 tbs. coriander seeds
salt to taste
a pinch of sugar
Directions
Boil the jackfruit slices in the thin santan together with the melinjo leaves, the spice-paste, salam leaves and lengkuas until the jackfruit is tender.
Add the thick santan. Bring it to a boil, stirring occasionally. Continue simmering until done.
Makes 4-5 servings.
Steamed Mushroom Wraps (Pepes Jamur Kuping)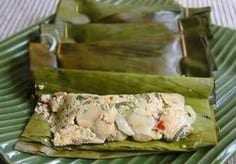 Ingredients
100 gram cloud ear mushroom, soaked in hot water until soft, then drained
1 egg, beaten
125 ml medium thick coconut milk from ¼ coconut
banana leaves Spice Paste Ingredients:
10 red chilies
10 bird shit chilies (prik kii nuu)
7 small shallots
3 small cloves garlic
5 candlenuts
2 tomatoes
1 cm fresh galangal (langkuas)
1 tsp. salt
1 tsp. palm sugar or brown sugar
Directions
Slice the mushroom in 1 cm lengths and mix together with the egg, santan and the spice paste blend.
Devide the mixture among 20 packets made of banana leaves. Fold the ends of the packets and seal.
Steam the packets for about 25 minutes until done. Remove and set aside. Broil the packets over medium heat until liquid has evaporated.
Makes 20 Wraps
Sweet Eggplant Stew (Semur Terong)
Ingredients
1 lb. eggplant
4 Tbs. vegetable oil
1 Tbs. shallots
1 clove garlic, sliced
½ cup water
1 Tbs. sweet soy sauce
½ tsp. pepper
¼ tsp. nutmeg
1 tsp. vinegar
½ tsp. salt
1 tsp. sugar
Directions
Cut the unpeeled eggplant into ½-inch-thick slices, and then cut the slices in half. Fry lightly in 2 Tbs. of oil for 2 minutes, or until light brown and softened. Set aside.
Stir fry the shallots and garlic in the remaining oil until light brown. Add the water, sweet aoy sauce, pepper, nutmeg, vinegar, salt and sugar. Let all of these ingredients cook for approximately 3 minutes to prepare the sauce.
Cook the eggplant slices in the sauce for additional 2 minutes to distribute the flavors. Shake the pan several times to mix but not mash the eggplant.
Serve hot or at room temperature.
Makes 4 servings.
[Image]
Laksa Lemak Nyonya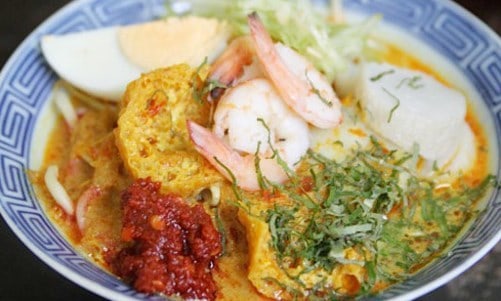 Ingredients
500 gm yellow noodles/vermicelli/spaghetti
1 inch galangal (lengkuas)
2 stalks lemon grass (crushed)
1/2″ turmeric root
10 nos shallots
2 tbsp coriander seed
5 dried chilies
2-3 cup light coconut milk
10 nos tofu puffs (tofu pok)
2 sprigs curry leaves
salt & sugar
For Garnishing:
2 fried firm tofu (sliced thinly) (soya bean paneer)
10 fish balls/chicken balls
1 pc fish cake (sliced thinly)
20 gm bean sprouts
5 boiled egg (halved)
2 tbsp fried shallots
1 cup shredded cucumber
chopped spring onions
Directions
Grind into a paste the galangal, turmeric root, shallots, dried chilies and coriander seeds. Sauté the paste with enough oil. Once the aroma rise add in the light coconut milk, lemon grass, salt and sugar. Lower the flame and simmer for 5-10 minutes. Finally add in the tofu puffs and curry leaves. To serve, assemble individual portions of noodles in a bowl, top with the various garnishing and scoop enough gravy on top. Serve it hot. (Do not substitute dried chilies and turmeric root with chili powder or turmeric powder. Cook the noodles/vermicelli/spaghetti in rapid boiling water and sieve in running tap water before serving in a bowl. For those you could not get tofu pok use shredded boneless chicken).
String-Hoppers (Puttu Mayam)
Ingredients
250g rice flour
1/2 tsp salt
325ml (approximately) boiling water
2 pandan leaves, knotted
Method
Steam the rice flour for about five minutes, then leave aside to cool completely. Sift the flour and salt into a mixing bowl and add boiling water; mix. Use a wooden spoon to stir the mixture into a dough. (it should be light and not sticky to the touch.)
Put a little dough into a puttu mayam press or string-hopper mould. Onto a saucer, press out the dough into long strands in a circular motion to form a lacy circle.
Place the pressed-out circles on lightly greased rattan steamer trays. Steam for 8-10 minutes over rapidly boiling water (place the pandan leaves in the boiling water).
Cool the puttu mayam before easing out from the rattan tray.