It seems that vegetarian recipes have become more and more popular around the world as people become conscious about their health. That's why, if you are looking for new plant-based food to cook, then you have to check the most popular Malaysian vegan food recipes.
Malaysia is home to some of the most delicious dishes. You will love the unique taste and rich flavor their cuisines have to offer.
So, without any further delay, From the bustling city of Kuala Lumpur to the luscious Bornean forest, let's take a look at some of the best Malaysian vegetarian recipes you'll surely love.
Malaysian Vegetarian Recipe
Roti Canai
Before you order this dish, be sure to pronounce it properly — row-tee chen-eye. The term basically means "flattened bread." You can find roti canai almost everywhere in Malaysia as it is a common food for breakfast.
It is made of a flatbread with a flaky and soft consistency. To eat this food, you simply have to tear up a portion of the bread and dip it in the "dhal" curry.
The main ingredients of Roti Canai include the following:
Steps on how to cook:
Get a mixing bowl and add the salt, flour, egg, condensed milk, melted butter, and water. If you have a standing dough mixer, this would be a lot easier.

Mix the ingredients thoroughly and knead for 10 minutes. Leave for 10 minutes and then knead for another 5 minutes.

Create 10 small balls from the big dough. Get the unsalted butter and coat each ball generously with it. Put the coated small balls and put them inside a container. Cover with cling film and store in the refrigerator overnight.

Once your dough is ready, it's time to work on shaping it. Press and push the dough on your working surface, which has unsalted butter spread on it. Flatten the dough as thin as possible.

Now, you're ready to cook. Take the flattened dough, place it on the pan and cook for several minutes. When you see it has turned golden brown, flip it over to cook the other side.
This is just a simple overview of how to cook roti canai. Please feel free to check videos for a more detailed explanation of the cooking process.
---
Veggie Mee Goreng
When you fry noodles and add some vegetables to it, in Malaysia, it's called Mee Goreng. While this may sound like a Chinese dish, there's one big difference. The Mee Goreng is more juicy and savory because of the added fresh lime juice and ketchup.
Here are some of the ingredients you need:
1 boiled, peeled, sliced potato
1 big cut-into-wedges tomato
3 tablespoons cooking oil
2 finely minced cloves of garlic
3 pieces dried bean curd (cut into small pieces)
1 handful of fresh bean sprouts
1 lb. fresh rinsed and drained yellow noodles
1 lime cut into wedges
For garnishing, here are what you need:
Fried shallots
Chopped scallions
Red chili
You will also need the following for sauce:
Add the cooking oil to the wok. heat it. Get the minced garlic and stir fry until it becomes golden brown. Afterward, add bean curd, tomato, and potato wedges. While you add the ingredients, stir continuously. From there, you can now add the yellow noodles and sauce. Continue stirring until all ingredients are well mixed. Add salt and sugar depending on your desired taste.
You can now add the bean sprouts. Take about a minute to stir the whole mix. Turn off the heat and transfer to your serving plate. Add your ingredients for garnishing. For a more zesty taste, squeeze lime juice all 3over the noodles.
With that, enjoy your Veggie Mee Goreng!
---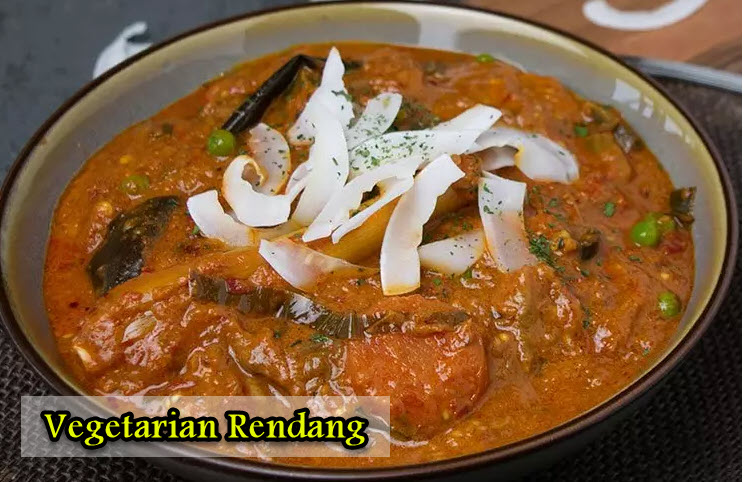 Vegetarian Rendang
Rendang is a beef meat dish. However, you can always turn this into a vegetarian dish by substituting the meat with tofu. Rendang is one of the most popular dishes in Malaysia. Because there are many steps to follow in cooking rendang and it can take up to more than three hours to complete, traditionally, it is most commonly cooked during special occasions. However, since you're going to use tofu instead of beef meat, you should be able to reduce the cooking time significantly.
Let me just share with you the most common ingredients needed for this dish:
Potatoes
Tofu
Green beans
Eggplant
Zucchini
Carrots
Squash
Any type of beans
As you can imagine, by simply looking at the ingredients, you would know rendang would be a highly aromatic and slightly spicy dish. It is just so full of savory flavor. The sauce is something to die for. The combination of seasonings you find in rendang will make your taste buds burst in pleasure.
You can always look for detailed recipes and videos on the Internet and bring this Malaysian dish to your table.
---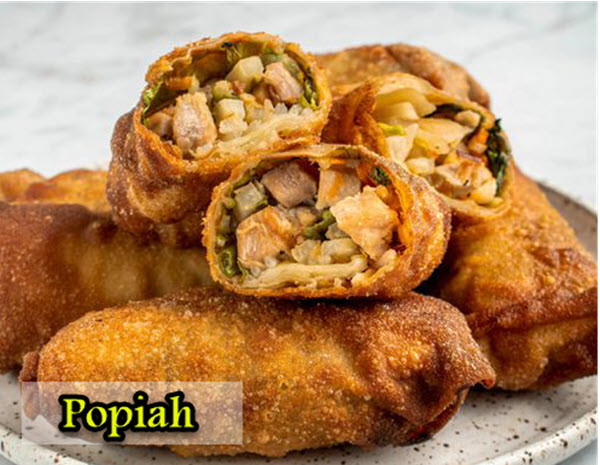 Popiah
This list won't be complete without the ever-popular Popiah. It can be used as part of your snacks or you can eat it with steamed rice. Popiah most likely originated in China. However, this food has reached a lot of places and thus, it has undergone a lot of changes and modifications.
Here are the main ingredients you need to cook popiah:
To prepare the fillings, you need the following:
3 finely minced cloves of garlic
8 ounces of shrimp (you can also use chicken or beef)
2 lbs of grated jicama/yam beans
1 lb bamboo shoot
2 ounces of sliced French or green beans
Sliced bean curds
Sliced shallot crisps
Thinly sliced carrots
For seasoning, prepare the following:
1 teaspoon salt (or depending on your taste)
½ tsp of white pepper powder
1 tsp of sugar
1 cup of water
Sauces
That might sound like a lot of ingredients, but the whole process is easy.
To cook popiah, use a large pot, saucepan, or wok, whichever is available. Use medium heat and then add just enough cooking oil. When the oil is hot, add the bean curd. Fry and wait for the curd to turn golden brown. Stir throughout to prevent the curds from sticking to each other. This should take 4-5 minutes.
Once the bean curds are fried and cooked, remove them from your pan using a perforated ladle. Transfer the cooked bean curds to the bowl. Keep the bean curds for later.
In the same pot with the same cooking oil, add the sliced shallots. Fry them until it turns golden brown. Add green onions or scallions. Stir fry the mixture until you can smell its fragrance.
Add the bamboo shoots and mix well. After a few minutes, add the French or green beans. You can then add the jicama or yam beans. Wait for about 8 to ten minutes. Stir well so that the Jicama softens and mixes well with the rest of the ingredients.
Add carrots to the mix. Season with light soy sauce, salt, ground pepper, and sugar. Mix thoroughly. Finally, get the fried bean curds. Taste and adjust accordingly. This should be all for the main ingredients.
Now, it's time to add the mix to the spring roll. You can simply add 2 ½ to 3 tablespoons of vegetable filling to the wrapper. Roll the spring roll. Continue the process until you have used all the vegetable filling or the wrapper.
You can then heat cooking oil and fry your rolled vegetable filling. Wait until the spring rolls become crispy and golden brown. This takes about 6 to 8 minutes. You can fry in batches, so you can fry more rolls each time.
Served with your chosen and prepared usual or spicy sauce, you can now enjoy eating your delicious popiah.
---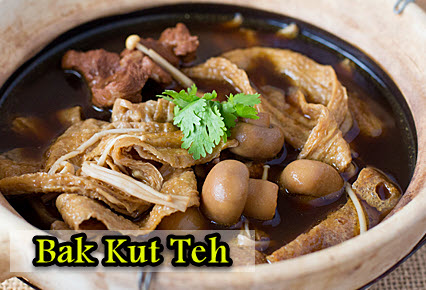 Bak Kut Teh
Bak Kut Teh is a popular pork rib soup in China, Singapore, and of course, Malaysia. Since we are talking about vegetarian dishes, you can always remove pork meat and substitute tofu, bean curd, and mushrooms.
Here are the ingredients that you would need:
Veg mutton
Soy knot
Fresh lettuce
Fried Garlic
Fried Shallot
Mose of these ingredients went through a food processor. So, this means, you can easily find them in your local grocery stores.
You need to wash and cut mushrooms. You can also wash the fresh lettuce. While you do this, you can start boiling water. Once the water reaches boiling point, you can then add veg mutton and soy knot.
Turn down the heat and let it simmer. From there, add the mushrooms and wolfberries. Stir well. Add 3-4 tablespoons of veg bak kut ten paste. Add 1-2 tablespoons of fried garlic and shallot with oil. Cook well and your dish should be ready to serve!
---
Nasi Kandar
If you ever get to Penang, Malaysia, you shouldn't leave without trying their most cherished dish — the nasi kandar. While this dish originated in India, it has been modified for the local taste buds of Malaysia.
Nasi kandar is a delicious potato curry food, which can be served any time of the day. The term itself means food carried on the shoulder — nasi means rice and kandar means shoulders. Today, nasi kandar isn't always carried around by sellers, but it is now served in restaurants.
While the main ingredients of nasi kandar include chicken, you can easily make this a vegetarian dish. All you have to do is use mock meats, tofu, or bean curds. Aside from the plant-based meat, you also need the following:
Potato
Okra
Poppadom
Tomatoes
Pandan leaves
Ginger
Coriander leaves
Garlic
Water
Oil
Cooking the nasi kandar should be easy. The steps involve marinating your meat substitute, deep-frying it, and adding it later to the curry paste and sauce.
Traditionally, the main dish is served with various side dishes, depending on your preference. Undoubtedly, there are different ways to cook nasi kandar. So, be sure to have the right recipe for you to try.
---
Enjoy Malaysian and vegetarian food
There you have it, the best Malaysian vegetarian food you should try. There are more dishes to enjoy such as food that features coconut milk, rice flour, spicy noodle soup, vegetable stock, vegetable curry powder, wheat flour, banana leaf, tofu puffs, and even fresh lemongrass. As you can see, there is a lot to explore in Malaysian cuisine.
You don't have to be in Malaysia to enjoy these great dishes. Simply find a recipe, follow it, and you'll be eating Malaysia's finest food while ensuring you stay fit and healthy.