Aside from having the cleanest streets in the world, desserts in Singapore are a thing you should look forward to as they are truly mouthwatering and irresistible. If you happen to visit this beautiful island, make sure to take a taste of their traditional cuisines that will definitely satisfy your sweet cravings.
| Product | Brand | Name | Price |
| --- | --- | --- | --- |
| | Silk | Silk Unsweetened Organic Soymilk, 32-Ounce Aseptic Cartons (Pack of 6) | Check Price on Amazon |
| | Knox | Knox Original Gelatine Unflavored - 1 oz. box (4 individual powder gelatin envelopes) | Check Price on Amazon |
| | SAENA BAKING CO | PURE Bulgarian Rose Extract For Baking & Mixology. Keto Friendly, Vegan, Gluten Free. | Check Price on Amazon |
| | Inaco | Nata De Coco in Syrup (Coco Pandan Flavor) (Pack of 6) | Check Price on Amazon |
| | Diamond Crystal | Diamond Crystal Kosher Salt – Full Flavor, No Additives and Less Sodium - | Check Price on Amazon |
* If you buy through links on our site, we may earn an affiliate commission. For more details, please visit our Privacy policy page.
Best Desserts in Singapore
PANDAN CHIFFON CAKE
The fluffy pandan chiffon cake which is believed to be native to Indonesia or Malaysia, is also one of the must try desserts in the country. What makes this Singaporean dessert unique is its main ingredient—the traditional pandan leaves that give the cake a lively color and an authentic flavor which comes from the juice of the pandan plant. The pandan chiffon cake is also the "National Cake of Singapore".
Here are the ingredients:
15 pcs pandan leaves
100 ml coconut milk
5 egg yolks
2 tablespoons water
70 ml coconut oil
80 grams sugar
100 grams cake flour
1 teaspoon baking powder
1/2 teaspoon salt
1/2 teaspoon white vinegar
Directions:
Mix 2 tablespoons of water, 2 tablespoons of coconut milk, and pandan in a blender. Strain the mixture to obtain the pandan extract. Set aside.

Beat 5 egg yolks and add 20 grams of sugar when the color lightens. Continue beating until creamy mixture is achieved.

In a mixing bowl, mix 70 ml coconut oil and pandan extract. Then add strained baking powder and cake flour. Set aside.

In a different mixing bowl, mix 60 grams of sugar and the egg whites. Beat over high speed until the mixture becomes foamy. Then add vinegar.

Reduce the speed to medium and continue beating the egg white. Add 1/2 teaspoon salt. Continue beating the mixture until it becomes firm. Make sure not to overbeat the egg whites mixture.

Once the meringue is done, add it into the batter in small amounts or batches. Fold until both are mixed perfectly.

Steadily pour the batter in a mould that measures approximately 18- 22 cm, at the same time, tilt the mixing bowl to ensure that its air bubbles free. Otherwise, use a chopstick to pop the air bubbles.

Put it inside the oven and bake over 150 degrees Celsius for about an hour or until the color turns golden brown. Remove the mould from the oven and place the pandan cake upside down. Let cool to room temperature.
You can slice the light chiffon cake flavoured with pandan leaves or serve it as a whole with your favorite drinks.
---
ICE CREAM UNCLES ICE CREAM SANDWICHES
Ice cream sandwich is also one of the must try desserts in Singapore. This sweet treat is often sold in ice cream carts or dessert stalls in Singapore streets. Ice cream sandwiches come in different colors which make the dessert enticing, aside from its delectable flavors. Here are the ingredients of these Asian desserts:
7 tablespoons of sugar
4 1/2 cups of flour
4 tablespoons of unsalted butter (softened and sliced into 4 pieces)
3 tablespoons of sweetened condensed milk
2 tablespoons of canola oil
1 1/4 of kosher salt
1/4 teaspoon of active dry yeast
food coloring (color of your choice)
strawberry ice creams, vanilla, and chocolate
To make the bread:
In a 1-qt saucepan, mix 1/3 cup of flour, and 1/2 cup of water and cook over medium high-heat. Stir gradually until the mixture becomes thickened and turns into paste. Transfer the paste into a small bowl, refrigerate, and chilled. Then in a medium bowl, make a wet dough by combining 1/4 teaspoon of yeast, 1 cup of flour, and 1/3 cup of water. Cover the mixture with plastic wrap and place at room temperature overnight.
In another bowl of stand mixer that is fitted with a dough hawk, mix the remaining yeast and flour. Set aside. Whisk together the salt, sweetened condense milk, and sugar in a bowl; heat over 120 degrees or until the sugar dissolves. Add the mixture to a bowl of flour, together with the room-temperature starter and the chilled flour paste. Whisk to form a thick dough. Turn the mixer speed to medium and mold for 8 minutes. While the mixer is running, add the cut butter one by one until absorbed. Add oil and mix. Split the dough in 3 equivalent sizes. Add distinct food coloring to each piece and mold until uniformly colored. Get 3 bowls and transfer the dough pieces. Cover each bowl with plastic wrap and sit for 2 hours or until the size becomes double.
When the size becomes doubled, transfer them to a worktable. Move the dough pieces into a 12 inches rope. Twist the rope together and slip ends to make a loaf shape. Transfer it to a loaf pan approximately 8½" × 5″ × 2″ . Cover it with a plastic wrap. Make sure to loosen the cover and let it sit 1 and a half hours. To bake the loaf, heat the oven over 400 degrees. Remove the plastic wrap and bake the loaf for 40-45 minutes or until it turns golden brown in color. Let the baked loaf cool for at least 30 minutes before removing from the pan.
Slice the bread into 1/2 inch thick. Then scoop an ice cream flavor of your choice and put them on the bread.
---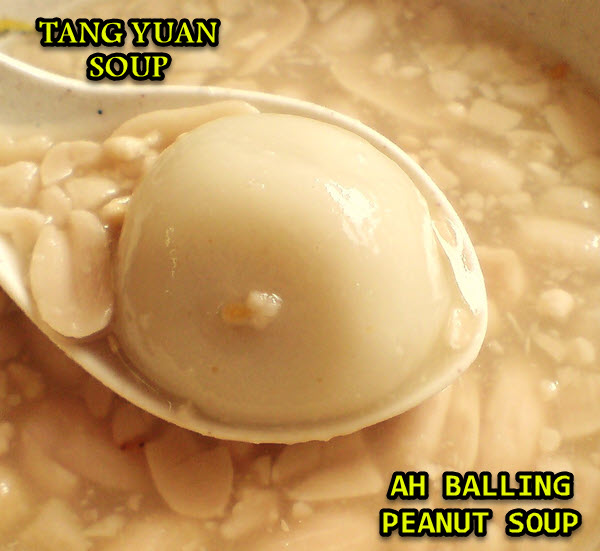 TANG YUAN SOUP ( AH BALLING PEANUT SOUP)
Tang Yuan is a delectable Chinese dessert made of glutinous rice flour and water; filled with peanut, black sesame seeds, or red bean paste (a sweet filling of your choice). The Singaporean version of these sweet glutinous rice balls is known as Ah Balling Peanut Soup, and it is best eaten hot during the winter solstice festival. This cuisine is often cooked in sweet peanut soups and ginger-flavoured soups.
Ingredients:
5 cups water (approx. 1000 ml)
1 cup of unsweetened soy milk (approx. 200 ml)
12 pieces of Tang Yuan (filled with either red beans paste, peanut paste, or sesame seeds) known as the glutinous rice balls (either homemade or store-bought)
250 grams of raw peanuts (halved and peeled)
3/4 cup of sugar (150 grams)
Directions:
Pre-soak peanuts in a large pot of water. Add 1 tablespoon of alkaline solution. Place at room temperature for at least 2 hour.
Drain and refill with clean water and soak for another 20 minutes. Do steps 1 and 2 until the peanuts are alkaline residue free.
Add water in a pot and boil over high heat. Add the peanuts and cover the pot. Let it boil over a lower heat for 2 hours or until the peanuts become soft. Then add soy milk and dissolve sugar.
Adjust the heat from low to medium to slow boil the pot. Put the glutinous rice balls or tang yuan and gradually stir them to avoid sticking. Reduce the heat and let tang yuan cook in the peanut soup. Once all the rice balls are floating, remove the pot from the heat.
Your Tang Yuan or Ah Balling peanut soup is now ready to serve. Best eaten hot.
---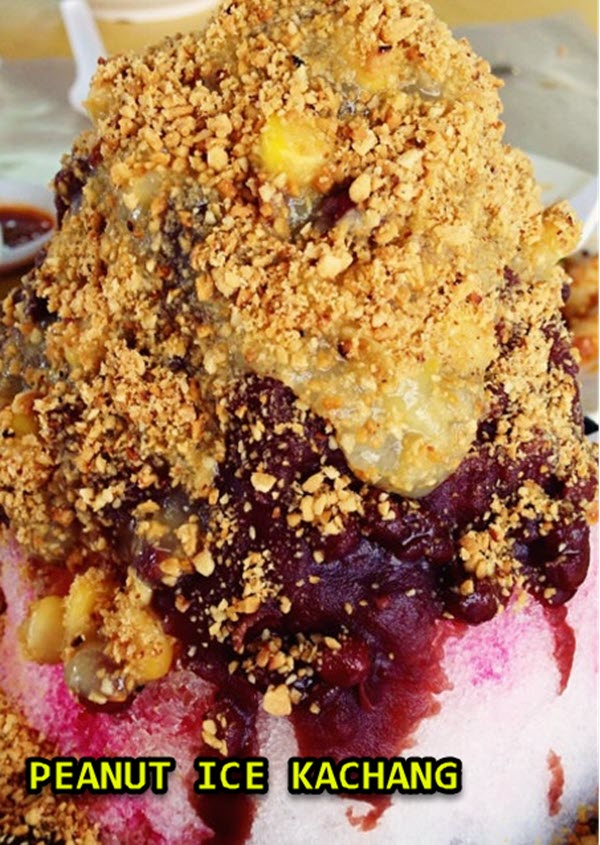 PEANUT ICE KACHANG
Ice kachang is made of shaved ice, red beans, roasted peanut, and multi coloured syrup. This is among the travellers favourite desserts when visiting Singapore. The famous ice kachang in the city is Annie's Peanut Ice Kachang. But you can also try preparing this Singaporean dessert at home.
Ingredients to make the syrups:
3-5 green food coloring
1/4 teaspoon of pandan extract
3-5 red food coloring
1/3 teaspoon of rose extract
2 cups of water
2 cups of sugar
Here are the main ingredients:
4 jack fruit chunks (separated)
8 tablespoons of palm seeds (rounded)
8 tablespoons of sweet white beans (rounded)
8 tablespoons of sweet red beans (rounded)
12 cups of shaved ice
2/3 cups of sweetened condensed milk
2/3 cups of evaporated milk
3/4 cup of pandan syrup
3/4 cup of rose syrup
Directions:
To prepare the syrups, add water and sugar in a saucepan and bring to boil until the mixture is slightly thickened. Let cool in a room temperature. Scoop out 1 cup of syrup from the mixture and add the rose extract. Whisk until it becomes a bright red syrup. Add the pandan extract into the remaining 3/4 cups of syrup.
To prepare the Ice Kachang, drain the palm seeds, red beans, and white beans. Then add 2 tablespoons of each of these ingredients to four large shallow bowls.
Add and pile up finely shaved ice onto the beans and seeds. Mix the sweetened condense milk and the evaporated milk. Drizzle the mixture over the grated ice on each bowl, then add the syrups.
Garnish each bowl with slivered jackfruit.
Immediately serve as the ice will melt when consumed at a later time.
---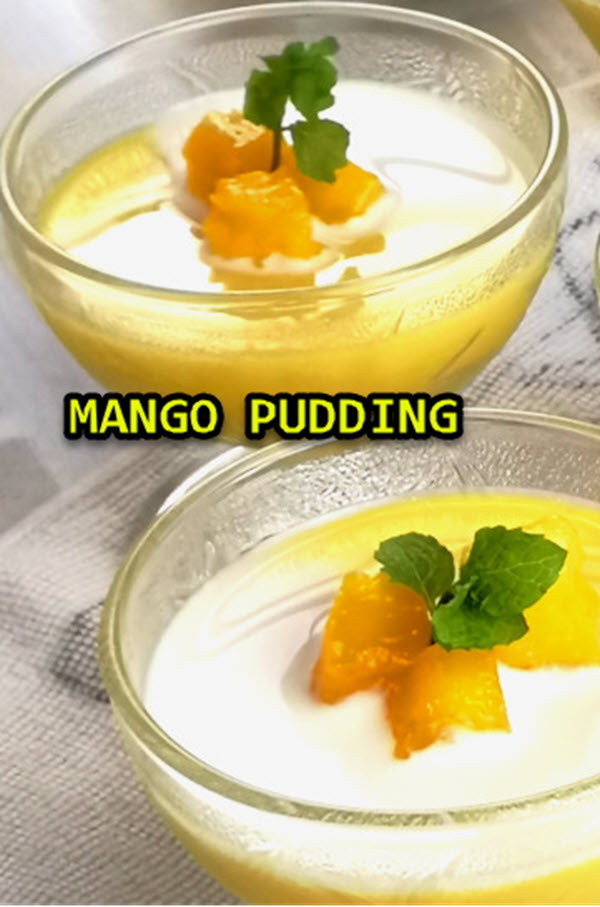 MANGO PUDDING
Mango pudding is also one of the must try desserts known in Southeast Asian cooking. It is a refreshing sweet that will definitely satisfy every traveller's taste buds. This dessert is made of fresh ripe mangoes. Here are the ingredients in making a delicious and refreshing sweet mango pudding:
7 grams of unflavored gelatin powder
5 pieces of small ripe mangoes
1/2 cup of hot water
1/2 cup of evaporated milk
1/4 cup of sugar
Directions:
Peel the mangoes and cut them into pieces. Put the freshly sliced mangoes into a blender and blend until mashed smoothly. Sit aside.
In a large shallow bowl, add the hot water and gelatin powder. Stir gradually until the powder dissolved and let stand for at least 3 minutes.
Add the sugar and evaporated milk into the dissolved gelatin powder and mix properly to melt the sugar. Pour the mango puree and mix well.
Evenly pour the mixture into four empty platters and chill overnight.
Indeed one of the local desserts that will definitely satisfy your sweet tooth.
---
DURIAN PENGAT
Durian pengat is a Malay cuisine but is also a known dessert in Singapore. These local desserts are creamy, smooth, luxurious, and full-flavoured desserts made from fresh durian fruit, creamy coconut milk, and other ingredients.
Here are the complete ingredients:
6 pieces of knotted pandan leaves
375 grams of D24 puree
375 grams of D24 pulp
500 ml of coconut milk
250 ml of fresh milk
150 ml of water
120 grams of palm sugar
a pinch of salt
Directions:
Put all the ingredients in a pot and cook over low heat. Occasionally stir the mixture and simmer for 2 hours.
Once done, remove the knotted leaves and let the mixture cool. Set aside. Check the mixture to ensure it's no longer hot. If so, refrigerate for an hour.
Durian pengat is best served chilled. It is also best eaten with white bread or steamed plain or black glutinous rice.
---
CHENDOL
The chendol Singaporean version is composed of ice cream in palm sugar syrup, sweetened red adzuki beans, green rice flour jelly or pandan jelly. The toppings can be durian or sweet corn.
Ingredients:
12 pandan leaves (6 pcs knotted, 6 pcs cut into 2 cm segments)
10 tablespoons of kidney beans
2 1/2 cup of water
1 1/2 teaspoon salt
2 tablespoons of brown sugar
1 teaspoon of pandan extract
10 grams of tapioca flour
10 grams of mung bean flour
30 grams of rice flour
200 ml of coconut milk
150 grams of gula melaka
Directions:
To prepare a pandan juice, mix 6 leaves and 1 1/2 cup of water in a blender. Strain the mixture and set aside the juice.
To prepare flavoured coconut milk, boil coconut milk, 4 knotted leaves, and 1/2 teaspoon salt in a pot. When it starts boiling, turn the heat off and set aside let the flavoured coconut milk cool
Meanwhile, melt the gula melaka in a separate pot over medium heat. Add 1 teaspoon salt, 2 knotted leaves, 2 tablespoons of sugar, and a cup of water. Mix well until the gula melaka melts and turns into a thickened syrup. Set aside to cool.
To prepare the chendol jelly batter, add the strained pandan juice, 1 teaspoon pandan extract, mung bean flour, rice flour, and tapioca flour in a pan. Mix well. Cook the batter over medium heat. Occasionally mix the batter using a spoon.
To prepare the Chendol Jelly, add cold water in a large bowl to cool down the batter. When the batter becomes a thick paste, remove from the heat and put into a plastic piping bag with a small to medium tip. Duct the piping bag directly into the large bowl with cold water to form small jellies. Leave the jellies in the cold water to become firm.
Assemble and serve the chendol jellies in a small bowl or tall glass. Add the kidney beans and drizzle with coconut milk and gula melaka syrup.
You can also garnish this traditional dessert with durian, creamed corn, or granny grass jelly. Consume immediately after preparation.
---
These are just some of the best local desserts you can find in Singapore. You can also try their other creamy, delicious, with sweet syrup desserts like Ah Chew desserts, Soya beancurd dessert with durian mousse toppings, and more local desserts with sweet soup which usually comprise with sweet syrup, yam paste, grass jelly, glutinous rice flour, palm sugar, sweet potato, sugar syrup, and other usual ingredients found in various desserts in Singapore.
| Product | Brand | Name | Price |
| --- | --- | --- | --- |
| | Silk | Silk Unsweetened Organic Soymilk, 32-Ounce Aseptic Cartons (Pack of 6) | Check Price on Amazon |
| | Knox | Knox Original Gelatine Unflavored - 1 oz. box (4 individual powder gelatin envelopes) | Check Price on Amazon |
| | SAENA BAKING CO | PURE Bulgarian Rose Extract For Baking & Mixology. Keto Friendly, Vegan, Gluten Free. | Check Price on Amazon |
| | Inaco | Nata De Coco in Syrup (Coco Pandan Flavor) (Pack of 6) | Check Price on Amazon |
| | Diamond Crystal | Diamond Crystal Kosher Salt – Full Flavor, No Additives and Less Sodium - | Check Price on Amazon |
* If you buy through links on our site, we may earn an affiliate commission. For more details, please visit our Privacy policy page.