When travelling to Singapore, the street food markets in the country should be a part of your to-go list. Street Foods are ready-to-eat foods that hawkers or street food vendors sell on the streets, as the name itself suggests "Street foods". Most of the time, street foods are displayed on street food stalls, food trucks or food carts. In Singapore, while there are quite a number of dining options to choose from, there are those that prefer to eat street foods simply because of its ambiance (open air), on a budget or just because of the Singaporean dish that many would want to try and satisfy their taste buds. In this guide, let us go through a list of the most popular Singaporean street food that you must try.
Popular Singaporean Street Foods
Hainanese Chicken Rice
Chicken rice is the unofficial national dish in Singapore. You can find this delicious dish in Singapore's restaurants and on the street food market.
Hainanese chicken rice is a dish that is prepared by blanching the chicken in boiling water and allow to cool. It is then sliced then served with seasoned rice. Garnished it with cucumbers on the side and served with Chilli sauce. Basically, rice is topped with steamed chicken.
---
Chilli Crab
Chilli crab is another national dish in Singapore. Singaporean Chilli crab dish is a stir-fried seafood dish soaked with sweet and spicy tomato sauce or in a spicy tomato chili sauce. It is usually served with Mantou, a steamed bun.
---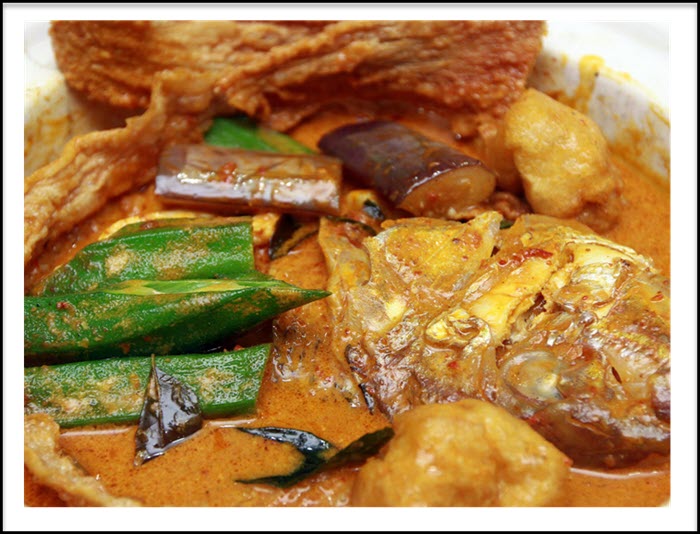 Fish Head Curry
Fish head curry is a delicious Singapore dish influenced by the Indian and Chicken cuisines. As the name itself represents, the dish contains the head of the red snapper fish. The head is marinated and then cooked in a curry sauce. Vegetables such as Okra and eggplants are added to the dish.
Fish Head curry dish is best served with either rice or bread.
---
Bak Kut Teh (Pork Rib soup)
The work Bak Kut Teh means Meat Bone tea. It is one of Singapore's popular street food. It is a pork rib soup on a broth made of spices and herbs such as star anise. It consists of mushroom, offal, choy sum, pork, tofu and puffs.
---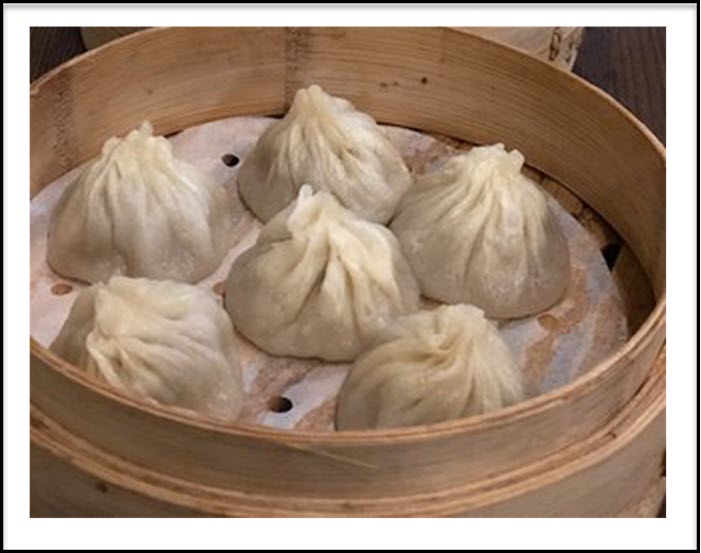 Dian Xin (Dimsum)
Dian Xin is another Street food in Singapore. Though it is inspired by Hongkong cuisine, Singapore adopted to it to their cuisines as well. There are different Dim sum varieties that includes Xiao Long Bao, pork buns, Siew Mai and Chee Cheong fun.
---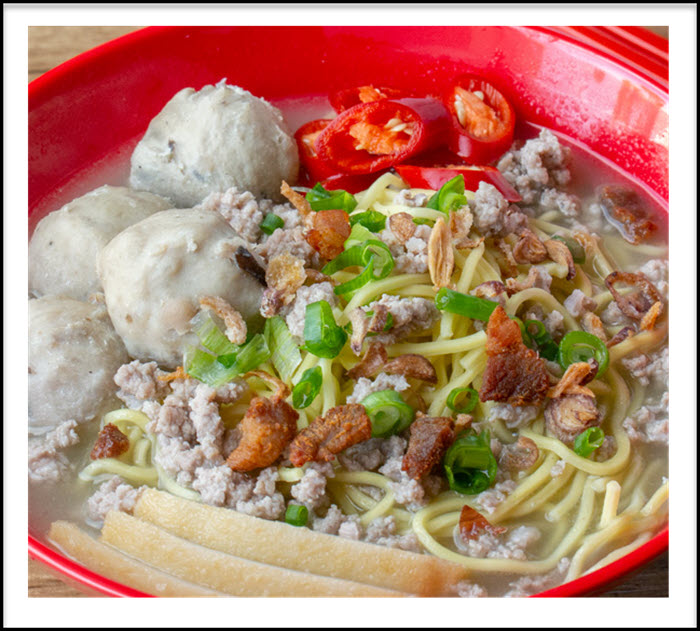 Bak Chor Mee (Minced meat noodles)
Bak Chor Mee is minced meat noodles. The Singaporean dish is meaty, soupy, steamy and noodley all in a single dish. Bak Chor Mee noodle dish consists of slices of fish cakes, minced pork, liver, crispy pork lard and sauce to make it steamy that can either be chili sauce or just ketchup sauce.
---
Orh Luak (Oyster Omelette)
Orh Luak or Oyster Omelette is a popular street food in Singapore that is loved by the locals because of how it was cooked, how delicious it taste and the simple ingredients used such as eggs and vinegar chili.
---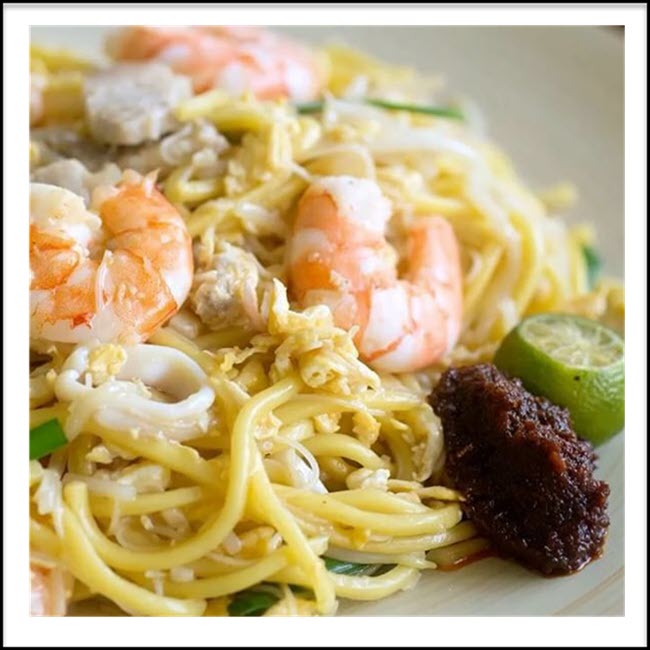 Hokkien Prawn Mee (Fried Noodles with seafood and egg)
A famous Singapore street food is called Hokkien Prawn Mee or also known as Fried noodles with seafood and egg. A delicious dish that consists of yellow noodles that are fried in pork and prawn stock. It is usually served with lime and Chilli on the side. Fried eggs are also added to make the dish more tasty.
---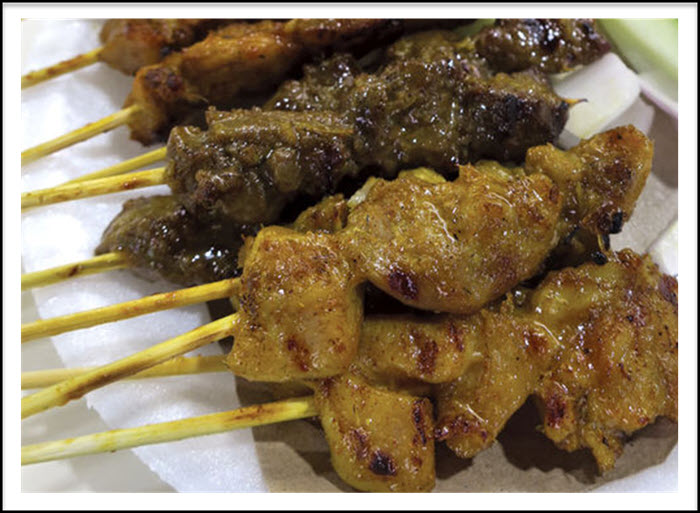 Satay (Grilled Meat)
Satay is definitely the crowd's favorite when it comes to street food choices in the streets of Singapore.
Satay is a dish that is made of meat on a skewer. The meat used can either be pork, beef, or chicken. The meat are marinated first then placed on a skewers and then grilled over an open flame.
It is usually served with peanut sauce, rice dumplings and onions and cucumbers on the side. Locals love to indulge in this street food snack and is usually eaten anytime of the day.
---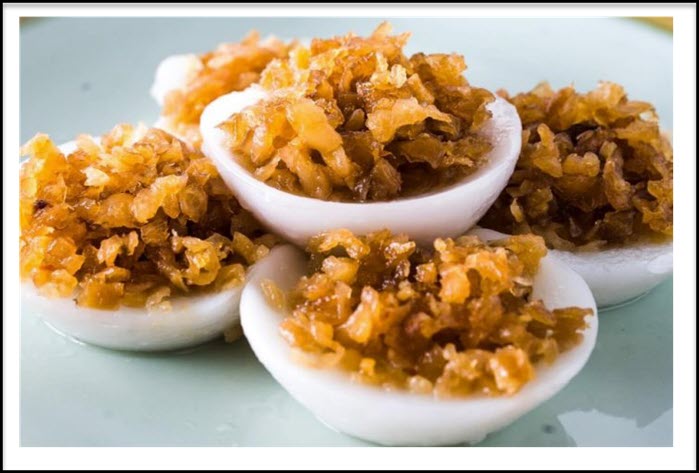 Chwee Kueh (Water Rice Cake)
Chwee Kueh or Water rice cake is a Singapore street food the is mostly eaten during breakfast and lunch time. It is made by combining the rice flour and the water. Placed in the saucers for steaming. The rice cake looks like a small bowl. It is usually served topped with preserved radish and chilli.
---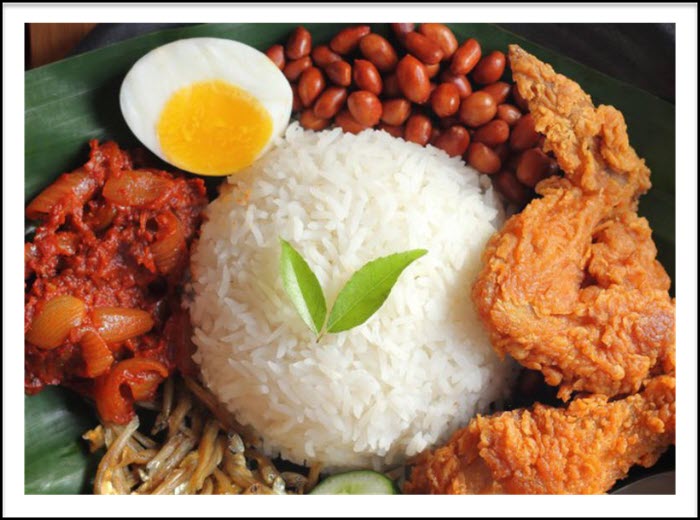 Nasi Lemak ( Coconut Rice)
Nasi Lemak is a Singaporean dish that can be eaten anytime of the day. To make the rice sweet, it is steamed with coconut milk. Banana leaves are used to wrapped the rice. It is served by placing the rice in banana leaves used as a plate accompanied with fresh cucumbers, omelet, anchovies, peanuts and sambal chili. Sambal Chili is a chili paste or chili sauce made from mixing the chili peppers with garlic, ginger, shrimp paste, lime juice, palm sugar and lime juice.
---
Curry Puff
Curry Puff is a Singaporean to-go snack sold in Street food stalls. A small baked pie that contains fillings such as curry with chicken, deep fried potatoes and egg. Locals love this puffy pastry because aside from it is delicious, despite its small size it has filled with too many fillings.
---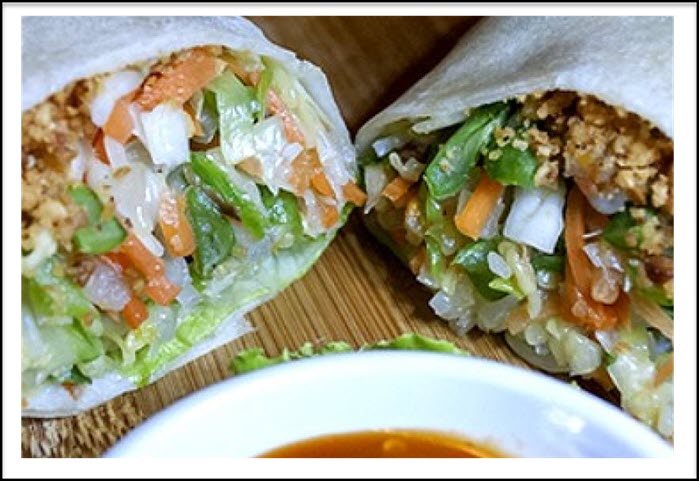 Popiah (Spring Rolls)
Popiah is a Traditional snack in Singapore. It is a thin snack with fillings of boiled eggs, chinese sausage, bean sprouts, lettuce, carrots and strips of turnips that are wrapped in thin paper-like wheat crepe.
---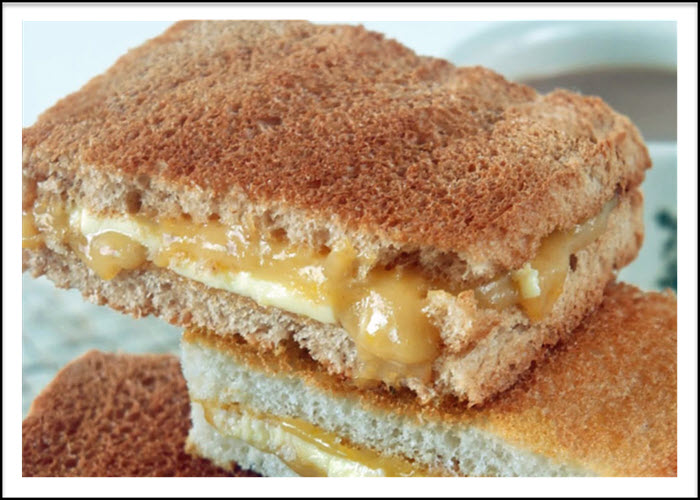 Kaya Toast
Kaya Toast is considered to be a Staple breakfast in Singapore. It is usually paired with coffee and soft boiled eggs. In Kaya Toast, the bread used is grilled and then brushed with Kaya, a jam that is made with sugar, egg and coconut.
Since Kaya spread can also be used in as a spread to other bread, there are other stalls in Singapore that sells Kaya in a separate bowl.
---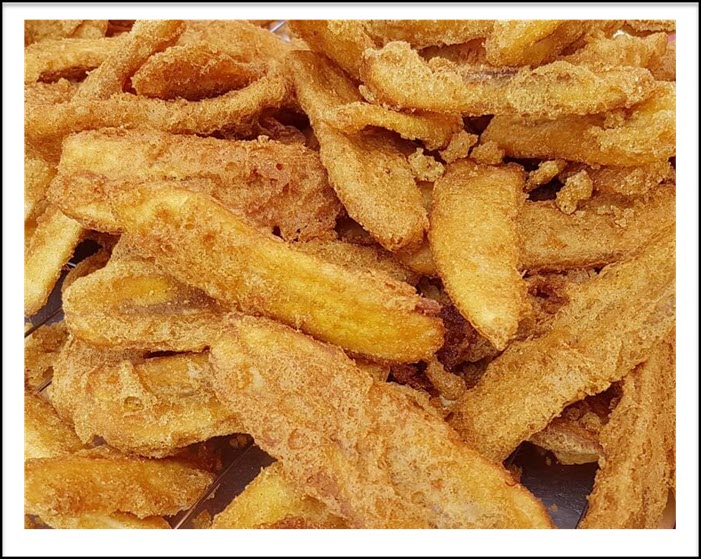 Goreng Pisang (Banana Fritters)
Goren Pisang or Banana Fritters is a deep fried Singaporean street food snack. To make this snack, the riped bananas are soaked in a batter and then deep fried until crispy golden brown.
The banana used for Goreng Pisang is usually Plantain but most of the time Pisang Raja, Pisang Kepok and Pisang Tanduk are used.
---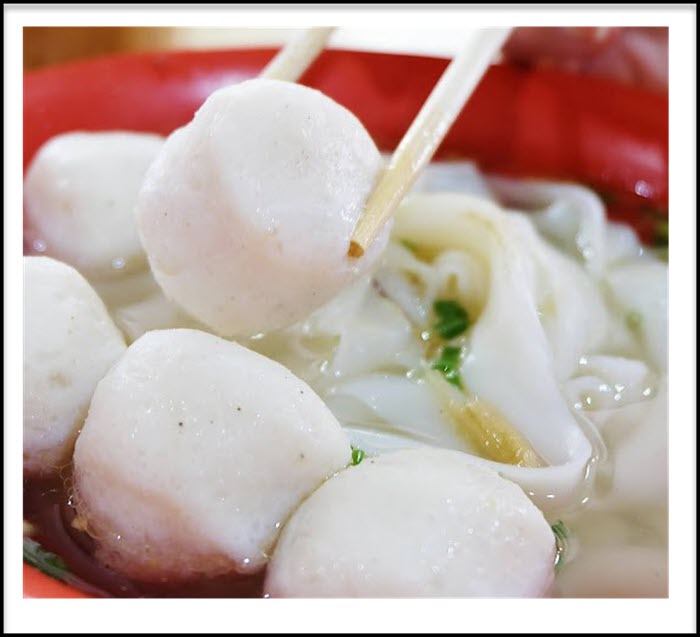 Fish Balls
In Singapore, Fish balls are called Yu Yuan. It is a popular Singapore street food that can either be eaten fried or steamed. Most of the time, the fish balls are skewered.
Singaporean Fish balls can be eaten as a snack or can be added to noodle soup or rice and eaten as a meal.
---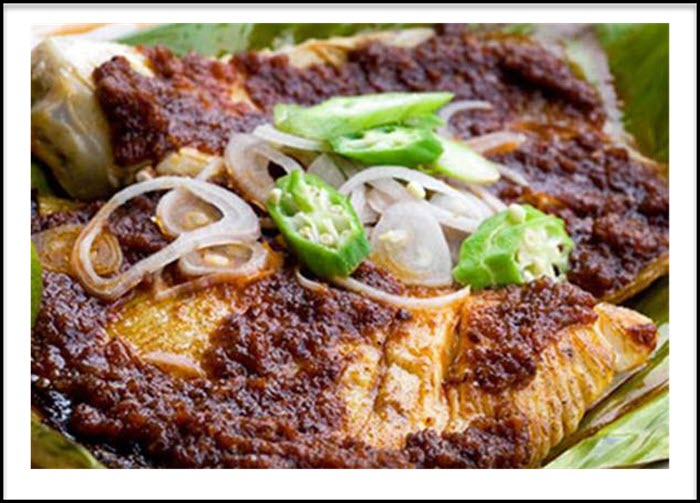 BBQ Sambal Stingray
The Sambal Stingray is a Malaysian and Singapore seafood dish. The dish is made by barbecuing the stingray and topped with Sambal paste. The sambal paste is a special sauce that is made from shrimp, fish sauce, sugar, vinegar, shallot, and ginger.
The Malay name for this Singapore street food is Ikan Bakar since it is inspired by the Malay culture. The traditional Ikan Bakar is wrapped in banana leaf. To enhance the taste, lime is squeezed and drizzled on top of the dish.
---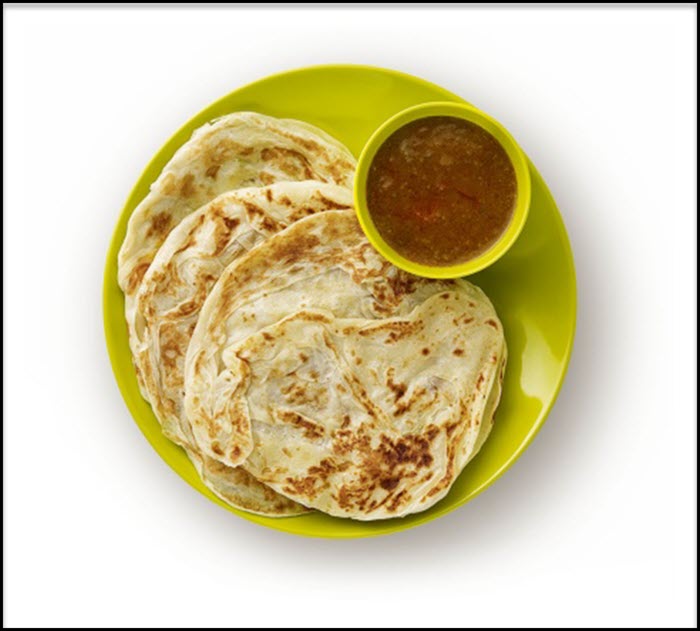 Roti Prata
Roti Prata or Roti Canai is a flat bread inspired by Indian Cuisine and was adopted in Indonesian Cuisine. It is also called as Asian Croissant. It is made by frying the flour on a metal surface with Ghee or a clarified butter.
It is served usually served with mutton curry or sugar, meat such as beef chicken and fish.
---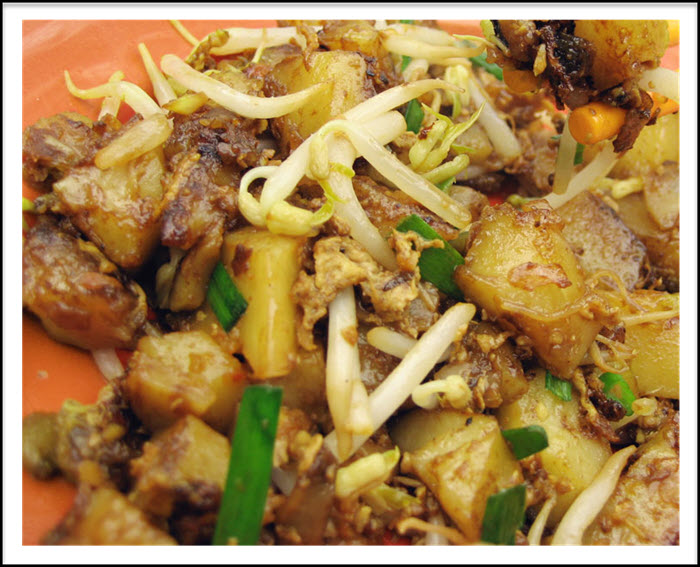 Chai Tow Kway (Fried Carrot Cake)
Fried Carrot Cake is a popular street food in Singapore made of eggs, white radish flour cake and chai ooh, therefore the dish appears to be white unlike the usual carrot cake dessert that is colored orange.
Chai Tow Kway is served with a sweet sauce and topped with fried beaten eggs.
---
Char Kway Teow ( Flat Rice Noodles)
Char Kway Teow another popular street food in Singapore. The term "Char" refers to "stir-fried" hence Char Kway Teow is a stir fried rice noodles dish with soy sauce inspired by Chinese cuisine.
It is one of the best sellers in street food stalls in Singapore. It is made of flat rice, egg noodles, eggs and Chinese sausage, and bean sprouts.
---
Char Siew Fan and Siew Yoke Fan
Hawkers in Singapore are selling roasted meats such as barbecued pork or Char Siew or Roasted pork belly called Siew Yoke. Although this is a popular Singapore street food dish, it is not easy to get it right into perfection.
Char Siew should be tender and must be layered with caramel while with Yok Siew the meat should be crispy.
---
Important things to keep in mind when dining and eating in Singapore
Cutlery used: When eating in Singapore, there are different cutlery used such as spoons and fork, and they also use chopsticks. There are also dishes that requires you to use your bare hands too.
If you noticed in some of the dishes mentioned wherein nuts, soy and dairy so you have to take extra careful if you are allergic and is lactose intolerance.
Before you buy dishes that are spicy, make sure to ask the vendors first the level of spiciness on the dish if you can tolerate it or not.
To avoid waiting in line when buying on street food stalls, make sure to be there early to avoid the long lines.