Thai desserts are distinguished by sweet sticky rice, coconut cream, tropical fruits, and sweet syrups. And unlike Western style desserts which are thin and airy, most Thai desserts are heavy. Most of these desserts are found in the streets rather than a fancy Thai restaurant. If you are into sweet treats, check out the must try traditional Thai desserts that can be prepared at the comfort of your home. Read further.
* If you buy through links on our site, we may earn an affiliate commission. For more details, please visit our Privacy policy page.
Best Thai Desserts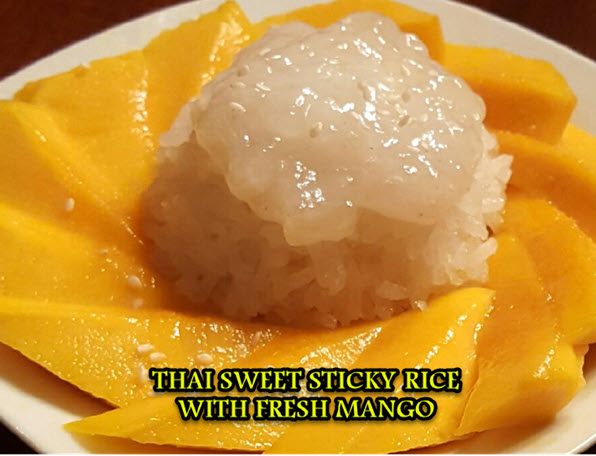 THAI SWEET STICKY RICE WITH FRESH MANGO
This cuisine known as Khao Neeo Mamuang is naturally gluten free dessert. It is one of the easiest traditional Thai desserts that you can prepare. It is made of glutinous rice and fresh mangoes. If you love mango sticky rice, check this out…
Ingredients:
3 ripe mangoes (peeled and sliced)
1 1/2 cup short-grain white rice (uncooked)
2 cups water
1 cup white sugar
1/2 cup coconut milk
1/2 teaspoon salt
1 tablespoon tapioca starch
1 tablespoon sesame seeds (toasted)
Directions:
Add the water and rice in a sauce pan. Bring to boil over lower heat. Simmer for 20 minutes or until the water is soaked up.

On another sauce pan, mix 1 cup sugar, 1/2 teaspoon salt, and 1 1/2 cups coconut milk. Bring to boil over medium heat. Remove from heat and set aside.

Put the cooked rice into the coconut mixture and carefully stir. Cover the mixture and wait for 1 hour to cool.

Clean the sauce pan to make a sauce. Add 1 tablespoon sugar, 1/4 teaspoon salt, 1/2 cup coconut milk, and the tapioca starch. Mix the ingredients and bring to boil.

In a serving dish, put the sticky rice and arrange the mangoes on top of it. Pour the sauce and garnish with sesame seeds.
This mango sticky rice Thai version is best served with meat salads, grilled meat or fish in a banana leaf wrapper making it a delectable dessert. Definitely among the Thai's savory dishes you should look forward to when visiting Thailand.
---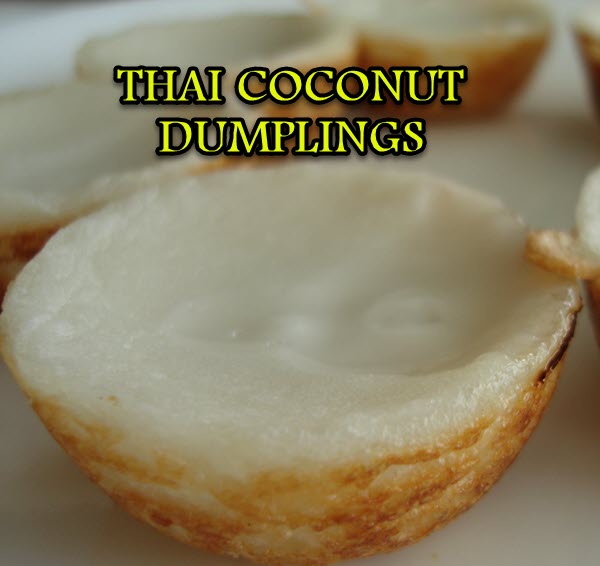 THAI COCONUT DUMPLINGS
This dumpling is popular in street food stalls, a Thai cuisine that is cross between pancake and dumplings. This crunchy Thai treat has two layers and a custard-like texture. The top part is a bit sweet and the lower layer is a little salty. Thus, must be prepared in two different kettles. Here are the ingredients:
Top Layer:
Bottom Layer:
2 tablespoons water
2 tablespoons oil
1/2 cup rice flour
1/2 cup coconut milk
1/4 teaspoon salt
Directions to prepare this delicious Thai dessert:
For the top layer, add the creamier and thicker part of a can of coconut milk in a small bowl. Add the tapioca starch and sugar. Mix well. Then set aside the mixture.
For the bottom layer, add the remaining coconut milk, salt, water, and rice bowl in a small bowl. Mix well.
Put a small amount of oil in a mini muffin pan (or a kanom krok iron pan if available). Add 2 teaspoons of the bottom layer mixture. Put in a preheated oven over 400F degrees for 10 minutes. Remove the pan from oven and add 1 teaspoon of the top layer mixture. Place the muffin pan in the oven and wait for 4-5 minutes.
Remove the pan from the oven and let cool before serving this popular Thai dessert.
Best eaten right after the preparation as the dessert may become mushy when consume at a later time. You can garnish the dumplings with sweet corn and green onions.
---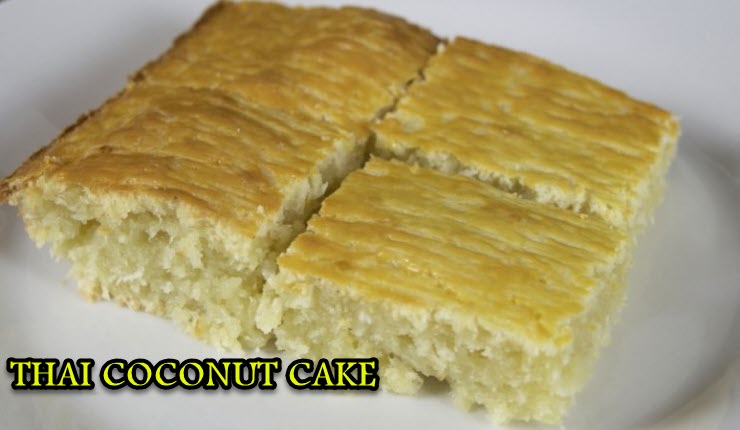 THAI COCONUT CAKE
Unlike most of the cakes, this coconut cake or also known as Kanom Baa Bin is not overly sweet. It has a crunchy top and soft in the middle layer. The cake also remains moist even after several hours from the time it's baked. It can be prepared in 10 minutes and cook for around 35 minutes. Definitely an easy-to-prepare Thai dessert.
Here are the ingredients:
2 whole eggs
1 egg yolk
120 grams coconut milk
100 grams coconut flakes (shredded coconut)
100 grams sugar
80 grams glutinous rice flour
40 grams potato flour
Instructions in making a Thai Coconut Cake:
In a mixing bowl, add 40 grams of potato flour, 80 grams of glutinous rice flour, 100 grams of sugar, and 100 grams of coconut flakes. Briefly mix the ingredients.
Then add 120 grams of coconut cream or milk and 2 eggs. Mix the ingredients properly until the mixture becomes smooth.
Once done, pour the mixture into a small non stick baking dish, preferably 1/2 deep as the mixture will rise once cooked.
Place the baking dish inside the oven over 220 degrees celsius and cook for 20 minutes.
After the said time, remove the baking dish from the oven and brush the top of the cake with egg yolk.
Put the baking dish back into the oven and cook for another 15 minutes or until the top part turns golden brown in color.
Allow this cake to cool before slicing and serving. This dessert is best consumed with other Thai dishes.
---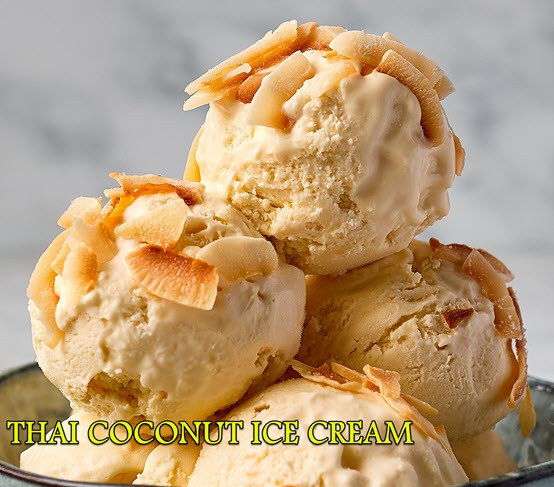 THAI COCONUT ICE CREAM
This coconut ice cream is a refreshing dessert that is non-dairy type and is perfect for summer. This Thai dessert can be completely made from a coconut. Plus you can use the coconut water. Indeed, a perfect Thai treat for coconut lovers.
Here are the ingredients in preparing the Thai Coconut Ice Cream:
Note: You can add fresh mango, toasted coconut, honey, or fresh pineapple for the toppings.
Directions:
Add the coconut water in a medium sauce pan and bring to boil.
Add the sugar and stir until dissolved.
Add the shredded coconut flakes, salt, and coconut milk. Stir the ingredients, then remove from heat.
Let cool in a room temperature.
Pour the mixture in an ice cream maker (if there's any). Alternatively, you can put the mixture in a shallow container or dish and refrigerate for an hour.
After an hour, remove the mixture from the refrigerator and stir it thoroughly. Repeat this step after another hour until desired texture is achieved.
For a creamier Thai ice cream result, stir the mixture frequently. The use of an immersion mixer in a slow speed is recommended to avoid the formation of large ice crystals, if available. Best served together with your Thai meal.
---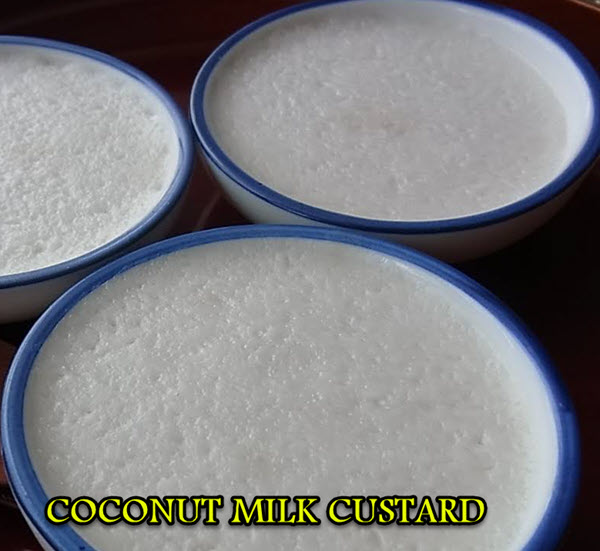 COCONUT MILK CUSTARD
Coconut milk custard also known as Khanom Tuay is one of the most popular traditional Thai desserts. This Thai dessert is made of coconut milk, sugar, and rice flour and it usually served in a small porcelain bowl.
Here are the main ingredients to prepare this Thai cuisine:
1.7 ounce water
6.7 ounces coconut cream
6.7 ounces coconut milk
1/2 cup rice flour
2 tablespoons rice flour
2 tablespoons arrowroot flour
1/2 teaspoon salt
120 grams sugar
2 drops of pandan extract
Directions:
FOR THE BASE LAYER:
In a container, mix the water and the pandan extract. Add 1/2 cup rice flour, ground arrowroot, palm sugar, and coconut milk. Mix all the ingredients and keep stirring until the mixture is clump free.
To achieve a silky smooth mixture, pour the mixed ingredients through a strainer.
FOR THE TOP LAYER
Add 2 tablespoons of rice flour, coconut cream, and the salt in a container. Mix the ingredients and pour it through a strainer to remove clumps.
To cook:
In a streamer, heat small cups or dishes for a few minutes.
Fill each cup at least 3/4 full with base mixture and steam for about 5 minutes.
After the said time, fill each cup with the toppings mixture using a spoon. Steam for another 5 minutes.
This traditional Thai dessert is best eaten when chilled.
---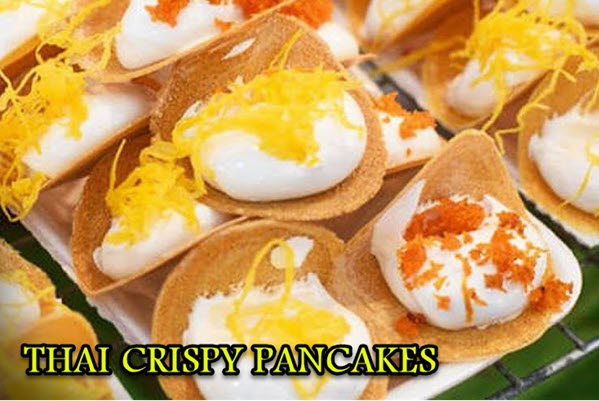 THAI CRISPY PANCAKES
Thai crispy pancakes also known as Kanom Bueang, is a traditional Thai dessert popular in the central part of Thailand. These crepes are among the delicious Thai street foods that look like tacos. This cuisine is not purely a sweet treat as it has two types of topping. The sweet toppings (yellow) and the salty one (orange).
Ingredients for the Dough:
Ingredients for the Cream:
2 egg whites
400 grams of palm sugar
Directions to prepare the DOUGH:
In a medium size dish, mix the rice flour, mung bean flour, eggs, and sugar. Steadily pour the water and moderately mix the ingredients for 10 minutes or the sugar is dissolved.
Directions to prepare the CREAM:
Add the egg whites and sugar in a bowl of a stand mixer. Mix over high speed until the ingredients are combined.
TO COOK THE THAI CRISPY PANCAKES:
Heat a pan on a stove until the surface shimmers.
Pour each pan a small cup of the flour mixture and wait until cooked.
Then add the fillings. Put the cream first, followed by the salty or sweet toppings and fold the pancaked into semicircle.
Your crispy pancakes are now ready to serve!
---
ROTI SAI MAI
If you have a sweet tooth and love Thai food, Roti Sai Mai (sweet hair angel) is one of the many Thai sweets you must try. This unique Thai dessert can be found in Ayutthaya province which becomes their signature dessert. This flavorful cuisine uses soft, paper-thin, Pandan-flavored crepes to wrap the cotton candy. Thai Roti is also available in strawberry and banana flavor.
Here are the main ingredients:
4 ounces of cotton candy
1 cup of flour
1/2 cup of sweet mochiko rice flour
1 teaspoon sugar
1/2 teaspoon vanilla extract
1/2 teaspoon green pandan extract
water
Directions:
Mix the flour and sweet mochiko rice flour in a bowl. Gradually mix the flour in the water until the mixture becomes a smooth paste.
Continue adding small amount of water while mixing until the mixture looks similar with a thin pancake batter. Add the vanilla extract and stir.
Pour 2-3 tablespoons of batter in a preheated non-sticky frying pan and spread the battery really thin.
Once the crepe is easy to lift, remove the frying pan and repeat step 3.
Stir the half batter in a pandan extract and do step 3.
Let the cooked crepes cool and fill with cotton candy.
Best to eat this treat immediately after cooking.
---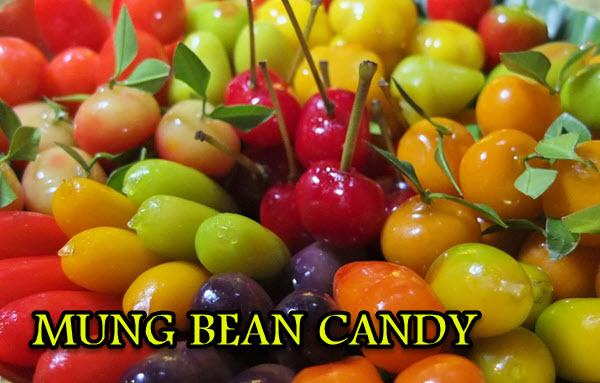 MUNG BEAN CANDY
Also known as Look Choop Thai Candy, is among the childern's favorite Thai desserts. It is made from mung bean paste, coconut milk, food coloring, and glazed with gelatine coating.
Ingredients:
1 tablespoon agar agar power (jelly powder)
1 cup of water
1/2 tablespoon of sugar
food coloring (color of your choice)
130 grams of coconut milk
70 grams of sugar
150 grams of peeled mung bean
Directions:
Put the mung beans in a container and soak in for an hour.
Drain the soaked beans and stem for 15 minutes or until the beans become soft and tender.
Let them cook and put the beans in a food mixer. Add the coconut milk.
Blend the beans and coconut milk until the texture becomes similar to a mashed potato.
Put the smashed beans into a sauce pan and heat over low heat for 10 minutes.
Mold the beans for 5 minutes until the texture becomes thick.
Shape the sweet dough into whatever design you want using a skewer or a cocktail stick. Then paint the dough with food coloring using a paint brush.
For the Jelly Coating:
Add the jelly powder, 1/2 tablespoon of sugar, and a cup of water in a sauce pan. Heat until the jelly power and sugar have dissolved in the water.
Pour the hot coating over the candy though you made until it's thoroughly coated. Do the same to the rest of the dough.
The candy can be consumed right after the jelly has set.
---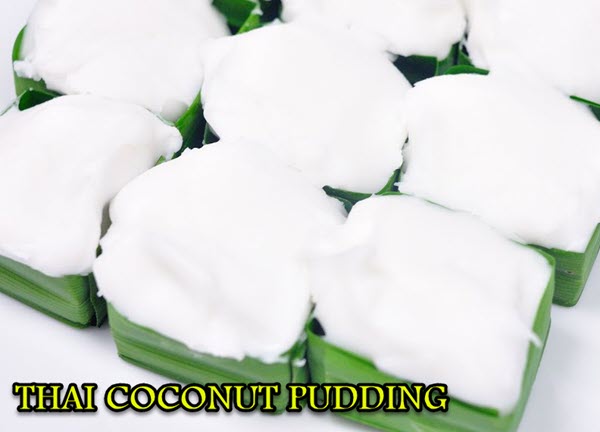 THAI COCONUT PUDDING
Thai coconut pudding is one of the popular Thai desserts that is smooth and creamy. An easy to make recipe but takes about 2 and a half hours to prepare.
Here are the ingredients:
Instructions:
In a heavy sauce pan, add the flour, sugar, and salt. Mix the ingredient until it is lump free. Add the egg yolks until the mixture becomes thicker.
Strain the mixture to ensure that it is well blended.
Pour the mixture in a small round dishes and steam for 20-30 minutes or until set.
Let cool or put them in a refrigerator.
Invert the dishes on a plate before serving.
---
SWEET THAI CREPE
Called Khanom Buang in Thailand, is a popular Thai food similar to tacos. This delicious sweet dessert is stuffed with cream along with other savoury toppings. This dessert is juicy and tender.
Here are the ingredients:
1/2 cup foi thong (shredded egg yolk)
1/2 cup sugar
3 egg whites
1 egg
1 egg shell
1/2 tablespoon coco powder
1/2 cup sugar
150 grams sugar
50 grams mung bean flour
125 ml water
100 grams rice flour
Directions:
In a mortar and pestle, add 1 egg shell. Crush until the shell is broken into powder. Mix with 125 ml of water. Set aside.
In a bowl, add 1/2 cup of sugar and 3 egg whites. Whisk for 10 minutes or until the mixture becomes thick cream.
To prepare the crepe batter, remove the water from the mortar and pestle, leaving the egg shell powder. Pour the water into a mixing bowl and add 100 grams of rice flour, 50 grams of mung beans, 150 grams of sugar, 1 egg, and 1/2 tablespoon of coco powder. Mix all the ingredients until the mixture is lump free.
Heat a non-sticky pan over medium-low heat, and pour a small amount of batter. Spread the mixture into a circular motion to achieve a very thin layer. Cook the crepe for 20 seconds. Put a small amount of whipped cream we made in step 2, together with some shredded egg yolk.
Fold the crepe in semi-circle when it becomes crispy and the color turns to light brown. Remove from the pan, and do the same to the remaining batter.
---
* If you buy through links on our site, we may earn an affiliate commission. For more details, please visit our Privacy policy page.