Burmese cuisine includes a wide range of traditional snacks known as mont, which include sweet desserts as well as savory foods that are steamed, baked, fried, deep-fried, or boiled. Traditional Burmese fritters, which are made of battered and deep-fried vegetables or seafood, are also served as snacks or toppings.
Burmese deserts are so delicious that many people eat them in between nibbles throughout the day. Majority of these delectable Burmese desserts can be found at markets, street vendors, and local restaurants. If you want to learn more about these delicious desserts, scroll down and continue reading.
Burmese Desserts Dishes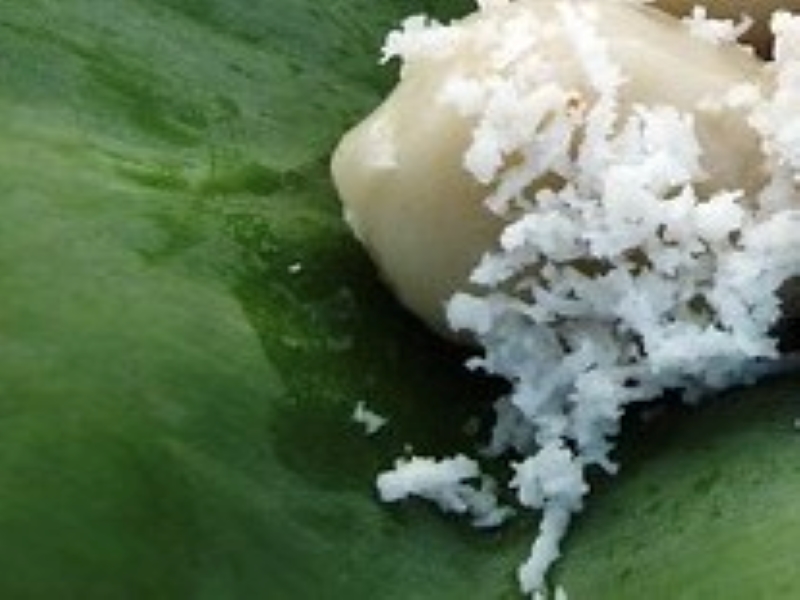 Mont Lone Yay Paw
It refers to round snack on the water. The traditional Burmese dessert, Mont lone yay paw, sometimes spelled Mont lone yay baw, is linked with the Thingyan season. Mont lone yay paw is usually made for special occasions like Myanmar New Year or the Thingyan or Water Festival, when friends, neighbors, and family members congregate to roll batches of rice balls and cook them over an open fire in a large pot of boiling water. The Mote Lone Yay Paw desert indicates a hope for Myanmar's people to live in peace, strength, and happiness for the whole year.
Round boiling rice balls made from glutinous rice flour, filled with chunks of jaggery or palm sugar, and garnished with fresh coconut shavings make up the dessert dish.
The mixture is formed into smooth balls that are then stuffed with palm jaggery or palm sugar. The flavor of the snack can vary depending on the stuffing.
The rice balls in this dessert have a tendency to float to the top of the boiling water or coconut milk in which they're being cooked once they're done. People usually sprinkle shredded or desiccated coconut over the rice dumplings, and served on a banana leaf while still warm.
---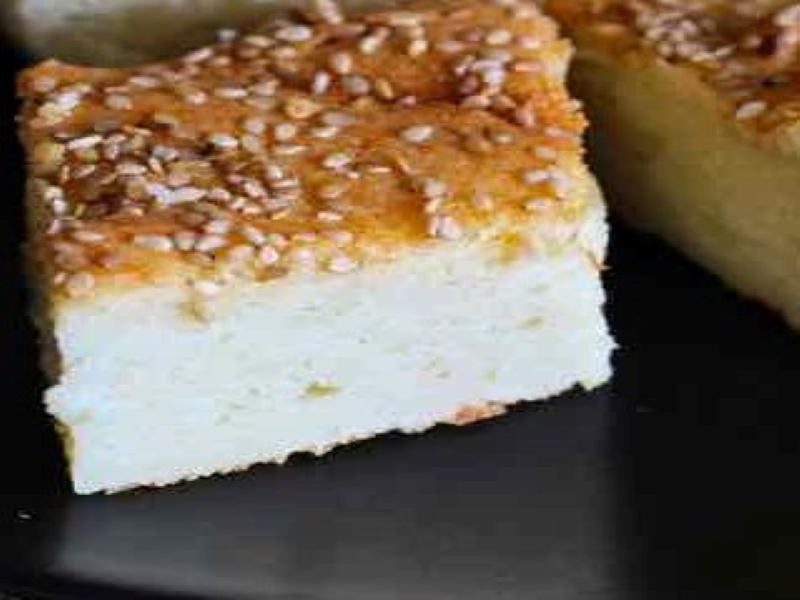 Sanwin Makin
Also known as Burmese semolina cake. Sanwin makin is a traditional dessert or mont that is commonly served as a street snack or during traditional contribution feasts, satuditha feasts, and traditional donation feasts. The delicacy is similar to treats from neighboring India and Thailand, where it is known as sooji halwa and khanom mo kaeng, respectively.
Burmese semolina cake is often produced by mixing semolina, sugar, and coconut cream in a thick dough, then adding eggs to aerate the mixture before baking. Semolina, sugar, coconut cream, butter, eggs, salt, toasted poppy seeds, and cardamom are among the components.
Sanwin makin is usually topped with sesame seeds after it has been baked. This Burmese dessert is traditionally carved into diamond shapes and served cold or warm.
---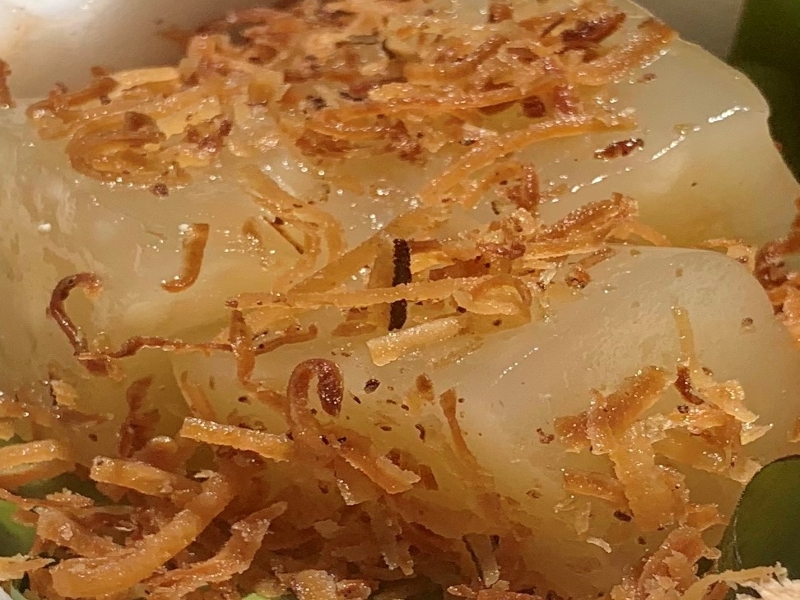 Htoe Mont
Another traditional Burmese dessert or mont is htoe mont. The treat is a glutinous rice cake with raisins, cashews, and desiccated coconut that is prodded throughout the cooking process to give it a texture akin to Turkish delight. Htoe mont is made in the same way that other Burmese desserts such as mont kalame and Pathein halawa are. Htoe mont is considered a Mandalay delicacy and is a famous Mandalay souvenir.
This delicious dessert is frequently served in half-shelled coconuts.
---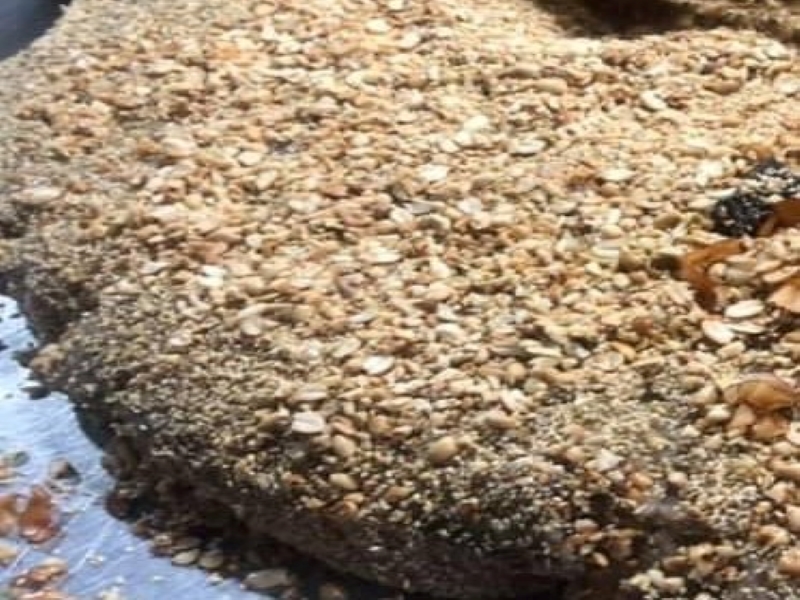 Htamane
In Myanmar, htamanè is a glutinous rice-based flavorful snack that is a seasonal festive treat. Just as the chilly season comes to a close, the traditional delicacy is ceremonially cooked around and on the full moon day of Tabodwe, the 11th lunar month on the traditional Burmese calendar (approximately in February). Htamane-making competitions are held in some pagodas and monasteries, including the Shwedagon Pagoda. To meet the quantity and space required, htamanè is mainly created in monasteries and specialist shops. As is customary, a little part is first given to the Buddha as an offering, and then it is distributed across the neighborhood as a festive present to family and friends. Htamane has a sweet flavor.
Glutinous rice, coconut shavings, peanuts, ginger, sesame seeds, water, and groundnut oil are used to create Htamanè, a traditional Burmese speciality.
---
Shwe Yin Aye
Another traditional dessert that is commonly associated with the Thingyan season, is Shwe yin aye. It has a sweet, creamy, and rich flavour.
Sweetened sticky rice, sago pearls, pandan jelly noodles (cendol), cubes of kyaukkyaw, coconut jelly, and a slice of white bread soaked in a mixture of sweetened coconut milk are served with ice cubes or crushed ice as a dessert. Before being served with ice cubes or crushed ice, a slice of plain white bread (either whole or sliced into quarters) is frequently added to the mix.
This sweet dessert is commonly sold by street food sellers, and it is also accessible in most Myanmar restaurants. Some families give this dish as New Year's gifts to their neighbors.
---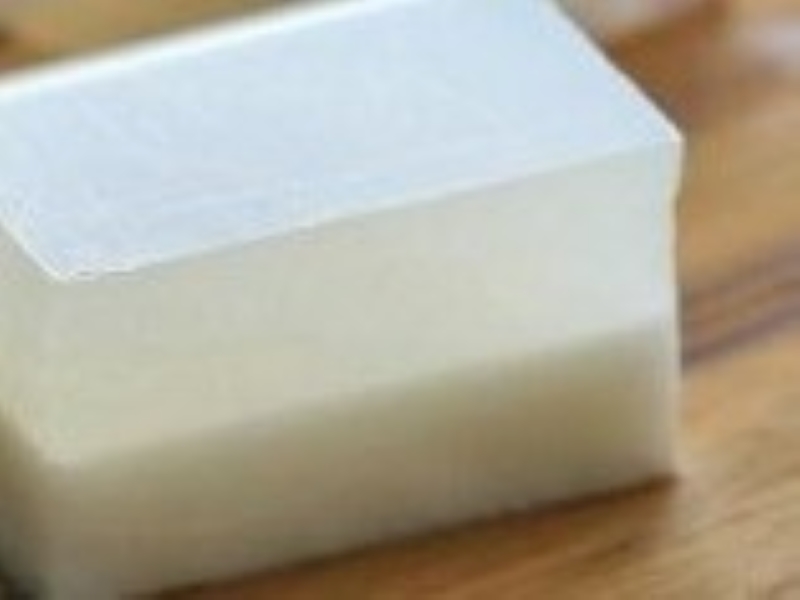 Kyauk Kyaw
Coconut milk, agar-agar (strands or powder), water, sugar, and salt make up Kyauk kyaw, a basic Burmese dessert. Before letting the mixture to cool to room temperature, the ingredients are boiled and then simmered. When the mixture has set, it should result in a hard, jelly-like dessert with two main layers: a creamy coconut white layer and a translucent water layer.
To make a more brilliant dessert, some versions of this dessert cuisine ask for the inclusion of food colorings, extracts, fresh or canned fruit, or chocolate. Cut into square or diamond-shaped slices, kyauk kyaw is normally eaten chilled.
---
Cendol/Mont Let Saung
Also known as Mont Let Saung. Cendol is an iced sweet treat made with droplets of green rice flour jelly, coconut milk, and palm sugar syrup. It is popular in Myanmar and Southeast Asia. Additional toppings, such as diced jackfruit, sweetened red azuki beans, or durian, can be placed on top of the green jelly.
Cendol's ingredients include a lot of aren (sugar palm) and coconut plants. Coconut milk, jelly noodles made from rice flour with green food coloring (typically sourced from the pandan leaf), shaved ice, and palm sugar are the dessert's original or basic ingredients.
Htannyet mont let saung, which is served in a caramel-colored jaggery syrup, and onno mont let saung, which is served with coconut milk, are the two main types of mont let saung in Myanmar. During Thingyan (Burmese New Year), satuditha donors typically serve the food to guests.
---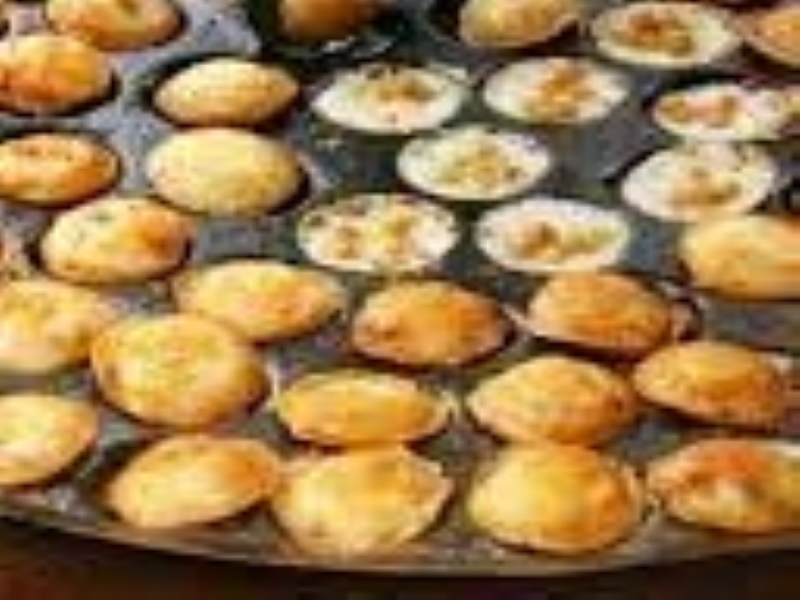 Moat Lin Mayar
Also known as Mont lin maya. It's a Burmese street food known as mont. The Burmese word mont ok galay lit literally translates as "husband and wife snack."
Rice flour, yellow peas, and salted sesame are the major ingredients, and they are from Upper Myanmar. Each Couple Snack is made up of two half-spherical forms that are cooked separately and then joined to form a single snack. Some individuals serve the snack with a quail egg. Moat Lin Mayar is a crunchy, yellowish confection that's typically found in Myanmar's street markets.
---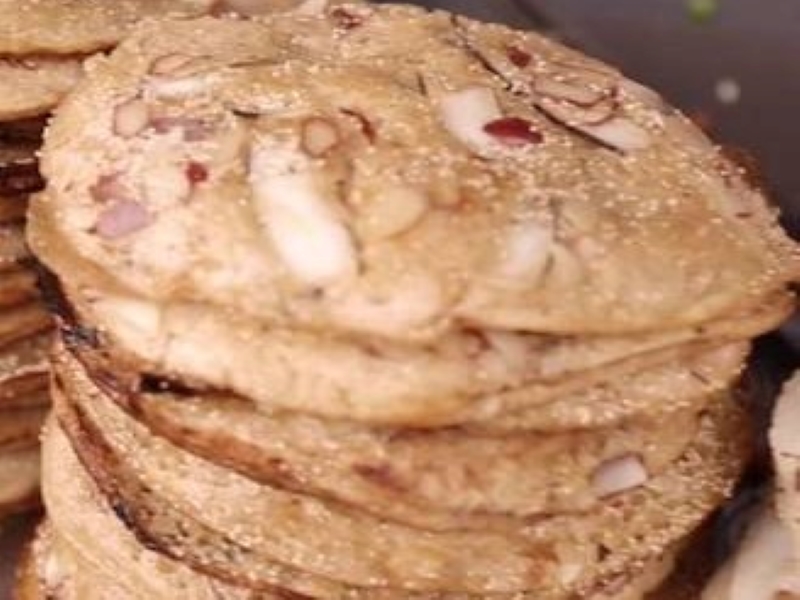 Bein Mont/Burmese Pancake
Another traditional Burmese snack or mont is bein mont.
This food is a rice flour pancake dipped in jaggery, coconut shavings, and topped with sesame seeds, peanuts, and poppy seeds, as the name suggests.
The Bein Mont dessert is a traditional Myanmar delicacy that has been passed down through generations. It has a sweet taste.
This delicacy has a circular shape with crispy edges on the outside and a fluffy center. Burmese people believe that eating Bein Mont dessert can relieve stress and fatigue, thus they eat it after a long day at work.
---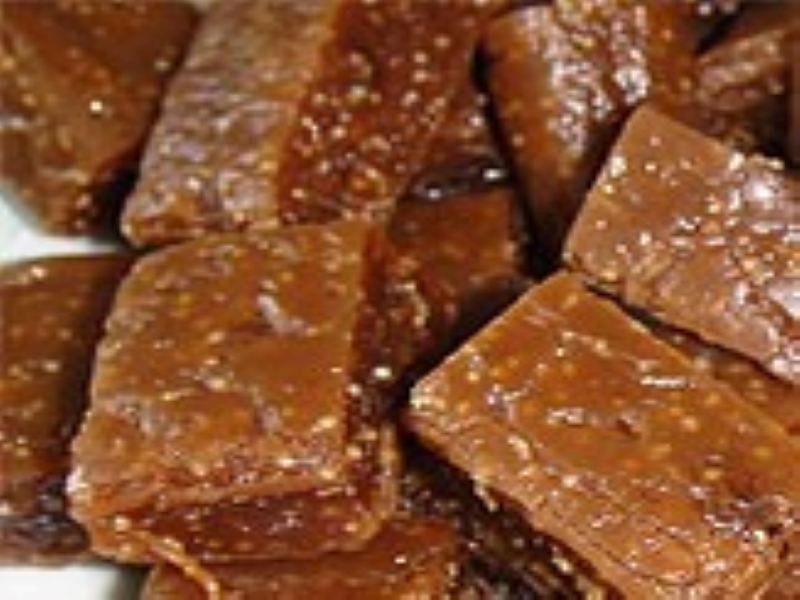 Pathein Halawa
Pathein halawa, also known as mont in Burmese, is a classic Burmese dessert. The pudding is made from glutinous rice flour, rice flour, coconut, sugar, poppy seeds, butter, and milk, and comes in two flavors: wet and dry. The dessert was first sold in the 1930s in Bassein (now Pathein), an Irrawaddy Delta town, and is today regarded a Pathein specialty.
Pathein halawa is made in the same way that other Burmese desserts such as mont kalame and htoe mont are.
---
Nankhatai
Nankhatai are Indian subcontinent shortbread biscuits that are famous in Northern India, Pakistan, Bangladesh, and Myanmar (formerly Burma).
Nankhatai is thought to have started in Surat in the 16th century, when Dutch and Indian spice traders dominated. In Surat, a Dutch couple opened a bakery to cater to the demands of the local Dutch community. The bakery was passed up to an Iranian by the Dutch when they left India. The residents despised the bakery biscuits. To save his firm, he began selling low-cost dried bread. He started drying the bread before selling it since it got so popular. His bread experiments eventually resulted in the creation of nankhatai. Refined flour, chickpea flour, and semolina are the major constituents in nankhatai.
---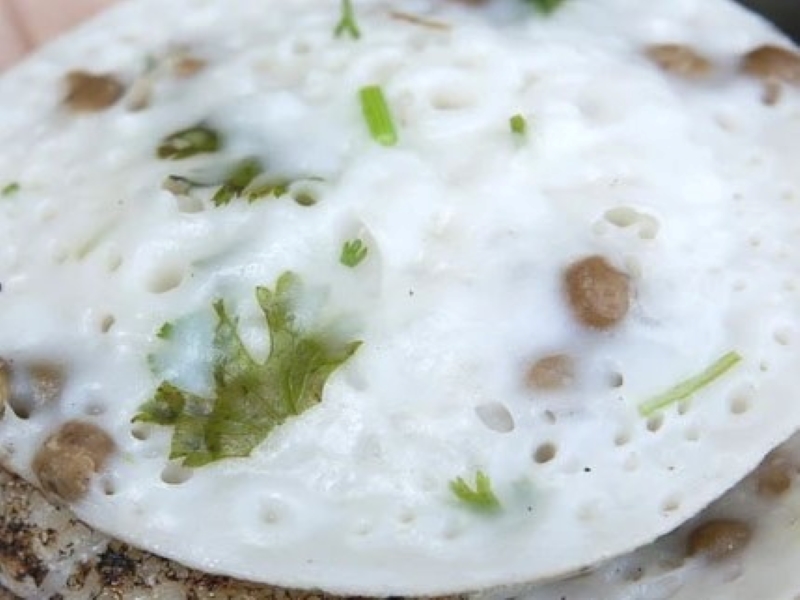 Moat Pyar Thalat
This Burmese plain pancake treat, Moat Pyar Thalat, is created with bean, parsley, and rice flour. It may sound like dessert, but the ingredients aren't sweet, instead it is savory. Moat Pyar Thalat has a mild flavor with no overpowering flavors such as spicy or sweet foods. As a result, Burmese people cook Moat Pyar Thalat with shredded coconut or salted sesame seeds. For a sweeter taste, some people added palm sugar syrup.