Brown Rice With Sesame Fried Vegetables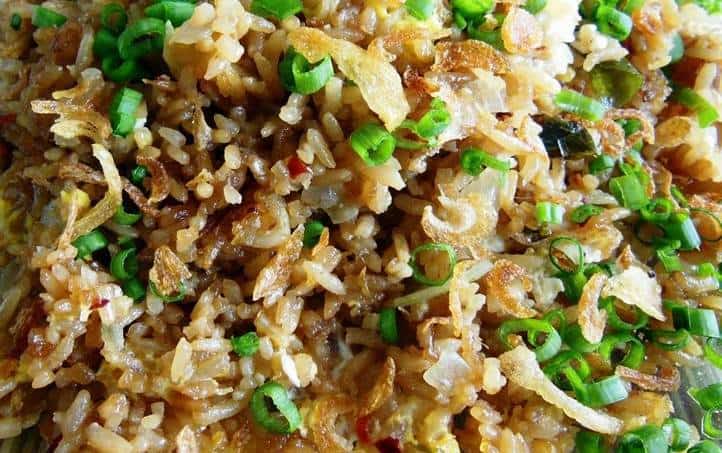 Ingredients
2 c Rice, brown
1 t Sea salt
2 Onions, green
1 c Radishes
1 Carrot
1 sl Cucumber (2-inch)
3 tb Cooking oil
1 t Garlic — finely chopped
1 tb Sesame tahini
Soy sauce
Lemon juice
Directions
Wash the rice three times and boil in plenty of salt water until tender. While the rice is cooking, wash and prepare the vegetables. Slice the green onions finely. Cut each radish in half. Cut the carrot diagonally, then cut each slice in strips. Slice the cucumber (not too thinly), and cut each slice in four. Heat the oil in a wok or plan and stir0fry the garlic for 39 seconds. Add the prepared vegetables and stir-fry for 3 minutes. Add the sesame seeds after 2 minutes. When the rice is tender, drain and stir in the fried vegetbles and sesame seeds. Stir in the sesame paste. Sprinkle with a little soy sauce and lemon juice and serve hot with sesame tahini to taste.
Burmese-Style Coconut Spiced Fruit Rice
Serves 6
Ingredients
1 ts Vegetable oil
1 c Chopped onion
1/2 c Water, divided
4 c Cooked white rice, unseasoned
4 tb Grated coconut or:2 ts Coconut flavoring)
3 Bay leaves
1 ts Ground cinnamon
1/4 ts Curry powder
1/4 ts Ground tumeric
1/4 ts Ground cloves
Salt and pepper to taste
Directions
Combine oil, onion and 2 tablespoons water in large non-stick skillet. Cook over high heat, stirring occasionally, until water evaporates and onion begins to brown. Add remaining water and all other ingredients; lower heat. Cover and cook until heated through. Remove bay leaves before serving.
Burmese Vegetables with Peppers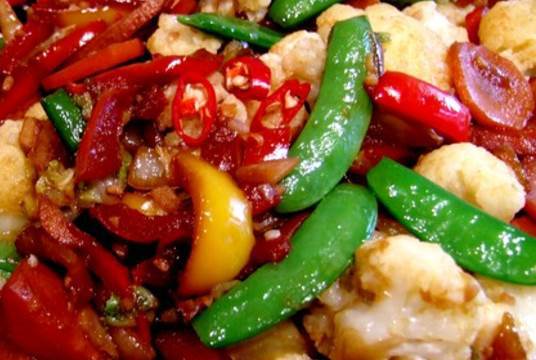 Ingredients
3 tb Sunflower oil or vegetable -broth
1 1/2 c Bell peppers, red — sliced
1/2 c Bell peppers, green — sliced
1 1/2 c Snow peas
1 1/2 c Bok choy — sliced
2 tb Leeks, baby — sliced
1 c Carrots — thinly sliced
1 Garlic clove — sliced
1/8 ts Chilies, red, fresh — chopped
4 ts Tamari
Directions
In a large saucepan or wok, heat the oil over high heat until hot but not smoking. Toss in the vegetables and seasonings and stir-fry for 1 to 2 minutes, stirring 3 to 4 times; the vegetables should be crunchy. Remove from the heat and serve with brown rice or Oriental Amaranth with Purple Cabbage.
Pebta Kha-o – Tofu & Turnip Saute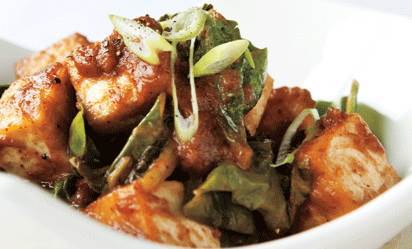 Ingredients
1 Chinese tofu cake
3 tb Corn OR peanut oil
1 sm Onion, sliced (1/4 cup)
1 sm Rutabaga, peeled, cut into -1/4-inch-thick Slices (2/3 cup)
1/4 c Chopped ripe tomato, fresh -or canned
1 t Thin-sliced fresh hot green -chili
2 ts Soy sauce
1/4 ts Ground cuminseed
1/2 ts Salt
1/4 c Water
Directions
1. Cut the tofu into 5 rectangles about 1 inch wide, 2 inches long and 1/4 inch thick. Dry them well on paper towels.
2. Heat a dry skillet for 1 minute, then add the oil (this prevents the tofu fromn sticking). Fry the tofu over moderate heat to a light-brown on both sides. Remove and set aside. Remove all but 1 tablespoon oil.
3. Brown the onion in the oil over moderate heat for 2 minutes. Add the rutabaga slices and stir fry for 2 minutes. Add the tomato, chili, soy sauce, cuminseed, and salt and stir fry for 1 minute. Add the water, cover the skillet, and cook for 5 minutes.
4. Add the tofu, stir for a moment, cover the skillet, and cook for 3 minutes more.
Serve warm with bread. An excellent side dish for vegetarians.
Note: Firm vegetables such as chayote and the white turnip with a mauve top can also be used in this preparation. The contrast of the browned tofu and the soft turnip is pleasant to the palate, and the flavorings give it an unusual and distinctive character.
Beya Kya – Split Pea Fritters
Ingredients
1 cup split peas
2 medium onions, finely chopped
2 fresh red chilies, finely chopped, or ¼ teaspoon chili powder
½ teaspoon ground turmeric
½ teaspoon salt oil for deep frying sliced onion and lemon wedges to garnish
Directions
Soak split peas overnight, or for at least 6 hours, in water to cover. Drain, grind to a paste in blender or put twice through fine screen of mincer. Mix in all other ingredients except oil. Make small balls and flatten to 12 mm (t/2 inch) thickness. Heat oil in deep frying pan and put the fritters one at a time into the oil. Fry until golden brown. Drain on absorbent paper. Serve garnished with sliced raw onion and lemon wedges. Note: The Burmese name for this recipe is pronounced 'beah jaw ' .
Thanatsone – Mixed Vegie Salad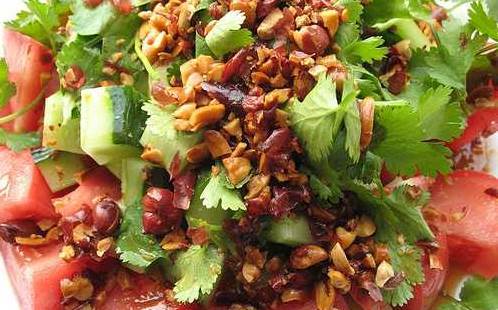 Ingredients
Use any combination of the following vegetables in the required amounts-beans cabbage cauliflower okra carrots bamboo shoots spring onions bean sprouts cucumber or zucchini.
3 cups sliced vegetables salt
½ cup vegetable oil
l tablespoon sesame oil
½ teaspoon ground turmeric
2 large onions, finely sliced
4 cloves garlic, finely sliced
3 tablespoons sesame seeds
2 tablespoons white vinegar
Directions
Cut vegetables into bite size strips and boil for only 1 or 2 minutes in lightly salted water, just until tender but still crisp. Drain and run cold water over the vegetables in colander to prevent overcooking. Drain again. Heat the two oils in a small deep frying pan, add turmeric, onions and garlic and fry over medium heat, stirring all the time, until onions and garlic start to brown. Remove pan from heat and continue stirring until they are brown and crisp. When cool, pour a little of this oil over the vegetables, add onions and garlic and toss lightly but thoroughly, adding extra salt and vinegar to taste. In a dry pan roast the sesame seeds over medium heat until golden brown. Turn on to a plate to cool, then sprinkle over the vegetables. Serve as an accompaniment to rice and curry.
CHIN HIN,SOUR SOUP
Chin Hin – Sour Soup
Ingredients
Sour greens such as tender young tamarind weaves are used to make the stock for this soup (or substitute green tomatoes or rhubarb stalks) If rhubarb stalks are used cut them into short lengths and boil then strain and use the Liquid combined with spinach or other green leaves.
2 teaspoons sesame oil or corn oil
1 onion, finely sliced lengthways
2 cloves garlic, crushed
¼ teaspoon ground turmeric
2 or 3 green tomatoes, chopped
1 cup torn spinach or other greens
4-6 cups fish stock or boiling water
salt to taste
Directions
Heat oil in a saucepan and when very hot fry the onion, garlic and turmeric, stirring for 30 seconds. Add the tomatoes and spinach, stir well, then add the stock or water and bring to the boil. Simmer vegetables are tender. Taste and add salt as necessary. Serve with rice.
Beans Sprouts with Beancurd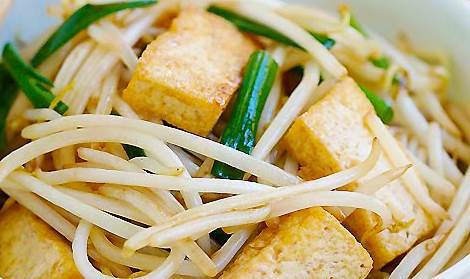 For good results, a wok or heavy, deep frying pan with rounded bottom should be used to facilitate tossing of vegetables over high heat.
Ingredients
3/4 cup chopped pork
2 tablespoons oil
1 small onion
1 cup firm beancurd, sliced
2 tablespoons soy sauce
4 cups bean sprouts
1/2 cup cut chives
Salt to taste
Directions
Chop pork very finely. Heat oil. Slice onion. When oil is cooked, put in onion. When onion is clear, put in. pork. Add 1 tablespoon water, lower heat, and cook till water is absorbed and some fat from pork is cooked out.
Before pork browns, add beancurd, sliced in thin 1-inch strips. Add half the soy sauce. Cover and cook till curd begins to brown, moving carefully to prevent sticking.
Pick and tail sprouts; soak in water. Cut chives in 1 1/2.inch lengths.
Add sprouts to pan, toss lightly, and cover. Cook a few minutes till sprouts just begin to tender.
Add soy to correct saltiness; add chives; toss lightly and take off fire. Total cooking time for sprouts is just 5 to 6 minutes.
Alternative or addition to this recipe: Chinese cabbage.
Chayote Leaves or Gourd Leaves w/ Soybean Powder
For good results, a wok or heavy, deep frying pan with rounded bottom should be used to facilitate tossing of vegetables over high heat.
Ingredients
4 cups sprigged chayote or gourd leaves
1 onion, sliced
2 medium tomatoes, chopped
2 tablespoons oil
A pinch turmeric
2 green chilies
Salt to taste
1 tablespoon soybean wafer powder OR 1/2 teaspoon canned hot bean paste
Directions
Sprig chayote leaves into 2 inch lengths of leaf and tenderest stems only. Draw off stringy 1sheath with knife and have everything smooth and tender. Wash and soak in water.
Heat oil. Add turmeric, then onions, and fry till onion is clear. Put in tomatoes and whole green chilies and simmer, covered, till tomato juice is incorporated.
Add greens and salt, toss lightly, cover, and cook till greens are tender. Then add soybean powder or paste and toss again.
Alternatives to this recipe: mustard leaves or pumpkin leaves.
Vegetables done without any enriching agents are delicious if they are very freshly plucked and tender and cooking is quick.
Okra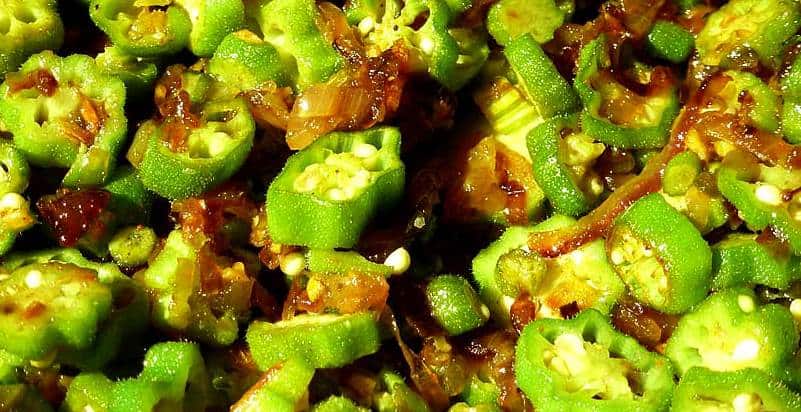 For good results, a wok or heavy, deep frying pan with rounded bottom should be used to facilitate tossing of vegetables over high heat.
Ingredients
3 cups cut or 10 young plants okra
1 small onion
1 tablespoon oil
Salt to taste
1/2 teaspoon curry powder (optional)
Directions
Wash okra whole. Place a few minutes on a warm lid to dry. Cut in 3/4-inch long pieces. Slice onion.
Heat oil; fry onion till clear. Add okra and toss. Add salt, stir, and cook about 2 minutes. Sprinkle curry powder over, toss again, and serve.
Bitter Melon (Carilla)
Sometimes a bitter dish, it makes for more enjoyable eating when modified and combined with other flavors.
Ingredients
2, 6-inch long bitter melons
1 tablespoon salt, for washing out
Large pinch turmeric
3 tablespoons oil
1 small onion
1/2 teaspoon chili powder
3 medium tomatoes
2 tablespoons shrimp powder
Fish sauce to taste
Directions
Prepare melon: scrape off skin and blisters lightly, just enough to remove raised parts. Cut in thin diagonal slices and then strips. Fruit should be tender enough not to have hard seeds and to have insides that can be used.
Wash cut slices. Now knead them hard with salt to get out excess bitterness. Wash off all this salt and juice. Wash in clear water and drain. Rub with turmeric.
Heat oil. Slice onion and fry till clear. Add chili and fry. Slice tomatoes finely and fry together. When pulp begins to soften, add melon strips and stir well. Cover and cook till fairly dry but not discolored.
Add shrimp powder. Stir well and cook 2 to 3 minutes. If salt is needed now, add fish sauce to taste and cook till it is absorbed. This is a dry dish.
Fried Roselle Leaves (Chin Baung Kyaw)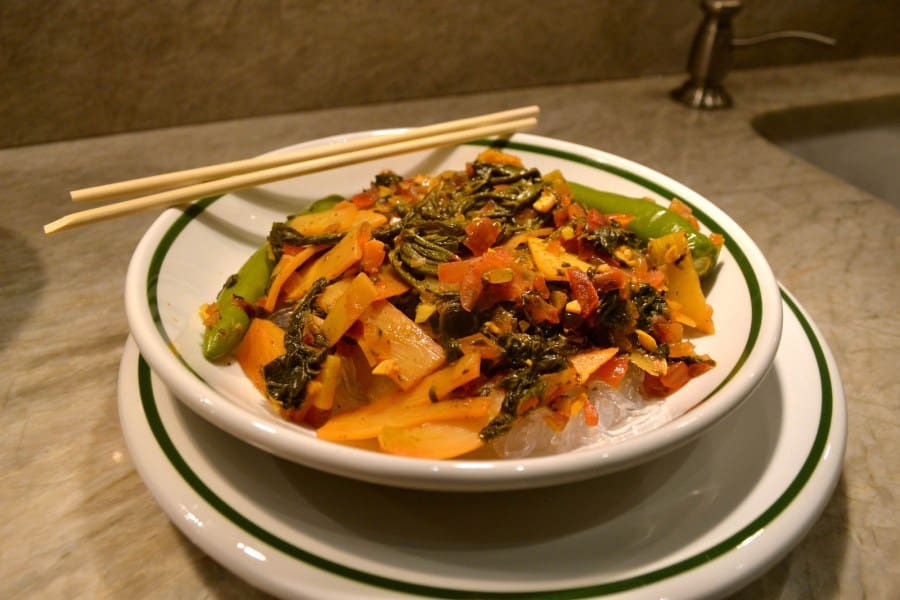 Ingredients
6 packs/bunches Roselle Leaves (Chin Baung Leaves)
2 tablespoons Dried Shrimp Powder
1 teaspoon of Shrimp Paste
5 Dried Chilli or 1 teaspoon of chili powder
4 Large or 8 Small cloves of Garlic
2 medium size Onion
1/2 teaspoon Tumeric (yellow powder)
2 tablespoons of Cooking Oil
5 ticals shredded bamboo shoots
5 Green Chillies
Directions
Pound chili, onion and 2 cloves of garlic until becomes a paste and set aside. (Blend those in the blender with high speed)
Coarsley grind or pound dried shrimp. Peel the skin of remaining garlic before mixing.
Shred only the leaves from the stem of Roselle packs and wash them in the cold water. Wash and cut bamboo shoots into 1 inch length size.
Heat oil and put the tumeric and onion, garlic, chili paste and stir until become golden brown, then add roselle leaves, and add shrimp paste mixing it with 1 tablespoon of water and stir it well.
Then add the bamboo shoots. Also add Shrimp powder and stir. Cook about 10 to 15 minutes until leaves become dry and oil can be seen.
Then add the remaining garlic (pounded coarsely) and green chilis (cut the chili half way from the back) as topping and leave it for about 3 minutes. The Chin Baung Kyaw will be ready to serve.
Spiced Coconut Sweet Potato
Serves 4
Ingredients
1 Onion, chopped
3 Garlic Cloves, crushed
2 Large Chillies, finely chopped
1 teasp Ground Turmeric
1 teasp freshly grated Root Ginger
Salt and Black Pepper
1 tbsp Soy Sauce
240ml/8fl.oz. Coconut Milk
360ml/12fl.oz. Water
1 tbsp Lemon Juice
450g/1lb Sweet Potato, peeled and sliced
Directions
1. Place all the ingredients apart from the sweet potatoes in a large saucepan, bring to the boil, stirring then reduce the heat and simmer for 5 minutes.
2. Add the sweet potato, mix well and simmer for 20 minutes or until the potatoes are tender. Serve hot.
Katen Joshi (Burmese lentil soup)
This "sweet" Burmese soup is ferociously filling, thanks to all the substantial, deep fried garnishes. Really yummy, with so much heat and crunch and flavor accenting the bland dal foundation. Serve barely warm to 4 as a meal
2 cups red lentils
6 cups water
1/4 cup cilantro, chopped
salt and pepper to taste
Garnishes:
2 hot green chili peppers, cut into rings and soaked in white vinegar to cover for at least an hour.
2 cups chopped sweet onions, cooked slowly in 1/3 cup peanut oil until dark and carmelized.
2 potatoes, peeled and grated and cooked in an inch of hot oil until crisp and golden brown, then drained on paper towels.
2 cups bread cubes, cooked in an inch of hot oil and butter until golden crisp–watch carefully, this goes fast.
1 cup cilantro, chopped.
Directions
Wash the lentils thoroughly, then pour into a large pot with 6 cups of water. Bring to a boil, then reduce heat to medium and cook partially covered until the lentils lose their shape and make a thick porridge. Stir in the chopped cilantro, season to taste, and set aside.
While the lentils are cooking, begin preparing the garnishes, in the order given. As they're done, place in small bowls to pass with the soup. When ready to serve, pour the soup (barely warm) into a tureen and take it and the garnish bowls to the table. Invite your guests to put 2-3 ladles full of soup into their soup bowls and heap the garnishes in a pile in the middle of the bowl.
Swe Payon Hinjo – pumpkin soup with Thai basil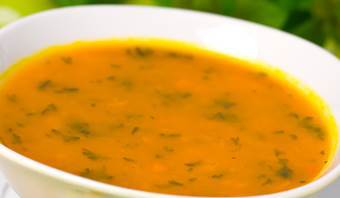 Really a lovely "sweet" Burmese soup–fragrant, spicy, and with an even balance between light and filling. Will go well with a sandwich for lunch–or stimulate an appetite for a cold supper in the summer or a sustaining supper in the winter. Or you can go traditional and serve it simultaneously with other Burmese dishes, where it will play the role of beverage. Serve warm to 4 people as a course.
Ingredients
1 Tablespoon peanut oil
3 cloves garlic, coarsely chopped
1 and 1/2 pounds pumpkin or other winter squash, peeled, seeded, and cubed
4 cups chicken stock (or, traditionally, water)
salt and pepper to taste 1/2 cup Thai (or sweet) basil leaves, finely sliced
Directions
Heat oil in a medium saucepan, then lightly saute the garlic for 3-5 minutes, until it is fragrant. Add the cubed pumpkin and stock to the pan and bring to a boil. Reduce heat, cover, and simmer for 25 minutes, until pumpkin is tender. Puree in a blender, solids first, until smooth. Season with salt and pepper. When ready to serve, stir in finely sliced basil and ladle into bowls.