The first thing that comes to mind when we hear Mexican Dishes are tacos, nachos, fajitas because these are some of the most popular Mexican foods in the market. Mexican recipes are very versatile, whether you are a vegetarian or is looking for a vegetarian Mexican recipes. Not to worry because in this post, we will be talking about some of the most popular Mexican vegetarian dishes that you'll surely love.
Popular Mexican Vegetarian Dishes
Most of the Mexican dishes are already made for vegans and vegetarians. Listed below are some of the most popular Mexican vegetarian delicious recipes. Read on below for more details.
Mexican Rice
Mexican Rice is also known as Spanish Rice de Mexico or Red rice. It is a Mexican dish that is made from white rice, garlic, tomatoes, onions, and green bell peppers. Other than the vegetables and tomatoes, additional spices can also be added to this Mexican rice.
This dish is easy to prepare in a pot. You can simply add and mix the ingredients then simmer the rice in Tomato sauce and Chicken broth. Add some chili powder and cumin for a hint of flavor.
Everyone just love this dish, even meat eaters too.
---
Next-Level Vegan Enchiladas
Delicious Vegan Enchiladas is made using whole food ingredients such as Plant meat, Black beans and cheese sauce. It is similar to artichoke enchiladas.
Vegan Enchiladas recipe is basically made up of sun dried tomatoes, sweet potato and black beans as fillings then wrapped in soft tortilla. It is then topped with green onions, red pepper flakes, avocado (Chopped) and cilantro lime garlic cashew cream.
---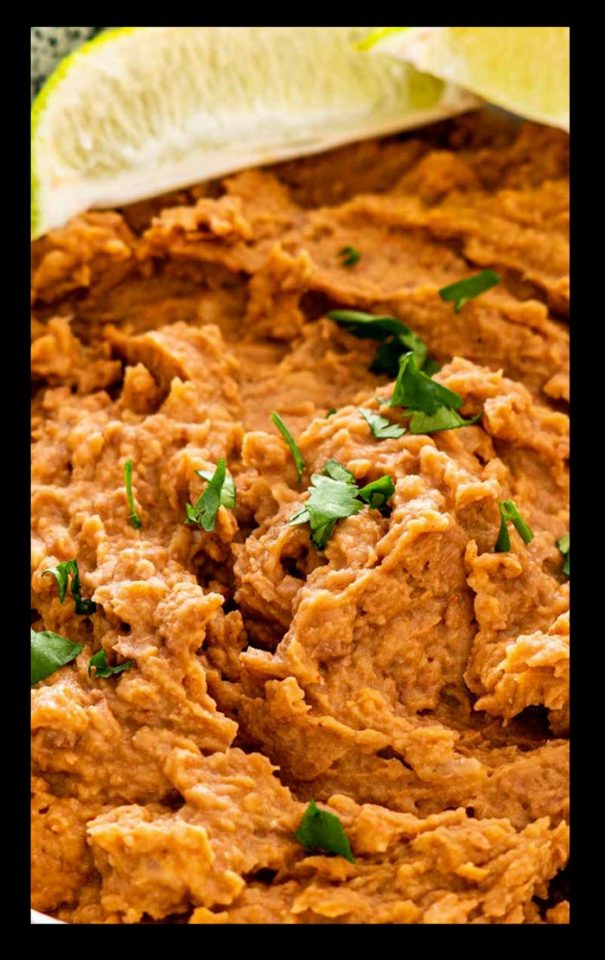 Refried Beans
Refried beans is a Mexican dish made from cooking and smashing beans. Pinto beans have a more buttery flavor that is why it is best use for making refried beans. Not to mention adding fresh cilantro and lime juice to make the taste of refried beans even more complex.
In making this vegetarian Mexican recipes, all you need to do is to simply cook these simple ingredients in olive oil: onions, spices and beans. Refried beans will now be ready to be served in less than 25 minutes.
---
Vegan Tacos
If you see a Vegan Taco Meat choice on the menu, you might wonder whether this dish has meat in it. Though it may look like a Taco mean, it is actually a mixture of walnuts, tofu and spices.
Vegan Tacos is made with Black bean, Vegan Taco meat, Avocado (chopped), lettuce (shredded) and pico de gallo. It is then topped with Tahini Sauce.
You can make a big batch of Vegan Tacos where you can eat leftover for a few days.
---
Salsa with Fresh Tomatoes
There are ready made salsa that is readily available for purchase, though it is much better to make home made salsa with fresh tomatoes since it does not contain any preservatives, salt as compared to ready-made salsa.
Making this Mexican vegetarian recipes is easy. You can also use canned tomatoes but the fresh tomatoes are the best ones to use when making salsa. All you need to do is to mix the ingredients such as Fresh tomatoes, cilantro, Jalapeno, Red onion and green onion, garlic, sugar, salt and pepper in a food processor.
---
Chipotle Guacamole
Chipotle Guacamole is made using the 6 main ingredients: Lime juice, Avocado, Cilantro, Jalapeno, Red Onions and Kosher salt.
There are ready-made Guacamole that can be bought in the store but there is nothing more fun delicious in making it at home in just a matter of minutes. A simple veggie dish to add that extra flavor to your vegetarian meal.
---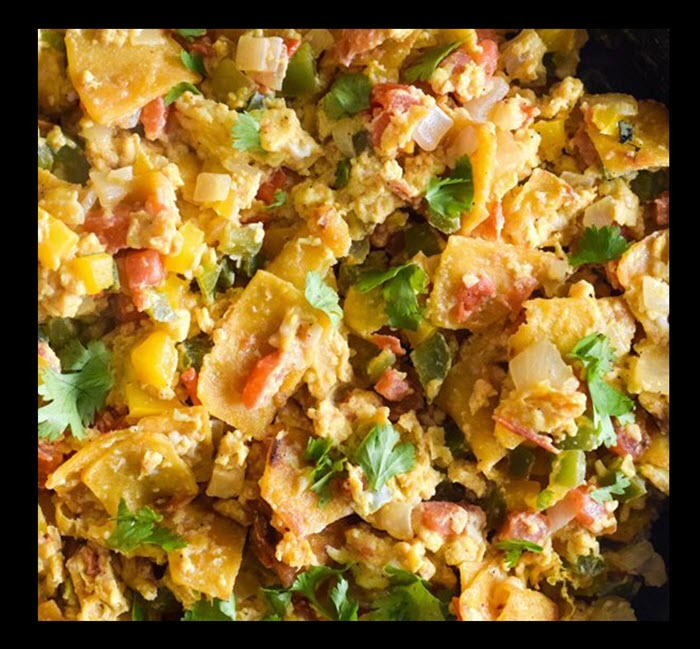 Mexican Migas
Another Mexican Vegetarian dish is the Mexican Migas. It is a popular Mexican breakfast dish that is made of scrambled eggs, corn tortillas, onion, chili peppers, fresh tomatoes and of course Mexican Salsa. Though perfect for breakfast, it can also be consumed any time of the day as long as you please.
This vegetarian Mexican recipes is pretty simple to make, firs you have to fry tortilla strips. Then add eggs and other ingredients on the side. Serve.
---
Spicy Black Bean Burritos
Black Bean Burritos is not only delicious, but the recipe is easy to make and budget-friendly too. It is made from ingredients such as spicy black bean, coconut rice and avocado slices.
Who doesn't love burritos. A typical Burrito contains fillings of beans and rice (spicy beans in this case) and then sauce is added. Sauce components are hot sauce, avocado and cilantro.
---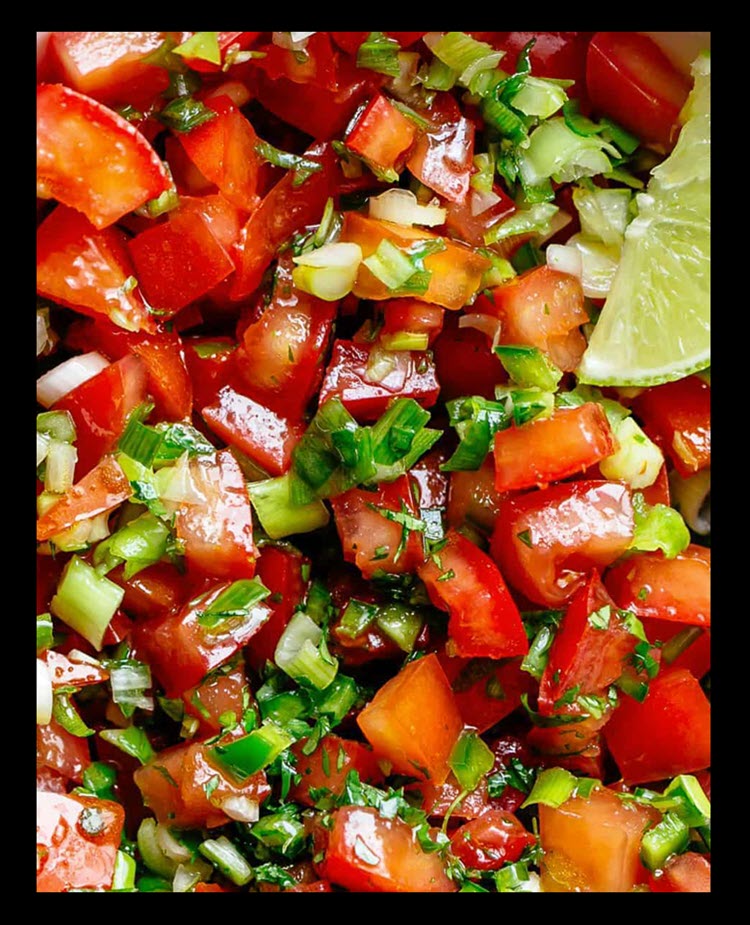 Pico de Gallo
This type of vegetable Mexican dish also known as Salsa Fresca. Although it is similar to Salsa, the main difference between Salsa and Pico de Gallo is the texture of both dishes. Wherein with the latter there is little liquid while with former on the other hand there is more liquid because it is either chopped and often in a puree form. In other words, Salsa is more juicier.
This dish is made from raw tomatoes, Jalapeno, Onions, lime, cilantro and Salt. You can also use fresh tomatoes to make this recipe but there are other vegetarian Mexican recipes that uses stewed tomatoes too.
---
Black Bean Tamale Pie
Black Bean Tamale Pie is easy to prepare. It is a dish that is usually covered with cornbread, similar to the meaty filling that of a Shepherd's pie. Tamale is actually a dough that is made from using Masa Harina which is a cornflour, meat and beans.
In preparing the Black bean filling, you will be needing ingredients such as Olive oil, onions and garlic, Zucchini, spices (cayenne powder, cumin, chili powder and Coriander), black beans (canned) and Tomatoes (canned).
For making the cornmeal tamale topping, you will be needing ingredients such as Cornmeal (Ground), Flour (Whole-wheat), canola oil, baking powder, maple syrup, green chilis and corn.
---
Corn Tortillas
A Tortilla is a thin, circular flat pancake that is made using Masa Harina (cornmeal or flour). It is usually eaten with fillings.
The difference between Fresh corn tortillas and flour tortillas is the ingredients used in making it. Corn Tortilla are made from of course, corn whereas Flour Tortilla on the other hand is made using wheat flour.
---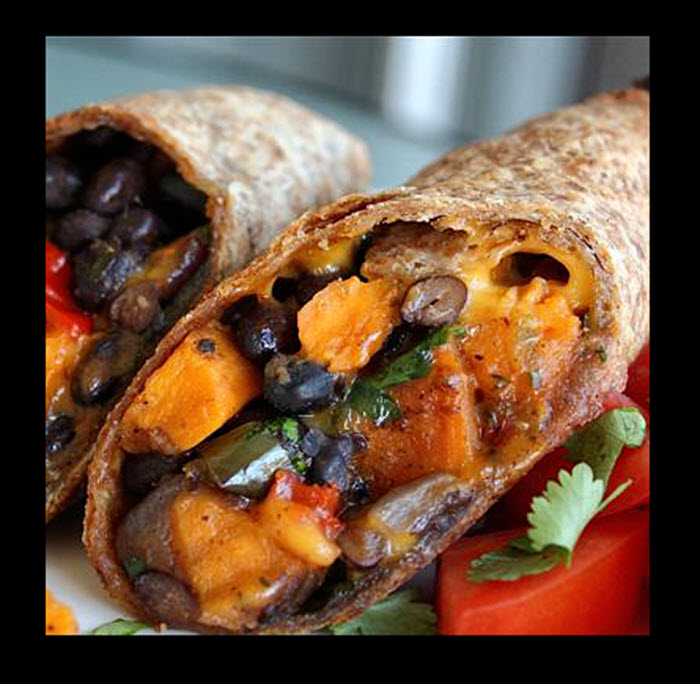 Sweet Potato Burritos
Sweet Potato Burritos are extremely delicious, nutritious and healthy too. These are ideal dish to serve in large groups since it is easy to make.
It is nutritious and healthy since the ingredients use is loaded with vitamins and nutrients such as in black beans and avocado. Black beans is high in fiber and protein content while avocadoes are loaded with vitamins such as Vitamin K, Vitamin B6 and Vitamin C.
To prepare Potato Burritos, you will be needing ingredients such as Black beans, diced tomatoes, olive oil, garlic, avocado, cumin, paprika powder, oregano and salt and pepper.
---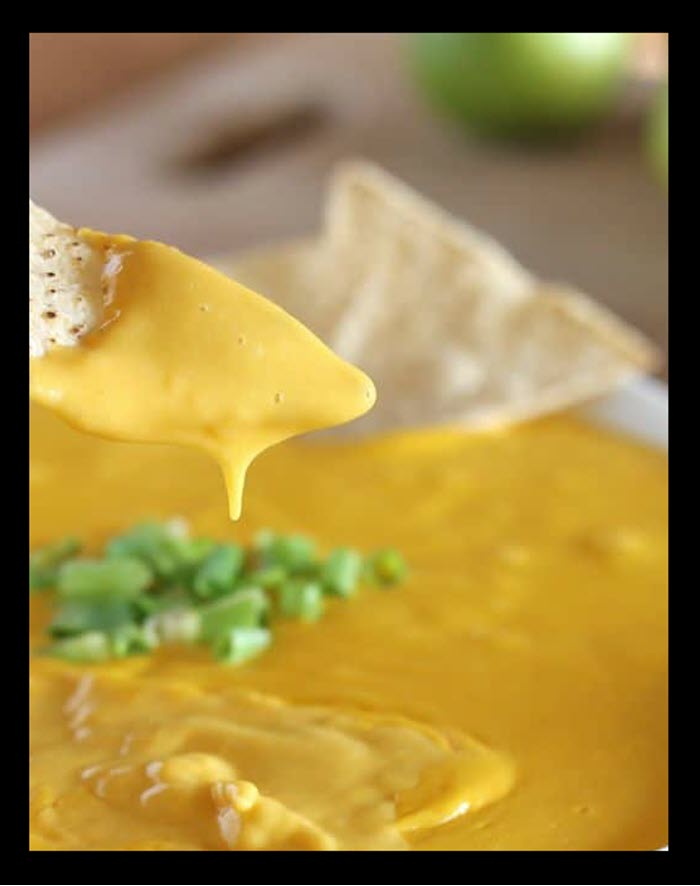 Nachos with Vegan Cheese sauce
The Vegan Cheese sauce used in Nachos is made from cashews (soaked), garlic, onions, spices and nut milk. There are other recipes that uses Nutritional yeast to make the dish more cheesy even without using Dairy.
Preparing this is pretty easy, you need to mix all ingredients together then topped in Nachos with added salsa, beans and also with Guacamole.
---
Cinnamon Chips
Cinnamon chips are tortilla chops that is sweet and has a crunchy texture. You can never go wrong with Cinnamon chips.
Preparing these chips is simple. All you need to do is to mix the ingredients in a bowl. Ingredients includes ground cinnamon, granulated sugar, shortening, vanilla extract and light corn syrup. After mixing the ingredients, flatten and shape (triangular or round shape) on a baking sheet about 1/4 thick or depending on one's preferences.
For your Tortilla chips, you can simply brush with butter then dust off some Cinnamon sugar.
---
Taco Seasoning
Making your own Taco Seasoning at home can be a rewarding experience. Not only is it easy to make, the recipe is pretty simple too.
There are different varieties of Seasoning recipes depending on the ingredients used. A typical seasoning consists of ingredients such as salt, spices that includes paprika, oregano and chili. Onion and garlic powder will also be used.
Other recipes includes ingredients such as ground cumin, oregano (dried), black pepper, and red pepper flakes.
---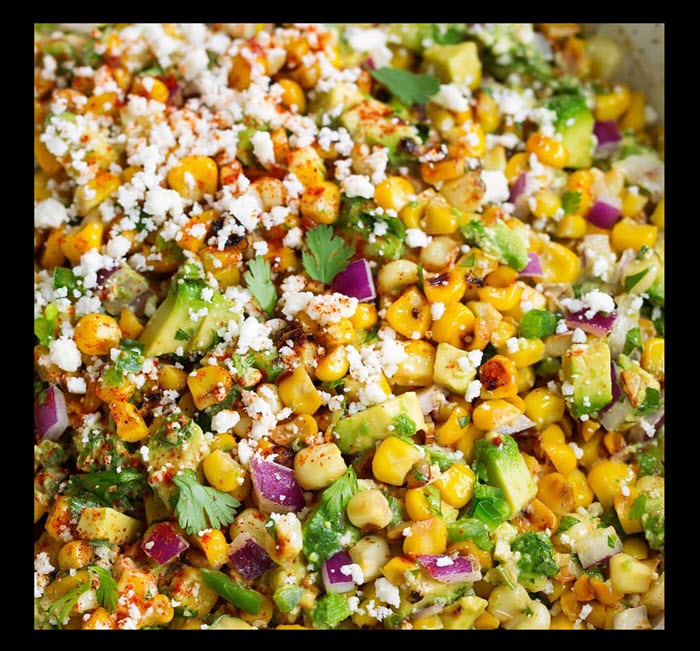 Mexican Street Corn Salad
Next we have the Vegan Street Corn Salad. A vegetarian type of Mexican dish that is made with sour cream or Mayo and with Cotija Cheese. Of course, since it is a vegetarian recipes, a vegan mayo should be used.
It has a creamy, tangy and a little bit spicy flavor. Mexican Street corn salad is actually a dish where grilled corns are topped with mayonnaise, chili powder, hot sauce, Cotija Cheese and lime. You also have the option to add Jalapeno for that spicy kick. Sour cream can also be added for a hint of Tanginess.
---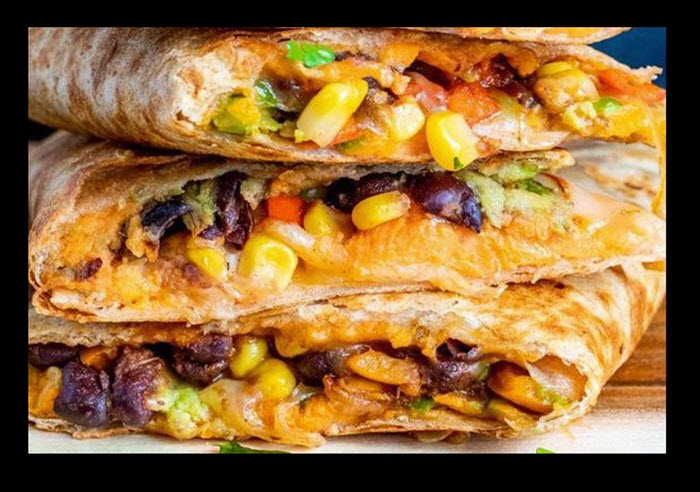 Vegetarian Quesadillas
Who doesn't love Quesadillas? Everyone loves to eat Quesadillas even kids love em' too. And do you know why kids love Crispy Quesadillas? It is because it contains a lot of cheese.
Making Mexican Quesadillas recipe is very easy. Vegetarian Mexican recipes with using cheese and bell pepper is loved by kids and adults. Vegetable Quesadillas are versatile as it can be served as snack or can be served as an appetizer.
---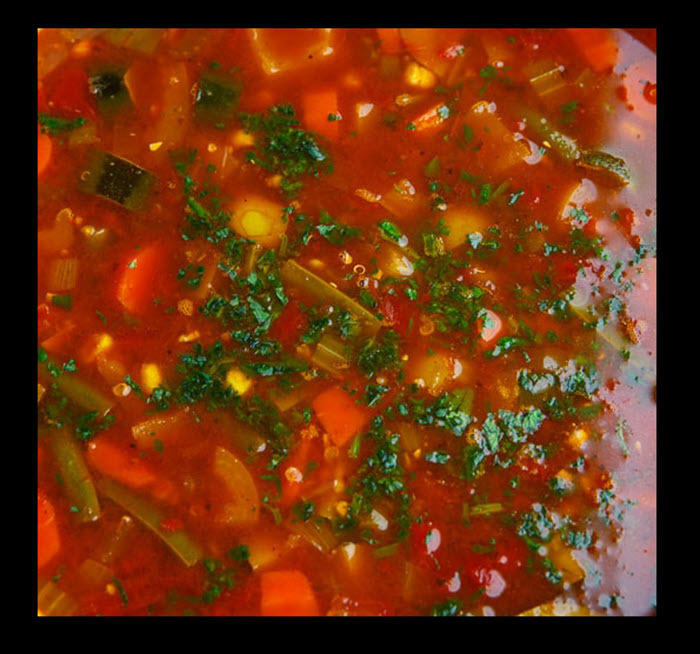 Mexican Vegetable Soup
The Mexican Vegetable Soup is a kind of Mexican dish that is not only delicious, but healthy as well. It is believed to be low in fat, has low calorie content and loaded with vegetables. You can have hot vegetable soup anytime of the day but best eaten during dinner time.
There are other recipes of this soup where it is spicy. You can always add Jalapeno Pepper or Chipotle peppers for that spicy Kick on the soup.
---
Vegan Mexican Chocolate Cake
The Vegan Mexican Chocolate Cake recipes uses two main ingredients: Cinnamon and Cayenne (for that spicy hint). A super rich dark chocolate cake that is Gluten free, egg free, dairy free and of course sugar-free.
---
Pan De Muerto
Pan de Muerto or also known as "bread of the dead" is a type of pan that is traditionally baked before the Dia De los Muertos or also called Ofrenda which is celebrated on November 1 and 2.
Pan de Muerto is a sweet and yeasty pan with strips of dough.
FAQs
Can a Mexican Food be vegetarian?
In Mexico, there are a lot of Mexican recipes to make Vegetarian dishes. From beans, to corn, to vegetables, eggs, salsa and even cheese too. Although dishes such as carnitas and carne asada are delicious too, you can also enjoy Mexican food that are meatless.

With that, Yes a Mexican food can be a vegetarian food.
What are the 3 main ingredients in Mexican Style cooking?
Although Mexico also have culinary traditions to follow, these 3 main ingredients are usually used in Mexican style dishes: Beans, corn and Chiles.
What is the most commonly used spice in Mexican style cooking?
The most commonly used spice is Garlic. It can either be fresh, in a jar or in a powder form.

However, other spices used in Mexican cooking includes Chili powder, Mexican Oregano, Chili powder, cumin, cloves, cinnamon, cloves, and Epazote (an aromatic herb)
What can make a Mexican Cuisine Authentic?
To make an Authentic Mexican cuisine, it can either be cooked using cast iron skillets and cooking method used can either be steamed or fried.
Are beans native to Mexico?
Since Beans, as mentioned above is one of the main ingredient in most Mexican food, Yes beans is a native to Mexico. In fact, beans are mostly found in Central Mexico.
Wrap up
There are different types of Mexican Vegetable dishes and authentic Mexican dishes that are either vegan and vegetarian friendly.
What Mexican Vegetarian recipes in this list have you tried and which ones are your favorite? Let us know what you think from the comments section. You can also browse through this site for more recipes.