From sweet fragrant coconut sauce to a mixture of glutinous rice, palm sugar, grated coconut, and other ingredients, the traditional Malaysian desserts have a lot to offer.
| Product | Brand | Name | Price |
| --- | --- | --- | --- |
| | BetterBody Foods | Organic Coconut Palm Sugar, Gluten-Free, Non-GMO Sweetener Substitute, 24 ounce | Check Price on Amazon |
* If you buy through links on our site, we may earn an affiliate commission. For more details, please visit our Privacy policy page.
Sweet treats won't go out and they are always in. You can get the best traditional Malaysian dessert in different stores, but you always have the option to recreate the Malaysian food at the comfort of your home.
All you need to have are the ingredients and the instructions on how to make the best Malaysian desserts. Provided below are some of the Malaysian desserts that can be easily prepared at home.
Ingredients and the steps on how to make each of the Malaysian desserts are also provided. Feel free to follow them and treat your family with some Malaysian dessert on the table.
Malaysian Desserts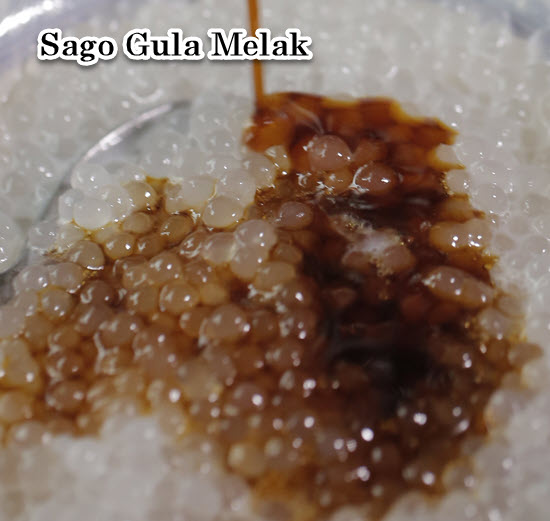 Sago Gula Melaka (Sago Pudding)
This is a delicious dessert that uses coconut milk and Gula Melaka or coconut sugar. Here's what you need:
10 cups of water
7 ounces of rinsed and drained pearl sago
7 ounces of palm sugar (you can order here)
½ cup of water
2 cups of canned coconut milk
How to prepare Sago Gula Melaka:
Get a large pot and boil 10 cups of water in it.

Put in the rinsed and drained pearl sago while stirring occasionally to avoid clumps. Reduce the heat to low once the water starts to boil after putting all of the sagos. Cook the sago for 30 minutes or until you see their color become translucent, stirring occasionally. Using the jelly molds, pour in the sago and refrigerate it overnight.

In a small saucepan, combine the palm sugar and water.

Bring to a boil until all sugar has been dissolved. Use a fine strain to remove some grit on the palm sugar syrup.

Get the refrigerated sago and unmold them.

The dessert is now ready to be served. Pour some of the gula melaka (palm sugar syrup) and coconut milk on top of each pudding, depending on your taste
---
Deep Fried Bananas (Banana Fritters)
Simple, yet addictive deep fried bananas are a thing in Malaysian desserts. To start, get these ingredients:
4 overripe American bananas
Oil, for deep frying
For the frying batter, prepare:
1/2 cup of sifted all-purpose flour
1/4 cup of cornstarch
1/2 teaspoon of baking powder
1/2 cup of ice cold water
1 tablespoon oil
How to make:
Cut the bananas into 1 inch length and set aside.
Get a big bowl and mix all of the frying batter ingredients together. Make sure to stir well to incorporate all of the ingredients and to create a smooth batter. Put the bananas into the smooth batter carefully and coat them well.
Get a small pot and heat up enough oil (3 inches) on high heat. You should see a swirl of smoke on top of the oil to indicate that it is hot enough.
Drop the battered bananas into the hot oil slowly. You can deep fry the bananas by batches to ensure they are cooked well. Once they turn golden brown, turn the bananas to the other side.
Prepare a plate with paper towels. Using tongs or spoon, remove the cooked deep fried bananas from the oil and put them on the plate.
Once all bananas are cooked, sprinkle them with some brown sugar on top and serve. Maple syrup and chocolate syrup can be used as well.
---
Shaved Ice
Need something cold? Try some of this popular Malaysian dessert. You will need:
2 cups of crushed ice (ice cubes can be a substitute)
For the syrup:
1/4 cup of dark brown sugar
1/3 cup of water
3 drops of red food coloring (optional)
For the toppings:
2 tablespoons condensed milk or evaporated milk
2 tablespoons canned red beans, in kernels
2 tablespoons canned sweet corn, cream-style
2 tablespoons grass jelly pieces
Attap chee, palm nuts (optional)
How to create Malaysian shaved ice:
In a small saucepan, pour in all of the syrup ingredients. Heat them over medium heat. Turn off the heat once sugar starts melting and the syrup starts to create bubbles. Let it cool and set aside.
Get the ice and put them in a blender. This is to ensure that the ice is completely shaved.
Prepare a bowl and transfer the shaved ice. Put some syrup (2 tablespoons) on it and follow up with the ingredients on the toppings. You can now serve it.
---
Red Bean Soup
To create this sweet Malaysian dessert, you will need:
500 grams of dried red beans
1.5 L of water (you may need less if you want a thicker soup)
100 grams of sugar
3 tbsp coconut milk (you may need more to garnish)
3 pandan leaves (optional)
Steps to make red bean soup:
Wash and rinse the beans properly. Soak the washed beans in the water for at least 3 hours. If you want, you can soak it overnight.
Drain the beans and put some water in a pot. You can measure it depending on the soup thickness that you want. Put the soaked red beans in the pot with water and bring to boil. Let it simmer for at least 45 minutes or up to 1 hour. You will only need 30-40 minutes for overnight soaked beans.
Once you get the desired bean texture and it is already cooked, put in the sugar and stir until it is fully dissolved.
Get a bowl and put some of the cooked red bean soup. Add a drizzle of coconut milk on top. You can garnish the pandan leaves if you have it.
---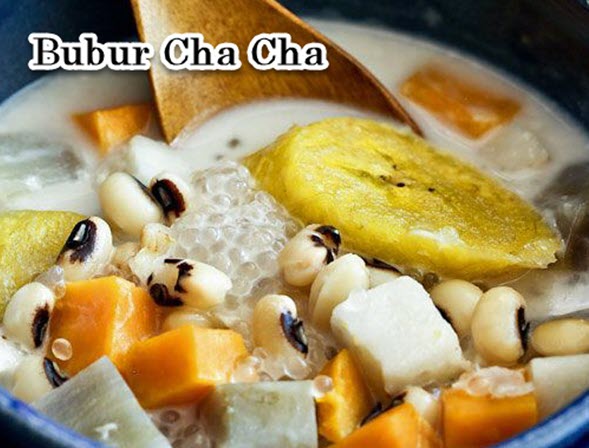 Bubur Cha Cha
Craving some Malaysian desserts that are made out of sweet potatoes? Get these things first:
80 g (3 oz.) purple sweet potatoes
80 g (3 oz.) orange sweet potatoes
80 g (3 oz.) yellow sweet potato
150 g (5 oz.) yam (taro)
10 g (0.5 oz.) sago (tapioca pearls)
50 g (2 oz.) black-eyed peas (soaked for 1 hour)
For the Tapioca Jelly:
100 g (3.5 oz.) tapioca flour
½ cup of boiling water
Red food coloring
For the coconut milk base:
2.5 liters water (10 cups water)
1 cup of thick coconut milk
120 g (4 oz.) of sugar
3 bananas (peeled and cut into half inches thick)
2 pandan leaves
salt to taste
Steps:
Bring water to boil and add the black-eye peas until soft. In a separate pot, boil the sago until they are cooked and translucent in color.
Get all of the potatoes and taro, then peel them. Cut them into cubes based on your desired thickness. Steam them separately until they are cooked.
While the potatoes are being steamed, prepare the jelly by placing all of the tapioca jelly ingredients in a bowl. Pour in the boiling water and mix the flour until it is fully incorporated. Let the dough cool and roll it out on a flat floured surface. Cut the dough into cubes.
Put some water in a pot and add 1 tablespoon of sugar. Put the bananas in and bring to a boil for 5 minutes. Drain it well and set aside.
Use 3 liters of water and bring it to a boil in a pot. Add the coconut milk, sugar, salt, and pandan leaves once it starts boiling. Cook them in low heat for about 10 to 20 minutes.
Together with the sago and tapioca jelly, pour in all of the ingredients into the coconut milk base and mix well. You can serve it hot or cold.
---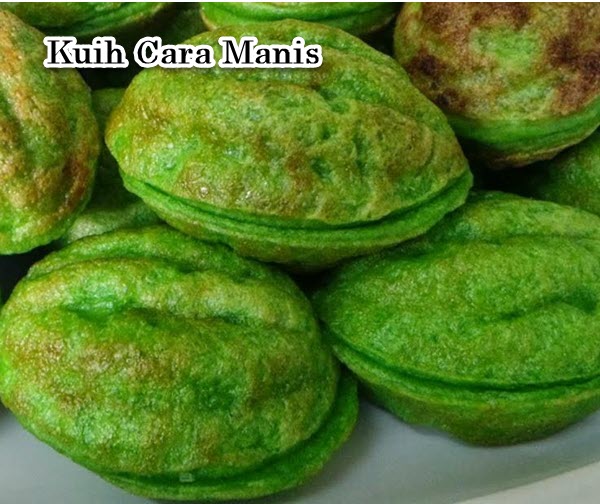 Kuih Cara Manis
This popular Malaysian dessert is made of batter with egg, flour and coconut milk. Get these other ingredients to start making this bite-sized layered cake:
100 grams of cake flour
100 grams of coconut milk
100 grams pandan water (and a drop of pandan paste)
1 egg
A pinch of salt
For the filling:
Grated Gula Melaka
Raw sugar
Desiccated coconut
Cooking oil
Gula Melaka (palm sugar ) or raw sugar
Kuih Bahulu mould (buy here)
Skewer
Instructions:
Mix all ingredients (except for those listed under filling) in a bowl to create a batter. Set aside and strain. In a separate bowl, mix the ingredients for filling and set aside.
Get the Kuih Bahulu mould and heat it over a gas stove.
Once the mold gets hot, grease it with cooking oil using the pandan leaves.
Pour the batter into the mold at half full quantity on each cavity. Fill each batter with ½ teaspoon of the filling mixture.
Spoon the batter to completely cover the mould cavity. Cover the mould with the lid and cook it for 5 minutes or until the color is golden brown.
Using a skewer, remove the cooked Kuih from the mould. Let it cool and serve.
---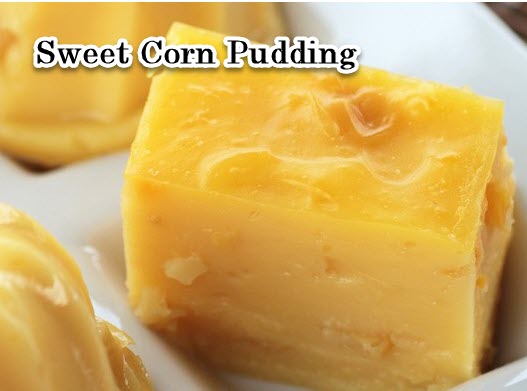 Sweet Corn Pudding
82 grams of flavored jelly powder (custard or vanilla flavor)
1 can (14.75 oz) of cream style sweet corn
1 cup (250ml) of coconut milk
2 tsp agar-agar powder
Preparation:
Look for small molds about 1½ inches to 2 inches in diameter and prepare them.
Using a medium sized saucepan, put the coconut milk, pudding mixture and agar-agar powder. On medium heat, bring them to boil while stirring occasionally until custard and agar-agar powder have dissolved.
After 2 minutes, add the cream corn and continue stirring for another 4 to 5 minutes until they are well combined. Then remove from the heat.
Let the mixture cool down before putting it into the molds.
After placing them into the molds, put them inside the refrigerator for at least 2 hours and unmold them. It is now ready to be served.
---
Those are just some of the best Malaysian desserts that you can make at your home. Go ahead and check which ingredients for the Malaysian dessert are available in your area. I hope that you are able to follow the steps of the recipes provided in this post.
You might still find other Malaysian desserts out there. Most of them are made from glutinous rice as they could be inspired by Chinese community. Most Indian restaurants also serve some of the Malaysian desserts on their menus.
| Product | Brand | Name | Price |
| --- | --- | --- | --- |
| | BetterBody Foods | Organic Coconut Palm Sugar, Gluten-Free, Non-GMO Sweetener Substitute, 24 ounce | Check Price on Amazon |
* If you buy through links on our site, we may earn an affiliate commission. For more details, please visit our Privacy policy page.