What better way to enjoy a warm and sunny day than your favorite Starbucks iced drinks. There are wide variety of iced coffee drinks to choose from available in Starbucks. These cold iced drinks helps you cool down from the heat of the sun. If you want a cold drink just now, head over to your nearest Starbucks store. Since there are so many iced drinks to choose from, deciding what to get can be challenging. That is why in today's post, we have gathered some of the best Starbucks iced drinks to make it easier for you to choose.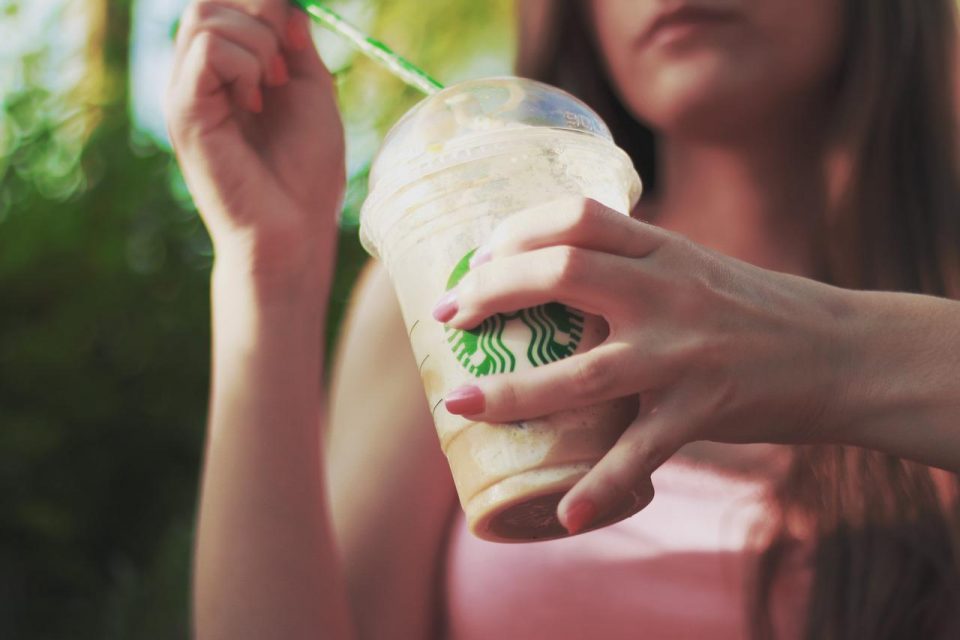 There are three types of Iced Coffee available in Starbucks
There are 3 main types of iced coffee beverages at Starbucks that you need to know and be familiar with: Traditional Cold Brew Coffee, Nitro cold brew and Reserve Cold Brew. Let us tackle each of these types below.
Traditional Cold Brew Coffee
The traditional cold brew coffee is made by soaking ground coffee for at least 12 to 24 hours in cold water. For the slow-soak version, this means steeping the coffee for 20 hours.
Irish Cream, Pumpkin cream, honey almond milk, and vanilla sweet cream is usually added to cold brew coffee.
Nitro Cold Brew
It is similar to the traditional cold brew but the only difference is that with Nitro cold brew nitrogen is added. Basically, an iced coffee infused with nitrogen which makes the drink rich and sweet.
Honey almond milk, and vanilla sweet cream are usually added to nitro cold brew iced coffee.
Reserve Cold Brew
Reserve cold brew is the stronger version of the tradition cold brew.
What are Starbucks Iced Espresso Drinks?
There are different ways you can upgrade your Iced espresso drinks at Starbucks. A typical espresso drink contains basically shots of espresso mixed with either cold milk or ice then adding syrups and sauces to make it more delicious and extra sweet.
Best Starbucks Iced Drinks
Listed below are some of the best Starbucks iced coffee drinks that you might want to try.
Salted Caramel Cream Cold Brew
If you are looking for a cold beverage that has a balance of a rich, intense coffee flavor and a sweet beverage then Salted caramel cream cold brew is your choice of drink. The salt taste in this cold drink is quite strong, it is recommended to stir it first before drinking to mix the caramel and the saltiness the drink has.
Ultra Caramel Frappuccino
There are different varieties of Frappuccino, but this one is not your ordinary Frappuccino since this is Ultra Caramel. This cold beverage consists of 5 layers: sweet white chocolate, mocha cold brew, whipped cream, caramel sauce and blended caramel coffee. The dark caramel sauce of Ultra caramel Frappuccino is placed at the base (bottom) and top layer of the beverage cup.
Iced Chocolate AlmondMilk Shaken Espresso
Starbucks Iced Chocolate Almond milk Shaken Espresso tastes like a melted candy bar. If you are looking for a smooth drink with a sweet finish, then this cold beverage is your choice of drink.
The cold beverage is made of Blonde espresso shots (at least 3), chocolate malt powder, almond milk and Ice.
Iced White Chocolate Mocha
Iced White Chocolate Mocha cold drink is made with Starbucks' signature espresso, mixed with white chocolate sauce, milk and ice. Sweetened whipped cream to finished off the drink. The signature espresso from Starbucks are for those who wants a bold coffee added to their drink.
If you want this drink to taste better, you can add coconut milk or a pinch of cinnamon powder. However if you prefer to add milk chocolate to your beverage (chocolate lover) , you can do so by requesting for a half of the chocolate sauce and a half of the white chocolate sauce.
Violet Drink
Violet drink is regarded as the first Starbucks drink that contains coconut milk. It is made using the taste of berry hibiscus refresher and the coconut milk mentioned. Ice is also added to the drink. Starbucks violet drink has dried yet sweet blackberries.
If you want to order the Violet drink and is not included on the lists of choices, try to order Passion fruit ice tea with soy milk, blackberries and vanilla syrup as sometimes it is interchangeable with Violet drink.
Strawberry Funnel Cake Frappuccino
If you are searching for a new cold drink that you can try this summer, then you might to check out Starbucks Strawberry Funnel cake Frappuccino. The beverage contains Strawberry puree, coffee (espresso shots), milk, funnel cake syrup and lots and lots of whipped cream. Finish it off by topping it with powdered sugar funnel cake pieces.
Vanilla Sweet Cream Cold Brew
Vanilla Sweet cream cold brew from Starbucks comes with vanilla syrup. The number of vanilla syrup pumps depends on the flavor and the size if the drinks. For Tall size, one vanilla pump is added to fill, for Grande two vanilla pumps, Venti size three vanilla pumps and Trenta with four vanilla pumps.
The beverage contains heavy whipped cream, vanilla syrup and just 2% of milk.
Honey Almond Milk Cold Brew
Honey Almond milk cold brew is a coffee drink that contains almond milk (hence the name) for that creaminess of the beverage and honey giving the drink its mild sweetness flavor.
Strawberry Green Iced Tea Infusion
Starbucks Strawberry Green Iced Tea infusion is a mixture of green tea and Strawberry infusion (hence the name of the drink). When ordering this drink, you can either add lemonade or leave it as such. Also, you also have the option if you want your drink to be sweet or unsweetened.
The sweetness that comes from the strawberries, lemonade flavor (if lemonade is added) and green tea, all these three perfectly matched and compliment each other for that delicious afternoon delight.
Iced Chai Tea Latte
Iced Chai Tea latte does not contain espresso, it is actually made of Chai Tea and Milk. If you want to enjoy a delicious beverage from Starbucks less the coffee, then this is the ideal drink for you. However, a Chai Tea latte contains about 240 calories and 45 grams of sugar. Too sweet don't you think? If you want a substitute for Chai Tea Latte, you can try Dirty Chai Tea Latte. A Chai Tea latte but with espresso shots added to the drink.
Chai Tea iced Latte can be ordered hot mixed with steamed milk or can also be iced.
Cold Foam Cappuccino
If you've tried Starbucks Traditional iced cappuccino, Cold Foam Cappuccino is the replacement for it. A frothed of nonfat milk made as frothy toppings to cold coffee beverages such as cold brew, iced coffee, nitro coffee and iced cappuccino.
The cream can be used in two different ways:
Pour the cream over the foam
Top the beverage using non-fat whipped milk.
Java Chip Frappuccino
If you want to enjoy both the chocolate and the coffee then you might want to consider trying this drink. Java Chip Frappuccino is made of Java Chip (Chocolate chip used in coffee) and Frappuccino chips that is mixed with coffee and milk.
The chocolate chips are used to top this iced beverage and also includes mocha sauce, mocha drizzle and of course chocolate sauce.
Strawberry Acai Refresher
There is another Starbuck beverage with strawberries and that is the Strawberry acai refresher. It contains dried strawberries, strawberry acai base and ice.
In making strawberry acai base use the following ingredients: sugar, water, citric acid, white grape juice concentrate, natural green coffee flavor, natural flavor.
Basically, about 50 mg of caffeine (for Grande size) and green coffee extract is what makes up this beverage.
Caramel Ribbon Crunch Frappuccino
When ordering caramel ribbon crunch Frappuccino you will have the option to choose the unsweetened drink in case you do not want the original one which is sweetened.
Caramel Ribbon Crunch Frappuccino is made of roast coffee, milk, ice. Drink is then topped with layer of dark caramel sauce, whipped cream and caramel drizzle.
Passion Iced Tea
Passion Iced Tea contains water, citric acid, hibiscus flower, cinnamon, apple, lemongrass, fruit juice extract, licorice root and of course, ice. This drink can either be sweetened or unsweetened according to one's personal preferences of sweetness on the drink.
There is no caffeine in this drink simply because the drink is an infusion of ingredients (herbal, floral and Fruit). However, if at some point you want add to a hint of coffee to the drink try to consider adding white green tea or green tea to the Passion iced tea drink.
Iced Caramel Macchiato
Iced Caramel Macchiato is one of the most popular iced cold beverages available in Starbucks. Although if you are the type with sweet tooth, this drink is idea for you. The drink has about 3 pumps of vanilla syrup and large drops of caramel sauce that makes Iced Caramel Macchiato extra sweet. Although adding some milk could mellow down the sweetness of Iced Caramel Macchiato.
Iced Blonde Vanilla Latte
Iced Blonde Vanilla latte from Starbucks is generally made using blonde espresso and not the typical regular espresso. Basically, this drink is made with blond espresso, ice, 2% milk and vanilla syrup.
Iced blonde vanilla latte can be very sweet, although the sweetness of this iced latte can be just perfect for some. But for those who think this drink is too sweet, you can always request for the drink to be unsweetened.
Pink Drink
Starbucks Pink drink is another drink made of strawberries. Not long ago, the drink started because customers often requested for a coconut milk instead of a water. The drink was started in one summer then eventually become listed on Starbucks Menu permanently.
This drink is made from the sweetness of Strawberry Acai Refreshers, combined with passion fruit and coconut milk. Finish it off with topping of Strawberries.
Pink Drink has a considerable amounts of sugar, at least 24 grams, though not as much if compared to another drink such as Mocha Cookie Crumble Frappuccino.
Triple Mocha Frappuccino
Triple Mocha Frappuccino from Starbucks is another popular drink. It is made of whole milk and whipped cream as topping. This drink contains about 90 mg of caffeine for the Grande size of this delicious Frappuccino drink.
Another Frappuccino drink in Starbucks that is layered. Basically, mocha Frappuccino is made with mocha sauce then the Frappuccino is made from roasted coffee and whole milk. Ice is then added to the mixture then whipped cream as the final year to this drink. Not to mention a drizzle of dark mocha.
Iced Matcha Green Tea Latte
This one right here is another popular drink in Starbucks not only because of its sweetness but Iced Matcha Green Tea Latte is one delicious iced beverage that you don't want to miss.
The drink is made from pulverized Matcha and then mix it with milk and ice. Though not entirely a healthy drink because of the too much sweetness on this drink. But you can always request this drink to be less sweet.
Mocha Cookie Crumble Frappuccino
Starbucks Mocha Cookie Crumble Frappuccino is typically made of cookies and Mocha. This one right here is considered to one of the most delicious iced drinks available in Starbucks.
The drink is generally made with coffee, milk and ice top with whipped cream and chocolate cookie crumble, Finish it off with rich mocha sauce and Chocolate chips.
Vanilla Sweet Cream Cold Brew
This Starbucks vanilla sweet cream cold brew is an all time favorite. A cold brew drink that is topped with sweet vanilla cream. Ingredients in this drink are brewed coffee, ice, and vanilla sweet cream.
Iced Cinnamon Dolce Latte
Iced Cinnamon Dolce Latte is made with steamed milk and cinnamon dolce syrup. The mixture is added to the traditional Starbucks espresso and then with ice. Finish it off with toppings of whipped cream and cinnamon dolce syrup.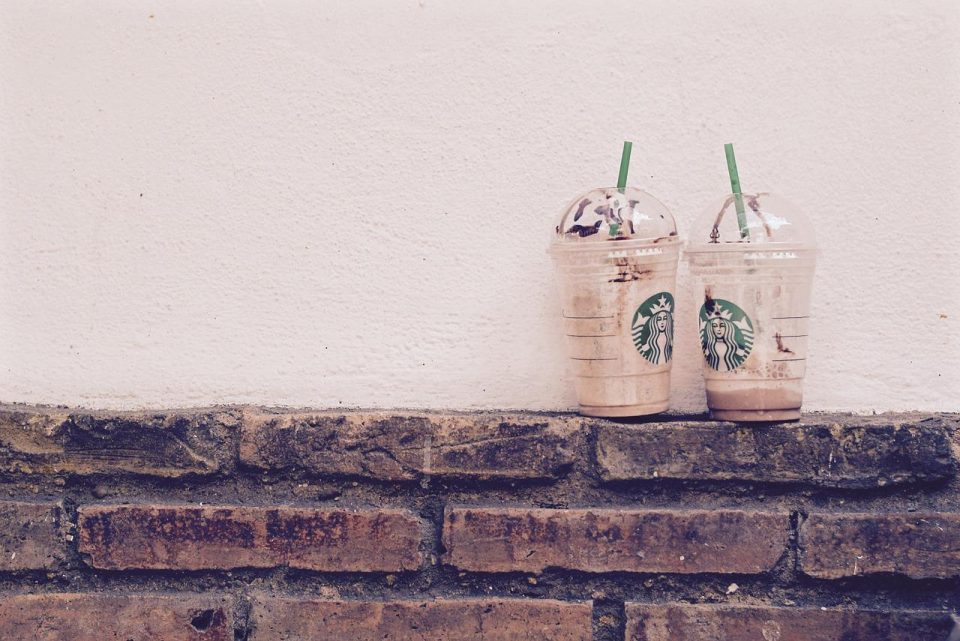 How to customize your Starbucks Iced coffee
You can always customize or upgrade your Starbucks iced coffee drinks how you want them to taste like according to your own preferences. You can always request the barista to add or pour some more of these ingredients: Flavored syrups, milk, espresso shots, whipped cream, toppings and sweeteners.
Tips before ordering Starbucks Iced Coffee drinks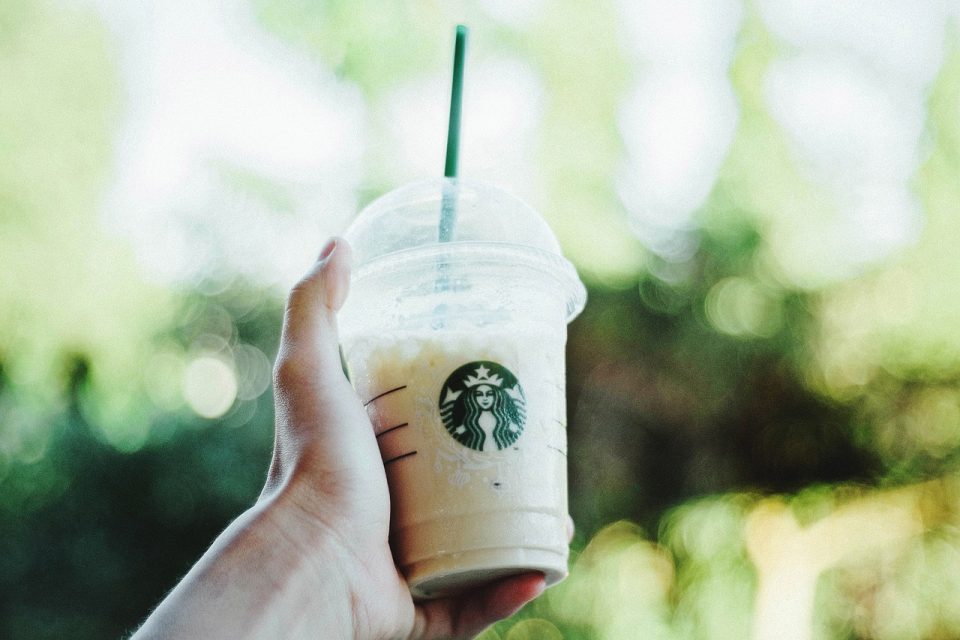 Frequently Asked Questions
What is the best way to make iced coffee?
Making iced coffee at home is simple and easy, all you need to do is to brew the coffee and allow it to cool down by placing inside the fridge. Once cooled down, add iced cubes to the cooled coffee placed in a tall glass. Add some milk or sweetener of choice then stir.
Is Iced Coffee the same as Cold Coffee?
Basically, iced coffee is just regular hot coffee that was cooled down and ice is added. If you want to sweeten your iced coffee, you can simply add sugar. Though most of the time vanilla syrup or other syrups are used instead of raw sugar because syrup tends to dissolve faster on cold mixture than raw sugar does.
What is the difference between Iced coffee and regular coffee?
Regular coffee and Iced coffee are the same thing, making them using the same brewing technique. Basically, iced coffee is just regular coffee that was completely cooled and added with ice.
The only difference between the two us is that how it is served: Iced coffee served with ice and regular coffee served as a hot drink.
When making iced coffee, do you use hot water or cold water?
When brewing coffee at home, it is recommended to used hot water to better extract the coffee beans. After brewing, allow the brewed coffee to cool down and served with ice to make it into an iced coffee.

Brewing using cold water is called cold brew coffee, which is entirely different from iced coffee simply because it has been steeped or soaked overnight (24 hours) but with iced coffee the brewing only takes a few minutes.
Conclusion
This summer, try these delicious iced coffees in Starbucks that will definitely help you cool down while at the same time enjoying shots of coffee mixed with your iced coffee drinks.
If you happen to try out other Starbucks iced coffee drinks that was not mentioned in this list, be sure to let us know.