Boba is also called Tapioca pearls or Boba pearls. Boba comes in different type and colors such as White tapioca pearls, Black Tapioca pearls, and dried Tapioca pearls. The cooking method of Boba pearls are still the same regardless of the type and color of the pearls. In today's guide, we will talk about ways on how to cook Boba in the microwave. Aside from that, different ways on how to cook Boba pearls will also be mentioned here.
* If you buy through links on our site, we may earn an affiliate commission. For more details, please visit our Privacy policy page.
How To Cook Boba In The Microwave
Boba Pearls are made of Tapioca starch and these starch comes from cassava root. It is commonly used for in making puddings, bubble tea drinks, taro milk tea, or Thai tea. In its powder form, it is used as a substitute to white flour that is used in soups and sauce, also used to thicken the consistency of the pie.
Boba Pearls can be cooked in different ways such as in the microwave, in an instant pot, or using a slow cooker. Cooking Tapioca pearls is very simple and easy. Read on the guide below to know more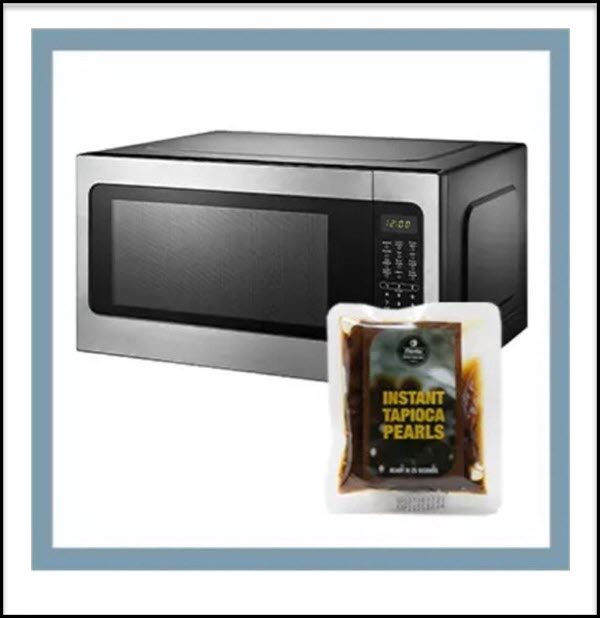 Cook Boba Pearls in the Microwave:
To cook Tapioca balls using the Microwave method:
Using a microwave safe bowl, pour at least 1/3 cup of Boba
Pour water into the bowl, just enough water level to cover the Boba pearls.
Start microwave and set to 30 seconds, after that stir the pearls and then add another 30 seconds.
Drain the water from the bowl, then rinse the cooked bobo pearls and serve. If you want your delicious Boba to make it sweeter, you can add your own sweetener.
There are Microwaveable instant Boba pearls that can be purchased in the store and through online.
Brand: J Way Local Flavor
Form: Powder
Flavors: Different varieties with Fruity Boba
Servings: 10
Boba Milk Tea home kit allow you to make your very own Milk tea at the comfort of home. An original Taiwanese Fresh Bubble tea with authentic brown sugar caramel Fruity Boba pearls and a classic milk tea. It is made with the best ingredients.
Since this product is microwaveable, it will ready in just a minute. The instant tapioca pearls is coated in a brown sugar syrup.
With these product, you can easily make Tapioca pearls for your Bubble teas anywhere with microwave machines available such as at work or in school for an easy snack.
The Pearl tea pack is very simple to use, you can simply microwave the Boba packet. In a cup, add hot water to the milk tea powder then add ice. Also add the Boba from the microwave. It's that simple.
The package includes 10 brown sugar flavored Boba that are individually wrapped, 10 packets of classic milk tea and 10 paper straws that are extra wide.
Buy it now on Amazon
---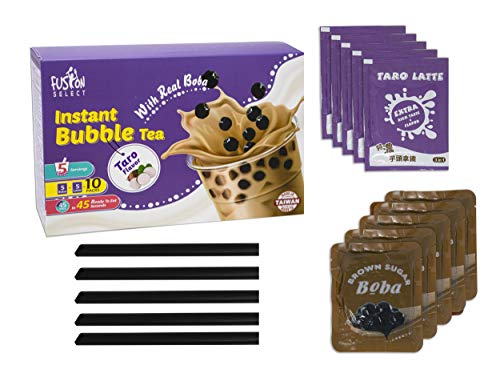 Brand: Fusion Select
Form: Powder
Flavors: Taro Latter
Servings: 5
The Fusion Milk tea kit is a delicious instant milk tea mix that you can conveniently make at the comfort of home. The drink can either be prepared with hot or as an iced milk tea drink. You can also make smoothies and frappes with the product.
Preparing these microwaveable kit is simple and it can ready in less than a minute. You will instantly have the creamiest Boba Milk tea. All you need to do is to simply pour the pack of Taro Latte in a 150 cup with hot water. Add Boba pack (Brown sugar Boba) to the cup. Heat in microwave for at least 45 seconds. Make sure to use a microwaveable cup. Once done, add at least 300 grams ice cubes then serve. Extra ingredients can also be added as you please such as jellies, cookies and even whipped cream.
The Fusion Select is a complete mix for your Bubble tea that consists of 5 packs Taro Powder (Authentic), 5 packs of brown sugar Boba and 5 Straws.
Buy it now on Amazon
---
Brand: WuFuYuan
Material: Stainless Steel
Color: Black
Size: Set of 11 pieces
The Boba Tapioca pearl bubble tea DIY set by WuFuYuan consists of 3 bags of Boba Pearls at least 8.8 oz each bag, 3 stainless steel Boba drinking straw (reusable and washable) with food grade silicone tips, 1 brush used for cleaning, 1 carrying bag made of canvass.
The straw measures at least 8.5inches long, Boba pearls can perfectly fit into the straws when slurping it. The straw is made from high quality 304 stainless steel. It is reusable, therefore it can be washed. It is also dishwasher safe for easy cleaning of the straw after thoroughly cleaning it using the brush included in the package. As mentioned, it features a silicone strip that is perfect for use with children as prevents the lips from getting scratch.
The 3 bags of black large balls of Boba pearls that is made of caramel, guar gum, Sodium diacetate, corn starch, sodium dehydroacetate, water, artificial color and Tapioca starch. Preparing the Boba pearl is easy and in less than 5 minutes you will have a delicious and chewy Boba Pearls for your Boba Tea.
Buy it now on Amazon
---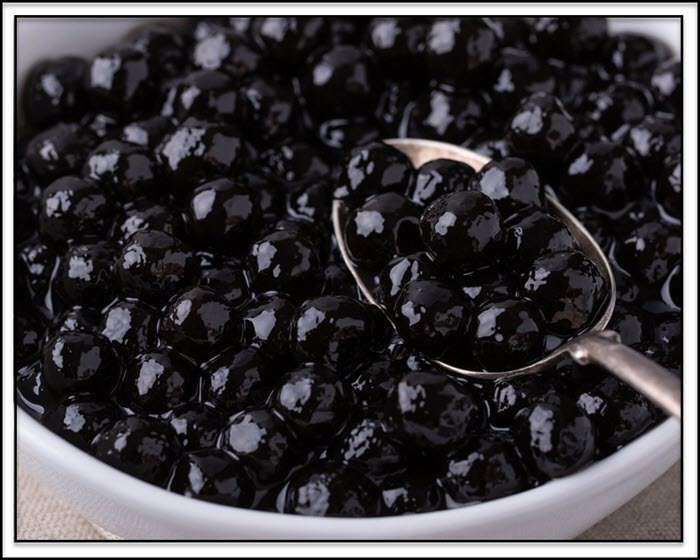 How to Cook Boba:
Add 10 cups of water in a large pot, bring to boil.
The add 1/2 cup of Tapioca pearls and stir. Make sure pearls are not washed before you add it to the pot. Doing so will disintegrate the Boba pearls.
Over medium heat, cook for 30 minutes (uncovered). Make sure to stir occasionally.
Remove the pot from the heat and cover it.
Allow cooked Boba pearls to sit for 30 minutes, then drain the water using a strainer. Make sure it is under running water while straining. This will remove the tapioca starch.
Add brown sugar, honey or syrup to sweeten the already cooked Boba pearls.
---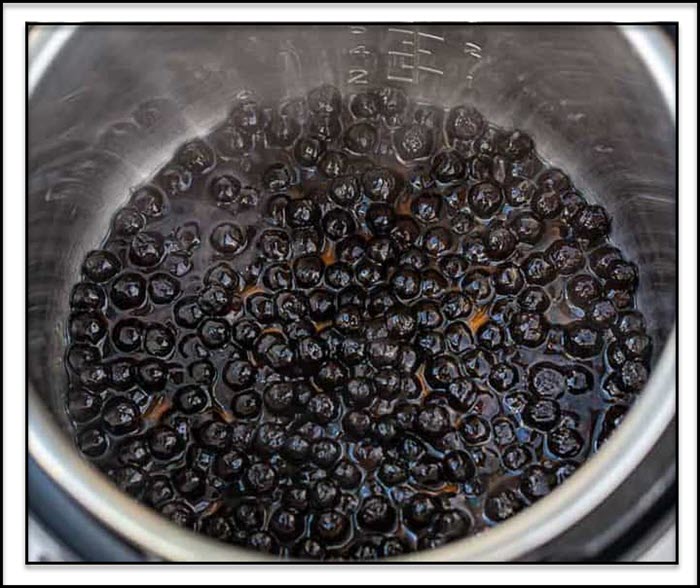 How to Cook Boba using Instant Pot?
In an instant pot, pour 1 cup of Boba pearls.
Add 2 cups of water
Cover the lid of the instant pot and seal the vent
Start cooking using high pressure for at least 2 minutes
After 2 minutes, release pressure from instant pot. Drain the water.
Rinse Boba pearls using cold water.
To sweeten the pearls, add brown sugar and then serve.
---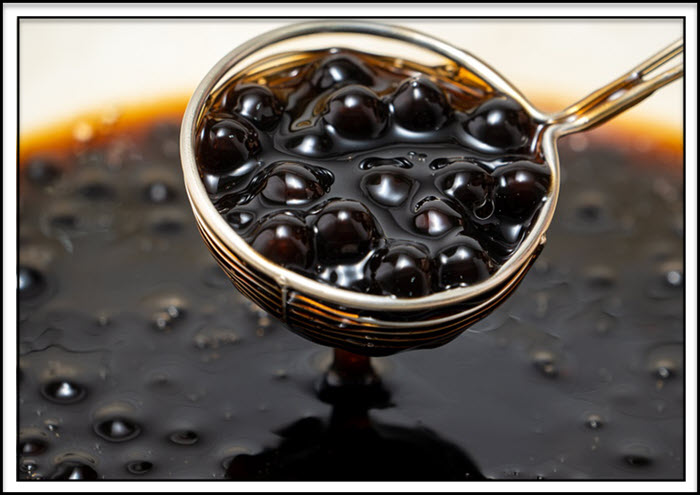 Cook Boba using Slow cooker
In a rice cooker, add 1 cup of Boba
Add 3 cups of water.
Cook for at least 20 minutes
Switch rice cooker off and allow Boba to soak the cooking water for at least 25-30 minutes. Keep in mind that Tapioca pearls tend to dissolve when soaked for a longer period of time.
Rinse cooked pearls with running cold water
Served with honey to sweeten.
---
How to make homemade Boba
To cook homemade Boba pearls, follow the steps below:
In a medium sized bowl, mix 9 tbsp. of Tapioca flour and 2 tbsp. of water (boiling)
In another small to medium sized bowl, mix 1/4 tsp food coloring (liquid black) and 1 tbsp. of water (boiling water).
Add food coloring to the Tapioca flour and stir until the mixture will resemble that of a dough.
Place tapioca dough in a working surface and then knead until the dough becomes soft.
Make Tapioca balls using the dough.
In another pot, add 2 cups of water and bring to boil, add the tapioca pearls that were freshly made.
Cook for 15 minutes.
Remove from heat and allow tapioca pearls to sit for at least 5 minutes.
Drain the water using a strainer while at the same time rinsing using cold water.
Add sweetener syrup then serve.
---
Cook Ready Made Boba or Instant Boba
Cooking ready made Boba or instant Boba is easy, all you need to do is to put the Boba in the boiling water. Cook the Boba for 30 minutes, make sure pot in uncovered. After cooking, allow Boba to sit for at least 15-30 minutes. Drain water and strain Boba with cold water.
Conclusion
In this guide, we have covered cooking Boba in the microwave. As mentioned, there are other ways on how to cook Boba pearls and the steps are enumerated above. With this guide, you will already know how to cook Boba by using the steps.
* If you buy through links on our site, we may earn an affiliate commission. For more details, please visit our Privacy policy page.