Indian cuisine includes a wide range of regional and traditional dishes from across the Indian subcontinent. These cuisines differ significantly due to differences in soil, climate, culture, ethnic groups, and occupations, and use locally available Indian spices, herbs, vegetables, and fruits. Religion, particularly Hinduism and Islam, as well as cultural choices and traditions, all have a strong influence on Indian cuisine. Today, we'll talk about Indian vegetarian recipes. There are a lot of popular Indian vegetarian recipes today. If you want to learn more about these Indian vegetarian recipes, scroll down and keep reading.
Indian Vegetarian Dishes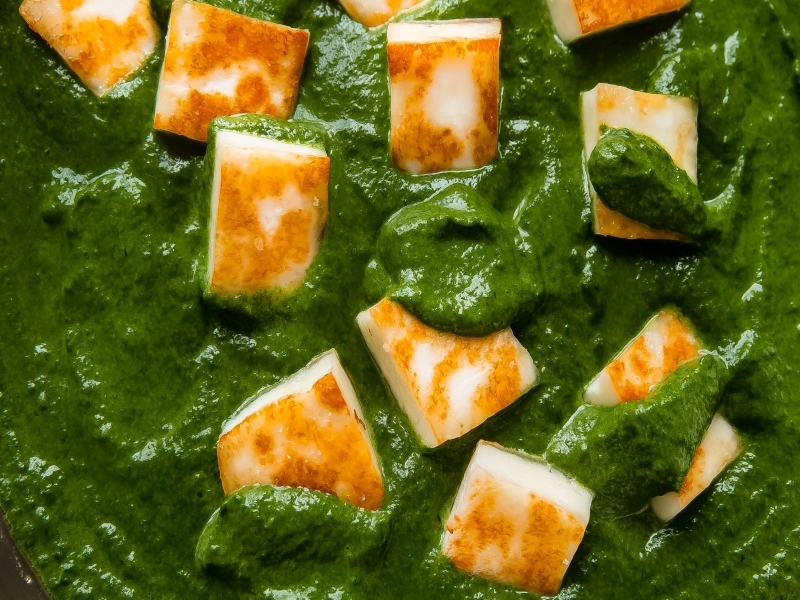 Palak Paneer
In Hindi, Marathi, Gujarati, and other Indian languages, palak paneer is a vegetarian dish made with paneer, a form of cottage cheese and a thick paste made from puréed spinach.
In Anglosphere restaurants, the terms palak paneer and saag paneer are sometimes interchanged. Saag paneer, on the other hand, differs from traditional palak paneer in that it also includes other green leafy vegetables such mustard greens, whereas palak paneer solely comprises spinach. The Indian food is a popular dish in dhaba restaurants.
To make this Indian food, start by boiling and pureeing spinach. The puree is then combined with tomatoes and onions that have been sautéed. The purée is then topped with grilled paneer cubes. Garam masala, cumin, and cardamom pods, are among other Indian spices that give it a fantastic kick. Ginger, garlic, tomatoes, turmeric, and chili powder are also commonly used in palak paneer.
This Indian food is eaten with roti, naan, paranthas, makki di roti, or boiling rice as a side dish. For a more classic presentation, serve it with onions on the side.
---
Chickpea Curry
Chickpea curry is also known as channay, chole masala, chhole masala, chole, or chholay, is an Indian subcontinent cuisine. The major ingredient is chana or kala chana ('black chana'), a chickpea variation. They are half the size of traditional chickpeas and have a stronger flavor and harder texture, even after cooking. With a sour citrus flavour, chana masala is dry and spicy, the flavor usually comes from onion and coriander. In most restaurants, chana is substituted with chole, and both variants are commonly offered as snack food and street food across the Indian subcontinent.
Coconut milk, onion, chopped tomatoes, ghee, cumin, turmeric, coriander powder, garlic, chilies, ginger, amchoor or lemon juice, and garam masala are all common ingredients in chana masala.
---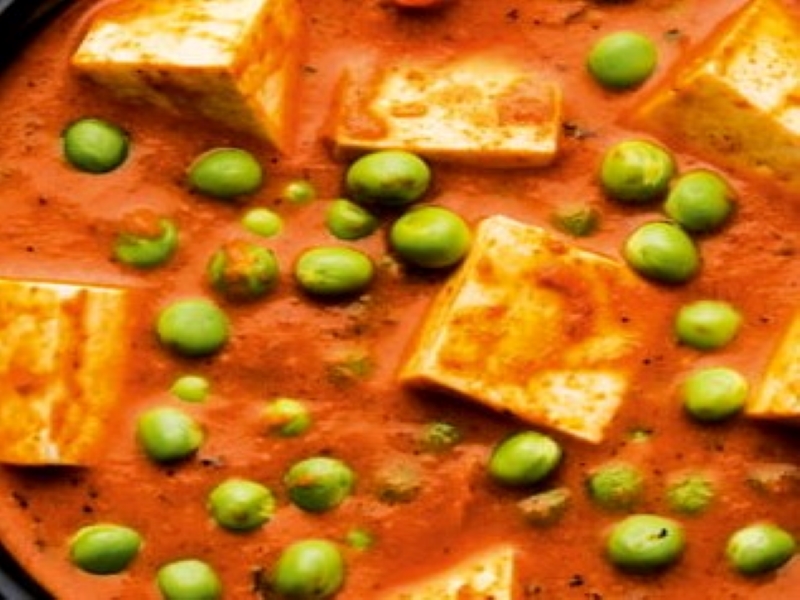 Paneer Soup
Paneer is an Indian cottage cheese. It's made by mixing milk with an acid derived from vegetables or fruits. Paneer soup is creamy, thick, and deliciously spicy. The end result is a creamy cheese with a beautiful curdled texture.
While the paneer is undoubtedly the highlight, the broth is as wonderful.
The basic dish a mouthwatering combination of coconut milk, curry, ginger, and garlic.
---
Malai Kofta
A delicious curry stew stuffed with potato and paneer balls is known as Malai kofta, which means buttery spiced balls in Hindi. Both the balls and the curry sauce are great on their own, but when they are combined, they're truly wonderful. Malai means clotted cream, and kofta means meatballs, though most Malai Kofta recipes are meatless.
Every taste is exquisite, whether it's salty, flavorful, spicy, rich, creamy, or crunchy.
---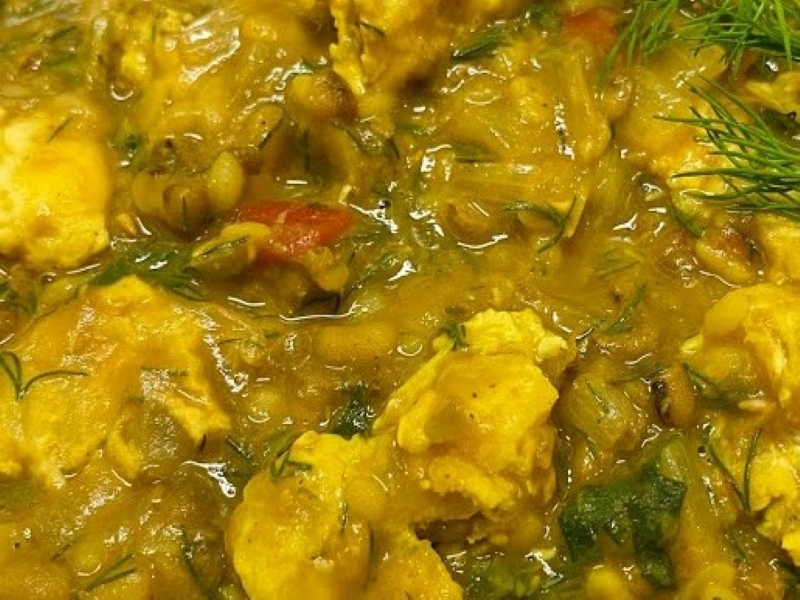 Vegetable Kabab With Cauliflower And Potato
Vegan, gluten-free, and incredibly delicious, these vegetable kebabs are a must-try.
Spices are added to finely diced potatoes, cauliflower, mushroom, green peas, and carrots, which are then formed into balls.
This Indian dish can then be baked or fried; it doesn't matter; either way, they're excellent.
---
Aloo Gobi
Aloo Gobi is an Indian vegetarian meal prepared with aloo (potatoes), Gobi (cauliflower), and Indian spices. It's a common ingredient in Indian and Pakistani cuisines. Due to the usage of turmeric, it has a yellowish color and may contain kalonji and curry leaves. Garlic, ginger, onion, coriander stalks, tomato, peas, and cumin are all popular components. There are several varieties and dishes that are similar.
---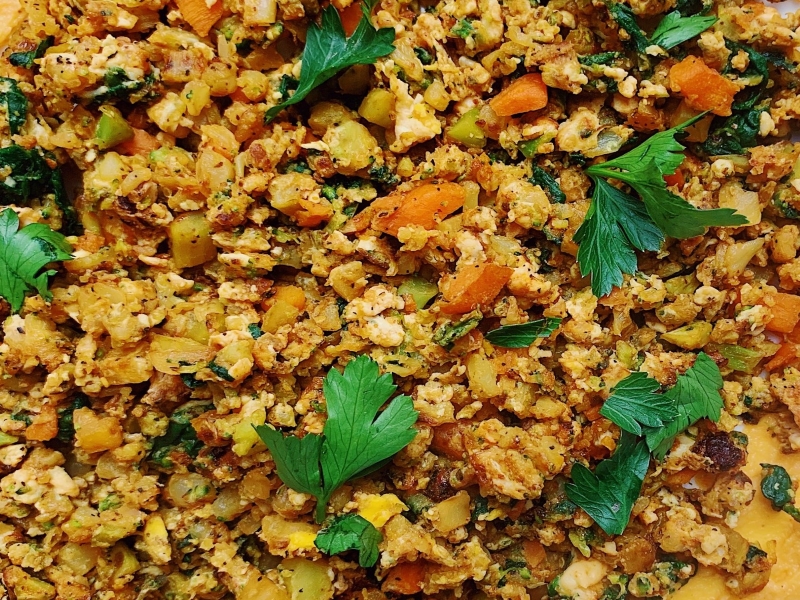 Masala Fried Rice With Turmeric Onion Raita
Leftover rice or grains are used in this Vegan Gluten-free Soy-free Indian Recipe. It's served with a simple warm Golden non dairy yogurt raita that is spiced with mustard seeds and turmeric.
---
Jeera Rice
Jeera rice is also known as Zeera rice. It is an Indian recipe consisting of basmati rice and cumin seeds. It is a popular Indian dish in North India and Pakistan. It's simple to make. Cumin seeds are known in Hindi as "Zeera," which is pronounced Jeera. Basmati rice, cumin seeds, vegetable oil, onions, and coriander leaves are among the ingredients.
In heated oil, cumin seeds are fried. Salt and long grain Basmati rice are added to it. The water is then poured in and allowed to boil over high heat with a closed lid. The rice is then cooked until all of the water has been absorbed on a low burner.
Jeera rice is usually served with finely chopped fresh coriander leaves, however in some Indian hotels and restaurants, it's also served with onion rings. Butter adds a rich flavor, wheras cinnamon, cloves, and bay leaf give it spice.
---
Bhindi Masala
Bhindi implies okra, whereas masala refers to a curry base flavored with Indian spices, tomatoes, onions, and herbs. Basically, bhindi masala is a dish made of okra, tomatoes, and onions.
Bhindi masala is ideally served with rice because it is quite spicy. You can use brown rice for a healthier option.
The starchy side meal helps to cool things down. Roti and naan bread can also be used.
---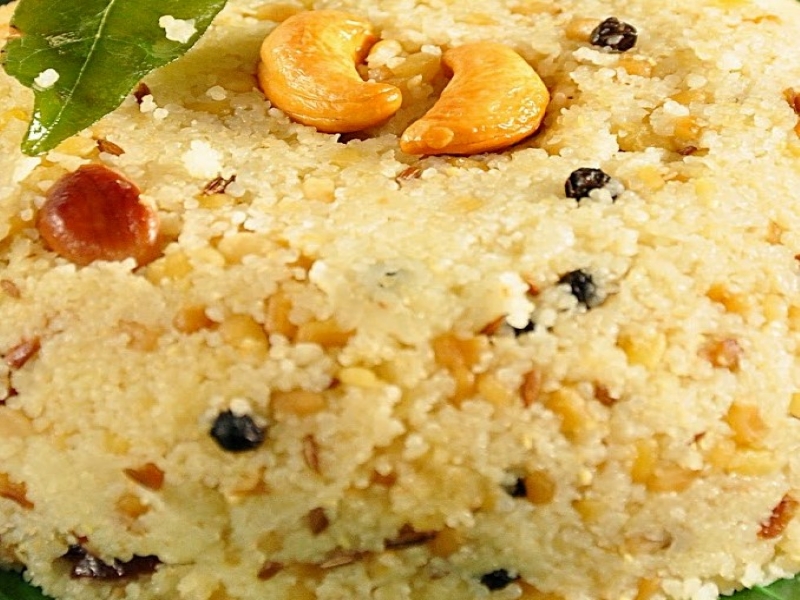 Rava Pongal
Pongal is an Indian rice dish also known as pongali or huggi. Pongal means boil or bubbling up in Tamil. Rava Pongal is a rice substitute made with dal (lentils) and sooji (soybeans) (semolina).
The best part about this dish is that it perfectly imitates the feel of rice. You'll get a more healthy dinner because of the ingredients
For a hearty and satisfying meal, serve Rava Pongal with coconut chutney and ginger tea.
---
Vegan Naan Bread
Naan Bread is the most popular Indian flatbread, and it is known for its crisp exterior, thickness, and soft inside.
It melts in your mouth and is ideal for scooping up mouthwatering Indian dishes. It also only calls for a few basic ingredients.
---
Aloo Puri
Puri (sometimes spelled poori) is an unleavened whole-wheat flour deep-fried bread that originated in the Indian subcontinent. Aloo puri is a breakfast meal made with cooked potatoes and spiced tomato puree. It is commonly served with a savory curry or bhaji, such as puri bhaji, although it's equally good with sweet foods.
Puris are typically eaten for breakfast and as a snack. It is also provided as part of ceremonial rites at special occasions or ceremonial functions, along with other vegetarian food offered as prasadam in prayer.
Your taste buds will be blown away by the combination of hearty soup and crispy puffed bread. The texture contrast is incredible.
---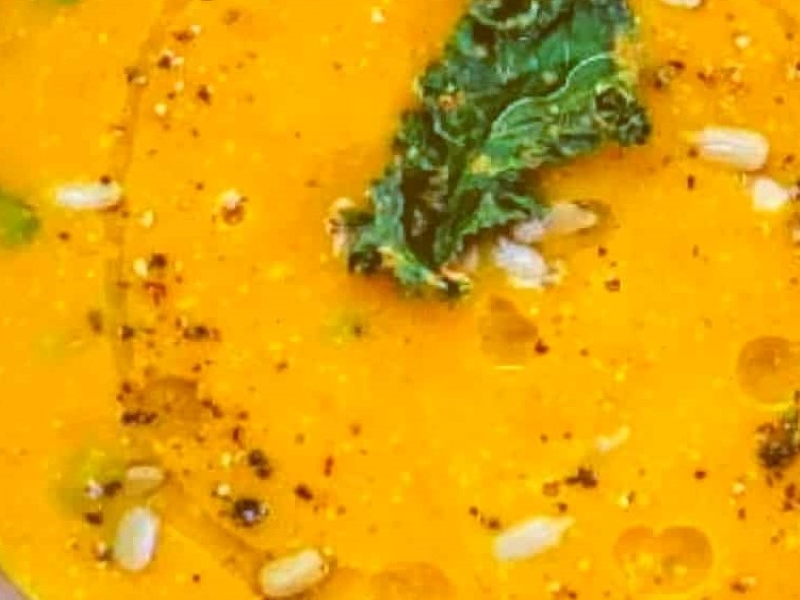 Instant Pot Spiced Red Lentil Sweet Potato Soup
This is a creamy Indian-spiced soup prepared with red lentils and sweet potatoes that is naturally creamy and made very easy using the Instant Pot. This is a healthy yet hearty and filling meal that will give you all the warm vibes, because of its warming spices like garam masala and turmeric.
---
Dal
Dal are dry, split pulses (e.g., spiced lentils, peas, and beans) that do not need to be soaked before cooking in Indian cuisine. Bangladesh, Afghanistan, and India are the world's top producers of pulses in certain areas. The word is also applied to a variety of soups made using these pulses. Pulses are one of the most significant staple foods in South Asian countries, and they play an essential role in regional cuisines.
Some of the ingredients are ghee, which is a form of clarified butter, tomato, cayenne peppers, ginger, cloves, curry, cumin, and so on.
---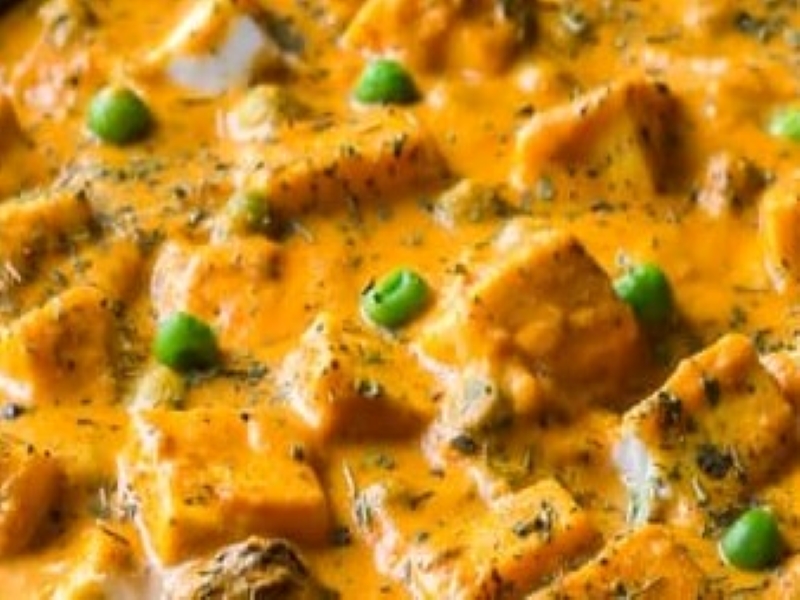 Matar Paneer
Also spelled as mutter paneer. Matar means peas and paneer (cheese) are prepared in a tomato-based gravy flavored with aromatic spices. Matar Paneer is a vegetarian North Indian dish and Punjabi dish. It's usually eaten with rice and a sort of Indian bread (naan, paratha, poori, or roti depending on region). Other ingredients such as potato (aloo), maize, yogurt, or cream are frequently added.
The crunchy and chewy peas contrast beautifully with the silky and creamy cheese. The rich gravy complements the dish perfectly.
---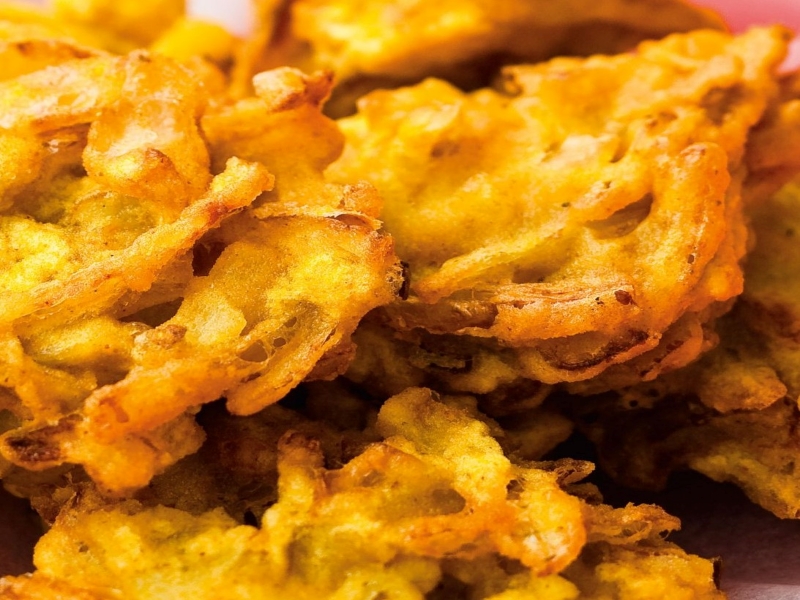 Onion Bhajis
A bhaji is a fritter that originated in the Indian subcontinent. It's created with fiery hot veggies, most typically onion, and comes in a variety of flavors. In India, it is a popular snack dish.
These tasty snacks are as crispy as they come. Spiralized onions are deep-fried to perfection after being coated in chickpea flour and seasoned with Indian spices.
---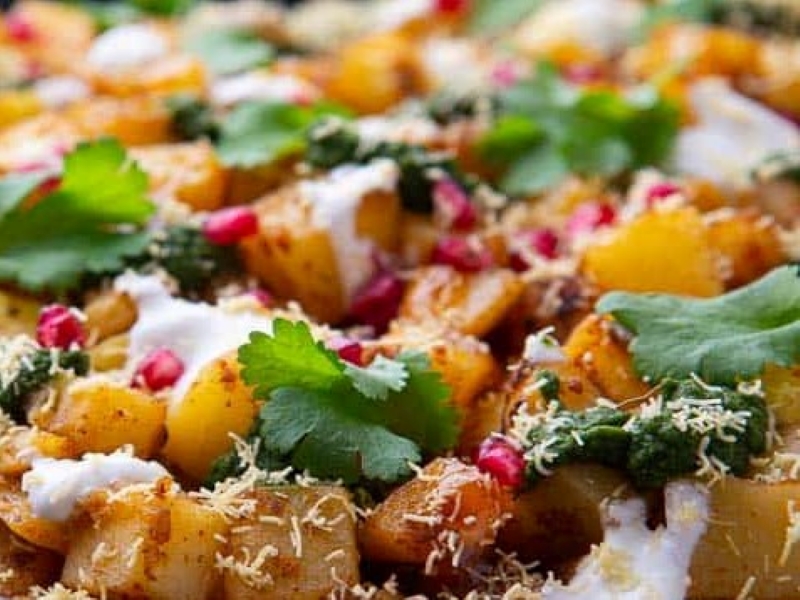 Aloo Chaat
Aloo Chaat is an Indian subcontinent street meal that is famous in North India, West Bengal in Eastern India, Pakistan, sections of Bangladesh's Sylhet Division, and Trinidad & Tobago. It is made by frying potatoes in oil and seasoning them with spices and chutney. It can also be made with boiling potatoes that haven't been fried, as well as fruits, cumin powder, chaat masala, mango powder, salt, lime juice, and chutney.
---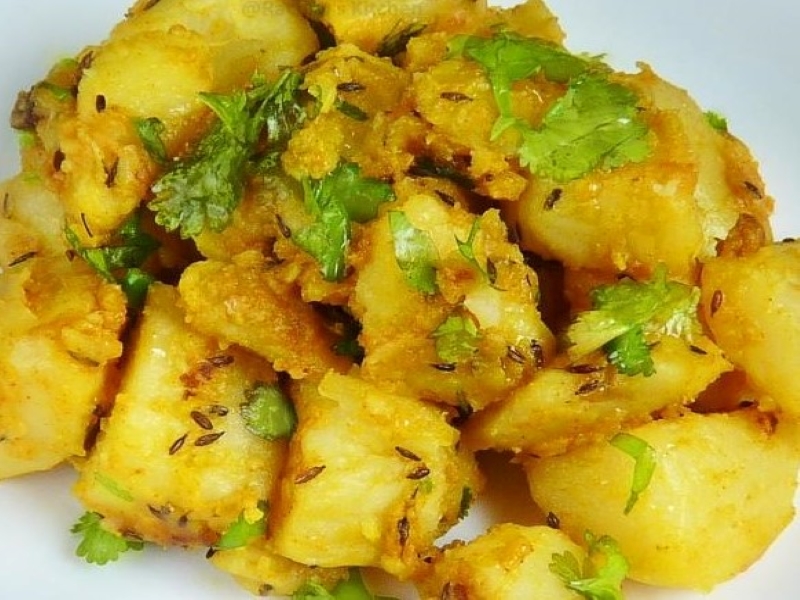 Jeera Aloo
Jeera Aloo is a traditional vegetarian Indian dish and frequently served as a side dish. It pairs well works with hot puris, chapatti, roti, or dal. Potatoes (aloo), cumin seeds (jeera), and Indian whole spices are the key ingredients. Red chili powder, ginger, coriander powder, curry leaves, vegetable oil, and salt are among the other ingredients. The meal is not spicy in its original form, but it can be spiced up by adding powdered cayenne pepper. Sweet potatoes are used instead of normal potatoes in some renditions of the dish.
---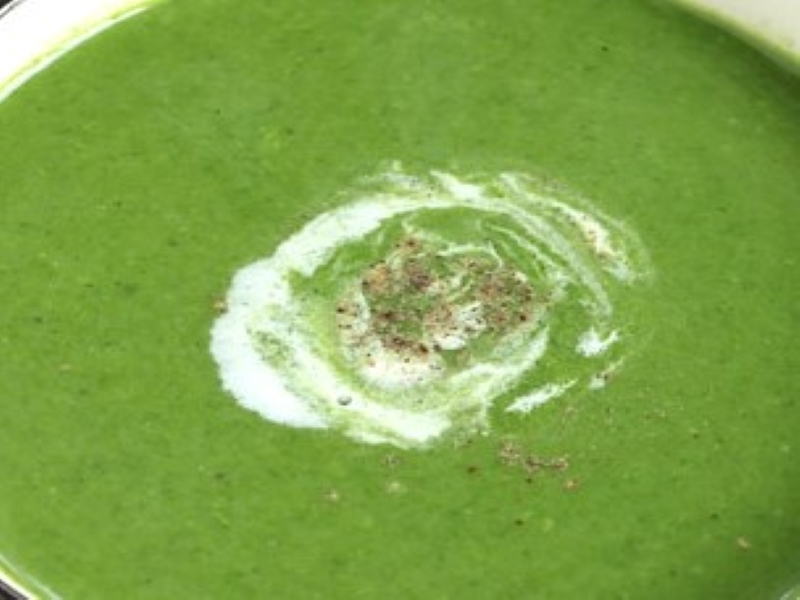 Palak Soup
Palak soup is a soup prepared using spinach as a main ingredient. Pureed spinach is What makes it green and delicious. This Indian meal is great for the whole family. It is flavored with with heavy cream and spices. It's the ultimate of Indian comfort food.
---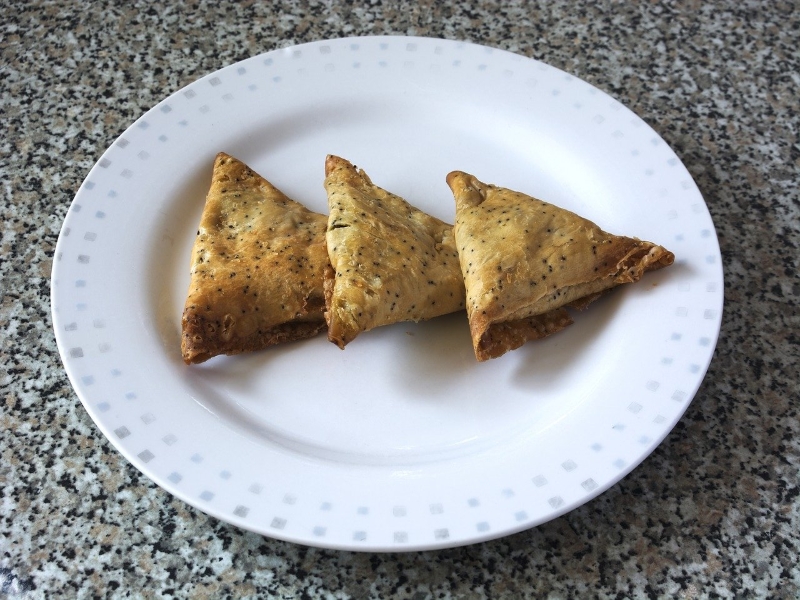 Vegetable Samosas
A samosa is a delicious pastry with a filling of spiced potatoes, onions, and peas that is fried or baked. They can be triangular, cone-shaped, or half-moon-shaped, depending on the location.
The samosa is made with all-purpose flour (known locally as maida) and stuffed with a filling, which is usually a mixture of diced and cooked or mashed boiling potato (ideally diced), onions, green peas, lentils, ginger, spices, and green chile. The entire pastry is deep-fried to a beautiful brown in vegetable oil or, on rare occasions, ghee. It's usually served hot, with a fresh green chutney like mint, coriander, or tamarind on the side. It can also be made as a dessert. Samosas are frequently served in chaat, along with traditional accompaniments such as a chickpea or white pea preparation, eaten with yogurt, tamarind paste, and green chutney, and topped with chopped onions, coriander, and chaat masala.
---
Mixed Vegetable Jalfrezi Recipe
Jalfrezi is a dish made up of 90% vegetables and 10% spices. It's just incredible.
You'll get a mix of carrots, bell peppers, corn, green beans, peas, tomatoes, onions, and everything else with this dish.
Turmeric, cumin, garam masala, and ginger, to name a few, all contribute to the flavor.
---
Vegetable Pakora
Pakora is a spicy fritter from the Indian subcontinent that is sold on the street and eaten in restaurants in South Asia and Scotland. It comprises of deep-fried ingredients, usually vegetables like potatoes and onions, coated in seasoned gram flour batter.
Pakoras are produced by dipping veggies in a seasoned batter and deep-frying them.
Onion, eggplant, potato, spinach, plantain, paneer, bread, cauliflower, mint, tomato, or chili pepper are all common ingredients in pakora.
The batter is typically made using gram flour, but other flours, such as buckwheat flour, can be used in variations. The spices used in the batter are up to the cook and may be based on local tradition or availability; fresh and dried spices like as chilli, fenugreek, and coriander are frequently used.
Recipe For Malai Kofta
Ingredients
Kofta
High-protein or super-firm tofu (16 ounces)
Yukon Gold potatoes (12 ounces) peeled and washed
Minced or grated fresh ginger (1 tbsp.)
Garam masala (1 tsp)
Indian red chili powder (1 tsp)
Sea salt
cornstarch (5 tbsp.)
Vegetable oil
Gravy
Unrefined coconut oil (1 tbsp.)
Whole spices, such as green cardamom pods (4), cinnamon sticks (2), whole cloves (4), cumin seeds (1 tsp).
Fragrant spices, such as chopped large yellow onion (1), Green chilie, deseeded and chopped (1-2), finely chopped fresh ginger (1 ½ tbsp ), and 4 garlic cloves, roughly chopped.
Ground spices, such as ground coriander (1/2 tsp), Indian red chili powder (1 tsp), ground turmeric (1 tsp), 3 large chopped tomatoes with juices, raw cashews soaked in boiling water for 15 minutes and drained (1 cup), kosher salt (1 1/2 tsp), unsweetened plant-based milk, lime juice (1 tbsp)
Instructions
Boil the 1 cup cashews for 15 minutes, while preparing for the other ingredients.
Start by making the gravy. Break the cinnamon sticks into small bits. Add the green cardamom pods, cloves, and cumin seeds a little more after that. You don't need to ground them completely, just enough to start releasing their oils.
In a large pan, heat the coconut oil over medium heat high. Add the Whole Spices once it's melted and heated. Cook, stirring regularly to prevent burning, for 45-60 seconds or until very fragrant. Then, add the onions and cook for about 4-5 minutes, or until they begin to brown. Cook for 1 minute, tossing constantly, with the garlic, ginger, and green chilies (if using). Stir in the Ground Spices for 30 seconds, stirring regularly.
Next, add the tomatoes and juices, cook for about 2-3 minutes. Then, add the salt and the soaked cashews. Over medium or medium-low heat, cover the pot and bring to a simmer. Cook, stirring occasionally, for 15 minutes, or until the liquid has more or less evaporated.
Add the lemon juice and plant-based milk to the mixture in a high-powered blender. To vent steam, remove the center cap from the blender lid, but cover the hole with a kitchen towel. Blend the gravy until it is absolutely smooth and creamy.
Put the gravy to the pan and heat on low temperature.
Next, prepare the kofta ingredients. Fill a saucepan halfway with cold water and add the potatoes. Season with salt and pepper to taste. Bring to a boil, then reduce to a low heat and cook until the potatoes are just fork-tender but not falling apart. You want them to be a little stiffer than mashed potatoes. Drain the potatoes and set them aside in a colander while you prepare the rest of the ingredients. This aids in the drying and removal of extra water from the hem.
In a food processor, add1/4 cup cashews until they become a finely powdered powder. Clean the bowl of the food processor.
Next, add the tofu to the food processor, and blend until it's in tiny pieces.
Once the potato has dried, shred it finely using a box grater or crumble it with your hands.
To make the kofta, combine all of the ingredients in a large mixing bowl. In a large mixing bowl, combine the grated tofu and potatoes. Combine the ground cashew powder, cornstarch, red chili powder, garam masala, and salt in a mixing bowl. Knead the dough with your hands until they combine. Then, make uniform-sized balls out of the dough.
Deep-fry the kofta. In a heavy-bottomed wok or pan, heat about 2 inches of vegetable oil over medium heat.
To keep the kofta from sticking to one another, toss them about every few minutes until they're crisp and golden brown, about 5-8 minutes. Place on a paper towel-lined plate. Fry the remaining kofta.
Serve Malai kofta with gravy.