Bread is an essential food of the Indian culture. Flatbreads that are both leavened and unleavened, are famous in Indian cuisine. Indian breads include a wide variation of crêpes and flatbreads that are a staple of Indian cuisine. Their distinction reflects India's diverse culture and eating traditions. Flatbreads are made from rice or black lentils in southern and western India. There are a lot of types of Indian Bread. If you want to learn more about these types of Indian Breads, scroll down and keep reading.
Types Of Indian Bread
Naan
Naan is a oven-baked, tawa-fried or leavened flatbread, which is popular in Western, Central, and Indian subcontinent cuisines, as well as Indonesia, Myanmar, and the Caribbean.
It is the most popular bread in Indian cuisine, and it is known for its crisp exterior, thickness, and soft inside. This leavened bread is usually served plain, with butter, or with butter and garlic in North India with Mughlai meals.
Wheat flour, all-purpose flour, or a combination of the two are the main ingredients to make naan. Naan bread is traditionally baked in a tandoor or clay oven. However, oven-baked naan bread is becoming increasingly popular. Garlic naan is a must-have to any Indian restaurants. This type of Indian bread is frequently served in hotel restaurants and has a soft, doughy texture. Most naan recipes has milk or yogurt to keep the bread mushy on the inside after baking at high temperatures. Naan is very delicious if you pair it with meat dishes, such as tandoori chicken or chicken tikka masala.
---
Chapatti
Chapatti is also known as Roti, Rotli, Safati, Shabaati, Phulka, Chapo, and Roshi. The word chapat simply means "to slap" or "to flatten," and it refers to the classic process of making thin dough circles by slapping the dough between moistened palms of the hands. The circle of dough is rotated with each slap. In the Guru Granth Sahib, Chapati is referred to as Roti in the 15th century.
Chapatti is a type of unleavened flatbread popular in North India, Nepal, Bangladesh, Pakistan, Sri Lanka, East Africa, the Arabian Peninsula, and the Caribbean. This unleavened flatbread originated from the Indian subcontinent. Chapatis are produced from whole-wheat flour (atta), water, oil, and salt in a mixing device known as parat, and fried on a tava (flat skillet).
This unleavened bread is perhaps the most regularly eaten bread in North India, and it is offered every day in families.
---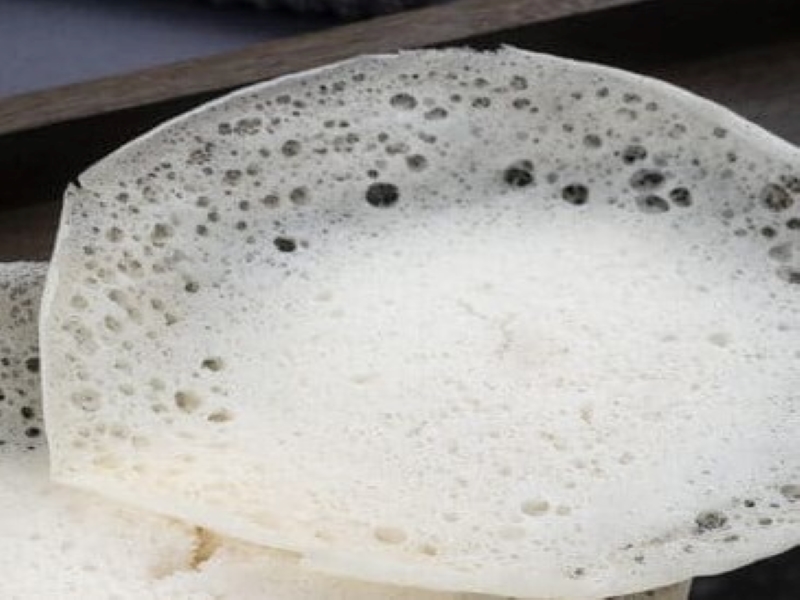 Appam
Another type of Indian bread is Appam. It is a type of South Indian pancake prepared with fermented rice batter and coconut milk that is popular in Kerala South India. Tamil Nadu and even Sri Lanka are also known for this delicacy. It is usually consumed during breakfast and dinner.
Around the edges, Appams crispy and lacy, and in the middle, they're soft and thick. These lacy pancakes can be eaten for breakfast or served with a variety of sides such as chicken or vegetable stew. They are commonly called as hoppers in Sri Lanka. Due to its fermented components, appam is naturally gluten-free and is slightly sour in flavor.
---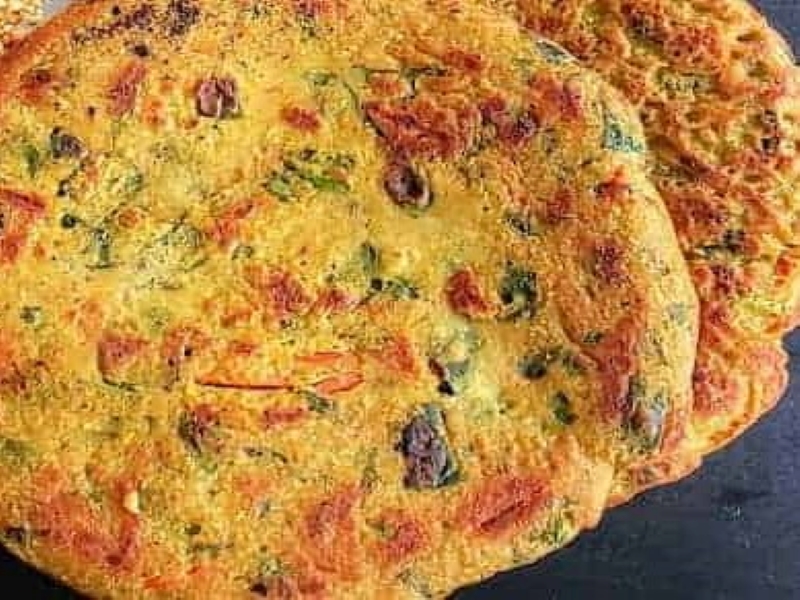 Thalipeeth
Thalipeeth is a delectable multi-grain flatbread famous in Maharashtra, Western India. Bhajanee, the multigrain flour for thalipeeth, is made from roasted grains, lentils, and spices. Grains like rice, wheat, bajra, and jowar, legumes like chana and urad, and spices like coriander and cumin seeds are among the ingredients.
Other components such as onion, fresh coriander, other vegetables, and spices are added to the dough as it is being prepared. Butter, preferably prepared from water buffalo milk, ghee, or yogurt, is commonly paired with thalipeeth. This Indian bread is popular in Maharashtra and north Karnataka, as well as in Goa, where it is prepared with regional variants.
To enhance the flavor of these Indian flatbreads, chopped onions and cilantro are added to the Thalipeeth dough.
---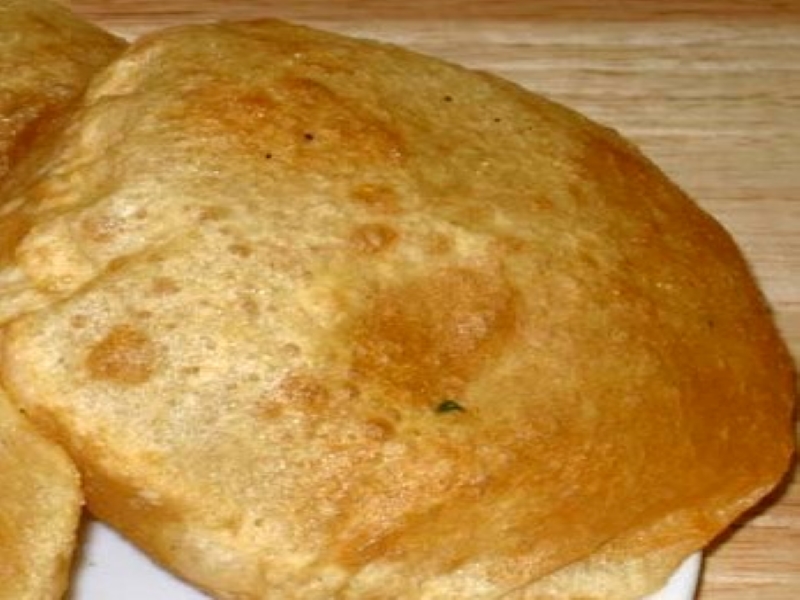 Puri
Puri, also spelled poori, is an Indian deep-fried bread prepared from unleavened whole-wheat flour. It can be consumed for breakfast, as a snack, or as a light supper. It goes well with a savory chickpea curry or bhaji, such as puri bhaji, although it's also perfect with sweet foods.
Puri is a type of Indian unleavened bread that puffs up into a ball while being fried and then collapses once it lands on the platter. Puri Indian bread is ideal for scooping up gravy because it has an open pocket of air inside.
---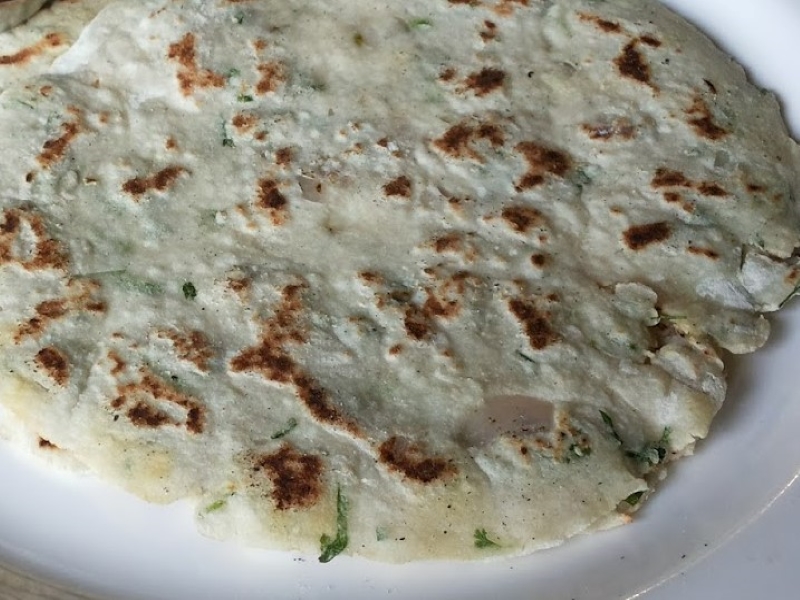 Akki Roti
This is a rice-based breakfast dish that is only found in the Indian state of Karnataka. In Kannada, the word "akki roti" means "rice bread." It's made with rice flour, salt, and water, and it's kneaded well until the dough is soft. And while you're kneading the dough, you can add finely chopped vegetables, such as chopped onions and carrots, chopped dill leaves, chopped coriander, cumin seeds, and sesame seeds. This Indian bread is served hot, with chutney on the side. With akki roti, a touch of butter or ghee is also recommended.
This type of Indian bread is gluten-free and incredibly healthy. This is a perfect option for health conscious.
---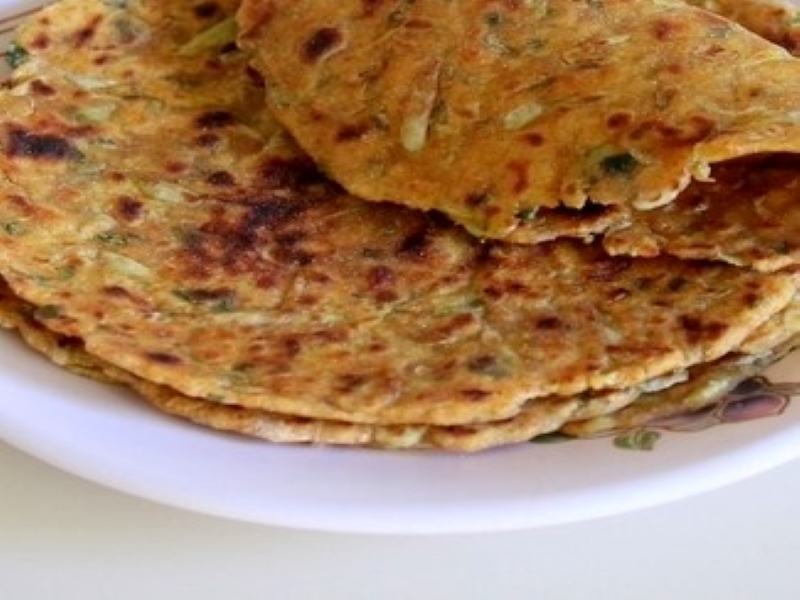 Thepla
Thepla is a soft Indian flatbread that is associated with Gujarati cuisine.
It's usually eaten for breakfast, but it can also be consumed as a snack. It can also be eaten as a late-afternoon snack or as a side dish with a meal. Wheat flour, gram flour or millet flour, methi (fenugreek leaves), and other spices can be used to make thepla. This Indian bread is crispy and thick because of the fenugreek leaves that are directly put into the dough. Thepla is a delicious dish especially when served with dahi (yogurt), red garlic chutney, and chhundo (sweet mango pickle). And although the outer part of the thepla is crispy, the inside is soft. The texture of this Indian bread is unlike any other because of the spices included, and it adds a new level of taste to other recipes.
---
Tandoori Roti
Tandoori Roti is a traditional and popular Northern Indian side dish that is a variant of the standard Roti. Tandoori Rotis' rich texture and flavors complement curries.
Tandoori Roti is produced in a tandoor (round clay oven), in which flattened-out roti discs are glued onto the tandoor's sides and roasted at a high temperature. They are typically covered with ghee or butter and are thick and fluffy to bite into.
---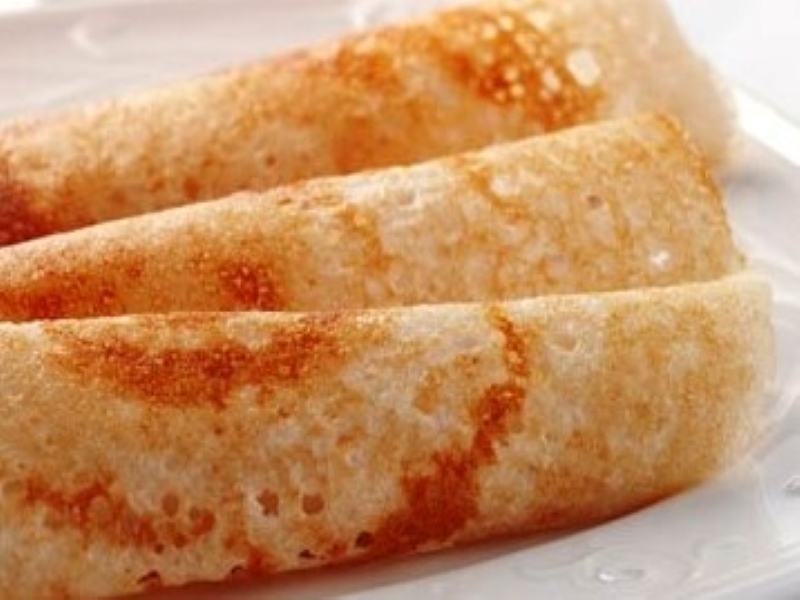 Dosa
A dosa is a thin flat bread that originated in South India and is primarily made fermented rice and lentil batter. It resembles a crepe in appearance, but the savory flavors are often more prominent (sweet variants also exist).
Rice and black gram are the essential ingredients, which are mashed together in a fine, smooth batter with a sprinkle of salt and then fermented. Dosas are a popular dish in South Indian cuisine that has spread throughout the Indian subcontinent. Dosas are traditionally served hot with chutney and, more recently, sambar. Chutney powder is another option for a side dish (a fine groundnut and lentil powder).
Dosa Indian breads are thin and flaky, and they can be consumed for breakfast served with a spicy potato filling or for lunch with chutney or vegetable stew. Masala dosa (spiced dosa) is offered all across the country, and stuffed dosas are among the most popular.
---
Paratha
Paratha is an Indian flatbread that is popular today in the regions of India, Sri Lanka, Pakistan, Nepal, Bangladesh, Maldives, Myanmar, Malaysia, Singapore, Mauritius, Fiji, Guyana, Suriname, and Trinidad and Tobago, where wheat is the traditional grain.
Because parathas are layered with a coating of butter or oil and then folded repeatedly, they are flaky and thicker than other Indian flatbreads.
Paratha is a combination of the words parat and atta, which means layered bread. The layered flatbread are often eaten for breakfast in North India and can be packed with ingredients, such as spicy potatoes or onions.
---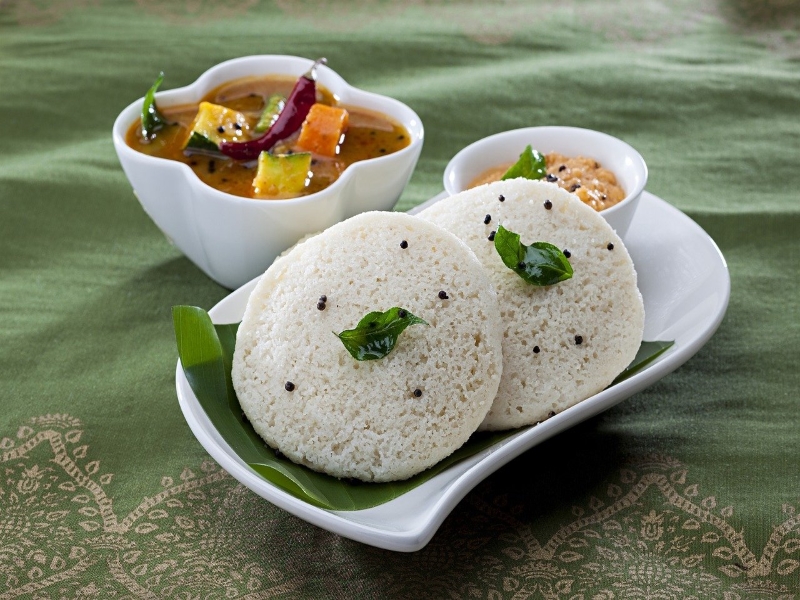 Idli
Idli, also known as idly, is a spongy rice cake from the Indian subcontinent that is popular as a morning dish in South India and Sri Lanka. The cakes are created using a steamed batter of fermented black lentils (de-husked) and rice. The starches are broken down during the fermentation process, making them easier for the body to digest.
This type of bread is steamed rather than fried in a skillet to achieve the required texture of an idli, making it one of the few breads created without butter or oil. Idlis are perfect for those who are health conscious because they are low in calories and gluten-free.
---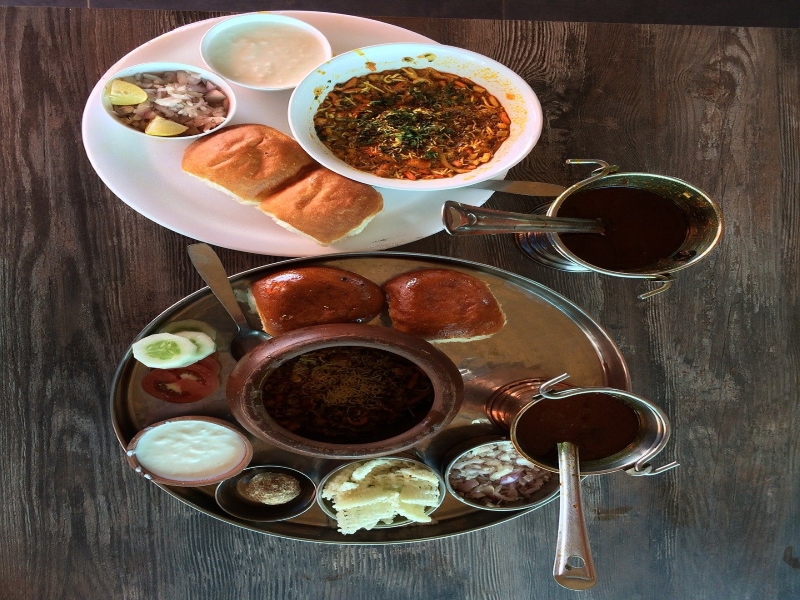 Pav
Pav is merely a bun and is a hallmark of the Portuguese influence on Indian cuisine. In India, pavs are used in a variety of sandwiches, they are also a popular street food in. This type of bread is more of a western bread.
Paj bhaji is a famous Indian fast food meal consisting of a thick vegetable curry (bhaji) and a soft bread bun (pav). It is originated in the state of Maharashtra.
---
Bhatoora
Also known as bhatura, batura, or pathora. This type of Indian bread is a fluffy deep-fried leavened sourdough bread from the Indian subcontinent. In northern and eastern India, it is usually eaten as a midday meal or breakfast dish. Perfect when served with chickpea curry (called chole or channe), it creates a traditional dish called chole bhature which originated in Punjab.
All-purpose flour (maida), dahi (yogurt), ghee or oil, and yeast or baking powder are common ingredients in this Indian bread. The dough is allowed to rise once it has been well kneaded, and then little balls of dough are either hand-rolled or flattened with a rolling pin. The bread is then deep fried until it puffs up into a lightly browned, soft, fluffy, elastic, and chewy bread.
Bhatoora is commonly served with yogurt, pickles, and vegetables.
---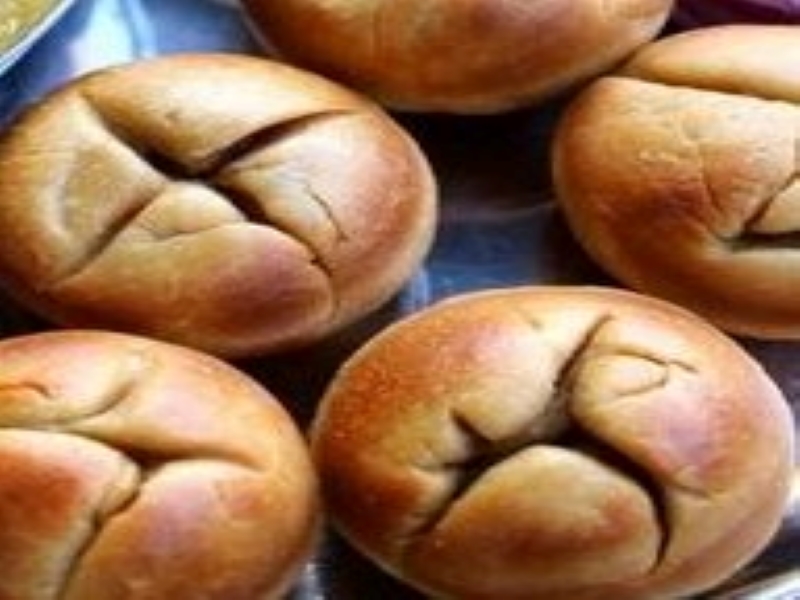 Baati
Baati is a hard, unleavened bread that is cooked in most regions of Rajasthan, as well as sections of Madhya Pradesh and Gujarat. It is regarded for its long shelf life and excellent nutritional content. It requires litte water during its preparation, that is why it is a popular dish in desert regions as well. Since baati is usually served with dal, it is also known as dal baati. It is also served with a roasted aubergine mash known as bharta in some locations, particularly Madhya Pradesh. Litti (cuisine) is popular in eastern Uttar Pradesh (Varanasi) and western Bihar, and is closely connected to baati. Potato, tomato, and grilled aubergine (Litti). Baati is made from cow dung cakes as a fuel source.
---
Cheela
Cheela is the most popular dish, and the variant made with gram flour is known as 'Besan Cheela.' This protein-packed, vivid-yellow pancake resembles an unleavened flatbread and is not only visually appealing but also very tasty and healthy. This recipe takes less than 15 minutes to prepare and only requires a few simple ingredients.
---
Parotta
Also known as Porotta. It's a layered flatbread prepared with maida or atta that's also known as a flaky ribbon pancake in the subcontinent. It is extremely popular in Kerala and Tamil Nadu, as well as other states such as Karnataka and Maharashtra, and nations such as Sri Lanka, Malaysia, the United Arab Emirates.
---
Conclusion
These Indian breads are definitely delicious and can satisfy your Indian food cravings. If you haven't decided yet which type of bread to choose, knowing the differences between these breads can greatly help you in choosing the right dish.