A bagel is a type of bread created by Jewish communities in Poland. Also known as are Bajgiel, beigel, or beygl.
In North America and Poland, bagel is a popular bread product, especially in large cities with a wide Jewish population.
What is the difference between a bagel and a bread?
Bagels are made of yeast or wheat dough. They are baked bread formed like a donut. The difference between a bagel and a bread is the process of making it. Bagels are boiled before they are baked whereas bread is not. When raw dough is boiled, the starch on the exterior of the bagel will gelatinize and the dough will rise.
Bread is a popular staple food all over the world. Generally prepared by mixing water and yeast, flour, and baking. Although in some countries and regions, there are various types, shapes, textures and sizes of bread. Some people use a wide range of ingredients in baking bread.
There are a lot of various bagel flavors today. Check out some of the most popular and mouthwatering types of bagels. You will definitely crave one of these delicious foods.
Types Of Bagels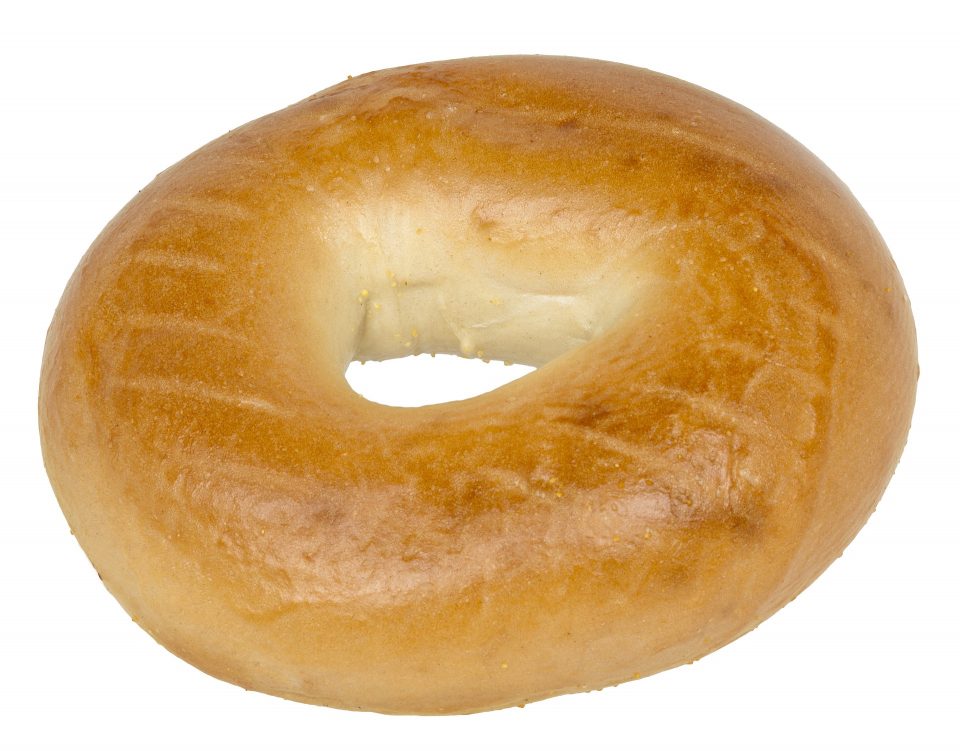 Plain Bagels
Plain bagel is just plain and has a denser texture. It is the most basic of all types. This soft chewy bagel is great for breakfast and lunch. It does not have any toppings. However, you have the option to customize any type of plain bagel into a delicious treat. Some like to serve plain bagel with a cream cheese or fruit. You can also add your favorite chocolate spread or delicious nut butter and jelly.
If you want your plain bagel with a healthier twist, you can top it with mashed banana.
The options are unlimited when it comes to filling a plain bagel.
---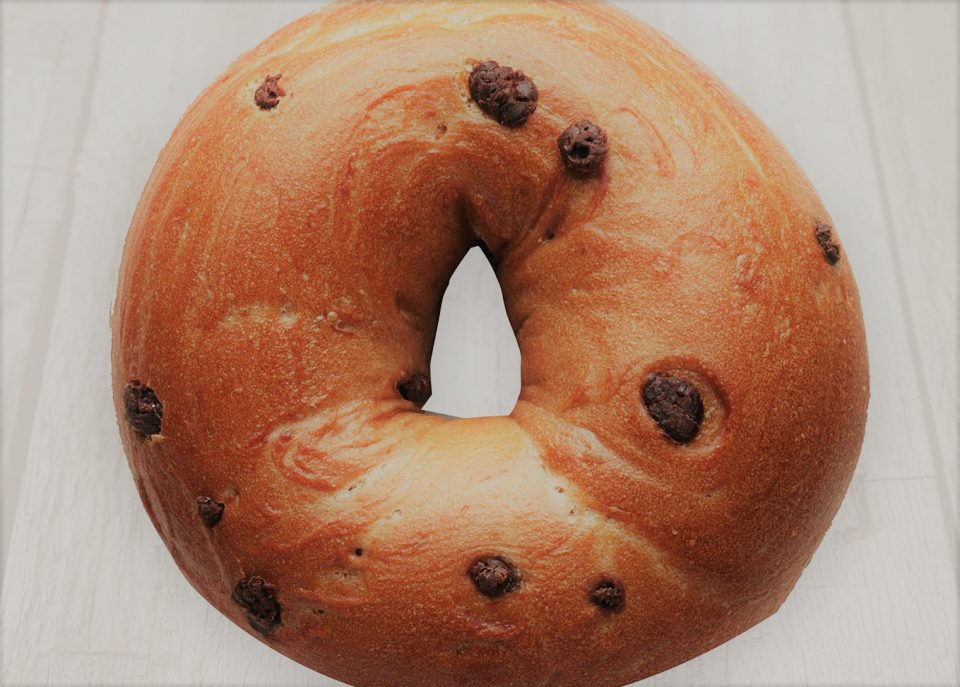 Chocolate Chip Bagels
If you are a fan of sweet bagel, then try the chocolate chip bagels. Your delicious bagel is a lot tastier because the crumbs are filled with chocolate chips. The chocolate chips add a sweet flavor to every bite.
The proper way to eat chocolate chip bagels is by toasting them lightly until they are broken and golden. Devour the warm bagel and enjoy the melted chocolate chips inside!
---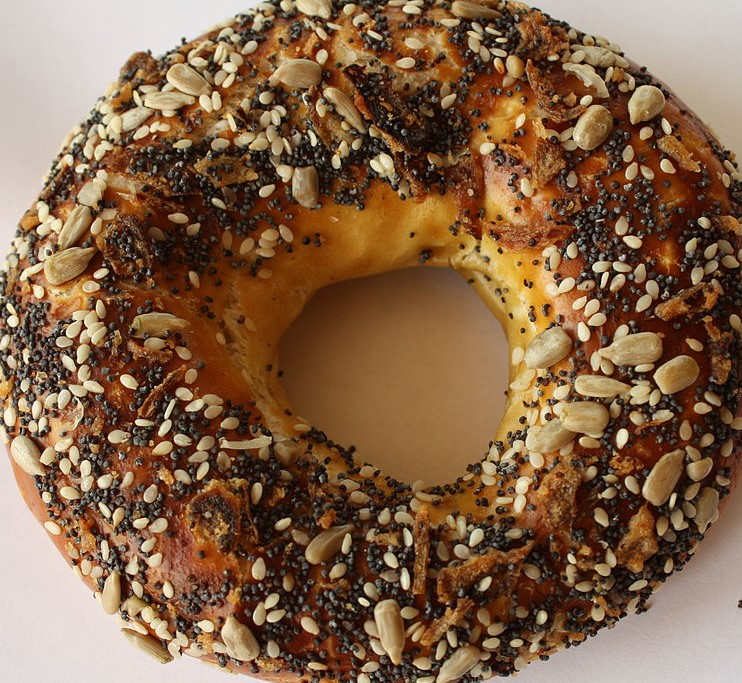 Everything Bagels
Everything bagels have various toppings. Basically, the toppings consist poppy seeds, sesame seeds, sunflower seeds, dried onion, dried garlic, a pinch of salt, black pepper and some spices. Although, the exact ingredients of everything bagels vary depending on the baker. When made properly, all the savory ingredients complement each other.
Everything bagels will surely satisfy your taste buds as they are bursting with flavor. You will definitely appreciate this savory bread bagel.
---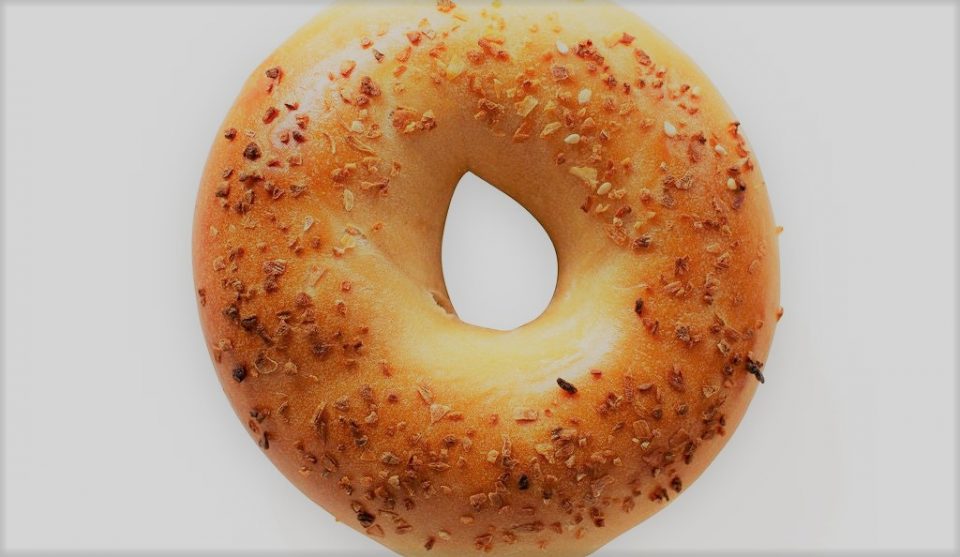 Onion Bagels
These bagels are popular option for breakfast. Onion Bagels are slightly crisper than other types of bagels and it has a rich, bold flavor.
If you want to enjoy its distinct flavor, pair it with scallion cream cheese. You can also pair your onion bagels with sliced tomato, mashed avocado, and asiago cheese.
Normally, white or yellow onions are used to make onion bagels. To create the best gooey onion bagel, stir in dehydrated onions before adding flour to the bagel dough batter. Bagel dough will then be infused with the strong aroma of onions.
---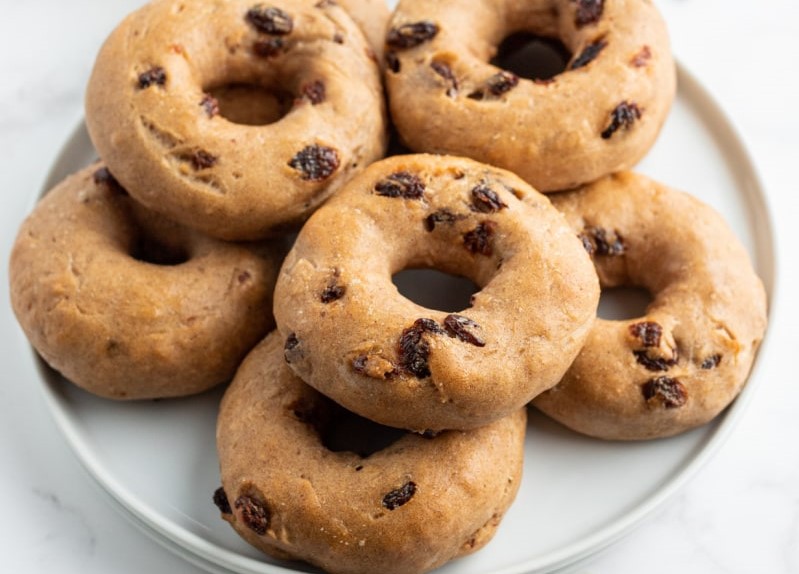 Cinnamon Raisin Bagels
Cinnamon raisin bagels are also great for breakfast. Packed with plump raisins and just the exact amount of cinnamon spice.
The raisins give the bagels their chewy texture, while the cinnamon takes the flavor to a another level giving a subtle sign of spice. The cinnamon raisin bagels are the apogee of sweet bagel flavors for others. These are delicious, especially if you pair it with butter or cream cheese.
---
Asiago Bagels
A type of bagel with an asiago cheese topping. A popular claim to the origin of the asiago bagel comes from Panera Bread Company, an American café.
Asiago cheese is a cow's milk, first produced in Italy. It has a pale yellow color with a sweet flavor, which makes it one of the best cheeses to complement the chewy textures of the bagel.
A large amount of shredded Asiago cheese is usually sprinkled over a bagel after boiling. The result of the baking process is a beautiful golden-brown full-bodied cheesy crust. Asiago bagels give you the ultimate mixture of warm, fresh bread, and layers of rich, salty, smooth cheese.
If you are having trouble finding Asiago bagel in your area, a regular cheddar cheese bagel is a good alternative. It has a similar texture and taste.
---
Salt Bagels
If you love eating salted rye bread, then this type of bagel is perfect for you. Salt lovers will definitely love this. Salt bagels are basically plain bagels topped with salt before baking. Salt bagels are extremely salty. These bagels may not seem tempting but they are a delicious choice if you want to make a crunchy savory bagel.
If you want to balance the saltiness of your salt bagel, pair it with cream cheese or smoked salmon. You can also try full-fat cheese, tomato, or avocado.
---
Blueberry Bagels
Blueberry bagels are one of the most favorite delicious breakfast treats. Packed with both fresh and dried blueberries. The bagel dough turns into an attractive shade of purple. Blueberries are very nutritious since they are rich in antioxidants.
The process in making blueberry bagels is the same for plain bagels, except that the baker adds fresh blueberries or dried blueberries while mixing the dough.
Blueberry Bagels have a dense and chewy texture that bagels are well-known for. Blueberry bagels are fragrant and has a sweet flavor.
---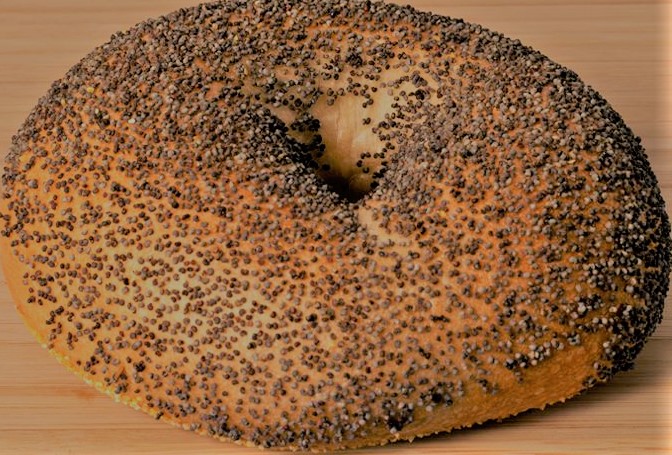 Poppy Seed Bagels
Poppy seeds are also used to add flavor in bagels. These seeds are finely granulated and the flavor is best described as nutty. Most Americans believe that bagels and poppy seeds are a perfect combination. The seeds give a soft and chewy bagel with a crispy outside.
If you want to eat poppy seed bagels, make sure to brush your teeth after eating poppy seed bagels because the poppy seeds will stuck in your teeth.
---
Pumpernickel Bagels
Pumpernickel is a type of rye bread from Germany. Usually made from dark rye flour.
Pumpernickel bagels are dark, deep and loaded with flavor such as caraway seeds, coffee, and molasses to give them an unforgettable flavor.
These bagels are the darkest of bagel flavors and are absolutely delicious. They have a very distinct taste. Pumpernickel adds a rich and unique flavor to a normally soft and chewy bagel. These may not be everyone's favorite, but if you love eating rye bread, then will probably love the taste of pumpernickel bagels.
---
French Toast Bagels
Another favorite breakfast bagel is the French toast bagel.
If you are a person who always skips breakfast in the morning, French toast bagels will make you want to eat breakfast everyday. French toast bagels are is sweet and has a soft texture. Pairing them with whipped cream cheese can take the bagels to a whole new level. French toast bagels are definitely a must-try.
---
Egg Bagels
Egg yolks are added to the bagel recipe to make a flavorsome, rich-tasting bagel. The addition of egg yolks in egg bagels, results in an incredibly sweet flavor and gives the chewy dough an amazing soft texture that is a delight to bite into. Egg bagels are best paired with cream cheese to balance the saltiness and sweetness.
What is the difference between the egg bagels and plain bagels? Egg bagels are slightly sweeter than plain bagels. Another difference between egg bagels and plain bagels is the softer exterior. Egg bagels do not crisp up like the plain ones during the baking process.
If you think that the taste of plain bagels are bland, then egg bagels are perfect for you because it has a richer flavor.
---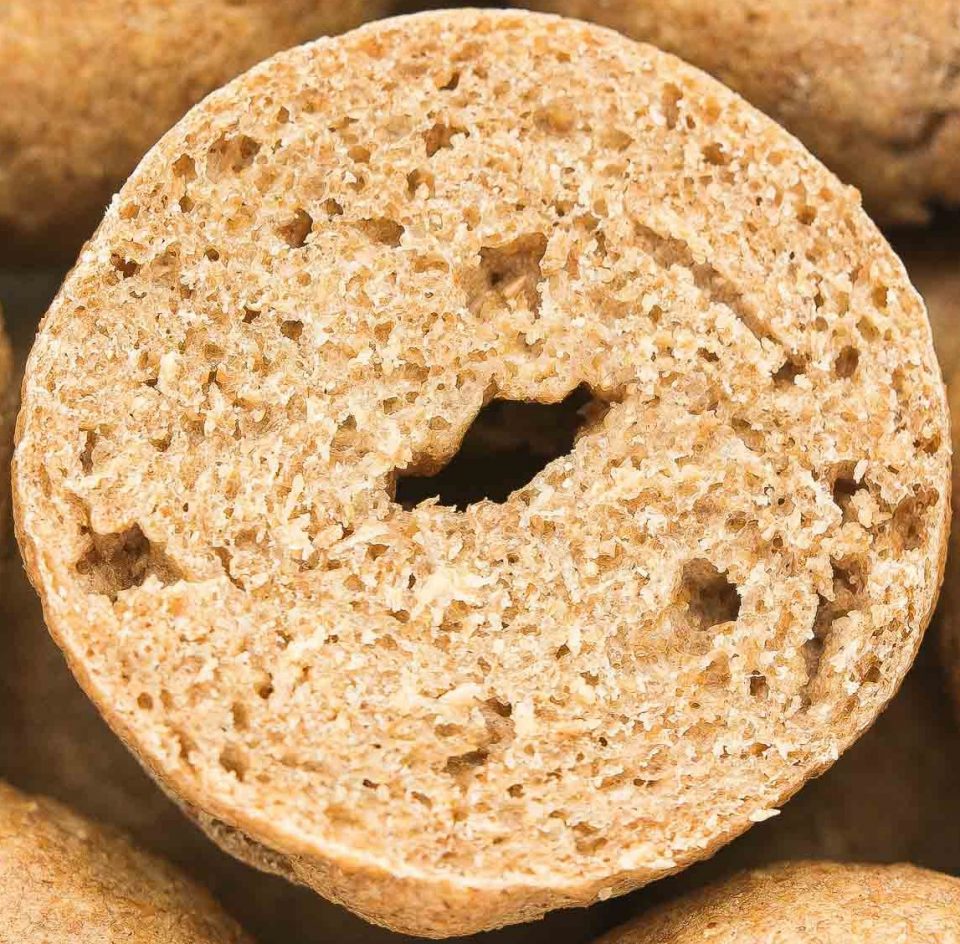 Whole Wheat Bagels
If you want a healthier option, the whole wheat bagels are perfect for you. These bagels are rich in fiber and other minerals. Bagels produced from whole wheat are soft, tasty, and chewy.
Whole wheat bagels are made from whole grains and whole grain flour. Whole grains are high in fiber and antioxidants. Whole grains are an integral part of a well-balanced diet because they contain iron, selenium, magnesium, and B vitamins. They are considered as the healthiest kind of grains to eat.
You can top your whole wheat bagel with some unsalted butter or low-fat cream cheese for extra flavor.
---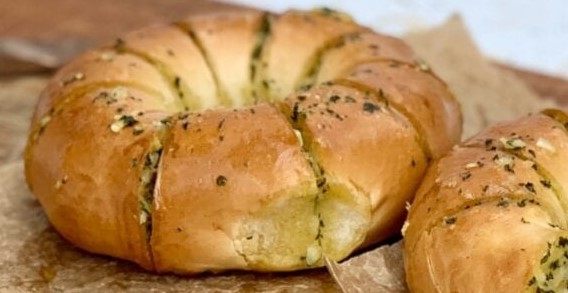 Garlic Bagels
Garlic enhances the flavor in bagels, that is why this is also a popular ingredient to add to bagel dough recipes. The garlic makes the bagels crunchy. The rich aroma of garlic brings out a rich, sweet flavor to the bagel.
Garlic Bagels have a punchy garlic flavor that goes well with many savory fillings.
Garlic bagels are made by brushing a garlic-olive oil mixture at the top of the bagel or by mixing garlic powder or chopped fresh garlic through the mix.
---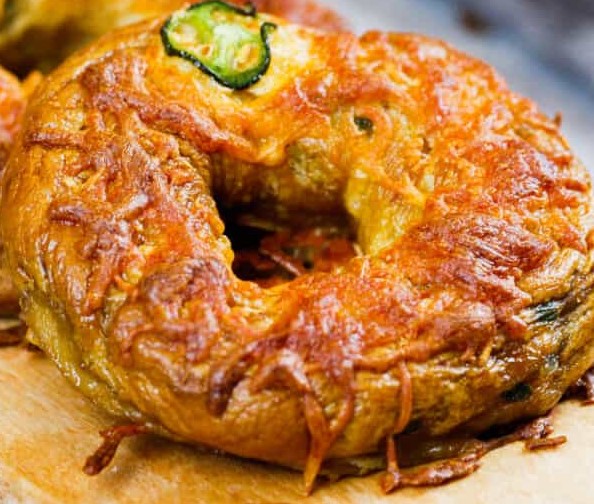 Cheddar Bagels
Are you a cheese lover? Then cheddar bagels are perfect for your taste buds. Cheddar cheese is added to this type bagel.
Cheddar bagels taste so good. These bagels have the same taste and look of a bread roll with melted cheese inside and on top. Since cheese and bread is a traditional and scrumptious combination, it is no wonder that cheddar bagels are so delicious.
To have a more appetizing cheddar bagel, you can add jalapenos for a delicious mix of spiciness and cheese.
---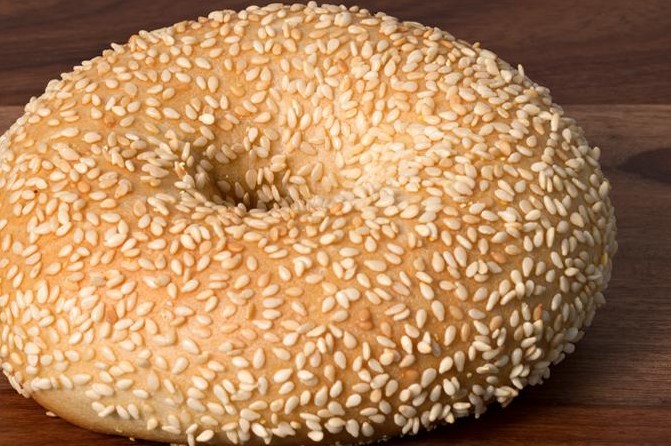 Sesame Bagels
Sesame bagels are simple, delectable, and crunchy, with a warm flavor that compliments any topping or additional filling you put on the bagels. You can pair your sesame bagels with butter, plain cream cheese, or even flavored cream cheese.
The tiny yellow seeds bring a unique nutty flavor which makes the plain bagel into an exceptionally delicious one. They add a whole new level of flavor to the bagels.
---
How to make a plain bagel?
Ingredients:
1 cup water divided
1 1/2 tbsp sugar divided
1/2 tsp active dry yeast
3 1/4 cup flour
5 tsp baking powder
2 1/4 tsp salt
1 egg white
Steps in making a plain bagel
Prepare the dough. Add the yeast, 1/2 tbsp sugar, and 1/2 cup of warm water to the bottom of the bowl of a stand mixer. Cover and allow to sit for 5 minutes.
After the yeast has proofed, add the remaining sugar, flour, baking powder and salt. Start mixing on low speed for 2 minutes, and gradually add in the water. The dough will be very stiff and thick, and a little bit dry.
Next, lightly grease a large bowl with a nonstick spray or oil. Place the dough in the bowl, turning it to coat all sides in the oil. Cover the bowl with aluminum foil, plastic wrap, or a clean kitchen towel. Allow the dough to rise at room temperature for 60-90 minutes or until double in size.
When the dough is ready, punch down the dough to remove air bubbles.
Then, preheat oven to 425° (218°C). Add water to a large pot. Cover with a lid and bring the water to a boil.
Once the dough has been resting for 10 minutes, divide the dough into the number of bagels you want. After you've divided the dough, shape each piece into a ball.
Once all of the dough has been formed into a ball, use your thumb or index finger and stab it through the center of the ball to make a hole about 1 1/2 inches wide.
Drop the formed dough into the boiling water and boil for 2-3 minutes on each side. Make sure they have enough space to float around.
After the bagels have been boiled, place them onto a greased or silicone-lined cookie sheet. With the use of a pastry brush, brush the egg white on top and around the sides of each bagel.
Bake at 425° for 25-30 minutes or until golden brown. Remove it from the oven and allow bagels to cool for about 20 minutes. Bagels are best consumed when allowed to cool completely.
How do you keep your bagels fresh?
It is best to consume your fresh bagels as soon as possible since they dry out and harden after a few days.
However, if you have extra bagels and you are planning to eat them within a couple of days, store your bagels in a rolled-up paper bag or bread bag. Squeeze out as much as air as possible, then allow to sit at room temperature. This will make the bagels stay fresh without exposing them to a lot of air moisture. Be sure the bagels have cooled down before storing them.
Brief History Of Bagel
The first known boiled and then baked ring-shaped bread was recorded in a 13th-century Arabic cookbook, referred to as ka'ak. From the 17th century, Bagels were associated with Ashkenazi Jews. In 1610, bagel was first mentioned in Jewish community ordinances in Poland.
Bagels were introduced in the United States in the 19th century. In 1900, the "bagel brunch" was well known in New York City. Bagel brunch consists of a bagel topped with classic cream cheese, capers, lox, tomatoes, and thinly sliced red onions.
The classic hole design in the bagel is a hundred years old. The design provides more even cooking and baking of the dough. It also has other practical advantages. It can be used to thread string or dowels through groups of bagels, providing easier handling and transportation.
Conclusion
With that said, we hope that you find the right type of bagel that suits your taste buds. Reward yourself with one of these types of bagels and enjoy the flavors. If you want, you can try out all types. Thank you for reading this post.