Sri Lankan cuisine is recognized for its unique blends of fish, spices, herbs, veggies, rice, and fruits. Sri Lankan dishes are heavily reliant on a various kinds of rice as well as coconut, which is a common plant in Sri Lanka. Seafood also has a major role in Sri Lankan cuisine, mat it be preserved or fresh.
Sri Lankan cuisine is greatly influenced by Indonesian, South Indian, and Dutch cuisines, with close ties to other South and Southeast Asian cuisines.
Meat dishes are also very important to the Sri Lankan people. This article highlights the most popular Sri Lankan meat dishes. Scroll down to continue reading, and learn more about these delectable Sri Lankan meat dishes.
Sri Lankan Meat Dishes
Sri Lankan Beef Curry
Beef cubes, Sri Lankan roasted curry powder, black pepper powder, turmeric powder, coconut oil, cumin seeds, red chili powder or paprika, cardamom, curry leaves, coconut milk, garlic, cinnamon stick, fenugreek seeds, salt, and water are used to make this delectable Sri Lankan beef curry. To guarantee that the meat is soft when eaten, the beef is cooked for an hour over low heat with the diluted coconut milk, then another 30 minutes with the addition of coconut milk. It also allows the meat to absorb all of the spices, giving it a tremendous amount of flavor.
---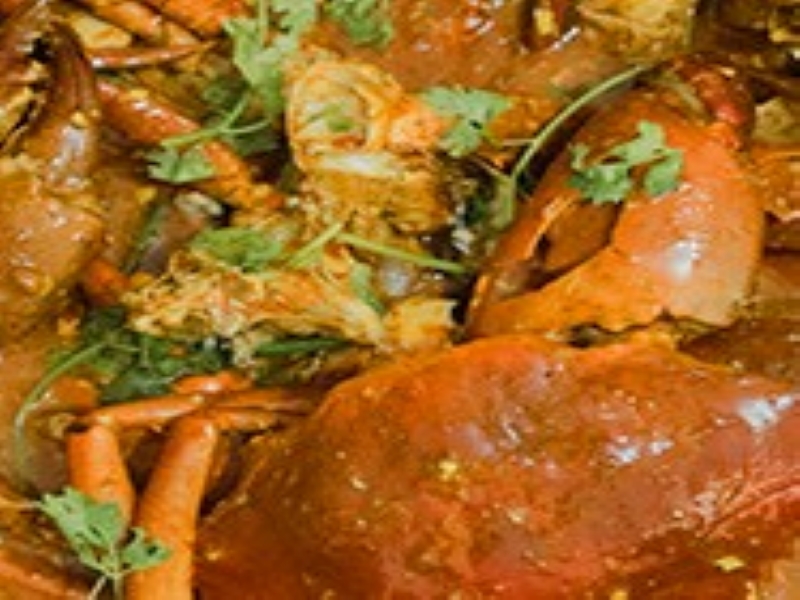 Sri Lankan Crab Curry
Crab meat, curry leaves, lime juice, milk or coconut milk, ginger, grated coconut, shallots, garlic, turmeric, cinnamon, fenugreek seeds, and red chili peppers are used to make this popular Sri Lankan dish. The curry is ready to eat once the crabs are thoroughly cooked, and the gravy has already thickened.
This delicious Sri Lankan food is best served warm with rice and Indian flatbreads.
---
Lamprais
Lamprais is a Sri Lankan food that was brought to the island by the Dutch Burghers.
It comprises of a three-meat curry with beef, pork, and chicken, and ash plantain with aubergine, belacan, seeni sambal, frikadeller meatballs, and rice cooked in stock, all enveloped in banana leaves and put in the oven. Raw short grain rice is fried with onions and spices in butter or ghee before being cooked in a beef stock. A deep-fried hard-boiled egg is another well-known, but non-traditional, ingredient.
The traditional recipe always calls for three meats, although current variations can call for just one meat, such as fish or chicken, or can also be made vegetarian.
---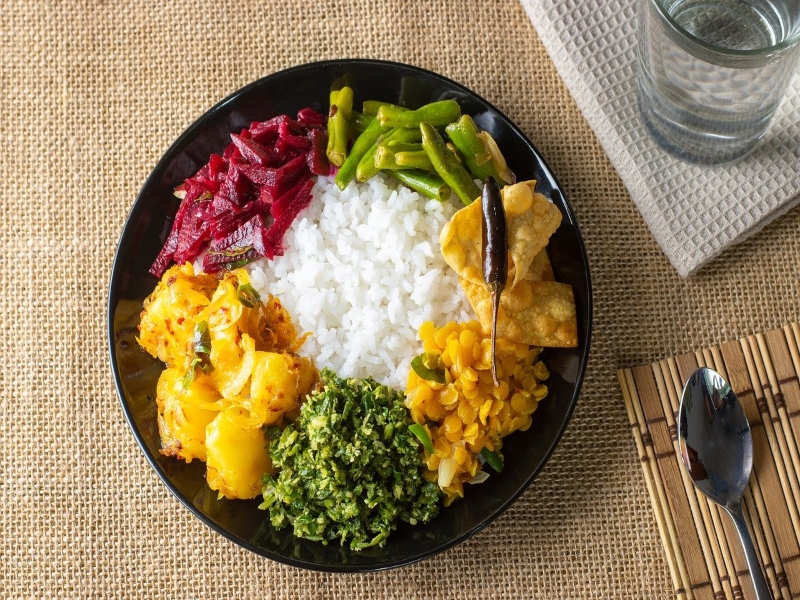 Sri Lankan Rice and Curry
Sri Lankan rice and curry is recognized as the country's national food, comprising of steaming hot, fluffy rice, which is samba or kakulu types, consumed with a range of side dishes known as curries. Along with the rice, there are normally at least three distinct curries, one of which is usually based on fish or meat and the other two on vegetables.
Sambol,a Sri Lankan relish, a gravy or hodda made with spices and coconut milk, mallum (chopped leaves with coconut), and fried crispy delicacies like papadams are all common accompaniments to this delicious Sri Lankan food. This delicacy is a traditional home-cooked dish that is always available on Sri Lankan restaurant menus.
It is typically consumed with hands and is eaten every day, mainly for lunch, but it can also be eaten for dinner or extremely seldom for breakfast.
---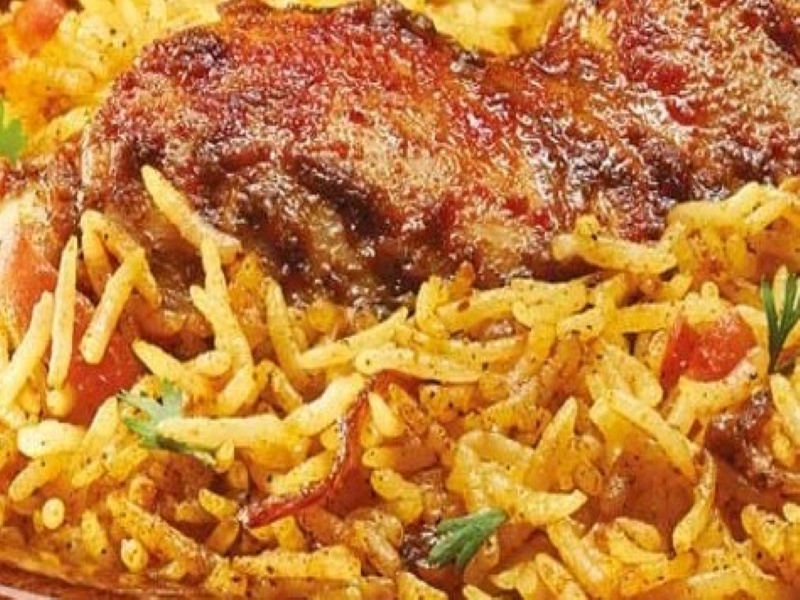 Sri Lankan Biryani
Biryani is a rice dish that originated among Muslims in the Indian subcontinent. It is made with rice and a meat, such as chicken, beef, goat, lamb, shrimp, fish, or eggs, and Indian spices.
In the early 1900s, South Indian Muslims trading in the Northern region of Sri Lanka and in Colombo introduced Biryani to Sri Lanka. Buryani is the local term for it, which comes from the name Buhari Biryani. Sri Lankan biryani is frequently more hotter than other Indian variants. Acchar, Malay pickle, cashew curry, and mint sambol are among of the possible side dishes. In Sri Lanka, chicken biryani is one of the most popular dishes.
---
Beef Curry Recipe- Sri Lankan-Style
Ingredients
Beef sliced into small cubes (400 grms)
2 tsp white vinegar
1/2 tsp salt
1/2 tsp Sri Lankan roasted curry powder
1/4 tsp turmeric powder
1/2 tsp salt
2 tbsp coconut oil
1/4 tsp cumin seeds
2 cardomom
1 pandan leaf
3 cloves
1 cinnamon stick
1 sprig curry leaves
4 gloves chopped garlic
1/4 tsp fenugreek seeds
1 cup thin coconut milk
1/2 cup coconut milk
2 tsp red chilli powder or parika
water
salt
onion
Instructions
Marinate the beef cubes in a mixture of Sri Lankan roasted curry powder, black pepper powder, turmeric, white vinegar, and salt. Set aside while you prepare the rest of the meal.
In a heated pot, put 1 tbsp coconut oil. Then, add /4 teaspoon cumin seeds, 2 teaspoon red chili powder, and 2 teaspoons oil, fried until the red chili powder is dark and the oil is red.
Next, add 3 cloves, curry leaves, 3 cardamoms, pandan leaves, cinnamon stick, and fenugreek seeds to the oil and fry for 30 seconds, or until the aroma is strong.
4 chopped garlic cloves is added and fry it for 30 seconds. With a pinch of salt, add your chopped onion and sauté in the oil until the onions are tender and transparent.
To get a nice brown on the outside of the beef pieces, add the marinated beef cubes to the oil and cook for about a minute.
Cook for about an hour on very low heat with one cup of thin coconut milk. Check the curry for liquid regularly to make sure it has enough. If you think it is not enough, add extra water or thin coconut milk. Also, stir it frequently to prevent the bottom meat from burning and adhering to the saucepan.
After one hour, taste and adjust the salt. The beef should be soft by now if you used little meat cubes.
You have the option to add another 1/2 cup coconut milk, and stir to make a richer and creamier gravy. Cook on low heat for about 20 minutes, or until you have the required amount of gravy.
Meat should be soft and melts in your mouth at the end of the cooking process. Best served with rice.