Do you enjoy dipping sauces? Have you tried Afghan cuisine before? In Afghan restaurants and kebab stalls, sauces are popular and commonly used. Their sauces might be spicy or mild, depending on your preference. Its vinegar content is refreshing, and it's a great addition to rich meat dishes or just about anything. Combine it with yogurt to make a creamier dipping sauce for bolani or salads. Sauces plays an integral part in any cuisine. They enhance the flavors of your meals.
Let's have a look at some of the most well-known delicious Afghanistan sauces, and how they are made. Scroll down to continue reading if you want to understand more about various types of Afghan sauces.
Afghan Sauces
Afghan Garlic Yogurt Sauce
One of the most popular Afghanistan sauces is Garlic Yogurt Sauce. You can garnish this on any meals, salads, chicken sandwiches, on top of soups, or as a dip. Basically, this type of sauce is made with yogurt, garlic, lemon juice, dill, mint, salt and water.
How To Make Garlic Yogurt Sauce Afghanistan-style
Ingredients
2 cups yogurt
4 cloves garlic, minced
1 teaspoon dried mint (peppermint)
Salt and pepper to taste
1/4 cup lemon juice
sour cream(optional)
1 tbsp dill
Instructions
Combine yogurt, lemon juice, peppermint, salt, and garlic in a mixing bowl. Whisk together and add pour enough water till the sauce can be drizzled. Use less water if you want a thicker consistency.
Next, combine the yogurt and sour cream in a mixing bowl. You can adjust the taste of the sauce depending on your preference. You have the option to add or lessen the amount mint, lemon juice, dill, and salt. Serve this delicious Afghan yogurt sauce with any meal, and share it with the whole family and friend.
---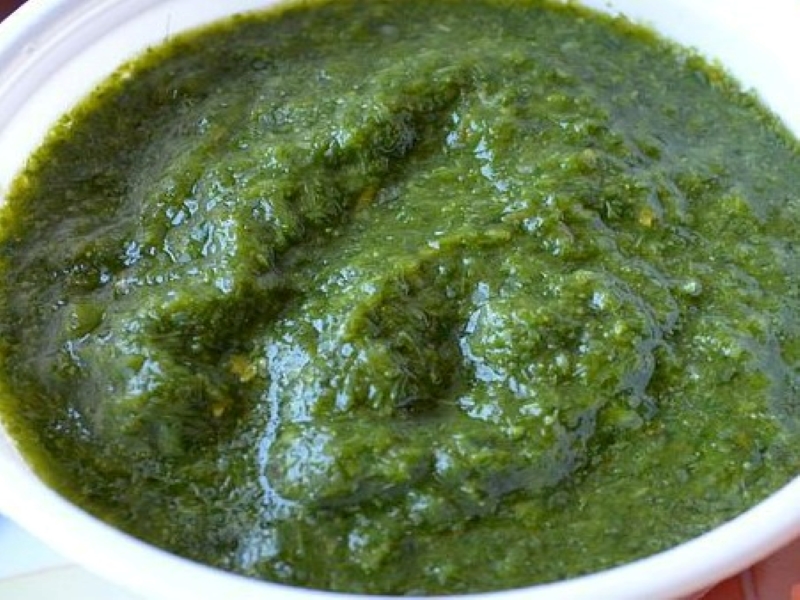 Afghan Green Sauce Or Afghan Cilantro Chutney
Another popular sauce from Afghanistan is Afghan Cilantro Chutney or simply Afghan green sauce. The sauce is made with fresh cilantro, garlic, walnuts, green chili peppers, salt and black pepper and vinegar. The sauce is typically served for any Afghan food, pasta, boulanee, rice, and other meals and side dishes.
Afghan Green Sauce Recipe
Ingredients
4 ounces fresh cilantro
fresh parsley
8 gloves garlic
1 green chili pepper, chopped (jalapeno)
1 tbsp walnuts
2 teaspoon salt
2 cups white vinegar (you also have the option to use appli cider vinegar)
ground black pepper
Instructions
In a food processor or blender, place the cilantro until it is very finely chopped. It's possible that you'll have to perform this by batches.
Then, Add the garlic and chopped green chili peppers or jalapeno to the blender after the cilantro has been finely chopped, and mix or process again. To modify the flavors of this sauce, you have the option to add fresh mint leaves, fresh ginger, ground turmeric, cumin seeds, or honey.
Slowly drizzle in the white vinegar or apple cider until you develop a thick sauce. Put it in a jar. Try not to cover the chutney yet and put in the fridge over night. When you initially blend it, the color will be vibrant green, but it will darken with time.
Seal the jar the next day with a tight metal lid. Enjoy your chutney sauce.
---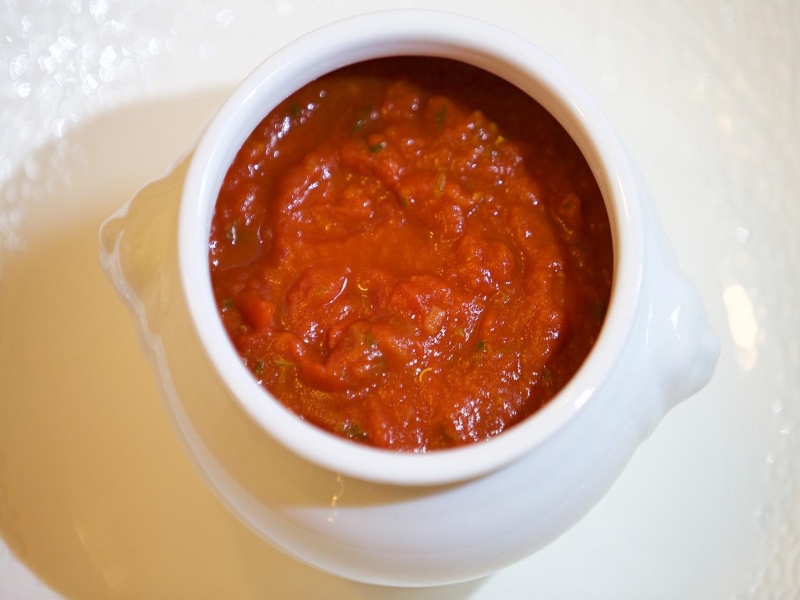 Red Pepper Chutney
Another type of chutney is red pepper chutney. With a subtle onion flavor and a pungent garlicky impact, it's sweet and spicy. The base of this chutney is made up of sweet and zesty red bell peppers. The additional sugar and natural sweetness of the bell peppers help to neutralize the intensity of the spicy hot chiles. The tartness of the apple cider vinegar tones the sweetness of the bell peppers, as well as the salt, in the chutney.
Red Pepper Chutney Recipe
Ingredients
15 ounce whole peeled tomatoes or 1 can whole tomatoes
1 medium sized chopped bell pepper
1 clove garlic, chopped
1 red serrano pepper, chopped
lemon juice or lime
1/2 teaspoon salt
Instructions
Strain the tomatoes in a fine-mesh sieve, pressing and squeezing away extra moisture with your hands. In a blender or food processor, Mix the tomatoes, bell pepper, serrano pepper, garlic, lemon (or lime) juice, and salt. Grind till smooth but not pureed.
---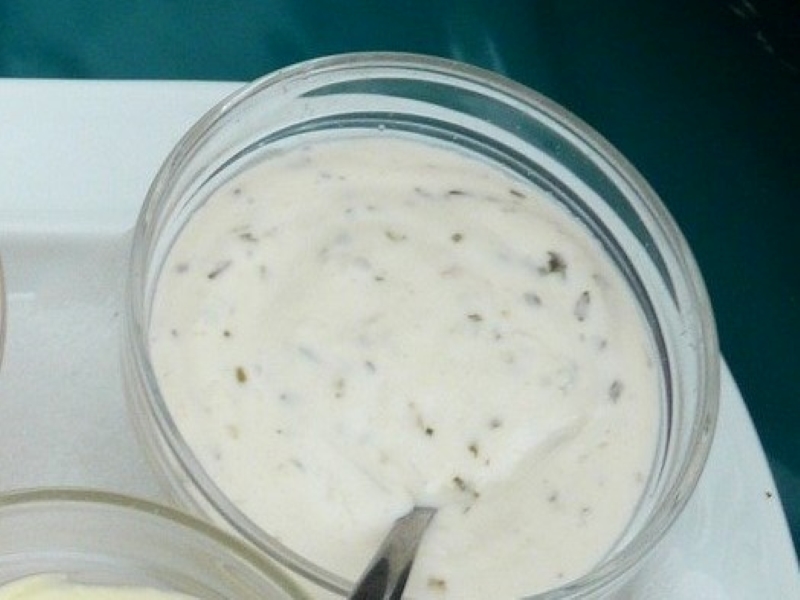 Afghani Kebab Sauce
This sauce is made with yogurt, lemon juice, black pepper, onions, coriander, cayenne pepper, cilantro and turmeric. It can be used to marinate any meat or even fish. It's also delicious when served with steamed rice.
Afghani Kebab Sauce Recipe
Ingredients
2 cups yogurt, plain
2 onions, peeled and diced
sugar
ground black pepper
a dash of lemon juice
1 tbsp ground coriander
2 tbsp ground cumin
1/2 tsp chili paste or cayenne pepper
1/2 tsp ground turmeric
fresh cilantro, chopped
Cooking Tips
In a blender, combine all of the ingredients and blend until smooth.
In a saucepan, cook until the sauce has thickened somewhat.
Allow to cool completely before using as a marinade.
---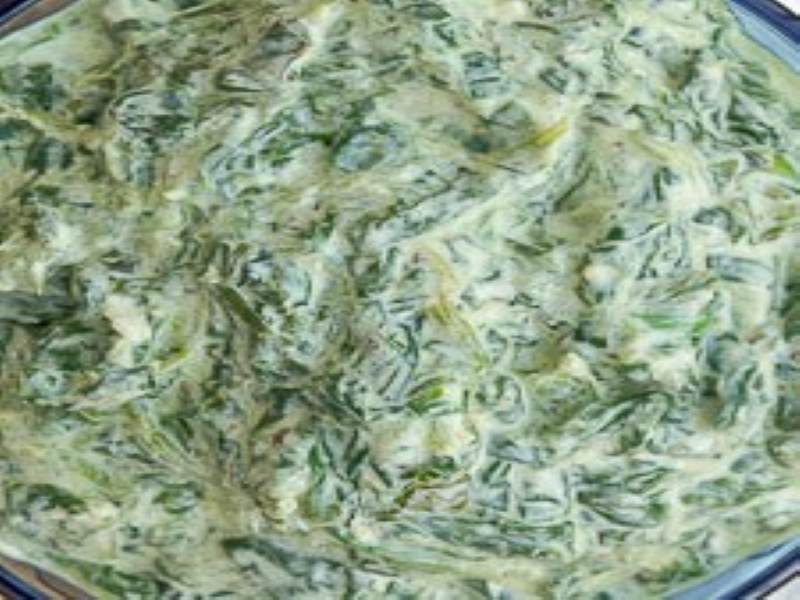 Sabse Borani Or Spinach & Yogurt Dip
This delectable Afghan dip is made with creamy yogurt, spinach, and garlic. Best paired with flatbread recipe, such as Noni Afghani. This versatile sauce can be used to flavor roasted vegetables, salads, meat dishes, and even as a dip.
Sabse Borani Recipe
Ingredients
1 medium sized onion, sliced
1 cup yogurt
4 cups chopped fresh spinach leaves
2 cloves garlic, minced
2 tablespoon oil
Instructions
You need to drain the yogurt, place it in a cheese cloth and tie it to a long wooden spoon positioned over a basin to catch the draining water for about 60 minutes. You also have the option to use a coffee filter or a paper towel.
Spinach should be rinsed and chopped. Place it in a sauce pan while it's still damp, cover, and simmer until barely cooked. Excess water should be drained and squeezed out. Then, fry onion in oil till tender.
Next, add garlic and spinach and cook for another minute or two.
Combine the spinach and yogurt once it has cooled. To taste, season with salt and hot pepper flakes. Serve with hot naan flatbread or toasted pita chips in a dish. Serve chilled if desired.
---
Afghan-Style Pumpkin With Yogurt Sauce
One of the dishes that can be paired with the yogurt sauce is this type of dish. We'll walk you through on how to make this delicious dish.
Ingredients
1 cup yogurt
2 tbsp oil
1 medium sixed onion, chopped
1 teaspoon minced garlic
1 tsp ground turmeric
1 tbsp minced fresh ginger
1/4 tsp coriander
1 minced chili pepper (Jalapeno)
1-inch cubes pumpkin flesh (6 cups)
1 1/2 cups chicken vegetable stock
Salt and pepper
1/4 cup chopped fresh mint
2 tablespoons olive oil
2 cloves garlic, crushed
1 pound ground beef
Instructions
In a large saucepan or deep skillet pour oil and cover over medium heat. When the pan is hot, add the onion, stirring occasionally, until browned, for about 10 minutes. Cook for another 2 minutes, or until the turmeric, ginger, and chile are fragrant.
Add the pumpkin together with the stock, and season with salt and pepper. Boil, then reduce to a low heat setting. Cook, stirring occasionally for 15 to 30 minutes or until pumpkin is tender. Check if there is enough liquid. If the pumpkin is cooked and the consistency is thin, remove the lid and increase the heat to medium-high. Bring the mixture to a boil until it thickens. Season to taste.
In a skillet, heat the olive oil over medium heat. Then, add the garlic. Add the ground beef and season with salt. Cook, stirring periodically, for about 5 minutes, or until the meat begins to brown. Reduce heat to low and add the tomatoes and coriander. Cook for another 5 to 10 minutes, or until the mixture thickens.
In a mixing dish, combine the yogurt, mint, minced garlic, salt, and pepper.
Place the ground beef on top of the pumpkin and serve. Serve with a dollop of yogurt sauce.