Enjoying your salad is not complete without the right dressing. That's why the best Japanese dressing will surely level up your salad in so many delicious ways you can imagine. Dressings make boring and ordinary salads into authentic and exciting ones. It's as if you're eating in a Japanese restaurant.
* If you buy through links on our site, we may earn an affiliate commission. For more details, please visit our Privacy policy page.
Of course, there are a lot of Japanese salad dressings out there. So, which one to choose? Don't worry because we have you covered.
In this post, let us take a look at some of the best Japanese salad dressing options that will transform your salad into an unforgettable gastronomic experience.
Best Japanese Salad Dressing
1. Wafu Japanese Salad Dressing
On top of our list is the Wafu dressing. It's among the most popular Japanese salad dressings and it is widely used around the world. Wafu means Japanese-style and that's exactly what you get in Wafu dressing.
While every person might have a slightly different way of preparing Wafu dressing, it is commonly made of rice vinegar, vegetable oil, and soy sauce. Some folks add grated onion to make the dressing more flavorful.
Here is a Wafu dressing product you may like to try: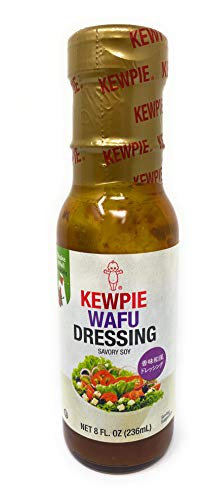 This salad dressing is not only ideal for salads but also veggie dip and marinade. While it is a Japanese dressing, the Kewpie Wafu dressing is made and packed in the US. If you live in the US, then shipping would be fast and convenient.
The best thing about the Kewpie Wafu dressing is it has perfected the right amount of sourness and spiciness combined into one dressing.
---
2. Miso Japanese Salad Dressing
If you don't know yet, Miso is a popular seasoning not just in Japan, but in the entirety of Asia. Miso is made of fermented soybean paste. Thanks to its unique umami taste, it has captivated a lot of taste buds throughout history.
That's why it is not difficult to see how miso salad dressing can also be a popular choice when it comes to salads. In Japan, you can hardly find a restaurant that serves salads without miso as one of the choices for its dressing.
If you're looking for the right miso dressing, here are two choices to get you started:
We know that you probably eat salad to start living a healthy lifestyle. So, you want to cut down on your sugar consumption. If this is the case, you'll love the miso dressing of G Hughes. It is not just sugar-free, but also gluten-free. The whole family will surely enjoy your salad, even those individuals who have sensitivity to gluten.
Buy it now: Amazon

You will be eager to try the miso dressing made by Red Shell because of its rich and flavorful taste. There's no MSG added, so it's ideal for people who are conscious of their health. Use this miso dressing on your salad or use it as a sandwich condiment and dipping sauce.
Buy it now: Amazon
---
3. Ponzu Japanese Salad Dressing
This best Japanese salad dressing is kind of unique because its main ingredient includes a citrus-based soy sauce. So, you'll have a harmonious blend of sour and salty tastes. Even though ponzu dressing is full of flavor, it won't overpower your salad's natural earthy smell.
Here are a few ponzu dressings that should be on top of your list:
Ponzu is a great addition to your salad with its citrus flavor mixed with the right saltiness of soy sauce. There are a lot of ways you can use Kikkoman's ponzu sauce. Aside from salads, you can use the sauce as a flavor enhancer for broiled meats, seafood, poultry, and vegetables.
Ponzu is a seasoned Japanese soy sauce, accented with citrus. It has the perfect balance of salty, tangy, and sweet taste to enhance the flavors of broiled meats, poultry, seafood, or vegetables. You can also use ponzu as a sauce for sushi, sashimi, cubes of tofu, or raw oysters.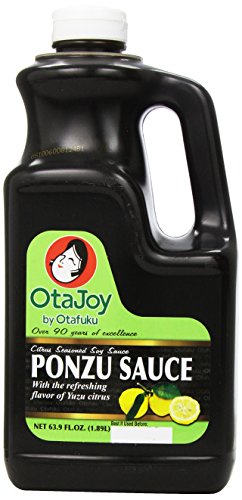 If you can't get enough of ponzu soy sauce, then choose Otafuku's product. Your order includes a half-gallon jug of ponzu sauce. Please note that ponzu soy sauce is highly versatile. This means that the sauce is just perfect for a wide range of dishes such as salads, shabu-shabu, somen noodles, dumplings, siomai, tofu cubes, sushi, sashimi, and other kinds of seafood.
By the way, this salad dressing is made in Los Angeles. So, there's less to worry about if you're going to order online.

With a premium taste, this best Japanese salad dressing ponzu sauce creates a light, citrus, and tangy flavor. Marukan is known for its impressive sauces made of organic sudachi extract imported straight from Japan.
---
4. Ponzu Mayonnaise Japanese Salad Dressing
Who said that you can only use mayonnaise as a stand-alone dressing? In fact, you can combine ponzu dressing with mayonnaise. That's how you can instantly add that Japanese-style element to your salad. Think about combining the sweet taste of mayonnaise with the mild sourness of ponzu. Obviously, it's a unique taste your guests will love.
We have already mentioned a few ponzu sauces. Now, here are some Japanese mayonnaise products that you should check: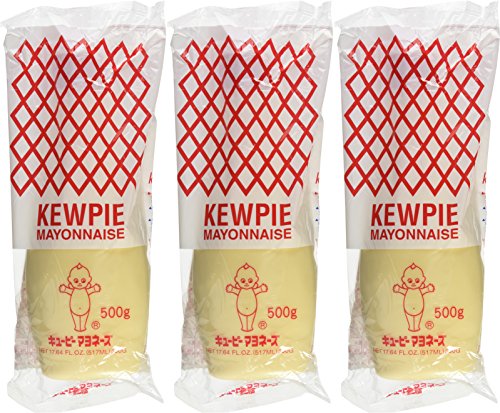 Delicious, sweet, and addictive — those are some of the words you'll use to describe Kewpie's mayonnaise. The salad dressing comes in a squeeze tube that allows a convenient use. The rich consistency of this mayonnaise, along with the vinegary "kick," makes it a great addition to your salad.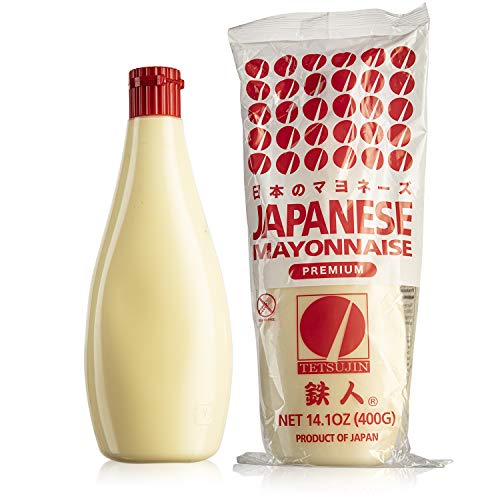 Tetsujin Premium Japanese Mayonnaise
If ever you're in Japan, you won't miss Tetsujin when the topic is about mayonnaise. Today, this Japanese mayonnaise is made popular by celebrity chefs and food bloggers around the world. With such a powerful but low-key umami punch, your salad will turn into a superstar once tasted by your friends.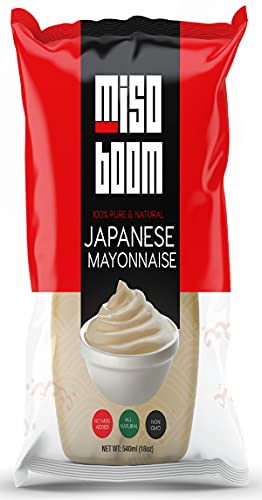 Most customers would describe this best Japanese salad dressing as the mayonnaise with rich, bold, and iconic taste. You will love its creamy and rich texture as you take each bite from your salads, sandwiches, snacks, and even various viands.
You can easily pour down mayonnaise into your salad with its squeeze bottle. The main ingredients of this mayonnaise are egg yolks and vinegar. No artificial colors, MSG, sugar, preservatives, and flavors have been added.
---
5. Carrot Ginger Japanese Salad Dressing
There's a lot to be excited about carrot ginger dressing. This best Japanese salad dressing infuses a lot of unique tastes to ensure you enjoy your food to the maximum level. Made with ginger, miso, and carrot, your salad won't taste the same way ever again.
Check out these carrot ginger dressing to assuage your salad cravings:
Made by Wu, this is considered to be an authentic Japanese ginger dressing. You'll be happy to know that there are no preservatives added, no gluten and GMO, and all ingredients are natural. All you get is fresh ginger, garlic, and onion to achieve a superb taste.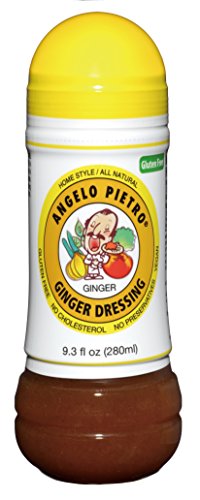 Angelo Pietro New Ginger Dressing
Angelo Pietro's dressing will make your guests say "wow" to your salad with pure ginger extract. Made with all-natural ingredients and no added MSG or gluten, it's the right choice for a healthy snack. You'll even be surprised how your kids start to love eating veggies when you add this ginger dressing to your salad.
---
6. Sesame Japanese Salad Dressing
To make your salad smell and taste earthy and tangy, a sesame dressing will do the trick. The best thing about sesame dressing is you can adjust how strong or mild you want it to be. Simply add rice vinegar to your heart's content and achieve that balanced taste of goodness.
Here are a few sesame dressings you should try:
Kewpie Creamy Deep Roasted Sesame Dressing
This sesame dressing is among the best Japanese salad dressing options of its kind. In fact, it has been awarded the 2016 Dressing of the Year. The fukairi deep-roasted sesame dressing is great on salads, cold pasta, marinade, slaw mix, and veggie dip.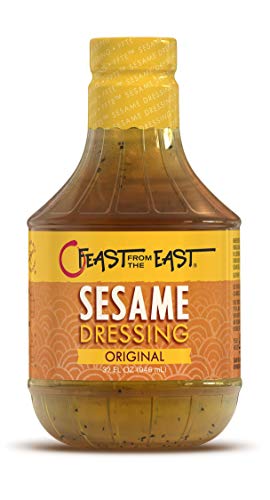 Feast from the East Sesame Dressing
This sesame dressing is infused with the original taste made by Feast from the East. It also comes with that distinct tangy and sweet flavor. Ingredients include water, sugar, distilled vinegar, vegetable oil, salt, and of course, sesame. To top it all up, the sesame dressing doesn't have any artificial ingredients and is gluten-free.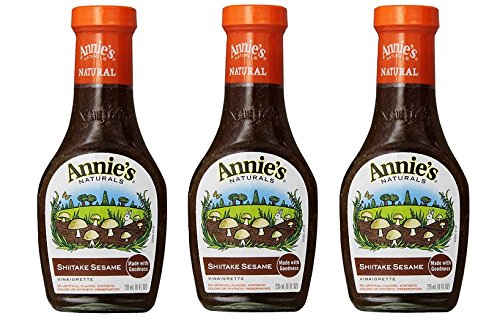 Annie's Shiitake Sesame Dressing
When you buy Annie's sesame dressing, you'll get nothing but only natural ingredients with no synthetic colors, flavors, and preservatives. You'll find Annie's dressing to be not too sweet while keeping its taste savory and the shiitake's flavor standing out. A lot of customers love this dressing giving it favorable reviews.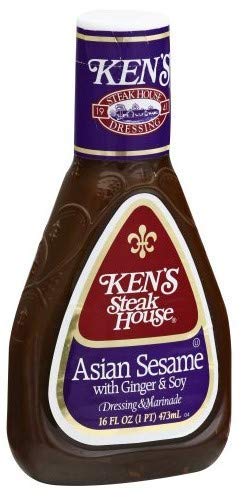 Ken's Steak House Asian Sesame Dressing
If you want sesame flavor infused with ginger taste, then Ken's Steak House's sesame dressing is your go-to guy. The secret formulation of this sesame dressing goes way back to 1941 when Ken's Steak House Started. So, you can be sure that his sesame dressing has stood the test of time.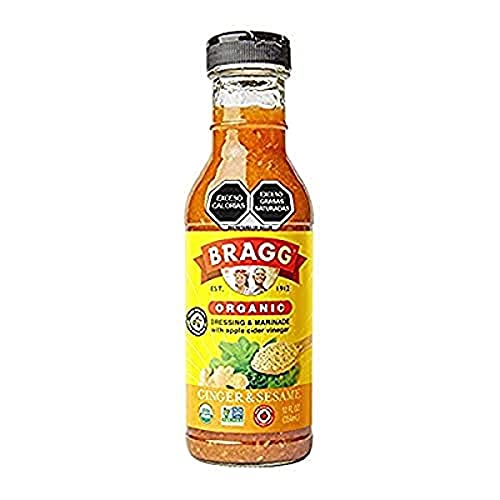 Here's another sesame dressing that comes with ginger flavoring. It's a great combination actually that can make your salad more memorable and interesting. You might remember Bragg as the popular apple cider vinegar brand. Thus, you can expect that their dressing also comes with their trademark non-GMO and organic vinegar.
---
7. Vinaigrette Japanese Salad Dressing
A vinaigrette salad dressing is another great option. It is made of vinegar (sometimes, rice wine vinegar), oil, and various herbs and spices to create a distinct flavor. Sometimes, instead of vinegar, a vinaigrette is mixed with lemon juice. There are also occasions when people add salt to vinaigrette and use it as a marinade.
Here's one good example of a vinaigrette salad dressing from Japan: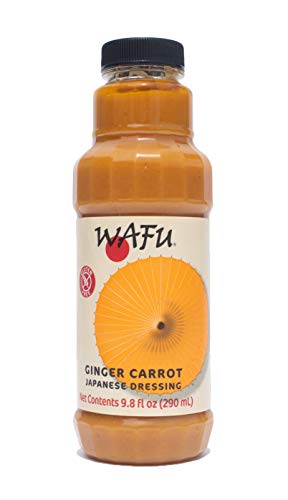 Wafu Japanese Style Vinaigrette Salad Dressing
Made with quality in mind, this vinaigrette salad dressing can make your salad extra especially. With a twist of light ginger taste and the sourness of vinegar, you can be sure that your salad would be a blockbuster. The Wafu vinaigrette salad dressing is free of trans fat, cholesterol, gluten, and artificial flavors. Aside from salad dressing, you can use this as a condiment or for marinating meat.
---
10 Tips to Remember When Making Salads
To ensure you enjoy your salad even better, aside from choosing the right salad dressing recipe and product, you'll also benefit from applying these tips:
Your vegetables should be completely dry. Water can weigh down your veggies and make them feel slimy once you add the dressing.
Use a big bowl for your salad. This way, you have plenty of space when you mix your veggies, dressing, and other elements.
Add a touch of sweetness. You can add a teaspoon of maple syrup or honey. The sweetness shouldn't be too noticeable, but it should make your salad taste fuller.
Don't drench your salad with too much dressing. You don't want to overpower your salad with your dressing.
Add other mix-ins. You can add cheese, nuts, slices of apples, grapes, and raisins. Add enough mix-ins to make your salad look pretty, exciting, and delicious.
Serve bite-sized greens. It is difficult to eat oversized wedges of lettuce. Give your guests a favor and make sure your greens are easy to bite.
Add some herbs, not just vegetables. You can choose basil, lemon balm, mint, parsley, tarragon, and chives.
Taste dressing first before adding it to the salad. This way you still have a chance to adjust your dressing. You don't want to have already added the dressing and later on discover you don't like its taste.
Sprinkle on pepper and salt. This should make your salad taste even more palatable.
Store dressing properly. Place dressing in a glass jar with a tight lid and store in the refrigerator.
Choose your best Japanese Salad Dressing
These are just some of the best Japanese salad dressings you should try today. Admittedly, all of these salad dressings come with unique tastes and give you various gastronomic delights.
So, we highly recommend you don't settle with just one salad dressing, but give each one a try. You will surely appreciate how these salad dressings can create distinct and delicious tastes in every food you serve.
* If you buy through links on our site, we may earn an affiliate commission. For more details, please visit our Privacy policy page.