Knowing the difference between teppanyaki and hibachi is crucial if you want to get more familiar with Japanese cuisines. Most people who have just started exploring Japanese food will inevitably encounter the terms "teppanyaki" and "Hibachi."
* If you buy through links on our site, we may earn an affiliate commission. For more details, please visit our Privacy policy page.
So, you might ask the following questions:
"What is Teppanyaki?"
"What is Hibachi?"
"What is the difference between the two?"
Thankfully you don't have to wonder anymore because, in this post, we will answer your questions. Not only that but we have also rounded some of the best teppanyaki and hibachi cooking products so you can do Japanese-style cooking whenever and wherever you are.
What are the main differences between teppanyaki and hibachi?
While teppanyaki and hibachi may seem to be different names of the same thing, these two cuisines actually differ greatly.
Teppanyaki and hibachi differ based on the following:
History
Focus
Manner of cooking
Let's discuss each of these.
Teppanyaki vs hibachi: history
Strictly speaking, no one is quite sure how teppanyaki style started. Some Japanese believe it started centuries ago when families gather together to grill food.
However, one theory stood out. It is believed that teppanyaki grilling has to do with recent development in Japan. According to the theory, teppanyaki started in 1945 with the help of a restaurant chain called Misono. They started teppanyaki in Tokyo, Japan.
As you can see, teppanyaki is a young Japanese Cuisine. At first, the locals of Tokyo didn't like teppanyaki. On the contrary, they even criticized teppanyaki, claiming that it was not a proper and clean way to cook food.
It was only in the latter part of the 20th century that teppanyaki became famous when American soldiers and tourists noticed this obscure way of cooking. As a result, teppanyaki was brought to the Western World where it thrived to be as it is now.
The term teppanyaki came from two words: teppan which means iron plate, and yaki, which means grilled or pan-fried.
That's the history of teppanyaki. Now, let's talk about the history of hibachi style.
The word hibachi means "fire bowl", which refers to the cylindrical shape of the grill. Hibachi has a detachable grill on top of it. People can then add wood or charcoal to it.
If you look into the origin of hibachis, they were originally made to serve as a piece of heating equipment in homes.
Sometimes, they are also used to light cigarettes or serve as a light. However, as time passed by, out of ingenuity and necessity, hibachi became a tool to cook food. This became even more popular during World War II, where soldiers needed a portable cooking tool.
Teppanyaki vs hibachi: Focus
The main focus of hibachi is to cook food, more specifically, to grill meat. The main reason teppanyaki instantly became famous in the West is because of its entertainment factor.
Yes, that's right.
Teppanyaki is not simply a way to cook food, but it's a way to add enthusiasm, delight, and happiness among people who gather together to enjoy food. The teppanyaki chef uses amazing culinary skills, knife juggling acts, and other impressive feats to impress their audience.
Teppanyaki vs hibachi: Manner of cooking
Some folks may interchange teppanyaki and hibachi. So, no one can really blame you if you are unsure of their differences.
To quickly identify teppanyaki and hibachi, you simply need to look at the type of grills they use. Both cuisines focus on grilling food but they use different tools.
For hibachi cooking, people use the hibachi grill, which is known in Japan as shichirin. They are small barbecue grills that have an open-grate design on top. Since it is small, it can easily be carried around and stored. As a grill, the main source of heating is charcoal.
On the other hand, teppanyaki is more sophisticated in design. It has been heavily modified in western countries such as the U.S. Teppanyaki grills have a wide rectangular flat, solid, and iron griddle made of metal placed above a heat source.
In restaurants, teppanyaki grills are built in front of tables where guests can watch the chef (sometimes referred to as teppan) as he cooks the food. The main heat source is propane or gas flame. However, some modern teppanyaki grills are powered by electricity, so they can be used indoors.
Because the teppanyaki grill is not an open grill, you can cook rice, vegetables, and other small-sized food on it.
Choose the right teppanyaki and hibachi grills
Now that you know the difference between teppanyaki and hibachi, it's time to find the right grill for you.
When exploring your options, you need to consider the heat source, size, and overall design. Aside from that, be sure to read reviews and descriptions to better know whether a specific grill is the best choice or not.
To help you make the right decision, we have gathered some of the best teppanyaki and hibachi grills that you should consider.
Best teppanyaki grills
While teppanyaki grills are popular in restaurants, you can actually buy one for personal use. Here are some of the best teppanyaki grills you'll love.
On top of our list is the most popular teppanyaki grill today. The presto teppanyaki grill comes with a nonstick surface that makes cooking and grilling really easy.
Perhaps, the most powerful feature of Presto's grill is the Control Master. It can precisely increase and decrease heat so you can determine how fast or slow you want to cook your food.
The iron griddle can be detached from the heat source. This is an important feature if you want to conveniently clean your teppanyaki grill. To top it all up, the Presto grill is powered by electricity. There's no need for any fuel. Simply plug and cook.
---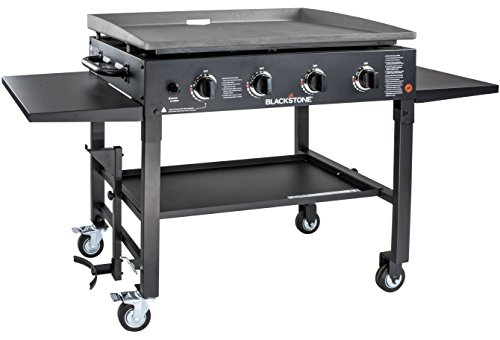 The teppanyaki grill made by Blackstone is restaurant grade. This means that you can use it for both personal and business needs. It is heavy-duty and super durable.
You can cook a lot of food all at the same time as it comes with 36 inches of cooking area. You will love the side shelf of this grill as it gives you a place to put your ingredients or cooked food.
Another great feature of this teppanyaki grill is the great management system. You can easily drain grease either on the rear or front end of the grill. This makes cleaning the grill easy and fast.
Assembling and storing the grill is no hassle. You can start cooking in no time and bring it outside for picnics or outdoor parties. Whether you are cooking for breakfast, lunch, or dinner, this restaurant-style teppanyaki grill will bring your food to a whole new level.
---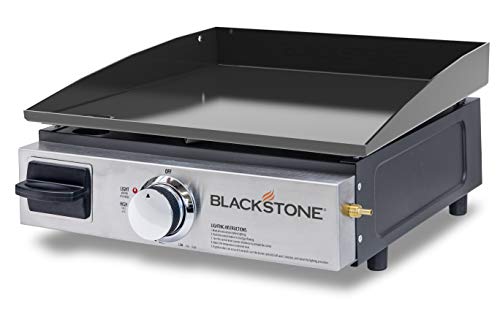 Here's another quality product of Blackstone. The 1650 model is primarily made as a tabletop grill. Though it is smaller, it still packs a lot of cooking area with 17 inches of space. Because the 1650 teppanyaki grill model is smaller, it is more portable and you can bring it for outdoor activities, camping, picnic, tailgating, road trips, and parties.
Cleaning the Blackstone teppanyaki grill is super easy to use as well. One pound of propane bottles should be enough as your fuel. You can easily store it whenever you're not using it. There's no hassle in cleaning it as well because the grease trap drains excess oil. A simple paper towel can quickly wipe off food residue on the griddle.
If you look under the griddle, you find the "H" shaped fire that evenly and quickly distributes heat.
---
Presto is no doubt a great manufacturer of teppanyaki and they have proven themselves once again with this product.
The 07073 teppanyaki grill model comes with an adjustable cooking level appropriate for the different types of food you want to cook. The legs can easily be folded in so it consumes the least amount of space for storage.
Once again, this grill comes with a nonstick surface. This makes not just cleaning a breeze, but also cleaning. The same with the 07061 model, the 07073 grill model comes with the high-end Control Master system to help you cook your food professionally.
---
Non-stick coating, environmental-friendly, and removal backslash — these are just some of the best features of the teppanyaki grill made by Broil King. You can adjust the heat up to 400 degrees Fahrenheit. Though the grill can be so hot, the stainless steel handles stay cool to touch.
Cleaning the grill is easy as well. There's a grease tray to drain excess oil. The base of the grill can be removed for washing. The fuel source of this grill is electricity. There's no need to use live fire for this grill. Materials used include plastic, metal, and stainless steel.
---
Best hibachi grills
Hibachi grills are generally smaller and have limited space in comparison to teppanyaki grills. Thus, it's important for you to carefully choose your hibachi fire bowl grill. To ensure you get the best hibachi grill, start with our list below.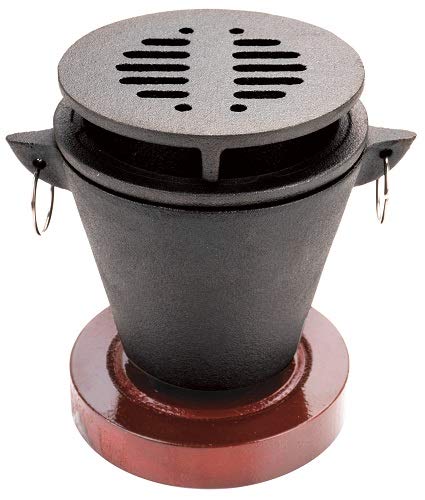 Made with strong and sturdy cast iron, the ChefMaster hibachi grill will last a lifetime. It comes with an elegant-looking wooden base.
Because of the size of this grill, you can safely use it inside your house. You can also bring it to the great outdoors and enjoy outdoor cooking.
The grill is ideal for cooking small food items. The biggest strength of this hibachi grill is it can be fun to use and ideal for family gatherings.
---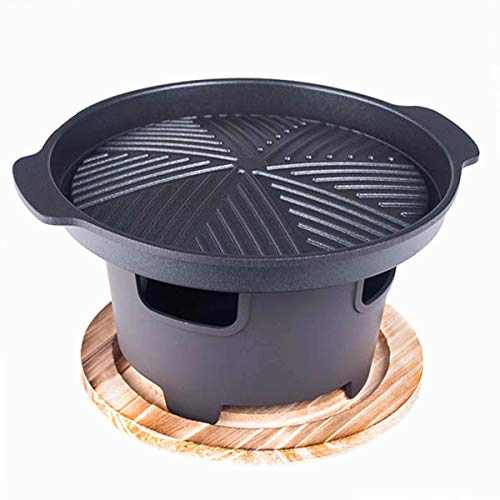 Made with cast aluminum, this hibachi fire bowl grill has a spacious 7-inch cooking space. It can be used on top of your table or on the floor. Because of its design, the hibachi grill can hold charcoal effectively and ensure proper heat distribution.
---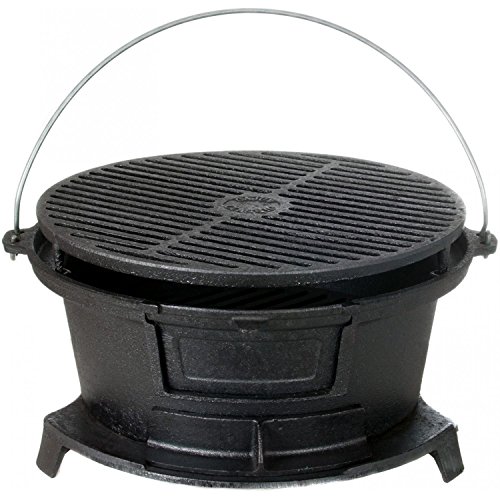 Enjoy cooking with your family and friends with the Cajun Classic hibachi grill. It is made of cast iron and so, you'll be sure that this grill is strong and compact enough to endure heavy cooking.
---
This hibachi grill does exactly what it is made for. It grills food deliciously. It's the perfect cooking grill if you have friends coming over for a party or simply enjoy a night of grilling with your loved ones.
You can grill almost anything with this product. Bring this grill almost anywhere with its portable handles. On the side, there's a door you can close and open to control ventilation. The base is secure to ensure your food stays where it is supposed to be.
---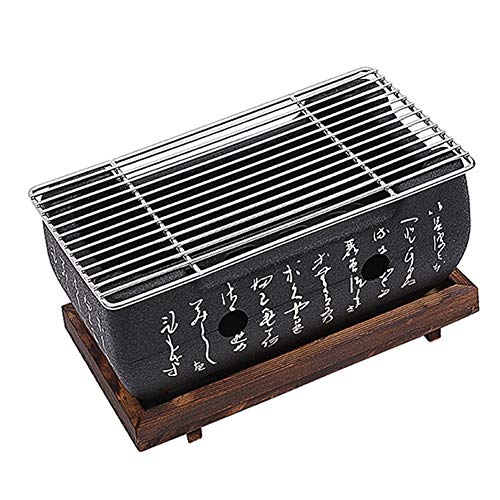 Portable, easy to use and clean, and stylish — this hibachi fire bowl grill should surely add that Asian feel to your cooking. The grill is well-designed to cook your food evenly.
The base of the hibachi fire bowl grill comes with a wooden base. Inside, there's a separate container for the charcoal. It ensures charcoal dust won't fly all over your place and prevents it from getting in contact with your food. On top, you have the grill, where you can cook delicious and mouth-watering food.
---
Should you choose an electric or gas teppanyaki grill?
Both electric and gas teppanyaki grills have their advantages and disadvantages. So, it's best that you look at the pros and cons of each option.
Heat
When it comes to heat, the gas teppanyaki grill is the winner. It can effectively distribute heat especially when you use H-type burners. Moreover, you can easily control the intensity or amount of heat.
Of course, you can still choose an electric teppanyaki grill and still get the advantages that gas teppanyaki grills offer. If you choose the more technologically advanced models, you might find some features that allow you to easily control heat intensity and distribution. So, this should eliminate the disadvantage of using an electric type of teppanyaki grill.
One good example is the Presto teppanyaki grill (07061 model). Though it is electrically powered, the Control Master feature allows you to conveniently increase and decrease the heat as desired.
Thus, it really comes down to the main features and design of your grill.
Capacity
Teppanyaki electric griddles tend to be smaller compared to gas teppanyaki. The reason is that the larger an electric griddle is, the larger the resistor should be. Bigger resistors consume a lot of power. This can then increase your electric bill.
For gas teppanyaki griddles, they are generally bigger and you can cook a lot more food all at the same time.
Price
In this regard, electric teppanyaki grills are known to be cheaper. However, as mentioned above, you might need to pay a higher electric bill every month. Propane gas can also be expensive.
Convenience
The problem with electric teppanyaki grills is that you can only use it where there's electricity. If power outages are not common in your area, then it's a great choice. However, when it comes to camping, picnic, and other outdoor activities, a gas teppanyaki grill might be more ideal.
Teppanyaki vs Hibachi: which one should you choose?
There's really no wrong answer here. Actually, you can choose the two. Each option has features that are not present in the other. So, if you wish to enjoy both worlds, then you've got to try teppanyaki and hibachi.
The important thing is that you enjoy not just your meal, but also the company of your friends and family as well as the whole process of cooking.
* If you buy through links on our site, we may earn an affiliate commission. For more details, please visit our Privacy policy page.