Kabob grilling basket is and excellent equipment that provides an easy way to grill meats, vegetables, tomatoes, fruits, and seafoods such as fish, jumbo shrimps and shellfish. If you love grilling your food, then Kabob grilling basket is perfect for you. You can achieve the same excellent flavor as skewers without the inconvenience. Grilling baskets have various sizes and forms, but they typically resemble long rectangles, similar to a kabob. Most grilling baskets include non-stick coatings, allowing you to quickly remove the food you've grilled. Check out the best kabob grilling baskets that are available in the market today.
* If you buy through links on our site, we may earn an affiliate commission. For more details, please visit our Privacy policy page.
Kabob Grilling Baskets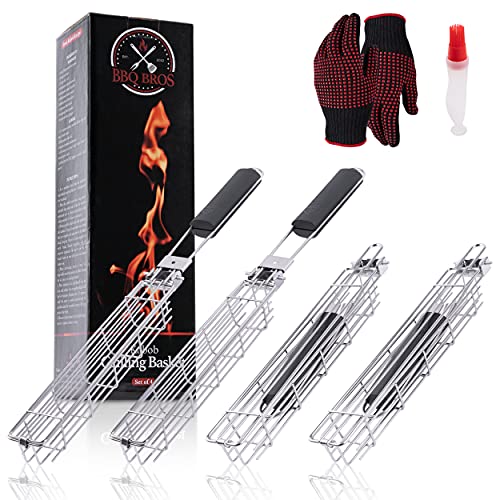 Product Description
Premium quality kabob grill baskets. Features 4 high grade stainless steel baskets crafted for rust prevention and longevity. The nylon handles make it simple to flip the kabob. With these high quality grilling baskets, you can enjoy perfectly grilled kabobs.
These kabob baskets are easy to clean. It is dishwasher safe and heat resistance.
Their one-of-a-kind grill baskets are collapsible, making storing very convenient.
The kit contains 4 BBQ BROS baskets, exclusive marinade brush and grill gloves.
An ideal gift for your loved ones. Any grill master would love to have this ultimate Kabob kit.
If you want to buy this product, order this now on Amazon
---

Brand: Internet's Best
Material:18/8 food-grade stainless steel
Size: 19 inches x 2 inches x 1.7 inches
Handle material: Bamboo
Product Description
Conveniently grills your Kabob, and will keep your kabob together while grilling. It can hold a lot of veggies. It works great and cooks perfectly.
Very easy to flip and can evenly cooked your kabob.
Good quality product. It can last for years.
Dishwasher safe and easy to clean.
A perfect gift for those who who loves grilling meat and vegetables.
If you want to buy this product, just click on Amazon
---
Brand: D-ICE
Material: Stainless steel
Item: Kabob Grilling Baskets Set of 4 & two metal BBQ skewers
Product Description
Includes shish Kebab skewers grills and Non-stick grilling baskets with handle for outdoor grilling. The skewers are constructed of 420 food-grade stainless steel, while the kabob grilling baskets are created from heavy-gauge steel construction.
It's simple, quick, and easy to use. There is no mess, and it is also easy to clean. Hand wash using a mild dishwashing soap.
You may use it to grill vegetables, large shrimps, sausages and the type of diced meat you prefer to cook.
D-ICE grilling basket also features a wooden handle, which makes it simple to flip the baskets.
The kabob sticks are dishwasher safe, while the kabob grilling baskets need to be hand washed.
Just place your meat or veggies in the grilling baskets. You won't lose important ingredients such as chopped onions or garlic because each kabob grilling basket has a side closure that locks into place.
You can buy this product on Amazon
---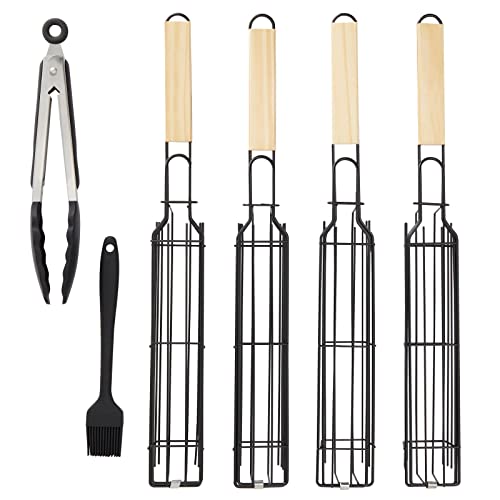 Brand: Okuna Outpost
Material: Each grill basket is made with durable steel and has solid wood handles. The oil brush is made of soft silicone, and the tong is made of stainless steel and soft silicone.
Dimensions: Each grilling basket measures approximately 16.5 x 1.5 x 1.3 inch; oil brush 8 x 1.4 x 0.4 inches; tong 10 inches.
Product Description
Four kabob grilling baskets, 1 oil brush, and 1 set of tongs are included in this kit. Ideal for summer barbecues or grilling season, 4th of July, and your backyard outdoor grill. Your grilled food will definitely taste delicious.
Use the grilling baskets to recreate delicious kabob recipes or make your own with veggies, chicken, lamb, shrimp, and other ingredients.
These kabob grilling baskets are the perfect gift for your friends and family. Bring them along on your next family camping trip for even more cooking fun.
If you are interested in buying this product, click on Amazon
---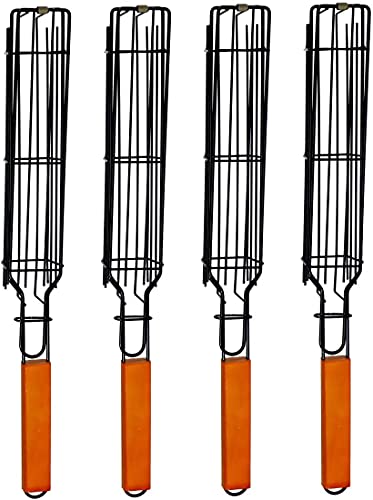 Brand: JUCT
Dimensions: Each kabob grill basket measures 17" x 1.85" x 1.5"
Material: The four kabob grilling baskets are made of Heavy Gauge steel structure and wooden handle.
Product Description
The grill basket is an ideal tool for barbecue. Their grilling basket's design allows for even cooking, allowing the food to fully develop its natural taste and achieve that desired smoky flavor.
The barbecue equipment are created to make grilling easier. You can grill all your favorite chicken, kabobs and veggie, fruits, onion, fish, and whatever meat you prefer.
Features a lockable grill grate that keeps food while allowing for easy flipping. To achieve an even heat distribution, the space between the grids is precisely sized.
The grill basket is very easy to clean. The basket is completely covered in a non-stick covering, that makes cleaning so simple. Soak in soapy water for a few minutes and then wipe clean. It is also dishwasher safe.
If you are interested to purchase this tool, simply click on Amazon
---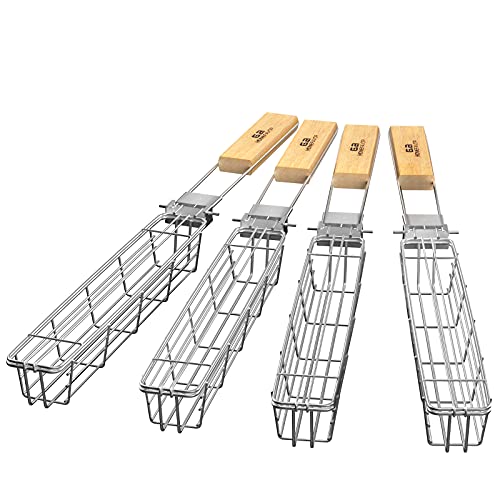 Brand: G.a HOMEFAVOR
Material: Constucted of heavy 18/8 Stainless Steel with long foldable Oak wooden handle.
Product Description
Features a new lock design. The lockable grill grates locks food in place. You don't have to use a skewer or the work involved to make kabobs. It will make grilling faster and easier. This grill rack firmly holds sausages or other food in place and assures it won't bend or break.
Made for grilling of seafoods, such as shrimp and fish, and vegetables, diced meat, and other delicate foods. This is much better than the bamboo sticks, because the grilling baskets are reusable and environmentally friendly.
This is an excellent present for any occasion, including birthdays, Christmas, and other holidays. It has a bag for easy storage and may be used for traveling or outside BBQ.
Buy this product now on Amazon
---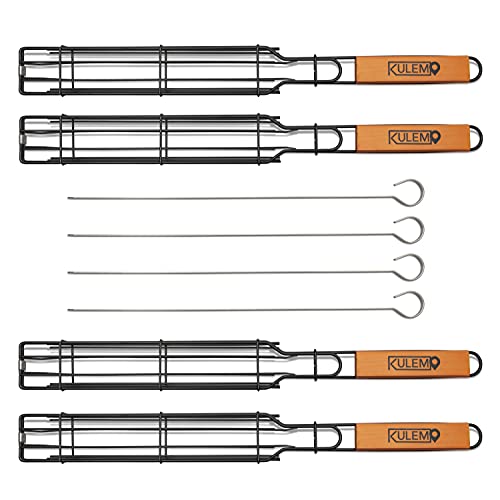 Brand: Kulem
Material: Stainless Steel
Quantity: 4 grilling baskets
Product Description
The Kulem Barbeque Grilling Basket is created from 430 food-grade stainless steel, making it an essential BBQ cooking tool and the ideal present for any occasion.
It also features lockable grate grids to keep your food in place when you turn it over hot flames. Ensures effortless flipping each and every time.
The barbecue grid dimension is 44cm x 9cm x 11cm, and has enough cooking surface to grill a variety of foods at the same time.
The set includes 4 non-stick BBQ Grill Baskets with 4 stainless steel Kabob Skewers, each with a ring top for easy turning.
The metal skewers are sturdy and made from food grade stainless steel. The tool is dishwasher safe and rust resistant making them ideal for everyday use.
Buy this product now on Amazon
---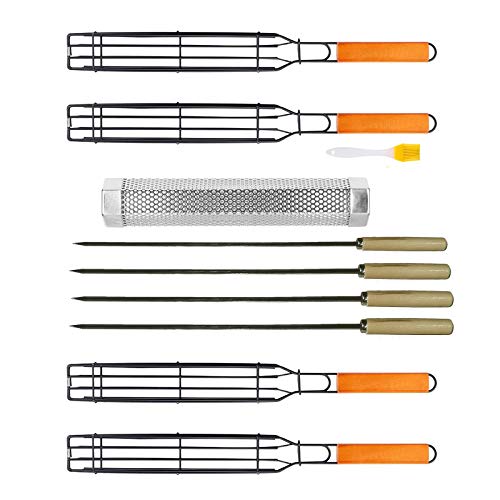 Brand: TQ-OUTDOOR
Material: Stainless steel smoker tube grills
Handle material: Rosewood handle
Product Description
Very convenient. No need for skewers or the work involved to make kabobs. These grilling tools make grilling fast, easy, and fun. This grill rack firmly holds meats, sausages, veggies, chicken or other food in place and ensures it will not bend or break when you are the grill master. This is also ideal for grilling fish and breads, minimizes sticking and falling through grates. No mess and very easy to clean. This is a practical addition to your barbecuing repertoire.
Made of high quality material. Features a non-stick kabob grilling baskets. The basket is made of heavy-gauge steel. These all-metal BBQ skewers are durable, never burn, and can be washed in the dishwasher. These grilling baskets are environmental friendly and reusable. The smoker tube are made of High-Quality Heat Resistant 304 Food Grade Anti-Corrosive.
The set includes a 12-inch Stainless Steel BBQ Wood Pellet Smoker Tube that measures 12"x 2" x 2", pack of 4 Kabob Holding Grill Baskets, 1 Hexagon shaped Pellet Tube.
Very durable. Conveniently, quickly, and easily grill food. No mess and very easy to clean as well. Features a high-quality anti-corrosive Stainless-Steel pellet tube that can last for year. It also has a lockable grill grate that locks food in place. The grid gaps ensure equal heat distribution and prevent food from falling. The lid latches shut to keep your food in the grilling basket.
Can be used in any occasions. Perfect for camping, road trip, birthdays, holidays. The grilling basket may also be used with multiple gas grill, smoker grill, charcoal grill, porcelain grill, and an infrared grill.
If you are interested in buying this product, click on Amazon
---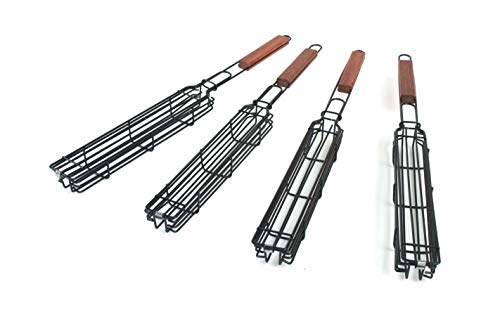 Brand: Charcoal Companion
Color: Black baskets
Item: Includes 4 single kabob grilling baskets
Size: 19.4" x 1.5" x 1.8"
Handle material: Wooden handles
Product Description
This grilling tools are made of heavy-gauge steel with a non stick coating. To keep food in the basket, the lid latches shut.
Features a beautiful rosewood handles for easy flipping.
You don't have to use a skewer to make kabobs. This is more convenient that using the usual skewer. It's quite simple to arrange the food in the basket. Simply place your meat and veggies in the basket. The slide-on clip keeps everything in place and prevents everything from falling off. You can easily flip the baskets for even cooking.
If you are interested in this product, buy this on Amazon now.
---
How To Use Your Kabob Grilling Basket?
First, prepare your kabobs. Slice the meats and vegetables into similar sizes and shapes to ensure they are cooked evenly.
Meat and vegetables should be cut slightly larger than the gap between the grill grates.
Then, marinate the meat for about 30 minutes.
Coat your grilling baskets using a vegetable oil to avoid sticking make it easier to clean after using.
Then, put your ingredients in the grilling baskets in one even layer.
Place the baskets on the grill. Make sure that the wooden handles hang outside the grill. This keeps the handles cool.
Each side of the basket should be grilled for the same length of time. The amount of time it takes to cook varies based on the ingredients.
Conclusion
With that said, we hope you've found the perfect kabob grilling basket for your next backyard barbeques. Thank you for reading this post.
* If you buy through links on our site, we may earn an affiliate commission. For more details, please visit our Privacy policy page.