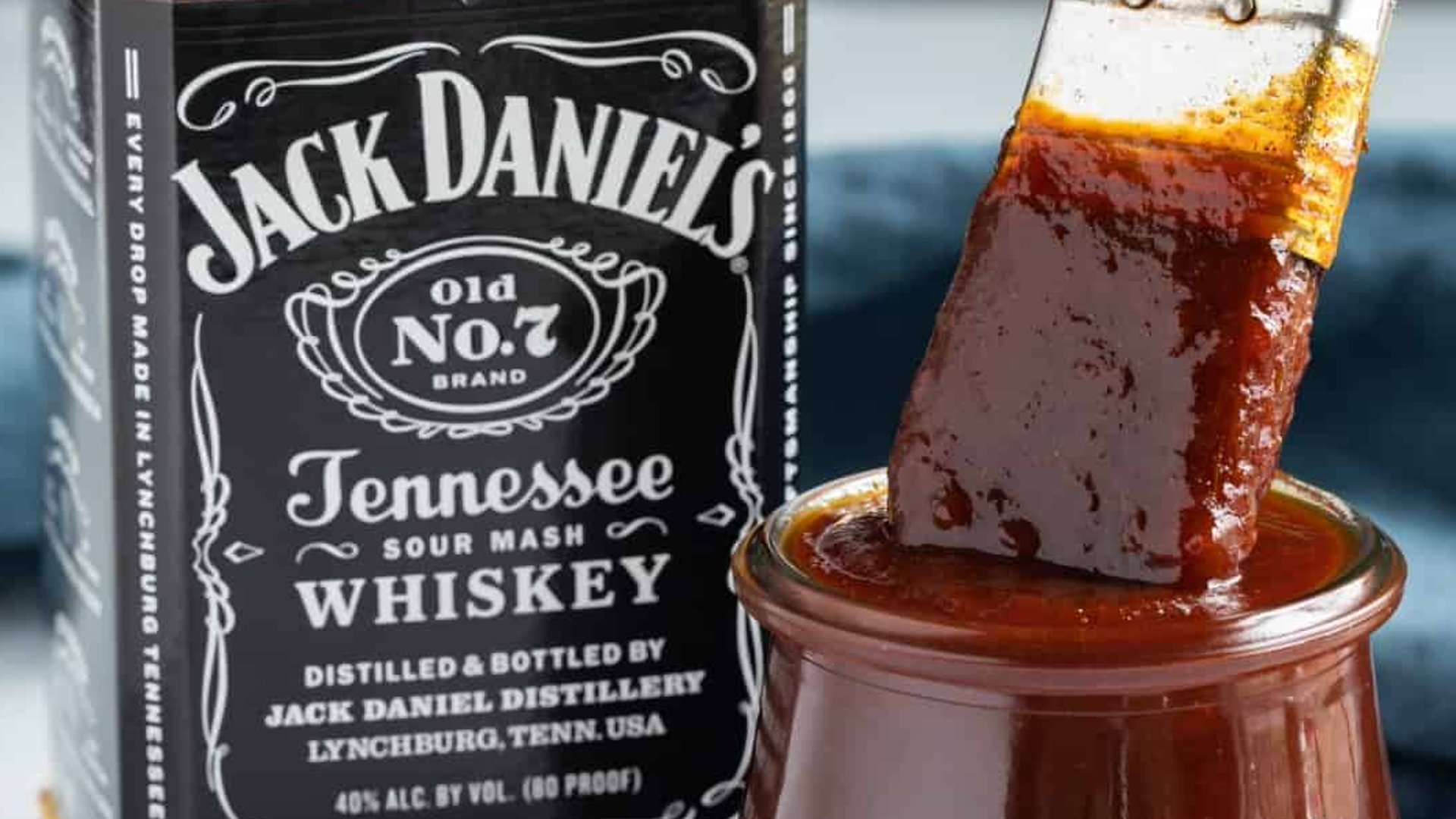 Jack Daniel's Tennessee Whiskey, or simply known as Jack Daniel's, is produced in Lynchburg, Tennessee, by the Jack Daniel Distillery. The distillery has been owned by the Brown–Forman Corporation since 1956.
Jack Daniel's is now a popular whiskey brand, being served around the world. It can be served on the rocks, or mixed with other cocktails and drinks. But did you know that Jack Daniel's isn't only good as an alcoholic beverage? It can also be incorporated into cooking and you can make a good Jack Daniels sauce.
Adding a little Jack Daniel's whiskey to your BBQ sauce will elevate the flavors and you'd be surprised at how good it can be. You can use your Jack Daniels sauce on chicken, pork, or beef. The sauce isn't just about any meat, it can also be used on fish and veggies.
Jack Daniels Sauce
If you are wondering what Jack Daniels sauce may taste like, it is a sweet bbq sauce with the warm flavor of Tennessee whiskey, similar to bourbon. You can create a Jack Daniels sauce from scratch that would taste very flavorful.
Now, since Jack Daniels is a Tennessee whiskey that has been charcoal filtered, it has a little harshness and more charcoal flavors. This is why Jack Daniels sauce is great to be used with grilled foods.
How to Make A Good Jack Daniels Sauce
Jack Daniels sauce is one of the most scrumptious sauces you can ever taste. There are different recipes that you can find online, and we are here to provide you some insights on how to make a Jack Daniels sauce with great taste.
This recipe is quite good and super easy to make. We are also using some ingredients that will last longer, so you can store the sauce for future use by putting it into an airtight container and refrigerating it.
Ingredients that are important would be:

Soy sauce – this will provide saltiness with umami flavor to your sauce.
Pineapple juice – this will add some sweetness and flavor.
Jack Daniels Whiskey – the star of the Jack Daniel's BBQ sauce. You may opt-in for the bottle of the whiskey but a is all you really need. To save money, just buy a shooter.
Molasses – adds sweetness, but make sure to use unsulfured as it has a lighter flavor
Ketchup – used as the base of the sauce
White Onion – use this variety as it is sweeter & cleaner in flavor than yellow onions with a milder flavor
Lemon juice – this is to balance the sweetness. Fresh would be the best option.
For the Jack Daniels sauce recipe, you will need to have:
Ketchup
Pineapple juice
Jack Daniels Whiskey
Molasses
Soy sauce
Onion powder
garlic powder
cayenne pepper
Procedures to make Jack Daniels sauce:
In a medium saucepan, combine all ingredients by placing them together. Mix them well by stirring. 
Bring the combined sauce into a boil. Once it starts boiling,  reduce the heat and let it simmer for 40-50 minutes or until the sauce thickens. 
Remove from heat and let it cool. You can use the sauce right away or store it in a fridge. 
If you want something sweeter, there are other variations of the sauce. You may need these ingredients:
Minced Garlic or Pasty Roasted Garlic
Olive Oil
Water
Pineapple Juice
Teriyaki Sauce
Soy Sauce (Low sodium is preferred)
Dark Brown Sugar
Lemon Juice
White Onion
Jack Daniels Whiskey
Crushed Pineapple
Cayenne Pepper
High Fructose Corn Syrup
For the procedure of this Jack Daniels sauce recipe:
Add water, pineapple juice, teriyaki sauce, soy sauce, and brown sugar into a medium saucepan.
Over medium-high heat, bring the mixture into a boil. Reduce heat once it starts boiling and simmer it while stirring occasionally.
While it simmers, put in the minced garlic or roast garlic and whisk to combine. Add the remaining ingredients to the pan and stir to mix them well. Drizzle olive oil if you prefer.
Simmer the Jack Daniel's sweet-style BBQ sauce for 40-50 minutes over low heat. Once the sauce has thickened, remove from heat and let it cool before storing. Serve it with chicken, pork, beef, chicken wings, veggies and more.
If you intend to store the extra sauce by refrigerating it, let it cool for about 1 hour and transfer to an airtight container. You can refrigerate the Jack Daniels sauce for up to 3 weeks.
You can also freeze the sauce. Just let it cool for about 2 hours then transfer it to a freezer-safe container. You can store it this way for up to 3 months. Just thaw it overnight in the refrigerator once you would want to use it.
To make the Jack Daniels sauce spicier, add ¼ to ½ teaspoon more of cayenne pepper. If you want it to be sweeter, stir in a couple tablespoons of granulated brown sugar (or dark brown sugar) until you reach your preferred sweetness. Should you want the sauce to have a flame-grilled taste, add a little bit of liquid smoke.
Is Jack Daniel's Sauce Healthy?
Just like other sauce recipes that use soy sauce and teriyaki sauce as one of the ingredients, Jack Daniels BBQ sauce needs to be consumed moderately. You can use it as a dipping sauce, a glaze, or a marinade, or even for a small casserole dish.
For those who are asking, Jack Daniel's sauce is not vegetarian, but it is actually vegan. Meat lovers and vegetarians alike can enjoy this. You can have grilled chicken breasts & brushed the sauce over them for your whole family to enjoy.
Roast Garlic Recipe
Here's a bonus tip for those who would want to use roast garlic on their Jack Daniel's BBQ sauce. This is only intended for those who have enough time.
Preheat the oven to 325 degrees.
While waiting, cut about 1/2″ off of the top of the whole garlic cloves. So that the garlic will sit flat, cut the roots. Remove the papery skin from the garlic, but make sure to leave some of the skin so that the cloves stay together.
In a small casserole dish or baking pan, put the garlic and drizzle olive oil over it. Cover with foil and bake for 1 hour in your pre-heated oven. Note: It is important to cover it with foil as the garlic could quickly burn without cover.
Remove the garlic from the oven and let it cool until you can handle it. Store in a clean container.
If you are looking for more recipes, there are dozens of good Jack Daniels sauces online. Some of the famous sites are Copycat recipes that also feature TGI Friday's best selling items for your annual summer BBQs.